Whether you're an agency, freelancer, or in-house, communication is so important in SEO. 
How do you make sure everyone is on the same page and knows the priorities and overall status of a website's optimization?
Enter Site Health — a Semrush metric that is quick to measure for any website, easy to understand, and based on the most important technical factors for website performance.
Why should you use this score? A few quick reasons:
Communication: It's clear and understandable 
Pitching: You can use it in to present offers and win new customers 
Competitor Analysis/Comparison: It can help you compare one website's on page SEO to direct competitors in the same niche
Monitoring: It's great for tracking changes over time
SEO efforts can take weeks or months before seeing any major result on SERPs. 
Site Health can communicate your work in a more immediate way.
Especially when an experienced SEO is working with someone totally unfamiliar with SEO, you need something that both parties understand. 
If you want to run a quick audit of a customer's site — you can deliver their Site Health score along with a list of top issues and areas for improvement in minutes. 
The score can also be used for competitor analysis — comparing your Site Health and issues between competitors, and in the long term — for tracking progress over time.
Semrush tip: Two more metrics that can be useful for pitching and monitoring are Authority Score and Toxic Score.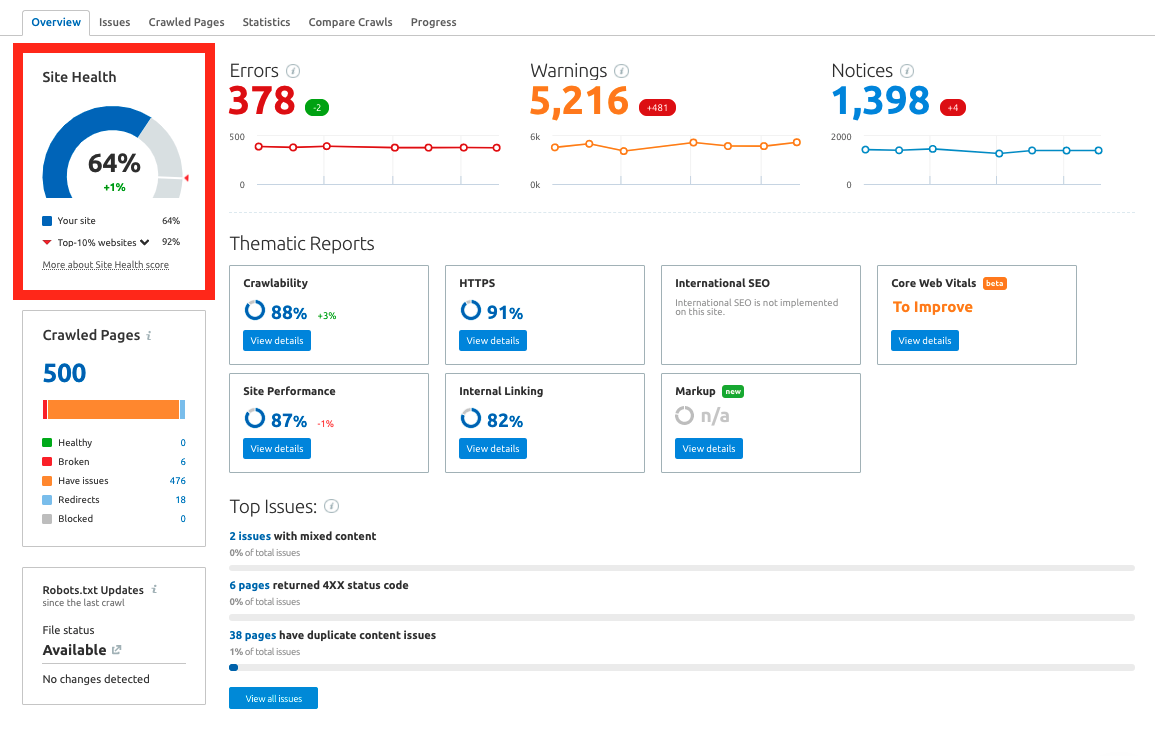 To paint a picture, you could say that technical SEO is the foundation of any SEO strategy. 
Every house needs a solid foundation, and taller houses require better foundations. The same can be said for websites. 
With Site Health you're measuring how stable the foundation of a site is — and getting that stronger foundation will only help any other efforts to build up the site. 
Let's talk about what the score means in more detail.
How Site Health is Calculated
When you run a Site Audit, the Semrush bot crawls the website based on your parameters and runs checks for over 150 common website issues ( see the full list here).
Site Health is calculated based on the issues Semrush finds during its crawl. 
These issues are weighted in three main categories:
Errors — the most impactful issues that should be addressed first. 
Warnings — issues of medium impact and should be addressed but not as urgently as errors.
Notices — not dangerous, but important instances to be aware of.
The more dangerous errors (such as broken internal links) contribute towards your Site Health score more than any warnings. 
Notices (like external links with nofollow attributes) do not impact the score at all since they're not usually indicative of any error, but they are included to keep you fully informed on the site's foundation.
Critical Issues Hurt Overall Site Health
Please note that not all errors and warnings are weighted the same. In general, the more critical an error is to the website, the more impactful it is to Site Health score. 
So, there could be a case where a specific warning has a 10-fold weaker effect than a specific error.
Examples of critical issues include:
Incorrect page in sitemap, canonical and hreflang. This can confuse the search engine on deciding which page to show in the search.
Broken pages generate broken links. You can redirect broken links with a 301 redirect, but if a site doesn't update the links, this means that users following the links will wait longer for the content (until they are redirected to the desired page).
Also, during a site migration, this can lead to chains of redirects. This also makes the signals of sitemaps and canonicals weaker.
Having More Unique Issues Hurts Overall Site Health
The more unique issues found per page, the lower the Site Health will be.
In simple terms, 10 unique triggered checks on a website should affect the Site Health value more than 10 of the same check.
So 3,000 errors found on a 100-page crawl will have a stronger effect on Site Health than the same 3,000 errors, but found on a 10,000-page crawl. 
This allows you to more clearly compare the technical quality of sites both large and small to each other.
Site Health Score and What You Should Do
If you need help discussing what a particular score means with your client, feel free to use this reference table.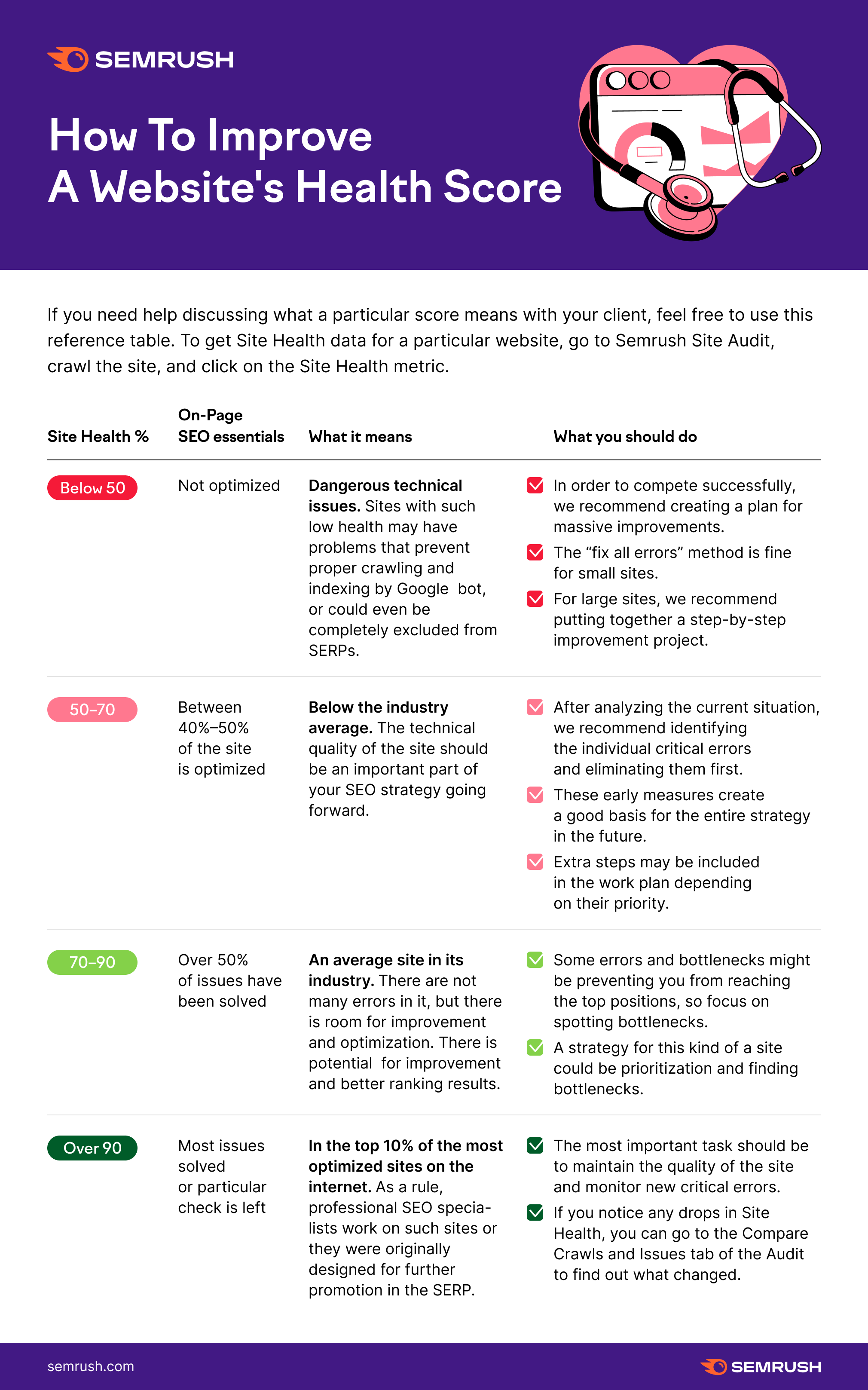 Talking About Site Health with Clients
A lot of people in SEO could hold long, acronym-stuffed conversations on technical implementation and fun concepts like YMYL, EAT, LSI, TTFB, etc.
However, the average client is gonna want to hear what you're doing in plain language.
How does SEO improve my site's performance? That's what they'll want to know. 
Site Health is a perfect discussion point while pitching new clients or monitoring progress with existing clients. 
They can check the score to know the overall picture and you can know all the technical details behind the score, why it changes and what that means.
When you fix a site's issues and re-run the audit, the score will improve. 
Here are some great ways to use the score in communication:
Compare your client website's on page SEO with a similar website in the niche
Calculate an offer to a client based on their specific issues you can fix
Add more transparency your SEO reports by including the score on a regular basis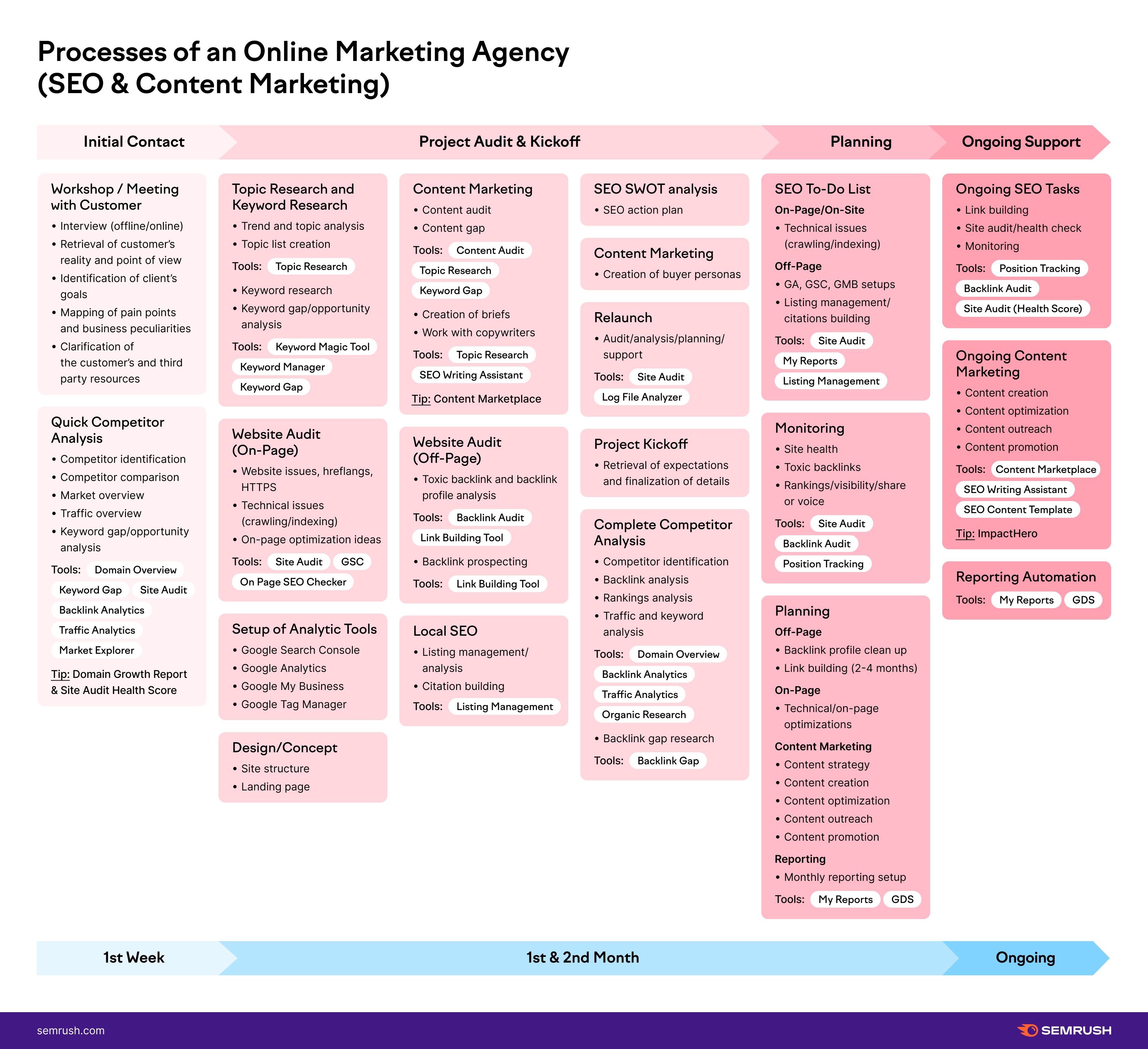 Site Health as a Comparison Metric 
One awesome thing about Site Health is that Semrush will also show you the average Site Health of the top-10 % of websites on the Internet. There's also a dropdown to select an industry and see the average Site Health for websites in that specific industry. 
This gives context to any site's score and allows you to show anyone the main results of their audit and how much they have to gain.
Of course, you could also create separate projects for a few specific competitors and then compare the overall results to show a more granular comparison. 
The easiest way to export Site Audit results is with the PDF button at the top right of the page.
You could also go into My Reports and make a PDF from scratch or check out this article with our custom templates. 
Site Health FAQs
How to Interpret Site Health Score and Thematic Reports on Semrush [Google Slides]
Can I affect my Site Health score directly by hiding/disabling any check I wish?
Yes, you can do that. We've implemented this functionality in order to give you the freedom to disable checks which are not relevant to you. As any other metric you can affect this metric too. 
Does Site Health correlate directly with my rankings?
No, and we recommend that you do not make/sell a direct connection between them. 
On Page SEO consists of a lot of different tasks, and a boost in rankings generally comes when you combine great website health with other SEO efforts like link building and content marketing. 
There is no direct relationship between the technical quality of the site and the rankings because the ranking happens at the page level. 
For example, if a page takes a long time to load, then this can become a negative signal for the ranking of such a page. 
Nobody wants to wait very long to get information that they can quickly take from other pages. With slow pages, your visitors will simply leave. 
What should I do when I reach 90% or more?
Site Health is based on lots of errors and warnings. Notices, however, are not included in the calculation but can indicate opportunities for further improvements. 
To find new ideas to keep improving, we suggest you inspect:
Thematic reports 
Notices
Internal linking report
For example, there could be an audit showing Site Health is 90%, and Internal Linking Score rate is 70%. 
Perhaps the site has poor link architecture and search bots and users cannot easily find a lot of pages. This is a reason to reconsider your approach to internal linking. 
You can make changes that can lead to the spread of Page Rank across the pages of the site, which will lead to an increase in rankings.
If Semrush implements additional relevant issues — what will happen with my Site Health and what should I do?
When a new check is added, the impact amounts of all checks are recalculated. 
So, sites that have no new errors may start to have higher Site Health scores than sites where Site Audit detected the new error.
We will recalculate the score and inform you about possible tasks you could do to improve your performance — especially when a new check is added, it is generally in response to trends in SEO (some of our newest checks have been about site speed and performance).
While we always plan to make relevant updates and add new checks to our Site Audit tool in the future, new checks are not added frequently and therefore this may only make a minor impact. 
You can see the full list of issues Site Audit checks for here.