What Is an External Link? 
An external link, also known as an outbound link, is a hyperlink on a website that points to a different domain. They help search engines and users understand the topic and niche of a site, and provide additional value and resources.
External links can also boost the ranking and reputation of a site if they come from authoritative and relevant sources.
Tip: You can quickly see how many external links point to your site by running it through Backlink Analytics.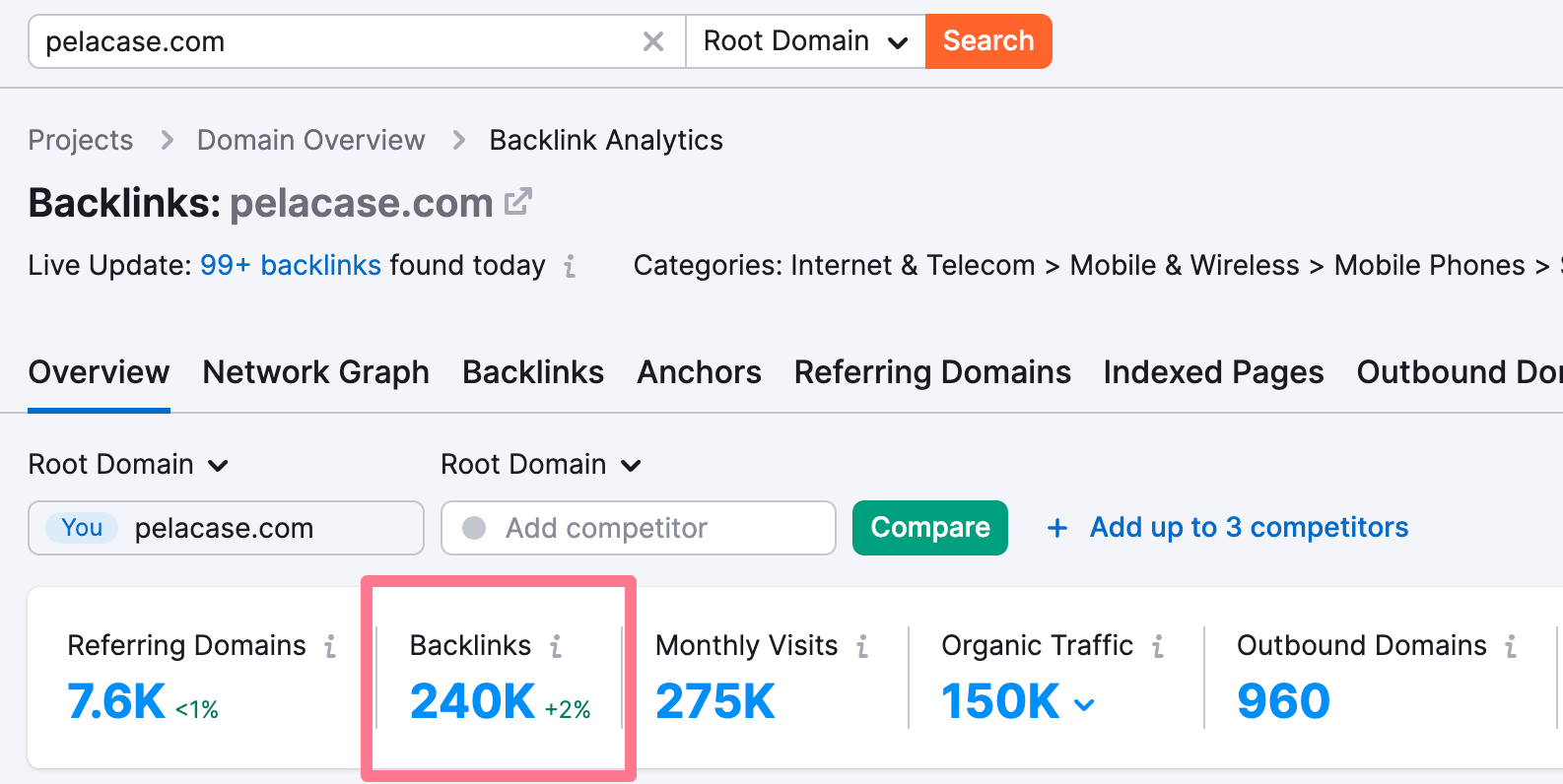 Internal vs. External Links
Internal links are the opposite of external links. They're hyperlinks that point to another page on the same website. 
This is what an internal link looks like on our blog:

But leveraging both types of links is important for your own SEO.
Using external links helps:
Show Google how your content relates to other pages
Provide value to your readers by offering more information and resources
Build relationships with other sites, which can lead to exposure, traffic, and backlinks
Using internal links helps:
Improve the user experience and navigation on your site 
Spread link equity (ranking power) among your pages
Boost the relevance and authority of your pages for specific keywords
Further reading:
Are External Links Good for SEO? 
Using external links (or outbound links) on your site can help your SEO in two big ways:
First, they provide value to users—which improves the user experience. And a better UX can contribute to better rankings in various ways. 
Second, they help the receiving domain's SEO because Google and other major search engines see them as votes of confidence in the linked webpage.
And each vote suggests the content on that page is credible, valuable, and useful.
Which means:
Pages with lots of external links pointing to them (also called backlinks) from authoritative sites tend to rank higher in search results. 
Nofollow vs. 'Follow' External Links
Nofollow external links are hyperlinks that tell Google not to pass any ranking signals to the linked page.
In other words, you don't "endorse" the page you're linking to. 
You can add a nofollow attribute to any external hyperlink by adding rel="nofollow" to the HTML code.
Like this:
<a href="https://example.com" rel="nofollow">Example</a>
"Follow" external links, on the other hand, are hyperlinks that do tell Google to pass ranking signals to the linked page.
You don't need to add any attribute to make an external link a "follow" link. It's the default option.
Like this:
<a href="https://example.com">Example</a>
But why would you want to use nofollow instead of follow external links?
Well, there are some situations when using it can make a big difference for your SEO.
You should use the nofollow attribute when you don't want to recommend or associate your site with the linked page.
For example, maybe you want to link to a competitor's page for context, but you don't want to pass any authority. 
Or, perhaps you want to flag a link as being sponsored or affiliated. 
Just know that Google treats the nofollow attribute as a hint, not a directive. 
Further reading:
External Links: SEO Best Practices
Link to Relevant Sources
It's good to have external links. But don't just throw them in for the sake of it. Make sure they add value to your content and your readers.
Good external links point to related content that supports your main points and provide context. 
For example, you can link to statistics, research, infographics, or videos that back up your claims or provide more information.
Like this:
Google wants to show the most relevant results for any query. 
When you link to websites in the same niche as yours, both Google and users can better understand your content. 
Link to Authoritative Sources 
The quality of your external links matters. A lot. 
Only link to websites that are credible and professional. If you link to websites that have clickbait content or low-quality information, you'll lose the trust of your readers and Google. Which hurts your reputation and your SEO.
For example, our State of Content Marketing report has lots of external links to reputable sources in the industry. 
Like this:

If you have to link to websites you don't trust, use the nofollow attribute. 
Optimize Anchor Text
Anchor text is the clickable text that indicates a hyperlink. 
It helps users and Google understand what the external site or page is about. Which can enhance the user experience. And influence how the page ranks. 
So, optimizing your anchor text is super important for SEO.
Some tips to ensure your anchor text is SEO-friendly include:
Using relevant, descriptive text (as opposed to generic or off-topic text)
Being concise (stick to short, descriptive text)
Formatting links so they're easy to spot (clearly distinguishable between regular text)
For example, in the image below, the anchor text "disavow file" tells readers and Google the page that follows is about "disavow file."

On the other hand, generic anchor text like "here" is unclear and gives no context.

You can find and fix anchor text issues on your site by crawling it with our Site Audit tool. 
First, add your domain name and then click "Start Audit." 

Then, configure your settings based on the number of pages you want crawled and a number of other factors. 
And click "Start Site Audit."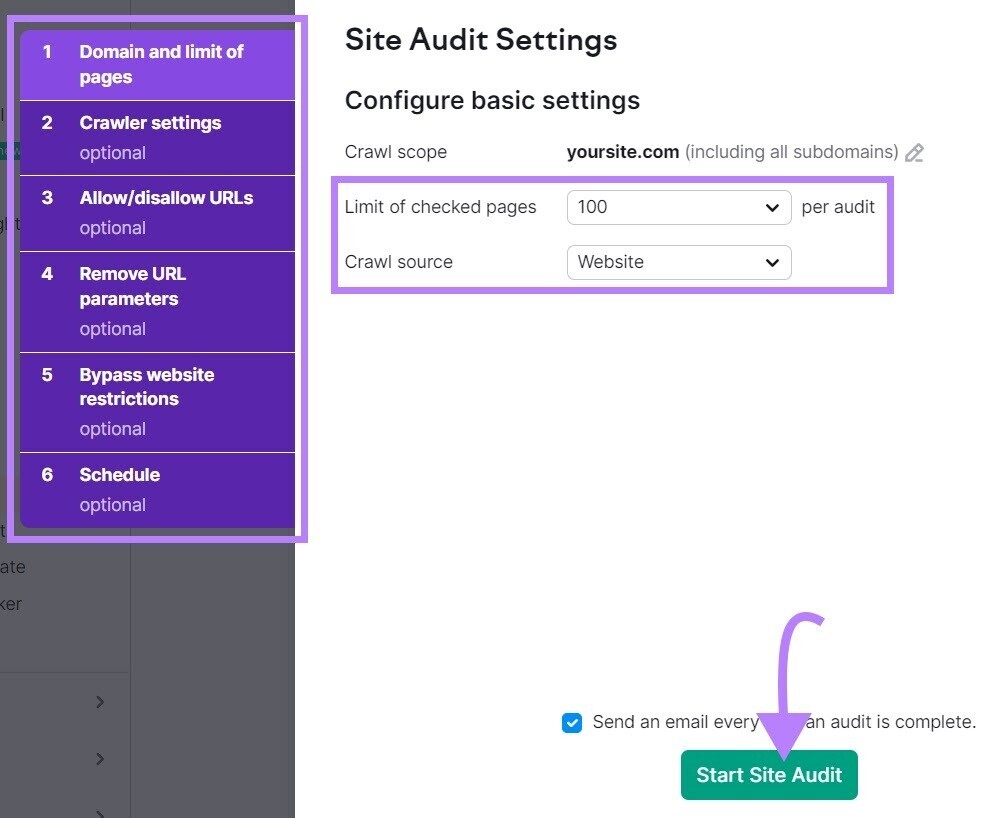 When the audit is finished, head to the "Issues" tab and type "anchor" into the search bar. 
You'll see a list of your site's anchor text issues.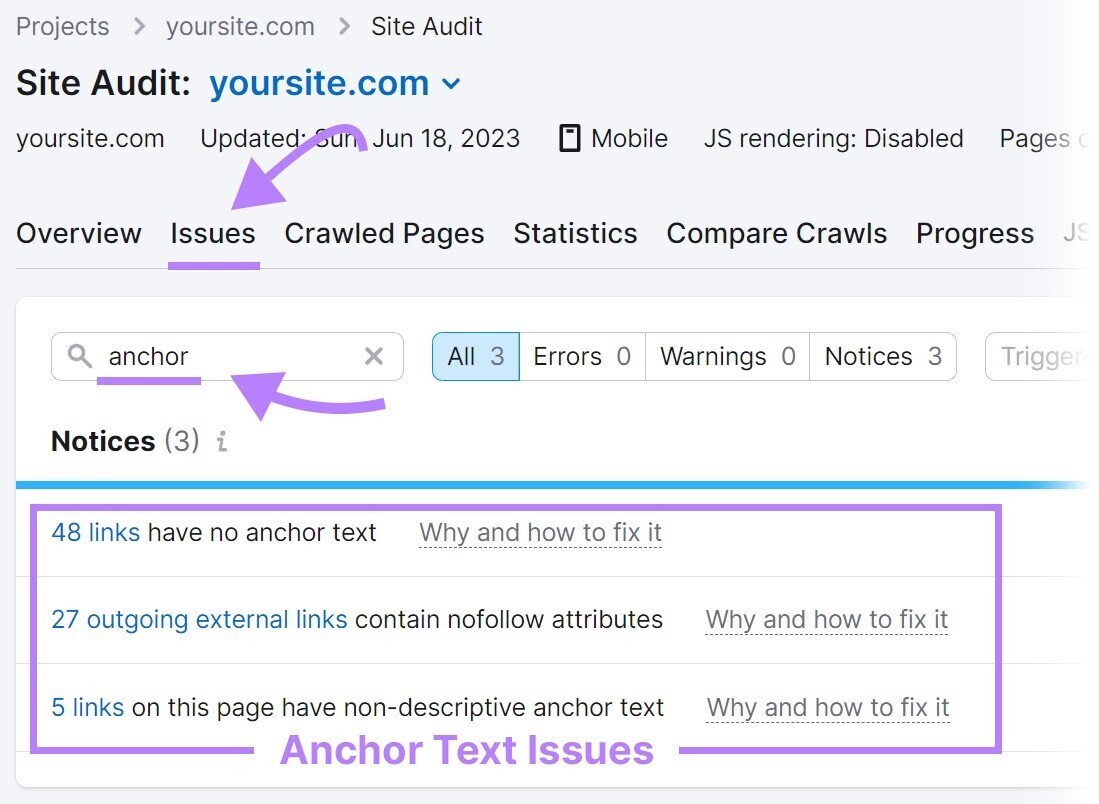 Click on the "Why and how to fix it" link beside each issue to learn more about it. And get tips on how to fix it.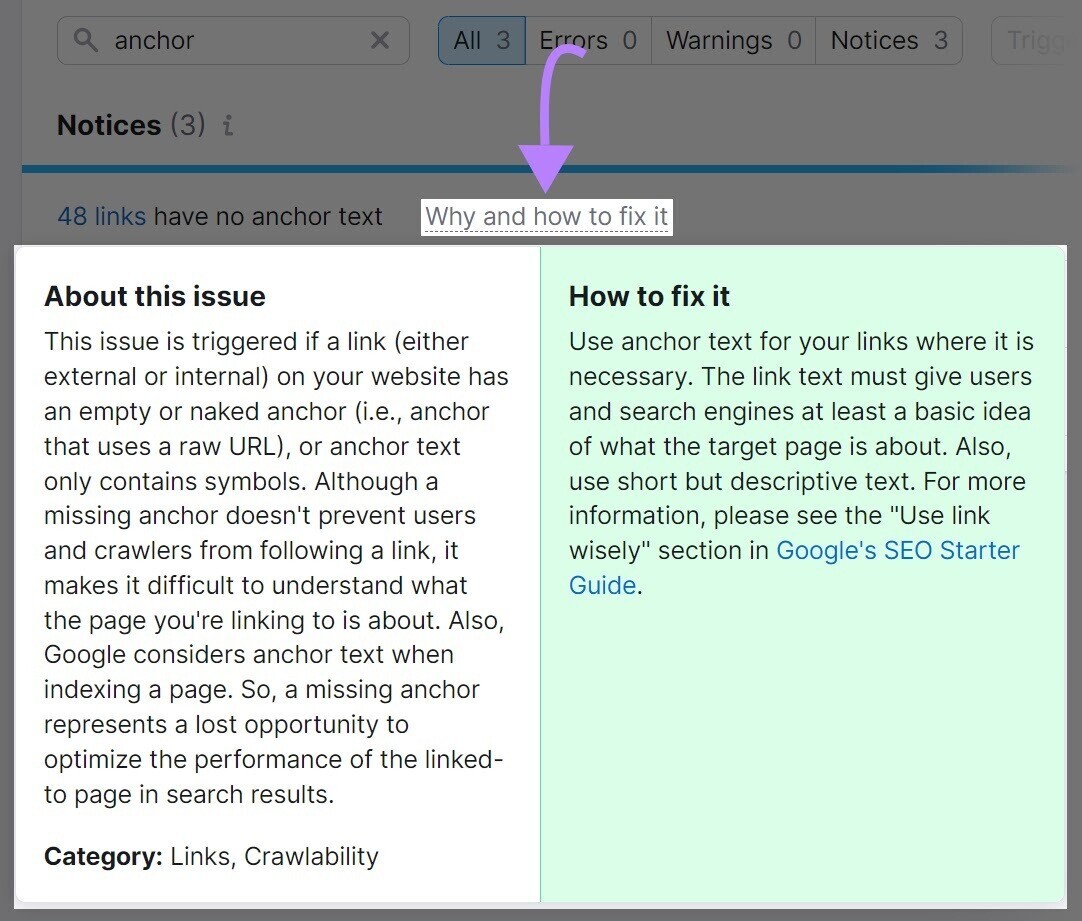 Further reading:
Avoid Link Schemes
Link schemes are sneaky ways of trying to use links to game Google rankings. 
If Google catches you doing anything against their spam policies, you can get slapped with a penalty.
Which means your site may rank lower. Or not appear in search results at all. 
Common link scheme activities include:
Buying or selling links for ranking purposes
Exchanging goods or services for links
Using automated programs to create links on your site
Linking from low-quality directories or bookmark sites
Stay away from all of the above. 
And remember, sponsored or affiliate links should have the rel="sponsored" or rel="nofollow" attributes. This tells Google the links aren't meant to influence rankings.
Audit Your Site's External Links
Now that you know more about external linking, it's time to take it a step further. 
And that means routinely auditing your site. In this case, for external link issues. 
If you don't, your site can have errors that ruin your readers' experiences and hurt your SEO. 
To start, open Site Audit, enter your domain name, and click "Start Audit."

Then, configure your settings and click "Start Site Audit."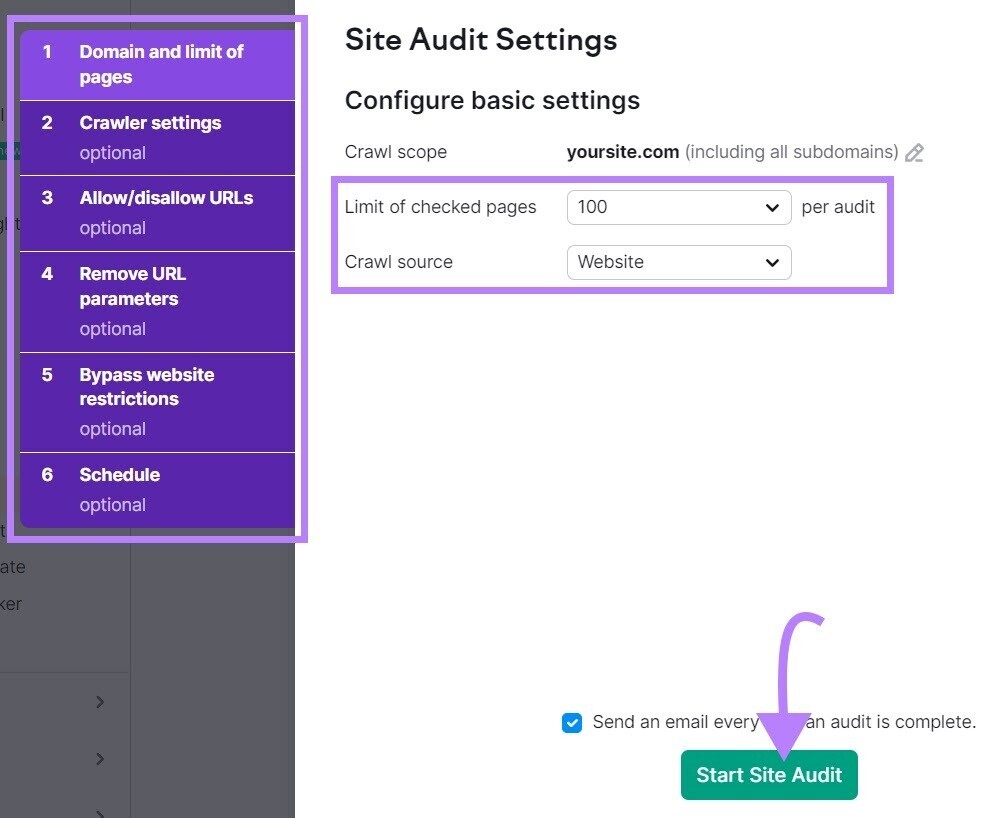 Once it's done, head to the "Issues" tab and type "external" into the search bar to filter by external link issues.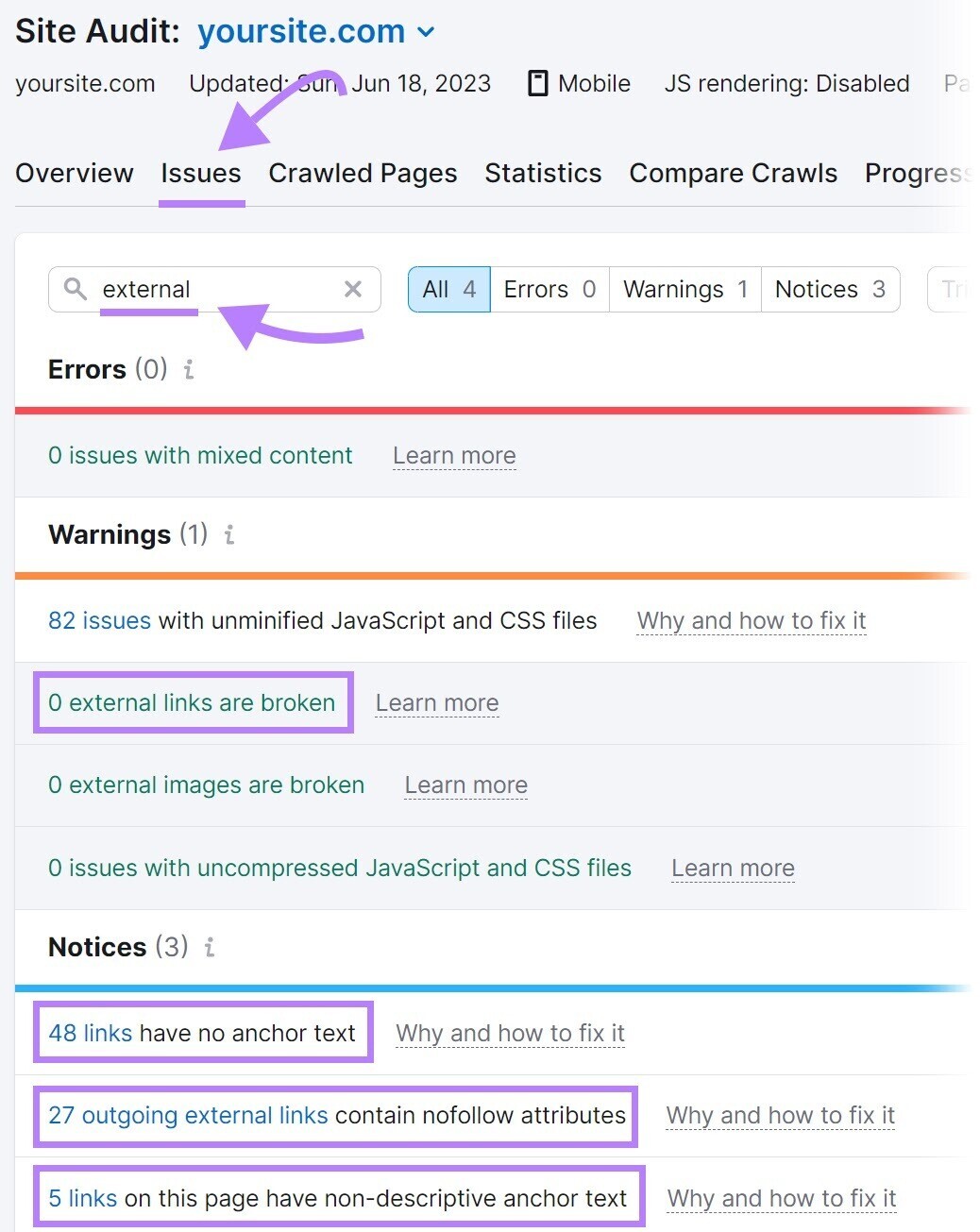 And look for the following issues:
Broken external links
External links with unnecessary nofollow attributes
Links with no anchor text
Links with non-descriptive anchor text
If you aren't sure where to start, click on "Why and how to fix it" next to any issue to learn more about it and get tips on how to fix it.
Prioritize issues in the "Errors" list first, then "Warnings," and then "Notices."
Tip: Click on the "Settings" icon on the far right to schedule your audits to run weekly and to receive an email every time an audit is complete.