What are Outbound Links?
Outbound links are links that point from your website to another. They're often used to connect and direct readers to external resources such as websites, articles, and other publications. 
Some SEOs refer to outbound links as "authority links" because writers often use outbound links to back up information in their articles. And link out to authoritative sources.
The number, quality, and context of your outbound links can affect your SEO.
You can quickly see how many outbound links a website has by running it through Backlink Analytics. 
Just enter the domain and click "Analyze."

Then, head to the "Outbound Domains" tab. 
You'll see a list of websites that have at least one link from the domain you entered. 
To see all the outbound links to the outbound domain, click on the number of outbound links.
Here: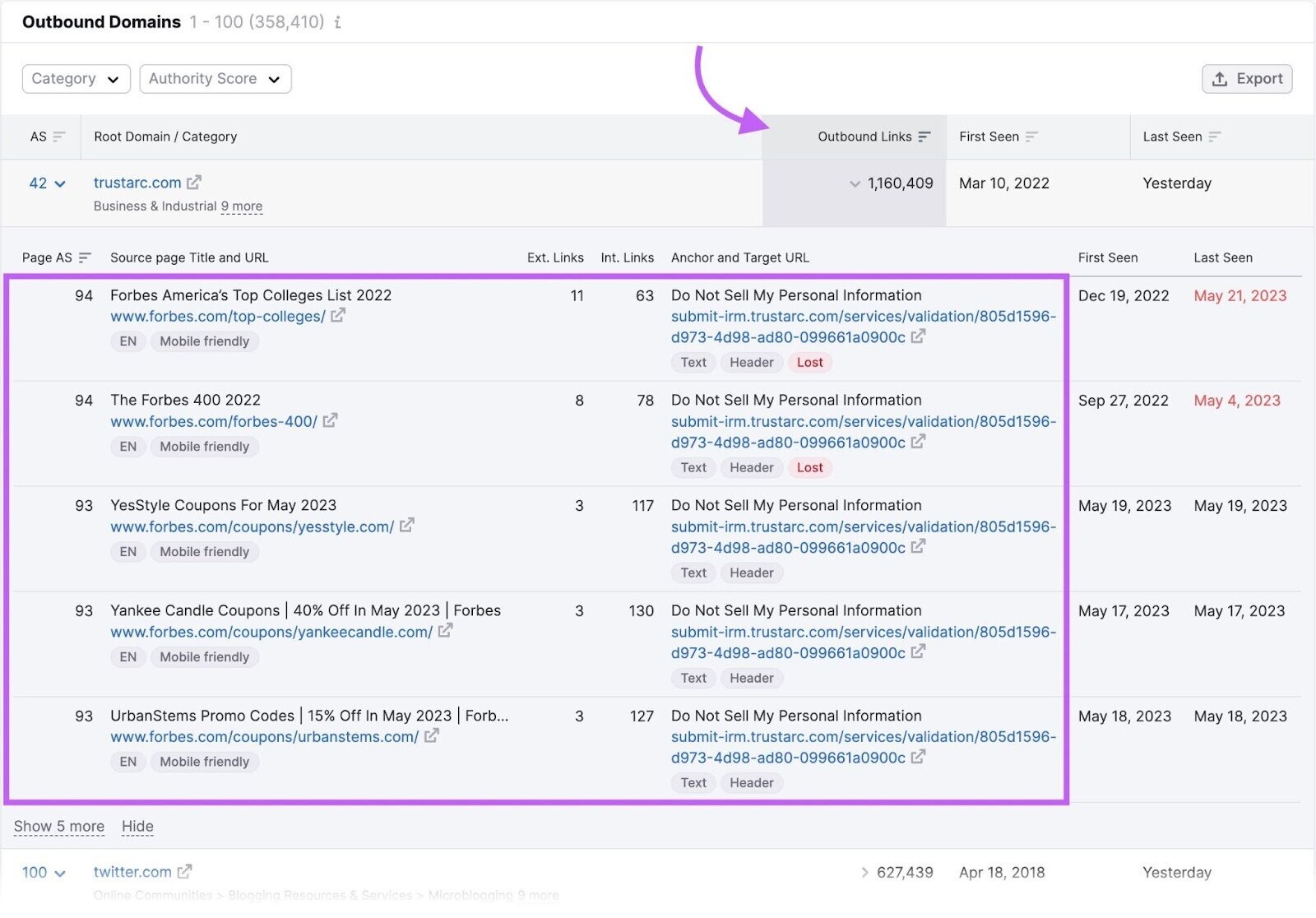 External Links vs. Internal Links
Outbound links are not the same as external links, but they fall under the same category.
The term external links can refer to:
Backlinks (inbound links), which are links from other websites to yours
Outbound links, which are links from your website to another
It is easy to confuse these. And the reality is that an outbound link from one website is a backlink for another. 
Internal links, on the other hand, are links between two pages on the same website. These links help to build topical authority, distribute PageRank, and improve rankings and organic visibility in the SERPs.
Further reading:
Why You Should Use Outbound Links
Outbound links are an important part of SEO. And you should be leveraging them within your own strategy. 
Here are several reasons why:
Strengthen Topical Signals and Add Depth
Linking out to relevant content helps strengthen the topical signals of your web pages. And helps add context for Google and users to understand your site better.
Outbound links can help demonstrate the depth of the topic that you are writing about and can point readers to further resources that they can use to learn more about certain concepts. 
This is especially important when writing about complex topics that may take more explaining to understand what is being referenced fully.
Outbound links are a vital part of naturally writing great content and adding depth; do not be afraid to use these where necessary and when it makes sense to do so.
Adding Value
Linking to other websites is a great way to provide more value to your readers. It adds depth to the topic, offers more information, and strengthens topical signals. 
Google's John Mueller stated in one of the search engine's explainer videos that:
Linking to other websites is a great way to provide value to your users. Often, links help users to find out more, to check out your sources and to better understand how your content is relevant to the questions that they have.
Build Reader Trust
Outbound links help reference sources. This is something that Google employees themselves have confirmed on multiple occasions.
I'd think of linking as just part of proper attribution. You're a journalist. You write a story, you cite your sources. If those sources are online with more info for the reader, that site should link to them. That's just good journalism. It should be standard....
If you're citing a source (person or research), link out to the source. This way, you build reader trust by referencing your sources and presenting them to your audience. 
In a world where fake news is sadly all too common, citing your sources has never been more important. Just be sure to check that you are using the most authoritative version, if at all possible. 
Always use the original version when you can to add that extra layer of trust. 
Demonstrate Expertise
E-E-A-T stands for experience, expertise, authoritativeness, and trustworthiness. And it's what Google uses to evaluate the quality of a web page. 
Linking to other sources, in a way, can help you show expertise. 
Someone who is not an expert in their field would be unlikely to know the right sources to cite in the same way as someone truly experienced would. 
In a post on the Google Search Central blog, there was a reference to citing sources concerning expertise, mentioned as a question to ask yourself when analyzing your content:
Does the content present information in a way that makes you want to trust it, such as clear sourcing, evidence of the expertise involved, background about the author or the site that publishes it, such as through links to an author page or a site's About page?
If Google deems citing sources as a sign of expertise, you'd be crazy to overlook the importance of outbound links.
Further reading:
Do Outbound Links Help SEO?
Yes, using outbound links can (indirectly) help your site's SEO in a couple of ways.
One, they improve user experience because they provide value. And a better user experience can lead to better SEO rankings.
Two, they can help search engines and users understand your topic and niche. When you link out to related sites, you're providing more context about what the page is about. And how it fits into the bigger picture. 
Google is all about connecting people with the most relevant and useful search results.
And your job is to help Google serve users the most relevant and useful information. And part of that means creating high-quality content that includes references and citations to trusted sources. 
Outbound Link Best Practices
Here are a few best practices you should be following when linking to other sources:
Carefully Consider Who You Link Out To
Don't just link out for the sake of doing so.
Links in your content should not look natural; they should be natural. 
Outbound links should be used to either cite your sources or to allow your readers to navigate to a website that you reference. 
It's critical you consider the sites that you link out to. And whether or not they're trustworthy. 
If you don't trust the site you are linking out to, it is probably best not to.
Use rel="nofollow" (or rel="sponsored" or rel="ugc") Where Necessary
There's nothing wrong with monetizing your website or blog by selling text (or banner) advertisements. Or even accepting payment for sponsored posts.
Influencer marketing is a big business right now, and many brands are enjoying huge sales from the referral traffic that is being sent from other people promoting their products and services. 
The main point is that these links are not being sold to build links or improve organic rankings. 
If you accept payment for links, accept gifts in return for a link, or allow users to leave comments or forum posts, use the right attribute. 
Further reading:
Identify Outbound Link Issues
Outbound link issues can hurt your site's user experience. And thus your SEO.
You can quickly identify issues with your site's outbound links using Site Audit.
Tip: Create a free Semrush account (no credit card required), and you can crawl up to 100 URLs.
Start by entering your domain and clicking "Start Audit."
Then, configure your settings and run the audit. The tool will display a dashboard like this one:
Head to the "Issues" tab and type "outbound" into the search bar. 
You'll see your site's outbound link issues. 

These issues are outbound links on your site that contain the nofollow attribute. This tag tells crawlers not to follow the link or pass any link value. 
Unintentionally using this attribute could negatively impact the crawling process and your rankings. So, make sure you haven't used any by mistake. 
Debunking Two Common Outbound Link Myths
Let's debunk common myths and give you insights to understand whether or not there is any truth in them.
You Should Not Link Out to Other Websites
There is an age-old myth in SEO that linking out may harm your website's search engine rankings by diluting your site's PageRank. This is based on an outdated belief that outbound links act as a "PageRank leak."
But let's not forget that PageRank is based upon that exact concept of linking out from one web page to another. It is the foundation that Google is based upon.
That said, many publishers (and other content creators) often avoid linking out for the simple reason that Google has been known to issue a manual action penalty for "unnatural links from your site." 
This has evoked fear among publishers. And there is a misconception that the safest thing to do is not link out.
In most instances, this is taken out of context. Google mostly refers to sites participating in link schemes.
They also go on to claim that this penalty only applies to those who are "buying links or participating in link schemes in order to manipulate PageRank is a violation of Google's Webmaster Guidelines."
For the vast majority of content creators, outbound links should be used to cite sources without any worry or concern, and avoiding them altogether is not the right course of action to take.
Just be sure to carefully choose who you link out to and make sure that the link adds value. 
Outbound Links Should Use the rel= "nofollow" Attribute
The other common myth is that all outbound links on your site should use the rel="nofollow" attribute. 
This also stems from the fact that Google has been known to penalize sites for unnatural outbound links.
Google is not penalizing sites for linking out to sources. But these manual actions exist to help keep the web clean.
If a site is seen to be selling links to other websites or is suffering from problems where user-generated content (usually comments) is resulting in backlink spam (placing unnatural outbound links), these penalties may happen.
A link out to another website should be placed editorially because the author of the content wanted to cite a source or help a reader to navigate somewhere else on the web. 
For this reason, most outgoing links do not need to use the rel= "nofollow" attribute.
But as simple guidelines:
Use rel= "nofollow" when links are not editorially placed and are the result of sponsorships, advertisements, or user-generated content (UGC) in comments and forums
Use rel= "sponsored" as an alternative to rel='nofollow" when a link has been paid for via advertising or sponsorship
Use rel= "ugc" as an alternative to rel='nofollow" when a link comes from user-generated content
CheiRank vs. PageRank
You likely know about PageRank.
But you're probably not so familiar with CheiRank. And are wondering what is it? 
While PageRank is all about inbound links, Cheirank is all about outbound links.
Kevin Indig breaks this down in easier-to-understand terms:
CheiRank measures the importance of a page based on its outgoing links. It is an inverse PageRank: it's a concept that describes how communicative a node is within a corpus. Let me translate it into English. If the idea of PageRank is to measure the "strength" of incoming links to a page, the idea of CheiRank is to measure the strength of outgoing links from a page.
It is a complex concept to get your head around, but one that further backs up the importance of considering how you link out.