Google's advertising platform — known as Google Advertising or "Google Ads" — is used by millions of businesses across the globe. It's considered to be so profitable that Google itself estimates it can deliver an 8:1 return on investment, even with as little as $10-$50 a day. 
Understanding how to navigate the Google Ads platform is the first step of working with this powerful tool. In this guide, we'll also explore its benefits, advertising costs, and what tools can help you build your first ad campaign. 
What Is Google Advertising?
Pretty much any query will return a SERP with ads at the top of the page. These ads are Google Ads — adverts placed with Google's advertising platform to appear on search results pages and other websites in their advertising network. 
Google Ads are usually marked with an "Ad" or "Ads" indicator in bold.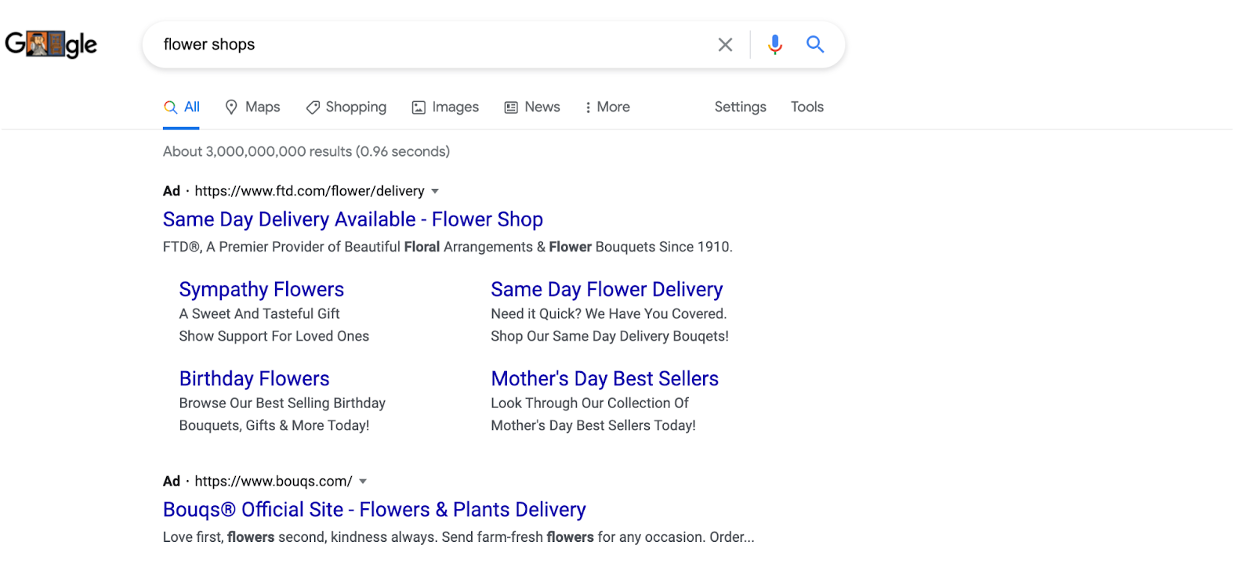 You may hear professionals refer to Google advertising as "Google search advertising" — this is because the ads commonly appear on search pages. Google advertising also offers ad placements on Youtube and other websites.
These search ads are used by businesses to drive traffic and sales to their website. People using Google are often actively searching for something, so these search ads gain the added bonus of appearing before a more engaged audience.
Additionally, you can use the platform to target audiences further when building your ad. Google Ads' functionality allows you to determine which audiences you want to show your ad to, offering more opportunities to convert. 
How Much Does Google Advertising Cost?
Your Google Ads cost will depend on your budget, the competitiveness of your industry, and the type of ad you want to place. 
Ads are created, managed, and run on the Google Ads platform. You'll add copy, images (if applicable), and specify a landing page for potential visitors.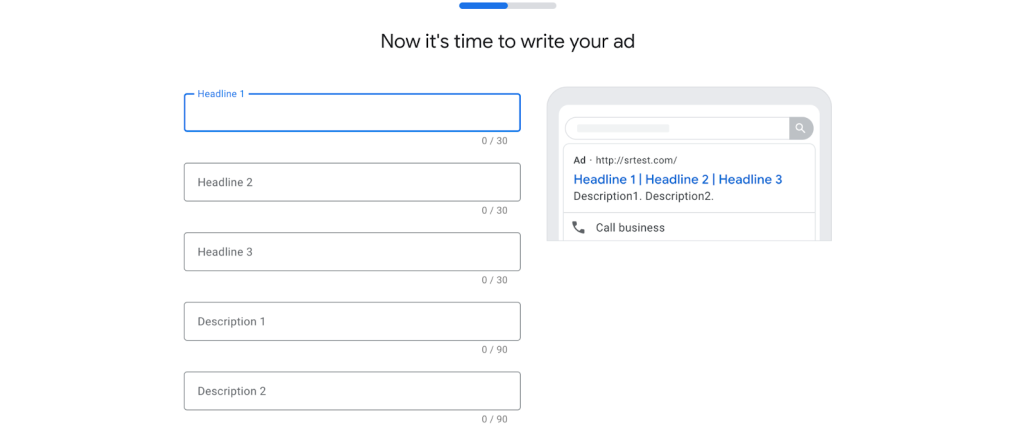 There are also options to choose audience, keywords, and time of day to target depending on what type of ad you are setting up. From there, you'll be instructed to input your budget. 
Google decides where and when to show your ad (while staying within your budget) with machine learning. You'll have control over how much or how little you want your cost per ad to be.
However, you'll need a significant budget when working in competitive industries like retail or technology. 
How Do Google Ads Work?
There will always be more ads available for specific searches than there is ad space on a SERP. So Google runs "auctions" for each keyword to decide which ads to show for a query. When you're creating an ad, you're competing against other businesses that have also created an ad for your targeted keyword and/or audience.
There are 3 factors that determine whether your bid will win:
Budget: how much you (or your competitors) are willing to spend 
Quality Score: a rating of the quality of your ad and landing page based on user experience
Relevance: the relevance of your landing page to your ad and your keywords (this can also contribute to the quality score.)
Google's machine considers each of these factors to determine which ads appear on a search page, web pages in the Ads network, or on YouTube videos.
Google Ads Types
You can choose from 5 ad types:
1. Search campaigns: These are text ads that appear at the top of a Google search results page. Usually, Google search advertising campaigns are pay-per-click (PPC), so you only pay Google when someone clicks on your ad. Your ad copy is the focus of these types of campaigns, so take special care when writing.
2. Shopping campaigns: Shopping campaigns are for selling products or inventory. These ads include product details like a photo, product title, price, and your business name. These PPC ads appear either at the top or right side of a Google SERP.
You'll need Google Merchant in addition to Ads to set up a shopping campaign and pull products from your website into the platform. 
You'll be able to specify negative keywords with shopping campaigns. These are keywords you don't want your ad to appear for. However, you won't be able to specify which keywords to target — Google decides when to show your shopping ads based on algorithms.
3. Display Network Campaigns: Display network campaigns, sometimes known as Google Display Network (GDN) ads, appear on other websites rather than on SERPs. They usually contain text and images, which you determine when you set up your ad.
Display ads reach 90% of internet users because they appear when users are browsing online, checking email, or using certain apps. You'll be able to specify which demographics to target within the display network when you set up your campaign. 
4. Video Campaigns: Video campaigns, or video discovery ads, are short videos that are shown just before or mid-way through a YouTube post. They can help drive subscribers, traffic, or conversions for your product or service.
You'll still need to use Google Ads to set up this ad, even though it will be seen on YouTube. The platform allows you to adjust the target audience and build a 6-15 sec video clip. 
5. App campaigns: App campaigns are ads intended to drive app installs or in-app purchases. They can appear on SERPs, display networks, and YouTube depending on where Google's machine learning predicts that you will gain the most from your ad.
When setting up this ad, you'll be able to add your ad design and budget. Google will automatically show your ad in placements where the audience is most likely to be interested in your app.
Is Google Ads the same as PPC?
No. PPC (short for "paid per click") is a type of paid advertising, whereas Google Adwords is a PPC platform. Although the terms are often used interchangeably, they don't mean the same thing.
As the name suggests, you only pay for a PPC ad when the customer clicks it. You don't have to pay to display your ad. Many types of Google advertising are PPC, but PPC is not limited to Google advertising.
Paid Google Advertising vs. Google Organic 
Google advertising (PPC) and Google organic (SEO) are both types of search engine marketing (SEM). However, the two work very differently and should be run as separate marketing channels:
Paid Google Advertising vs. Google Organic 
Google advertising (PPC) and Google organic (SEO) are both types of search engine marketing (SEM). However, the two work very differently and should be run as separate marketing channels: 
Google Ads is a paid search channel. You run ads, then pay when someone clicks on your ad. You can set which ads to run and how much you spend, and you can start driving traffic straight away. 
Google Organic targets the search engine itself. You roll out strategies on your website to rank as high as possible in Google search results in order to drive clicks. You don't pay to rank and you don't pay when someone clicks. but it is a slower process that you can't turn on or off. It can take a long time to rank well organically, even if you are an SEO specialist who knows what they are doing. 
Running Google advertising while working on your SEO can help to support your overall marketing goals.
Why Should You Run Google Ads?
We get it: if you can drive traffic with free or low-cost marketing channels, why pay for online ads?
Many marketing professionals have added Google Ads to their marketing tool box, and with good reason. With a suitable budget and strategy, you can earn significant returns with a Google Ads campaign. 
Benefits can include:
Faster ROI: Once live, ads are available for clicks wherever they are shown. Popular ads can become profitable almost immediately, and good ads can see returns much faster than other marketing channels like SEO or email.
Spend Control: Google Ads' functionality gives you complete control of your budget and how much you spend. You can adjust your campaign's parameters at any time, or turn it off as you need. 
Support Your Marketing Goals: Google advertising can help you drive more brand awareness as well as traffic, footfall, or conversions. No matter your marketing goal, there's a Google ad type that can help you reach it. 
Easy Reporting: Track your ads' clicks, spends, and more in the Ads platform or connect the platform to PPC tools you may have available. You can also plug your Adwords account straight into Google Data Studio for automated live reports. 
Targeting Control: Google Ads gives you a lot of control over who you want to show your ads to, where you want to show them, and for how long. You can specify the device, time of day, demographic, location, placement, and more. This gives you an opportunity to optimise your budget as you'll know that you're targeting the right people and not wasting your money on people that will never convert.
How To Advertise On Google
When getting started, there are generally 4 steps to follow:
Audit
Research
Build
Monitor
Each stage requires a different set of tasks and processes. There are quite a few PPC tools available to help you outside of the Ads platform itself. These tools can help you set your campaigns up correctly and track their performance.
Here are some useful tools for each stage:
Ad Auditing Tools
The first thing you should do when starting to run a new ad is audit the ads and campaigns you already have. This means reviewing existing ads, their CTRs, landing pages, and competition levels.
The Ad History report in Semrush reviews the performance of past ads based on specific keywords. You'll be able to see any Ads traffic earned by domain, as well as any keywords for ads currently linking to that domain. 
Google Ads Performance Grader
This free tool by Wordstream is particularly useful if you already have some Google Ads set up. It audits your existing performance and gives you basic recommendations to improve. It focuses on quality score, impression share, CTR, ad text, and your landing page.
Google Ads Keyword Planner
The Ads platform itself can help you audit your ads with tools like its Keyword Planner. Use it to help you audit competition difficulty and average bid for page 1 ads.
Keyword Research Tools 
Keyword research is essential to identify the keywords you should bid on and those that you shouldn't. Suitable keywords could be based on brand reasons, competitiveness, budget, and search volume. 
The step is arguably the most extensive when it comes to building your Google Ads campaigns. Selecting the right keywords to target is key to saving your time and money.
The Keyword Magic tool can be just as helpful with PPC campaigns as with SEO. Enter keywords you're considering bidding on, and the tool will generate similar keywords that could have better search volume, be less competitive, and therefore less expensive.
The PPC Keyword tool is much more ad-specific. It helps you identify keywords for your ads based on:
Long-tail matches
Competitors' paid or organic keywords
Semantically related keywords
Mixing words to get long-tail keywords
You can also group keywords into campaigns and identify negative keywords for your ads.
Ad Building Tools
Once you have identified your keywords and know what budget you have, it's time to start creating your ads. Here is where you'll need to exercise some creativity to stand out by developing relevant and engaging copy that also has a good quality score.
Semrush Advertising Research Tool
Our Advertising Research tool is perfect for creating your first display ad. When you enter your keyword, it will find a list of relevant ads to your keyword and show you what types of text and images are working for current popular ads. You can then pick aspects of each that you like and that embody your brand in order to create your own ad. 
Ad Monitoring Performance Tools
Once your ad campaign is live, you'll need to monitor it to make sure that your marketing goals are being reached and you're still within budget. The Google Ads platform offers some great metrics and reporting features, but there are other pro tools that can track and present performance data efficiently:
The Position Tracker from Semrush makes tracking your ad performance against your competitors easy. It will also give you insight into where SERP features appear and alert you when new competitors start to bid on your keywords.
Supermetrics
Supermetrics pulls all of your ad data into one place and shows you the most important metrics from across your platforms and campaigns. Although it takes a little while to set up, once it's running it will help you to stay on top of ROI and make data-based decisions. 
Should You Advertise On Google?
Should You Advertise On Google? 
We think so. Google Ads can be a very profitable marketing channel for your business. Though setting up your ads will take a bit of effort, once they're running you can monitor them and learn what techniques work best for you. 
Take advantage of specialist tools as you complete the ad building process. Your next great ad is around the corner.