Writing is as much a science as it is an art: Style, message, and impact are all counterbalanced with structure, format, and a data-driven understanding of the reader. 
Besides providing valuable and useful information, your article actually delivering on its promises often comes down to how it is formatted. 
Let's explore exactly how to format and optimize your blog post in this 8-step guide. 
To follow along, download our free blog post quality checklist.
What Is Blog Formatting?
Blog formatting is the process of structuring your article aimed at highlighting the key messages and improving the reader's experience. It includes mapping the header structure, boosting readability, using visual elements to guide the reader, and applying consistent style guidelines. 
Ultimately, the way a blog article is formatted determines how well an idea is communicated.
Why Formatting Your Blog Matters
In formatting a blog post, your aim is to find the optimum way to highlight your key message. 
A well-formatted article walks a reader through an argument or piece of content step by step. It makes the reading experience more enjoyable. 
By formatting your blog posts appropriately, you increase the chances of:
Readers engaging with your content and staying longer on the page 
Increasing on-blog conversions 
Improving your website ranking
How to Effectively Format Your Blog Posts and Boost Engagement 
Here are seven blog format tips marketers should apply to write effective content:
1. Analyze Search Intent to Understand How to Present Your Content
As a marketer, your main objective is to provide a clear and thorough answer to your target persona's question or search query. 
Search intent is the primary goal someone has when looking for content or typing a query into a search engine. 
To satisfy search intent, Google surfaces the most relevant results for any search query. 
By looking at other articles ranking for your target keyword, you can see how content is best delivered to match your audience's expectations.
You can analyze the following elements:
How are these articles structured? (Is it mostly "What is," "How to," or list-based blogs?)
What other structural elements do they use? (Are there lists or tabs?)
What visuals do they feature? (Are there lots of images or videos?)
How long are those blog posts?
What kind of subtopics and questions do they address?
Here's How To Assess Search Intent
Let's imagine you want to rank for the "what is an API" keyword phrase. 
First, Google your target keywords and analyze the articles that rank on page one.
Next, open some of those blog posts and examine them in detail. 
After running some analysis, you might come up with the following takeaways:
This piece should be targeting a beginner audience (so, avoid going too deep into the topic and make sure to answer the most foundational questions)
All blog posts seem to be concise and straight to the point (according to the SEO Content Template tool, the average content length of the top 10 ranking articles is 1,213 words)
It's important to educate the reader about the different types of APIs and their differences
Adding a table of content as well as lots of bullet points can help you simplify the complex technical information
2. Choose the Relevant Blog Post Format
Once you've analyzed the search intent, you can decide which blog format to use in your specific situation.
At the previous step, you might have seen some common formatting patterns related to your blog's topic. 
For example, does it look like all top-ranking articles share a list of items, or do they focus on explaining a certain workflow?
Here's a summary of the most common article formats (with examples) to help you create an initial framework for your article: 
Listicles
These list articles (listicles) were made famous by Buzzfeed in the early days of the internet. They get information across quickly, are easy to read, and are often very shareable. 
They are particularly useful in a number of cases:
Giving suggestions (e.g., "10 top places to visit in Venice")
New information (e.g., "4 new trends in SEO")
Offering resources (e.g., "26 useful blogs to help you manage your finances")
Check out this example by Toptal: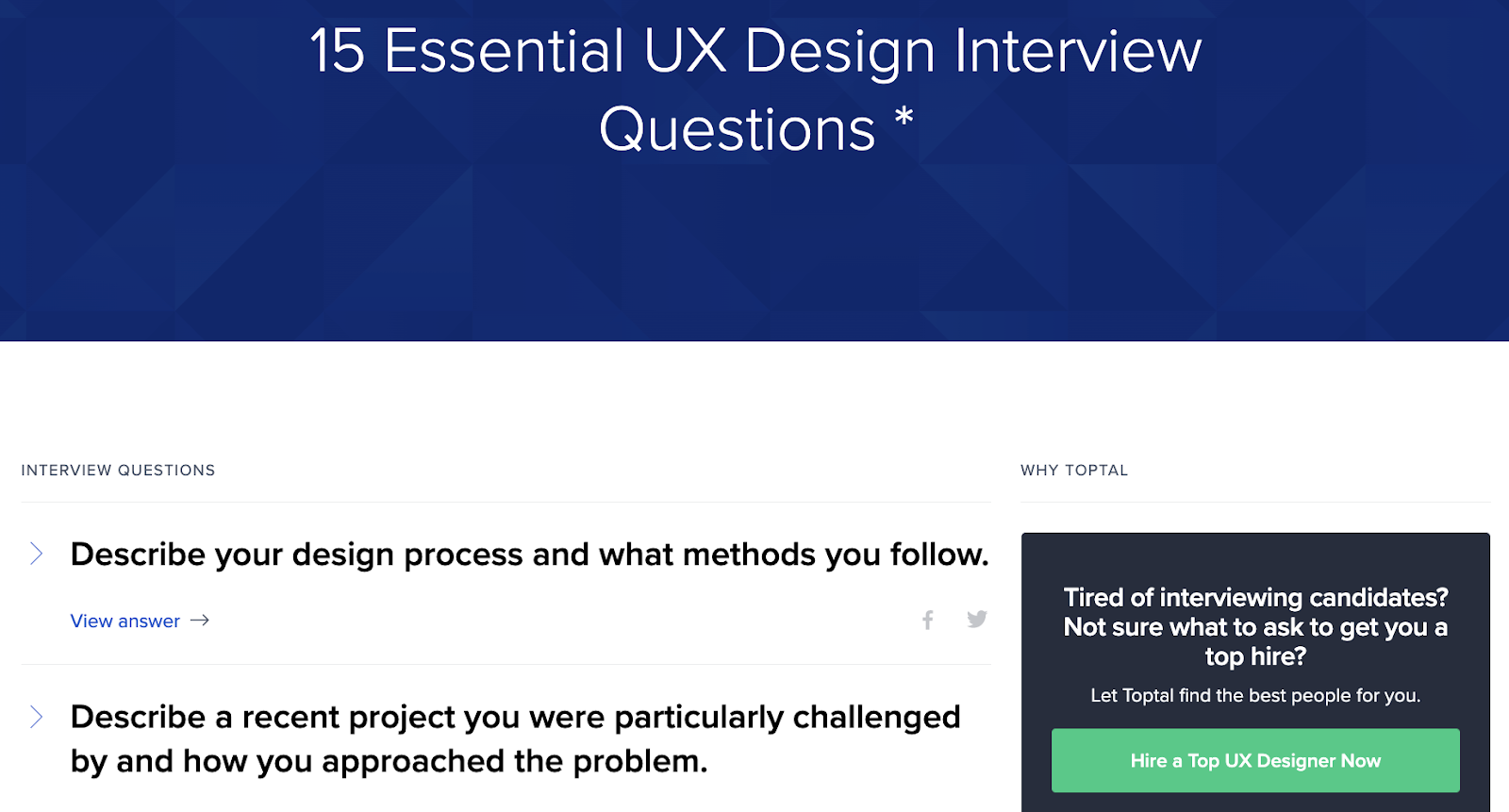 How-To Articles
How-to articles guide readers through a workflow. They are supremely useful when a reader wants practical, step-by-step instructions. 
They start with a problem statement and then use H tags and subsections, as well as lists and multimedia, to help readers solve their problems.
Here's a great example from BrainStation: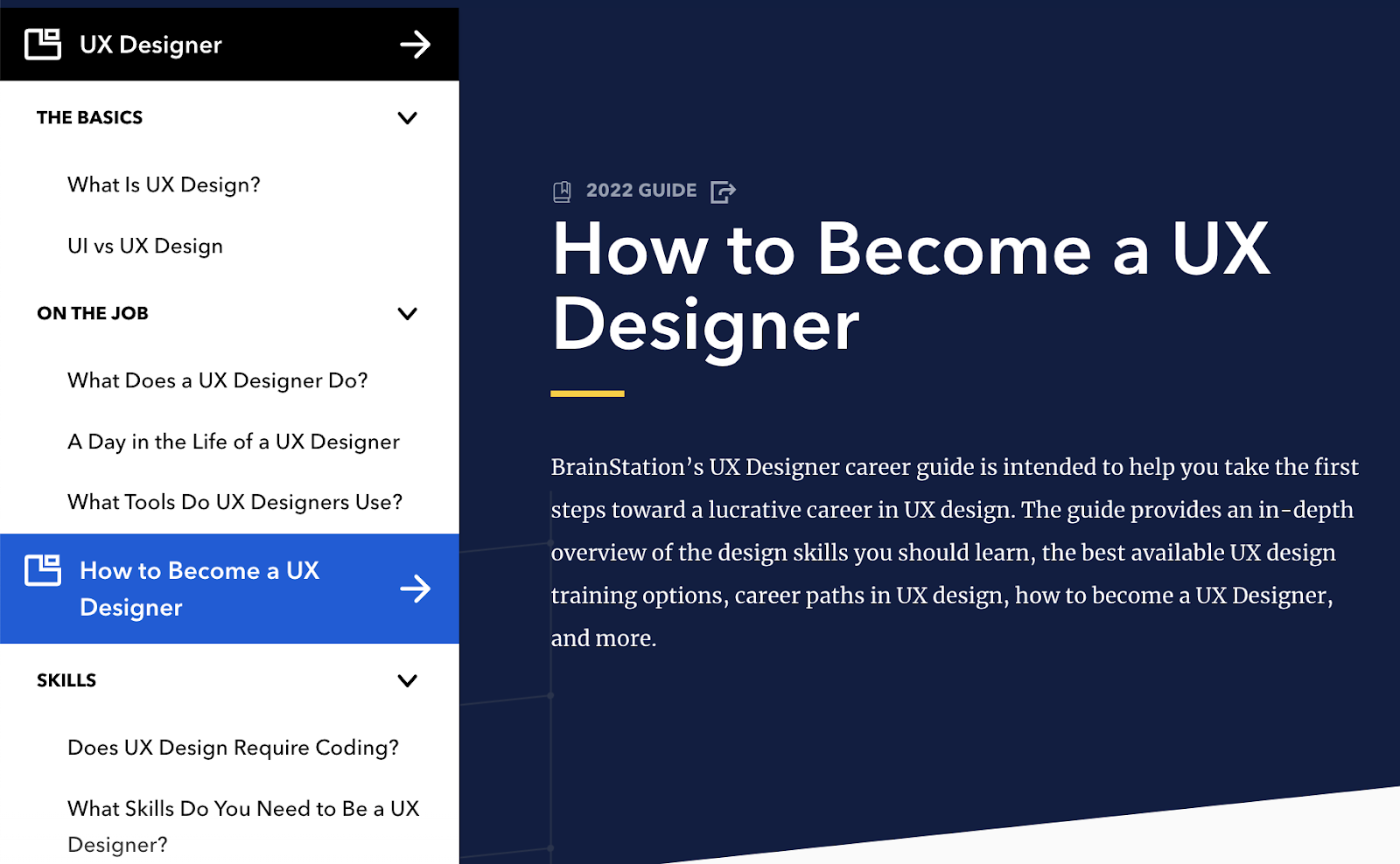 Comparison/Review Articles
When putting products, solutions, or even celebrities side by side, comparison articles are a tried-and-tested format. 
They aim to highlight the similarities and differences in any given category, helping the reader skim and understand the main points both quickly and easily. 
Ultimately, these articles help readers make the best decision for themselves. 
Here's one example from Webflow: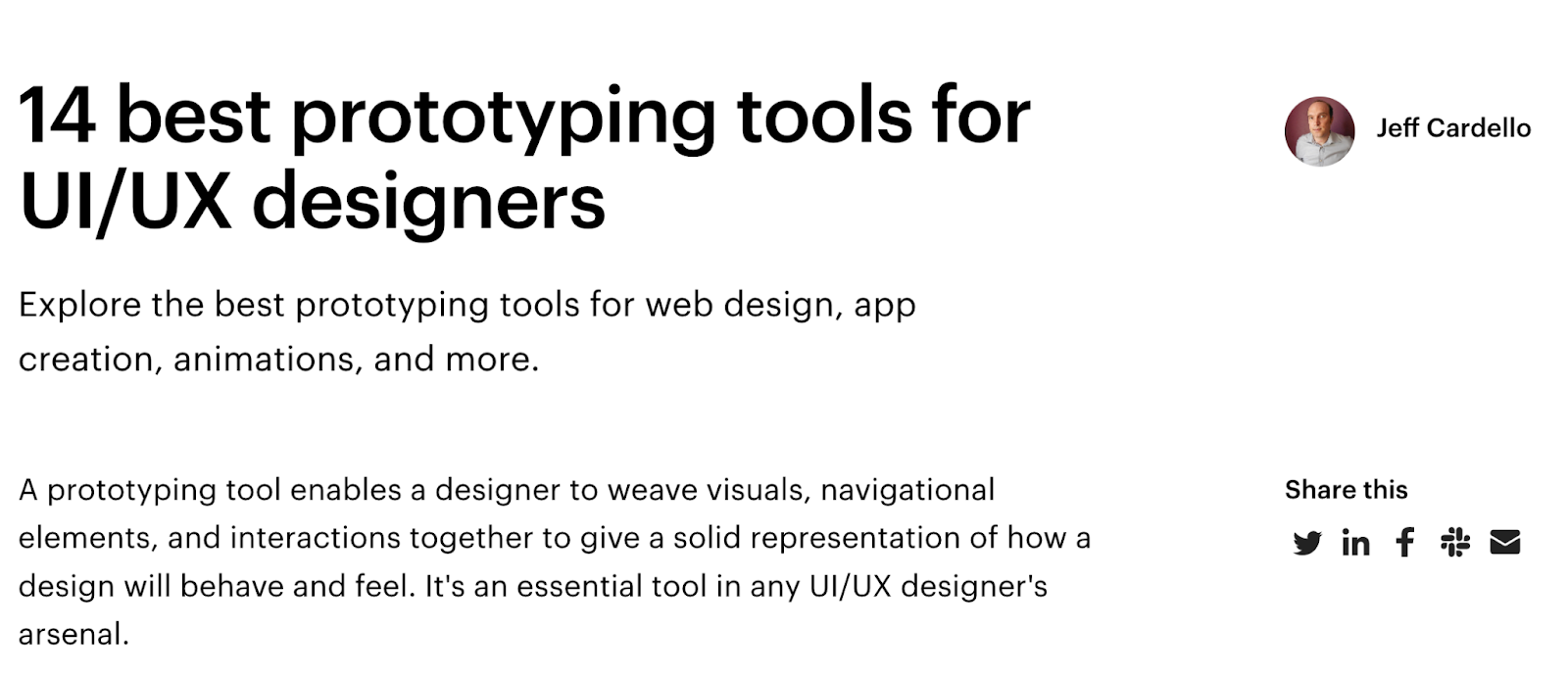 Guides 
Guides or pillar pages work well for broad overviews of a topic. They help you cover broader keywords and answer fundamental questions. 
Such blog posts tend to be longer, evergreen examples of content. 
Here's an example by Typeform: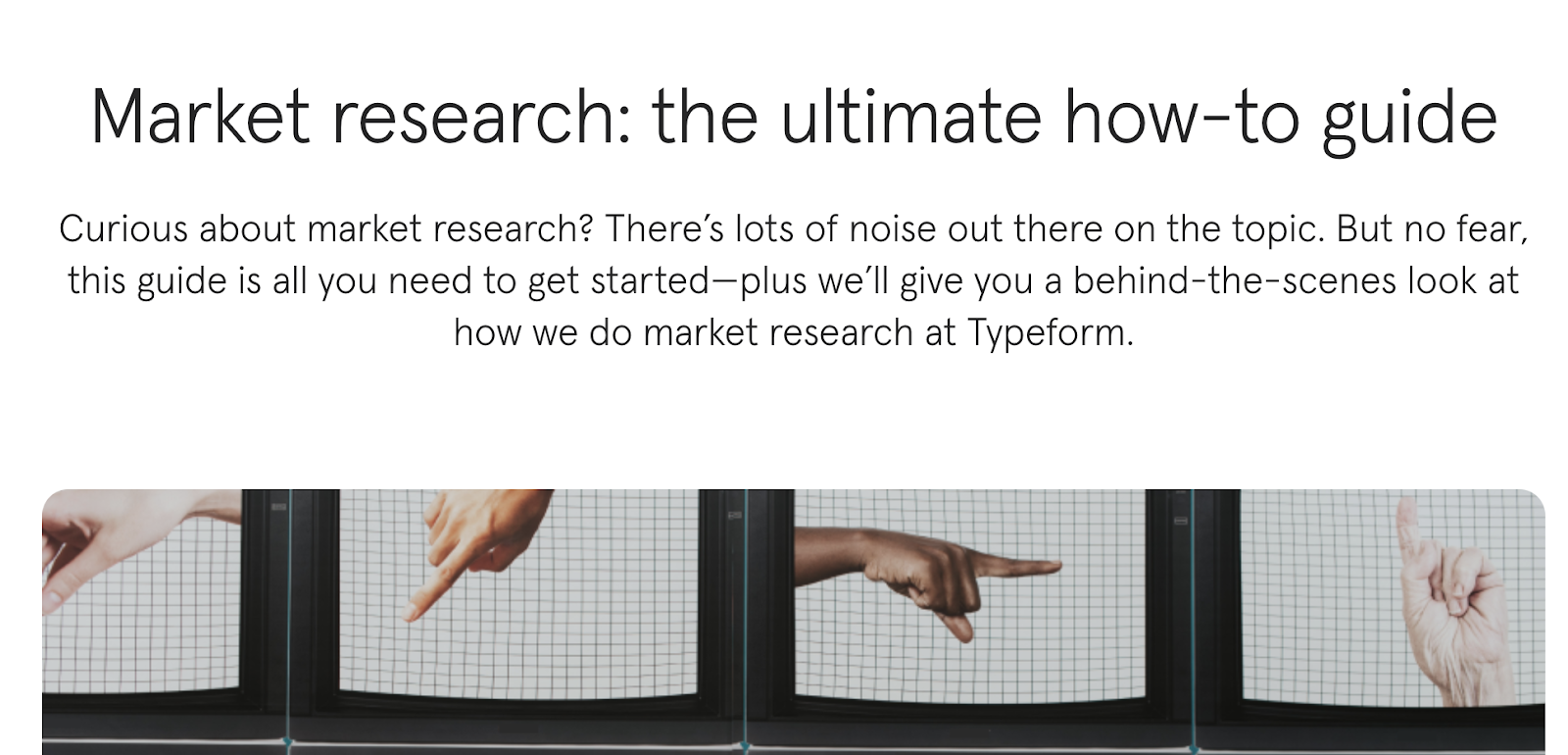 For further insights on blog formats, explore these free blog post templates. 
3. Create an Effective Title to Catch the Reader's Attention
Blog post titles have three main jobs:
1. Spark interest in your audience and generate clicks
To do this, your headline needs to be specific and showcase the value the readers will get.
A good title should also generate curiosity; it can do so using one or more of the following techniques:
Highlight a gap in the reader's knowledge
Present an interesting perspective
Be controversial in some way
Share something impactful to the industry or local community
Connect to a leading news story or a prominent figure
2. Accurately indicate the content of the article
Articles need to deliver on the title's promise. 
Anything that's misleading or "click-baity" is likely to result in a poor reader experience and a high bounce rate. 
3. Garner organic traffic through SEO
For SEO purposes, your title must include your primary keyword. Our research indicates that 71% of low-scoring blog posts fail to do so. 
The title should also be under 60 characters long to display in the search results correctly. 
It's also a good idea to analyze and even get inspired by the competition. 
Use the Topic Research tool to explore the most popular and backlink-generating headlines related to your topic.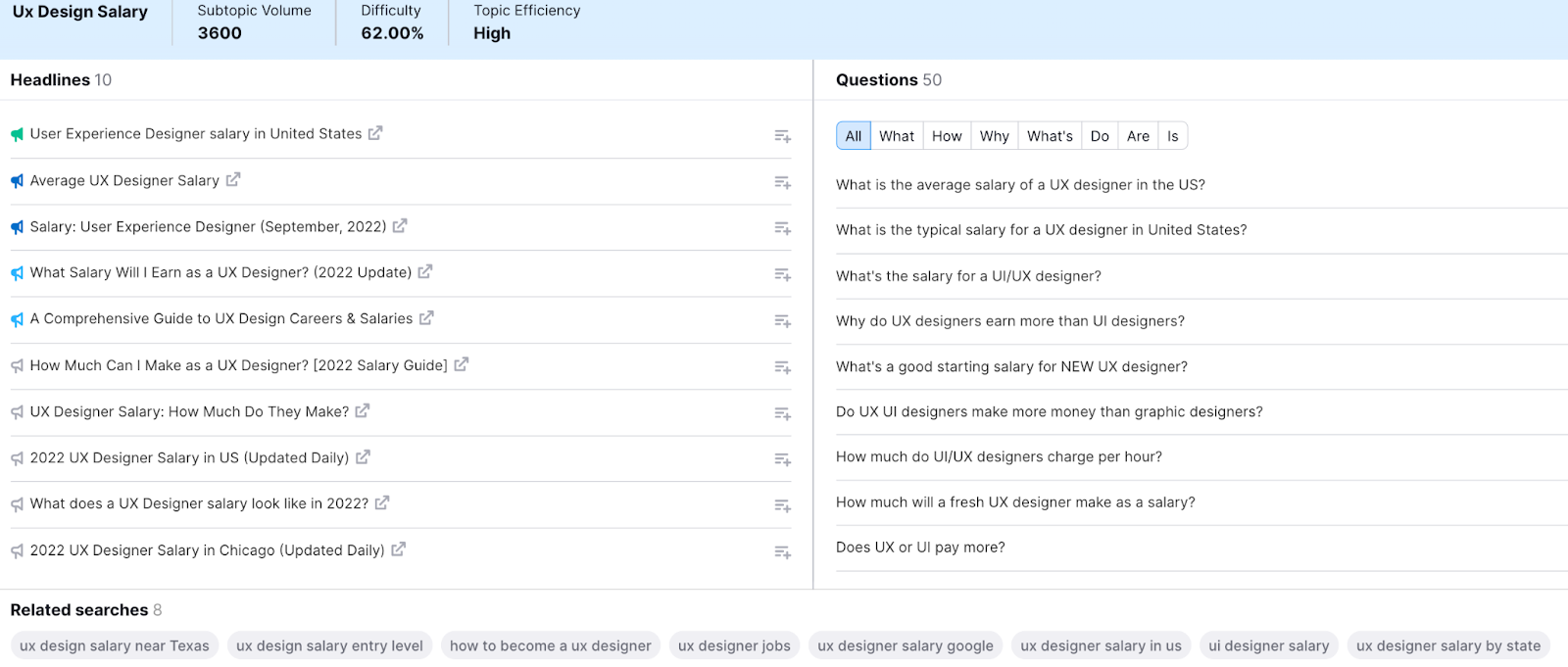 4. Create an Outline that Delivers on Your Goals
Building an outline is essential to ensure that your blog post creates a smooth experience for the reader.
A blog outline provides a high-level view of the subtopics included in the article and establishes its logical flow.
In real terms, this means:
Establishing Heading Depth 
Heading depth refers to the amount of "heading tags" (such as H2, H3, and H3) you include in your blog post. 
In practical terms, it means that each new section of your article should have a subheading. 
These help the reader skim read, break up the copy, and give the search engines a way to index your content. They also help improve accessibility for people who use screen readers. 
In our research, we found that articles with complex structures (the presence of H2, H3, and H4) belonged in the top 47% highest-performing content group: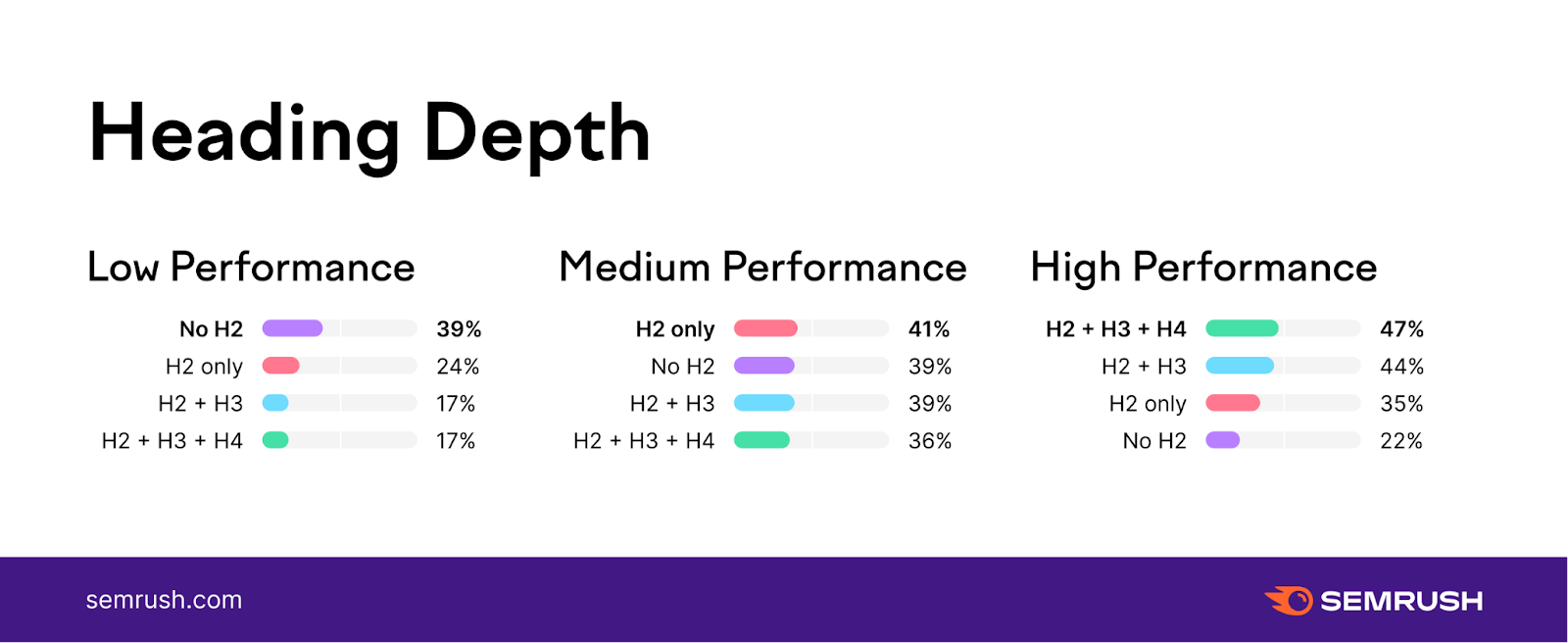 To map out the heading depth for your article, you'll need to think through the questions you want to answer in your article and their logical order. 
Depending on the blog format you've chosen, this can go in multiple ways. 
For example, using the "what is it, why it matters, and how to do it" structure could work well for the "how to" and "guide" formats.
Adding a Table of Contents
Adding an interactive table of contents will help you further boost the reader experience and help users navigate through the article. 
This is especially applicable to long-form blog posts with complex structures. 
For example, the BrainStation article we shared earlier features a great clickable left-side navigation bar: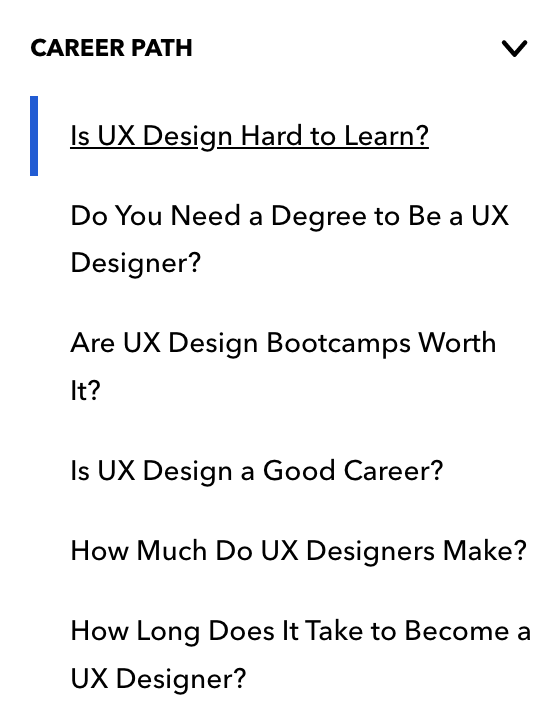 Creating Outlines for Your Content Briefs
To automate the outline creation process, use the ContentShake tool. It'll build a suggested article outline in one click.
You can choose ideas generated by AI, receive recommendations based on competitive analysis, and see the most popular questions related to your topic.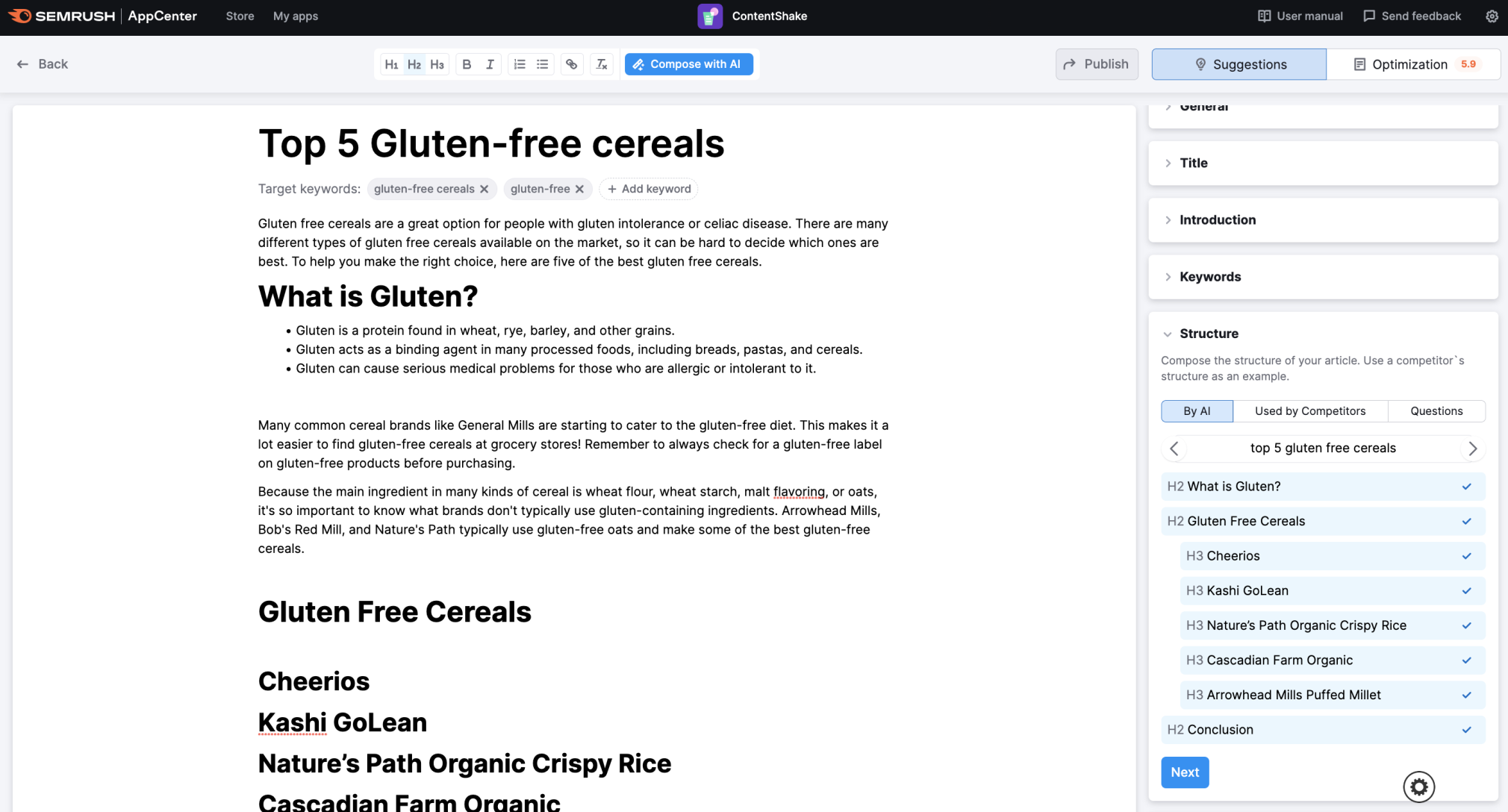 You can then use it to write introductions and conclusions, expand your ideas and optimize the finalized draft for engagement and rankings.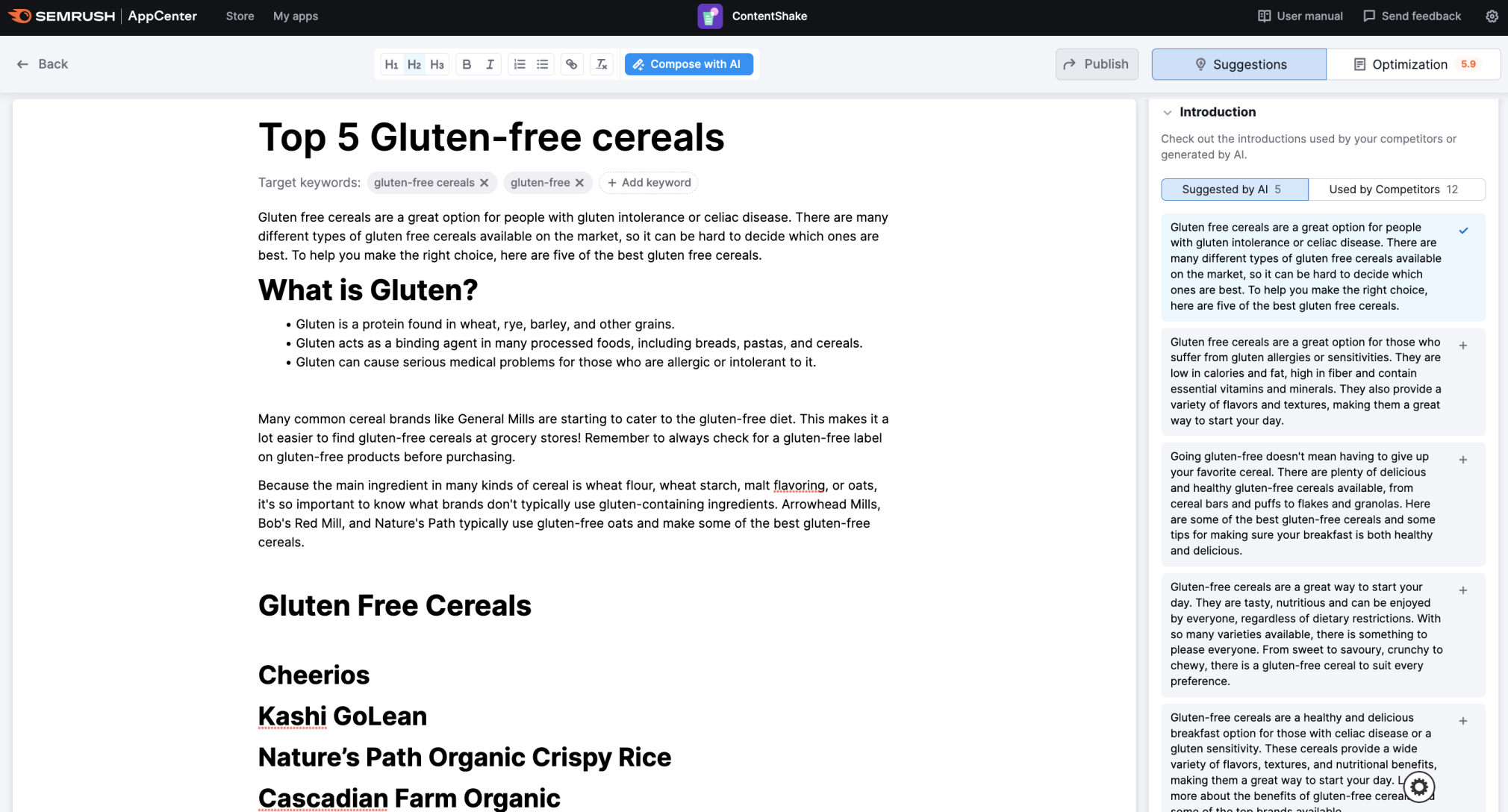 5. Format Your Text to Make It Easier to Navigate 
Remember that your readers are likely to start by scanning your article before deciding whether to invest the time to read it in full. 
Readers want to first look for signals that what you have written is quality content.
Here are some tips on formatting your blog posts to simplify this task for your audience: 
Use the BLUF Approach 
Interest and attention are in short supply. 
The key to getting and keeping eyes on your content is to find a way to show that you are offering value. 
That's where BLUF comes in: the Bottom Line Up Front. 
Simply put, it means starting every paragraph and every section by sharing the most important information. 
Then, as the article or guide progresses, you should add further details that add to the reader's understanding.
Create Lots of White Spaces
Seeing massive blocks of text will likely push your readers away, resulting in high bounce rates and lower engagement. 
Here's what you can do to avoid it:
Keep your paragraphs short 
Focus on only one idea at a time
Add lists and bullet points where you see fit 
Add More Rich Media and Visuals 
Adding images, infographics, sharing examples, and integrating video—all of this can help you improve the user experience on your blog posts.
Visuals help readers process the information and learn faster, and they allow you to break up big chunks of text.
To illustrate, we found that articles with 7+ images receive 116% more organic traffic than those with none.
Cross-Link to Other Relevant Content 
Finally, make sure to include hyperlinks to other relevant, quality content within your blog post. 
Adding useful links will help your readers get familiar with the related concepts you bring up in your articles.
Interlinking is also good for SEO, as search engine bots require context to understand how different blog posts are related. 
However, make sure to only add links where it's truly necessary. Having hyperlinks in every paragraph can shift your reader's attention and drive them away from the page.
6. Focus on Improving Your Copy's Readability
Making your blog post easier to read is another way to improve engagement. It's an essential writing skill to master if you work with content.
Articles with good readability share the following characteristics. They:
Mix up sentence lengths (though shorter sentences are preferred)
Use shorter paragraphs (1-3 sentences is optimum)
Use simpler words in place of complex ones
You can use the SEO Writing Assistant tool to automatically assess your blog post's readability level and improve it. 
It will generate a readability score for your copy and highlight paragraphs, sentences, and words that need to be rewritten.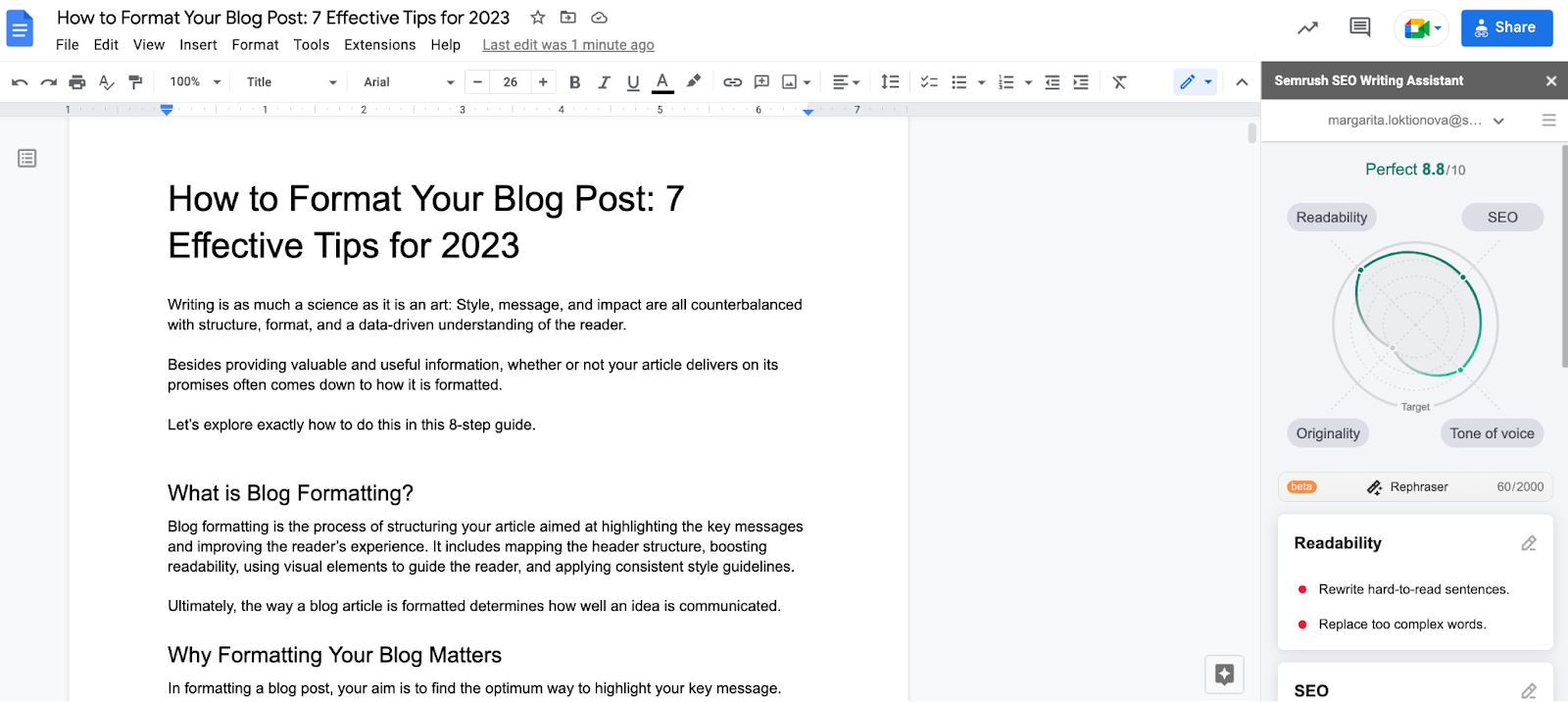 Other things to consider include maintaining a consistent tone in writing and sticking to a specific style guide. 
If you don't have a style guide, you could work from an industry-standard one, like the AP Style Guide.
7. Optimize Your Text for Conversion and Add Clear CTAs 
Your calls to action (CTAs) go some way in determining how well your article performs against your objectives. Let's look at how you can optimize your blog posts for conversions.
Effective CTAs:
The reader should know exactly how to perform a conversion action and what it would mean for them.
Make sure your calls to action align well with your blog's content and the reader's position in the buyer's journey. 
For example, if a reader is learning about home decor techniques, they might download your infographic color matching guide:
"Learn 5 exclusive home designer secrets: Pick up our free color matching guide today"
If your reader is closer to conversion, your CTAs can be more sales-focused:
"Leave your details to get a free consultation with our interior designer"
Are integrated organically into your article's flow
Avoid creating a negative impact on the reader experience just for the sake of having a CTA. Instead, only add them where it logically fits the blog post and generates value. 
Final thoughts
In this guide, we've covered how to format a blog post effectively, along with a number of connected blogging ideas.
These include outlining your article, following the BLUF structure, improving readability, and formatting elements for different blog post styles. 
Following these guidelines will help your content shine, transmit value, and encourage the reader to take action. 
To help you bring each article about your product to the highest standard, use ContentShake — our one-stop AI content writing tool.