Meta keywords - should you use them? Should you not? Are they useful? These are all questions people ask frequently, and with some much older information available on the web today, many people new to SEO are not sure if they should use the meta keyword tag or not. 
This quick article will break down some history of the meta keywords tag, what experts have said recently, and the sites and search engines that still use meta keywords. 
What Are Meta Keywords? 
Meta keywords are a <meta> tag option that could be used to give more information to search engines on what a page is about.
A <meta> tag defines what different types of metadata are about in an HTML document. These meta tags can be found in the source pages of a website, which is what search engine crawlers scan to determine what a page is about. The question is, should you use the meta keyword tag? It depends; let's find out more...
The History of Meta Keywords: The Early Days of SEO 
Before there was a Google, optimizing for other search engines included the step of having a meta keywords element in HTML for pages. These were elements that contained lists of keywords, usually separated by commas. These keywords were ones that you may have felt were relevant to the content on your pages, and that you would like your page to rank for.
A meta keywords element was placed in the Head section of the HTML of your webpage, and looked like this:
<meta name="keywords" content="Keyword1, Keyword2, Keyword3">
HTML 4
In HTML 4, a meta element was one that is aimed at providing, "machine-readable information about HTML documents and other network-accessible resources." A section of HTML Version 4.0 told us about Meta elements and Search engines, and that a common use for a Meta element was "to specify keywords that a search engine may use to improve the quality of search results."
The Meta Keyword Element was popular at search engines such as Altavista; however, its popularity waned, and it became less popular.
2002 - Death of a Meta Tag
By 2002, the following article by Danny Sullivan appeared at Search Engine Watch: Death Of A Meta Tag. There Danny told us that the meta keywords tag was only supported by one search engine at that time - Inktomi.
He also told us that the first two search engines to start using meta keywords tags were Infoseek and Altavista. The late 1990s appeared to be the time of the meta keyword element, according to Danny:
The ascendancy of the tag did not last after 1997. Experience with the tag has showed it to be a spam magnet. Some web site owners would insert misleading words about their pages or use excessive repetition of words in hopes of tricking the crawlers about relevancy. For this reason, Excite (which also owned WebCrawler) resisted added support. Lycos quietly dropped its support of the tag in 1998, and newer search engines such as Google and FAST never added support at all.
Altavista dropped support for the tag in 2001, after stating that they "have found that the high incidence of keyword repetition and spam made it an unreliable indication of site content and quality."
Modern-Day Poll on the Meta Keywords Element 
Curious about how modern SEOs might feel about the Meta Keywords Element today, I decided to run a poll asking about how people felt about it. I also asked for comments and received some interesting ones.
Do you still use meta keywords tags on pages you optimize?

— Bill Slawski ⚓ (@bill_slawski) May 29, 2020
Carrie Hill pointed out that the meta keywords element was useful when found on competitor's sites to see what keywords they optimized pages for: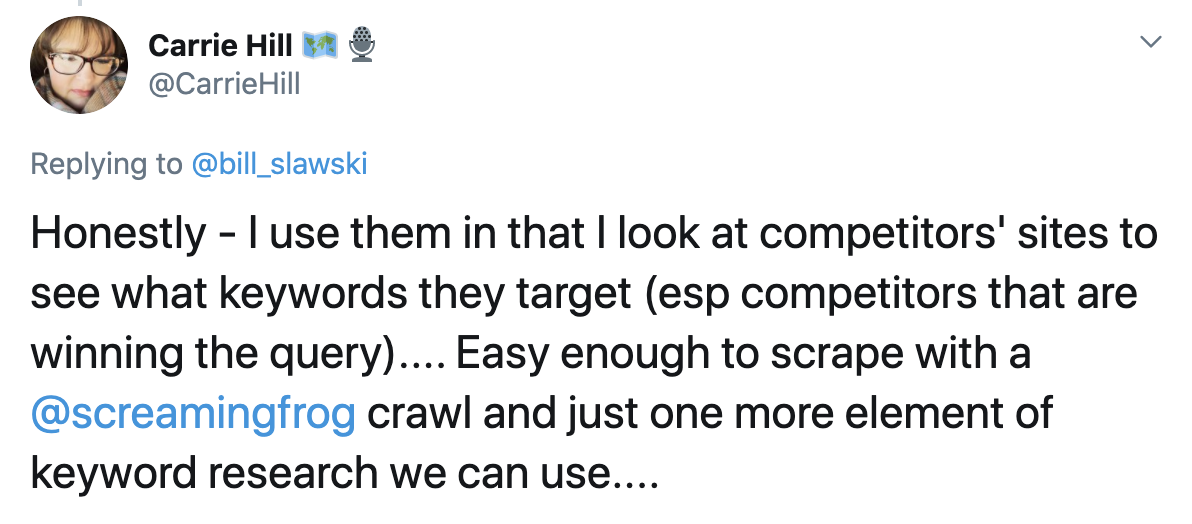 Scott Hendison reminded us that the Yoast SEO Plugin made the meta Keywords element available to users until 2018 when it removed them for good.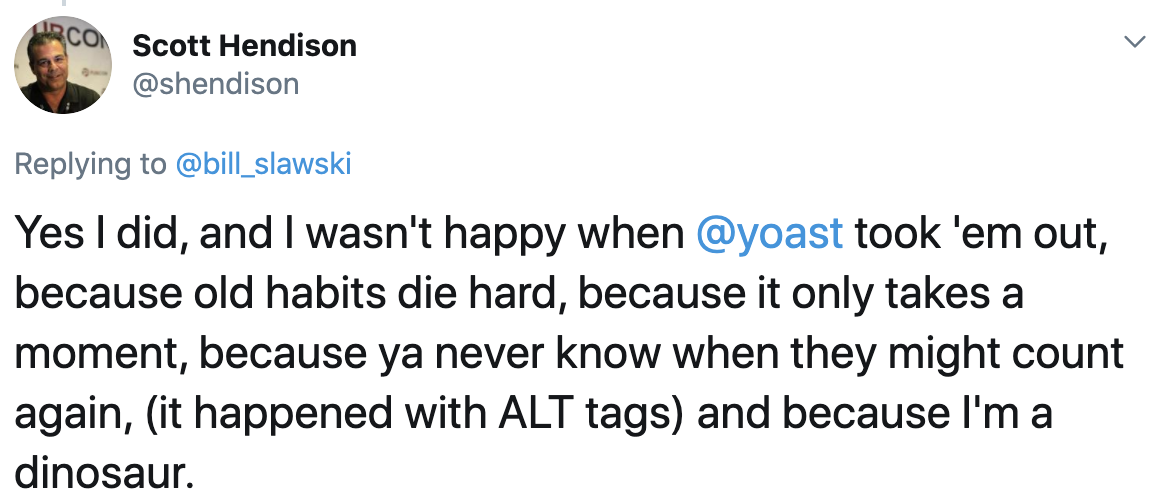 Don Rhoades pointed out that some site searches still use meta Keyword elements: 

JP Sherman affirmed this by telling us:

How Other Search Engines Handle Meta Keywords
We do see Google telling us that they do not use the meta keywords element for their site search on their programmable search help metatags page. It may be possible that some other search engines may still use meta Keywords elements, as was pointed out to me: 

Christi Olsen from Bing told me that they weren't using the Meta Keywords element and that they exclude it and ignore it: 

Frédéric Dubut, also at Bing, told us something different. He explained in more detail, telling us that he didn't want to deny that Bing was looking at the use of a meta keywords element: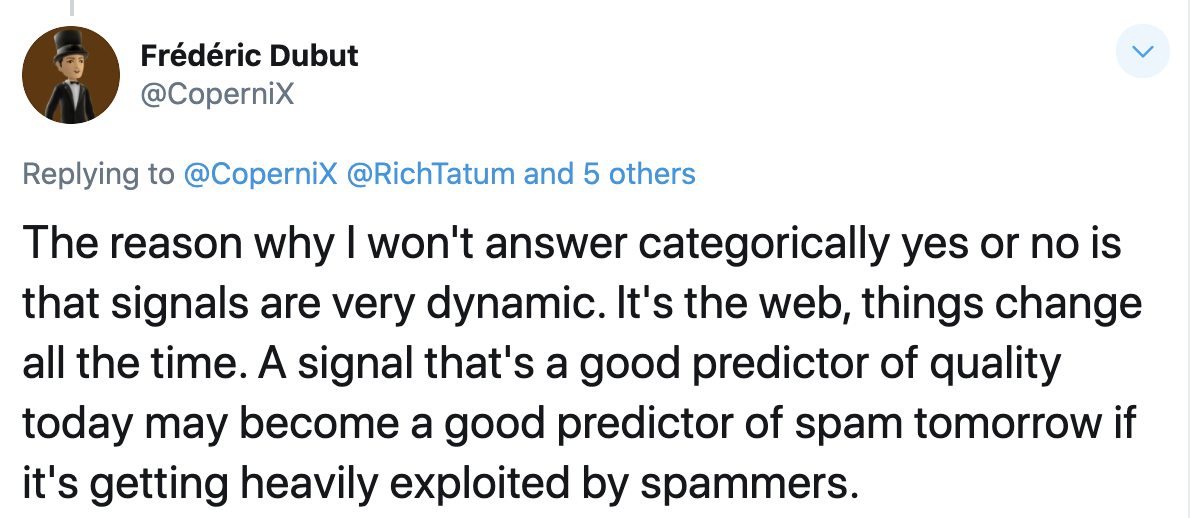 So, it is possible that the meta keywords element is being used at Bing as a way of seeing if someone is attempting to spam a page. Based on these comments, the meta keywords tag could be useful for some search engines, but perhaps not for the larger companies, many of us use. 
Other Places Meta Keywords Are Being Used
If you look through the HTML source code on a page at Amazon, you may see a meta keywords element in use:
Amazon pages seem to do fairly well at Google, but it is questionable whether the Meta Keywords Elements included on Amazon pages have anything to do with that. Google has published a support page where they list the meta tags that they pay attention to, and the meta keywords element is not one of those.
There are references to Amazon Backend Keywords, which may aid in site search at Amazon, but are likely not the meta keywords that are appearing in the example I provided above.
Yandex and Baidu
A Yandex support page Meta tags that Yandex takes into account tells us that the meta keywords element, "Can be used when determining the page's relevance to search queries." That support page has a 2020 copyright notice on it, so it may be present-day help at that search engine.
A July 4, 2018 blog post from a firm that does optimization for sites in Baidu tells us Why You shouldn't Use Meta Keywords Tag for Baidu SEO Anymore.
For clarity, Yandex tells us that they do pay attention to Meta Keyword Elements. I couldn't find a page from Baidu nor from Naver that told us that either of those search engines does too.
Meta Keywords Take-Aways
Google – It does not appear that Google uses meta keywords elements, and Bing has told us that they may use the Meta Keywords Element to identify whether a page might be attempting to spam.
Yandex – Yandex Support pages tell us that it is still using the meta keywords element. We don't see similar pages from Baidu or Naver, but they may not have support pages about this topic in English.
Site search – Some site search programs may use meta keywords elements to power site search. We know that Google programmable search doesn't rely on meta keywords elements. Check with the site search that you decide to use on your site to see if it uses meta keywords elements.
Competitive Research - Some respondents to the poll I ran suggested that filling the meta keywords element on your page with the keywords you are optimizing for is like highlighting those keywords to your competitors. Chances are you are using the keywords you are optimizing pages for on those pages themselves, so you likely already are telling everyone what you are optimizing those pages for.
My View - I haven't used meta keywords elements on any pages that I have optimized for at least 20 years, if not longer. I haven't felt like I have missed them.