If you own a website, chances are that you've put a lot of work into making your site accessible to users. But have you ever wondered if there's a simple way to see whether your work is paying off? It's possible to find your answer in your pageviews.
But what are pageviews? How do they work in Google Analytics, and how can you use them to understand the performance of your website against your competitors? Read on to find out.
In this guide, we'll show you where you can find your pageview statistics, how you can examine the reach of your website, and how to be sure that your competition isn't ranking higher than you. We'll also give you top tips on improving your pageviews and site reach. 
Pageviews vs. Sessions vs. Users
First, let's define three key terms you'll need to know: 
Pageviews: Google defines a pageview as "an instance of a page being loaded (or reloaded) in a browser". Every time someone starts a session by opening and viewing a page on your website (regardless of whether they're loading or reloading it) you get one pageview. 
Sessions: A session is a period of activity completed by a user. Google Analytics records a session every time someone visits your website. Sessions start as soon as a page is opened, and cookies are activated, and ends after users have been inactive for 30 minutes by default. 
Users: A user is an individual who visits your page. Every new user gets a unique client ID that's stored in their browser cookie, which lets Google track and identify their sessions.
What Is a Pageview in Google Analytics?
The Google Analytics tool can help you track your pageviews. This allows you to see how many views you received on different pages of your site and thus provides insight into the content that is most accessible or interesting to users.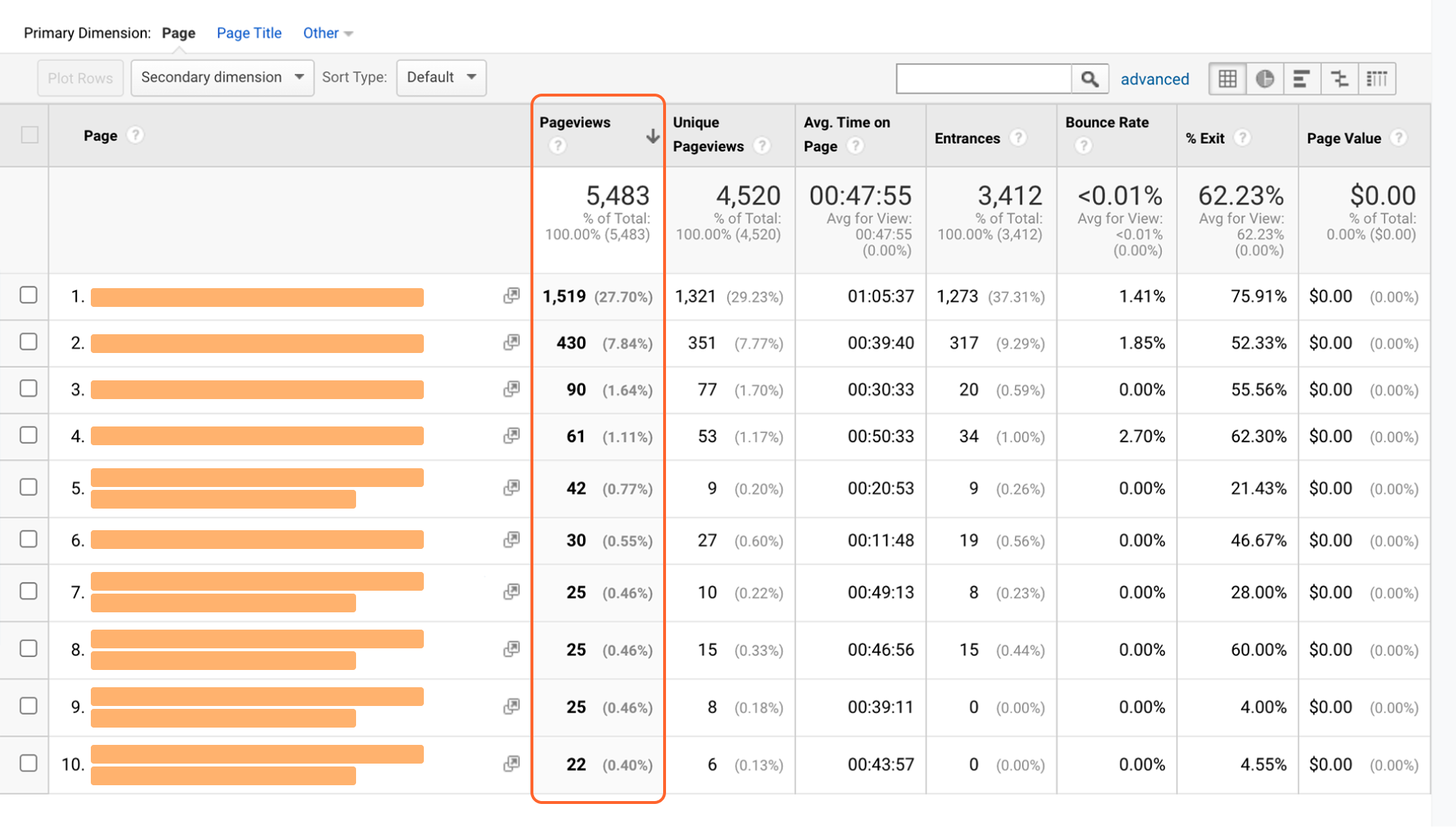 It's important to note that your number of pageviews is not equal to your number of users. This is because one user can contribute multiple pageviews in one session by refreshing the page.
In the example below, a user loaded page 1 three times and thereby contributed three pageviews: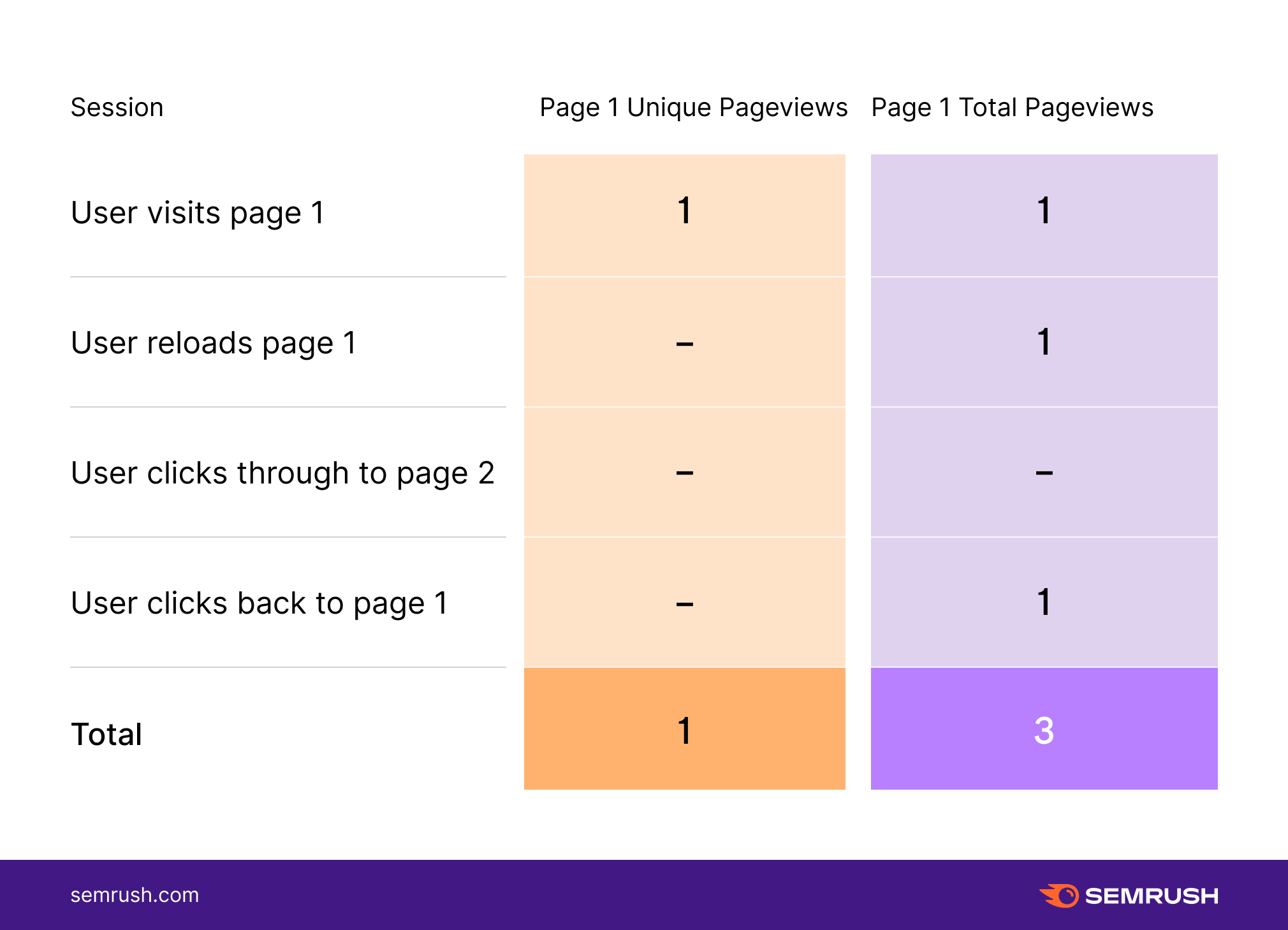 Without clarification, it would be easy to assume that these pageviews came from three separate people, which could lead you to believe that your page is popular among many people, not just one. Luckily, Google offers a better way to measure your popularity: unique pageviews.
Pageviews vs. Unique Pageviews
Unique pageviews show how many views are from separate users. This makes them a better measure of how many different people discovered your pages and were able to access them.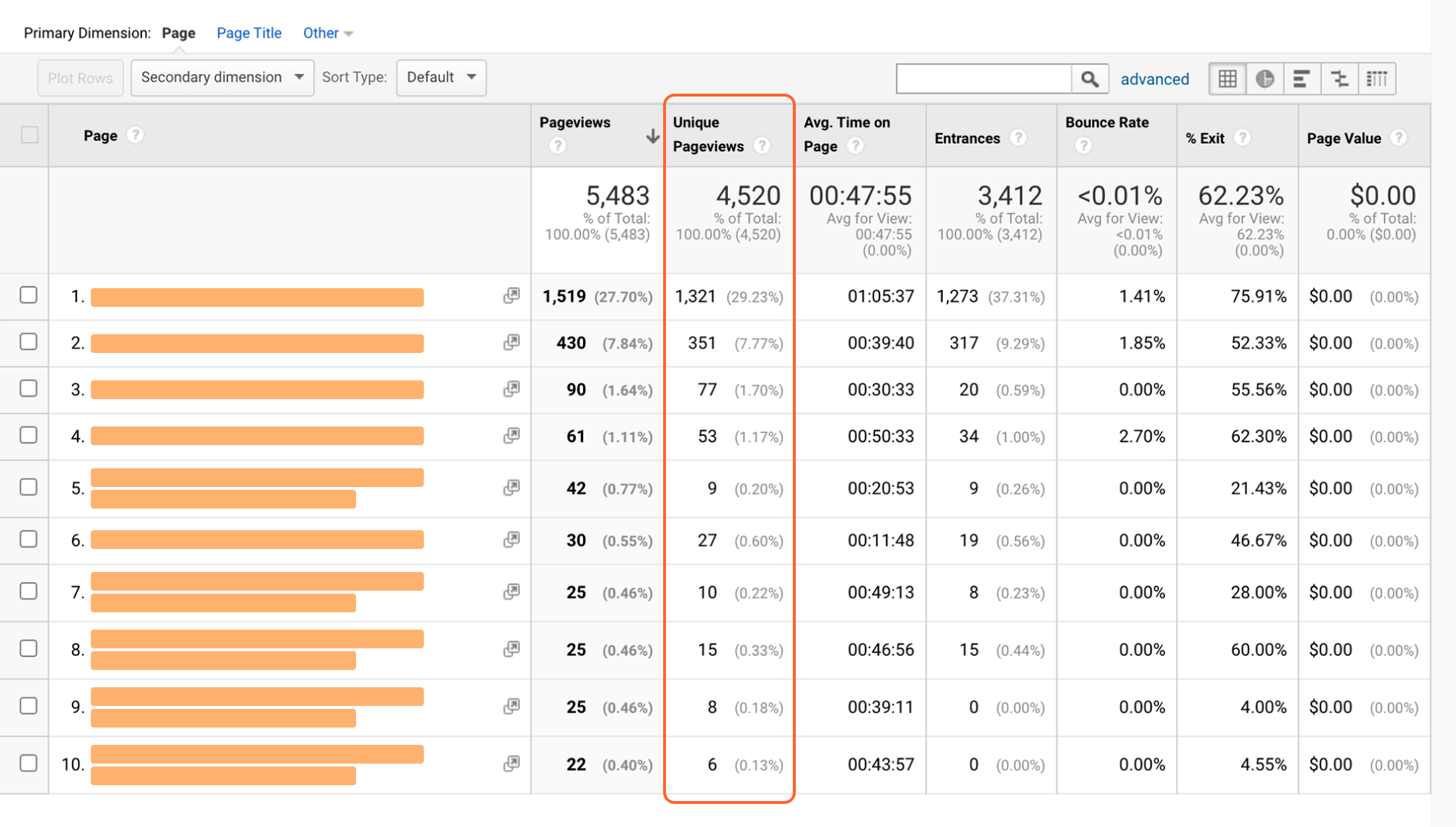 Because unique pageviews are tracked by client IDs and are therefore based on individual users, their number will always be lower than that of your total pageviews. See the example below: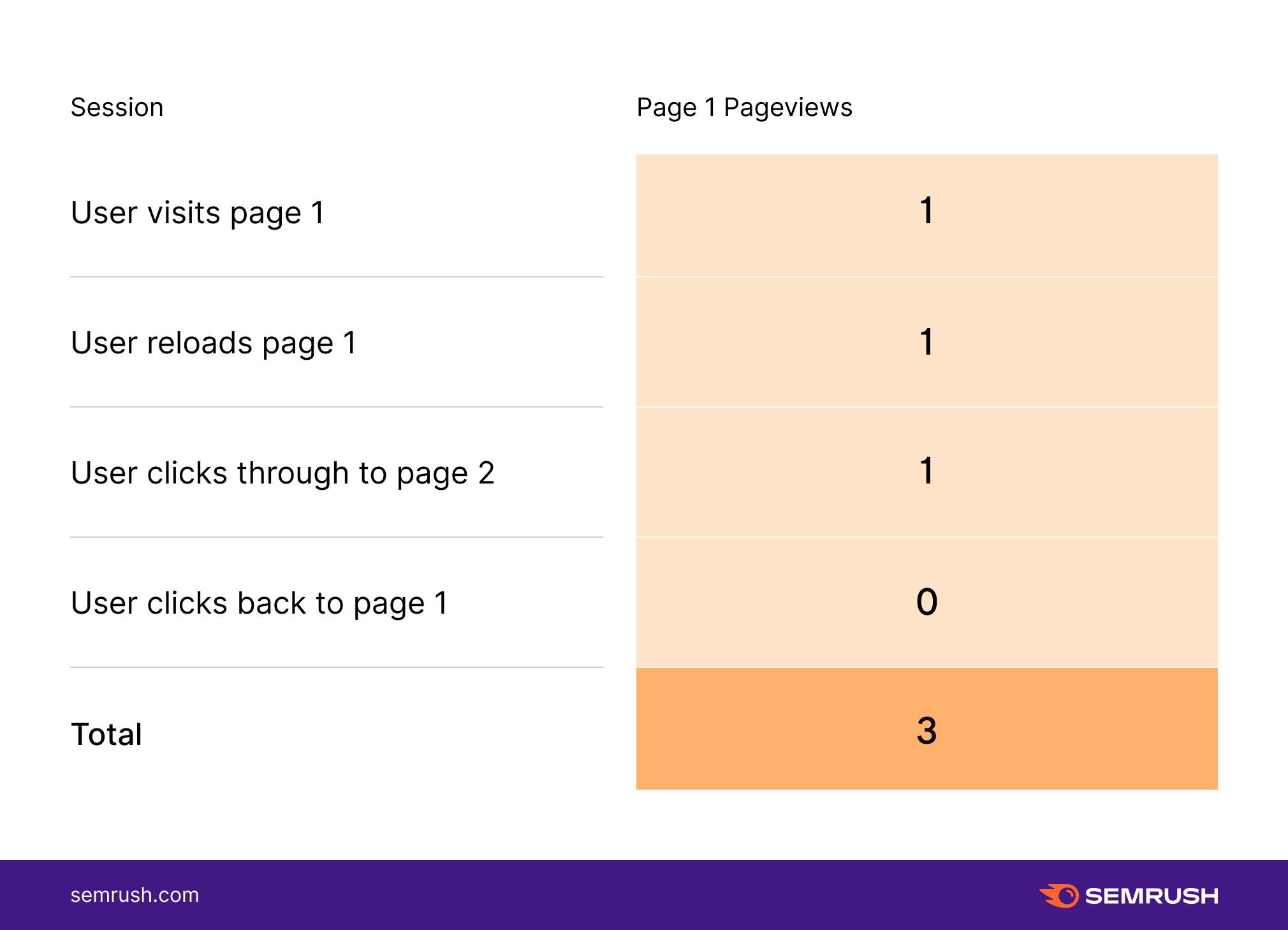 They're also arguably a better indication of your site performance because they provide more specific data. Google Analytics allows you to view your pageviews and unique pageviews side by side, giving you a direct point of comparison between them.
How to Get More Pageviews
Ensuring people see your pages is important — so how can you increase your pageviews? Three good steps are:
Ensure the quality of your content
Optimize your layout
Pay attention to your bounce rate
Using headers and sidebars to ease navigation and ensuring that posts and pages are internally linked will allow users to find content similar to pages they already liked, thus increasing your pageviews.
Meanwhile, keeping an eye on your bounce rate per page informs you on how well your users are engaging with your content and what might need improving. You can do this through Google Analytics:
As we noted in our previous piece on bounce rates, 41% to 55% is an average bounce rate, but ideally you should aim for a rate of around 26% to 40%. 
If you've checked your bounce rate through our Traffic Analytics tool or Google Analytics and found that it's too high, there are some things you can do to reduce it. These include: 
1. Ensuring that you're delivering the content that users expect by optimizing your meta titles and descriptions
2. Making your pages easy to read by utilizing spacing, color and font
3. Optimizing for mobile, as mobile searches increase in popularity
How to Use Pageviews and Other Google Analytics Metrics to Understand your Content and Page Performance
For an in-depth look into the benefits of Google Analytics, try out our beginner's guide to Google Analytics.
Essentially, Google Analytics reports are divided into five main segments: realtime, audience, acquisition, behavior, and conversions.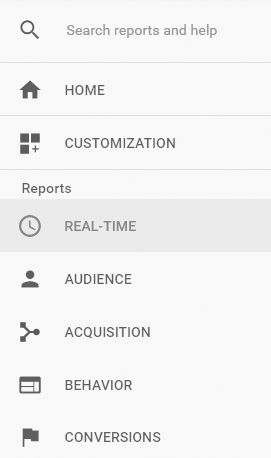 Within these segments, Google Analytics examines various metrics like pageviews, sessions and bounce rate that result in an overview of page performance.
The behavior segment is particularly useful when understanding page performance, as it shows which URLs get the most pageviews and which keep user attention for the longest. These are valuable insights that could inform your decision on which kind of content you should focus on in future.
Once you have Google Analytics set up, it's worth going through each segment in detail. To interpret your Google Analytics performance at a glance, try to remember that:
The more pageviews, the better — but pageviews don't always equal page popularity.
The more accurate metric for page popularity is unique pageviews.
The pages/session metric is the most important metric if you want to know how many pages people visit before exiting:
Connecting Your Google Analytics account to the Semrush Site Audit and Content Audit tools
So, there are lots of benefits to analyzing your pageviews — and many tools to help you do so. 
The Semrush toolkit is a useful first step to better understanding and working with Google Analytics data. Connect your Google Analytics account to the Semrush Site Audit tool to add your pageviews to your Site Audit crawl. From there, the tool will enable you to complete another two checks to:
Discover which pages take over a second to become inactive.
Identify orphaned pages (pages that aren't linked to internally).
Connecting the Semrush Site Audit tool to Google Analytics is easy. Go to the settings menu in your Site Audit and select the Google Analytics menu item. Then log into your account and wait for your Google Analytics data to connect.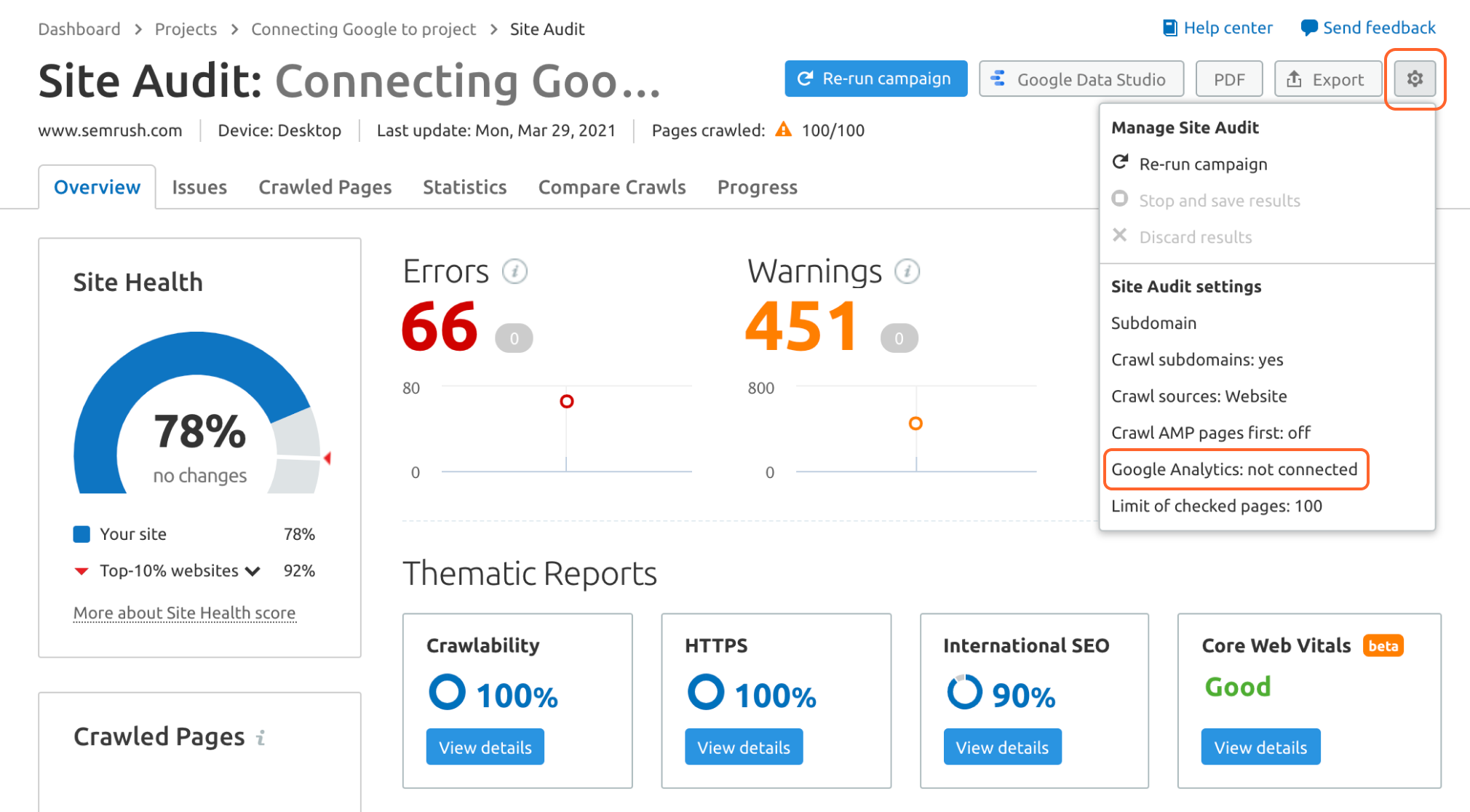 Our Content Audit tool also works with Google Analytics to track your sessions, pageviews and bounce rate/page in your audit. It can also show you the search queries that are bringing traffic to your pages, how popular your pages are, and where your priorities should be in terms of improving your site.
Connecting to the Content Audit is just as easy. Just go to your project and click 'connect' under Google Analytics.
What's a Good Number of Pageviews?
The optimal pageviews number depends on many factors, including your industry, how established you are, where you're based, and who you're targeting.
Finding the right figure for you can also depend on how your competitors are performing — and that's where the difference between Semrush and Google Analytics comes into play. 
How to Understand How Your Competitors' Site Performance
Google Analytics is a great tool for harvesting data from your site, but what Google Analytics can't gather and present data on your competition. Our .Trends can help you do just that with a wide range of tools, including our Traffic Analytics tool.
The Traffic Analytics tool gathers data on your competitors' performance. It can give you accurate insights into their website traffic, pageviews, session times, bounce rate, and more. 

We collect this data from over 200 million internet users to keep it as accurate as possible.
You can filter sites by industry and organize users by country to track where users are from and which content they're most interested in.
The Traffic Analytics tool can also help you understand which SEO techniques work best for the chosen competitor — information that you can then utilize in your own strategy.
In comparing your set up to that of your competitors, you'll be able to see where they're getting their traffic from, and how you can utilize some of their techniques. 
For example, perhaps you could look into adding more internal links, or increasing your social media presence. Our tool does the work out for you, so all you have to do is implement the suggestions from the tools together with your best practices to improve your site.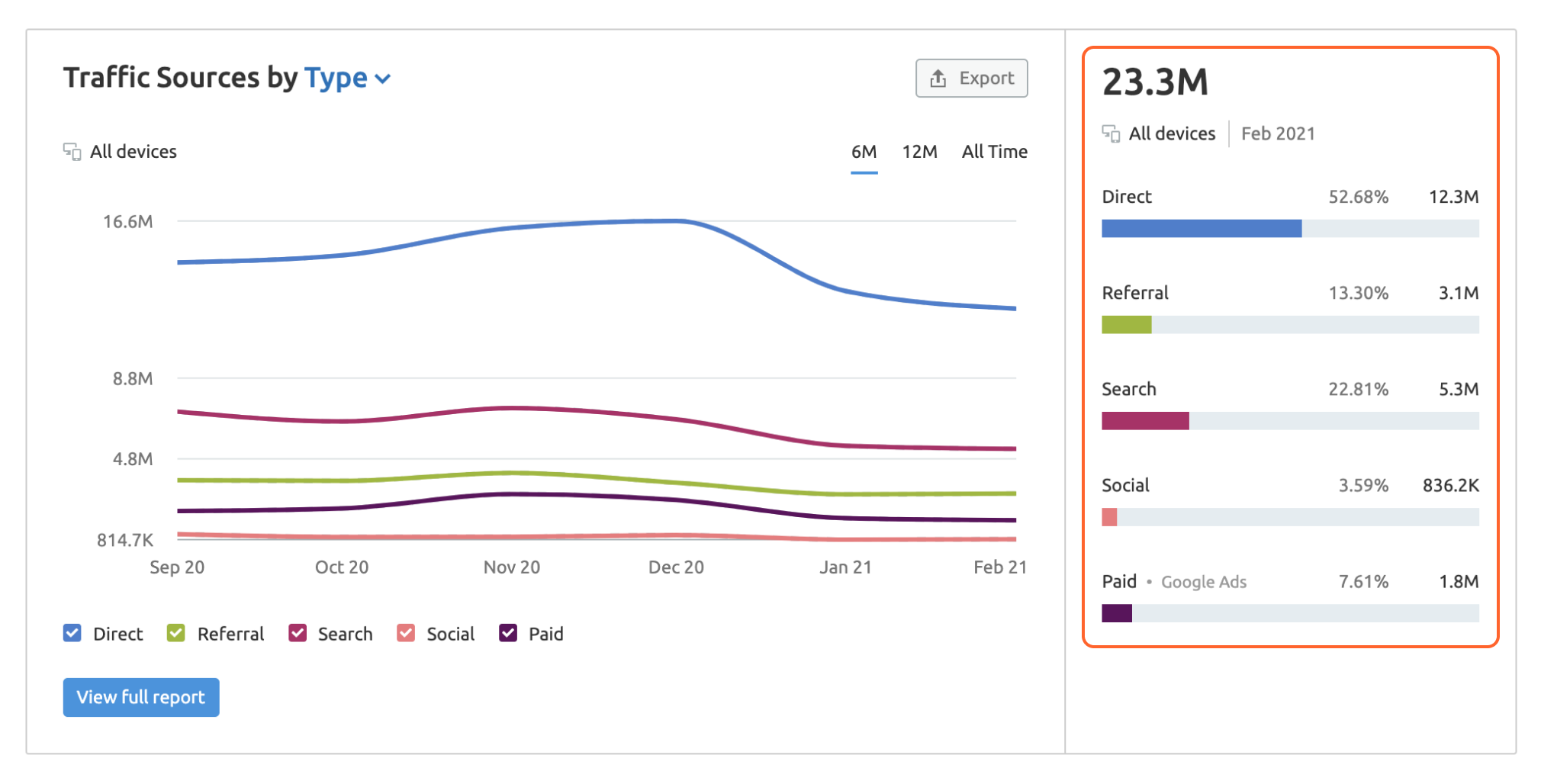 Pageviews and Improving Your Strategy with Semrush
Now you know a little bit more about pageviews, why it's important to keep track of them, and how Semrush and Google Analytics can help. You're ready to start tracking your performance and checking out your competitors to see how you can help your site perform better.
With .Trends and Google Analytics, the information you need to get started is literally at your fingertips. Take your time, track your progress, and don't be afraid to test your ideas.