Off-page SEO can be one of the most time-consuming and—let's face it—frustrating tasks of our discipline. We have less control over it than on-page ranking factors and, yet, the external factors it influences can hold just as much, if not more, of the weight behind the E-A-T (expertise, authoritativeness and trustworthiness) scores Google awards our websites.
It's easy to shy away from a tough, long-term task like backlink building for off-page SEO, but you might be surprised to hear that you have more control over it than you might think. Such an authority-building strategy is a worthwhile effort because your public perception, reputation, and SEO performance depend on it.
Here, we'll take you through the tools, tactics, and workflow tips that will help you overcome your frustrations, scale and streamline your outreach efforts, and achieve better results from off-page SEO.
Link Outreach: The Challenges, the Frustrations, the Dread…
Sure, you know what off-page SEO is all about in principle: a backlink represents a vote of confidence from one page to another. The concept is simple. The practice? Not so cut and dry. 
Strategizing, executing, and scaling a link-building campaign fills many SEOs with dread, but with the right guidance, tools, and resources, you can overcome your fears and achieve impactful results for your clients.
Before we dive in, here are some of the most common frustrations that might sound familiar:
Challenge #1: Bloated Inboxes and Email Fatigue
High-quality backlinks are a hot commodity, and they're only becoming rarer and more valuable as Google cracks down on spammy link-building practices.
Webmasters and editors of high-ranking websites (the link creators) are bombarded with emails from digital marketers all day, every day, so it's difficult to stand out. Cold outreach can feel daunting and fruitless when there are so many other marketers doing the same thing.
Solutions: Build Connections, Nurture Relationships, and Provide Value 
In many cases, there's no way around cold outreach; you have to start somewhere. But once you've made some connections, start strengthening them with an Account-Based Link Building approach. 
It's typically cheaper to retain existing customers than to acquire new ones. Not only will you have editorial partnerships you can rely on for relevant and high-quality backlinks, but you can also leverage your positive reputation as a valuable partner to scale your efforts through word-of-mouth references. Vikas Kalwani of uSERP talks about getting connected to a publisher via an intro: 
"Intros work like a charm when it comes to link building. We ran an experiment to see how many guest posts we can publish by going through this route. I asked my contact from Better Proposals to introduce me to 8 publishers where she published previously. Out of those 8 intros, we successfully guest posted on 6 sites. People underestimate the power of introductions."
Of course, cold outreach can't always be avoided. So, how do you increase your chances of grabbing your recipient's attention and staying out of the spam box? Semrush asked several SEO professionals about their best tips for successful email outreach. The answers shared several common themes, including congeniality, personalization, recognition, and value. Here are a few of them:
Make them Like You and Keep It Short
"Everyone is busy, nobody has time to just go into their backend and create a link for you just because you asked. So, you need to keep your message short, and personal enough for them to like you.
Make it clear you read their article (and really read it!) and mention something you have in common. Simple, but sweet. No reply? Limit your follow-up emails to only two, with the last one stating you will not reach out anymore. And stick to that please."
Josien Nation, Freelance SEO Specialist—Josien Nation
Personalize Your Message
"Are you thinking of using a generic template to mass-send outreach emails, all essentially saying, 'Hi [insert name], I like your blog [insert blog name], plz give me a link, how much does it cost?'? Please don't.
If you want to succeed in building relations with people (instead of wasting inbox space), prove that you genuinely care. Do your research on the publisher, reach out with a unique, personal message offering support or genuine content feedback, and build your relationship proposal based on that."
Aleksandra Korczynska, GetResponse
Mention Your PR Team
"This is a simple little trick that I've found surprisingly effective. When you reach out, don't imply that it's just you working on this outreach. Mention how your team would be happy to draft an article or share on socials or do whatever it is you're asking them to help you with. Apparently just knowing that multiple people have identified the publisher as a standout makes them more likely to connect with you.
You can even mention the specific people who'll be on the project, i.e. 'Our content editor James would be happy to draft a guest article, and our graphic designer Jesse can provide images. Our social media head Ash will ensure we get this scheduled for next month once the article is up.' You'll definitely stand out from the rest of the one-person pitches in the publisher's inbox."
Shawn Plummer, The Annuity Expert
Bring Value
"The number one tip for email outreach is making sure to bring value to your recipient from the very first contact. If you're contacting a publisher hoping to get them to add your link or begin cooperation, take some time to find out more about their work and potential needs. Maybe you have some data or insight that could add value to their recent article, or perhaps you noticed a bug on their website that's causing them to lose business. Let them know!"
Maja Kowalska, Zety
Challenge #2: Directionless Strategy
There are two common misconceptions that lead SEOs to perform outreach with a directionless strategy.
The first misconception is that any link is a good link—the more the merrier! With this assumption in mind, marketers will cast a wide net and expect to catch lots of fish. And they might succeed in doing so, but chances are they won't be catching the right fish, or they might be missing their mark altogether. If you're attempting to reach out to 1,000 very different sites with the same generic email, you're prioritizing quantity over quality in both your approach and your intended result. A more targeted approach will likely yield better results.
The second misconception is that acquiring backlinks is the goal. As SEOs, we often get tunnel vision, focusing on our own specific vanity metrics. But that's just it: backlinks are simply a metric or a means to an end; they're not the end goal for the client. A business can't pay its employees in backlinks, so what's the point? Of course, the point is to improve a site's organic search engine rankings to boost traffic and increase revenue. Ultimately, if you don't have a clear goal or benchmark in mind, it's difficult to create a strong and purposeful outreach strategy.
Solutions: Identify Your Goal and Personalize Your Approach
Approach each outreach campaign with a unique strategy, and begin by identifying your goal. From there, you can narrow down your outreach list, selecting the most relevant websites to reach out to—sites whose links will actually help you achieve your goal. Once you've identified those sites and become familiar with them, you can effectively determine the appropriate outreach method and communication strategy that will work best.
Here's the difference between a carefully crafted campaign and a directionless strategy in action:
Example of a Directionless Link Outreach Strategy
Goal: Get more backlinks to your client's makeup/cosmetics brand e-commerce site
Strategy: Identify 1,000 websites related to your client's industry and email all of them with a generic template requesting a link to the homepage or offering to write a guest post in exchange for a backlink.
Example of a Targeted Link Outreach Strategy
Goal: Rank on page 1 for the keyword "best foundation for dry skin"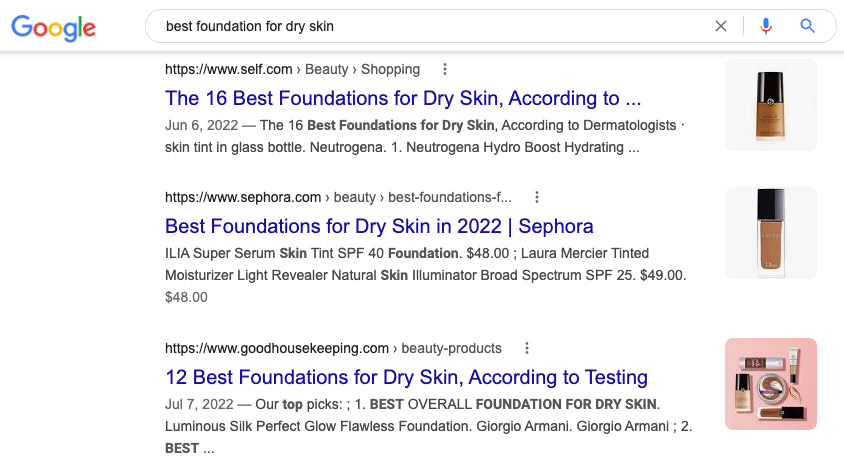 Strategy: Identify the page on your client's site best suited to rank for this keyword (this is the 'linkable asset'; we'll talk more later on about how to create or identify a strong linkable asset). Select 100 high-quality (high traffic, high domain authority or rating) websites with content related to foundation or makeup for dry skin; individual pages should have an authority score higher than your client's page.
Look for content that touches on your topic but lacks the specific information your page provides, or your client can provide. This way, link creators will see that adding a link to your page will be valuable to their readers, expanding the expertise and depth of knowledge on offer. Finally, identify the best outreach method and communication strategy for this particular linkable asset and these particular link creators before sending out personalized messages.
Note: in the example above, you'll see that the top two spots are taken by large publishers. You are not going to outrank Good Housekeeping or Self Magazine today, but could you reach out to the post editors and try to get your product included? This technique is called Surround Sound SEO and can help increase your SERP coverage for important keywords even if you aren't yet ranking.
With this targeted strategy, your net is smaller but tighter. You've identified a linkable asset that will not only help you reach your specific goal, but will also act as appropriate bait to catch the right fish. 
Challenge #3: Lack of Resources
A lack of time and resources can be a major barrier to successful outreach. Manual link outreach is inefficient, but overly automated outreach comes off as spammy and may be ineffective. Fortunately, there are some great tools available to partially automate the process. They do the heavy lifting so you can concentrate on that human touch to create a truly customized campaign.
Solutions: Create Content that's Designed to Scale and Streamline the Process with the Right Tools
Your first port of call will be to optimize your content creation phase to reduce the effort required to score a strong backlink when it comes to outreach. Concentrate on creating relevant, linkable, and scalable assets that provide value not only for your audience, but for those of your target sites, too. 
Next, you can start streamlining the outreach process with the most efficient prospecting, communication, and tracking tools to overcome a lack of resources. Here are some you can call upon (be sure to read on for the how-tos for each one):
What it's for: Prospecting, Tracking
Unique features: Competitive insights, sentiment analysis, unlinked mention identification, share of SERP analysis, uncovers opportunities for high-value mentions
What it's for: Contact Identification
Unique features: Most accurate and extensive email address finder
What it's for: Prospecting, Contact Identification, Outreach, Tracking
Unique features: Third-party data integration, automated email sequence, centralized dashboard
Establishing an Efficient Link Outreach Workflow
Every link-building outreach campaign will differ depending on your client's goals, assets, and industry. However, there's a standard workflow you can follow as you build your custom strategy. Let's walk through each step and take a look at the tools you'll find useful along the way.
Step 1: Content Creation and Unlinked Mentions Outreach
Technically, this step takes place outside of the link outreach process as content creation is often an essential component of any good on-page SEO strategy. However, certain types of content work better as linkable assets than others. If your client's site does not already have a strong linkable asset that will attract the right kinds of backlinks and help you reach your goal, it must be your first step to create one. 
Start by diving into Topic Research to identify the types of content that receive the greatest amount of traffic and topic efficiency. Use that to identify a list of potential terms for a competitive analysis in Keyword Gap and be sure to check out the backlink profiles of your competitors in Backlink Analytics. This will give you a good overview of the kinds of content that are already attracting links in your niche. 
As any SEO professional knows, getting content created, approved, and published can take time, but you can use this opportunity to go after some quick wins: unlinked mentions. 
Unlinked mentions are when pages mention your brand or your client's brand, products, or website without linking to the site. Converting these mentions involves reaching out to sites that name you or your client and asking them to simply add a link; this is usually a link to the homepage, but could also be a link to a specific landing page, depending on the context of the mention. It's often an effective tactic at this Step as it doesn't require a specific linkable asset to work.
Surround Sound for Unlinked Mentions Prospecting
Semrush's Surround Sound SEO tool is a great resource for identifying unlinked mentions. If you're unfamiliar with this tool, check out this guide for a crash course on getting started.
With Surround Sound SEO, finding unlinked mentions is incredibly simple. Once your campaign is set up, navigate to the Mentions tab. Here, you'll find a list of pages where your brand has been named. For each page, you'll see how many times you've been mentioned and how many links to your site there are, if any.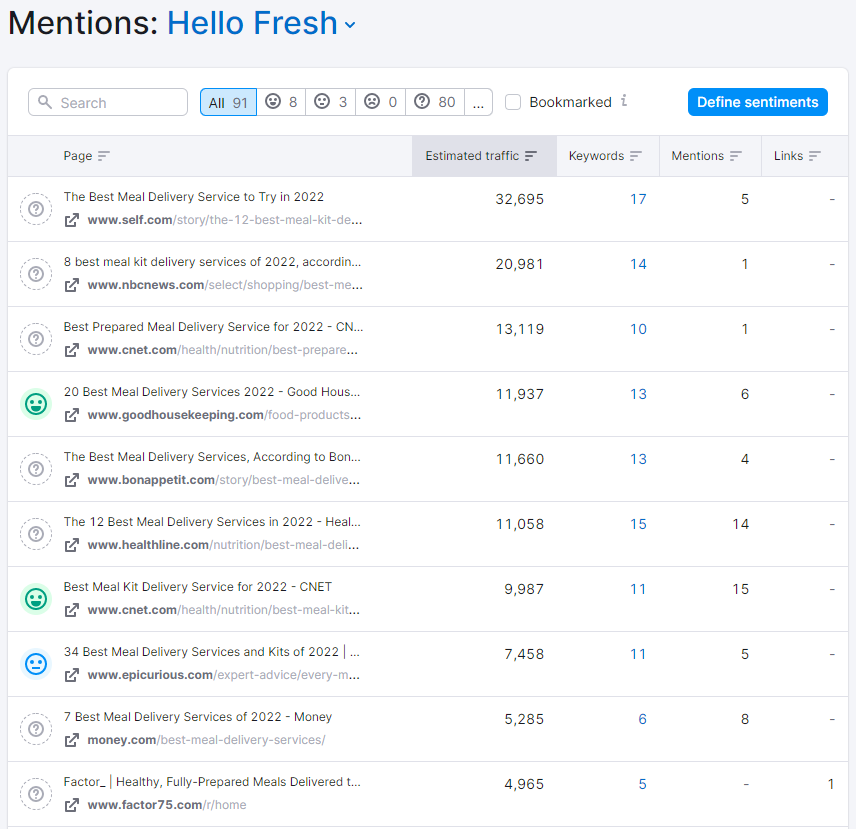 You'll can also set sentiment analysis to see whether your brand is being mentioned in a positive, negative, or neutral light. This is particularly important for E-A-T; while, in theory, any backlink from a high-quality website can be good for your SEO, a backlink that exists within a negative context may actually hurt your reputation in the long run. So, when compiling a list of sites to reach out to for a backlink, focus on those with positive or neutral unlinked mentions first.
Step 2: Prospecting
Prospecting or list building is typically the step that requires the most time and effort. Here is where you identify the websites you'll be reaching out to for a backlink. Exactly how many websites you'll add to your list will depend upon a number of factors, but remember that casting a wide net is not always the best strategy. 
When analyzing backlink opportunities, consider:
The domain's and page's relevance to your site and linkable asset
Whether or not the page's audience matches your linkable asset's audience
The domain's Authority Score (AS)
The page's authority
How many external links already exist on the page
Whether existing external links are sponsored/nofollow links or do, in fact, pass equity
The domain's and page's average monthly traffic
The domain's and page's keyword rankings
All of these factors will determine the value of the potential backlink, as well as your chances of succeeding in securing it. 
Pitchbox for Prospecting
Pitchbox allows you to cover prospecting, contact identification, automated emailing, tracking, and reporting as part of your link outreach strategy.
It offers a variety of campaign types when it comes to prospecting. Depending on your goal and strategy, you'll choose from methods like Blogger Outreach, Product Reviews, Hot Off The Press, and Advanced Operator Search, to name a few. Each campaign type uses a different search method for a highly targeted prospecting approach.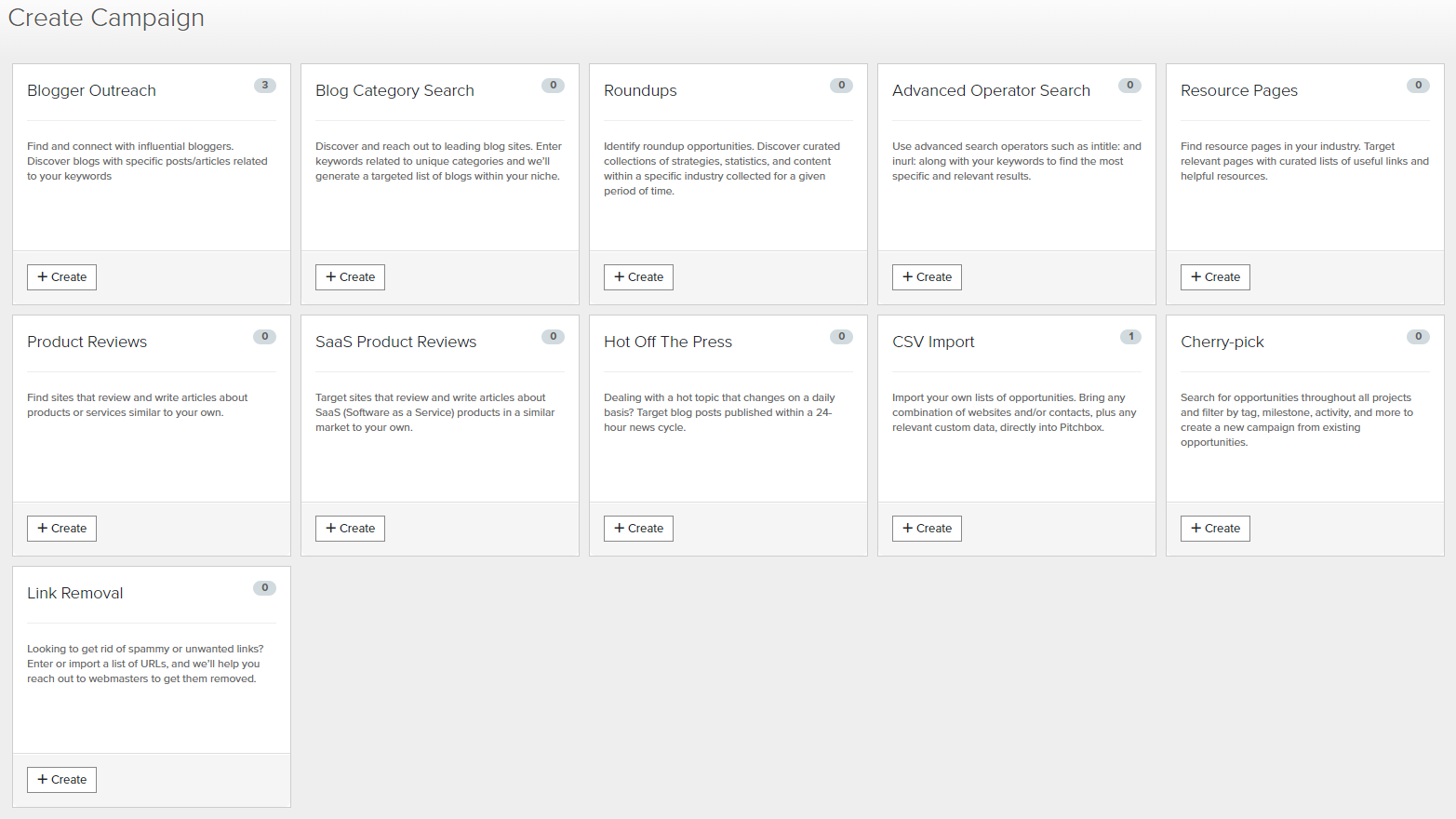 If you already have a list of sites you know you want to reach out to (such as one you download from Surround Sound), you can upload your list to Pitchbox via CSV Import.
With the Blogger Outreach option, you can input eight keywords related to your linkable asset and Pitchbox will find blog pages that feature any of these terms. You can also set a quality filter, narrowing your results to sites within a range of domain authority, traffic, and more. 
You'll end up with a list of pages that might well be excellent backlink opportunities, but be mindful that Pitchbox casts a very wide net. Use the data provided to identify the top targets and delete the ones that aren't relevant, such as competitor sites. 
When you do come across a good opportunity, move that site over to Personalization. Once you've inspected each opportunity and either deleted or moved it, you'll be ready for Step 3. However, if you're unsatisfied with the number of opportunities you've accepted, you can always go back and add more keywords to run another search. 
Surround Sound SEO for Prospecting
You can bolster your Pitchbox list with opportunities found through Surround Sound. It's a great way to identify competitors' backlinks on pages where you may be able to get featured, too. 
When you're setting up your campaign, simply add keywords that are important to you (high-intent keywords such as "best foundation for oily skin" will produce valuable opportunities), cite a few competitors' domains and then navigate to the 'Pages' tab. Here, you'll see domains that link to competitors but not to you or your client. Inspect these pages and add immediate opportunities to your Pitchbox list via CSV Import.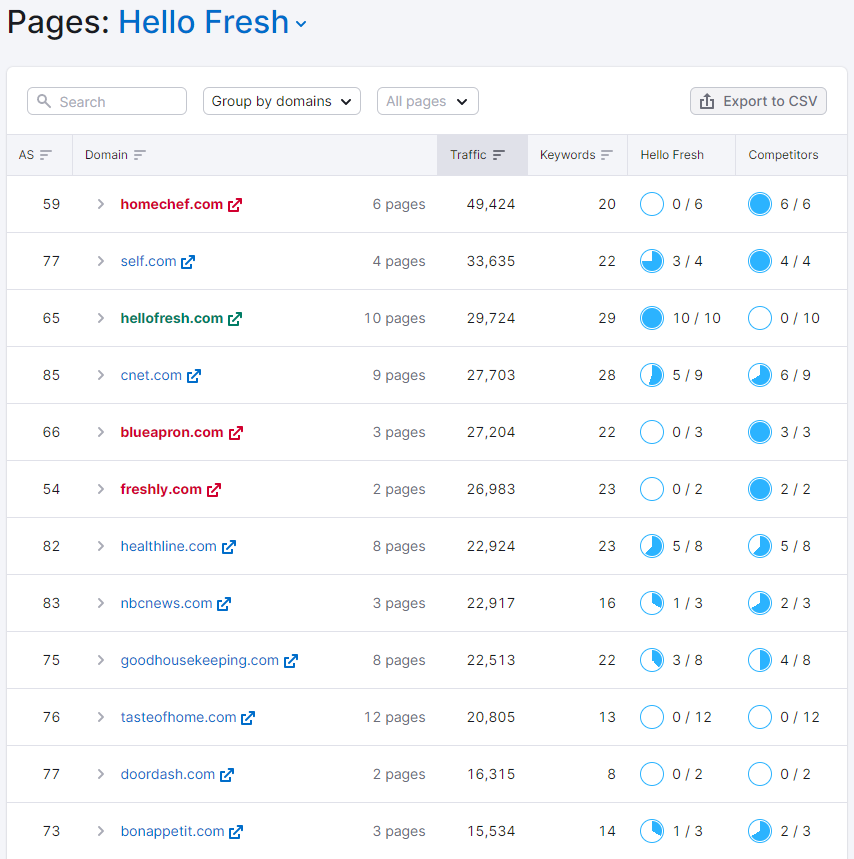 Step 3: Gather Contact Identification
So, you've identified the sites that provide the greatest backlinking opportunities, but how do you get in touch with them? Your next step is to identify the strongest points of contact, narrowing down your email list to individuals from each organization or site with the authority to actually place your link.
Pitchbox for Contact Identification
Once an opportunity has been moved to Personalization in Pitchbox, the tool offers a list of email addresses associated with the site. All you need to do is select the ones you want to contact.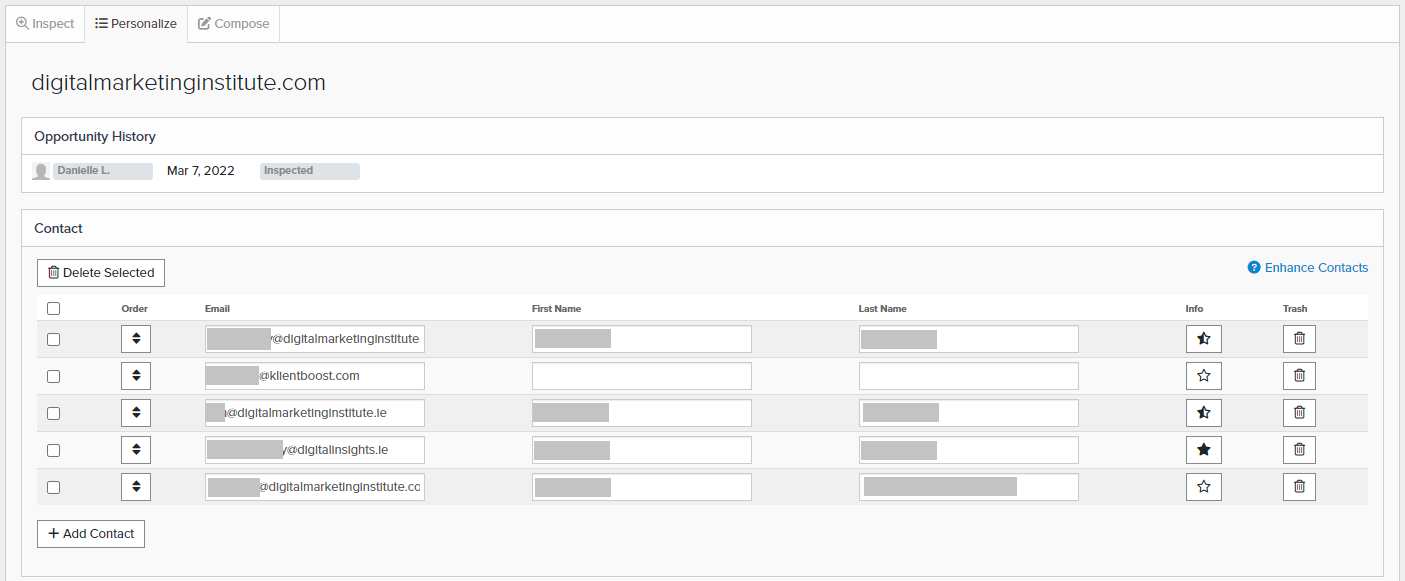 A cautionary word of advice: do not email every contact on the list. Not only can this get your email address flagged as spam and deactivated, but you'll also fall into that same old trap of casting too wide a net. 
Instead, take a targeted approach by choosing one to three contacts. In many cases, Pitchbox will provide information about each contact, such as the name and role within the company or website. Look for the following features when selecting email addresses to reach out to:
The email domain matches the website domain
The email address has a person's name attached
The email address belongs to an editor, publisher, web developer, or specifically relates to the site's content
Try to avoid email addresses related to customer service or the site's newsletter; emailing these contacts often leads to automated responses or can get you on a generic email list that sends out daily or weekly updates, clogging up your outreach inbox. 
Hunter for Contact Identification
If Pitchbox does not provide adequate contact information for your list of opportunities, turn to Hunter. With a simple Chrome plugin, this tool will identify a list of contacts for just about any website you visit. Full use of Hunter requires a paid subscription, but you can use it on a limited monthly basis for 25 searches per month for free.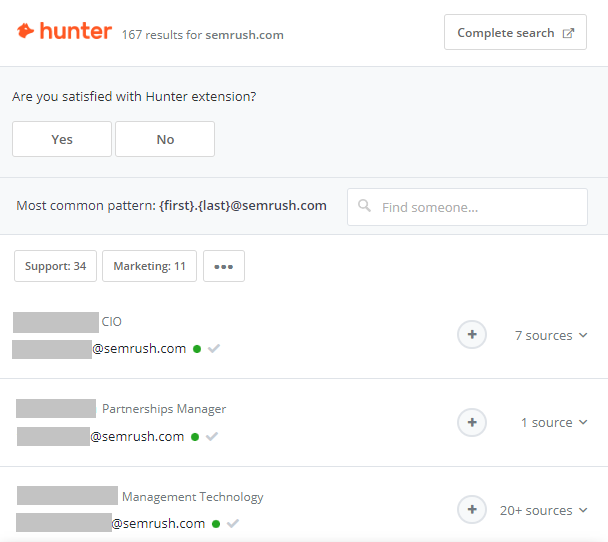 Any email addresses you find through Hunter can be manually added to your Pitchbox campaign on the opportunity's Personalization tab. Make sure to input the contact's name as well, if available.
Step 4: Outreach
Great news: you're just about ready to launch your link outreach campaign. Before you do, though, you'll need to carefully craft your email templates, ensuring that your messaging is appropriately tailored to capture the eye and trust of each contact you're emailing.
Pitchbox for Outreach
You'll notice that the Personalization tab in Pitchbox offers more than a list of potential contacts.
Personalization Fields can be extremely beneficial for creating a successful email outreach template.
For instance, if you're using the Blogger Outreach campaign type, make sure the Blog Name and Recent Blog Post fields are filled in correctly. You can also add your own custom Personalization Fields, which you can populate depending on your strategy. You might like to add a Linkable Asset field, inputting the URL or page title of the linkable asset you're promoting. 
This is useful when your list of opportunities includes sites that may respond better to different assets and you don't want to promote the same asset to two very different sites. This way, when it comes time to craft your email templates, the correct linkable asset will auto-populate for each contact.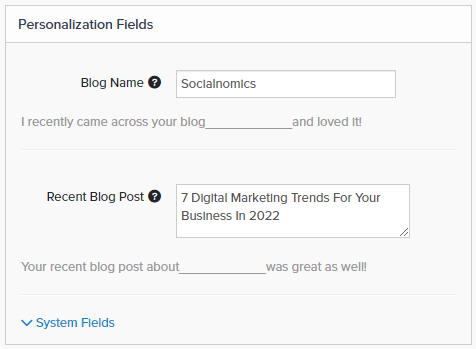 As soon as all of your opportunities have been fully personalized and moved to Compose, you can navigate to Templates & Email Sequence and begin writing your outreach emails.
Pitchbox's outreach function provides you with a three-email sequence. Attempt #1 is your initial outreach email; you can then create two follow-up templates, which will launch at a specified interval if your contact does not respond to your first message.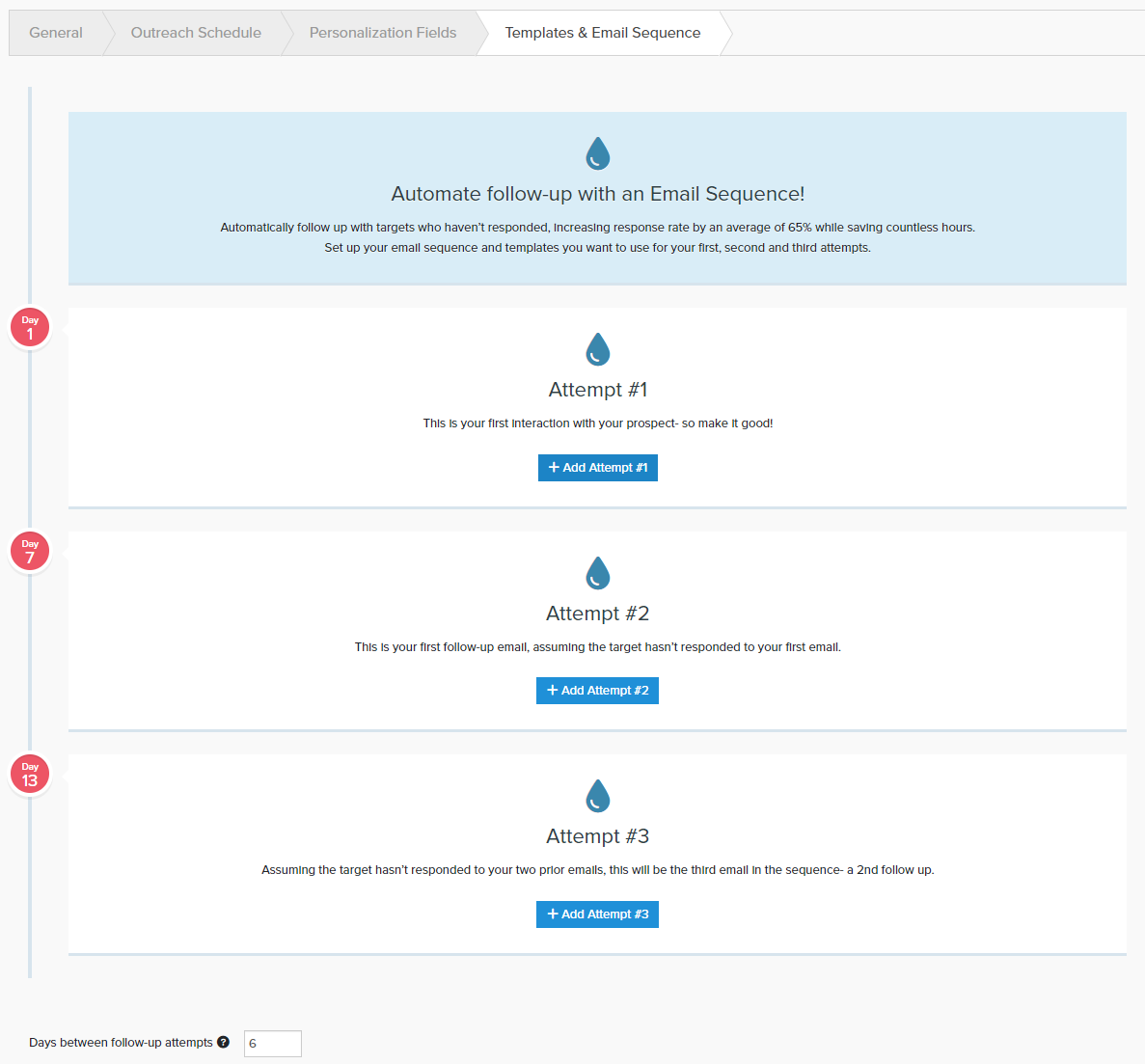 When crafting an email template, be sure to heed the advice provided earlier by the marketing professionals we spoke to about outreach.
Remember our main themes: congeniality, personalization, recognition, and value. 
No two outreach campaigns should use the exact same templates. Your messaging should be tailored to your strategy and the types of websites you're contacting.
This may seem time-consuming, but if you've already developed a targeted strategy, crafting a concise and compelling email should come easily. If you've taken full advantage of the Personalization Fields for each opportunity, too, individualized messaging should be merely a click away.
By default, Pitchbox will auto-send your emails every weekday between 8:30 AM and 6:00 PM (based on project time zone), but you can create your own schedule.
The daily limit is automatically set to 150 outreach emails, but you might want to lower that to be on the safe side. Some email service providers like Gmail may even deactivate your account if they deem you're overdoing it. A high volume of outgoing messages can raise red flags for email spam tactics. 
Of course, the smaller the number of emails you send out each day, the slower your campaign will progress, but you'd much rather suffer a slow drip than have the flow shut off altogether.
As outreach emails go out and responses come in, try to update your campaign's status by marking opportunities with milestones. When a contact replies, the milestone is automatically updated to Got a Reply.
Depending on the nature of your conversation and how close you are to getting a link placed, you might change the milestone to Negotiation, Almost There, Won, or Lost. When a link is Won, input the URL where the backlink was placed to ensure your tracking and reporting are accurate.
As a best practice, check your inbox at least twice a day and respond to any incoming messages immediately. Diligent monitoring is key at this step as you want to keep the lines of communication open; a quick turnaround when a contact responds positively is essential for positioning yourself as a reliable partner. 
When you receive a message that your link has been placed, always follow up with a heartfelt thank you and an inquiry about any future opportunities to work together. Remember, link-building is all about relationship-building. 
Step 5: Tracking
Both Pitchbox and Surround Sound offer backlink tracking capabilities, monitoring, and reporting on your progress. 
With Pitchbox, you can track success at both the campaign level and the project level and create custom reports for your clients. This data can also be used to identify your strategies' strengths and weaknesses, giving you the insight for future tweaks.
Since Surround Sound continually monitors brand mentions and links, you'll have the data to track progress and feed your next link-building campaign.
Don't Dread Link Outreach
From assuming you'll be lost in a sea of similar marketing emails to struggling with a lack of resources, link outreach can seem like a stressful and fruitless endeavor—so much effort for such a small or uncertain impact. 
However, there are so many resources available to increase your chances of success, allowing you to streamline your efforts and minimize time-intensive tasks. With a targeted strategy, expert guidance, and efficient prospecting and emailing tools, link outreach doesn't have to be a time and money pit where ROI goes to die. 
Link building is still an essential practice for SEO. Off-page ranking signals are key to building authority and improving your organic search results, arguably more so now than ever before. Don't shy away from outreach because it appears more difficult or less predictable than your on-page and technical SEO work. Strategize, provide value, build relationships, and strive for meaningful results instead.