If you have a knack for search engine optimization (SEO), becoming an SEO freelancer might be the right path for you. 
In this article, you'll learn what an SEO freelancer does, how to become an SEO freelancer, how to get clients, and more. 
You'll also find insights and tips from established freelancers to make your journey easier.
Let's dive in.
What Does an SEO Freelancer Do?
An SEO freelancer is responsible for helping clients improve their SEO performance. 
This involves creating and implementing various strategies to increase their clients' rankings in search engine results pages (SERPs) and driving organic (meaning unpaid) traffic. 
You can offer services in various areas of SEO. Or specialize in just one or two. 
And you'll need to take care of your own business, alongside working on client projects.
Here are some key tasks that an SEO freelancer might typically perform:
Keyword research: Keyword research involves helping clients find keywords their target customers are entering into search engines. A freelancer will dig into the monthly keyword search volume and keyword difficulty, help set priorities, and suggest new keyword ideas.
On-page optimization: This means optimizing on-page elements like title tags, internal links, and more. On-page SEO helps ensure clients' websites are search engine-friendly and more likely to rank well.
Off-page optimization: This refers to SEO tactics applied outside of a client's website to improve its rankings. Like link building, guest posting, social media marketing, and more. Doing off-page SEO for clients will help search engines (and users) see their sites as more trustworthy and authoritative. 
Technical SEO: Technical SEO involves identifying and fixing technical issues that may hurt users' experiences or hinder search engine crawling and indexing. This includes increasing website speed, improving mobile responsiveness, implementing structured data markup, and resolving crawl errors.
Tracking and analysis: This involves keeping track of important metrics and finding opportunities to improve. An SEO freelancer will often need to monitor website performance, track keyword rankings, analyze user behavior, and measure the effectiveness of SEO campaigns. 
Client communication and reporting: This can be providing updates on project progress, discussing strategies, and addressing clients' concerns. 
Business admin: This is anything freelancers do to run their own businesses, like marketing, project management, client acquisition, and invoicing. As this LinkedIn post from Peter Rota explains, being an SEO freelancer goes far beyond SEO work for clients: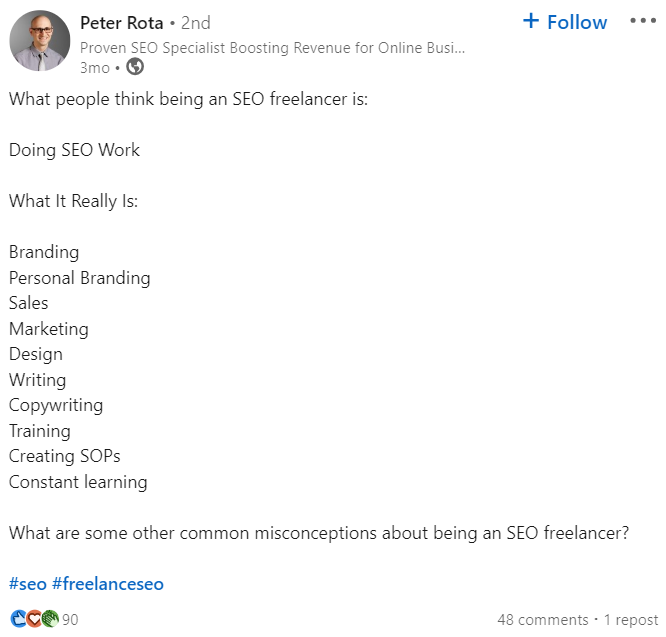 Skills You Need to Become an SEO Freelancer
Being a successful SEO freelancer requires a combination of technical expertise, communication skills, and project management abilities. 
It's not enough to be great at SEO. You also need to be able to communicate that value to clients. And keep multiple projects on track.
Specific skills and responsibilities vary depending on the client/project and the freelancer's niche. But here are some common skills an SEO freelancer might need:
Analytical skills: Strong analytical skills are vital for interpreting data, identifying trends, and making data-driven decisions. Proficiency in tools like Google Analytics, Google Search Console, and Semrush is crucial for gathering and analyzing website metrics.
Communication skills: Effective communication is key when collaborating with clients. You need to understand their goals and be able to break down complex SEO concepts.
Project management: Excellent project management skills are essential for juggling multiple projects simultaneously. This includes setting and meeting timelines, prioritizing tasks, and managing resources.
Adaptability and continuous learning: Because SEO is a dynamic field that involves frequent algorithm updates and evolving best practices, you'll need to continue your SEO education and keep up with industry changes.
Technical proficiency: Familiarity with web development basics, like HTML, CSS, and content management systems (CMS) like WordPress can be useful. In fact, SEOs who know how to code get paid more than those who don't. 
Sales and marketing: Building a successful freelance business requires acquiring clients. Your website and other promotional materials (like a LinkedIn profile) should make it easy for clients to find you and understand why they should work with you. Like in this example of a freelance SEO specialist's website:
The Benefits of Being a Freelance SEO Professional
Here are some of the main upsides to being an SEO freelancer:
Competitive Pay
SEO freelancing can be very lucrative. 
As an SEO freelancer, your earning potential is often influenced by your level of expertise, the types of projects you handle, your reputation, and the demand for your services. 
And SEO freelancers have the potential to earn significantly more than their salaried counterparts. 
Almost half of freelancers earn $75,000 to $149,000 per year. 
In comparison, the average salaried SEO job pays $60,548 per year.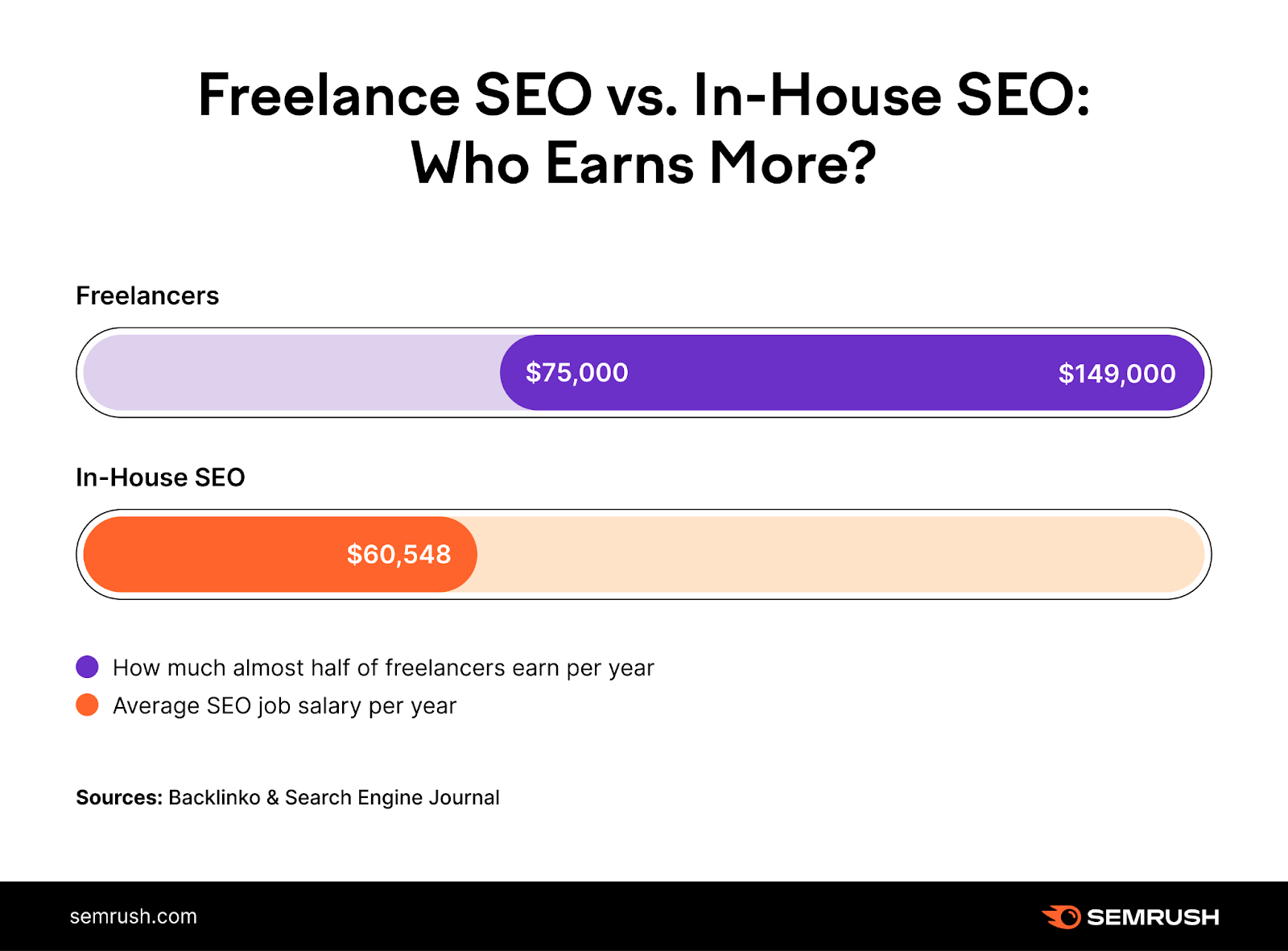 Freedom 
Freelancers have the freedom to work wherever they want, whenever they want.
Flexibility is one of the best things about being a freelancer. Freelancers can set their schedules, choose their clients and projects, and work from anywhere. This flexibility makes it easier to accommodate other responsibilities and pursuits, such as family, further education, and hobbies. 
Here's a LinkedIn post from SEO expert Nick LeRoy that discusses how becoming a freelancer led to better work-life balance, improved creativity, and more: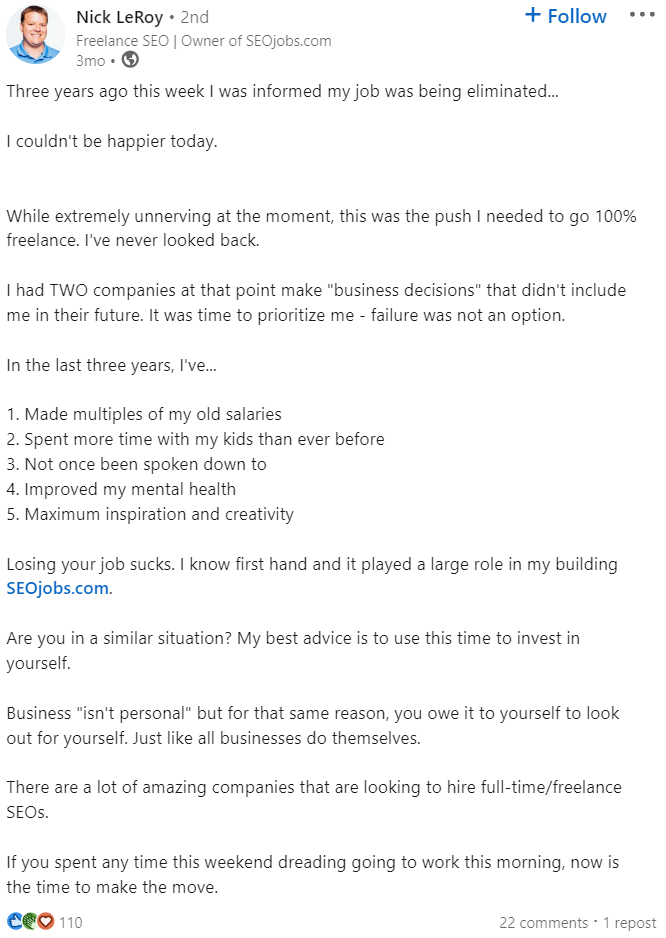 Professional Growth
As an SEO freelancer, you get to choose the projects and clients that align with your interests, expertise, and career goals.
For example, if you want to work exclusively with fashion brands or focus on technical SEO, you can. This choice enables freelancers to develop a specialized skill set that can lead to more work and higher earnings.
At the same time, freelancers have the opportunity to work on different projects with multiple clients in various industries. This diversity enables freelancers to develop a wide range of skills and experience which can broaden their horizons and lead to growth and development. 
In-Demand Field
Most businesses understand the importance of organic search traffic. So, SEO services are in very high demand.
A study by popular freelancer platform Upwork revealed that SEO is one of the top 10 most sought-after marketing skills. 
The steady demand makes it possible to earn a good income. And also provides freelancers with a diverse range of projects to work on.
The Potential Downsides of Freelancing
There are challenges that come with freelancing. Here are a few to keep in mind:
Benefits are your responsibility: Employees typically receive benefits such as vacation, sick pay, and health insurance. Freelancers have to gain insurance coverage indepently—and budget for vacation time.
It can get lonely: SEO freelancers mostly work on their own. If you enjoy daily interactions and chit-chat, freelancing might not be for you.
The workload varies: Freelancers' workloads and incomes can fluctuate. There may be times when they're swimming in projects. And other times when things are much slower.
It can be stressful: Many full-time freelancers and consultants work a lot of hours. Which can lead to stress and burnout.
How to Become an SEO Freelancer in 7 Steps
Now, it's time to get into how you can build your SEO freelance career.
Follow these steps to set yourself up for success:
1. Become an SEO Expert
Developing a deep understanding of SEO is essential for getting started as a freelancer. To make sure you have the foundation you need to help clients reach their goals.
But it changes fast. 
So, stay up to date with the latest industry trends, algorithm changes, and best practices by learning from reputable sources (like Google Search Essentials), attending webinars, and enrolling in SEO courses (like those in Semrush Academy). 
You can also experiment with different techniques and SEO tools to gain hands-on experience and refine your skills. 
Get started by gaining insights into a prospective client's strengths and weaknesses using Domain Overview.
Open the tool, enter the potential client's domain, choose a location, and click "Search."

You'll then see an overview dashboard. With information on that company's top organic keywords, estimated organic traffic, total number of backlinks, and more.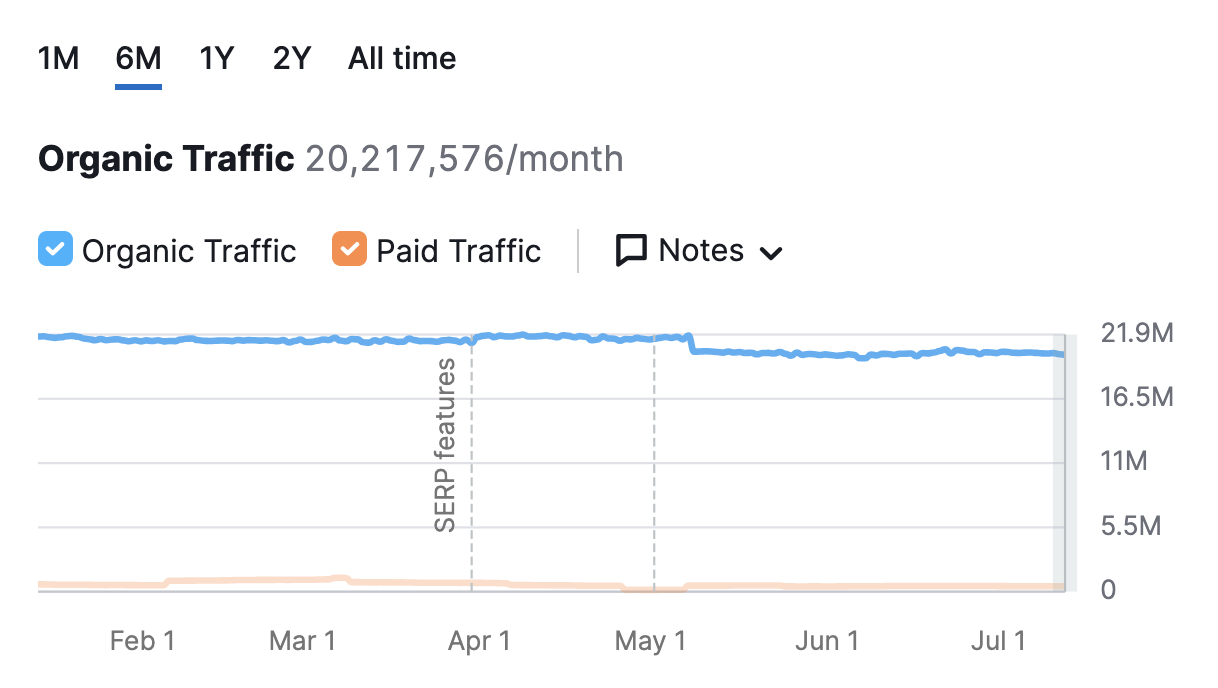 At the top, you'll see some interesting metrics that give you an idea of how the site is performing. 
One thing to pay attention to is the Authority Score. Semrush's Authority Score measures a site's overall quality and SEO performance.
Next to the Authority Score, you'll see "Organic Search Traffic," "Paid Search Traffic," and "Backlinks."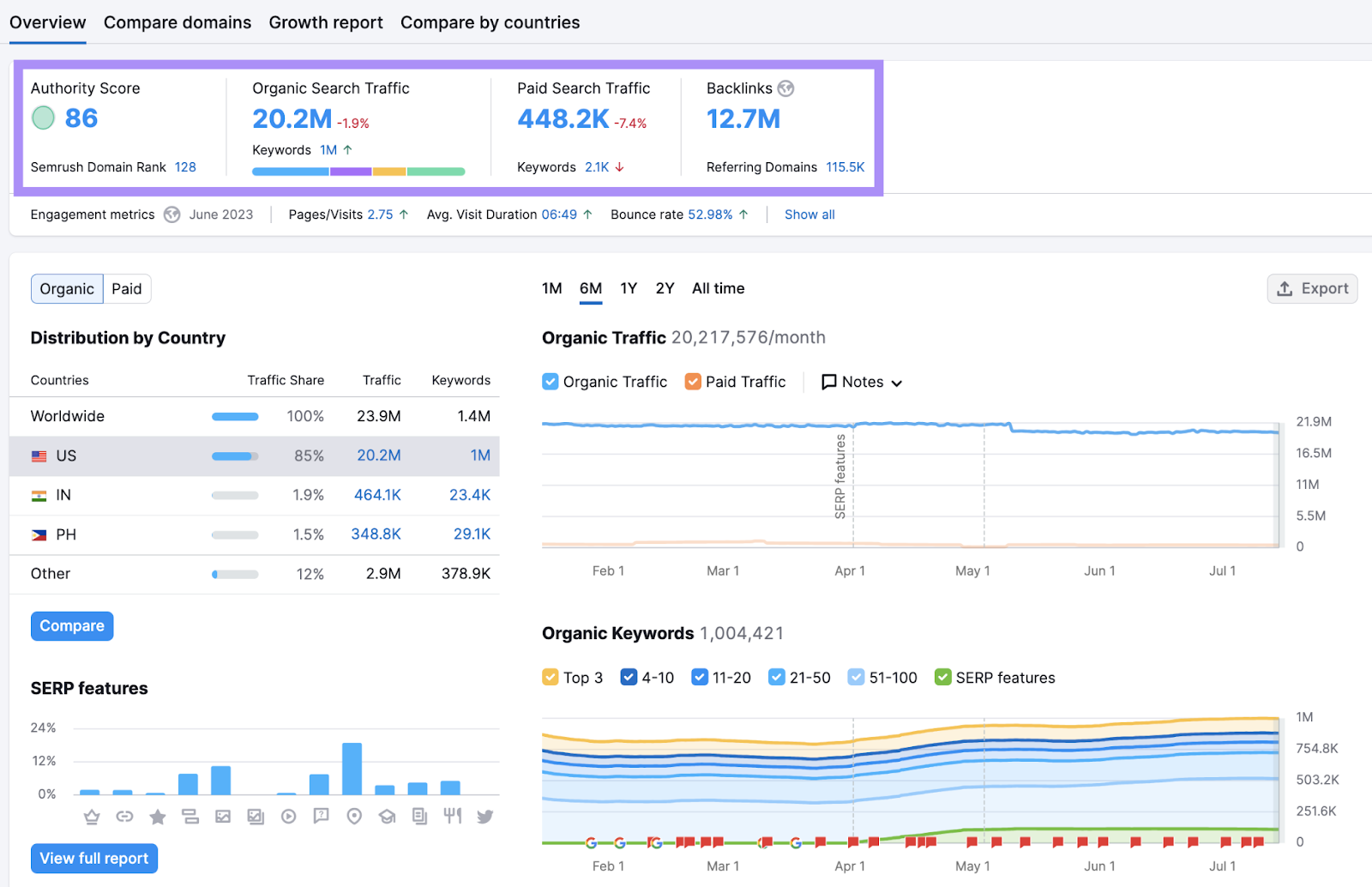 If you scroll down, you can see the top keywords for the site, and an overview of the ranking distribution on Google. This shows you which positions the client holds in search results for different keywords.

In the section below, you'll find their main competitors for organic search and how they compare in terms of search performance.

These insights can serve as a source of inspiration and help you identify potential areas for improvement.
2. Find Your Niche
It's often worth specializing in a particular area of SEO. That way, you position yourself as the go-to expert in that particular area. 
It may be tempting to offer a wide range of services to anyone who wants to buy them. But choosing a niche attracts clients who value your specialized knowledge. And you can command higher rates for your services. 
It's also easier to excel at one thing rather than 10. 
For example, you may choose to work with news publications, nonprofits, small businesses, startups, or software-as-a-service (SaaS) companies. 
You can also specialize in specific SEO areas, such as:
Technical SEO: Technical SEO involves optimizing a website from a technical standpoint, like improving page speed
Local SEO: Local SEO involves helping clients to optimize their online listings, such as Google Maps entries for physical stores and Google Business Profile pages
App Store Optimization: App store optimization lets you help clients drive more traffic to their apps. This involves understanding the algorithms and strategies behind platforms like the Apple App Store and Google Play Store.
Video SEO: Video SEO allows you to help clients optimize their video content for maximum visibility on YouTube and in Google search results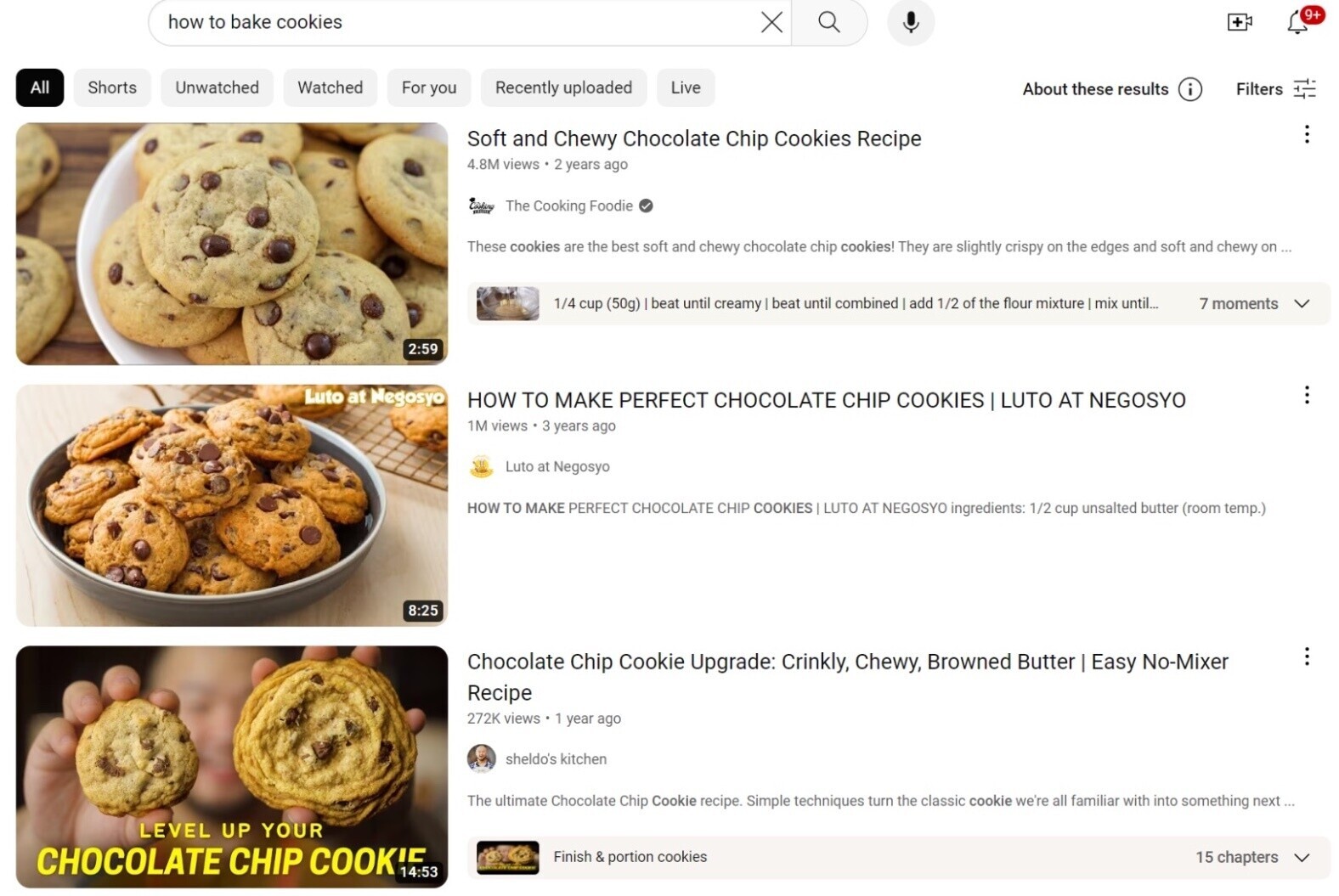 3. Grow Your Network
Networking helps you find clients and grow your freelance business. 
And there are many things you can do to build your network:
Attend SEO events in your area 
Join SEO-related Facebook and LinkedIn groups 
Connect with SEO professionals on LinkedIn
Reconnect with former work colleagues—or even friends and neighbors—to let them know about your new freelance venture
Remember, networking isn't just about finding clients. It's about building relationships and fostering a sense of community within the SEO industry. 
Nurturing your network increases your chances of securing clients through word-of-mouth recommendations. 
4. Create a Professional Website
To be taken seriously as an SEO freelancer, it's helpful to have a professional website that showcases your expertise and services.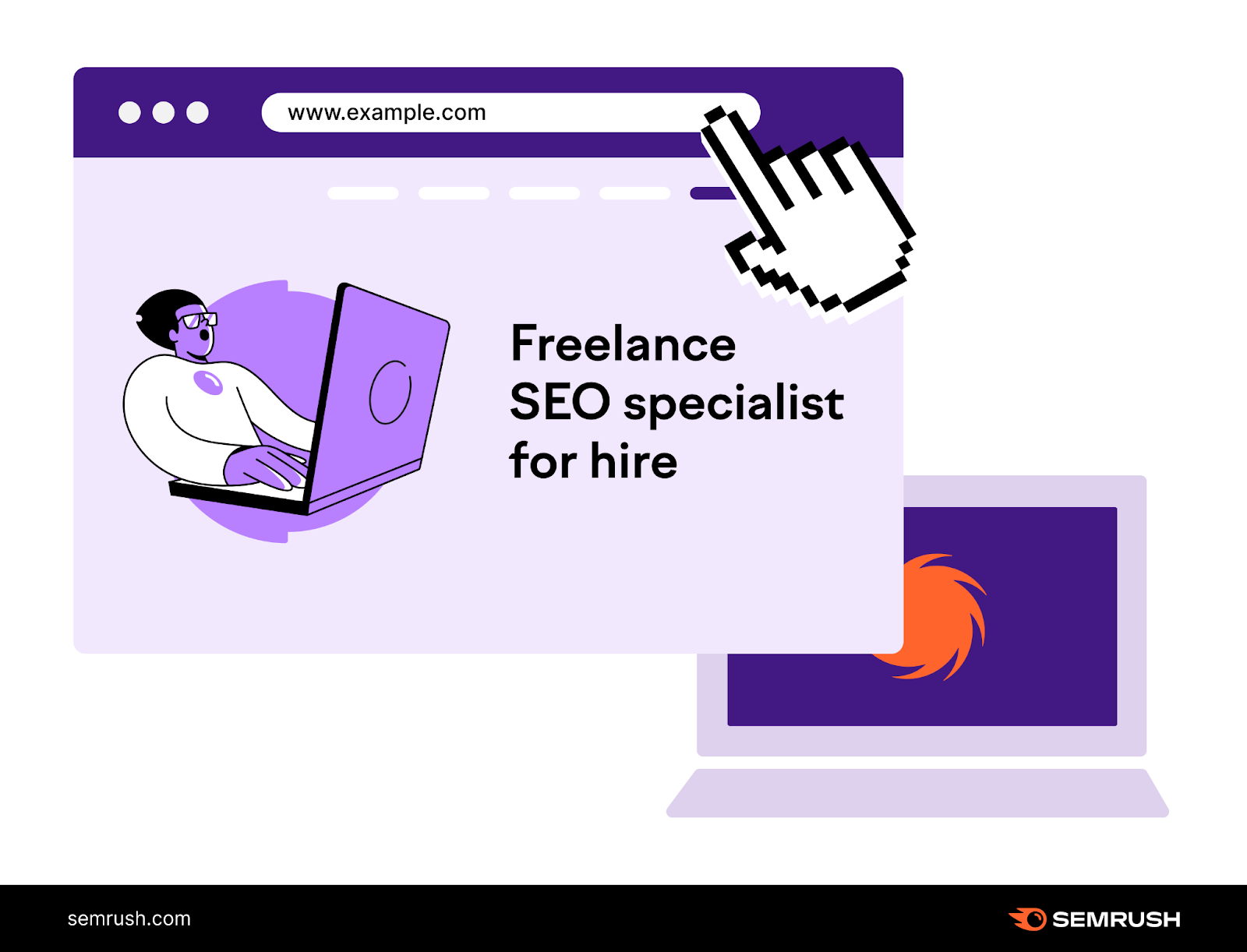 Your website doesn't need to be fancy. But it should include your contact information, experience, portfolio, and services. 
You can create a simple website in a few hours using a CMS like WordPress or Wix. 
And you'll need:
An about page: Introduce yourself and your background in SEO. Make sure your contact information is prominently displayed, so interested clients can reach out. And be sure to highlight any relevant certifications, course certificates, and SEO-related work experience to showcase your expertise.
A services page: Dedicate a page to outlining the SEO services you offer. Specify your areas of specialization, such as keyword research, on-page optimization, content creation, or technical SEO. And explain what clients can expect when working with you and how can help them achieve their goals.
Your portfolio: Create a portfolio page to showcase projects that highlight your SEO capabilities. That could include an effective on-page optimization project or a successful link-building campaign. And be sure to include metrics that demonstrate the impact your work had, such as increased traffic or improved keyword rankings.
Reviews & LinkedIn recommendations: Ask clients to give you reviews. Then, display them on your site and LinkedIn profile. Words from happy clients serve as social proof and help build trust with prospective clients. 
A blog: Create a blog where you can share insights, tips, and industry trends related to SEO. Publishing valuable content shows you know your craft. And it attracts potential clients to your website.
5. Build Your Personal Brand
Having a strong personal brand helps you stand out in the crowded SEO space. So you can better connect with potential clients.
Here are some ways you can establish your personal brand:
Write thought leadership social media or blog posts sharing your perspective on industry trends and challenges
Reach out to well-known SEO blogs for guest writing opportunities
Attend and speak at marketing and SEO conferences and events
Offer to be a podcast guest on a popular SEO or marketing podcast
These things all help establish you as an expert with a distinct point of view. 
6. Implement the Right Pricing Strategy
Figuring out how to package and price your services is essential for being successful as a freelancer. 
Your pricing structure will likely depend on:
Your experience and skills
Your niche (area of specialization)
The types of projects you take on
The budget of the companies you work with
Don't be afraid to charge what you are worth based on the above. 
SEO freelancer Shumon Ali advises against lowering your rates to get work. Instead, freelancers should focus on businesses that pay them what they deserve. 
Here are some more pricing tips in his LinkedIn post: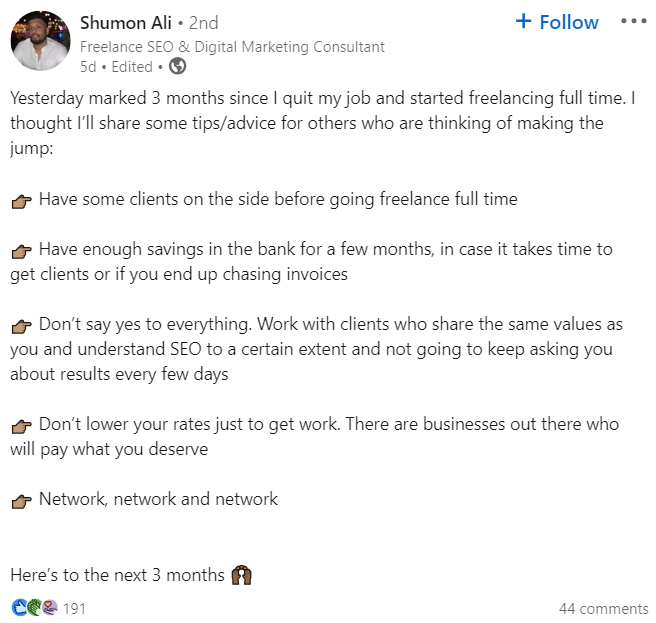 7. Establish Your SEO Toolkit
The right SEO tools will empower you to find keywords, track the performance of your clients' websites, and impress clients with competitor insights. 
Here are some of the best tools to consider (and many of them are free):
Semrush
You can use Semrush to run technical audits on clients' sites, conduct keyword research, check backlinks, optimize content, and a lot more. 
Let's say you're doing keyword research for a client. You can use the Keyword Magic Tool to quickly generate tons of keyword ideas. 
It also shows keyword metrics such as monthly search volume, intent (the reason behind a searcher's query), keyword difficulty (how difficult it is to rank in the top 10), and more.
To use it, open the tool. Then, enter your seed keyword (a broad term related to your client's business), select a location, and click "Search." 

You'll then see a bunch of keyword ideas: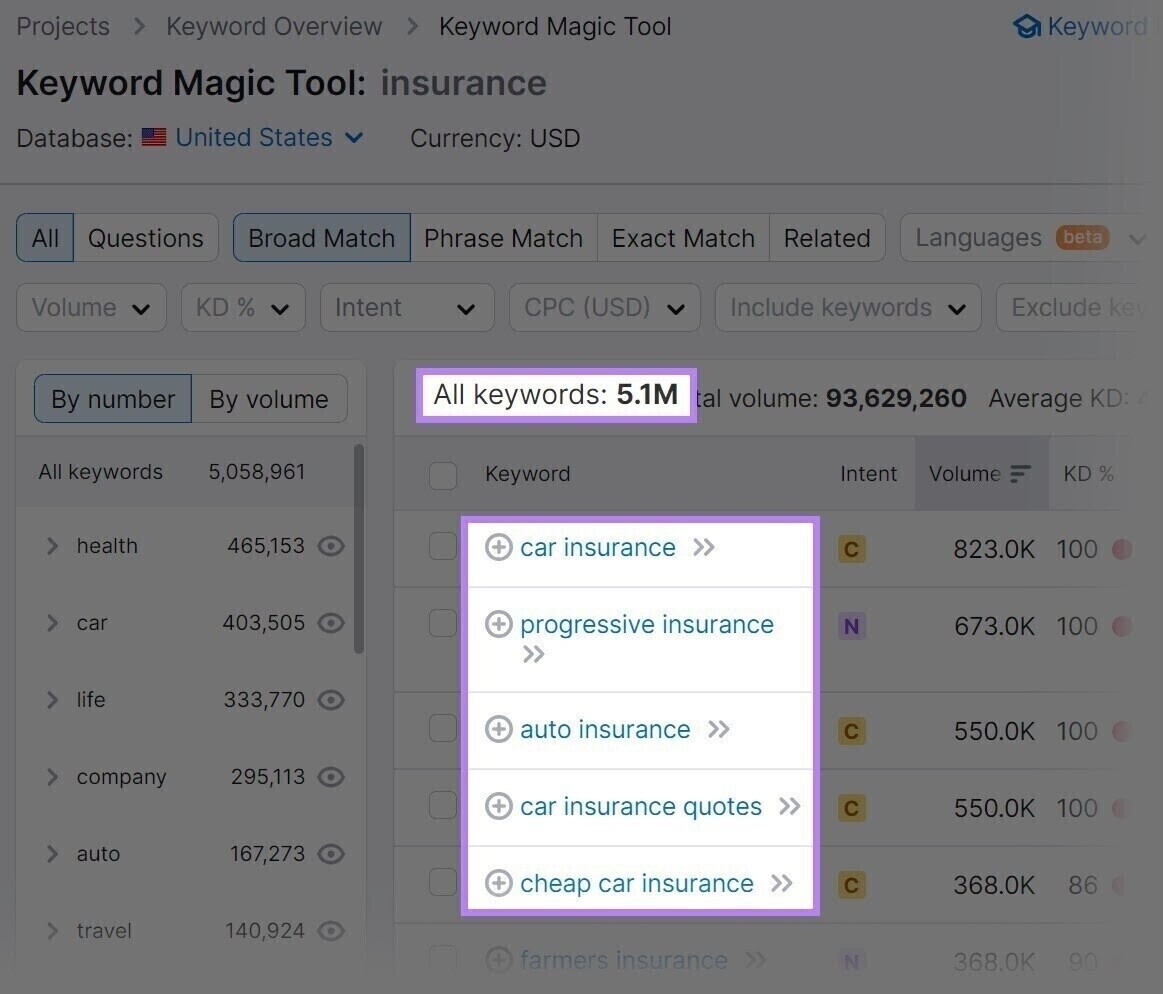 If you want to narrow down your results, you can apply filters like:
Questions: To see keyword ideas in the form of questions
Broad Match, Phrase Match, Exact Match, and Related: To narrow in or expand on your keyword
Languages: To look for keywords in different languages
Volume: To search for keywords that fall under a specific search volume range like 101-1,000, 1,001-10,000, etc.
KD % (shorthand for keyword difficulty): To see keywords that have a specific keyword difficulty level like "Easy," "Hard," "Very hard," etc.
Intent: To see keywords that reflect a specific search intent like "Informational," "Navigational," "Commercial," or "Transactional"
You can also use Backlink Analytics to gain valuable information about a client's backlink profile. To improve their site's visibility.
Open the tool, enter the domain, and click "Analyze."

You'll see lots of data points to understand how strong (or weak) your client's backlink profile is.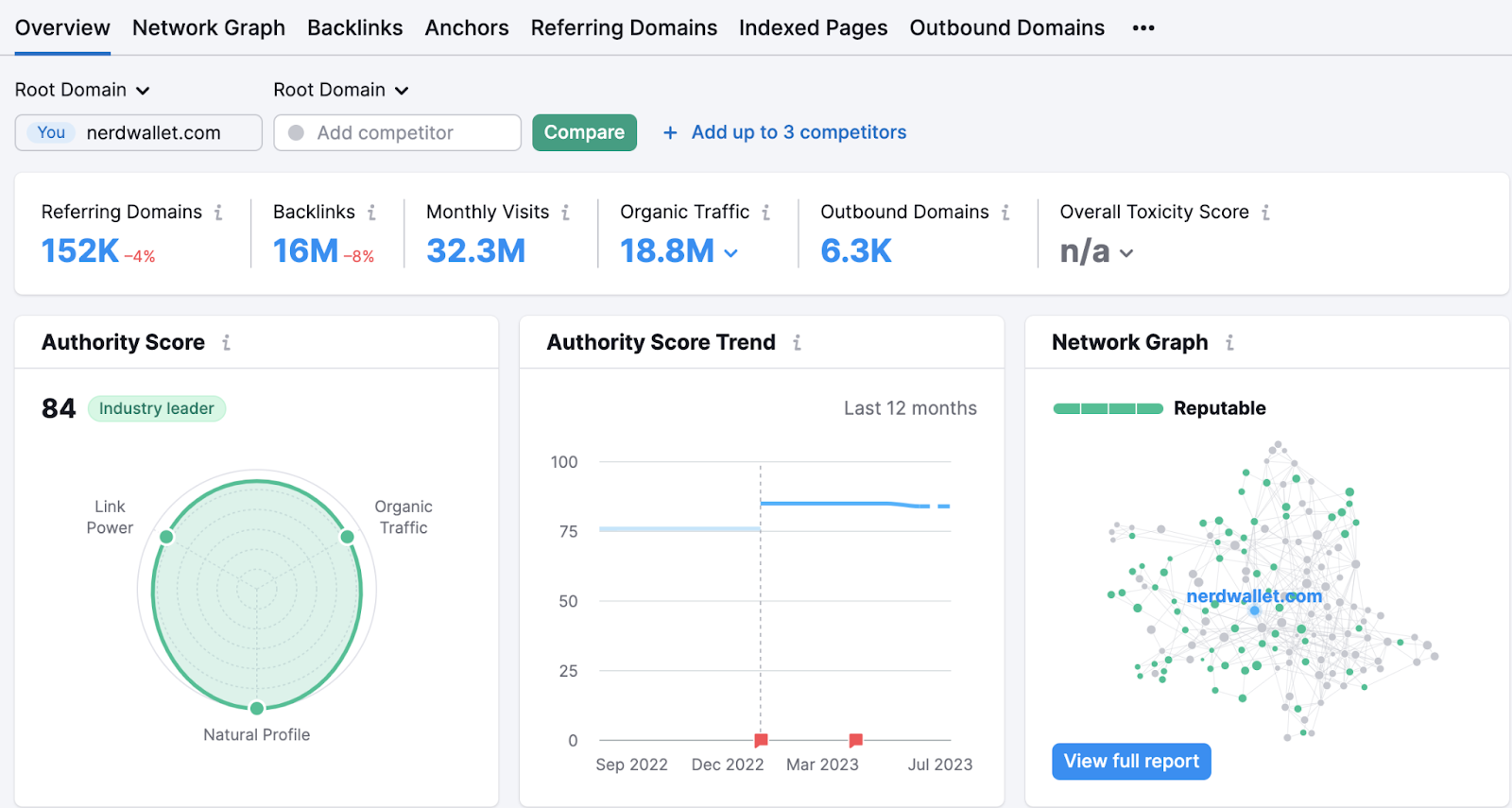 Then, click on "Referring Domains" to see an overview of new and lost domains. And a list of all domains linking to the client's site.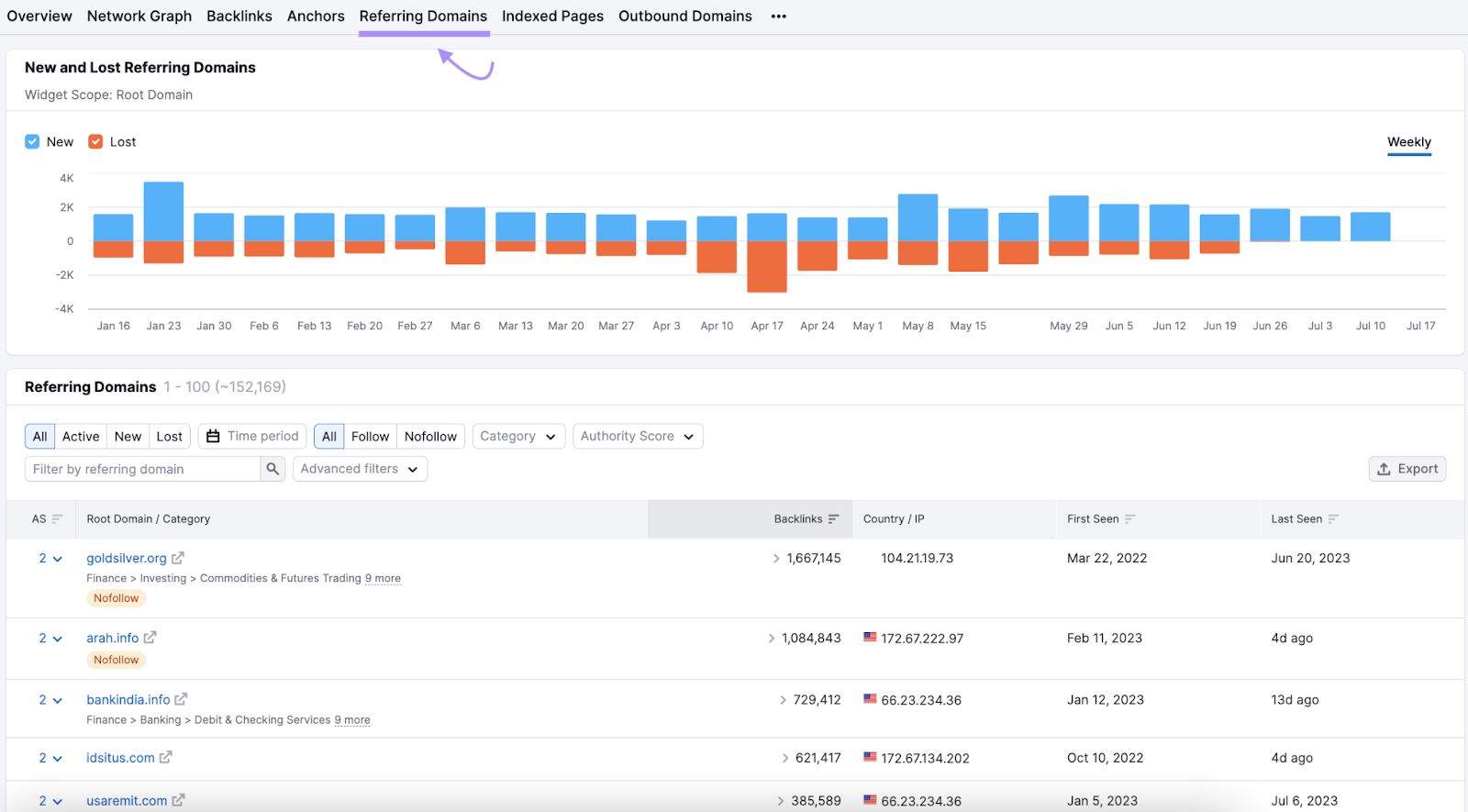 You can also do the same for a competitor's website. To find good backlink opportunities. 
From there, you can compile a list of domains you might want to reach out to.
Google Search Console
Google Search Console is a free tool for monitoring a website's SEO performance. 
It gives you insight into a variety of metrics (like the total clicks from search shown below) that can help you improve your client's site. And get more traffic from Google.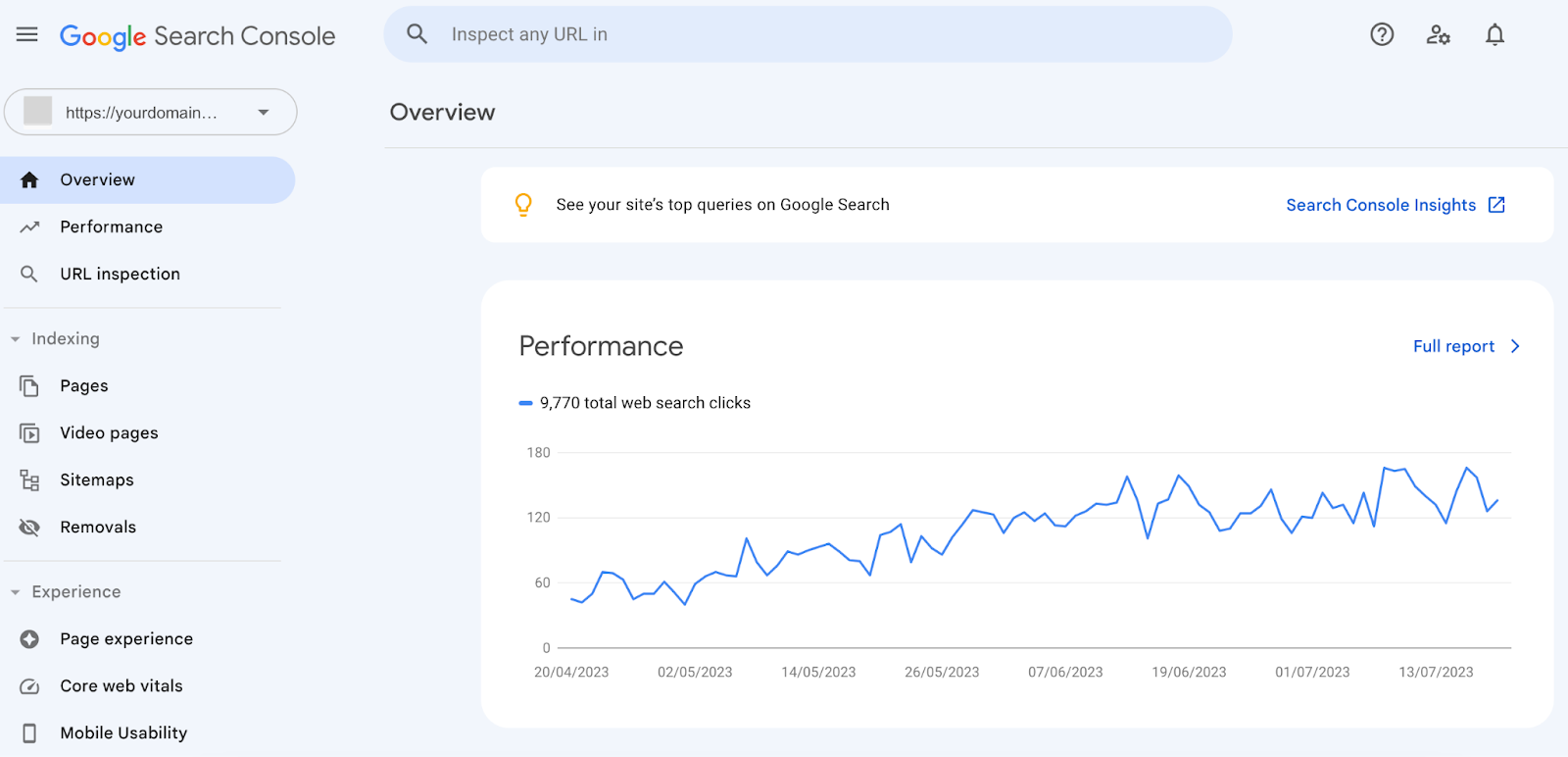 With Google Search Console, you can: 
Identify technical errors that might be affecting search engine indexing
Submit sitemaps and new URLs for crawling
Get information on search performance
Gain insight into the user experience
Understanding how well-optimized your site is and which keywords are driving traffic can help you adjust your SEO strategy to drive better results. 
Note: You can connect your client's Google Search Console account to Semrush. This way, you can access insights about their website in one central location.
Google Analytics 
Google Analytics is one of the best tools for tracking and analyzing website and app traffic, user behavior, and conversions. 
Here's an overview report: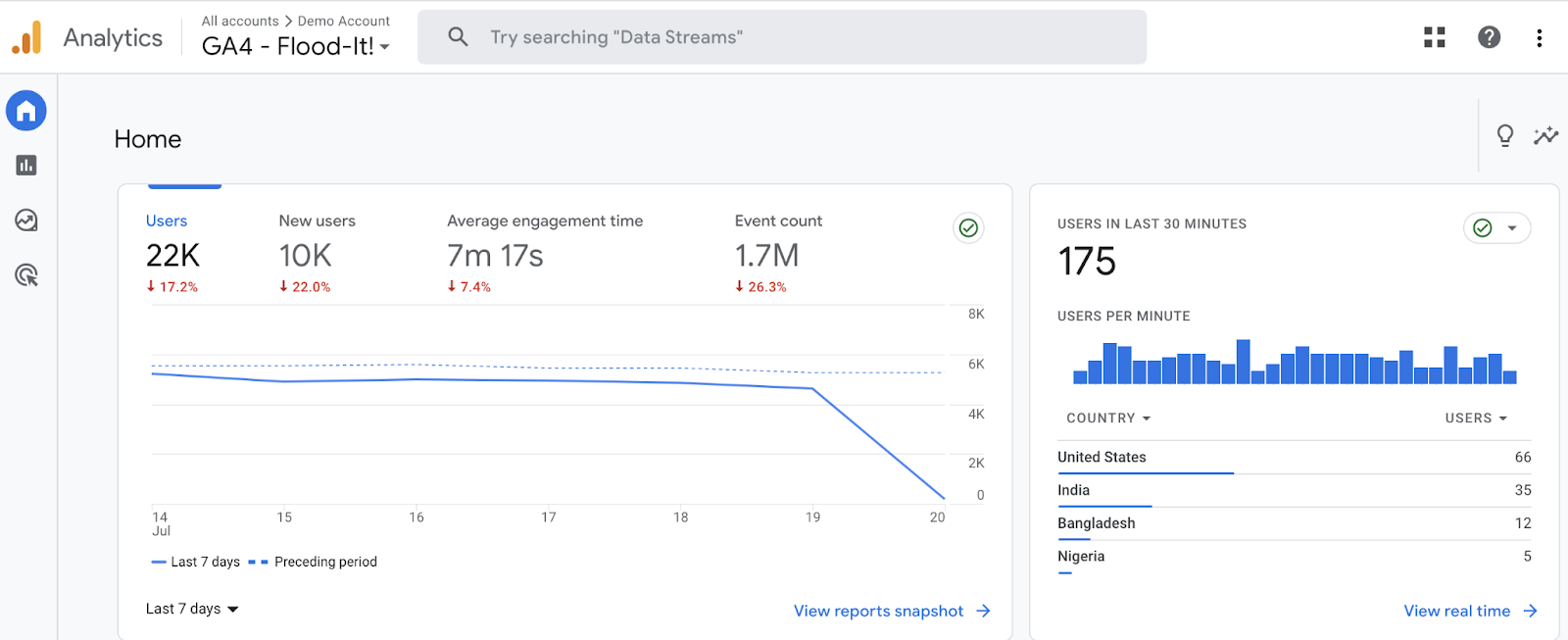 Google Analytics can help you answer a bunch of questions about your client's site. Such as:
How many visitors does the site get?
Where do visitors come from?
Which pages on the site get the most traffic?
What actions do visitors take on your pages?
How much time do visitors spend on your pages?
Where do visitors tend to leave your site?
Google Looker Studio
Google Looker Studio (formerly known as Google Data Studio or GDS) is one of the most powerful SEO reporting tools available. 
You can create custom reports, dashboards, and visualizations to share metrics and learnings with your clients. 
There are even templates available to help you get started: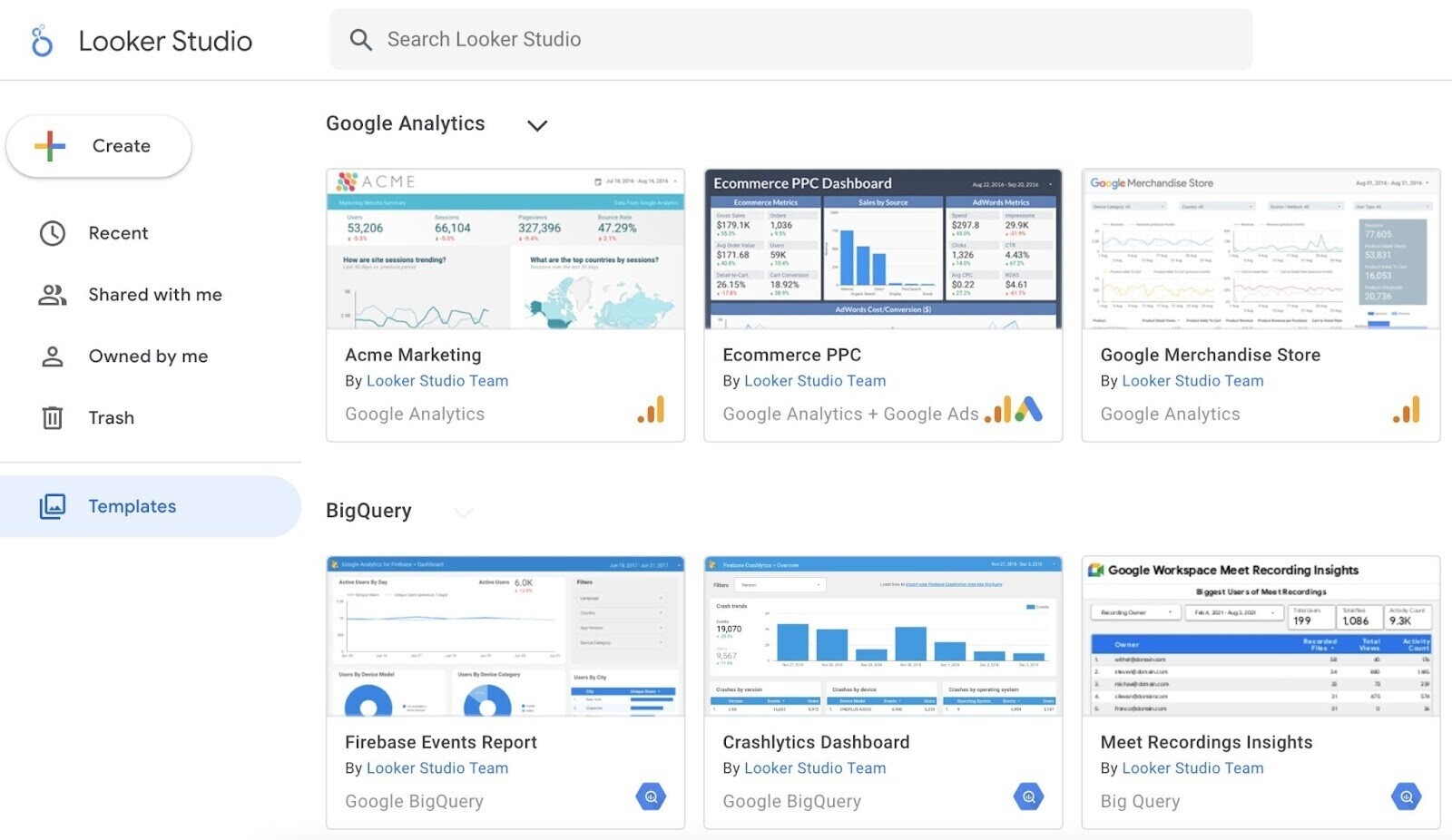 This tool gives you the power to turn huge amounts of SEO data into valuable insights your clients will understand. 
WordPress
A content management system (CMS) is necessary for managing your own website and implementing SEO optimizations on clients' websites. 
WordPress is one of the most popular CMS platforms out there. And with good reason: WordPress is free, open source, and SEO-friendly. 
Here's what the dashboard looks like: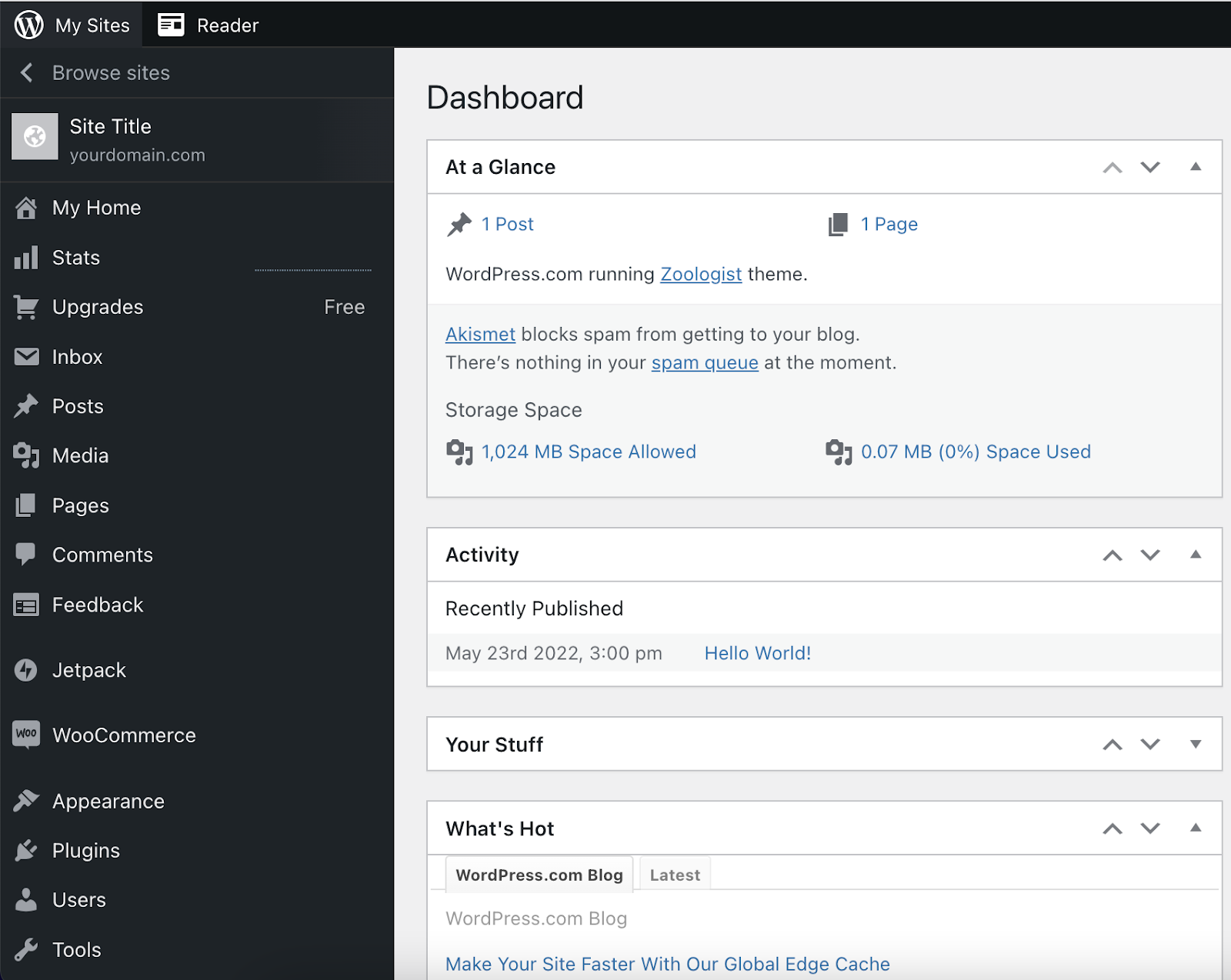 Having a good understanding of this platform is a great asset to your freelance SEO career.
How to Find Clients as an SEO Freelancer
Finding clients is a crucial aspect of your success as an SEO freelancer. After all, they're the ones who will pay you to complete projects.
Here are some common ways SEO freelancers find jobs and clients:
Freelance platforms: Use websites like Upwork, Freelancer, Toptal, and Fiverr to find projects and connect with clients looking for SEO services. Create a compelling profile, showcase your expertise, and actively bid on relevant projects.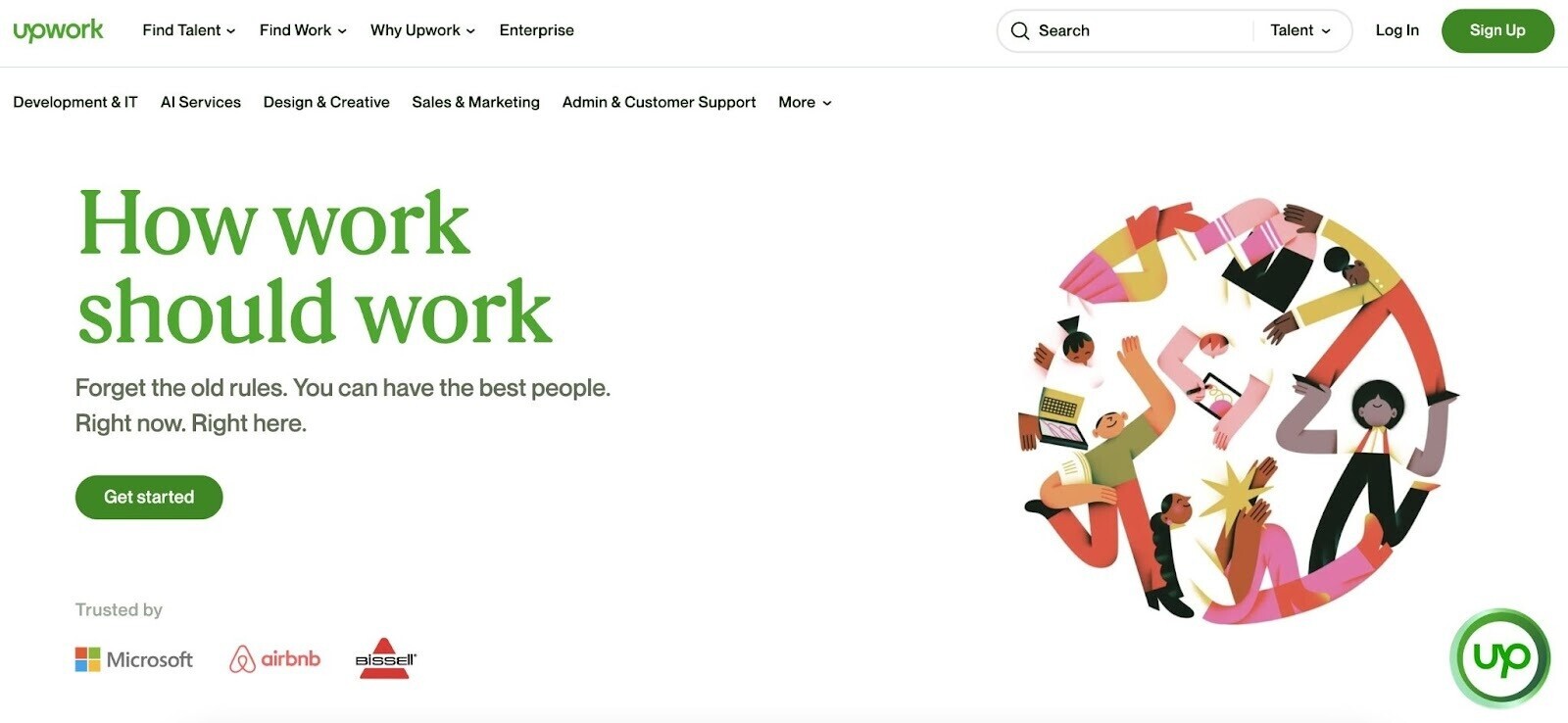 Pro tip: The Semrush Agency Growth Kit can help SEO freelancers and agencies find client leads, deliver SEO projects, and report on progress. 
Networking: Leverage your professional network and attend industry events to connect with potential clients. And don't forget to connect with people outside of the SEO industry. A plumber or dentist might not have heard of SEO yet, but that doesn't mean they don't need it.
Referrals: Gain word-of-mouth referrals, which can be a powerful source of new clients. Provide exceptional service to your existing clients and encourage them to recommend you to others in their network.
Content marketing: Create high-quality content to demonstrate your expertise. Especially if you specialize in content marketing and on-page SEO, it's good to practice what you preach. Publish informative articles, create videos, or offer free resources that attract potential clients and establish your credibility.
Kickstart Your SEO Freelancing Career
Now that you know how to become an SEO freelancer, it's time to take action.
Equipping yourself with the right tools is a great next step. 
Sign up for a free Semrush account today to get started.