What Is Local SEO?
Local SEO is the process of optimizing a business, product, or service for a search query that is location-specific. Google (and other search engines) uses a user's location based on IP address (for desktop) and geolocation (for mobile) to determine what results to show the user. So when someone performs a local search for a dentist, car wash, or locksmith, the search engine will display local businesses relevant to their location.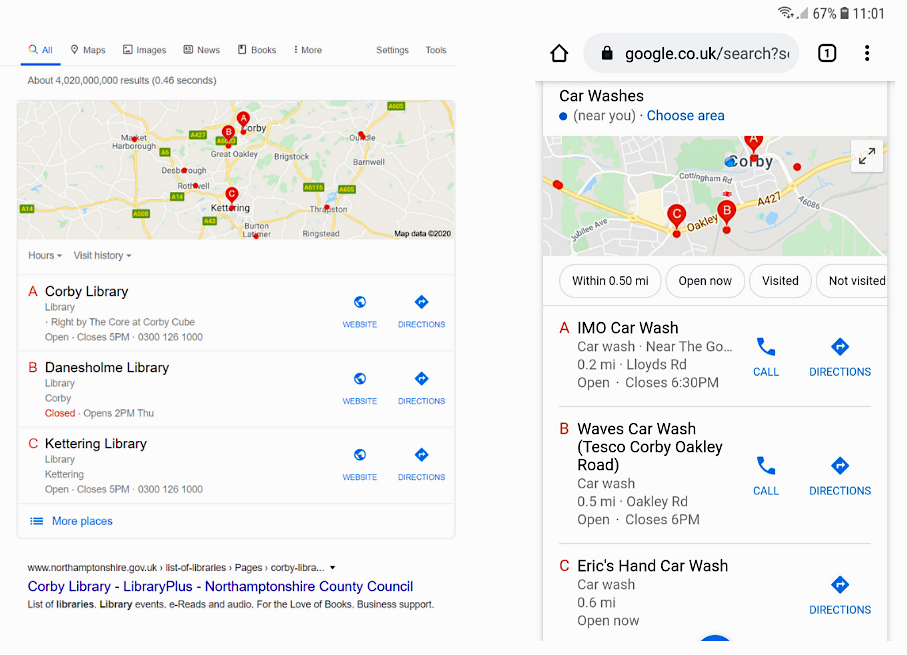 Local Search Results on Google 
A local search result combines two main parts (or opportunities) for a local business:
Organic Search Results — The website

Local Pack — Google Business Profile (GBP)
Users can also search for results in a different location by adding in a local area qualifier, like "Hotels in London." Other positions (opportunities) include Ads, Images, One Box, and, of course, users searching specifically in Local Finder and Maps.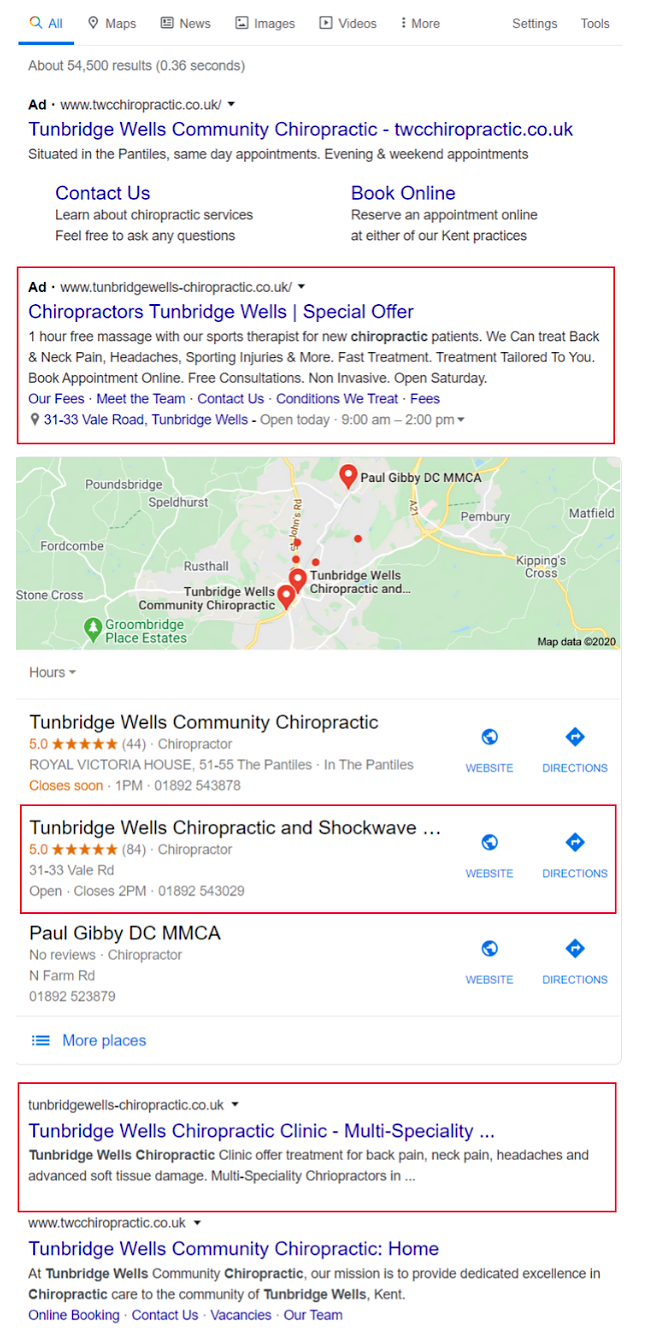 The practice of Local SEO includes optimizing the business's website for local search queries, as well as optimizing the business's Google Business Profile.
Exceptions
There are some exceptions to Google returning a local business to a local query; in these instances, Google tries to determine the intent of the user rather than the user's location. These are especially prevalent for "Hotels in …" search results where Google typically only returns booking websites in the organic search results. Google determined that a user wanted a choice of multiple hotels within the area searched rather than providing the user with just ten hotels within the search result.

Location-based results for hotels switched to intent in July 2018. In July 2019, Google again switched from local results to intent for the search query "Airport Transfers" in the UK. All local businesses were removed from the search results in favor of booking providers. To see local providers, a user now has to specify a location, like "Airport Transfers in …"
Google can and will change their search queries. However, Google still displays local businesses within the Hotel Pack and Local Pack that is refined to the user's location and search query.
Your Local SEO strategy should be adapted to your location and customer intent.
Local Search Results
Typical search results are made up of Local Pack (Google Business Profile) and Organic Results (websites).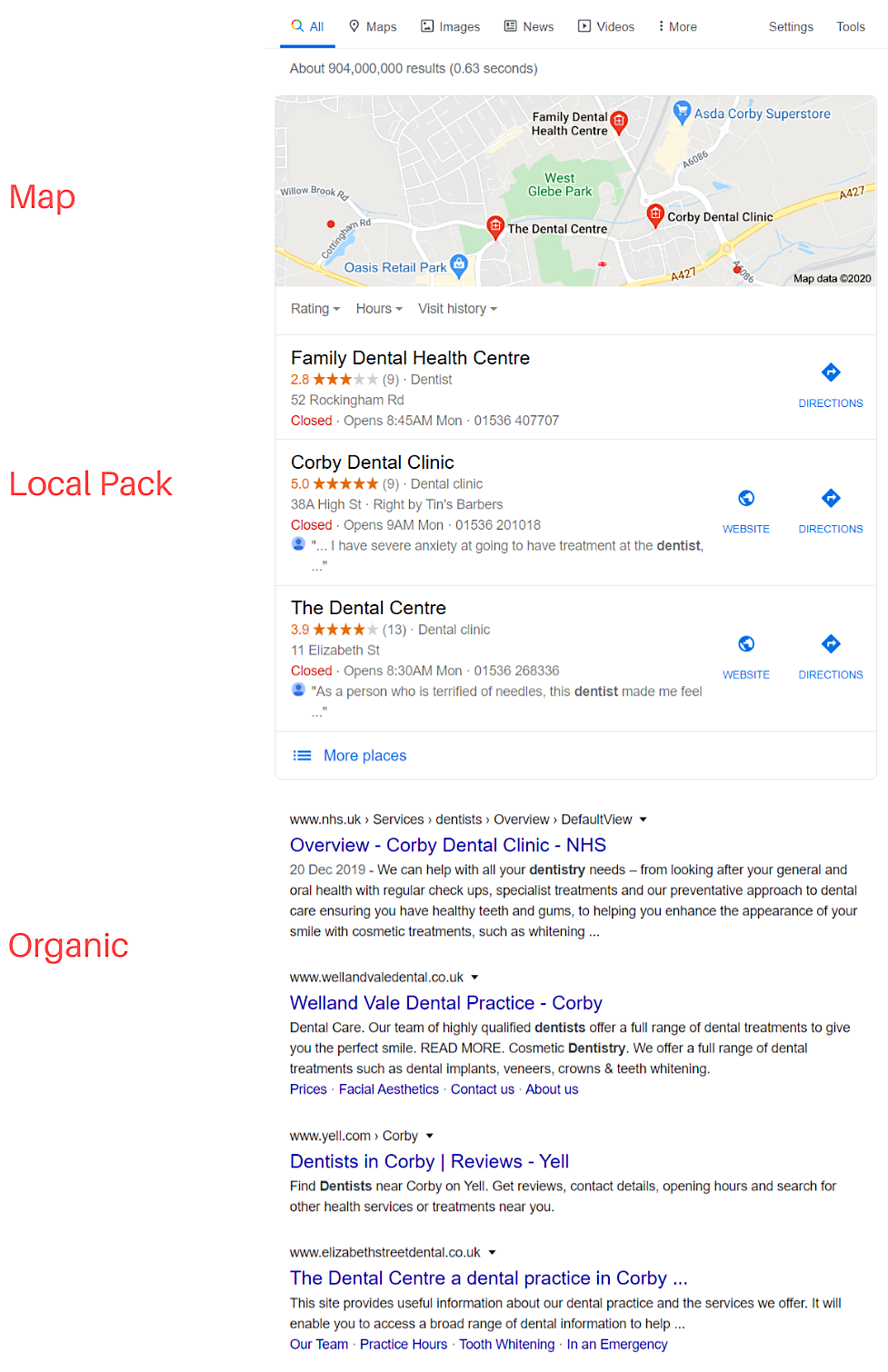 A local search strategy can include multiple aspects to increase business visibility. This can include:
Paid Ads — Above the Local Pack
GBP — The Local Pack
Organic — Below the Local Pack
As a local SEO practitioner, I concentrate on providing organic visibility (non-paid). However, there is always a time and place for using paid ads; this would be when you are starting on your local SEO journey and are not appearing within the local pack or organic search result. 
It could also be when your competitors run ads at certain times of the day and are pushing your organic visibility down the page; you may want to maintain a presence during those hours too.
Not All Local Packs Are Created Equally
Google displays local packs slightly differently depending on the nature of the query and business type.
Brands: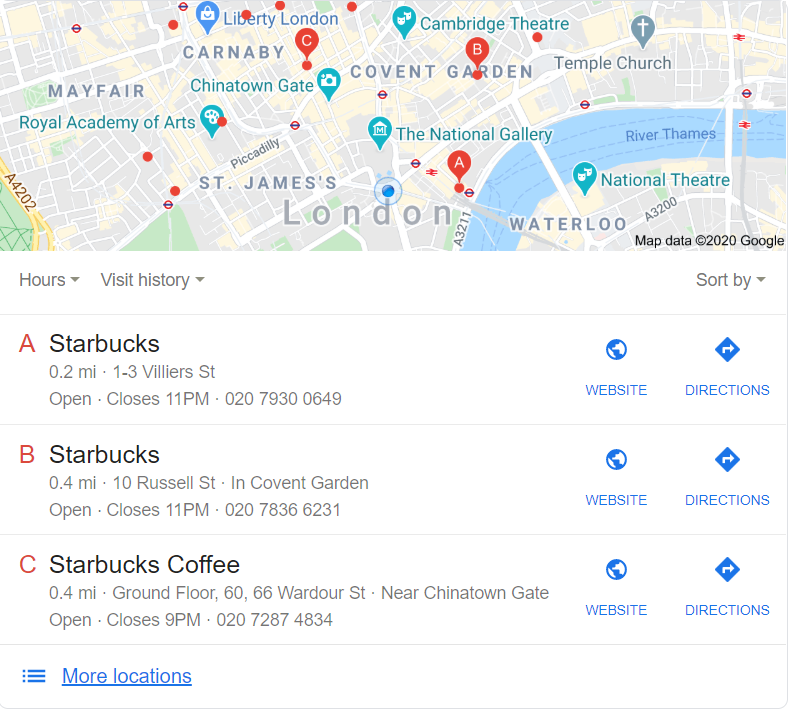 Restaurants: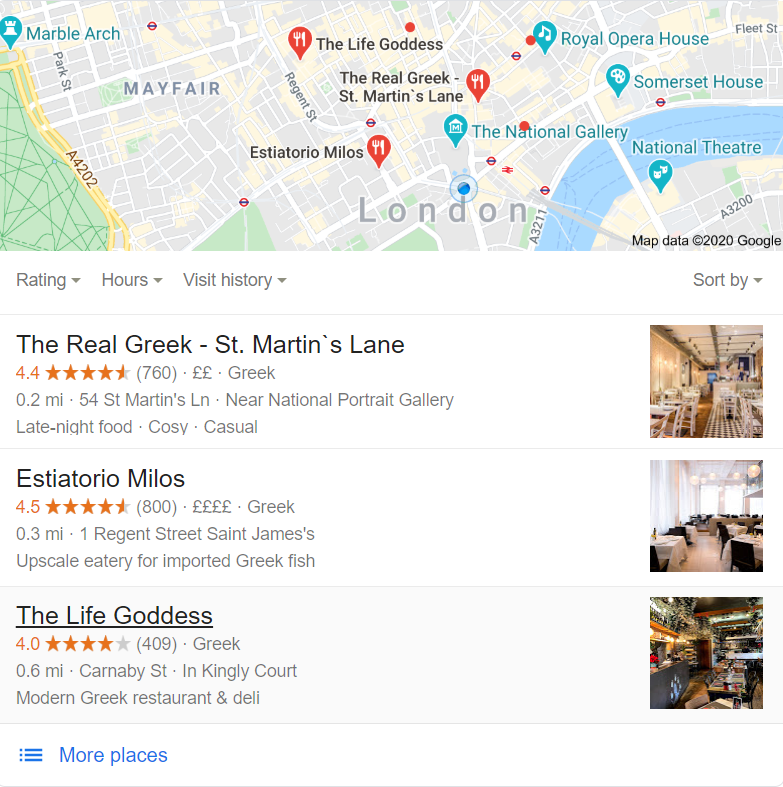 Local Business: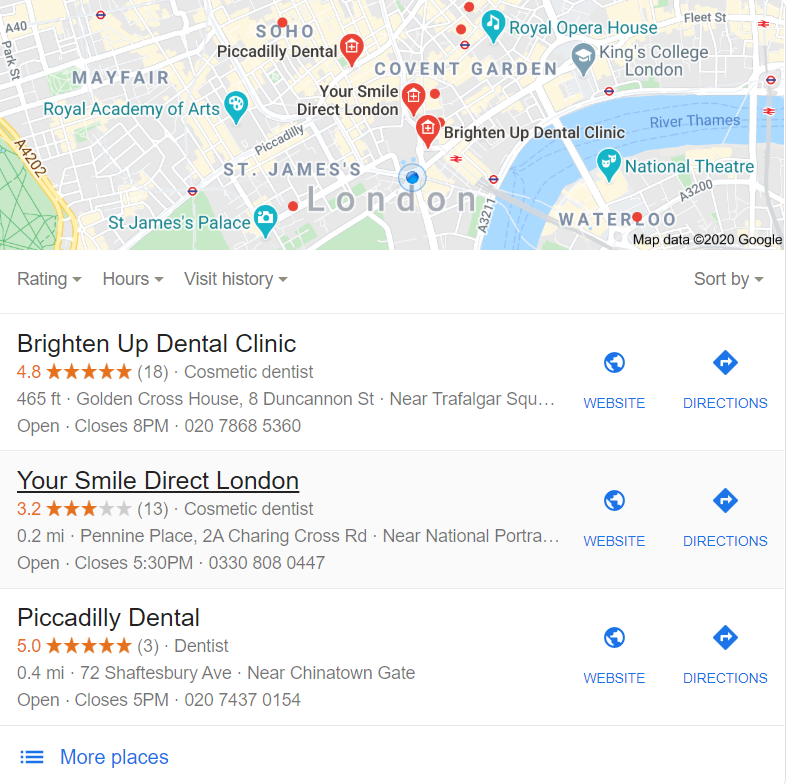 One Box (when Google feels confident enough to show one business that satisfies the user's query):
Hotels: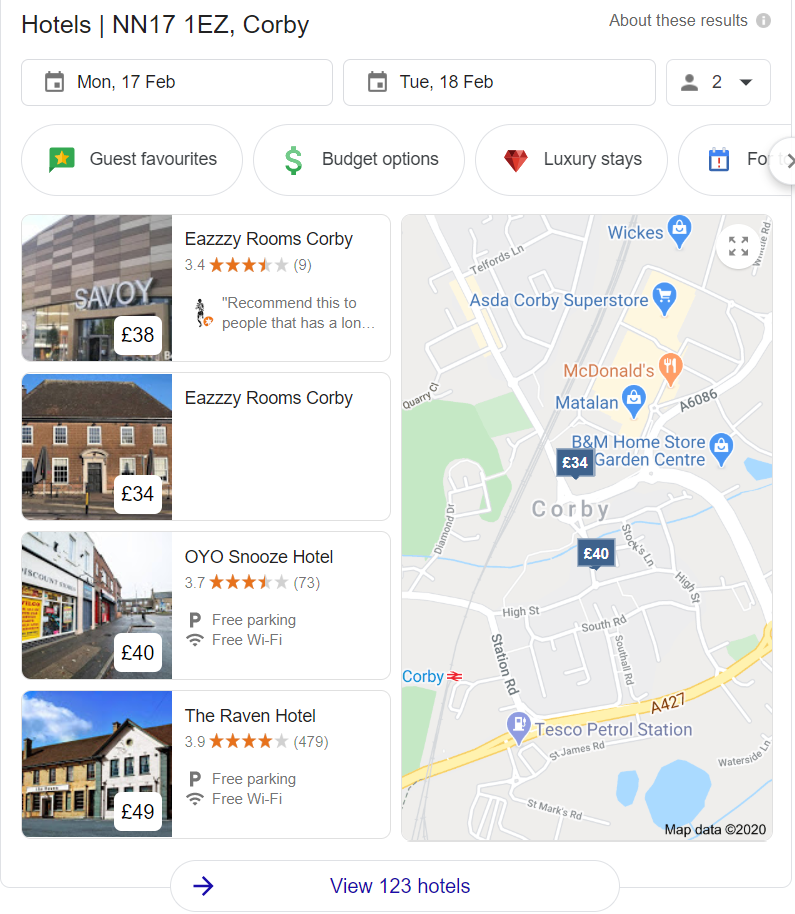 Google Business Profile
Google Business Profile provides highly visible business branding directly in search results with a knowledge panel. Google is also increasing options for users to interact with the businesses directly from search results via your Google Business Profile with the following options:
Booking Appointments
Requesting Quotes
Messaging Directly
Without a GBP, you may miss half of your opportunities in a local search result and the local pack.

A Google Business Profile is one of the most important tools that any business has at its disposal.
Google Business Profile Ranking Factors
Naturally, Google does not exactly share the exact ranking factors, but they do provide some basic information here.
Relevance: "Relevance refers to how well someone searches are matching with a local listing. Adding complete and detailed business information can help Google better understand your business and match your listing to relevant searches from customers."
Distance: "Distance is calculated by how far each potential business is from the location terms used in a search. If a customer doesn't specify a location in their search, Google will calculate distance based on what's known about their location."
Prominence: "Prominence refers to how well-known a business is. Some places are more prominent in the offline world, and search results try to reflect this in local ranking. For example, famous museums, landmark hotels or well-known shop brands that are familiar to many people are also likely to be more prominent in local search results."
"Prominence is also based on information that Google has about a business from across the Internet (like links, articles and directories). Google review count and score are also factored into local search ranking — more reviews and positive ratings will improve a business's local ranking."
Relevance Tips
Choose the best possible category for your GBP listing and or subcategories.

Provide an accurate business description in your GBP, try and include your main business keyword and location within your description.

Make sure your Name, Address, and Contact Details in GBP match the details on your website + any local citations (see Semrush citation tool).

Incorporate structured data markup on the website (schema), again making sure these details match (see Local SEO Checklist).
Distance Tips
This is the least controllable because every user's search location will be different.
If you are not in the actual location — target the location you are actually in.

Make sure the location is in the website's page's <title> and using the location where applicable in H tags on-page. ABC Taxis — Taxis in Peterborough. Or, Jims Plumbing — Emergency Plumbers in Leicester.

Provide directions for customers on-site. Depending on the size of the city, you could provide 3 or 4 direction details from various landmarks in an area.

Local centric content on-site — target longer tail search queries that capture the user during their purchase research.
Prominence Tips
Local citations — stick to authority directories and main aggregators in your country.

Look for local specific directories in your area.

Look for niche-specific directories in your area and country.

Register with local chambers of commerce or trade bodies.

Local charities — time to get your checkbook out.

Local press, especially when you launch your charity drive, local press love these stories.

Provide customer awareness articles to press or trade bodies.

Reviews on GBP, Facebook, and Trade Sites. Incorporate asking customers for reviews into your customer interaction and newsletters. Make it easy for customers to leave reviews.

Working with other local businesses — approach them about mentioning each other in your websites where it makes sense to each other's customers.
I must add a caveat here about building thousands of citations (directory listings). Stay away from mass directory submissions; these low rate submissions are often not indexed for several months by Google, which demonstrates how low value they are to Google and you.
Choose the most authoritative and relevant business listings for you.
Optimizing Your Google Business Profile
Your first step would be to either claim or create your Google Business Profile. Check to see if you already have a listing by either searching direct or via https://www.google.com/business/.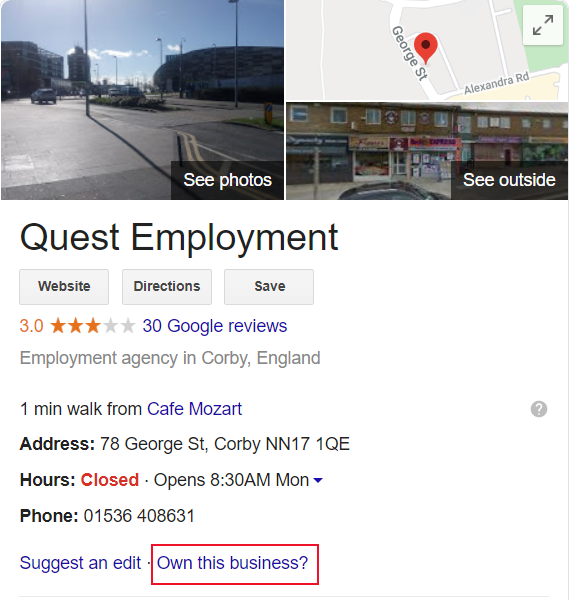 Google Business Profile now requires you to verify the business. The predominant way is via a postcard to the business. This postcard contains a pin number that you are required to enter before it becomes verified.
Other options of verifying may be offered to you, depending on how confident Google is that the business does exist at that location. This could include phone verification, text, or email.
Your newly verified business listing lives in your account dashboard or if managing via mobile, via the GBP app.
Type of Business
There are two types of businesses:
Local Business — Customers come to your business (address is visible)

Service Area Business — You provide a service to the customer (address is hidden). You select areas or postcodes that you serve.
Main Business Information
Your main business information lives in the Info section: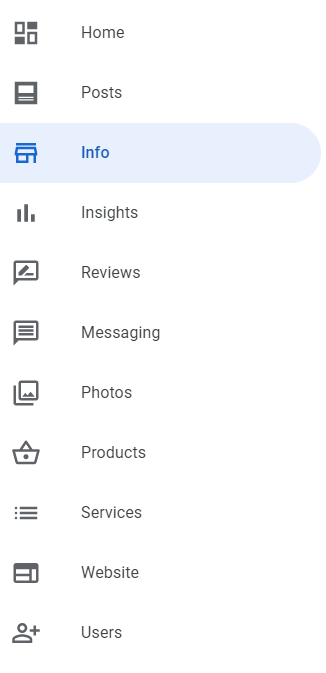 Here are the areas you need to fill out: 
Name — Business Name
Although tempting, do not keyword stuff; this could cause issues down the road. Remember consistency with your Name, Address, Phone Number.
Category — Business Category
Not all category types are offered. Select the nearest type of category and secondary categories applicable to your business.
Check what your competitors are using for various search queries.
Address — Business Address
Use the correct address of the business, and remember to reflect the same address on your website.
Make sure your pin marker in the corresponding map is in the right location.
If you are a service area business, your address will not be displayed, but you can select the areas that you serve.
Hours — Your Opening Hours
Set your business hours.
If you are an appointment-only business, current advice from Google Business Profile is not to provide any hours.
You can also add special hours, which can extend hours for late-night shopping or mark the business as closed if, for example, Christmas falls mid-week outside of your normal set hours.
Phone Numbers
You can set a selection of telephone numbers — Primary and Secondary
If you use call tracking, set the primary number for this, but also provide the main business phone number as secondary.
Short Name
You are able to select a short name for the business.
Once you have set this option, you can find a shortened URL and Review URL that you can use in everyday marketing or send directly to customers in the Home section.
Website
Add your website address.
I recommend that you use a UTM tracking code attached to your web address. This allows you to view/attribute visits from your Google Business Profile directly in your Google Analytics:
https://www.example.com/?utm_source=google&utm_medium=organic&utm_campaign=googlemybusiness
You can also use UTM tracking in other areas that may be offered depending on the type of business - reservations, appointments, orders, etc.
Services/Menu
If you are not a restaurant, you will have a Services section to complete — you can add the different types of services that you offer.
If you are a restaurant, you can add your menu.
Highlights/Attributes
This is probably the most confusing and misunderstood section for users because you cannot actually add attributes; you can only select or deselect.
A newly created business listing will most likely have no attributes to select from. As more customers who have the Google Maps app installed on their phones visit your business, they are sent push notifications to answer questions about your business. Depending on their answers, an attribute is added, which you can select or deselect.
The exception to this is Hotels who have a whole range of pre-selected attributes that they can select or deselect.
Description
This is your chance to shine. Provide a well-written description about the business, who you are, what makes you unique, and what you offer.
See some Common Google Business Profile Mistakes to Avoid.
Google Posts
Google Posts was launched in July 2017 and allows businesses to add Posts, Events, and Offers that appear within the business knowledge panel.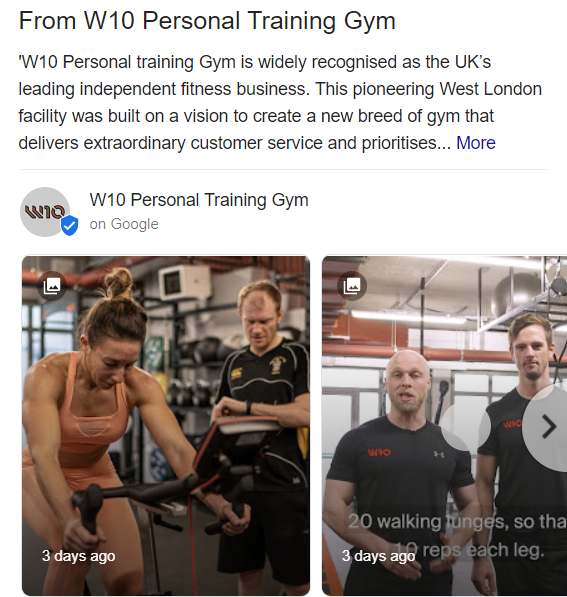 Google Posts last for 7 days — but past posts can still be scrolled through by users. An Event or Offer will last until the set end date. Traffic from Google Posts has diminished over time as Google has experimented with different locations where they display your posts, with the current position at the bottom of your business listing in search results.
However, this is free business branding direct to your customers in search results, and if you are already posting regularly in closed systems like Facebook or Twitter, why not spend those extra five minutes and provide information to customers finding you in search results.
Google has also started displaying snippets in the Local Pack if they find content from your posts that are applicable to the user's search query.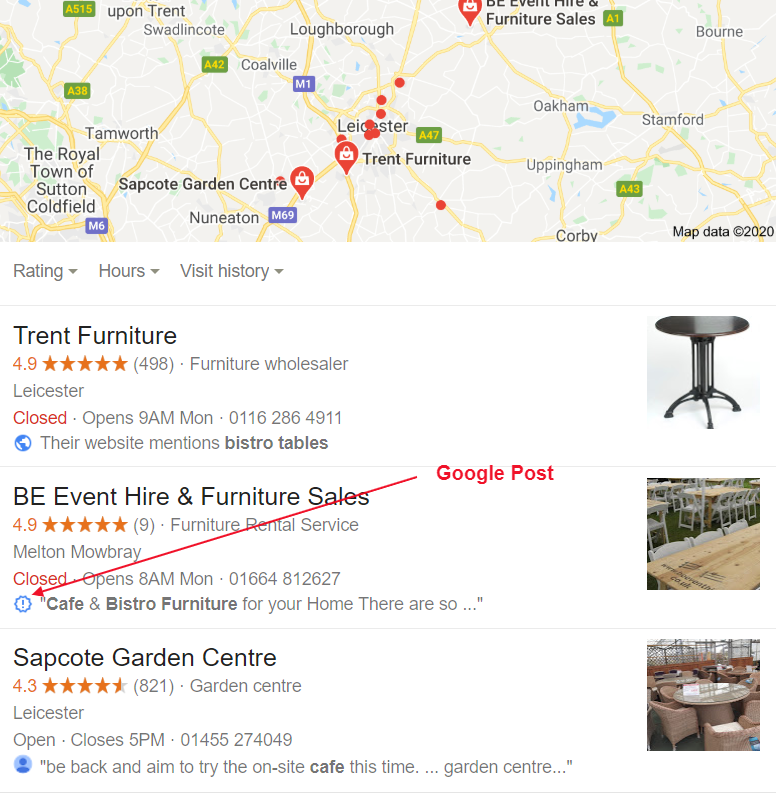 You can also use UTM tracking codes for your Google Posts to determine what works well with your customers and refine over time.
Photos
Not a ranking factor, but think of photos as a conversion factor.
Logos (250x250) are displayed in your knowledge panel and Google Posts.
Add great photos; it helps to convert and create a connection with potential customers.
You should also monitor customer added images for quality. Bad images can create a bad impression. You can report these images via your dashboard.
Products
Products are only available to applicable types of business categories.
Products are displayed in the business knowledge panel.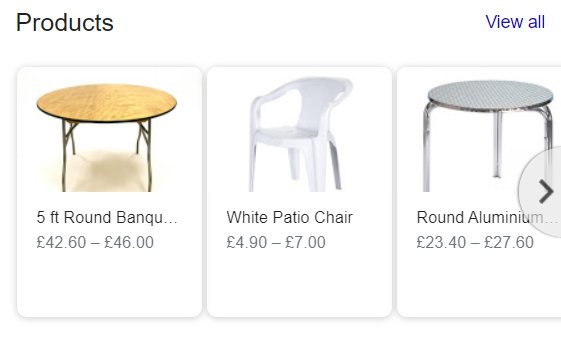 Products allow small businesses to add products manually to their GBP page for customers to view.
You can categorize these, and Google has also started to machine learn potential categories based on other similar businesses.
You can add:
Image
Product Name
Price range
Product Description
Google Website
Google allows small businesses to create a single page website for their business that pulls in information from the GBP page. If you have your own website, then you can skip this section or maybe think about this section as a citation for your business.
Question & Answers
Questions and answers do not appear within your Google Business Profile because it was created via Maps and bolted into the business knowledge panel.
Just because this is not within the GBP dashboard, does not mean it should be ignored. 
I recommend populating a few popular questions and answers to help customers if they search in this area. I would also check every now and again for any question asked by new customers.
If you have a mobile Google Maps app that is attached to the same account as GBP, you should get a notification via Maps when a user asks a question.
Reviews
I feel I need to dispel the myth that the more reviews you have, the better you rank.
You will often see a business in the local pack ranking well with a lower amount of reviews; this is because it is not the one and only signal that Google uses. You certainly want to be asking customers to leave a review, but it is not the be-all and end-all. Reply to your reviews, both good and bad, be polite, be professional.
You can send customers an easy, quick link to leave a review (set your short name) either by building it into your customer emails or newsletters.
On-Site Local SEO for Beginners
If the thought of learning a new skill like SEO while running your business fills you with dread, I understand. I will try and break down some beginner tips for optimizing your website for local search queries. There is a wealth of information out there about SEO, and Google provides a helpful resource.
Multi-Location businesses will require a slightly different approach.
Reinforce Your Location on Site
Search engines understanding where your business is located is important when it comes to Local SEO. 
Site Pages
If your business is in a particular location, we need to tell search engines and customers where you are.
Home Page
Your home page copy should include your location, ideally within your H1 tag.
Example: <h1>Bob's Plumbing: Your Northampton Emergency Plumbers</h1>, <h1>Happy Paws are Award-Winning Dog Groomers in Northampton</h1>
This strategy provides your location on the website to help with SEO, and it also prevents any customer confusion when they are trying to determine which area you are located in or serve.
Page Title — Title Tags
You should also use this strategy in the page titles (what users see in search results). Your home page should be based on your main offering.
Example: <title>Bob's Plumbing — Northampton Emergency Plumbers — 24/7</title>, <title>Happy Paws — Dog Groomers in Northampton — Award-Winning</title>.
Try and keep your title under 60 characters.
Meta-Descriptions
Your meta description would be the call to action to entice the user to visit the website from the search result.
Example: Our emergency plumbers in Northampton are available 24/7, from burst pipes to blocked drains. Call Bob's Plumbing Today!
Try and keep your description within 160 characters.
Internal Pages
An Internal page would be the service or product your business provides. This takes a slightly different format to the home page. You never know which page customers could land on, so include locations.
Example: <h1>Radiator Repairs and Radiator Installation in Northampton</h1>; <title>Radiator Repairs & Installation, Northampton — Bob's Plumbing</title>
Example: <h1>Cut & Blowdry Service at Happy Paws, Northampton</h1>; <title>Cut & Blowdry — Dog Grooming, Northampton — Happy Paws</title>
Providing a selection of Frequently asked questions on product or service pages are a great way to help customers find answers to specific questions while providing keyword-rich semantic content for search engines.
Sitewide
Your business address and other relevant information should be available sitewide in the website's footer.
Not only does this add to reinforcing your location, but it also provides customers with business details no matter where they are on your website. Address, telephone number, opening hours, contact options, and a link to your GBP so they can find you.
Now that you have your business details running sitewide, you can mark this content up with structured data markup (see Local SEO Checklist).
Business Citations & Local Links
Business citations or mentions (does not always have to be a link) help provide search engines with a better understanding of the business and where it is located; it helps build up prominence online.
Again, I must point out here that creating hundreds of citations is not really helpful; stick to the more prominent sites. Here are some sources where you can look for citations and local links: 
Niche business lists specifically for your industry.

Trade associations and chambers of commerce.

Distributors.

Suppliers.

Complimentary businesses in the area.

Charities or sponsorship.

Local press.
Localized Content on Site
A blog or news section on site is a great way to provide localized content to searches that are not satisfied within your main site pages. These areas also help you to capture users during their research phase.
Let's look at Bob's Plumbers as an example. Their radiator repair and installation page covers the basics of repair, types of repair, and installing a new radiator. What it does not cover is the multitude of potential problems leading to a repair or replacement:
Do I need to replace my radiator if the thermostat is broken?
My radiator won't warm up at the top do I need to replace it?
Radiator maintenance for hard water areas in Northampton.
The main repair page typically would not cover the hundreds of repair scenarios, so creating content that answers or provides solutions captures these customers during their research phase.
Your content does not always have to be a "blog" type. Your business may be suited to providing Case Studies, Portfolio, or Project Pages that could be perfect for capturing customers during their purchasing phase.
Patio and Rockery Laid in Bexley Heath, Northampton
Gazebo Build and Re-Lawn in Wayfair, Northampton
Localized content does not stop there. It could also be resource guides, presentations, or technical specification sheets.
You can find topics, keywords, and phrases that people are searching for from a range of tools like Semrush or Answer the Public and Also Asked.
Local SEO Tips: A Recap
This beginner's guide should get your business headed in the right direction and provide more understanding into improving and building your local SEO.
Here are some quick tips to remember:
Review your competitors in local search results; what should you mimic, and what could you do better? 
Take the time to fill out all the Google Business Profile sections, and keep the GBP ranking factors I described above in mind. 
Utilize Google Posts.
Take the time to answer questions people ask on GBP. 
Ask your customers for reviews, maintain the reviews, and avoid dealing with negative reviews the wrong way. And make sure you are not making common GBP mistakes.
If you are not getting the organic reach you need right away, consider using paid ads until your ranking improves.
Optimize every page of your website for your location. Use the fundamental SEO strategies I outlined above for page titles, headlines, and meta descriptions. 
Don't forget the power citations, links, and localized content can bring to your site — all of them can help you reach your goals.
Handling It All with Semrush Tools
Semrush has Listing Management, a dedicated tool to manage all of your local citations, including information in GBP. The great thing is that you input your business info only once, and the tool spreads it over 80+ local citation aggregators within Yext's API, so you can save your time and effort on providing consistent and identical information.
The tool is extremely helpful when it comes to updating your information (change opening hours, for example), or correcting user suggestions, as you do it just once, directly in the tool's interface.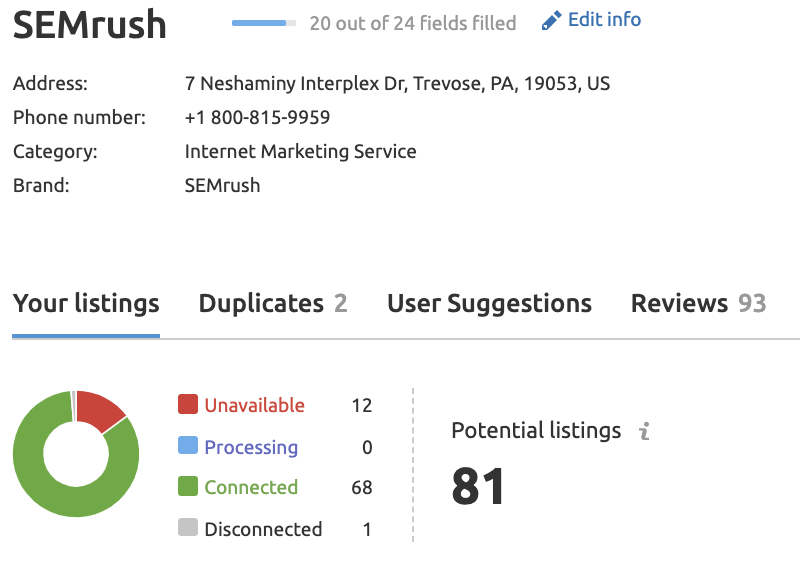 You can also update your cover photos and profile pictures.
Reports and Reviews
To keep your information precise, you get a detailed report on each local listing, containing changes, such as duplicates, suggestions from users, and issues on an aggregator's site.
You can explore your reviews Listing Management, sort out the negative, and jump to a review directly to reply to them. 
Google Posts
Another tool helping you maintain your local SEO is Social Media Poster. The tool enables you to create posts, announcement, events, and any other important information and schedule them directly in its interface. Apart from GBP, Social Media Poster supports other social media, such as FacebookTwitter, LinkedIn, Instagram and Pinterest.
Having any struggles with Google Business Profile or local ranking? Tell us in the comments below.