Social networks are essential tools for communication and sharing content. But with the amount of information, ideas, and news that we take in every day, managing your social media accounts can become a complex task.
 
You might be thinking of switching to a social media calendar to manage your workflow. But how do you create one that benefits your business? We'll share how to take your first steps with a handy social media calendar template.
Keep reading for the best steps for creating a social media calendar:
What Is A Social Media Calendar?
These days, not having a business social media account is basically the equivalent of opening a business and not telling anyone. 
Businesses understand that it's important to connect with their target audiences so they can share information and receive feedback consistently. 
Many businesses start by developing social media strategy to better define how their audience uses social media, what platforms they prefer, and the content they like to see. 
 
A social media planning calendar is a visual representation of that social media strategy. Social media calendars can serve all sorts of functions, but they're often used to schedule posts, social media campaigns you're currently working on, and upcoming content deadlines.
 
Social media calendars can also help you track and test different marketing strategies. A calendar format makes it easy to review previous posts or campaigns and their related engagement. 
Basically: a social media editorial calendar ensures your social media updates are regular and beneficial to your social media strategy. How? The answer's simple: you can plan ahead!
Why Is It Important To Plan Social Media Content? 
Planning with a social media calendar is one of the main elements of a successful social media strategy. There are many benefits of using a social media calendar, including:
Better team organization: Your social media pros will be able determine their upcoming workload and anticipate any project needs. Additionally, an editorial calendar supports maintaining a healthy publication frequency and avoids last-minute surprises.
Tracking post engagement and results: As with any marketing strategy, it is essential to track how your posts perform with your audience. You can schedule your A/B tests or similar experiments to understand:
— The best days and times to post on social networks
— Your audience's interests
— What type of posts your audience prefers (text, images or video?)
— Your best-performing CTAs
— The ideal post frequency 
 
Staying on top of holidays or remarkable dates: Social media managers can plan around major holidays (such as Valentine's Day or Mother's Day) with an editorial calendar. They'll know to start creating personalized, engaging content weeks or months in advance.
5 Easy Steps to Creating An Effective Social Media Calendar: 
1. Understand your audience and choose your social media platforms
The best place to start is with understanding your audience. There are tools available to help you gather important audience demographics, like their average age, gender, or interests. 
Look for data that points to the social channels they use the most. These are the platforms you'll want to be present on.
You don't want to be on all social media networks — just the ones that make sense. Otherwise, you could risk wasting time and money trying to reach an audience that isn't there.
2. Start with social media calendar template
A social media calendar template is a great shortcut, so you can focus more on creating and scheduling your posts. Template features will vary, but you should be able to easily visualize and plan your content a week, month, or quarter ahead to ensure you're posting regularly.  
Our beginner friendly social media calendar template is designed to track a year's worth of content for Facebook, Instagram, Twitter, LinkedIn, and Pinterest. You can download it here. 
3. Decide what content to post
One of the biggest barriers to creating a solid social media content calendar is deciding what to post.
 
First, analyze what you've posted in the past and track what received high engagement from your audience. You can do additional research on each platform by searching for relevant keywords, hashtags and trendy topics that your target audience already follows on social media networks.
If you're starting from scratch, you can work with competitor analysis to understand the keywords and topics your competitors are already targeting. Our Traffic Analytics tool in the Semrush .Trends solution helps identify the traffic your key competitors receive from social media.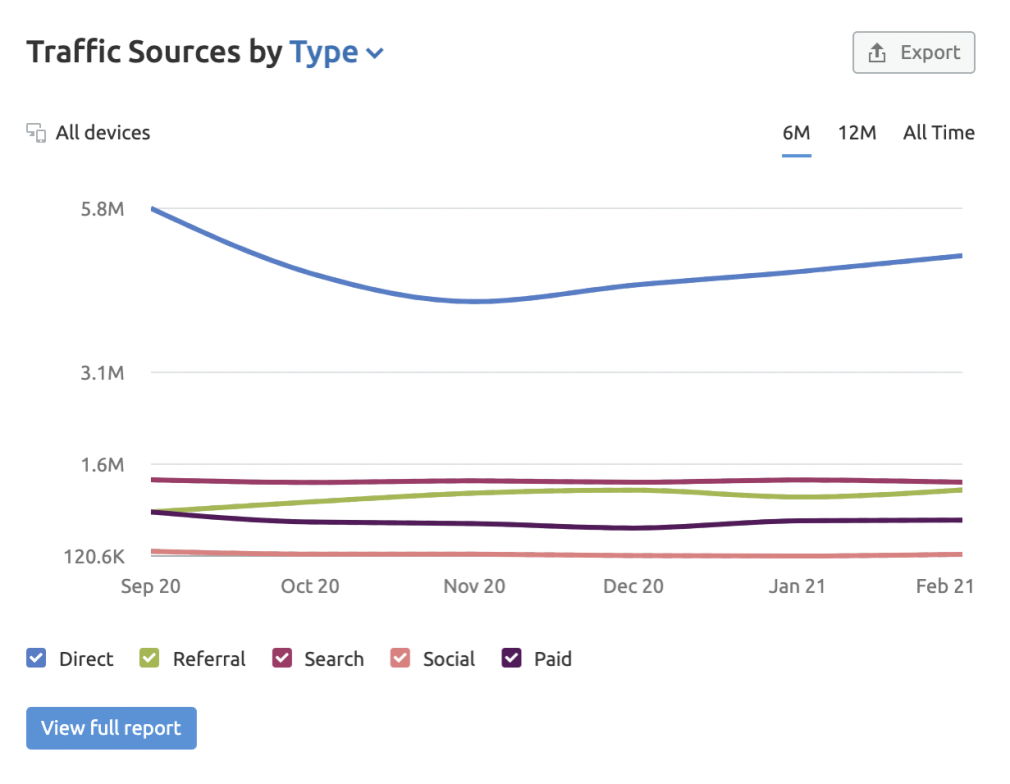 Another idea to try is planning around your social media marketing themes for the year. Start by adding holiday and important dates on your social media calendar, then building out posts from the key date. 
Some popular events to add to your calendar could be: national holidays or events, company or local events, sales dates like a Black Friday or Cyber Monday, or even product or feature date launches.
4. Decide the frequency of social media posts
Now that you've chosen your social media calendar template and you have an idea of the types of content you're going to post, it's time to create a posting schedule. You can start by defining your daily, weekly, and monthly social media frequency.
There is no right frequency for publishing content, but you'll need to consider these factors:
Your audience: How often and when is your audience online? What are the peak times and days for audience engagement? 
The target social media platform: The different features and capabilities of social platforms themselves. What can work for one business does not necessarily work for you.
Quantity is not the secret to a successful social media strategy. While it is important to be present on your audience's social media feeds, try not overwhelm them with too much content.
5. Track and analyze your social media content
Once you start using your calendar, you'll want to measure your social media campaigns across every platform you use. Our  Social Media Poster tool works in conjunction with the Social Media Tracker to automatically track the performance of your social media content on each social media platform.
You'll be able to see and track important data for your posts, as well as confirm the best times that you should post on social for your target audience.
Using the Semrush Tool with your Social Media Calendar 
Social Media Poster
As mentioned above, our Social Media Poster tool helps you make and schedule posts and manage your social media content with one interface. 
Our tool currently enables direct posting to Facebook (Business pages), LinkedIn, Instagram, Pinterest and Twitter — all without leaving the Semrush interface.
Other benefits to using the Social Media Poster include: 
Easy to use calendar interface
Automatic queue to simplify your posting schedule
All drafts and published posts saved for reference
Guru and Business users are able to schedule posts directly in Google My Business
Social Media Tracker
The Social Media Tracker allows you to track the social media accounts of your main competitors and compare their performance and engagement rankings to yours. The reports help you better understand the top-performing content in your niche so you can stay aware of the topics your target audience cares about.
Download Your 2021 Social Media Content Calendar Template
Building a comprehensive social media content calendar will give you a definite advantage when it comes to planning, prepping, and posting content.
If you don't feel like starting a calendar from scratch, there are loads of great free social media calendar templates available. Start with our free downloadable template to start organizing your content strategy today.