Scalenut is an AI-driven content writing platform that allows you to create content quickly and scale your output.
When you install the Semrush integration, you can also leverage Semrush's extensive keyword and topic data—all without leaving the Scalenut interface. Specifically, the integration provides access to:
Suggested keywords related to your primary search term
Insights on trends, search volume, and competition for suggested keywords
CPC keyword opportunities
Keyword-rich content from the start
Topic clusters sorted and assessed by difficulty
Additional info on keyword difficulty and CPC
You can integrate Scalenut and Semrush at two points: the Topic Clusters tool (Cluster Booster) and SEO Docs (Keyword Researcher).
Note that you will need both a Semrush subscription (any level) and a Scalenut account (Pro or Growth) to set up the integration. The limits of your Semrush subscription plan still apply.
You can set up a Scalenut account here.
Cluster Booster
Cluster Booster supports Scalenut's Topic Clusters tool by integrating SEO data from Semrush.
It helps you identify the most suitable clusters for your content plan based on volume, ranking difficulty, and CPC.
Setting Up Cluster Booster
To set it up, log in to Scalenut and, in the main menu, select "My Account."
Click "App Integrations" on the left side and open "Cluster Booster."
This will take you to the Cluster Booster homepage. Click "Connect" in the top right corner, and you will be asked to provide your Semrush account details.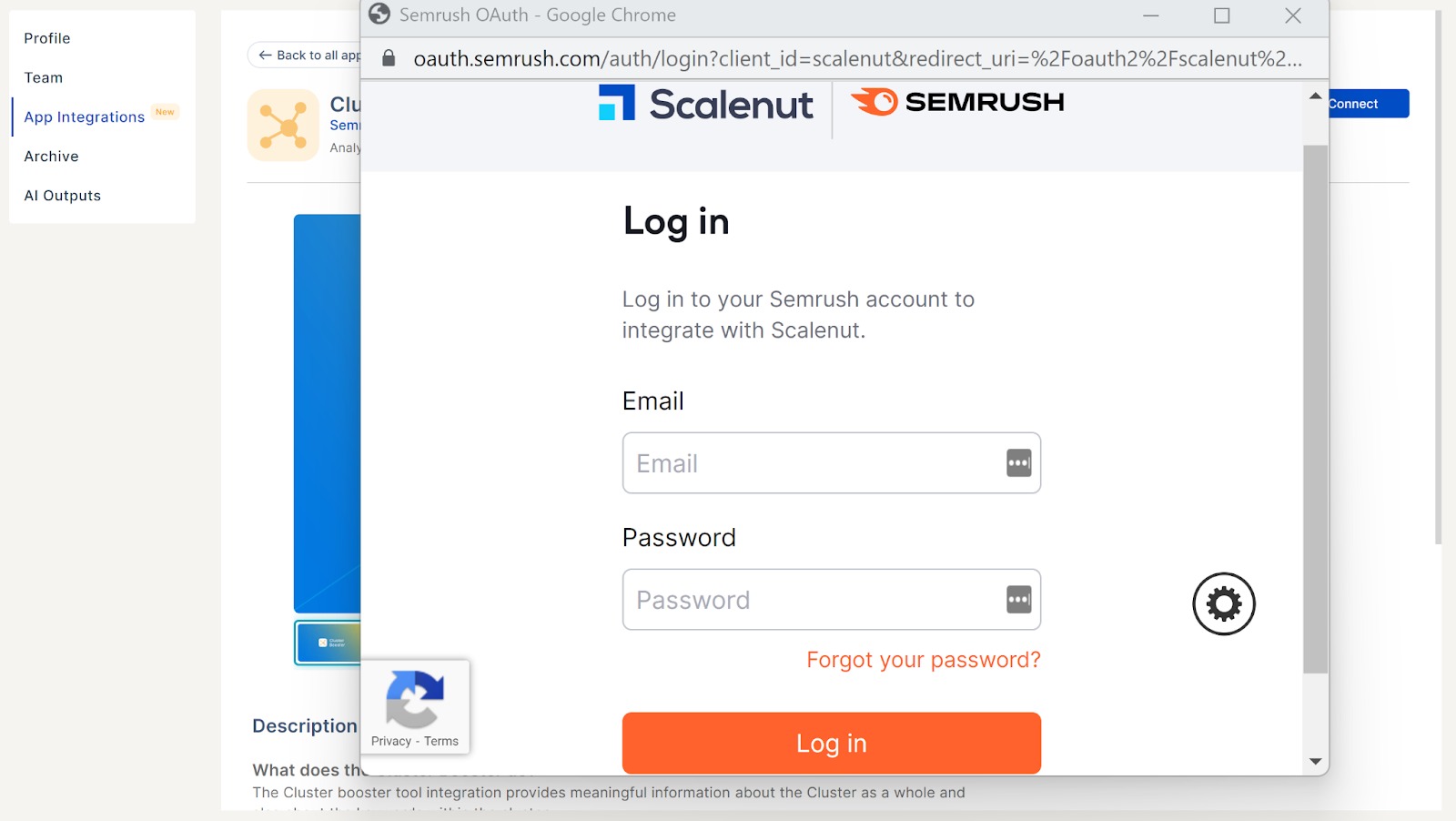 Once you enter your details, Scalenut will automatically connect to your Semrush account.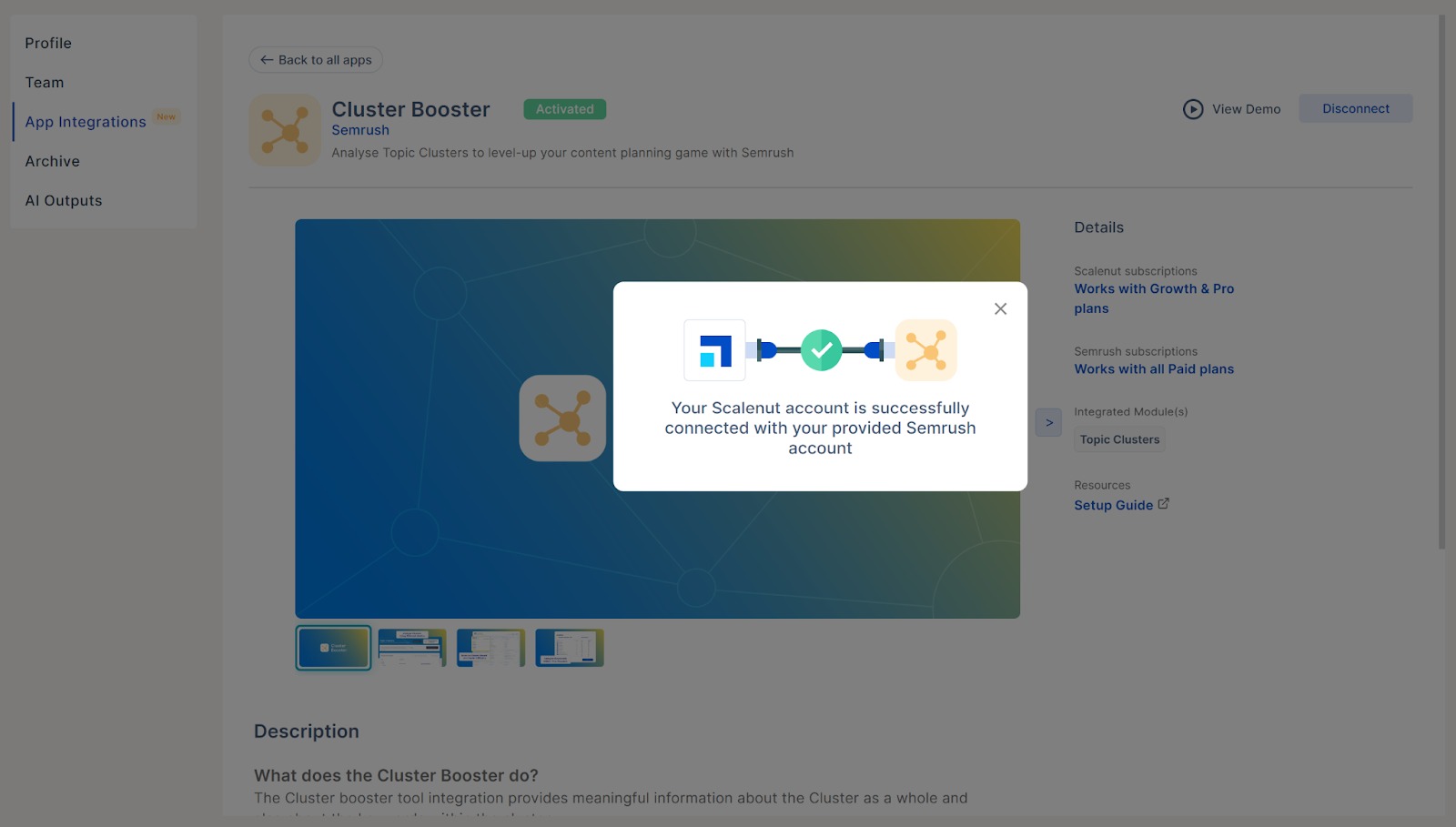 Note that you can disconnect the integration at any time by selecting "Disconnect" in the top right corner of the Cluster Booster page.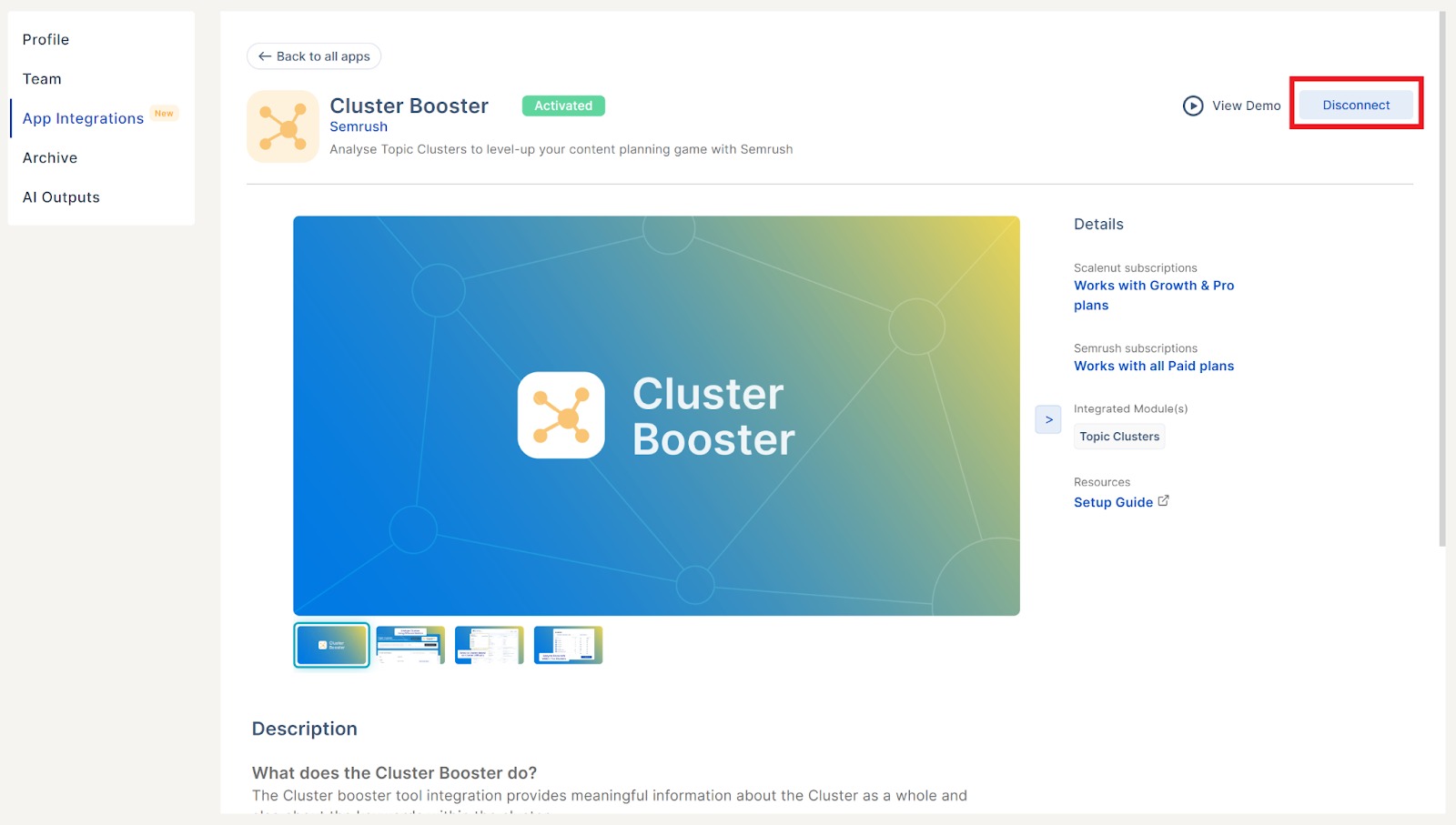 To check that the connection is successful, go to Topic Clusters and open the tool. At the top of the tool, you should see the Cluster Booster box with the Semrush logo.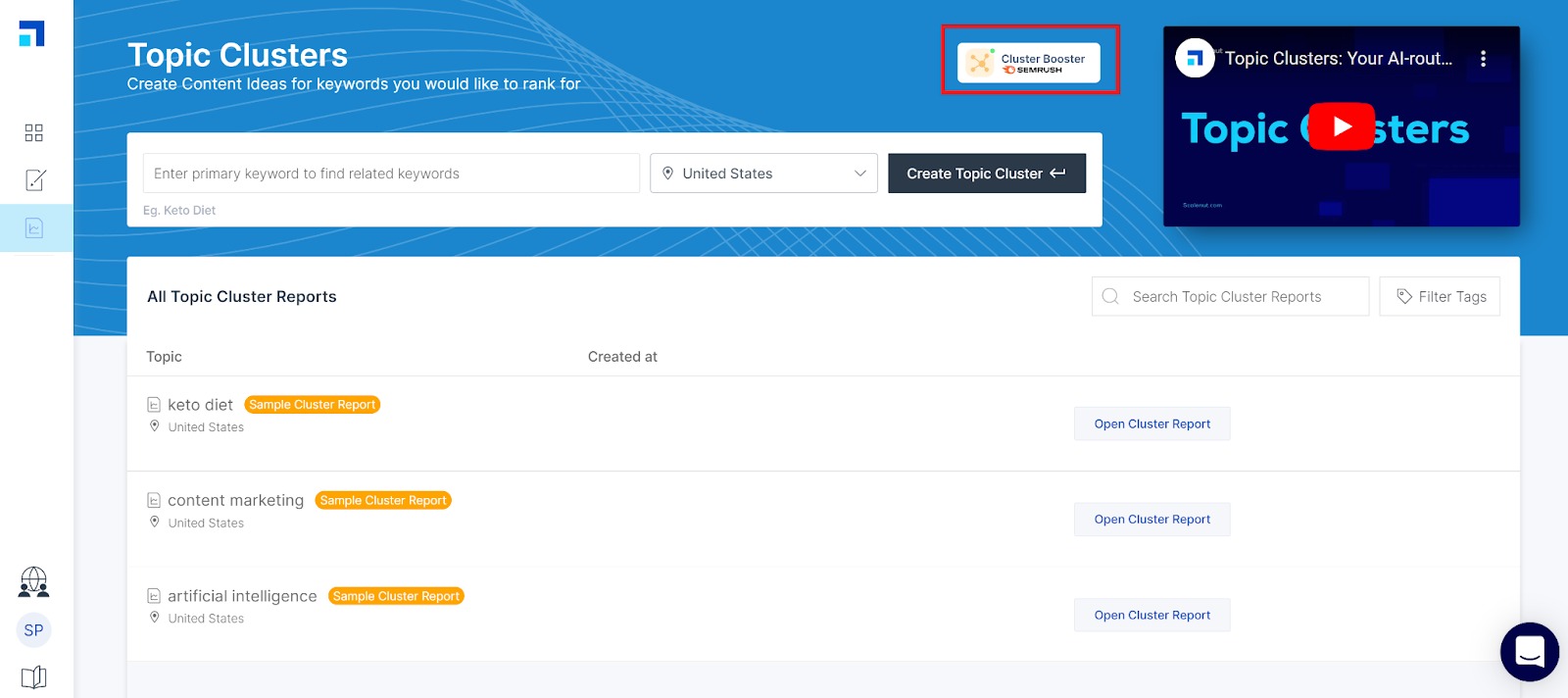 Using Cluster Booster
To use Cluster Booster in Topic Clusters, first create a cluster report. You can learn how to do this here.
When you open the report, you will notice some additional data, such as the Cluster Difficulty score. You can sort your results based on this metric, giving you an ideal starting point when creating clusters from scratch.

You can also see more data by clicking on each cluster's SEO report.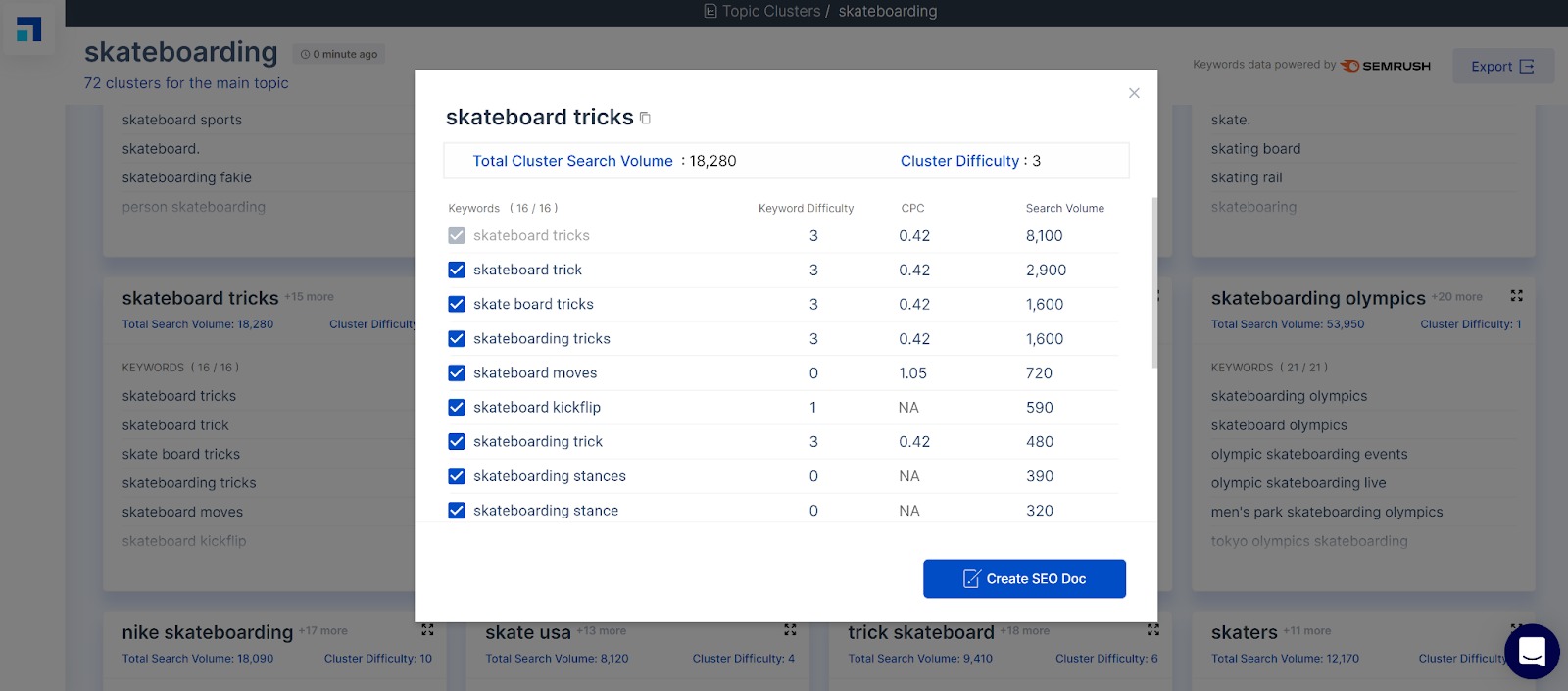 Specifically, you can assess each individual keyword's difficulty score and CPC value, allowing you to target high-value, low-competition clusters and boosting your chances of ranking.
Keyword Researcher
Scalenut's SEO Docs tool allows you to create a detailed SEO research report based on your primary keyword, supporting keywords, and location.
Keyword Researcher supports this process by integrating key SEO metrics, allowing you to identify and select the keywords with the highest potential.
Setting Up Keyword Researcher
To set up the Keyword Researcher integration, the initial process is the same as Cluster Booster.
Go to "My Account," select "App Integrations," and open "Keyword Researcher." If you've already connected Cluster Booster, you do not need to enter your Semrush login details again.
Using Keyword Researcher
To start using Keyword Researcher, open the SEO Docs tool. Under the keyword search bar, select "Click here to power-up."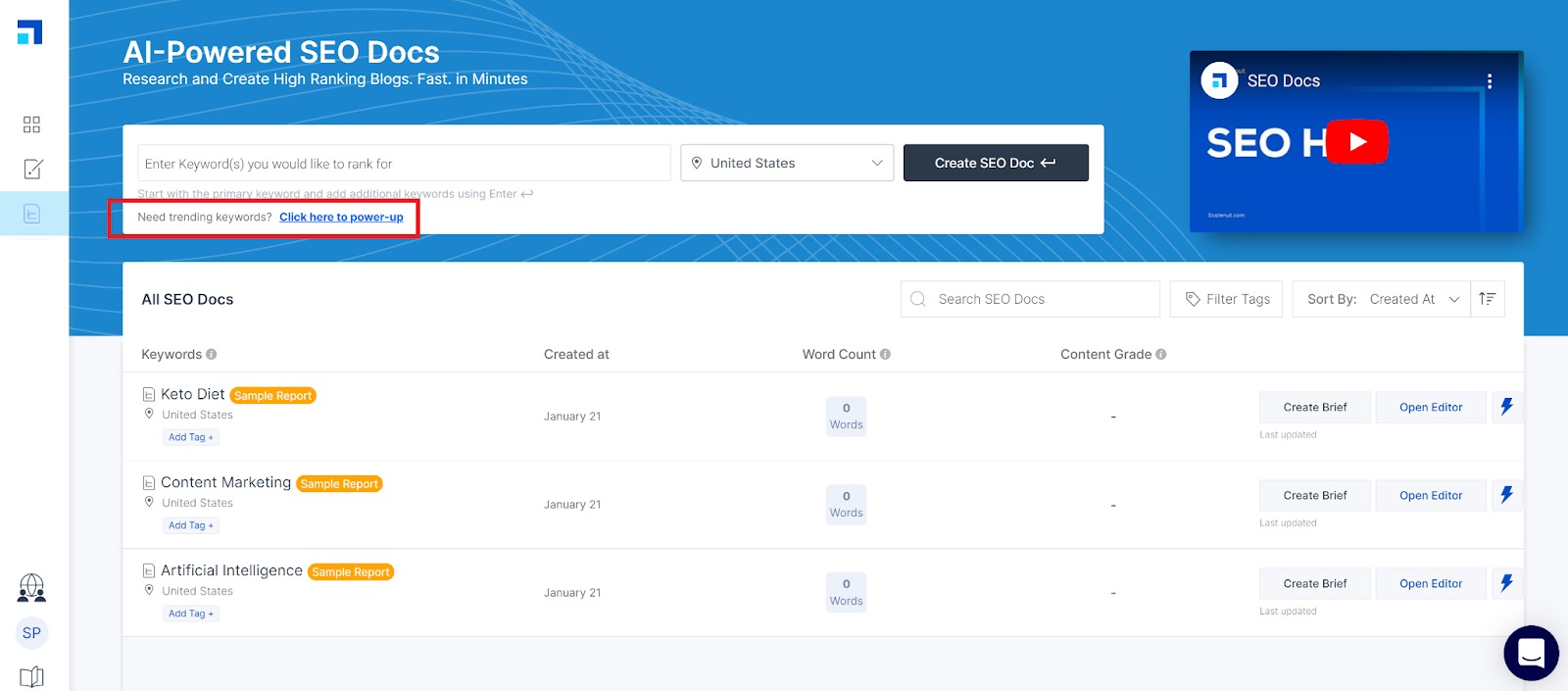 In the search window, enter your chosen keyword and location and click "Search."
The results will now contain key SEO insights and metrics; namely, keyword difficulty, CPC, search volume, and Google Trends. This data allows you to identify and select the most suitable keywords to build your report around.
Note that the first keyword you select will be deemed your primary keyword. You can select up to 21 keywords in your report.
Once you have identified the keywords you want to focus on, click "Create SEO Doc." The tool will generate a detailed report showing how you can optimize your content for readers and search engines based on dozens of statistics and metrics.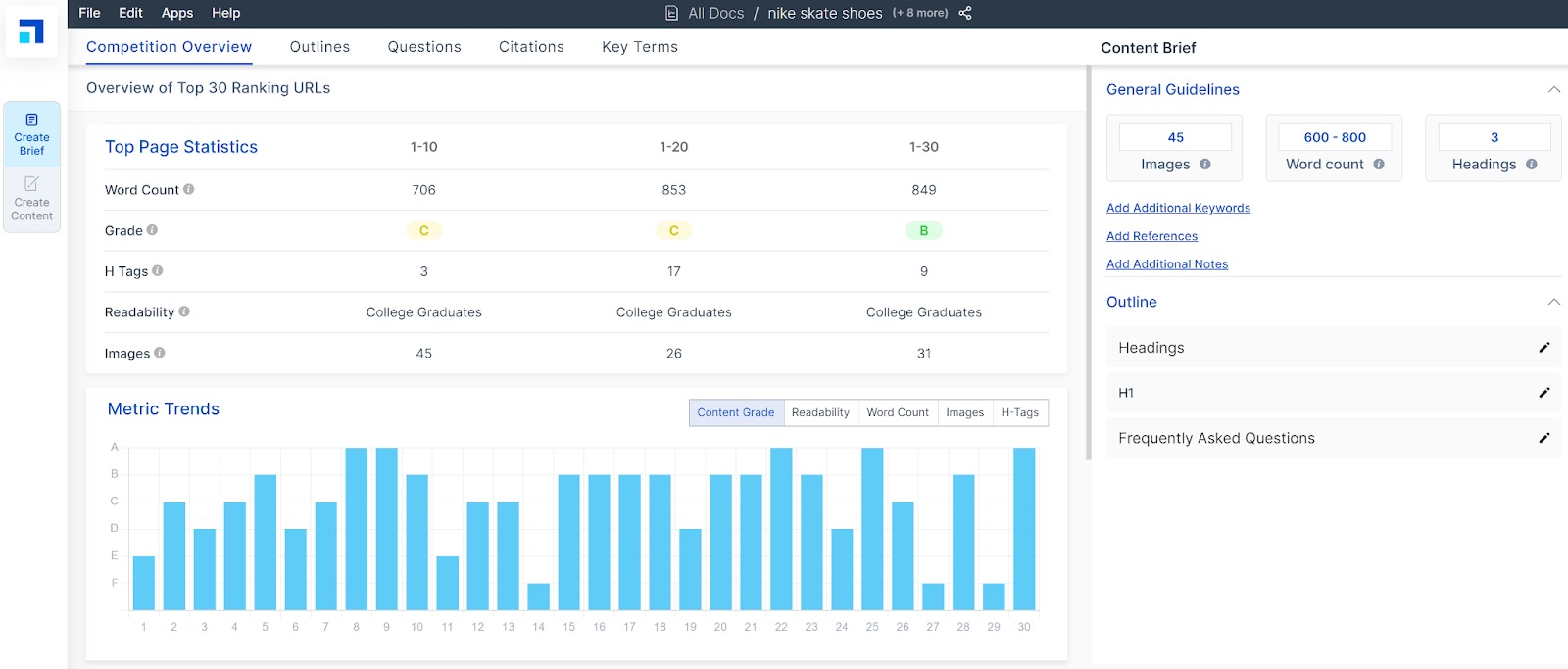 You can learn more about creating and using SEO reports in Scalenut here.