Welcome to Semrush! We're so excited to help you on your journey to improve your online visibility with us!
Ultimately, the way you use Semrush depends on your specific goals. However, most digital marketing goals require three steps: measuring, improving, and reporting. Semrush can help you do all three no matter what your area of expertise or focus is.
To help you achieve your goals, this page introduces how the core features of Semrush will allow you to measure any website's online visibility, improve the website/brand's visibility, and then report the results of your efforts.
Check out this video here or continue reading below to follow our guide.
To start, follow our quick start guide to learn how to set up the best Semrush tools to get you started:
1. Start a Project: Audit your Site, Track Visibility, Get SEO ideas
2. Discover & Analyze your Competitors
3. Dive into Keyword Research
4. Create Content Optimized to Rank
5. Build Reports Quick and Easy
6. Learn to Navigate the Semrush Interface
For contact information and more resources to bookmark, go to the bottom of this page.
1. Start a Project
Projects are the best way to start measuring any website's current online visibility. Setting one up is easy and they allow you to measure a business's online presence from multiple angles and gather data over time.
Set up a Project on a domain that you want to analyze or improve online visibility for. If you work with clients, enter a client's domain in the Project setup window. If you work in-house for a website, enter that domain here.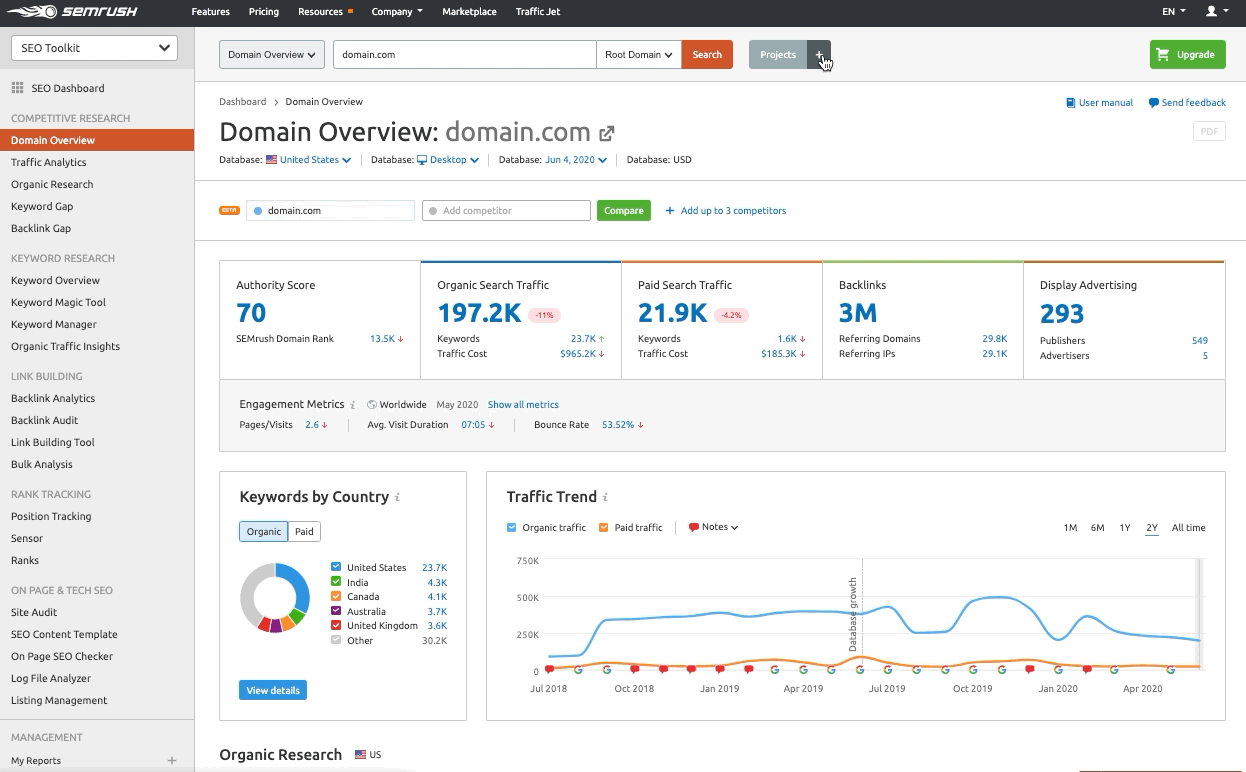 Once you have a Project set up, you are able to configure the 11 Project tools ( What are the Semrush Project tools? ) that fully measure a website's online visibility and help you manage campaigns to improve its visibility. Each Project tool makes it easy to report any progress into a custom PDF with Semrush's PDF report builder.
While there are over a dozen tools within a Project, here are three basic tools that are worth configuring without delay.
Project Tool #1: Audit your website with Site Audit
Site Audit is a great first Project tool to set up, because it can give you instant insights about a website's health. This tool crawls your site the same way Google does and gives you a report on all of the issues we found related to the website's health and visibility.
After getting the results of your Site Audit, you'll have your work cut out for you. The Errors, Warnings, and Notices in your report is your to-do list of technical improvements to make on the website to help it perform better. The Site Health is basically your website's grade. As you improve the site and re-run the audit, the score will improve.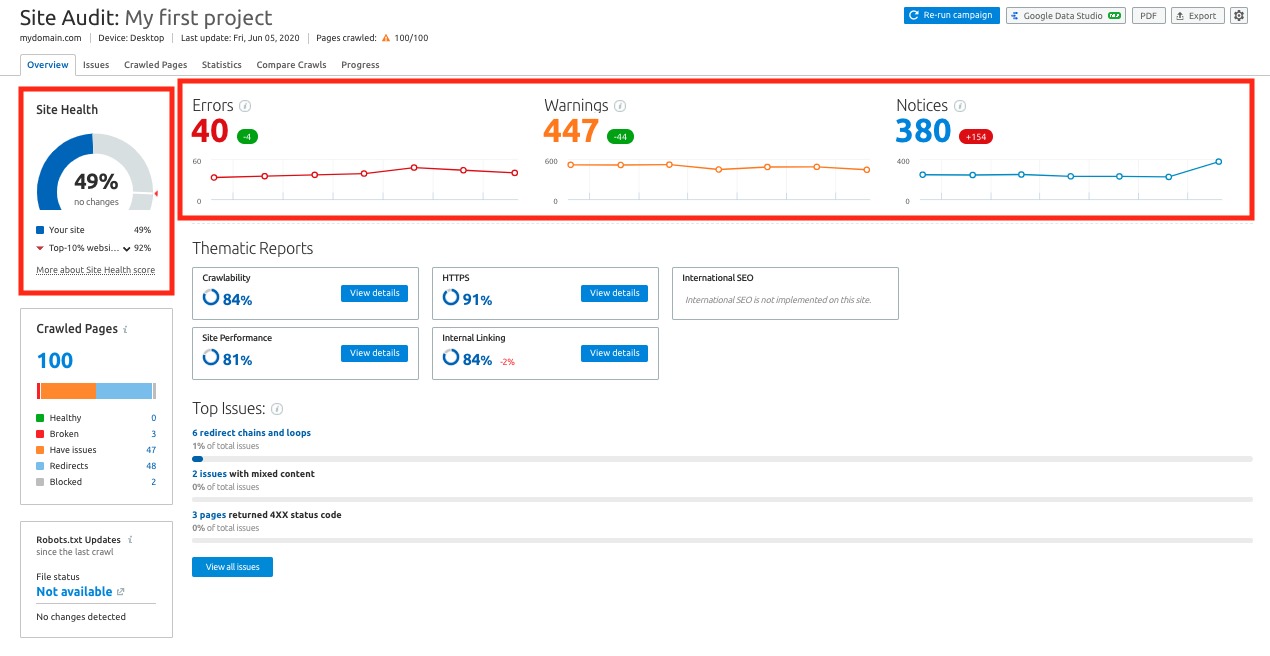 Project tool #2: Track your website's visibility with Position Tracking
Once you've decided on your target keywords for your campaign, start tracking them in Position Tracking. Then, as you complete your SEO campaign you can easily report how the website's visibility has grown over time.
This tool can track your custom list of target keywords in any location across the globe. This way, you can watch your website's improvements for the specific keywords and goals of your campaign.
It's also able to track your competitors and their positioning for the same keywords so you can stay fully aware of the competition going on.
Once the Position Tracking campaign is running, you can set up Alerts to automatically receive an email whenever your site or a competitor's crosses a specific threshold (into top 3 positions, gains 10 positions, loses 10 positions, etc).
If you need to report to a client or boss, it's easy to integrate Position Tracking reports into a PDF deliverable with our PDF builder tool, My Reports. We also offer the ability to integrate Position Tracking and a few other Semrush reports into Google Data Studio.
Project tool #3: Gather on page SEO ideas with On Page SEO Checker
The On Page SEO Checker tool takes a list of pages on your site along with accompanying target keywords and provides you with ideas to optimize each page for its target keywords. This is how you make improvements after measuring your current organic rankings.
The ideas you get from this tool will range from technical SEO improvements to increasing word count on specific pages, to acquiring backlinks from specific domains.
Alongside the Site Audit tool, this is one of the quickest ways to gather direct opportunities to improve a website through quick changes.
2. Discover & Analyze Your Competitors
Semrush makes it easy to find out who competes with you not only in your industry, but any website that is outranking you for your target keywords.

Discovery

The easiest way to find your organic competitors in search, enter your domain into the search bar in the Organic Research Competitors report. This report tells you the exact domains competing the most for the same target keywords as the site you query in the search bar.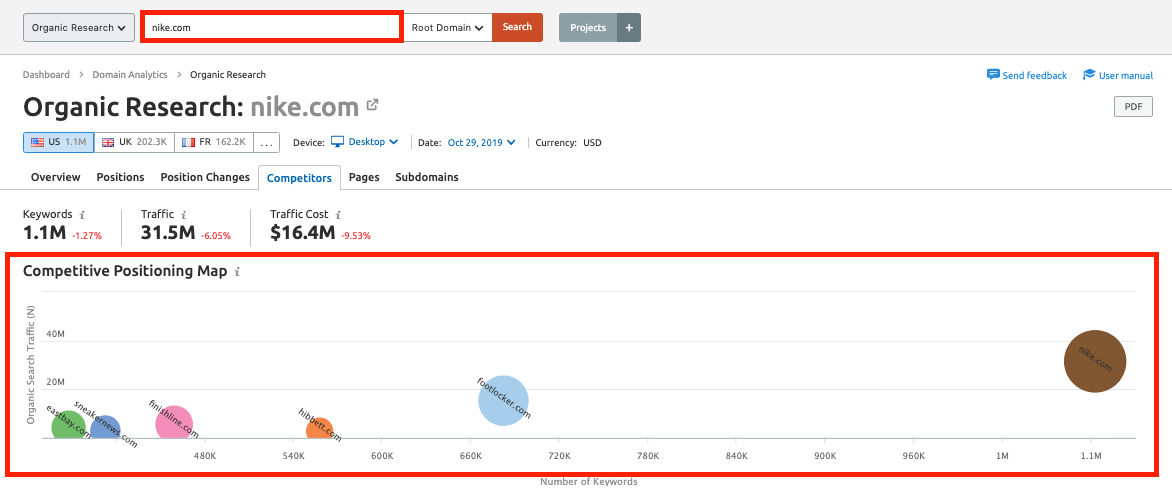 There are many other ways to find competitors based on metrics like advertising positions, common backlinks, a custom set of keywords, and traffic.
Analysis

Once you've identified your competitors, you can use the following tools to learn all about their online strategy, measure where they stand with important metrics, and benchmark your site's metrics against theirs:
You may also like:
3. Dive into Keyword Research
The Keyword Magic Tool is where you'll be able to do the bulk of your keyword research — with tons of information to measure the potential value of keywords to target that you can then improve your site with content based on. The good thing is that this tool is super quick and easy to dive into.
Enter a target keyword that represents your product or service or a search that you want to rank for, and Semrush will return millions of related searches grouped together by topic.

Using filters you can find the top searched related questions, keywords with the lowest keyword difficulty score (KD %), most affordable keywords to bid on, and more.
This process will help you uncover new low-cost and low-competition keywords that you can capitalize on and start stealing traffic from your competition.
4. Create Content Optimized to Rank
As you work to improve your website's SEO, you need to have content. And not just any content, but content that is optimized to rank.
What the SEO Content Template will give you is a complete template for creating an optimized piece of content from scratch. All you have to do is enter your target keyword and location and Semrush will generate the template.
To go one step further, SEO Writing Assistant takes your SEO Content Templates and integrates them into Google Docs and Wordpress so you can grade your content in real time as you draft it. See below:
Add the SEO Writing Assistant Chrome add-on to your browser for a new way to improve your website with new, optimized content!
For more instructions on content creation, read and try out some of our How-To Articles:
5. Build Reports Quick and Easy
Reporting is essential to digital marketing. If you work with clients, you should report what you measure before you do any work, and after you've done work to improve the business's visibility, you should report again with the results.
Reporting on Semrush is easy - just go to My Reports, and drag and drop data widgets from your Projects and Analytics reports into the PDF builder. You can also add text blocks and images into the PDF builder to fully make it your own.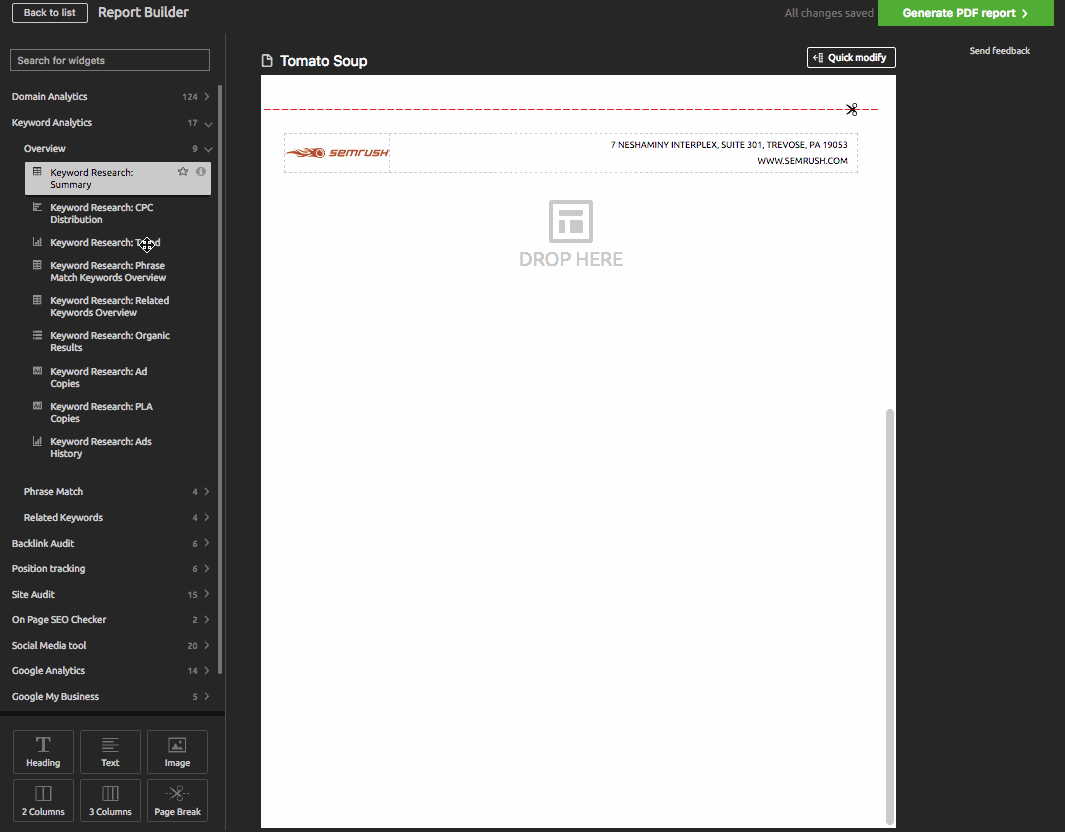 You can either start from scratch to build your own report (1), or start from a template (2), or make your own template (3) and modify it as you wish.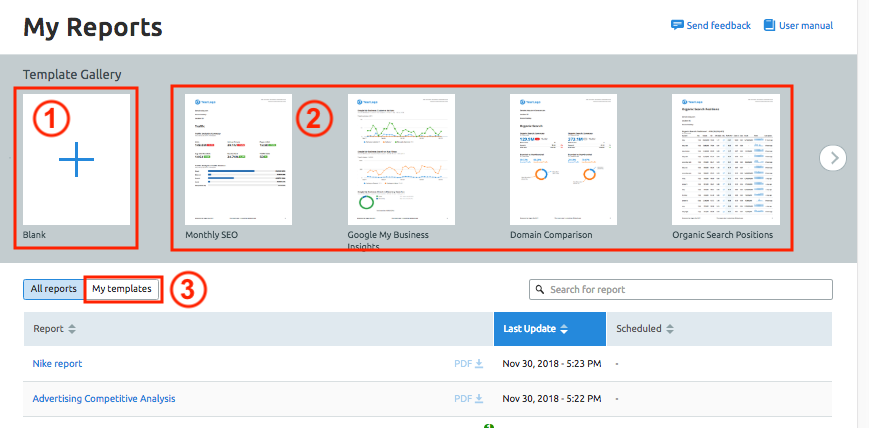 You'll have the ability to save your templates and set up automatic email reporting to make your reporting life that much easier.
Read more:
6. Understand the Semrush Navigation
Once you get these quick wins down, you'll likely want to understand the structure of Semrush's toolkit so you can explore everything we have to offer.
Dashboard
Everything in Semrush begins at the dashboard. This is the first screen you'll see when you log in to your account for the first time.
From here you can….
Make queries in the search bar at the top of Semrush
Jump into reports from the navigation menu
Change your menu to show only the tools in your marketing specialty
Add domains to your dashboard here with the green Add domain button
Create a new Project or open the Projects Dashboard
See the data about your Projects once you've set some up
Adding a domain to your dashboard will show you the domain's trend of overview metrics like keywords and traffic estimations.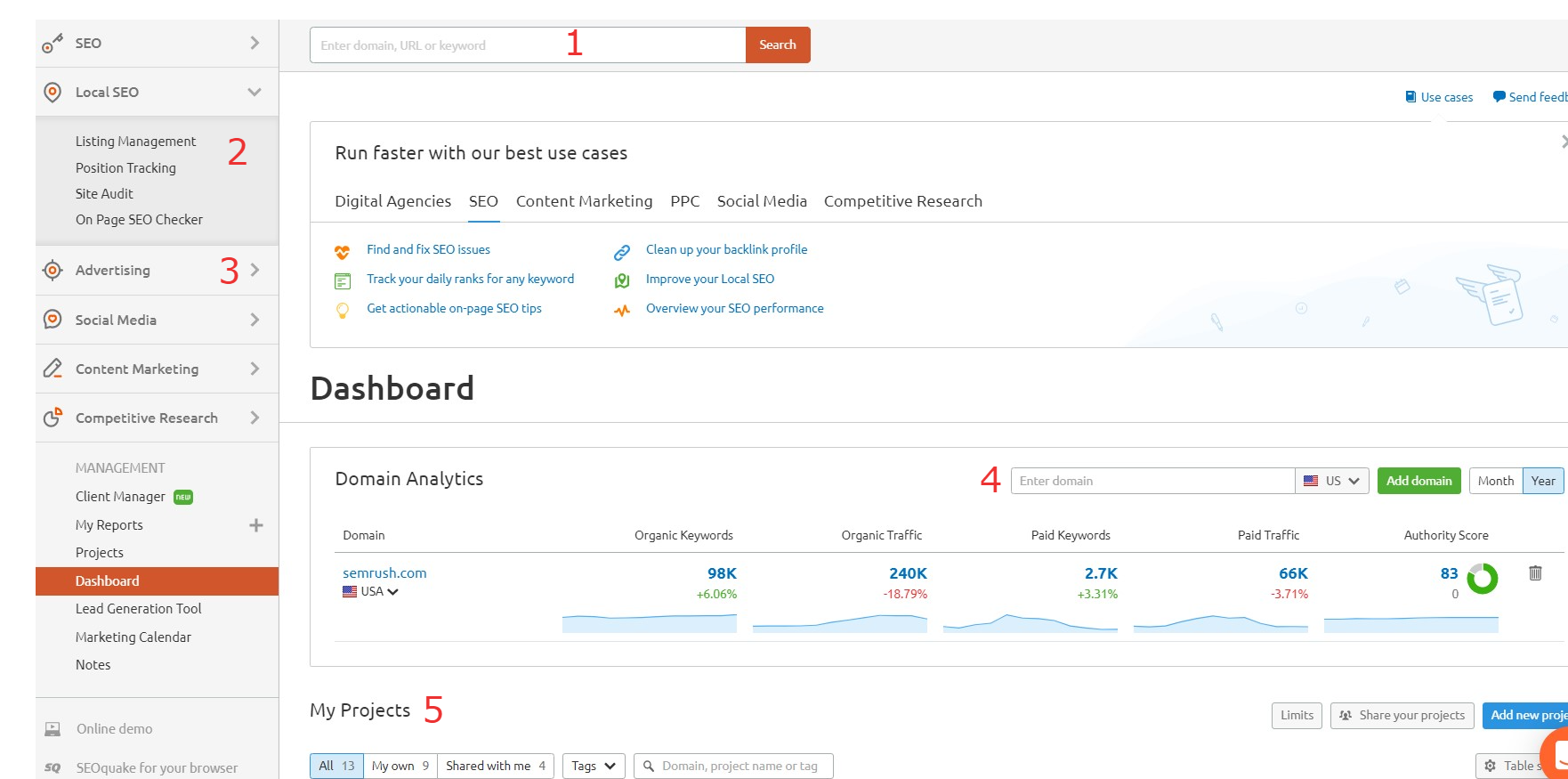 Three main areas of tools
Let's understand how the Semrush software suite of tools is broken down.
There are three main areas of tools in Semrush:
Analytics reports
Project tools
Specialty products
Analytics reports are the reports you get when you use the search bar to make queries that will pull data from our database.
This includes any Domain Analytics, Keyword Research, Backlink Analytics, Gap Analysis or Advertising Research report. These reports can be accessed by making a
query in the Semrush search bar and selecting the corresponding report from the navigation menu on the left.

Projects, on the other hand, are specialty tools that allow you to analyze a single domain.

This includes Site Audit, Position Tracking, Backlink Audit and Social Media tools, among others. Launching a Project is easy and you can manage all of your Project data and campaigns from the Projects dashboard.

Semrush also offers some specialty products for taking care of specific tasks. You can find most of these tools in the left hand tool menu as well.
Choose Your Toolkit
By default, the navigation menu will show " SEO toolkit." However, you can change the menu to show only the tools from another specific toolkit: Local SEO, Advertising, Social Media, Content Marketing, or Competitive Research.
Once you set the toolkit, the menu will give you a more simplified menu of tools based on your professional specialty and business needs (both Analytic reports and Project tools).

Keep in mind that if you ever run into an issue or question, you can find the "User Manual" link in the top right hand corner of the interface. That link will take you to the appropriate area of this Knowledge Base to find help.
Contact Information and Resources to Bookmark
Do you need to talk to someone on our team?
Great! We have a customer success team that is always available to assist you over the phone, email, or live chat. If you have any questions or concerns, you can always reach out to us:
Follow us on Facebook, Twitter, YouTube, LinkedIn and Instagram.
Need to look up information on a tool/report/issue you are having?
Use the search bar at the top of this page! We have user manuals, FAQs, videos, and workflows all mapped out and ready to assist you in your Semrush journey.
Want to learn how to incorporate Semrush into your workflows?
We have how-to articles to follow along for common tasks in SEO, content marketing, PPC, social media management, competitive research, and more. (Bookmark that page!)
A few more helpful links to bookmark: