How do I add users to my Semrush account?
Adding users to your subscription allows multiple people to access your Semrush account limits at the same time under individual credentials. Please kindly note that, by default, all plans come with one user.

You can buy additional users from the Subscription info page – just click the Buy more button next to Users or contact us to have an Account Executive set them up for you.
Users
A user is an added Semrush login and password with its own dashboard and Projects under a parent account. You can add additional users to an account (Pro, Guru or Business) to allow people with separate credentials to access your product. All users under your subscription will share the limits of the parent account.
Benefits of Users
Once you add users to your account, the parent account owner controls the distribution of their subscription units across the various users added. Accounts with multiple users are common among larger Business subscribers as well as small or medium teams on Pro and Guru subscriptions.

For example, a large search marketing company could add dozens of users to a single Business subscription. The owner of the account could then distribute the subscription units across its Project Managers, SEOs, and Content Writers in order to take full advantage of the units and capabilities of their plan.

With a small team, adding users to a Pro or Guru account will keep the collaboration process fluid and transparent. With less people working towards the same goal, it's even more important to have everyone able to collaborate at all times.

Note: When someone leaves the company and gets deleted from the corporate account, all their projects are automatically transferred to the Owner account.
Types of Roles
There are three possible roles related to user management in Semrush:
Owner
User
Admin
Owner
The owner is the original Semrush account holder, the person with the email address that signed up for the account and is paying for the subscription. There is only one owner per subscription and the owner can add users, remove users, manage the units distribution process, automatically see every user's Projects and manage them, and appoint users as admins.
User
A user is an additional email address login that the owner can add to their account to allow another person on their team to use Semrush at the same time and using the same account units.
Admin
Admins are users that have the ability to distribute subscription units across the other users on an account. A user can be appointed as an admin by the account owner to gain more managerial abilities. When you become an admin of a corporate account, you can:
Add and remove users
Choose the way of distributing subscription units (individual limits allocation vs shared pool of units)
Edit allocated units
View, Edit, Delete and Share all projects created by users
Change project owners
View a list of queries made by users
View a list of changes made to the corporate account
Inviting Users
From the Profile menu, select User Management and you'll see options to invite more users, buy more units or manage the limits of the users under your account.
After selecting "invite user," enter the email address that your team member will use for their Semrush login.

The invite will go to their email inbox and they need to accept the invitation to be added as a user to the corporate account.

If their email address is already registered, they will receive an email inviting them to join your corporate account. If they have an existing subscription, it will be replaced with the corporate account's subscription.

If their email is not registered with Semrush, then a new account will be created for them and they will receive an email with the login information for their new account.
Once you invite your teammates, the shared limits setting applies by default. It allows your users to spend the overall subscription limits according to their needs. Also, you can switch to individual limits anytime to allocate an exact number of units to each user. For more information, please check out How Units Work in a Team.
Guest List
Seeing guest users of your Semrush account allows you to control access to your Semrush assets without limitations or interruptions.
Guests are individuals that you have granted access to selected Semrush assets.
Assets are shareable items in Semrush such as projects, documents, Keyword Lists, etc.
With the Guest List feature, you'll be able to see your total number of shared assets and invite guests to become team members in your multi-user account. You can invite guest users to become team members directly from your User Management dashboard by clicking the Invite users icon.
In the widget, you can see all guests you've shared assets with as well as the number of shared assets.

If the user you've shared with has a "Restricted" icon, that means the user needs a subscription to access your Semrush assets.
Restricted guests will acquire access when you add them to your account as team members. You can buy additional users in the User Management section of your account or right on the page where you see your Guest List.
Sharing Projects with Your New Users
In order for your new team members to see your Projects, you need to share your Projects with them.

This can be done from the Manage Users section or the Projects dashboard. Select "Share your projects," and then enter their email address and select the Projects you want to share with them. To share all of your Projects with a user, choose "Select all" from the window.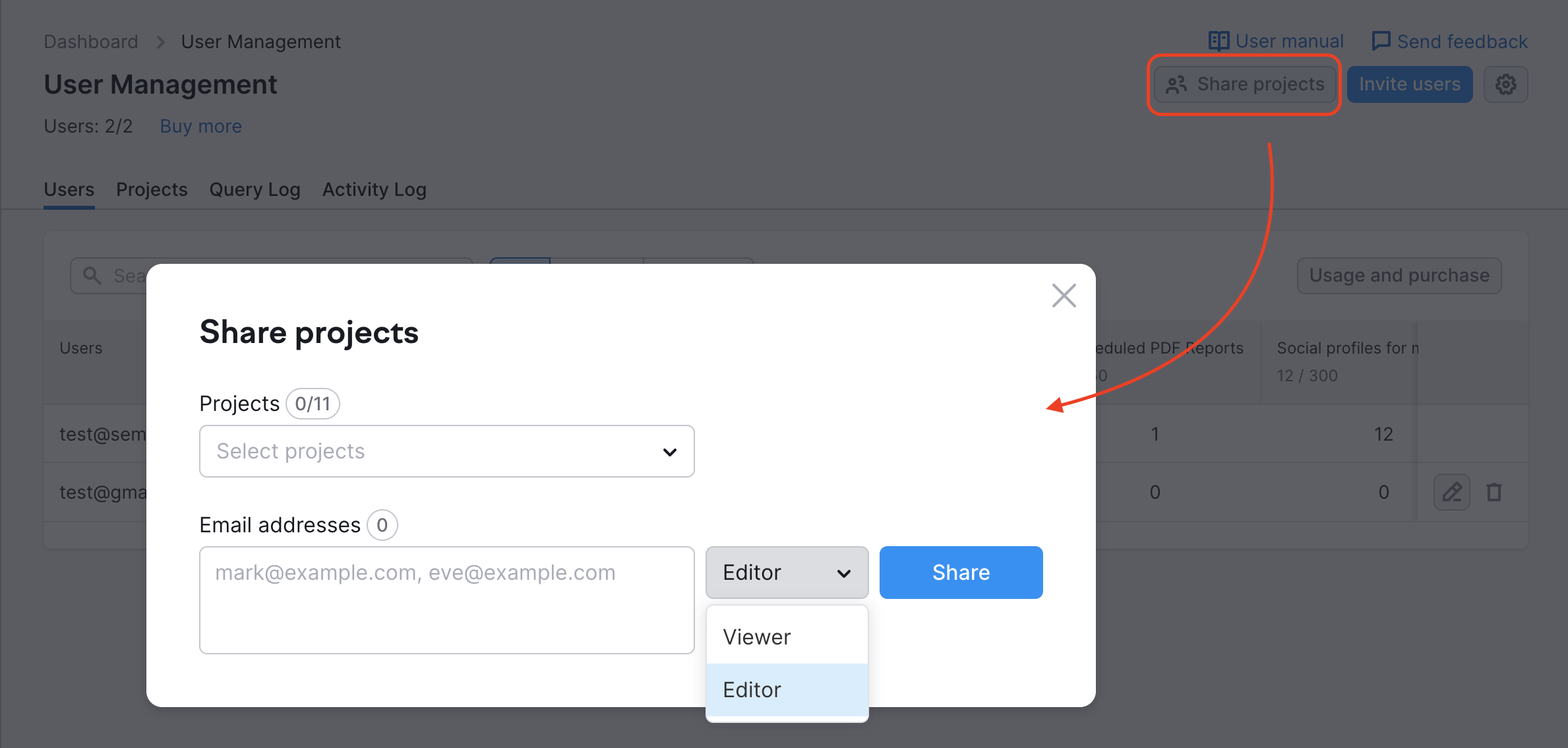 Please note: Owners and Admins have Editor access to all users' projects by default.
Limits
Keep in mind that the subscription limits that come with each plan will be shared between all users that are added to an account. Therefore, you'll need to consider a subscription plan that will have enough limits to share across the number of users you plan to have on your account.

For example, if you have 6 users on a Pro plan, you would not have enough units for each user to run their own Project (since a Pro subscription allows for 5 total Projects).
Frequently asked questions
How do I add users to my Semrush account?
Show more