User experience is a big deal, but the problem is that most sites provide a related posts widget that shows mostly irrelevant content.
And that's about as far as they go – everything is top level and aimed at the average user.
Wouldn't it be great if we could shift to personalizing the user experience on our own website's to ensure that our visitors find exactly what they need, when they need it?
In this post I'm going to show you a handful of WordPress plugins which you can use to personalize your website's user experience. As well as helping to make it easy for people to find content that's hyper relevant to them – without having to waste time hunting around for it.
Add category-specific widgets with Jetpack
Widget areas provide an easy way to add opt-in forms, search boxes, navigation menus, popular posts and various other elements.
Using Jetpack's visibility feature, you can choose exactly when a widgets are displayed or hidden.
So let's say for example, you want to add a CTA to a widget area below your blog posts, but you only want that CTA to show when your visitors are viewing posts within a category. Just select the taxonomy (which will be the category) and select the category.
You can also choose to show/hide widgets based on tags, publication date, author, page and more.
Pricing: Free
Create dynamic sidebars with Content Aware Sidebars
Jetpack's visibility feature can work great until you end up with a large number of widgets, and then it gets a bit difficult to manage.
At that point, a plugin like Content Aware Sidebars will make the process a lot easier to manage, in the long run, but the initial setup is a bit more complicated.
Instead of choosing when to show or hide a specific widget, you'll be able to create custom sidebars that change based on what content the user is viewing.
You can create sidebars that either replace or merge with your main sidebar.
Similar to Jetpack, you can choose from various taxonomies such as categories, tags, authors, pages and more.
Pricing: Free
Deploy tailored opt-in forms and content upgrades with Thrive Leads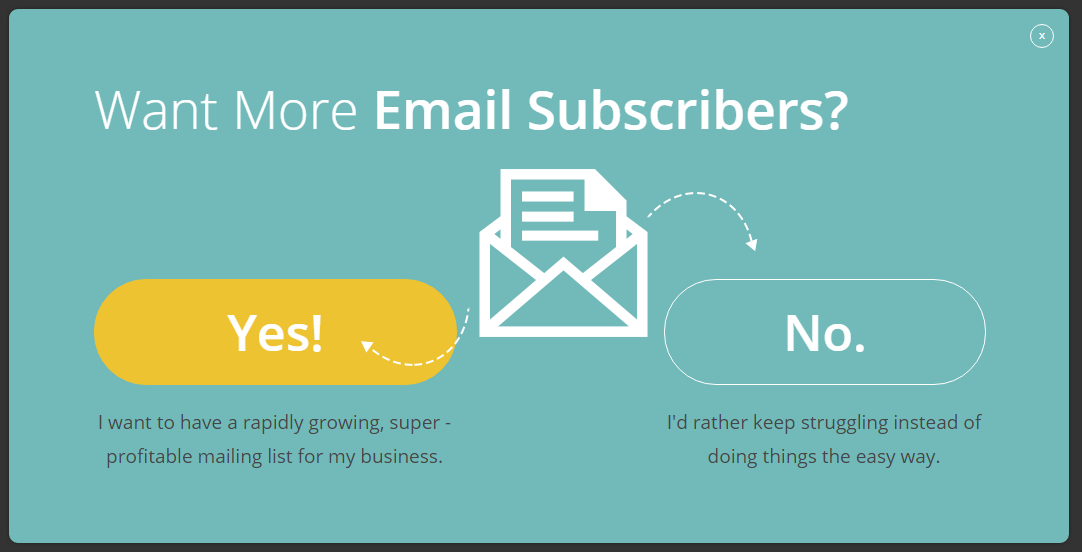 Building an email list is essential if you want to keep people coming back to your website.
No matter what happens to your organic reach on Facebook, your email list is yours.
But to build your email list you need an easy way to deploy opt-in forms on your website – this is where Thrive Leads comes in.
It supports almost every type of opt-in form so you can add the usual popovers, slide-ins and widget opt-in forms. You can also place opt-in forms via shortcodes and create clickable links that trigger a popover that works great for using the content upgrade technique.
If you haven't heard of the content upgrade technique before; the idea is that you create post specific bonuses and add clickable popovers within the content. The bonus could be anything from a checklist to a PDF version of the post.
With Thrive Leads you have control over where all opt-in forms are displayed – you can easily exclude opt-in forms from certain taxonomies or include them.
You can drill down and tailor your opt-in forms, but the great thing is that you may not need to change much to get a bump in conversions.
Pricing: Starts from $59
Show your visitors what they're looking for with WP A.I Assistant
Sometimes all it takes to help someone find what they're after is to ask them a few pointed questions.
You can then make a recommendation that is exactly (or very close to) what they're looking for.
In most cases providing a visitor may ask specific questions via live chat, email or phone but the truth is that most people will just leave. Is there a solution to this problem? Yes!
WP A.I Assistant is a plugin that I recently come across which will allow visitors to answer specific questions and be pointed to the page they're after – without needing to get in touch with you.
There's a visual system for programming responses, and you can customize the look of your "assistant".
Pricing: $25
Improve WordPress internal search with Search Everything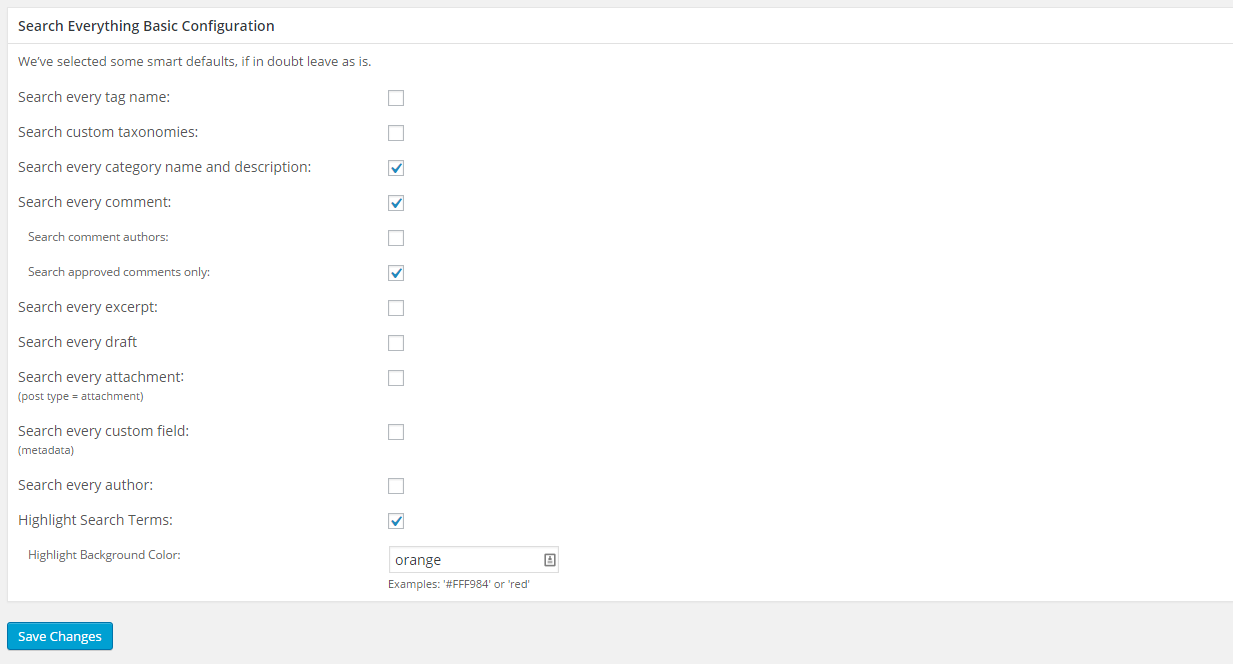 Out of the box, the internal search functionality that comes with WordPress leaves a lot to be desired – it's incredibly difficult get relevant search results.
With a plugin like Search Everything you can make some helpful changes and start providing more relevant search results.
While search functionality won't be perfect the extra control this plugin gives will make a significant difference.
You can choose which taxonomies are included in searches and there are specific page/category targeting options which makes it easy to exclude posts/pages/categories.
For example, if you have several lead generation related pages such as confirmation pages and thank you pages – hiding them will make your conversion tracking more reliable and ensure visitors get more relevant search results.
Pricing: Free
Validate your content with SumoMe's content analytics add-on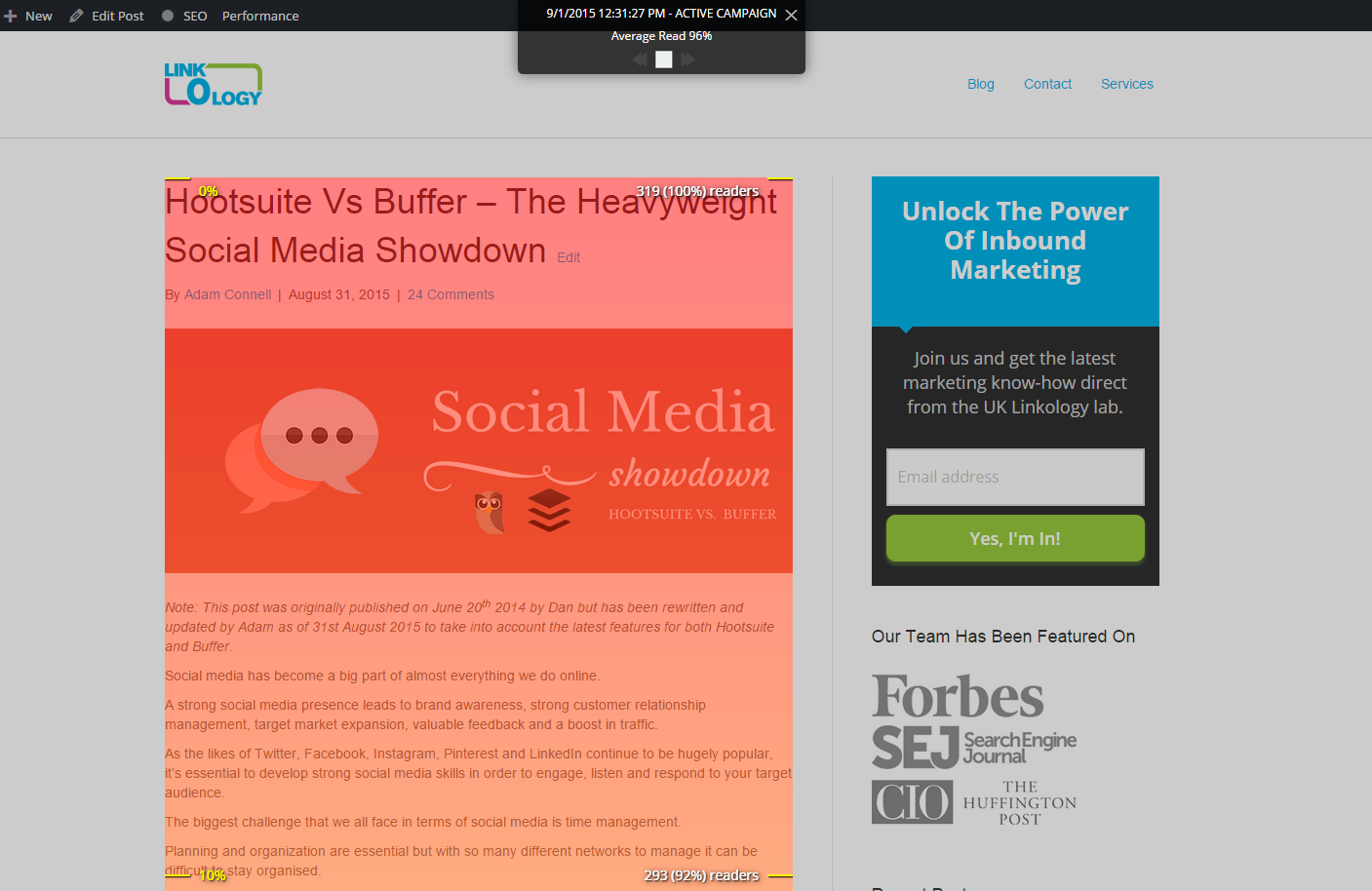 A big part of improving user experience and creating a more tailored experience comes down to validating the content on your website.
For example, how many people read your blog posts all the way to the end? At what point do they stop reading?
These questions just can't be answered with most analytics tools but it's easy to do with SumoMe's content analytics app.
You can install it as a WordPress plugin or add a snippet of code to any HTML based website.
Once the app is installed, you can open up a page and start adding new campaigns for your priority content.
Pricing: Free
Over to you
With the right WordPress plugins you can create a focused and, tailored user experience for your visitors, and we've talked through plenty of plugins you can use to get started.
Are there any plugins you'd add to the list? Do you have any specific tips to share?
Let us know in the comments below.