One of the hardest parts of performing an SEO audit is knowing where to start.
Even when audits are completed, the actions often take a long time to implement. In fact, the actions from some SEO audits never get implemented at all. 
Audits don't need to be hundreds of pages long, nor should they only be accessible and understood by the most technical of people.
A great SEO audit should effectively communicate a prioritized list of actions and justifications that clearly lays out the steps that need to be taken to improve organic search performance.
It is as simple as that.
In this guide, we are going to walk you, step by step, through the process of performing an audit.
We will teach you everything you need to do to audit your site and find and prioritize issues that could be holding back your site's performance and help you understand the steps you need to take to grow your organic traffic.
What this guide will cover:
---
What is an SEO Audit, and Why is it So Important?
Before we dive deep into auditing your site, let's first take a look at what an SEO audit actually is and why it is so important. 
To put it simply, an SEO audit is the process of identifying issues that could prevent your site from ranking on Google and other search engines.
If there are issues that mean that your site cannot be properly crawled and indexed, your content doesn't stand up against your competitors, or you have toxic links (just a few common issues that an audit could highlight), you will be missing out on organic traffic.
Sales and Competition
When you are missing out on traffic, that also means you are missing out on sales. It will be your competitors who enjoy this traffic and these conversions. 
If there is any motivator to encourage you to go and audit your site, it is knowing that your competitors could be taking traffic and conversions that you could otherwise be reaping the benefits of.
If you are not auditing your site on a regular basis, it is easy to miss opportunities for growth, accidental issues that arose in the latest development roll-out, or simply things you could have done better.
Some of the most common reasons why you need to audit your site include:
You just landed a new SEO client and are putting together a growth strategy.
You started a new job and, like the above, are putting together a strategy.
You bought a website and want to figure out your next steps.
You experienced a drop in organic traffic and need to discover why.
Part of your ongoing SEO strategy includes regular audits to allow you to find and fix issues quickly (we recommend quarterly).
The SEO Audit Tools You Need
We are all about keeping things simple. You absolutely don't need a large number of SEO tools to successfully perform an SEO audit. 
Throughout the audit process, we will be using just 4 core tools:
Starting Your SEO Audit
Before you start working through the audit process, go ahead and run a site crawl with the SEMrush Site Audit tool.
We will be referring to insights from this report as we work through each step, and depending upon the size of your site, it can take a bit of time to complete. 
Head to the Site Audit tool.
Click 'New Site Audit' (top right of your screen).
You will now be asked to create a new project.
Enter your domain name and project name:

You shouldn't need to edit any settings except the limit of checked pages — this will depend upon the size of your site. In some instances, you may need to remove URL parameters, bypass restrictions, or allow or disallow certain URLs.

Start your site audit and let the crawler run; we will come back to this shortly.
If you haven't already done so, you also need to make sure that your website is verified in Google Search Console. 
Once your site crawl has finished, you will see a dashboard that displays the findings:

SEO Audit Basics — The Things You 100% Must-Check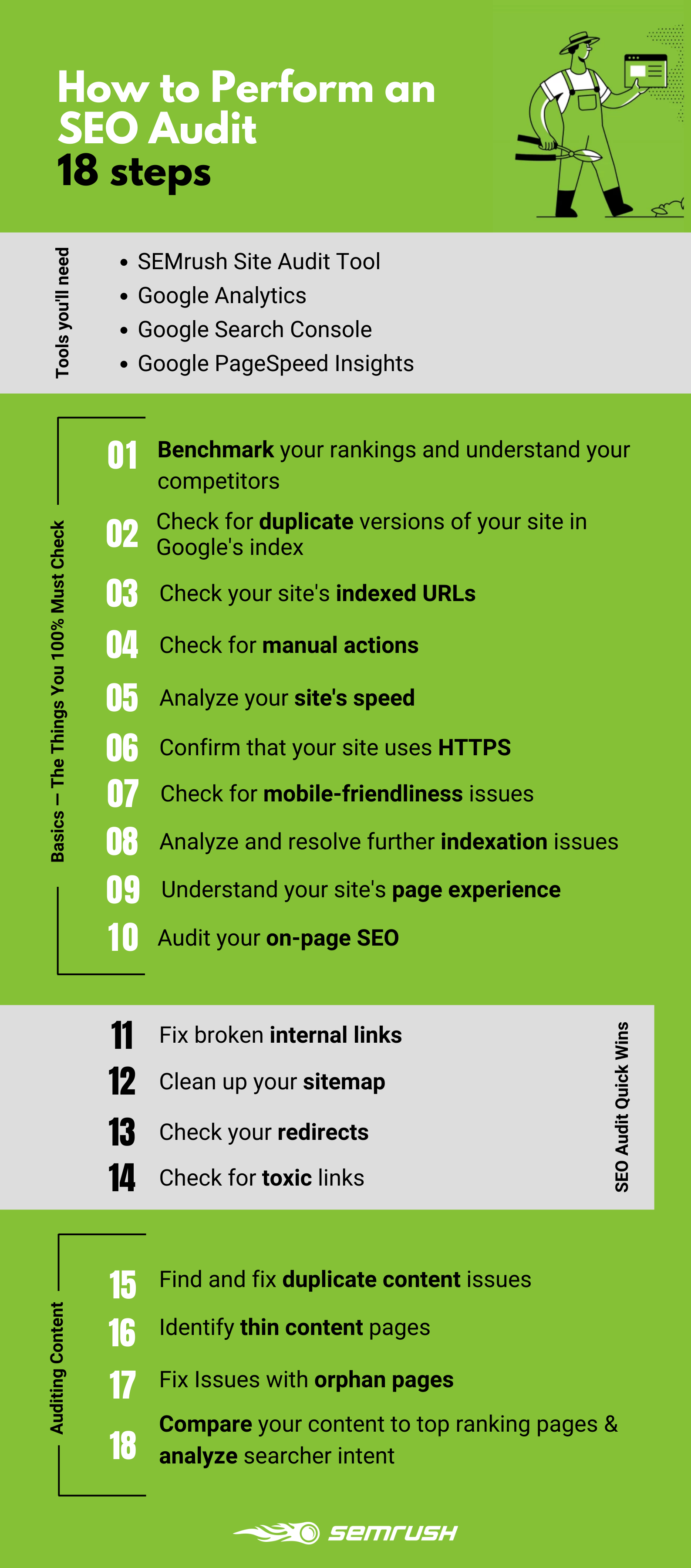 Let's kick off the audit with those things that you absolutely must check. 
Those potential areas of issue that could prevent your site from being properly crawled and indexed or serious issues that could be causing areas of concern.
1. Benchmark Your Rankings and Understand Your Competitors
Before you dive deep into a technical or on-page audit, you need to understand the competition.
Whether you are working on a new site for the first time or are auditing as part of your ongoing strategy, the more you know about what other players in the same space are doing, the better your chance of success.
You need to benchmark your site's rankings as well as profile your performance against the competition.
And you can do all of this within the SEMrush toolset.
Benchmarking Your Site's Rankings
If you have not already done so, you need to set up position tracking for your site.
Head over to the position tracking tool and create a new project.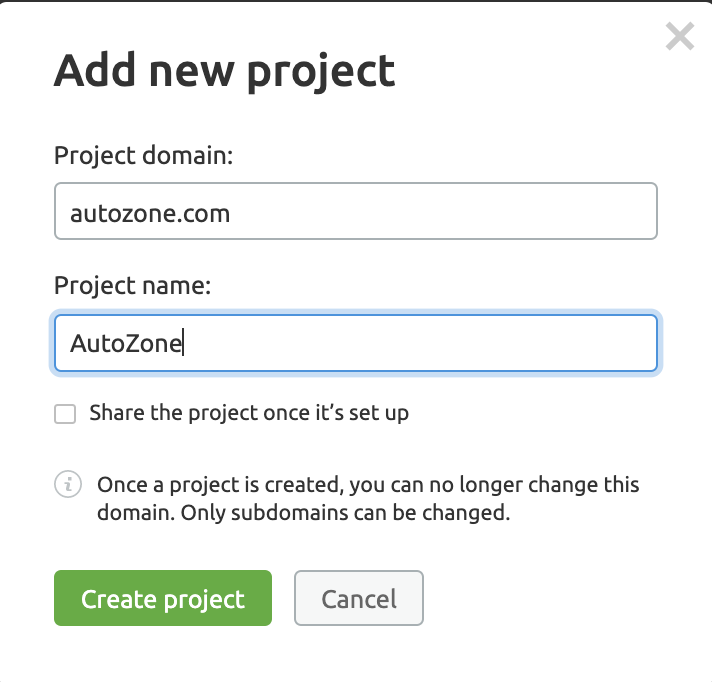 You now need to build out your campaign by choosing your location, device, search engine, and language, as well as filling out your full business name.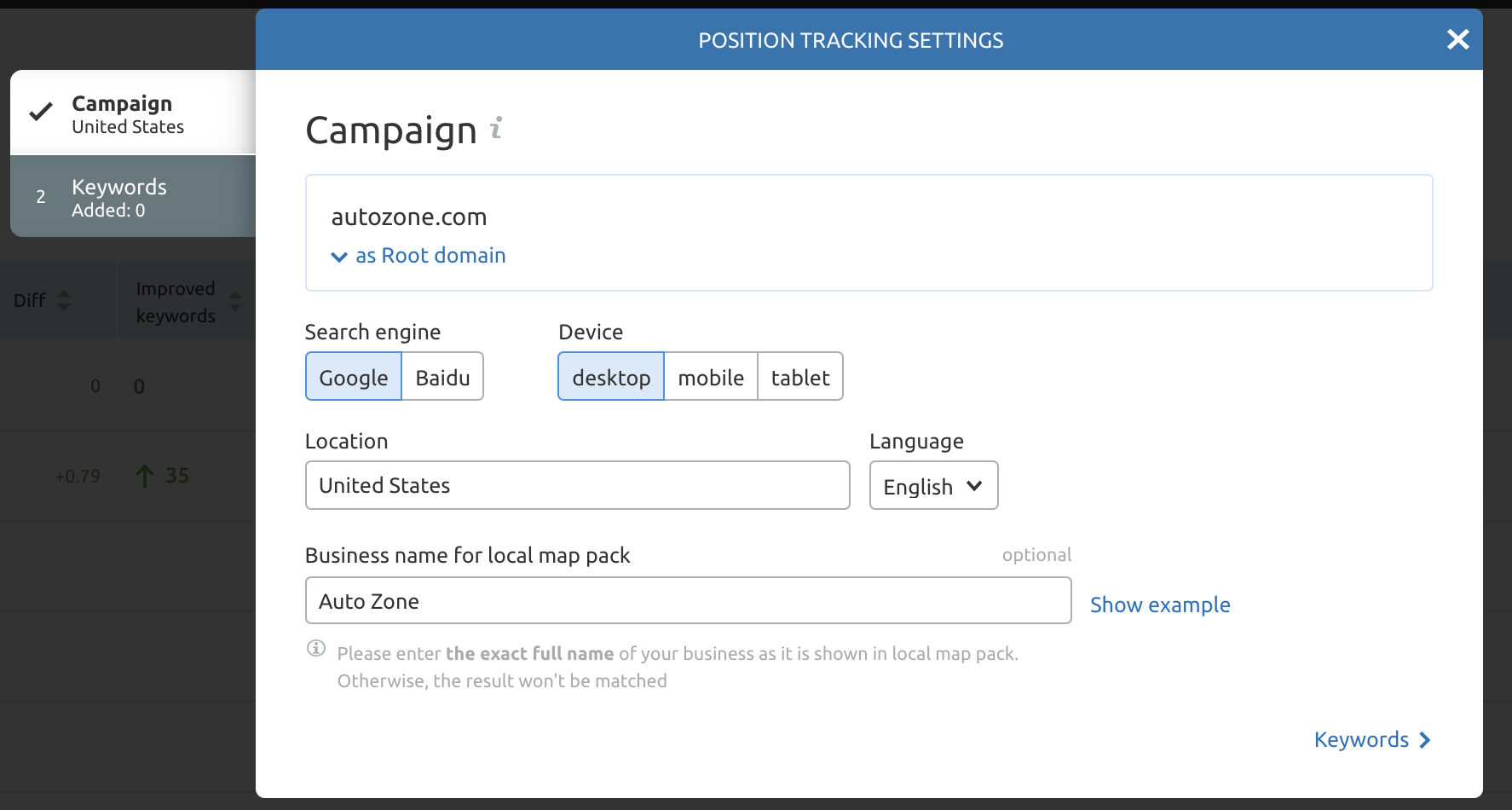 Then it's time to add in your keywords to track.
There are a few ways that you can add keywords, either manually, from a campaign, SEMrush, or Google Analytics. 
Once you have started tracking, you can see how you rank across the keywords you have entered.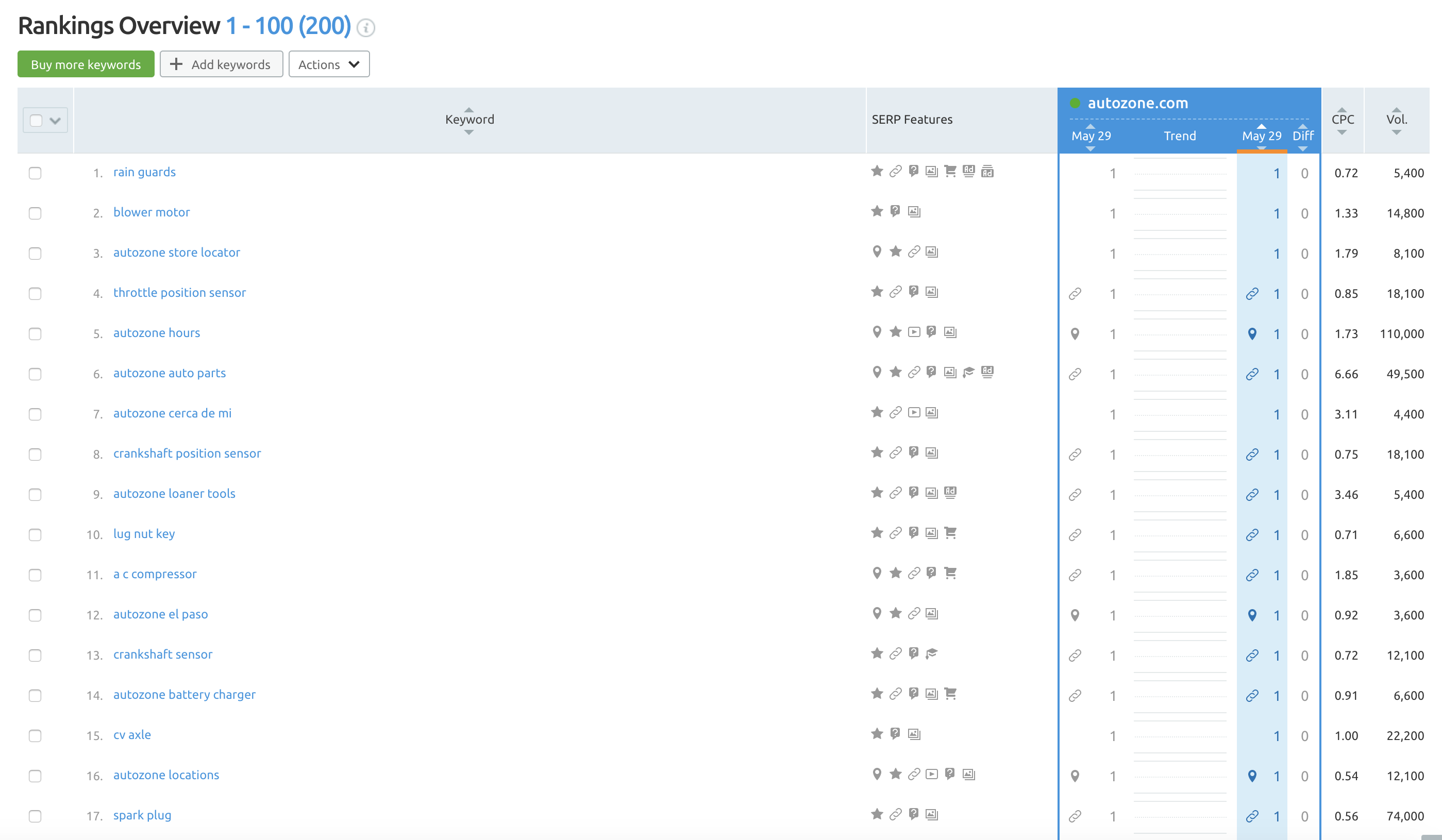 Understanding Your Competitors
Run your domain through the Domain Overview tool, and you will see a clear visualization of a competitive positioning map to help you understand who you are competing against; you can then go away and dive deeper into their site's performance.

2. Check For Duplicate Versions of Your Site in Google's Index
This is perhaps the most basic check that you can run on your site, but it is really important is to ensure that Google is indexing only one version of your site. Confused? 
Your site could sit on:
http://www.domain.com
http://domain.com
https://www.domain.com
https://domain.com
To a user, there is little difference here (with the exception that they may see a warning for a non-secure site in their browser).
To a search engine, these are different versions of the site. Your site should only have a single version indexed, and you need to check for duplicates. It is really easy to do this.
Head to google and run a site:domain.com search.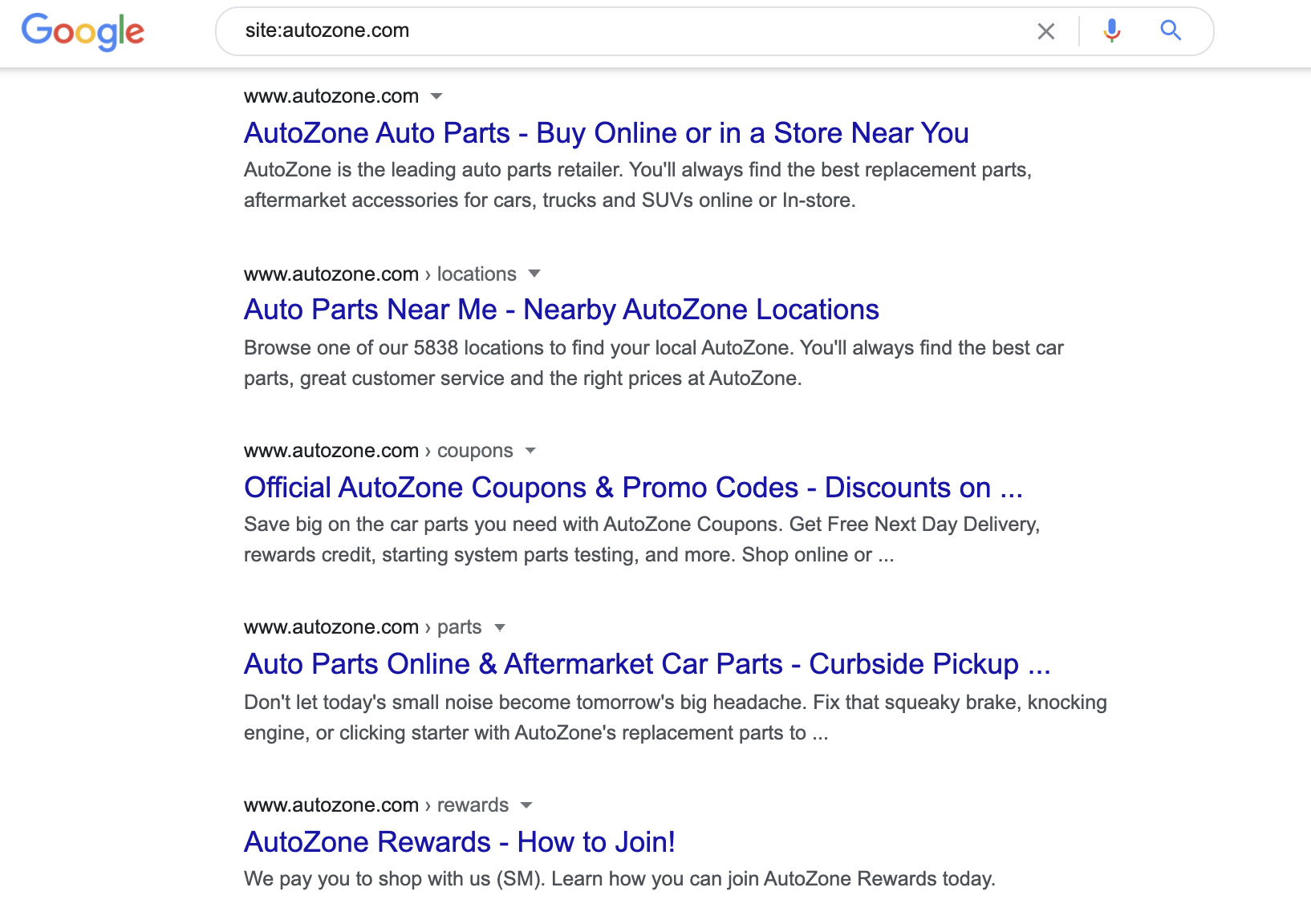 This returns the URLs that are indexed for your domain.
If you see a mix of site versions, you have a potential issue that needs to be addressed.
The alternative here is to enter each URL version into your browser. You should expect to be redirected to a single version, whichever you use. If not, 301 redirect all versions to a single one.
That said, running a site search is an important thing to do. You will also quickly get an insight into any subdomains that are being used, and it is not uncommon to also find duplicate site versions that exist on subdomains that have been set up for affiliates or similar.
3. Check Your Site's Indexed URLs
This is actually a check that you can run at the same time as the step above, but it warrants it is own section.
When you have run a "site: search" on Google, take a look at the number of indexed URLs.

Occasionally, you will be shocked when you see the number of pages that Google has indexed.
If you run an eCommerce store, how many products do you have listed? If you have got a simple lead generation site, how many pages and posts have you published in your CMS?
All we are doing here is a quick check — is the number of indexed results what you would expect?
If not, you might be facing an issue with duplicate or thin content pages that needs to be addressed (we will look at this further into the audit).
As an example, it is not uncommon for an eCommerce store with 5,000 products to suddenly see hundreds of thousands of indexed URLs — the cause here is usually faceted navigation that is indexable. 
On the other hand, if the result is lower than you would expect, you may find that your site isn't being crawled or indexed as it should be. We will explore this in more detail below.
4. Check For Manual Actions
If your site is deemed to be in violation of Google's Webmaster Quality Guidelines, they can (and occasionally do) issue a manual action.
This used to be referred to as a manual penalty. It means that your site's rankings will drop and that you won't be able to rank as highly as you previously were until the action is revoked; this action can either be at page-level or sitewide. 
Worst case scenario, your whole site will be deindexed and won't even rank for your brand name.
You can check to see whether a manual action has been issued against your site in Search Console. Down the left-hand side menu, you will see a 'Security & Manual Actions' tab, and within this, a manual actions link.
Click it, and you will be taken to a page where you'll clearly see the status. 
Hopefully, you can see a green tick that shows that no issues are detected.

If you see an issue listed, take a look at this guide on how to go about resolving it and revoking the manual action. 
5. Analyze Your Site's Speed
Site speed has been important for a long time. 
In fact, back in 2018, Google rolled out a dedicated Page Speed Update that introduced speed as a mobile ranking factor.
Fast forward to now, and Google has just announced that they will roll out a Page Experience Update in 2021. This confirms what many have suspected for some time; UX is more ingrained in SEO success than ever before.
And what we can't deny is that speed is critical. 
In fact, looking at user behaviors, Google has published data to show that the chance of a user bouncing significantly increases the slower a page loads.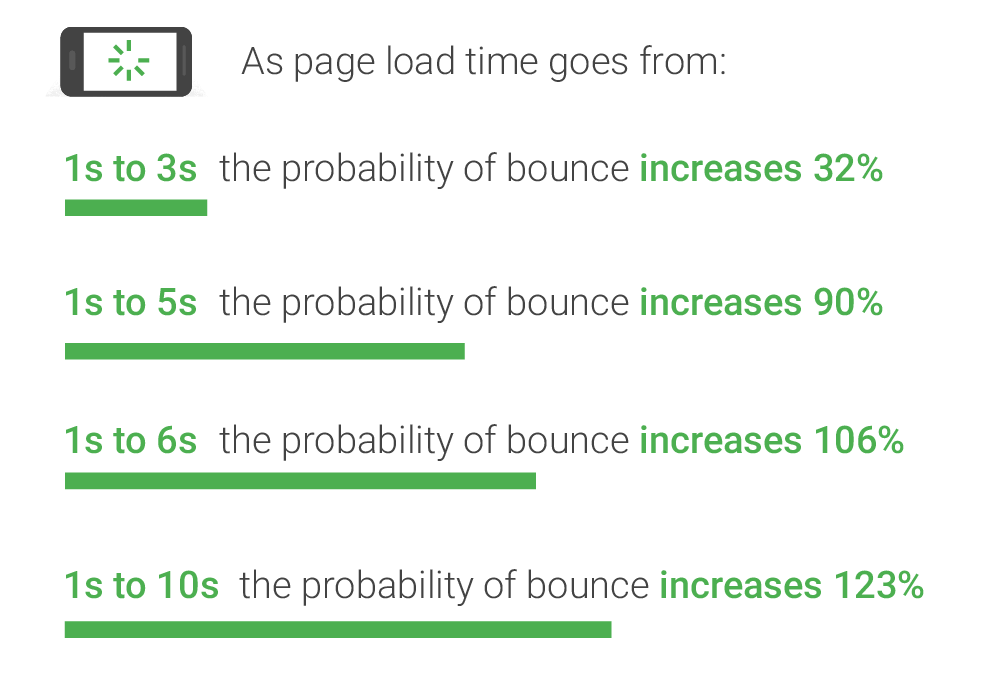 It is more important than ever that your site is fast, both from SEO and UX perspectives.
Head to your SEMrush Site Audit report, and within the issues tab, you will see slow pages highlighted on the list of errors, including load time statistics.

You can also view the Performance report from your Site Audit dashboard.
This will highlight any issues, and you can then move over to Google PageSpeed Insights to receive recommendations on specific actions to take to see improvements.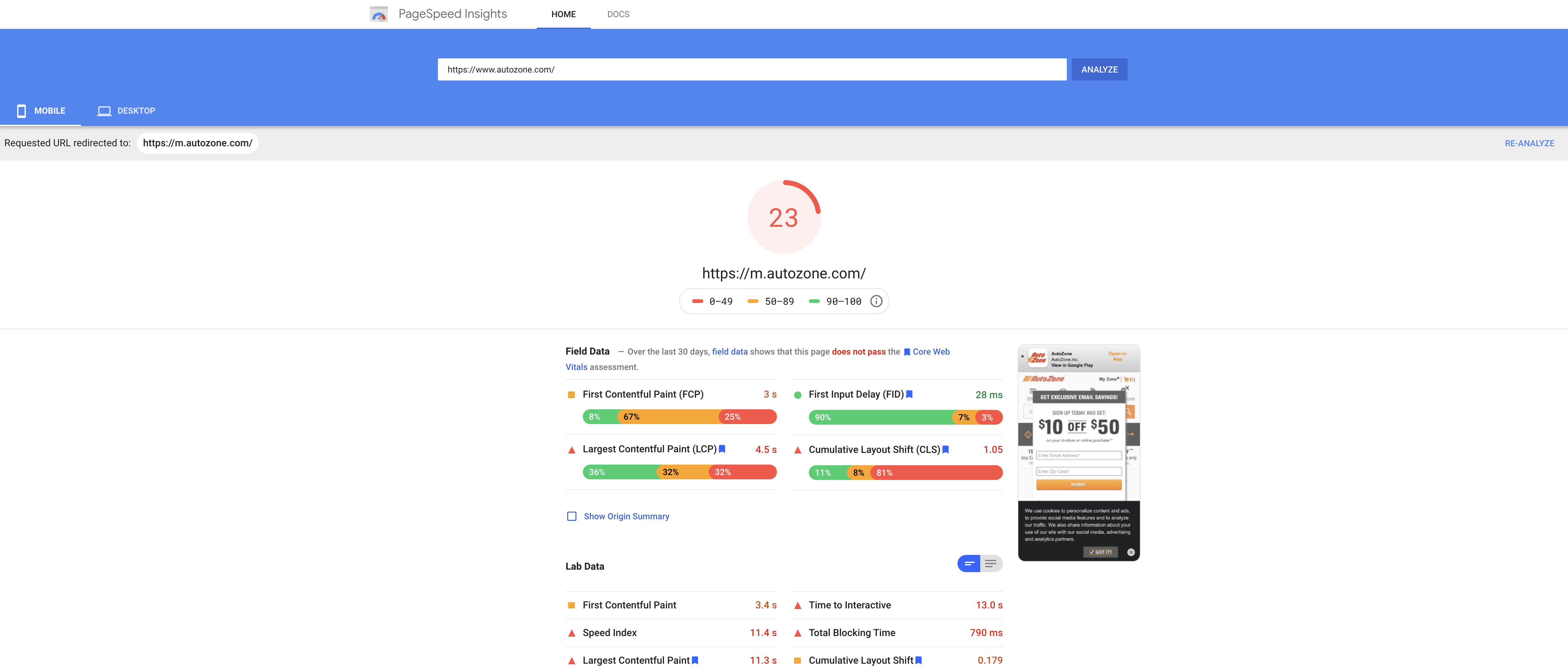 You can also find more recommendations in our guide on how to improve your PageSpeed score.
6. Confirm That Your Site Uses HTTPS
If your site (still) isn't using HTTPS, it should be. It is as simple as that.
You can check this by heading to https://www.domain.com in your browser. 
If your site remains on the HTTPS protocol, ignore this step and move on. If you are redirected to an HTTP version, you need to address this. 
HTTPS has been a ranking signal since 2014, and if your site still runs on HTTP, you need to implement an SSL certificate.
You can do this, for free, with Let's Encrypt.
7. Check For Mobile-Friendliness Issues
We live in a mobile-first world, and if your site isn't mobile-friendly, there is a very good chance that you are not properly putting your user's experience first.
Mobile-friendliness has been a ranking factor since 2015. The reality is that the majority of sites are now either responsive or use dedicated mobile-optimized versions, but this doesn't mean that issues don't exist.
And even more importantly, it has now been confirmed that mobile-friendliness will form part of 2021's Page Experience update.
You can check for any issues in the Mobile Usability section of the Enhancements tab on Search Console.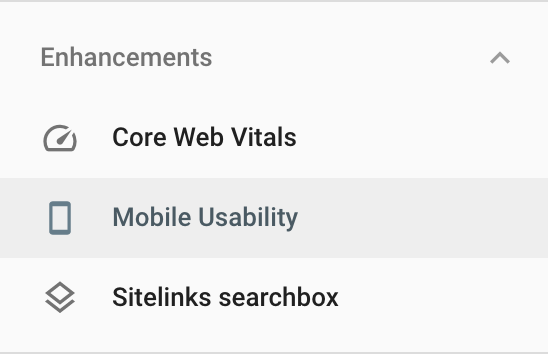 If any issues exist, these will be highlighted here. Otherwise, you can check off that there are no issues.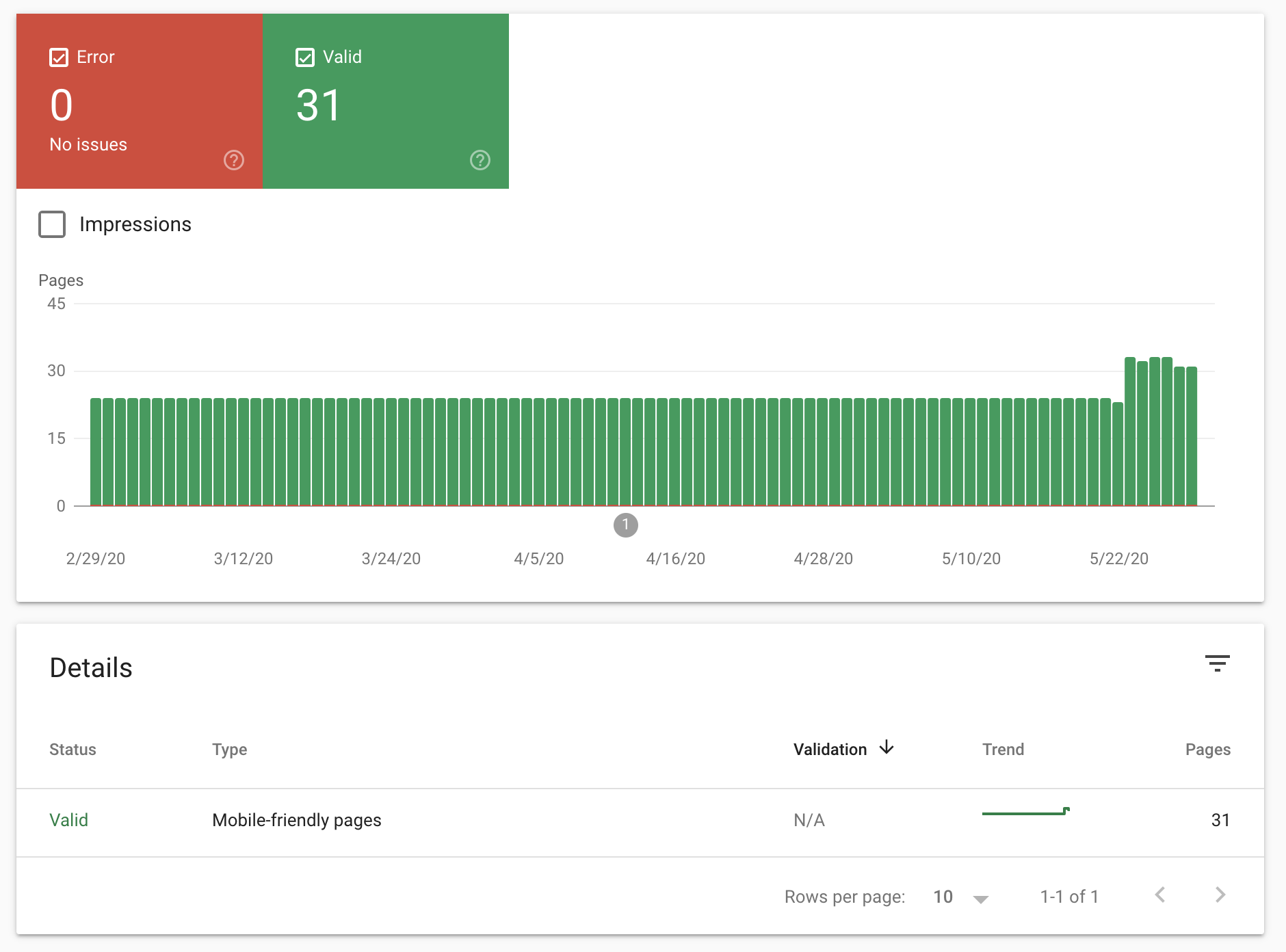 Learn more tips on how to make your site mobile-friendly.
8. Analyze and Resolve Further Indexation Issues
Stay in Google Search Console and head to the Coverage page in the Index tab.
Here, you can gain insight into both coverage errors and also excluded pages, as well as seeing pages that are valid or that have warnings.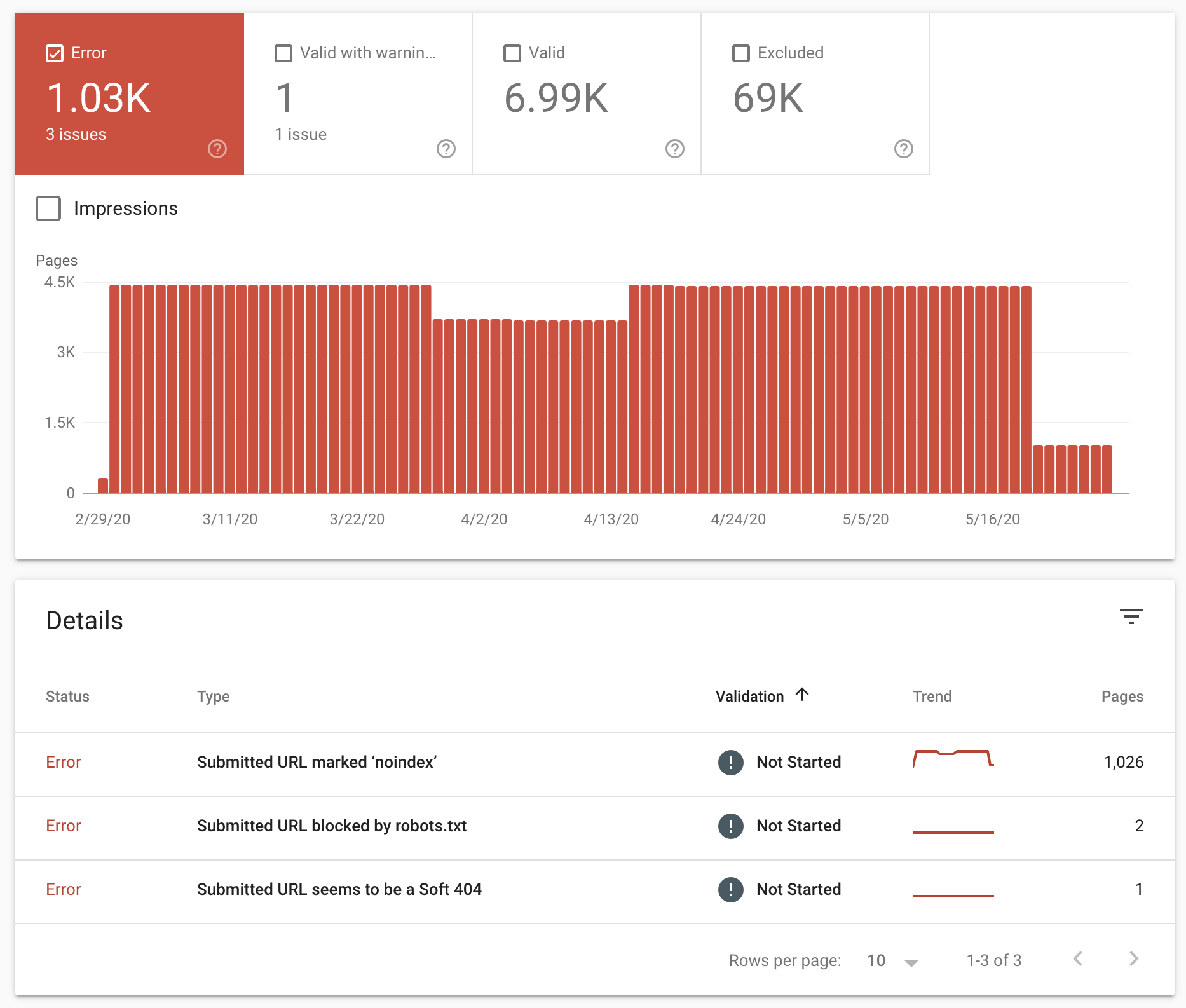 If you see errors here, it means that there are issues that could be preventing your site from being crawled and indexed correctly — you need to address these issues ASAP.
Common errors include:
Pages that have a noindex attribute and that are submitted in a sitemap.
Pages blocked from being crawled in your robots.txt file but that are included in a sitemap.
404 pages that are submitted in a sitemap.
If you see errors and have determined the cause, you need to clean these up.
Excluded URLs
In this report, you will also see a list of excluded URLs. These are pages that are not currently in Google's index and can include:
Pages excluded with a noindex attribute
Pages that redirect
Crawl anomalies
Canonicalization issues
Pages that are crawled but not indexed
Not found (404) errors
Pages blocked by your robots.txt file
These exclusions can happen for a number of reasons and don't always need to be cleaned up. 
As an example, you may have recently migrated to a new site, and due to the migration, redirects would be expected. You might also be blocking faceted navigation using noindex tags.
Analyze the report and act on areas of concern. You can learn more about how to do this here. 
9. Understand Your Site's Page Experience
We have already touched upon Google's Page Experience update that is coming in 2021 above, specifically in relation to site speed and mobile-friendliness.
To cut straight to the chase, user experience is (finally) being introduced as a ranking factor.
Here is what Google had to say:
Today, we're building on this work and providing an early look at an upcoming Search ranking change that incorporates these page experience metrics. We will introduce a new signal that combines Core Web Vitals with our existing signals for page experience to provide a holistic picture of the quality of a user's experience on a web page.
Notice the mention of Core Web Vitals?
The time has come to include this in your SEO audits. It is something that you actively need to be monitoring and acting upon.
But what are Core Web Vitals?
Web Vitals is an initiative that was launched by Google in May 2020 that is intended to provide unified guidance for quality signals that are essential to delivering a great user experience on the web.
And these will soon become a ranking factor. The Core Web Vitals that you need to understand are:

And the good news is that you will now find a report within Search Console that will help you to audit these.
You can find this report within the 'enhancements' tab.
You will see a report that relates to both mobile and desktop, and opening up one of these reports will give detailed insights into the issues that exist in relation to poor URLs and those that need improvement — act on this accordingly.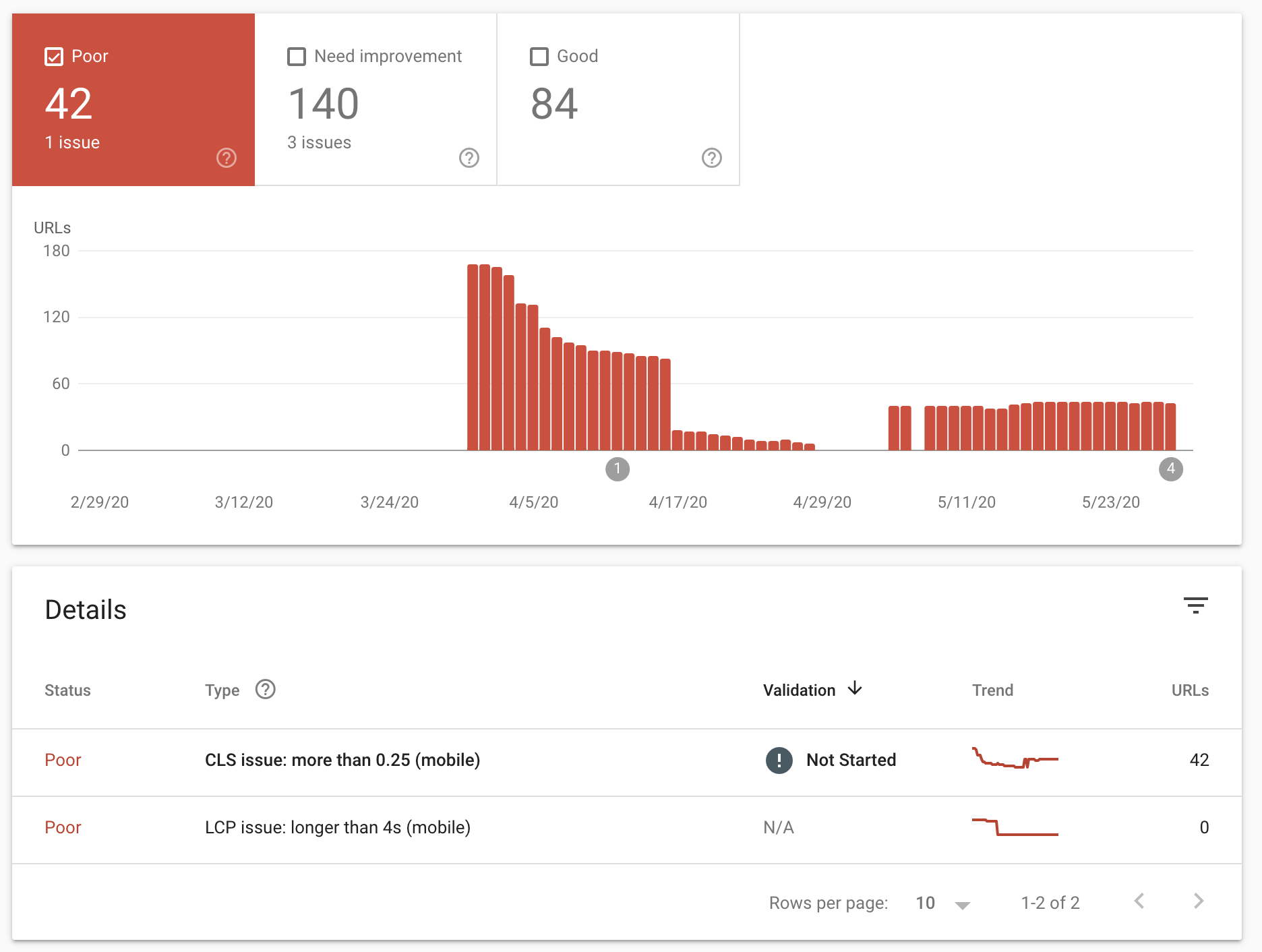 10. Audit Your On-Page SEO
On-page SEO relates to things like:
Optimizing title tags, meta descriptions, and H tags
Image alt tags
Creating optimized content
Internal linking
You need to be sure to audit the on-page SEO across your site to make sure that you are not missing out on opportunities to better optimize your site.
The great news is that you can use the SEMrush On-Page SEO Checker tool to help you do this. From your projects page, you can set up the On-Page tool, and you will be provided with a list of optimization ideas: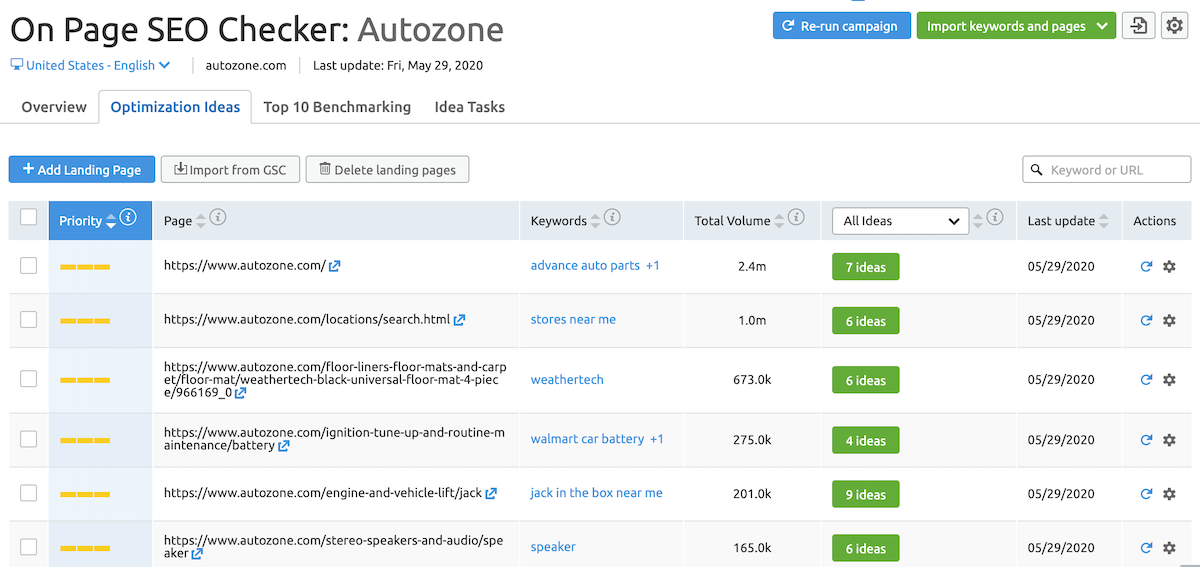 This is a great way to quickly find actions that you can take to improve your site's on-page SEO as part of your audit.
---
SEO Audit Quick Wins
Running a successful SEO audit isn't just about finding complex issues that are time-consuming to implement. Often, there are quick wins that can be made from findings in an audit. You can identify these below.
11. Fix Broken Internal Links
Having broken internal links creates a really poor user experience. If a user clicks a link on your site, they expect to be taken to that page, not served a 404 error. But that aside, it sends negative quality signals to the search engines.
You can find broken internal links highlighted within the issues tab on as part of the Site Audit report.

To fix these, either update the internal link to the correct URL or remove the link; it is as simple as that.
12. Clean Up Your Sitemap
Your site's XML sitemap should be used to specify to Google those primary pages on your site that should be indexed.
In your Site Audit report, you will see issues relating to incorrect URLs in your sitemap presented as errors.

These errors are triggered if your sitemap file contains URLs that either lead to webpages with the same content, redirect to a different webpage, or return non-200 status codes.
Prioritize removing any incorrect pages from your sitemap as a quick fix action.
13. Check Your Redirects
It is not uncommon to find issues that exist with redirects, yet finding and fixing these is often a pretty quick fix.
Again, in the Site Audit report, you will find a number of different issues that are highlighted in relation to redirects.
Redirect Chains & Loops
If redirects are implemented incorrectly, this can cause crawl issues, with common examples of improper redirect usage being redirect chains and loops.
You will see these highlighted within the errors tab.

Temporary Redirects
In almost all instances, you should be using 301 redirects rather than 302s. 
Check the Site Audit report for temporary redirects, and if these are intended to be permanent redirects, update these to 301 rather than 302.

See our Comprehensive SEO Guide to 301 Redirects
Auditing Your Site's Content
You often hear that content is king. Without great content, you will struggle to rank your site on the search engines, but there is more to consider than just creating something great.
It is important to include content checks as part of your SEO audit. 
14. Check For Toxic Links
Not all links help you rank. If Google considers a link to be an attempt to manipulate your search rankings, it violates their Webmaster Guidelines.
It is important that you check for toxic links as part of any SEO audit, especially if you're working on a site for the first time. To fully understand how to check for toxic links, check out our detailed guide.
You can use the Backlink Audit tool to easily identify toxic links so that you can clean these up to prevent a negative impact on your site's performance. 

15. Find and Fix Duplicate Content Issues
Duplicate content on your site can cause issues that prevent you from ranking as highly as you could. In fact, it can send confusing signals to the search engines.
After all, which page should rank when two duplicates exist? In some cases, duplicate content may also be seen as an attempt to manipulate rankings. However, this is less of an issue than it once was considered to be.
You can find duplicate content issues within the errors tab of the Site Audit report.

16. Identify Thin Content Pages
Just as duplicate content can cause issues, so can thin content.
Thin content is typically of little or no value to both users and search engines, yet spreads your site's authority thinly.
It is important that you identify thin pages and put in place a solution to resolve these issues; this is usually either improving these pages by creating great, unique content or preventing the pages from being indexed by adding a noindex attribute. 
Again, you will see these issues flagged within your Site Audit's errors tab; these are reported as pages that have a low word count.

17. Fix Issues With Orphan Pages
Orphan pages are those that exist on your site but are not linked to from any other page.
Essentially, if a page isn't being linked to, it is not receiving topical authority passed through internal linking and can be considered, in rare instances, a gateway page.
You will find pages that exist in your XML sitemap, but that is not linked to from any other page within the Site Audit.
The quickest fix here is to either add key pages to your site's navigation or add at least one internal link from within relevant content.
18. Compare Your Content To Top Ranking Pages & Analyze Searcher Intent
One of the biggest considerations that SEOs have focused on in recent years is searcher intent. We know that Google has gotten good at understanding the intent of a searcher's query and pages that rank typically address this.
It may sound obvious, but spend time analyzing the top-ranking pages for the search terms that you are targeting. If you notice that there's a stark difference between your content and the pages that rank at the top of Google, you will need to consider reworking yours with searcher-intent in mind.
Perhaps you have not gone deep enough into a topic? Maybe the expectation of users is to read a guide, whereas you are trying to rank an eCommerce category. 
You can read this guide on understanding searcher intent to learn more.
Running a Backlink Audit
Links remain a key ranking factor, but aside from planning a strategy to build better links than your competitors, there is one check, in particular, that you should always carry out as part of an SEO audit. 
Follow these steps to better understand your link profile and find any obvious issues that could cause issues further down the line.
---
What Are The Next Steps After an SEO Audit?
Once you have completed your SEO audit and have identified issues that could be holding your site back, it is time to jump straight into fixing these.
One key thing to understand is the importance of prioritizing tasks, both based on the severity of the issue and the resources and effort required to fix it. 
In many instances, you need to work with a developer to implement at least some of the actions that you will need to take, and it is recommended that you take a look at this great presentation that can help you effectively communicate the importance of the tasks you need completing.
---
Conducting an SEO can not only help you to put together a solid strategy at the start of a new project or new site launch but is an essential part of ongoing success.
By finding issues as quickly as possible, you can fix problems that prevent your site from achieving its full potential. There are other areas that you can audit, but by taking these first steps, you'll gain a great insight into your site's overall health.
Wondering how to cover the cost of SEO tools? Check out How Your Agency or Brand Can Afford SEO Tools.