When you operate in a competitive sector, you need to be doing more than the basics to achieve SEO success. To get your organic search strategy to drive business growth, increase traffic, and secure more conversions, you need to take your strategy to the next level. 
And that means learning (and using) advanced SEO techniques that can give you a competitive advantage. 
In this guide, we're going to a deep dive into 10 tactics that you can use to take your site to the next level; advanced techniques that go beyond the SEO basics.
Specifically, we'll look at:
10 Advanced SEO Tactics You Need to Know
Take the time to learn these off-page and on-page SEO techniques that we're going to explore below, and you'll be in the perfect position to drive increased performance for your site.
Of course, you might already be using some of these advanced tactics (nice work, if so), but we're pretty sure that even then you'll find at least a few new tactics to try out. For the most part, these tactics are assuming that you're working on an existing site or that you have resources available to help with the implementation. However, even those working on new or smaller sites should find ways to work these into their strategy to see success.
So, let's take a look at these advanced SEO tips:
1. Upgrade Existing Content
It's easy to jump straight into creating new content as part of your content strategy, but the fact is that most websites have opportunities to improve and upgrade existing content first. 
New content takes time to rank and drive associated traffic. 
It's rare to publish a piece of content and have it rank at the top of the SERPs straight away. If only it were that easy. However, if you improve existing content, you could enjoy quick wins (both in terms of ranking gains and traffic). But where do you start upgrading existing content, and why is it something you should pay attention to? 
If you were are looking back at what was published in the past, look for opportunities to improve your existing content based on two things:
Current trends and facts
Performance data available from Google Search Console
Updating Current Trends and Facts
Content can easily become outdated, even without you realizing it. When content becomes out of date, it's less relevant to the search query. 
Often you might have content that previously performed well that begins to slide in visibility over time. In this instance, updating the content to bring it in line with current trends and facts can help you regain lost ground.
Think things like:
Updating 2020 posts to 2021
Updating outdated facts with the newest versions
This may not specifically be related to your site's  evergreen content. But if you've noticed a decline in visibility for posts based on industry trends and tactics, it would be good to look into making sure what content you do have is factually accurate.
Using Performance Data to Improve Existing Content
Open up Google Search Console and head to the performance report for pages:
Performance > Search Results > Pages 
Here, you can view all of the search queries and their associated data across impressions, clicks, and average position for a specific URL.
Sort the table by 'position' and filter to show those terms showing in bottom page 1 positions or lower:

From here, you'll be able to see all of the search queries that are triggering impressions on your pages that aren't currently ranked in top spots.
Go ahead and sort this (after you've filtered) to show the queries with the most impressions first.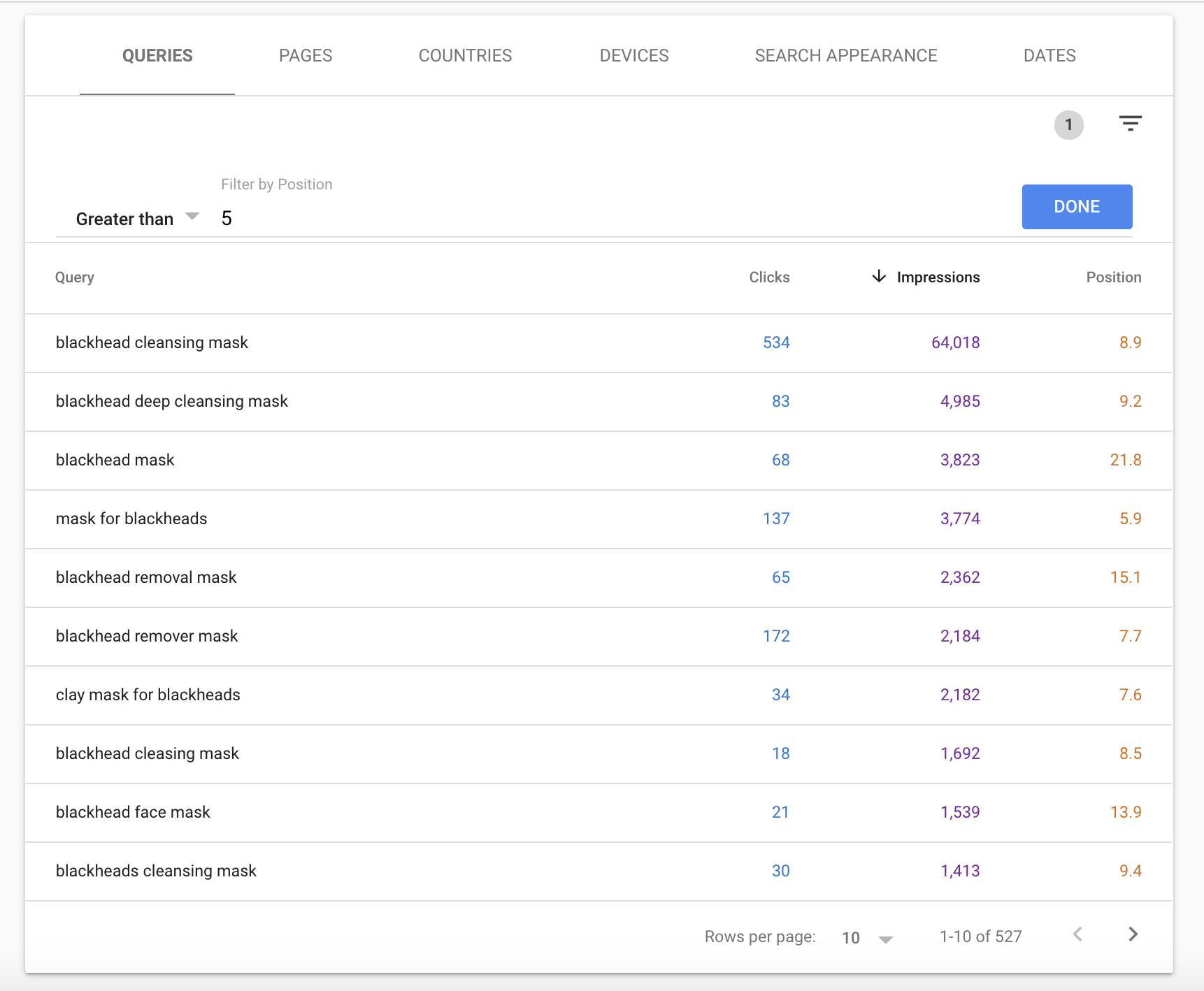 These are striking distance keywords.
Improve your content to better focus on these, and you can expect to see a nice increase in visibility and traffic. The most common reason why these keywords aren't ranking higher is that they have not been covered in enough depth on the page. 
So go ahead and update and improve it based on this data to enjoy the wins. It's a tactic that rarely fails to drive a noticeable impact, so long as you match the intent of the queries to your content.
2. Build Out Topic Clusters
If your site isn't already structured around topic clusters, this is something you should consider working on. But just what are topic clusters? According to our recent guide:
Topic clusters are a group of content that revolves around a central topic and use a pillar page to link to and from.
In short, topic clusters are centered around a single topic and offer multiple internal linking opportunities to keep readers on your site.
In fact, they're easier to understand by visualizing them:
Topic clusters are an effective SEO tactic for the simple reason that they help you to create grouped pieces of content that showcase topical relevance and expertise. 
Just think of it this way...
If you only have a single piece of content about a subject or topic on your site, that doesn't necessarily indicate that you're an expert. But a whole cluster of related pieces of content that use internal linking to demonstrate the topical connection between these? That's a whole different ball game.
And while migrating a site's content into a topic cluster structure isn't the simplest of tasks (especially if you have hundreds or thousands of pages), it's one that pays dividends and can contribute long-term, too. 
Long gone are the days of thinking about ranking for single keywords. In 2020, you should be thinking about how to rank for topics, and building out topic clusters is a great way to get into this mindset.
3. Run a Content Audit and Remove Underperforming Content
Every page on your website needs to serve a purpose. To ensure your content is serving a purpose, you should be actively looking to get rid of (or improve) content that isn't performing.
A great tactic that you can use is running a content audit to discover these pages that are holding back the rest of your site. In our  SEO checklist, we highly recommend auditing your content, stating that:
We can't stress enough that time spent running a content audit and pruning thin, duplicate, or low-quality content is massively underrated.
You can learn how to do this in Kevin Indig's guide to  SEO Pruning with Semrush, but it's all based on building out a spreadsheet that helps you identify exactly which URLs aren't performing.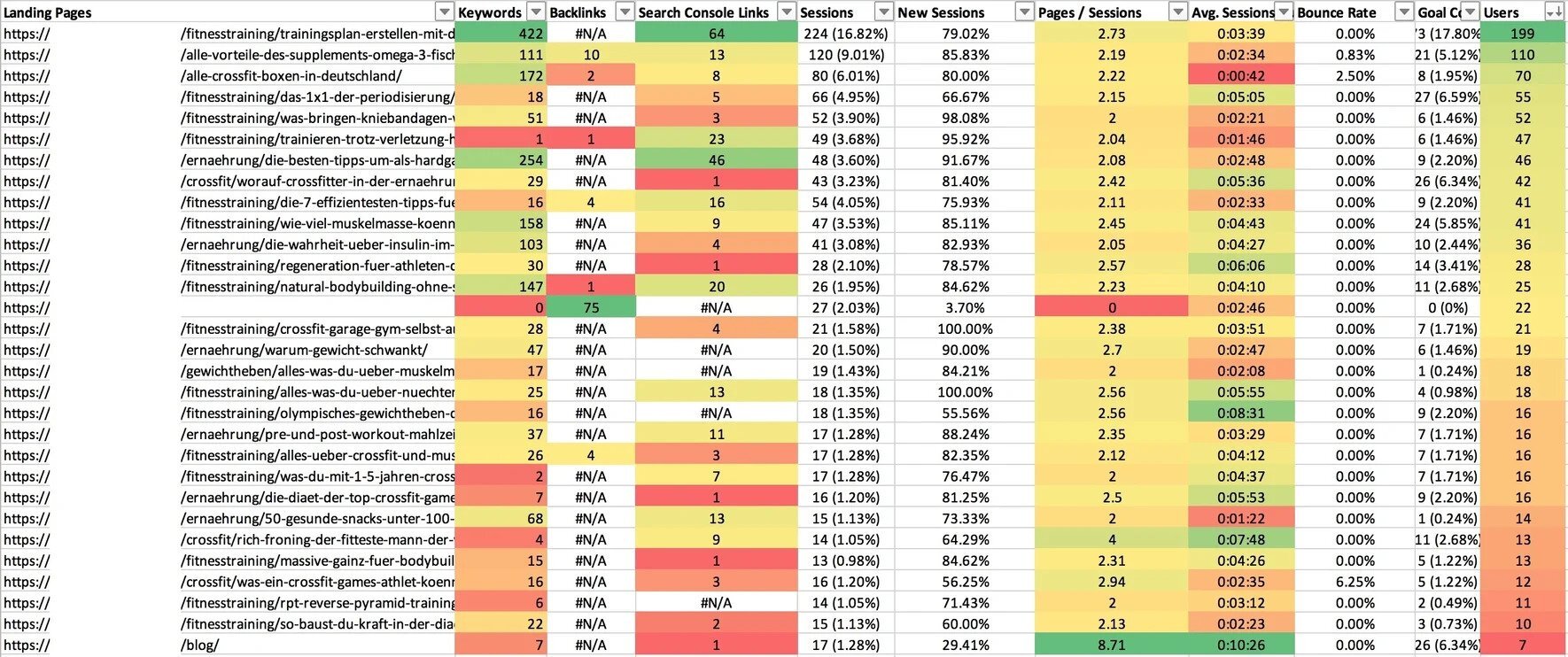 And once you've audited your site's content, you can take action based on the following:
Keep (Page is performing, no actions needed)
Improve (Make edits and improvements to see the page perform better)
Merge (Two or more pages are consolidated into a single page, with any that are removed 301 redirected)
This is a task that most sites should be running once or twice per year depending on the quantity of content that's published. 
4. Find and Fix Keyword Cannibalization Issues
Most people misunderstand what keyword cannibalization actually is, wrongly referring to it as when two or more pages are optimized for the same keyword. But that's not really true.
In fact, as we define in our guide:
Just because two or more pages on your website are optimized for the same keyword, it doesn't automatically mean that neither can rank.
Keyword cannibalization is all about intent.
It happens when you have two or more pages that target the same intent.
The reality is that you can have more than one page optimized for the same keyword, so long as they're targeting a different intent.
As an example, one might be transactional, and another is informational. But common signs that your site might have these issues that need attention include:
Ranked URLs keep changing in the SERPs
Your rankings keep fluctuating
You're struggling to increase a keyword's ranking position
The wrong URL ranks for a page
And you can find specific keyword cannibalization issues using the Semrush keyword cannibalization tool that's available as part of the Position Tracking Tool.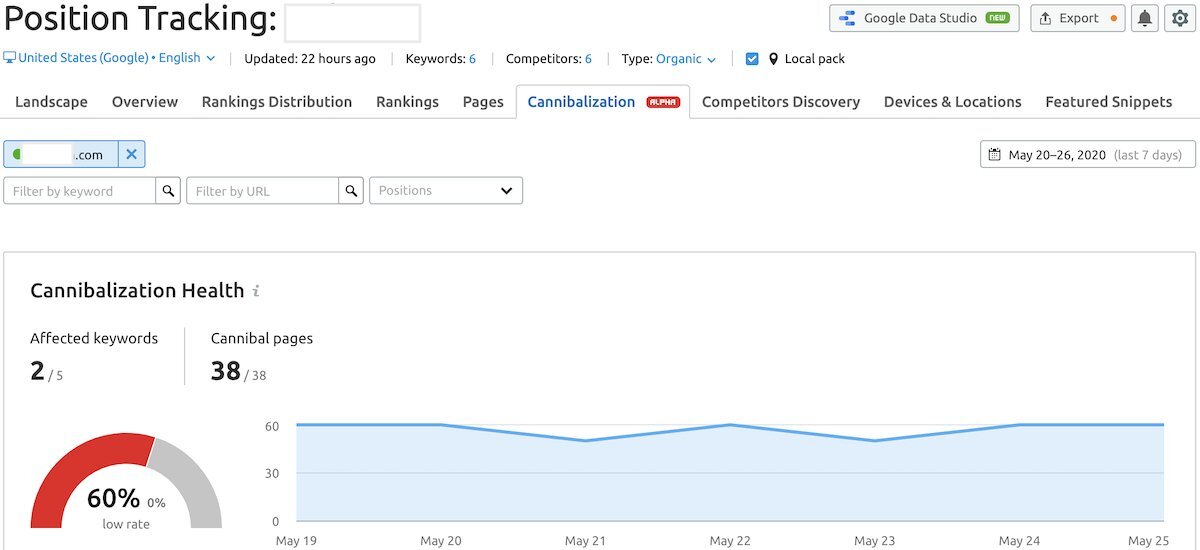 You can use this to view cannibalization issues either by keyword or by page, taking note of fluctuating URLs or positions: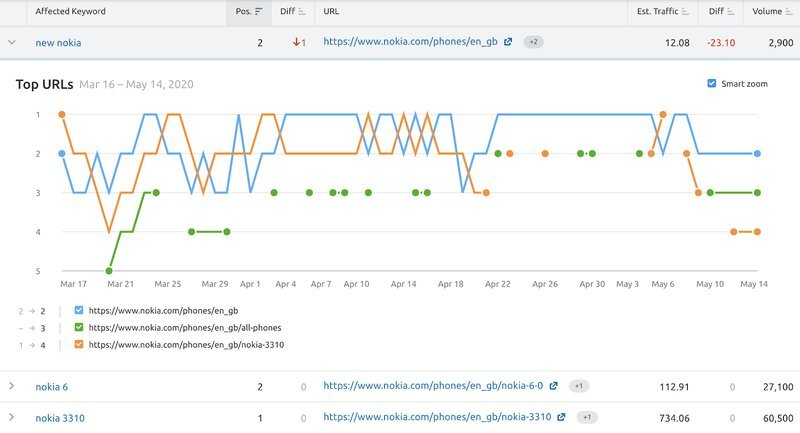 Once you've found the issues, you can then fix these in several different ways, including:
Remove and 301 redirect cannibalized pages
Canonicalize cannibalized pages
Re-optimize pages
Merging and consolidating pages
Reworking internal linking structures
5. Master Internal Linking
Internal linking is one of the most underrated SEO tactics that there is. As SEOs, we're often all too quick to chase after earning new backlinks before making sure that the ones we already have are working as effectively as possible.
One impactful activity you can carry out is improving internal linking based upon your site's most linked-to pages. Want to know how to do this? Load up the Semrush Backlink Analytics Tool and head to the 'indexed pages' tab, and sort by 'domains.'
These are your website's most powerful pages from a link perspective, the ones with the highest number of referring domains linking.
You can use these to redistribute and pass some of this link authority to other (relevant) pages on your site. Look for opportunities to link these pages to topically related pages that need a push in organic visibility, thinking carefully about the anchor text you use. This tactic works and should be looked at regularly and used when you launch new content to look for opportunities to link to it internally. 
6. Optimize For Featured Snippets
Earlier this year, Google announced that it was removing double organic listings in search results for sites that rank on the first page and also capture the Featured Snippet.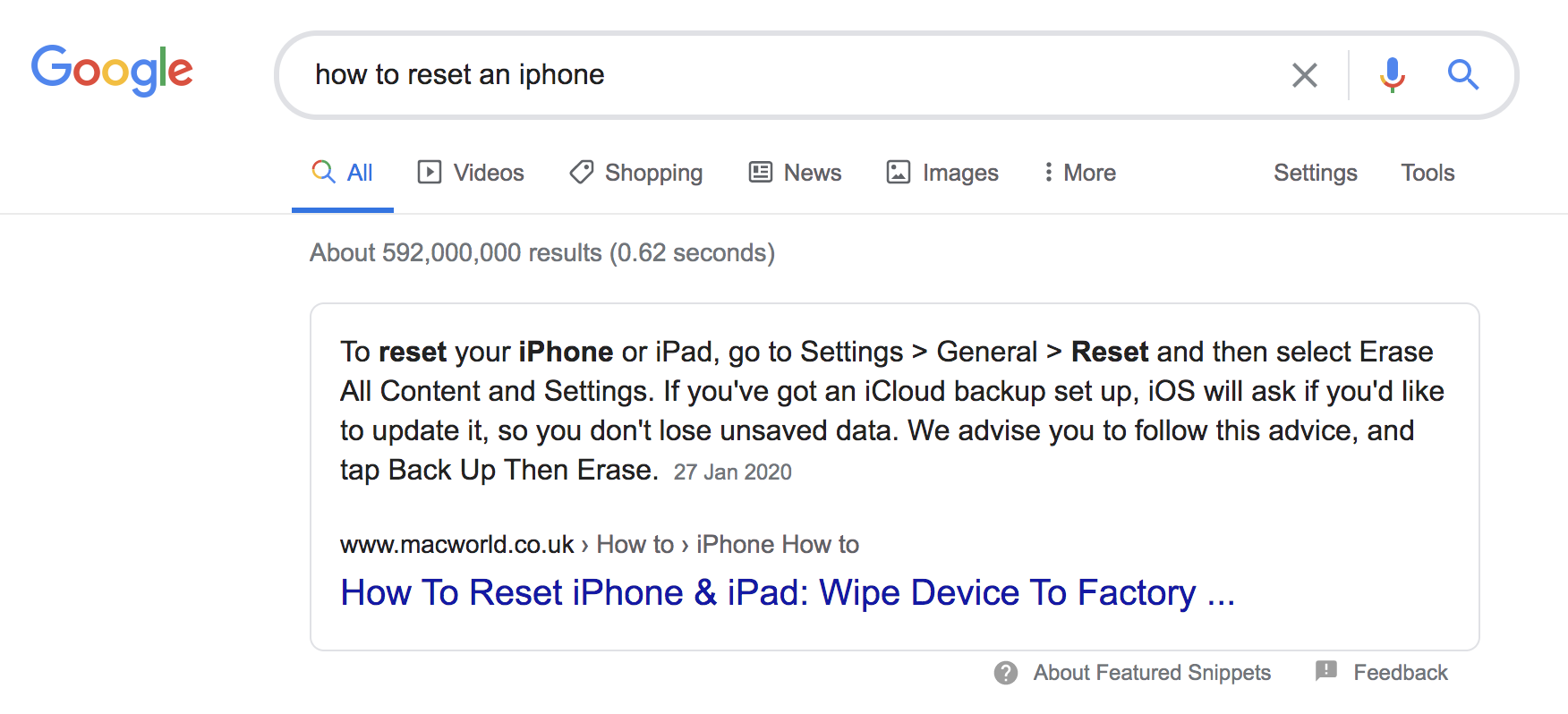 Essentially, previous to this update, you could, in theory, hold the position zero (featured snippet) and the No.1 spots. This is no longer the case, and a site that grabs the featured snippet will only have this shown on the first page.
But that being said, most SEOs should still be optimizing for the featured snippets as it means an opportunity to outrank all other organic listings. 
How do you do that, though? According to our study, the most effective way of grabbing these are to take pages that already rank in the top 10 positions and focus on making the following improvements: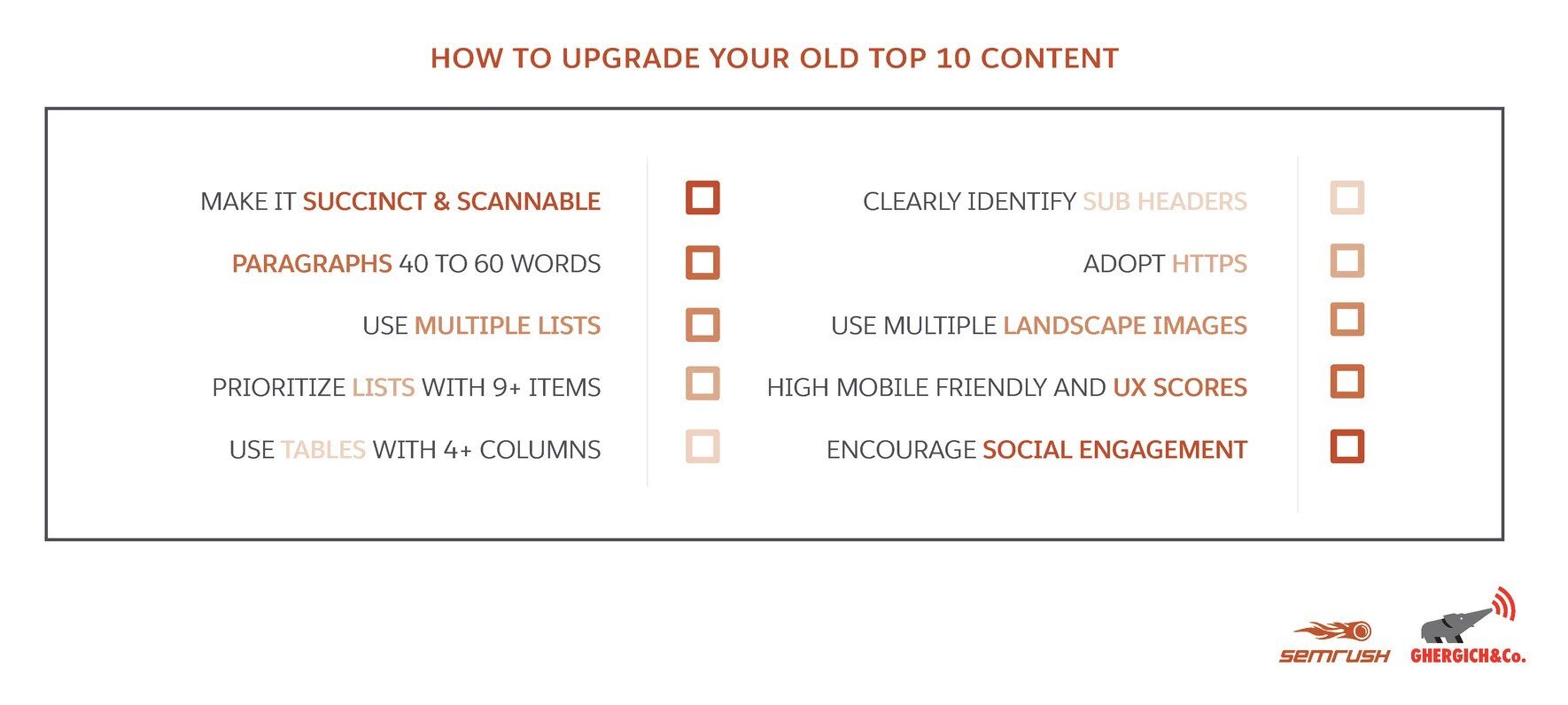 7. Fix Linked 404s
If you have links pointing to 404 pages on your site, these aren't helping you to rank. They're just being ignored:
@methode Is it true that Google ignores Links leading to 404 pages? Thanks...

— SEO-Portal.de (@SEO_Portal) August 7, 2015
It's not uncommon for sites to have high numbers of authoritative links that could be helping them to rank but that point to dead pages that have been killed off over time and never redirected.
Find these pages using the Semrush Backlink Analytics Tool. 
Run your domain through the tool and head to the 'Indexed Pages' tab, being sure to tick the 'Target URL Error' box:
These are pages that are linked to, but that aren't currently passing any authority ( PageRank) due to being dead.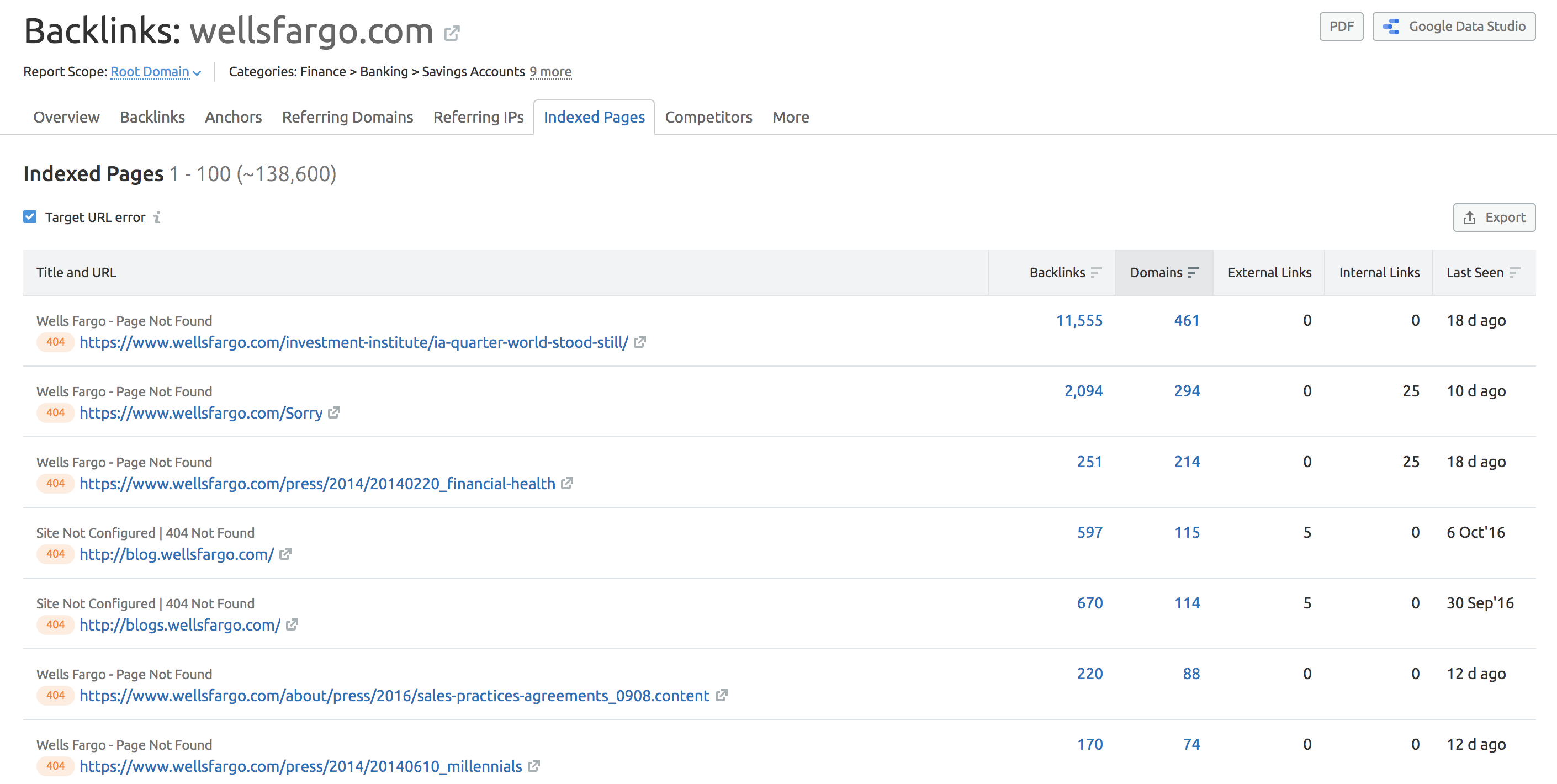 You can fix these issues either with 301 redirects or by re-launching the page. 
8. Steal Links that Point to Competitor's 404s
While we're talking about links that point to 404 pages, smart SEOs will see this not only as an opportunity to clean up their own errors and make their earned links work harder but also as a link building tactic that can help to steal links that competitors have left to point to a dead page.
Rather than running your own domain through the Backlink Analytics tool, run your competitor's domain through, and you suddenly have a list of all of their pages that have links that point to a 404. 
There's a good chance that you will have (or could create) content that corresponds to the original page on your competitor's site, and nothing is stopping you from reaching out and suggesting your own URL as a replacement.
You'll help the webmaster fix broken outbound links on their own site while suggesting a replacement. In many cases, it's a win-win for both parties. You can read more about how to do this in our guide to broken link building. 
9. Use FAQ Schema To Expand Your SERP Real Estate
If you're already ranking in prominent positions, you should be carefully analyzing ways to increase the visibility that your listing has on the SERPs in an attempt to push competitors further down the page.
A great way to do this is to integrate FAQ schema. Just look at the SERP example below: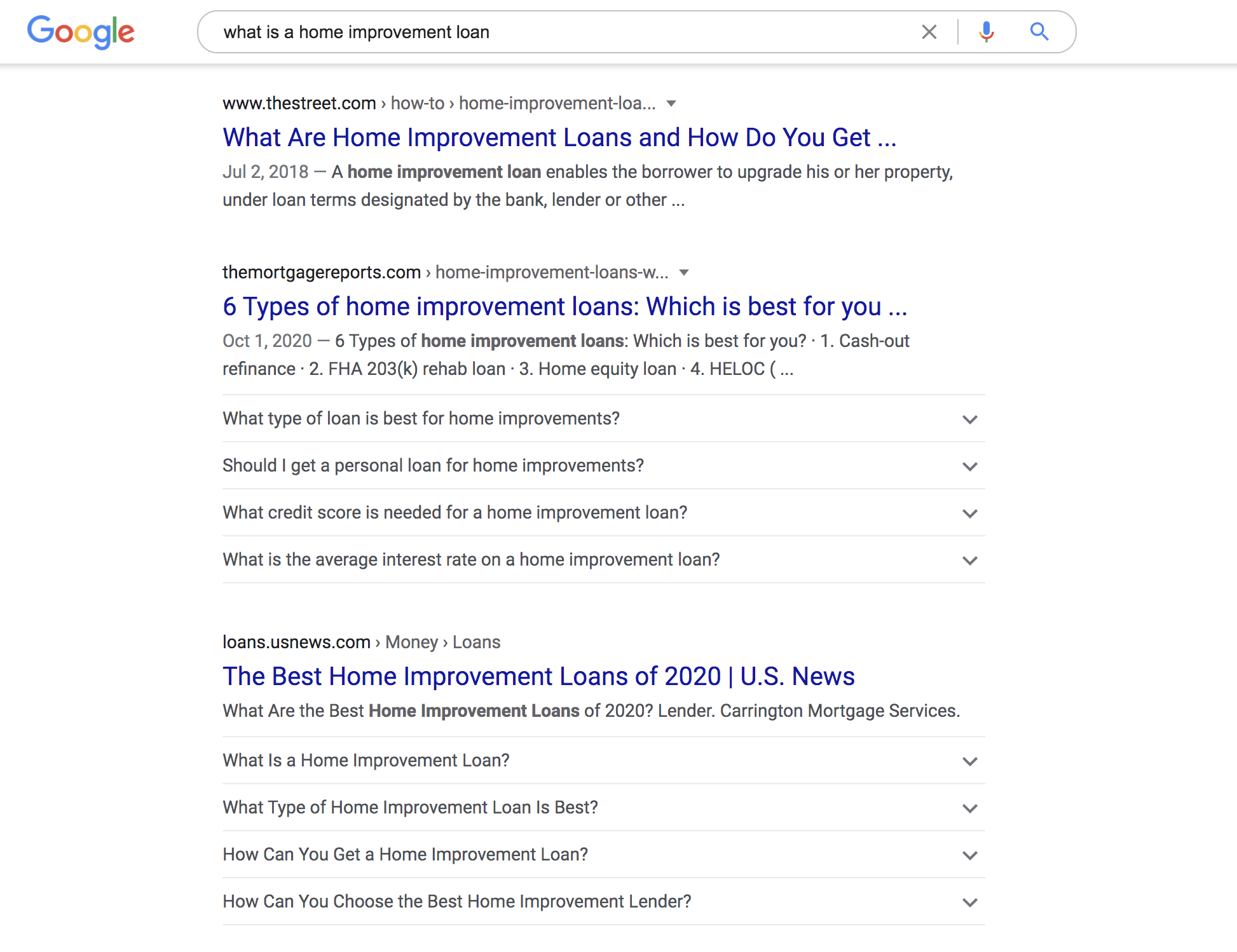 See how much space the second and third listings take up?
That's being driven by FAQ schema markup. FAQ schema markup makes it possible for questions you answer in your content to appear straight onto the SERPs. It's a tactic that you should be considering if your page includes Q&A style content. Even if you're already ranking highly, you'll be able to push your competitors further down the first page.
You can learn how to implement this in our guide on  How to Add FAQ Schema to Any Page Using Google Tag Manage or find out more here.
10. Analyze Your Log Files
Many SEOs have never taken the time to analyze their log files, but this is an advanced-level tactic that needs to be on your radar. Analyzing log files can:
Show you where crawl budget is being wasted (and how much)
Help you to identify the cause of crawl errors
Find pages that aren't being crawled frequently
And knowing this information can put you in a position to roll out fixes and improvements to help Google crawl your site more efficiently. 
Essentially, log file analysis gives you a way to understand how search engines are crawling your site and any issues that they face. You can analyze your site's log files with the Semrush Log File Analyzer.
You'll need to download a copy of your site's log file (usually located in the "/logs/" or "/access_log/" folder on your server), upload it to the tool, and get a detailed report that you can then analyze for issues and opportunities.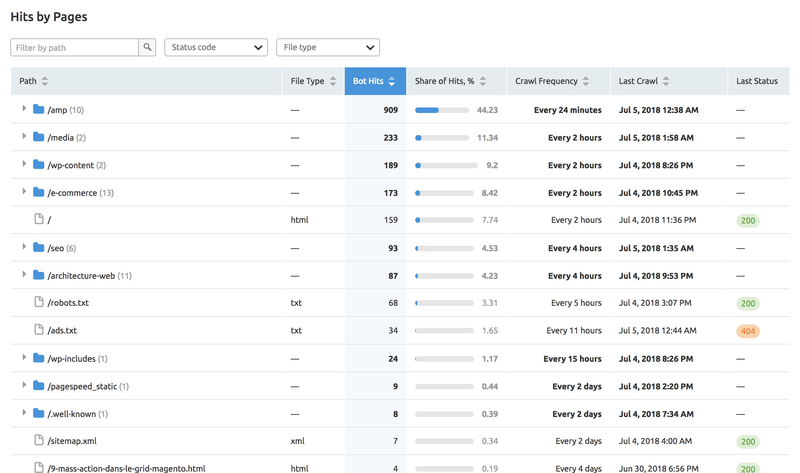 ---
SEO in competitive industries means you need to go beyond the basics. By understanding the advanced tactics, you can begin implementing stronger strategies to improve your SEO make you stand apart from the competition.
Always be on the lookout for tactics that your competitors aren't using and ways you can enhance your own organic visibility, even in cases when you already rank in prominent positions.