SEO is one of the most important customer acquisition channels for B2B companies. Having strong organic visibility across all stages of the buying cycle is a proven way to accelerate growth.
But how do you start putting together a B2B SEO strategy? 
In this guide, we'll break down B2B SEO best practices. Specifically, we'll look at:
Tip: Create a free Semrush account (no credit card needed) to follow along with the steps in this guide. 
What Is B2B SEO?
Business-to-business (B2B) SEO is a strategy aimed at increasing organic search engine traffic and keyword rankings for B2B websites. A successful B2B SEO strategy places a business's website in front of people actively looking to engage with the services they offer or buy the products they sell.
And while B2B is about businesses buying from each other, unlike B2C (where consumers buy from businesses), the SEO basics remain the same. 
Those basics include:
On-page SEO
Off-page SEO
Technical SEO
Content
But B2B SEO brings unique challenges. And these relate to the audience you're marketing to.
People buying on behalf of a business are quite different from those buying for themselves. 
So, let's explore these distinctions and dive into the step-by-step strategy you need to achieve success with B2B SEO. 
The Difference Between B2B SEO and B2C SEO 
The main difference between B2B and B2C SEO is the audience. 
Why?
Well, the way businesses buy services and products is very different from the way consumers buy. Which means the way you approach B2B SEO should be very different than for a B2C strategy. 
Here are a few factors that make B2B SEO more challenging:
Complex Sales Funnels
The sales funnel for B2B is far more complex than for B2C. It's much longer and typically involves more stakeholders. 
For example, think about how easy it can be for you to buy a new pair of shoes. 
Now, imagine you're part of a large company looking to purchase a new CRM system. 
Pretty easy to spot which one is more complicated, right?
That's why B2B marketers need to know their audience inside out, which means knowing prospective customers in greater depth than B2C marketers will often need to. 
And seizing even more opportunities to earn targeted traffic at each stage.
Low-Volume Keywords
B2B companies tend to target highly specific audiences. Which means the keywords they target usually have low search volumes. 
For example, take a look at the search volume for "best CRM software."
And now look at the search volume for "best basketball shoes."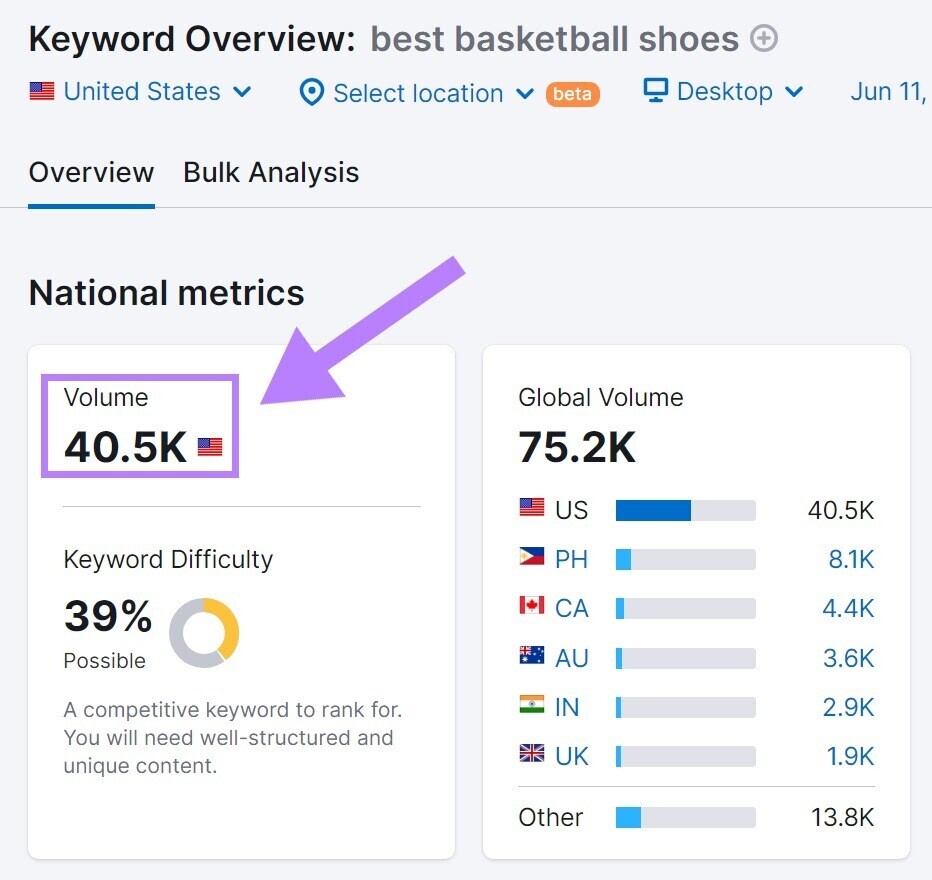 The difference is substantial—about 36,000 searches per month.
Meaning B2B SEOs need to really nail their keyword research. 
It's all about finding the right search terms that allow you to target a specific audience and push them down the funnel.
We'll get into how to do that in the step-by-step strategy. 
Low Conversion Rates
Another unique challenge related to B2B search engine optimization is low conversion rates. At least compared to B2C.
And low conversion rates could indicate a poor user experience. Which can ultimately impact SEO. 
To succeed in B2B SEO, you need to attract the right kind of traffic—the kind that matches your products or services.
Be specific, understand your audience, and show how your product or service can solve their problem. And you'll get results.
Need for Demonstrated Brand Thought Leadership
Every consumer cares about who they buy from. But B2B buyers shop differently.
They want to be sure whoever they speak to can offer exactly the right solution to their problems. Even before picking up the phone or filling out a form. 
Which means B2B companies must highlight their expertise. They need to show that they're an industry leader. They need to create that confidence. 
And the best way to do that is with thought leadership (creating content to demonstrate you have expertise in a particular field, area, or topic).
While there are many ways to show expertise, common tactics include:
Blogging
PR
Guest posting
LinkedIn marketing
Podcast appearances
Video marketing
Speaking at conferences (or webinars)
Further reading:
A 7-Step B2B SEO Strategy
Here's a step-by-step B2B SEO strategy process you can follow to blow away the competition:
Tip: Create a free Semrush account to follow along. 
1. Create Buyer Personas
A buyer persona is an abstract depiction of your ideal customer, founded on qualitative and quantitative data from market/competitor research and existing customer profiles.
And creating detailed buyer personas is crucial for B2B SEO. 
The more you know about your audience and what they need, the better you can target them and address their concerns.
If you don't know where to start, Semrush's free buyer persona tool can help you build personas in minutes. 
It has several templates (including B2B) and provides questions and prompts to inspire you throughout the process.
You can also use our Traffic Analytics tool to uncover current audience characteristics. Like socioeconomics, regions, visitor behavior, and more. 
To do this, enter any URL and click "Analyze."
Then, head to the "Audience Overview" tab to dig into specifics.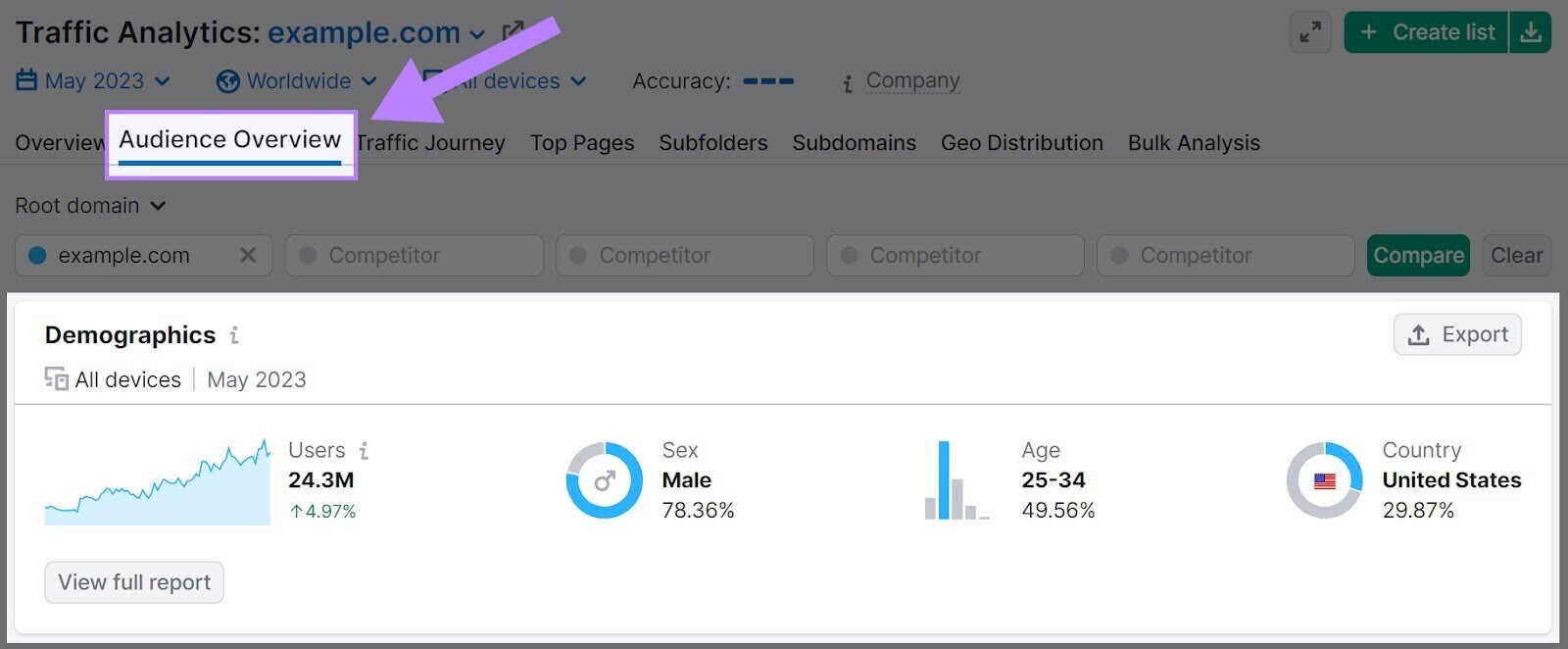 Further reading: 
2. Understand Your Sales Funnel
Now, before conducting any keyword research, you need to understand how your business's unique sales funnel works.
But you might not be familiar with how to analyze your funnel. 
So, where do you start?
Spend time talking to your sales team. Ask them to explain the funnel, how they believe it works, the most important touchpoints, and more.
Notice key stats like customer lifetime value, average customer retention, average time to purchase, and the reasons why customers leave
Dig deep into your own sales and marketing data to determine how (or whether) customers are finding your business online
The "Traffic Journey" tab in Traffic Analytics is a great way to see where visitors come from and where they go afterward.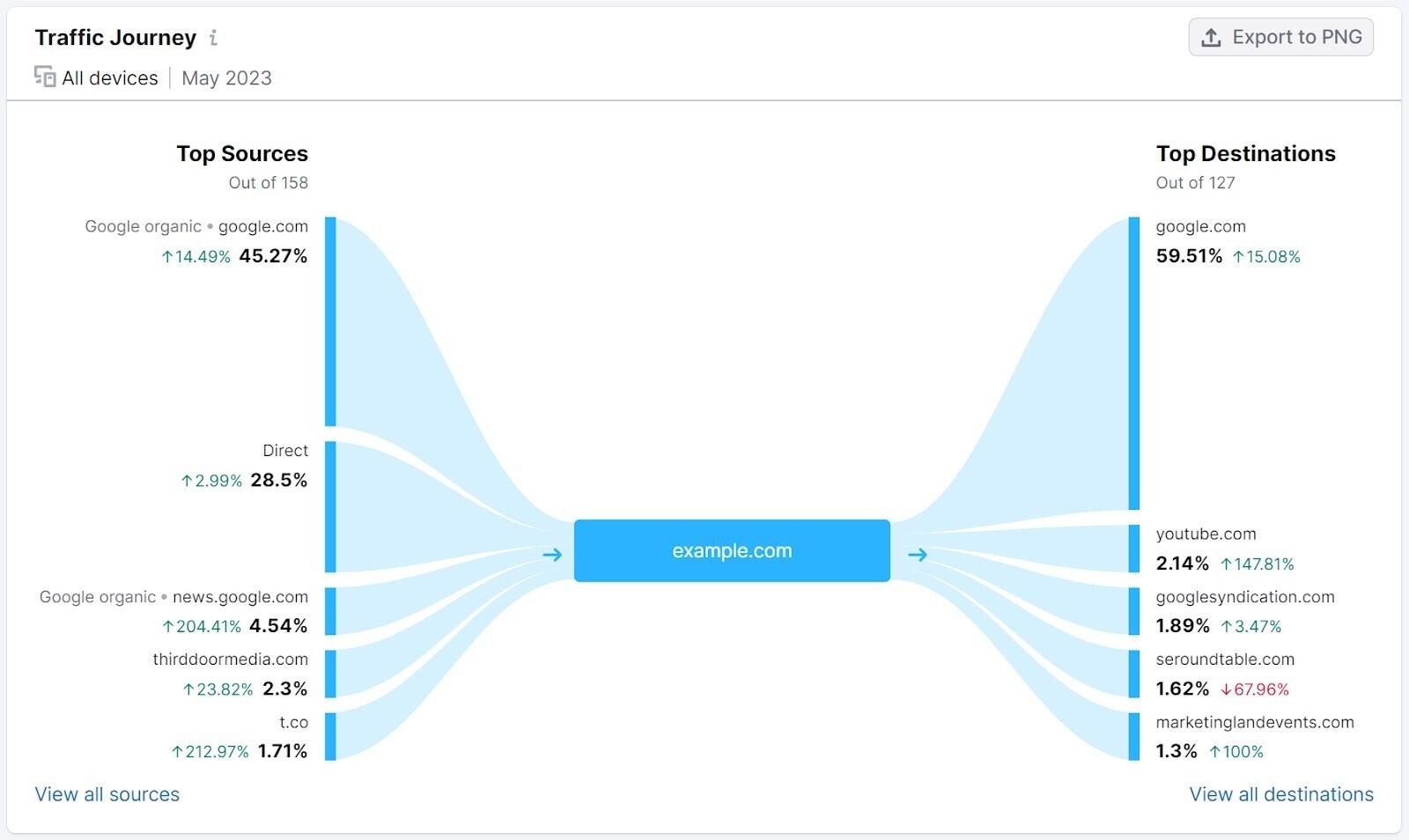 Further reading:
3. Conduct Keyword Research Around Your Personas
Detailed keyword research is the backbone of any successful B2B SEO strategy.
You need to discover the queries people are using to find businesses like yours at every stage of the funnel.
Start by entering a seed keyword (a broad search term that best represents your niche) into the Keyword Magic Tool. 
For example, let's use "crm tool." 
Enter it into the tool, and you'll quickly get thousands of keyword ideas.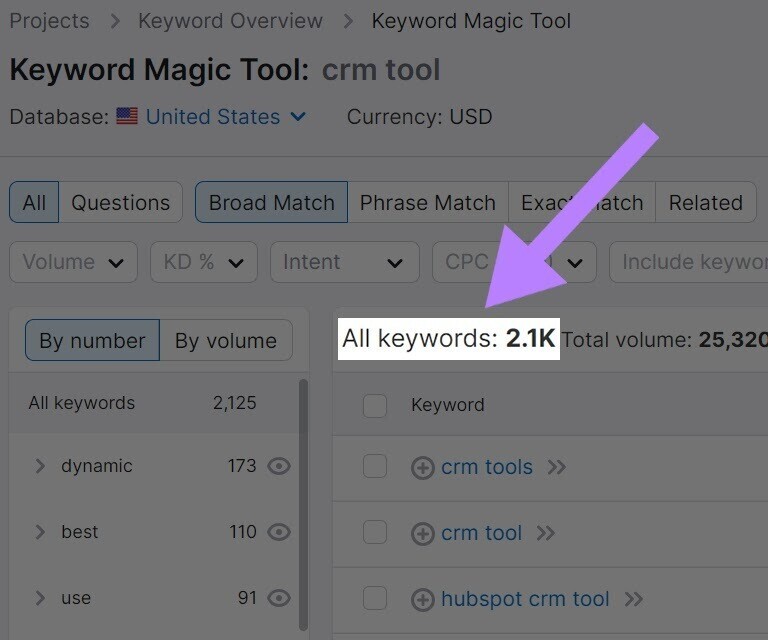 Use the "Intent" filter to start grouping keywords into the different stages of your funnel.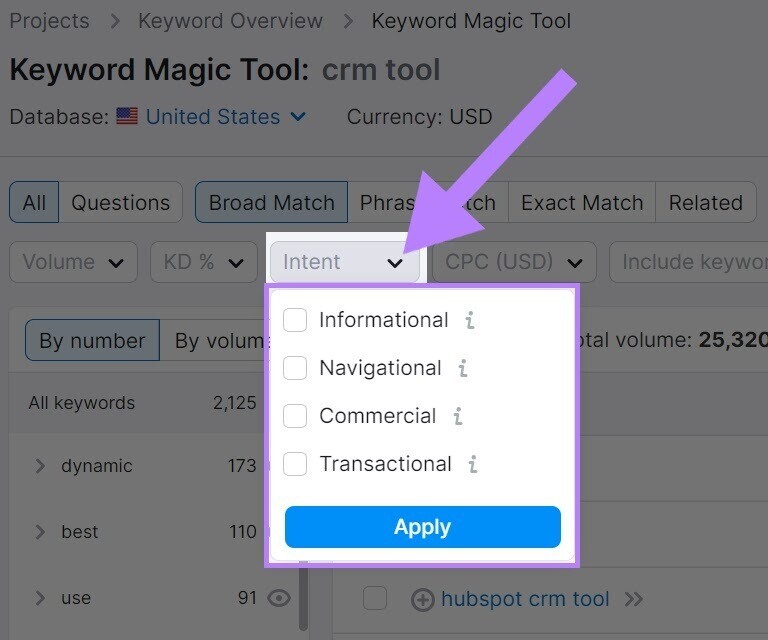 There are four different types of search intent:
Informational: Users want to learn more about something (e.g., "what is a crm tool")
Navigational: Users want to find a specific page or site (e.g., "hubspot crm")
Commercial: Users want to research a brand or product (e.g., "best crm tool")
Transactional: Users want to complete an action, like a purchase (e.g., "buy zoho crm")
Tip: Clicking on "Questions" also uncovers plenty of informational intent keywords. 
Then, create content. 
If you're struggling to find the best starting point for B2B keyword research, ask yourself:
What problems do your personas face?
How could they be searching for ways to overcome these pain points?
How do you solve those pain points?
What are the main features of your product or service?
Which keywords are driving the most organic traffic for your competitors?
Tip: Run any competitor's site through the Organic Research tool to see the keywords that drive the most traffic.
Further reading:
4. Map Out Keywords to Target Buyers at Different Stages of the Funnel
One of the most effective ways to succeed at SEO for B2B is by using topic clusters. It helps show your expertise and own the SERPs for topics, not just keywords.
Topic clusters are groups of pages that revolve around a central theme.
They typically feature a pillar page (the hub for a broad topic) that includes links to cluster pages (in-depth pages that answer specific questions about the broad topic and also link back to the main pillar page).
Like this: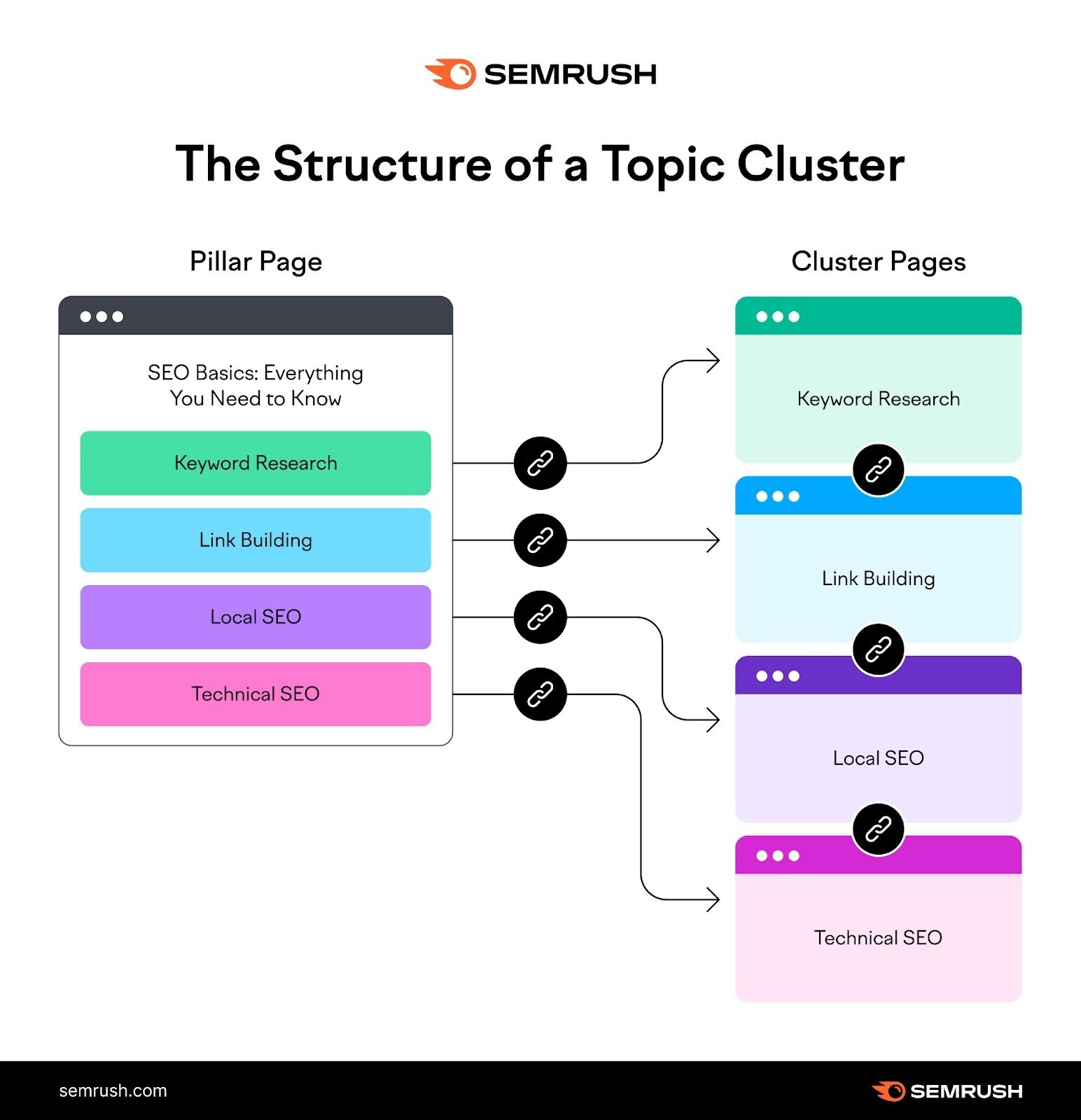 Developing a keyword strategy based on topic clusters helps you target prospects at every stage of the buying cycle. 
It helps you develop a scalable content strategy that you can build on month after month.
Plus, it can keep content organized. And make it easier to showcase topical expertise.
If you need help choosing topics and keywords for pillar and cluster pages, use the Topic Research tool.
Start by entering your cluster topic and clicking the "Get content ideas" button. 
The tool will show tons of content ideas, conveniently separated by subtopics and search volume. 
5. Create and Optimize Product or Service Landing Pages
Don't lose sight of your main goals and KPIs. This means making sure you've built solid product or service pages (possibly both).
Sure, ranking high on SERPs and driving traffic is great. But your end goal is to convert users and drive sales. 
So first, think about which pages these are on your site. Usually, these are pages that describe your products or services, highlight benefits, and include multiple calls to action (CTAs). 
And for many B2B companies, these are pillar pages. 
To start optimizing them, you need to look at keyword usage, title tags, meta descriptions, internal links, and more. 
And the best way to audit these pages is to use a tool like On Page SEO Checker. 
Add your URL and you'll quickly get a list of optimization ideas.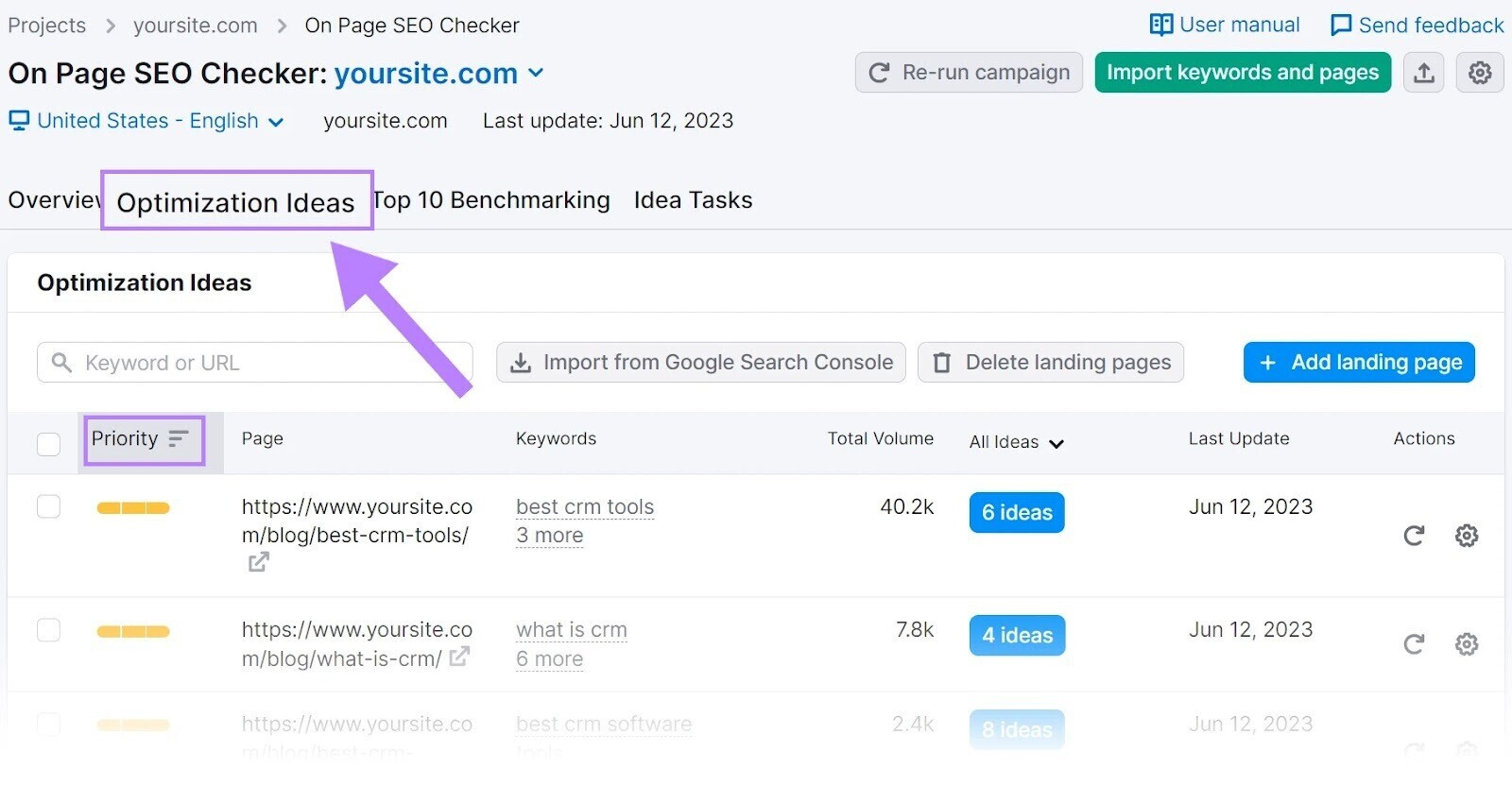 The "Priority" column helps you understand which pages should be optimized first for the best results. 
Further reading:
6. Build a Scalable Content Strategy
Having a scalable content strategy that drives visibility throughout the funnel is also really important for SEO in B2B marketing. 
In most cases, this is your blog or content hub.
You need to create content that answers your prospect's questions, gets you on their radar, and introduces them to your business.
Start by using Topic Research. It'll generate ideas for new articles and topics to write about. 
Enter a topic related to your site and click "Get content ideas."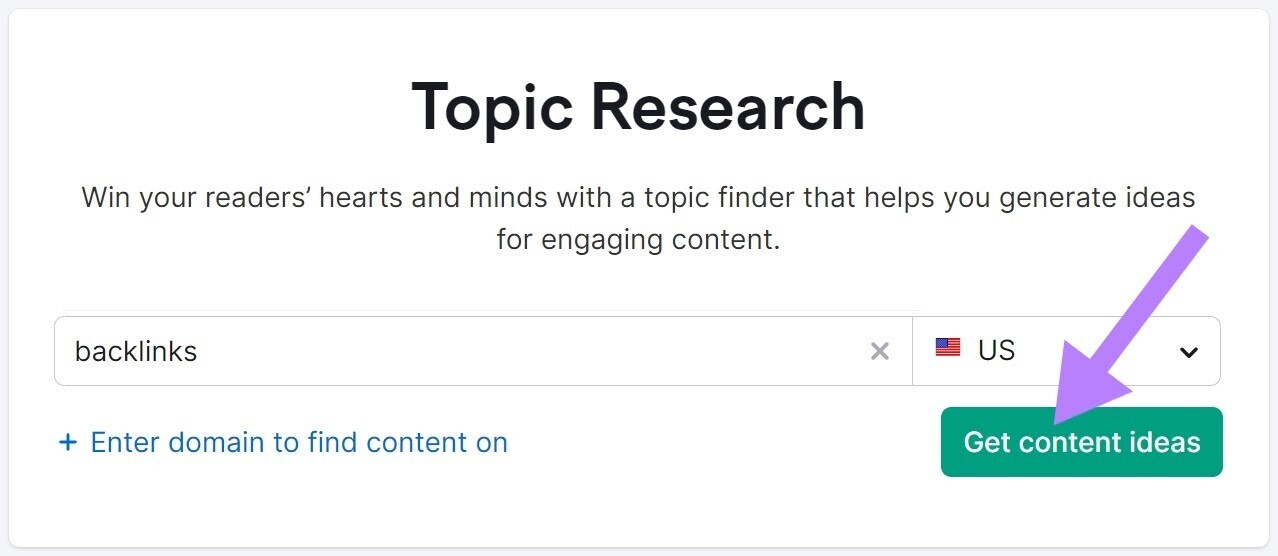 Then, prioritize your topics by "Topic Efficiency." 
These are subtopics and content ideas with high search volume and low difficulty. 
You can also see what other sites in your niche are writing about. 
Just enter the topic and add a competitor's domain where it says "Search content on domain." 
And click "Get content ideas" again. 
Now you can analyze the topics your competitors write about. And use them to create new content to boost your SEO efforts. 
Another strategy is to find valuable keywords your competitors are ranking for, but you aren't. And create content around those keywords to capture more traffic. 
Open Keyword Gap, add your domain and up to four competitors' URLs. Then, click "Compare."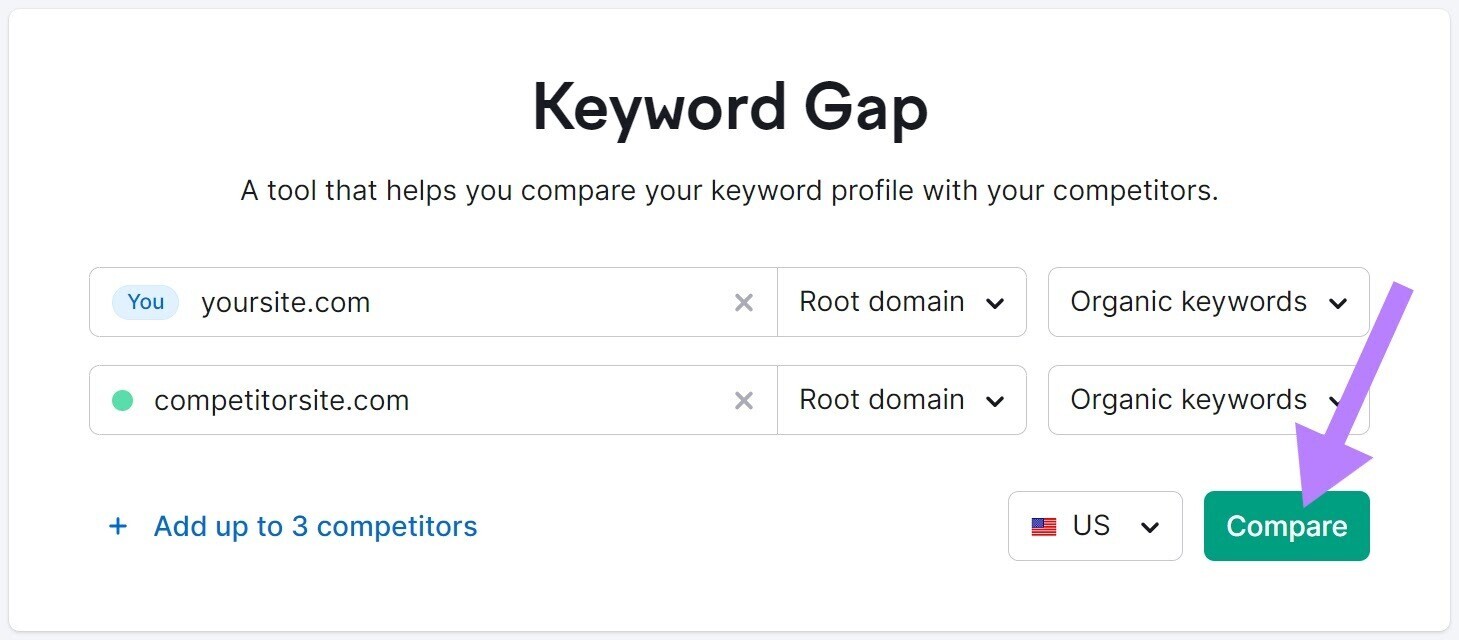 Click on "Missing" to see the keywords you don't rank for.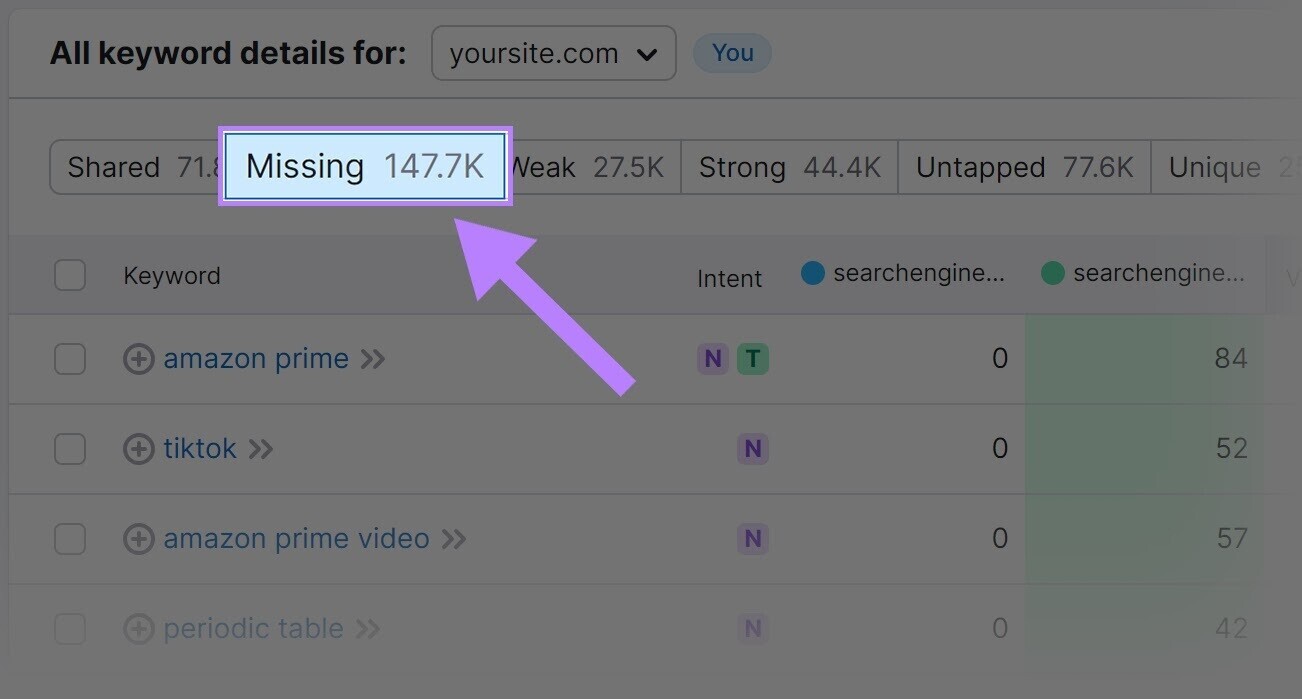 And prioritize creating content around these keywords first. 
That said, B2B content marketing involves using a host of different formats to get you in front of your target audience, including:
Blog posts
Research studies
White papers and ebooks
Videos
Webinars
Case studies
Templates and checklists
Tools
Newsletters
Further reading:
7. Promote Your Content to Earn Backlinks
Backlinks are an essential part of any successful SEO strategy. The more backlinks your site has from authoritative domains, the better your chances of ranking.
And when it comes to earning links for B2B companies, content marketing is an effective tactic. 
Once you've created a piece of quality content, you need to put in the time and effort to promote it. 
And part of your distribution strategy should be to use email outreach to encourage others to link to your site. 
That could include:
Suggesting your blog post as a link for relevant resource pages
Encouraging a journalist to write an article about your latest study
Using broken link building to find opportunities to earn links to your content
To find prospects to reach out to, use our Link Building Tool. 
Enter your domain and click "Start Link Building." 
Then, enter the keywords related to the pages you're trying to build links for.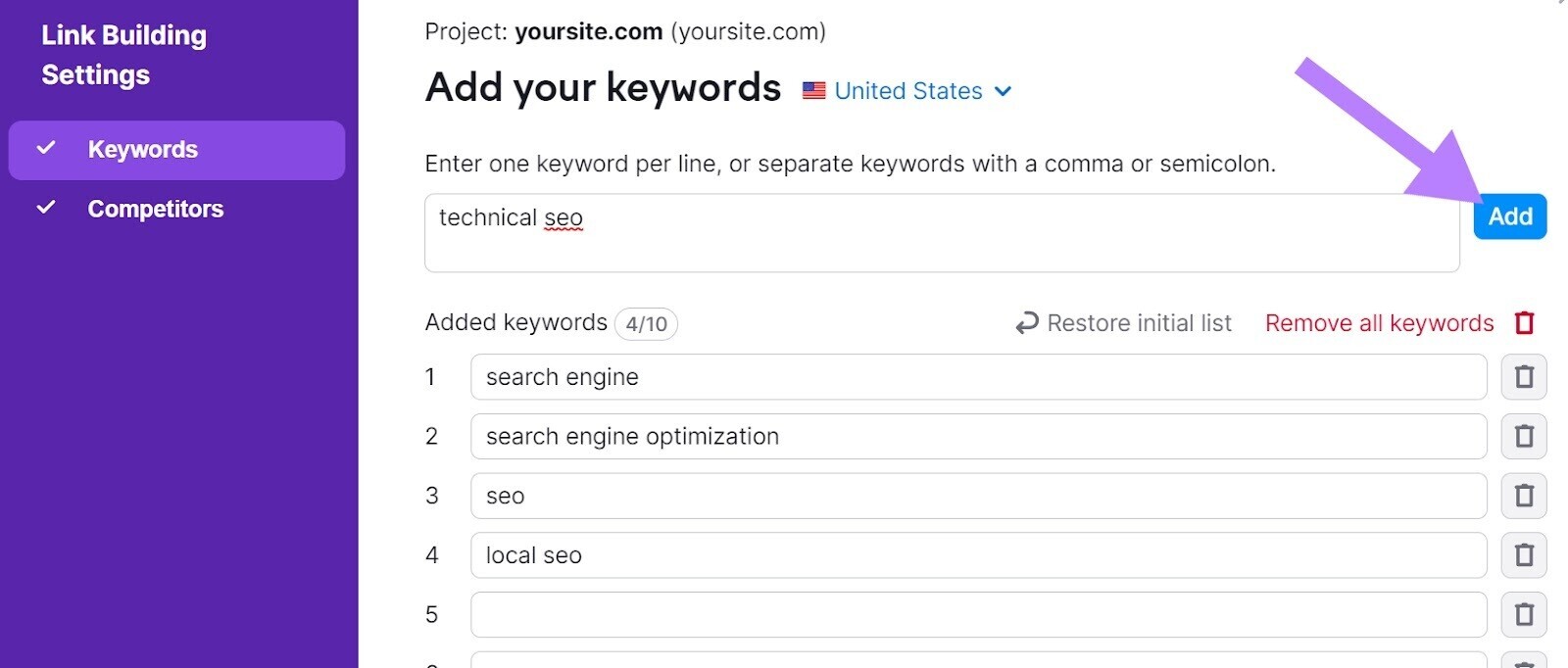 Next, click on "Competitors" and add competitors' URLs that you want to outrank.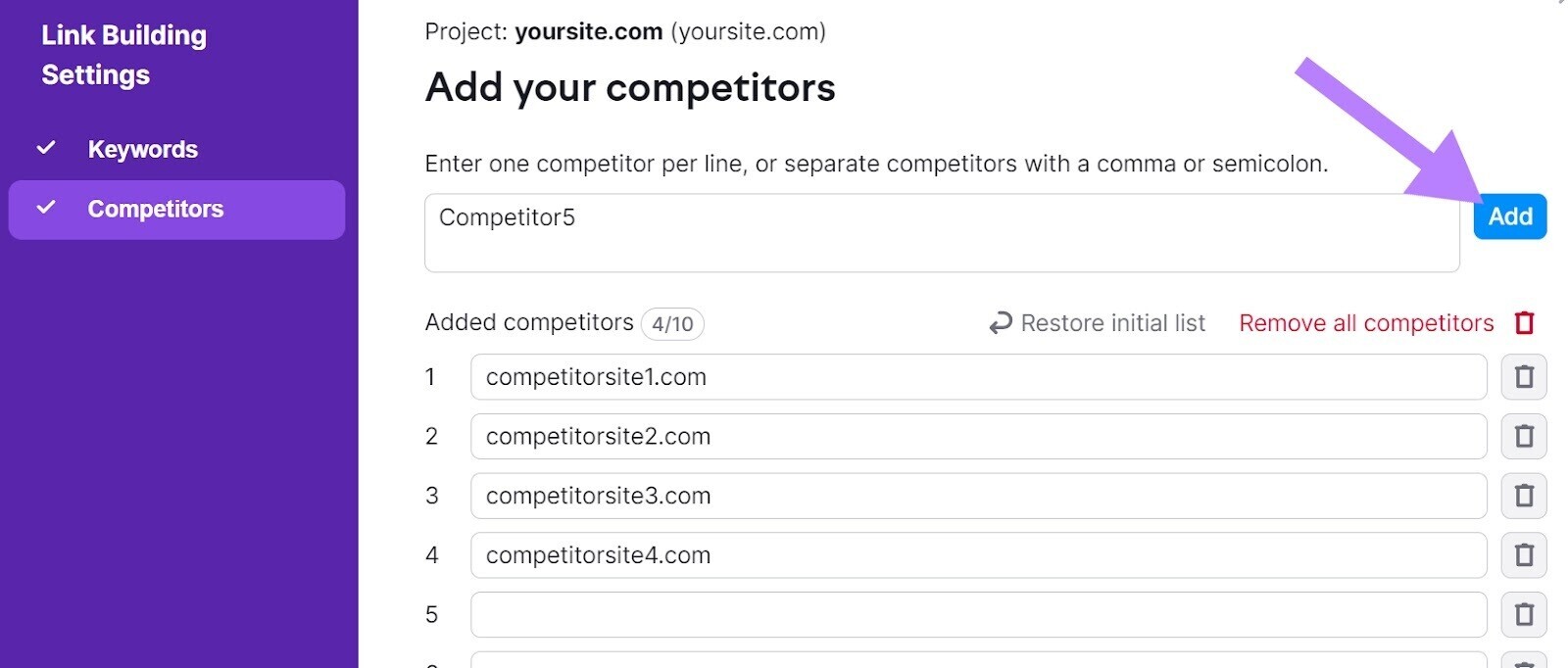 And when you're done, click "Start Link Building."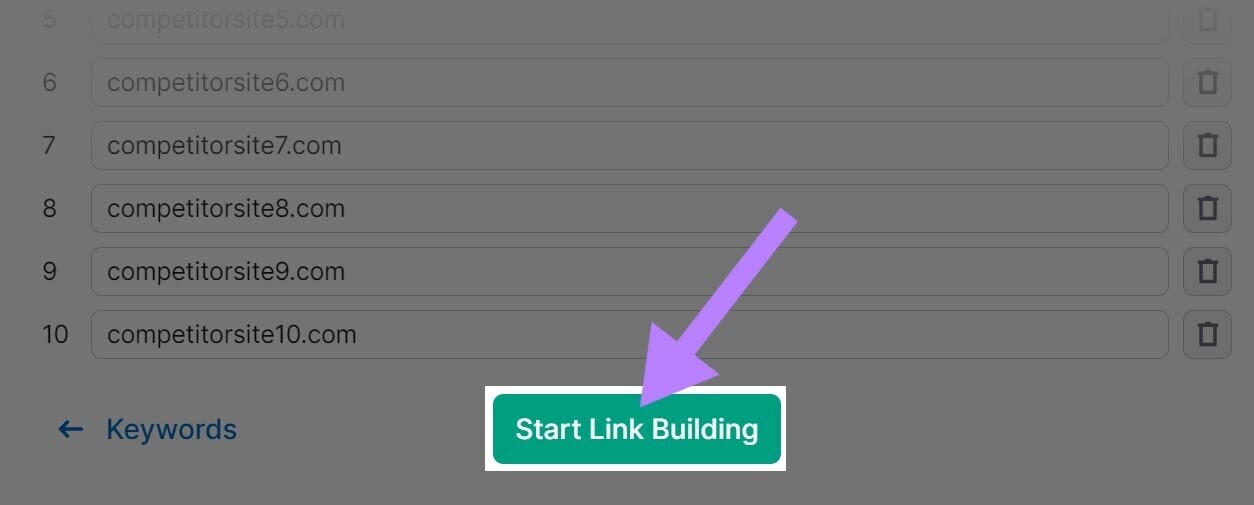 Once the tool finishes collecting and analyzing data, you'll see a list of sites you can reach out to for backlinks. 
Further reading:
Start Your First B2B SEO Strategy 
Now that you understand how B2B SEO marketing works, you're ready to start putting together your strategy. 
Keep an eye on what your competitors are doing. And audit your performance as often as possible.