B2B doesn't have to mean boring.
All too often, B2B content marketing is assumed to be dull, boring, and massively uninteresting when compared with B2C.
But scratch that.
For many B2B brands, content marketing provides the backbone of their customer acquisition strategy. When a solid strategy in place, it can be a phenomenal growth engine. 
In this guide, we'll teach you everything you need to know about driving growth for your business with content marketing, specifically covering:
What Is B2B Content Marketing?
According to the Content Marketing Institute:
Content marketing is a strategic marketing approach focused on creating and distributing valuable, relevant, and consistent content to attract and retain a clearly-defined audience — and, ultimately, to drive profitable customer action.
These principles remain the same whether you're using a B2B content marketing tactic or for your B2B or B2C company. 
Where things differ is the decision process and promotion channels that can be successful in customer acquisition and conversions. And we'll look at these differences shortly.

If we turn to Google Trends to see the growth in popularity of content marketing as a channel, there's continued interest and demand for content marketing because it works.
As consumers, we're becoming immune to advertising. In fact, at least 30% of internet users now use an ad blocker. We have increasingly complex purchase journeys where we're wanting to connect and engage with a business before making an inquiry or a purchase.
And this is where content marketing comes in.
When we look specifically at B2B, we're usually talking high-average order values and long-term commitments. These aren't throwaway consumables. Those buyers want that increased confidence that they're working with the right service provider or supplier.
Content marketing helps brands to attract, engage, and delight their audiences, both before, during, and after they make a purchase or engage a service. It's a massive opportunity to position your brand as thought leaders; as experts at the top of your field and to become a key voice in your industry. 
B2B Content Marketing vs. B2C Content Marketing
The main differences between B2C and B2B content marketing is based around the purchase journey and promotion channels, as well as the intent of the audience.
B2C marketing is often working with relatively simple and quick purchase journeys; the path between a customer discovering a business and making a purchase. 
B2B content marketing is more likely to involve a lengthy and complicated purchase funnel that could take weeks, months, or longer, of nurturing a prospect through. 
However, the underlying ethos of content marketing remains the same regardless of the audience: to use great content to engage potential customers and clients and to use this to drive a strong ROI.
The Ultimate Guide to Building Your Brand with B2B Content Marketing
Successful B2B content marketing involves the creation and promotion of useful, best-in-class content that's produced by experts.
Perhaps even more so than in the B2C space, success with business to business means not only producing great content but understanding your audience, the content that they want to consume, and how they want to consume it. 
And we're going to teach you everything you need to know to craft a solid strategy and elevate your business to the next level. 
To do this, we've broken down the B2B content marketing process from start to finish, and will touch upon:
Conducting research and putting together a strategy
How to identify and understand your customer personas 
Understanding your sales funnel
Setting goals for your content marketing efforts
Proven content formats that work for B2B businesses
Promotion tactics you can use to amplify your content
There's a lot that goes into making content marketing work for any business, but as a B2B brand in 2020, the question is whether or not you can afford to ignore this powerful tactic.
Putting Together a B2B Content Marketing Strategy
B2B content marketing success comes from having a solid strategy.
In order to put together a successful insight into what you want to achieve, and how you're going to do it, you need to understand the four key elements that should be considered:
Brand positioning
Owned media value proposition
Business case
Strategic plan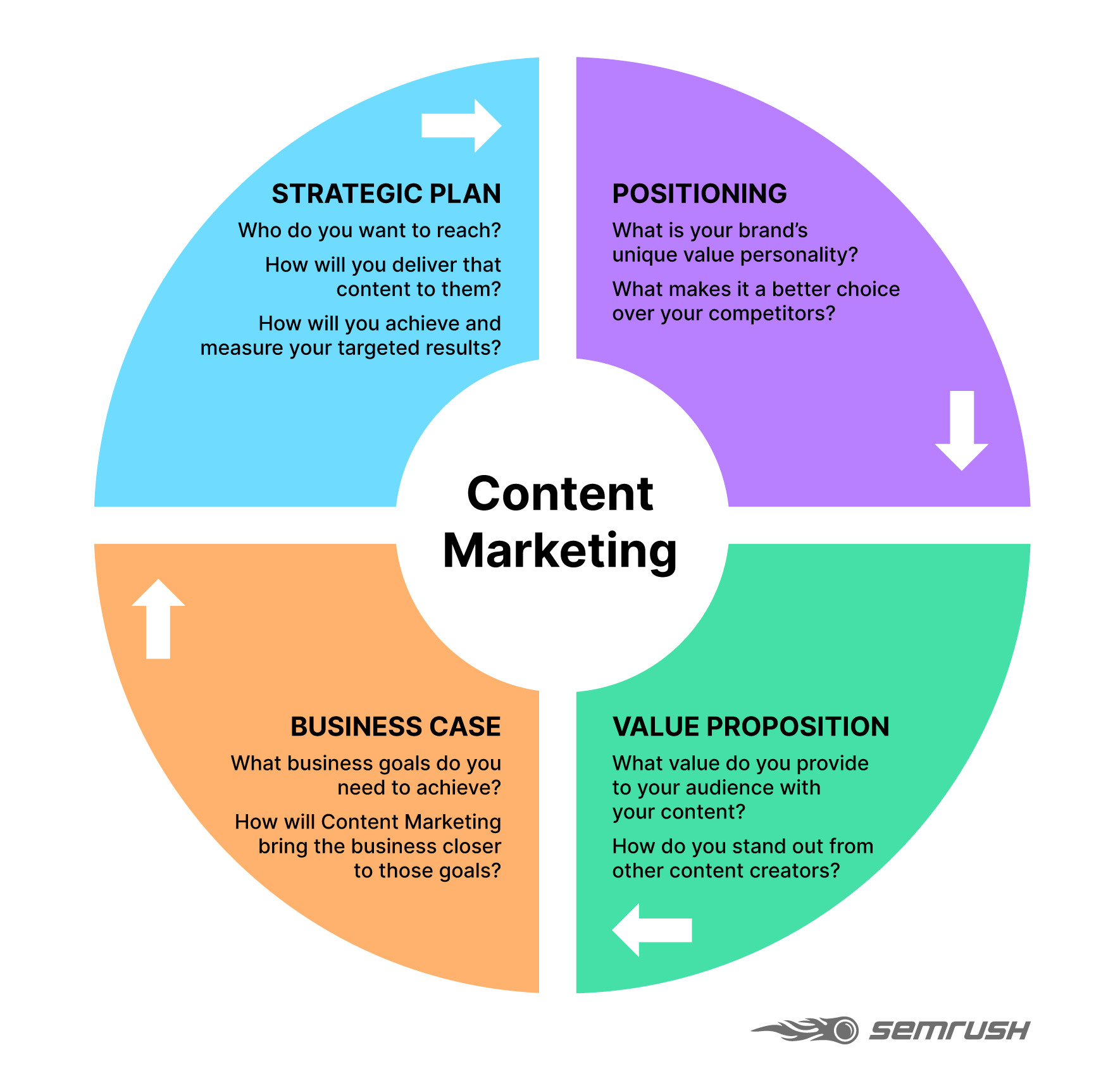 We dive deep into each of these four pillars of success in our ultimate guide to content marketing strategy, a piece that we recommend you go ahead and read.
But in order to step back and consider why a strategy is so important, we first need to remind ourselves of the difference between strategy and tactics:
Strategy = what you're going to do
Tactics = how you're going to do it 
You can think of your content strategy as being the why behind using this as a marketing tactic. It should answer questions around why you're using content marketing and clearly define the expected outcome. 
Having a strategy stops you from committing one of the biggest sins of content marketing: working blind. 
Ever heard someone recommend that you publish a blog post every day? Forget it. Ever been told that writing lots of 500-word blog posts will mean that your website ranks higher on Google because you're demonstrating that you're active? Forget it.
These myths are nothing more than hearsay and aren't true.
The purpose of a solid content marketing strategy helps you to give direction, justify the investment, and to have a clear plan that can be executed and measured. And here's how you start...
Identify Your Customer Personas
Even more so when working in B2B than B2C, you need to set aside the time to identify your customer personas. According to Econsultancy:
In order to create a representative sample of an audience, personas are based on the analysis and research of real customers. This helps to build a much more detailed picture of the (hypothetical) customer, including far more emotive information such as personal motivations, what they value in a brand, what kind of communication they prefer, etc.
Once you know who the different groups of your customers are, to a detailed level, you can build a strategy around each of these. And we've got a complete guide on how to research a customer persona that is a great starting point. 
Understanding Your Sales Funnel
In order to drive success with B2B content marketing, you need to understand how the content you create fits into the different stages of your sales funnel.
And, unlike when working with B2C businesses, a B2B brand often has a complicated sales funnel; typically given the length of time it takes to nurture a lead into a prospect.
A simple sales funnel looks like this:
But the reality is that for many B2B marketers, the sales funnel is much more complex.
Spend time working with your sales team and other departments to truly understand what your specific funnel looks like so that you can use this information to effectively map out a strategy to target leads at every stage.
Setting Goals
You need to be creating content with a purpose.
That means knowing exactly why you're creating every piece of content that you produce, as well as setting goals for each so that you can effectively measure the success.
And in many ways, we can define the purpose of content:
To rank on the search engines and drive organic traffic
To earn links 
To funnel leads through the sales funnel
To drive social engagement
To raise awareness
And this then means that the goals you set for your content could include:
The number of leads generated
Organic traffic
Social reach and engagement
Rankings achieved on SERPs
Number of quality links earned 
Impact on brand visibility
Here's a great post on goal setting that will get you thinking about this and help you to put the right ones in place for your content.
10 Proven Content Formats That Work for B2B Brands
When we think of content, we're often inadvertently drawn towards blog posts as the go-to format, but we've seen a real shift towards a wider use of different types of content in recent years. We'll explore 10 proven content formats that are perfect for B2B brands to use as part of their B2B content marketing strategy. But tread carefully to avoid the trap of working format-first.
When you work format-first in content marketing, you'll often find that you limit your creativity. Rather, take a story-first approach and begin by asking yourself what you want to communicate to your audience, and only then consider what the most effective way to do that is.
Blog Posts
Blog posts form the backbone of the majority of content marketing strategies, and that's definitely the case for B2B brands. Marketers who prioritize business blogging efforts are 13x more likely to see positive ROI, and this is down to the fact that blogging:
Is an accessible content marketing format with a low barrier to entry
Can drive significant volumes of organic traffic when this content ranks on search engines
Helps you to efficiently educate your audience through content
If you want to see a great example of B2B blogging done right, take the time to check out: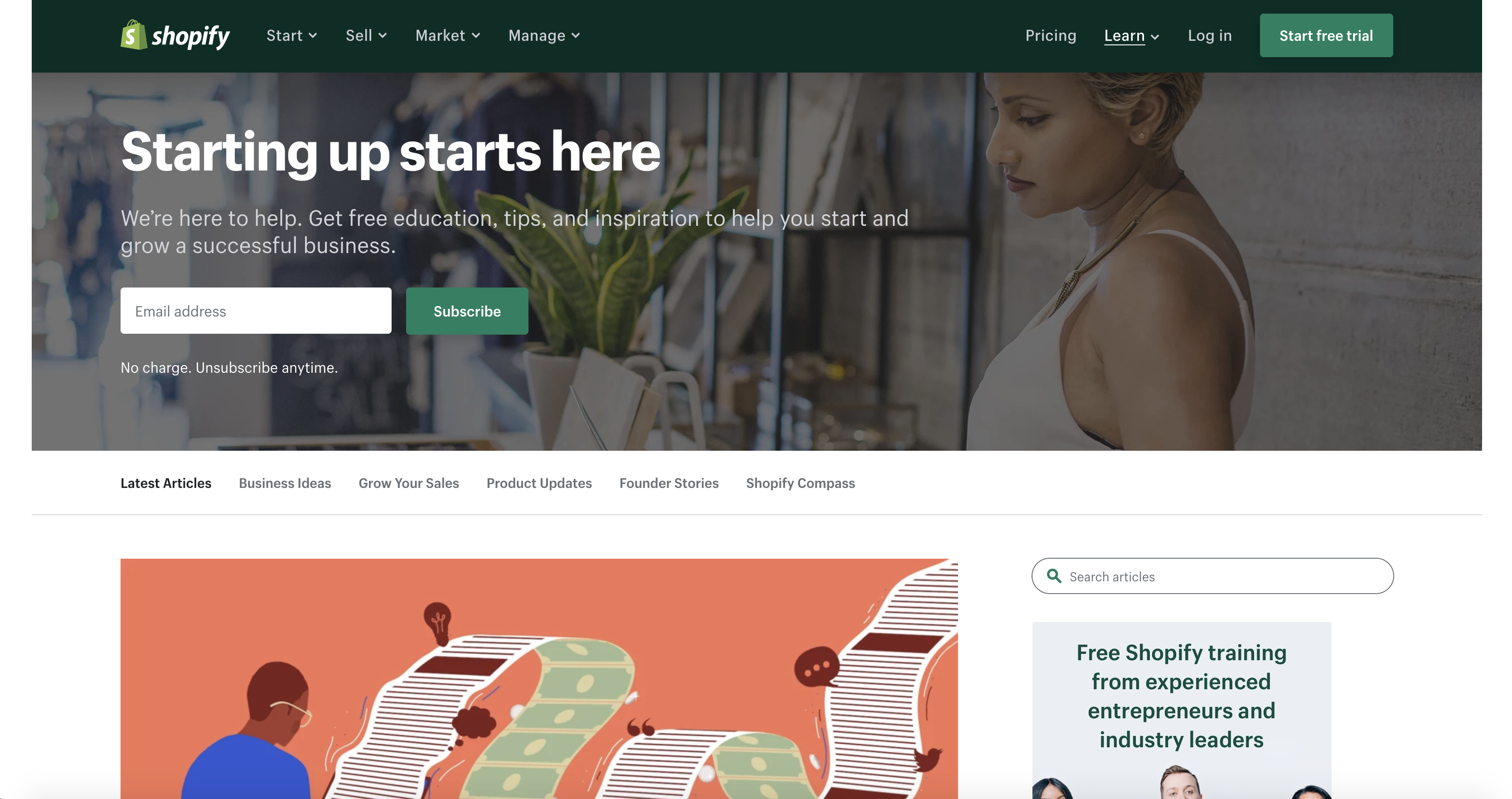 But let's step away from the concept of a 'blog' for a moment.
Too often, we think of a blog as being the news section on a website where posts are published in chronological order. But if you want to drive growth, you should move away from this mentality and see it as so much more. And Siege Media's post on " Why Your Blog is Set Up Incorrectly for SEO" is a good read for more information.
In this, author Ross Hudgens claims:
This philosophy often ends up in blogs that are created without much thought. Content is created and is never seen. The blog ends up as a graveyard, and as a graveyard that never drove value for the core business.
Your blog should be seen as so much more than a place to publish content. It should be seen as an opportunity to position yourself as industry experts, own SERPs for core topics relating to your business, and drive an increase in organic traffic. 
Original Research Studies
If you want to truly stand out with your content against your competitors, you'll need to go above and beyond what they're doing. One of the best ways that you can do this is by publishing original research studies. Conducting your own research and publishing the findings is so powerful in B2B for two main reasons:
It helps to make you stand out with content that your audience actually wants to consume because it's totally unique. This means they're far more open to sharing and linking to these resources. 
It's a surefire way to position yourself as a thought leader in the industry, which is really important in the B2B space. If you get research studies right and you'll have other people in your industry talking about you, too.
Think about:
What questions do your potential clients and customers have that they want to be answered and that you could use data to show?
What are the hot topics in your industry right now that you could share new insights into?
A great example of an original research study comes from Backlinko, and Brian Dean's analysis of search engine ranking factors.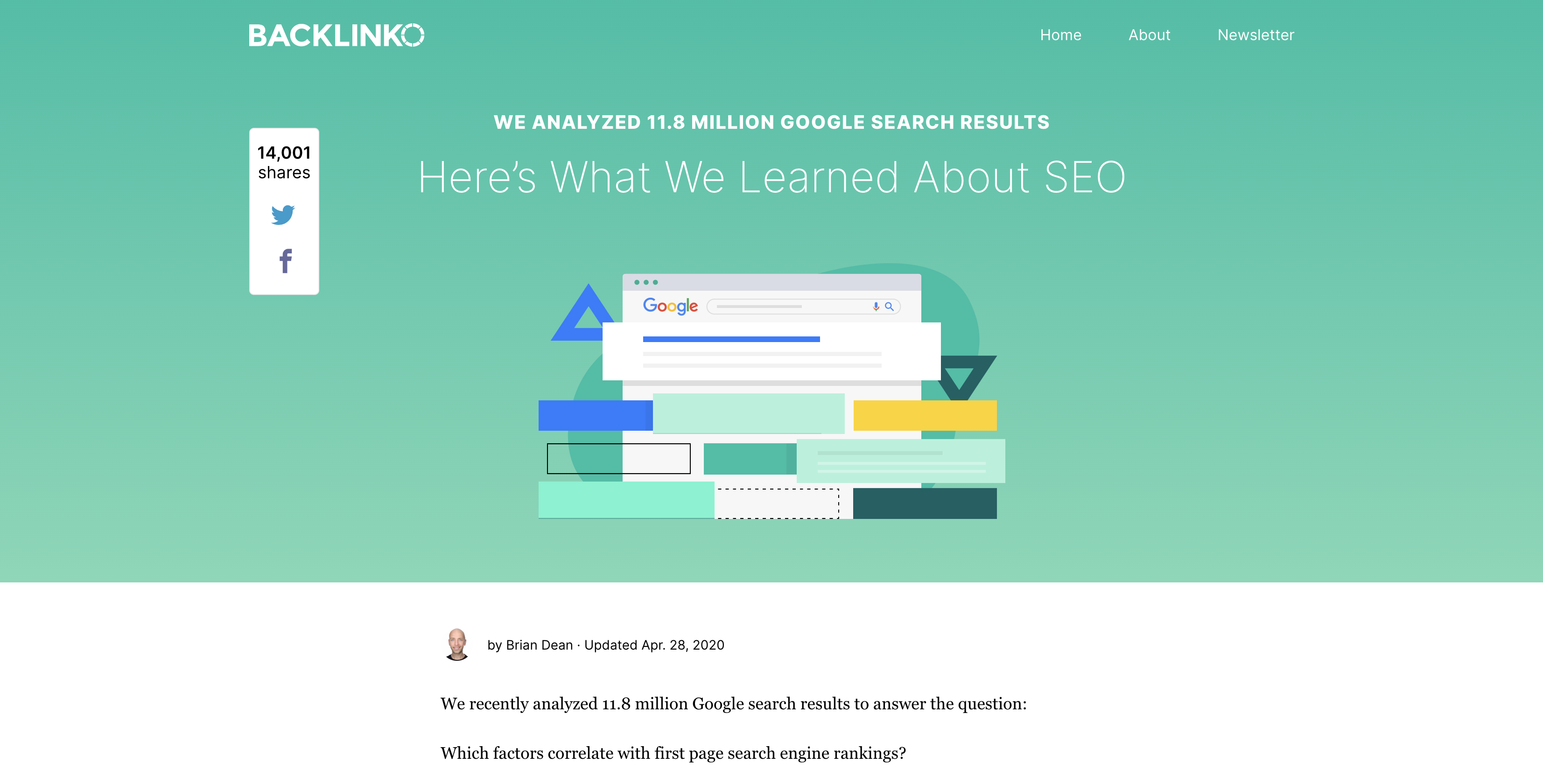 This study dives deep into an original analysis of ranking factors and, to date, has earned links from 2.8k referring domains.

It's clear that pieces like this get people talking. You can publish the findings of these studies either as blog posts, standalone assets, or even as white papers. They're the perfect way to bring together multiple content formats. 
White Papers / eBooks
White papers and eBooks are still incredibly popular amongst B2B marketers.
And it's encouraging to know that " 79% of B2B buyers list white papers as the material they were most likely to share with colleagues."
It's important that you're layering different content formats into your wider strategy that work together to drive results. One of the hardest jobs that a B2B marketer has is getting buy-in from a whole team, not just a single individual.
Perhaps the B2B brand who has really mastered the art of using white papers to fill up their funnel is HubSpot. Their ' a beginner's guide to social media' is the perfect way to engage a company looking to get started on social for the first time and give them a wealth of actionable ideas.

Videos
Video content is booming in popularity right now and one of the reasons why is because the barrier to entry has become so low.
In many ways, you can film a video that's of a high enough quality to host on YouTube and use on social media with nothing more than a smartphone (or with a little bit of a budget, you can massively improve your set up and quality). 
But what should you create video content around? The opportunities are endless but just as with other content formats, it pays to put together a solid strategy. You can read how to do this in our guide on " How to Develop a Video Marketing Strategy That Drives Business."
The power of video is that you can use it across so many different channels, including optimizing natively for YouTube to reach new audiences, as well as on LinkedIn and other social platforms. Don't discount the power of a solid video strategy as a B2B brand. 
Webinars
While you could perhaps consider webinars to fall under your video strategy, these can also be seen as a separate content format. When it comes to putting together a webinar strategy, one of the key benefits is that "most webinars are used to educate an audience about a particular topic or industry."
Here at Semrush, webinars have been a solid part of our content marketing strategy for many years, using these as an opportunity to connect the industry and invite best-in-class speakers and panelists to share their tips, tricks, and insights.
Podcasts
Podcasts are perhaps the next big thing in B2B content marketing.
In fact, 16 million people in the U.S. are "avid podcast fans" and podcast listeners listen to an average of 7 different shows per week ( Podcast Insights). Podcasts are an effective way to build an audience. You can follow a similar strategy to webinars to reach new audiences and truly be seen as a voice in your industry. 
See this guide on how to get started with podcasting for more inspiration, but a really important takeaway from this is that:
The more I have jumped into the world of podcasting, I have found that there are so many 'content marketing' opportunities it is insane. I absolutely consider Podcasting content marketing, but even beyond that, there are so many opportunities to take advantage of it.
 Why not also check out the Semrush podcast ( The Marketing Scoop) to see how we do things?
Case Studies
Maybe you've never considered case studies as a form of content marketing? Well, they are. And you should be using case studies to target your potential customers and prospects who are lower down the sales funnel.
In fact, according to Case Study Buddy, "77% of B2B buyers cite customer success stories as the most influential content they consumed and 65% of B2B marketers rank case studies among their top 3 most effective content types."

You can't argue with stats like these.
Templates and Checklists
If you're able to help your customers, you'll be right at the front of their mind when they need the service that you offer. In fact, sharing free templates and checklists is a very valuable content marketing format, especially for B2B.
Let's use FreshBooks as an example. Run a Google search for 'invoice template' and this accounting platform ranks no.1 in the U.S.:

And let's not forget that the search term "invoice template" receives 110k searches in the US every single month.
Head to this page and we can see that this is so much more than a sales page, rather a clever use of content marketing to attract potential customers.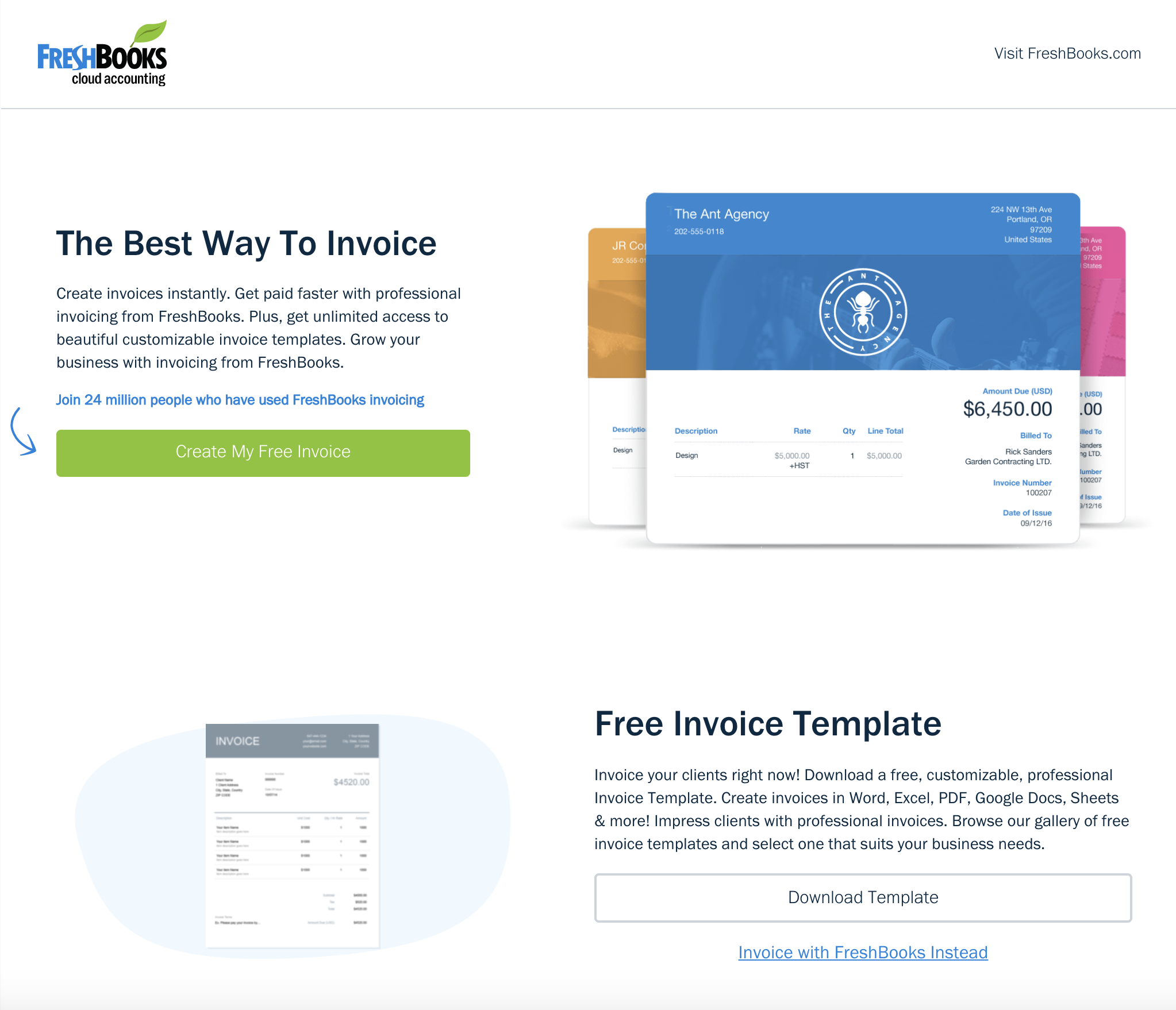 If a user is searching for an invoice template, they need to send an invoice. This usually means they're running a business, but don't have a dedicated accounts platform.
These people are the exact target audience that FreshBooks wants to connect with and who could benefit from their offering. By creating content that is free and useful to their target audience, they're getting in front of the right people, building a funnel, and putting themselves right out there as a solution.
Tools
If you truly want to understand the power of tools as part of your content marketing strategy, stop what you're doing and go and read our post " How to Use Semrush for Content Marketing."
It's the perfect insight into how to supercharge your strategy with free tools that your audience can benefit from. Shopify has developed an effective free tool with its  privacy policy generator.
What makes free tools so successful is that, like with templates and checklists, you're helping your audience to solve a problem. And when you're able to identify these problems and serve free solutions that truly help, they're the perfect way to accelerate your growth through useful content.
Newsletters
You might wonder whether newsletters are still popular? They absolutely are. Statistically, " email generates $38 for every $1 spent, which is an astounding 3800% ROI, making it one of the most effective options available."
When you're able to effectively use email to communicate with both prospects and existing customers, you'll remind them that you're there, keep in touch, and keep them in your funnel. Our " Essentials of High-Performing Email Marketing Programs" guide is a great read to learn tips and tricks on how to drive success. Think carefully about how to segment your audience for maximum impact and the content that is distributed to these groups. 
B2B Content Marketing Tactics That Actually Work
It's one thing creating B2B content, but if no one knows that it exists, you'll be disappointed with the end results. Having a solid promotion strategy is extremely important. The good news is that there is a wealth of channels that can help you to get your content seen. 
Leverage LinkedIn
As a B2B marketer, you cannot ignore LinkedIn. LinkedIn has 310 million active monthly users, with 167 million of these in the U.S. alone. Interestingly, 90 million LinkedIn users are senior-level influencers and 63 million are in decision-making positions, per  Omnicore.
If you want to get your content seen by your target audience, you need to be on LinkedIn as it is the primary social platform for B2B. 
And this great guide from LinkedIn themselves can help you to put together a solid promotion strategy. The platform is great for sharing:
Opinions and insights as posts
Long-form content and blogs on LinkedIn Pulse
Video content
Images
Whitepapers and more
Facebook, Twitter, and Other Social Platforms
Facebook, Twitter and other social media platforms have solid audiences for you to use to promote your content. In this guide,  How to Create a B2B Social Media Strategy (Without Being Boring), you can learn how to leverage social to help you to stand out on the platform.
They might not have the same impact as LinkedIn, but they can be great for widening your reach to your target audience. 
Paid Promotion
When we think of content marketing, we often think of it solely as an organic marketing channel. But by doing this, you could be missing out on opportunities to amplify your content to new audiences.
One tactic to consider is to leverage paid promotion across LinkedIn Ads, Facebook Ads, Twitter Ads, and YouTube. You can even use platforms such as Reddit to place content in front of your target audience to take advantage of the targeting options available.
Why not take a look at this quick-start guide to paid content promotion for more ideas?
Email Marketing
We've already discussed newsletters as a solid B2B content marketing format, but when it comes to using email as a promotion tactic, you need to build up your email list to have a database of people to send to.
To do this, you can consider things like:
Including a newsletter sign-up box in your content to capture readers while they're enjoying other pieces
Clearly displaying a sign-up box on all pages of your site
Capture email addresses via content assets such as tools and checklists
This guide on  29 Simple Ways to Grow Your Email List is a great starting point for more ideas.
SEO
SEO should be a core part of your B2B content marketing strategy. Why?
When content ranks on search engines for core queries, it can send targeted traffic that could turn into a prospect. That's why it's important that every piece of content is created with the purpose of driving organic traffic and that it ranks highly on SERPs. 
When researching topics and content ideas, you can use the Keyword Magic tool to help you find the right keywords and variants to target in the first instance for quick ideas.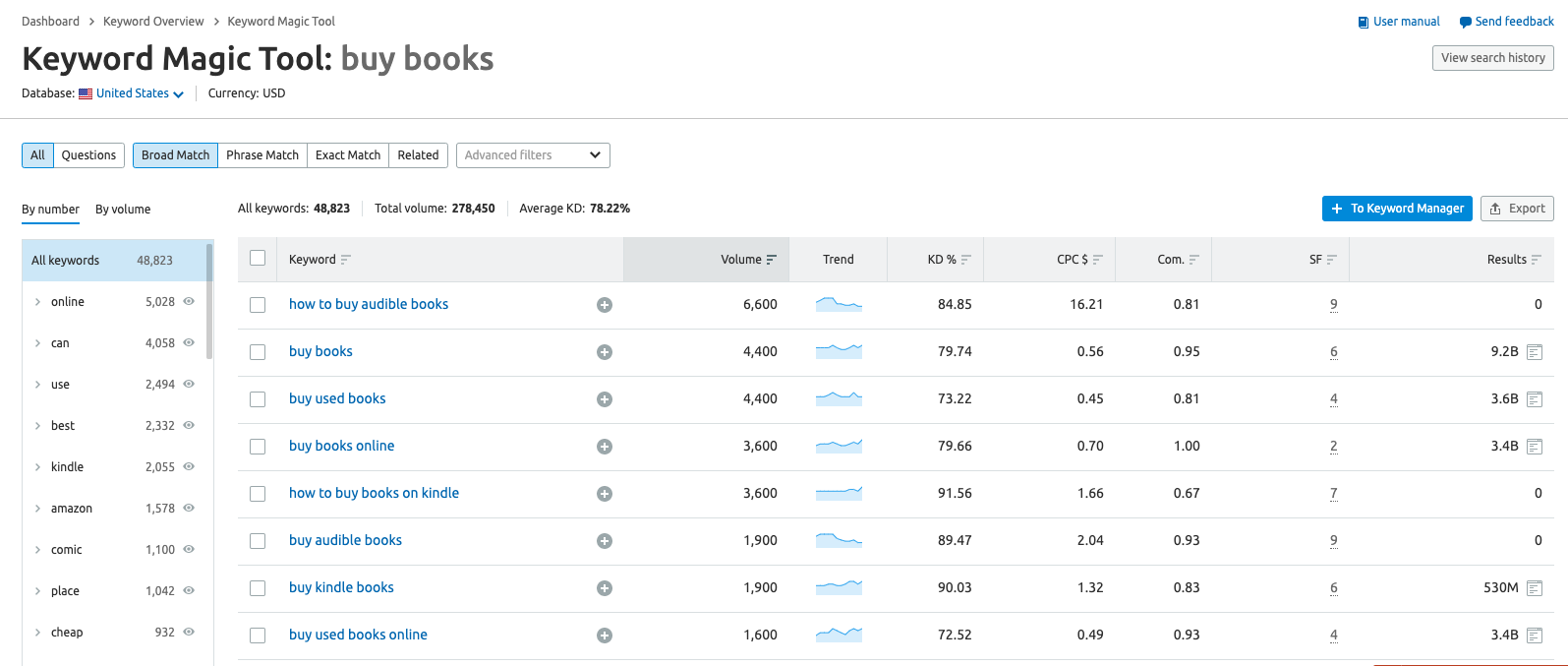 But to dive further into coming up with ideas for great content in the first place, use the Content Marketing Platform. Enter a topic and you'll be served some awesome insights into subtopics to consider working into your strategy.
And then when it comes to creating content, be sure to use the SEO content template to make sure you're creating a page that's worthy of ranking in the top spots.
And lastly, use the SEO Writing Assistant to make sure that your content follows best-practice recommendations. Putting together a strategy that layers content at different stages of the funnel, and performs organically, can accelerate your growth. 
Reddit
If you're not using Reddit to promote your B2B marketing content, you could be missing out on a huge opportunity to directly engage with. Our guide to Reddit SEO gives a great insight into how you can build a solid strategy that leverages the platform for success and will talk you step by step through a proven process to make it work for your brand. It's another avenue for amplifying your content, and one that many marketers still haven't latched onto.
Partnerships and Collaborations
Collaborations and partnerships can help to amplify your content in a number of different ways. You should consider partnering up with supplementary, but not competing, businesses to:
Put out a joint white paper or eBook
Run a joint webinar
Host a podcast together
Write for each other's blogs 
The benefit here is that both parties win by being introduced to the other one's audience, and there's usually double the promotion efforts, too. Think about who it might make sense to partner up with, reach out, and sell the benefits. 
---
B2B content marketing opens up a wealth of benefits to drive huge success, and it's very much at the forefront of many business's campaigns. 
Take the time to understand how you can effectively develop a B2B content marketing strategy for potential and existing customers using different formats of content. A good content strategy integrates many of the different topics discussed, and then you'll stand out in the B2B content marketing space.