Today, you'll learn exactly how to optimize your blog for SEO. And get more traffic.
We've used the steps in this post to grow our own blog to roughly 1.1 million organic search engine visitors per month.

(Organic traffic estimation in Semrush's Domain Overview tool)
But before we get into the specific tactics, let's understand the basics first.
What Is Blog SEO?
Blog SEO is the process of writing, optimizing, and publishing blogs designed to rank in search engines like Google and Bing.
Common tasks associated with blog SEO include:
Performing keyword research
Creating quality content
Optimizing content for on-page SEO
Building backlinks
How Does Blogging Help With SEO?
Blogging is one of the most effective strategies to help you grow your organic traffic and reach more customers. It can help you rank for more keywords, earn backlinks, boost brand awareness, and keep your site content fresh and current. 
However, it requires planning, research, optimization, and promotion to make it work.
Why Is Blog SEO Important?
Anyone can create a blog. But not everyone who creates a blog gets traction.
But optimizing your blog for SEO can earn you free traffic from search engines.
Any independent blogger or online business with a blog can benefit from SEO.
By attracting visitors that are interested in your content, you can:
Grow your blog's audience
Establish yourself as a thought leader in your niche
Increase newsletter signups
Generate more leads for your business
SEO Blog Tips
Here are eight essential tips to help you optimize your blog:
Write about topics people are searching for
Get the search intent right
Create quality content
Do on-page SEO
Make your blogs easy to read
Monitor technical SEO issues
Build backlinks
Update older content
1. Write About Topics People Are Searching For
To earn traffic from Google, you need to write about topics people are searching for.
But how do you find such topics?
Use keyword research tools like Semrush's Keyword Magic Tool.
Enter a broad keyword related to your niche. For example, if you run a health and fitness blog, that keyword could be "exercise."
Then, click "Search." 

Toggle to the "Questions" tab.
The tool will show a large pool of topic ideas. Along with important keyword metrics like search volume and keyword difficulty.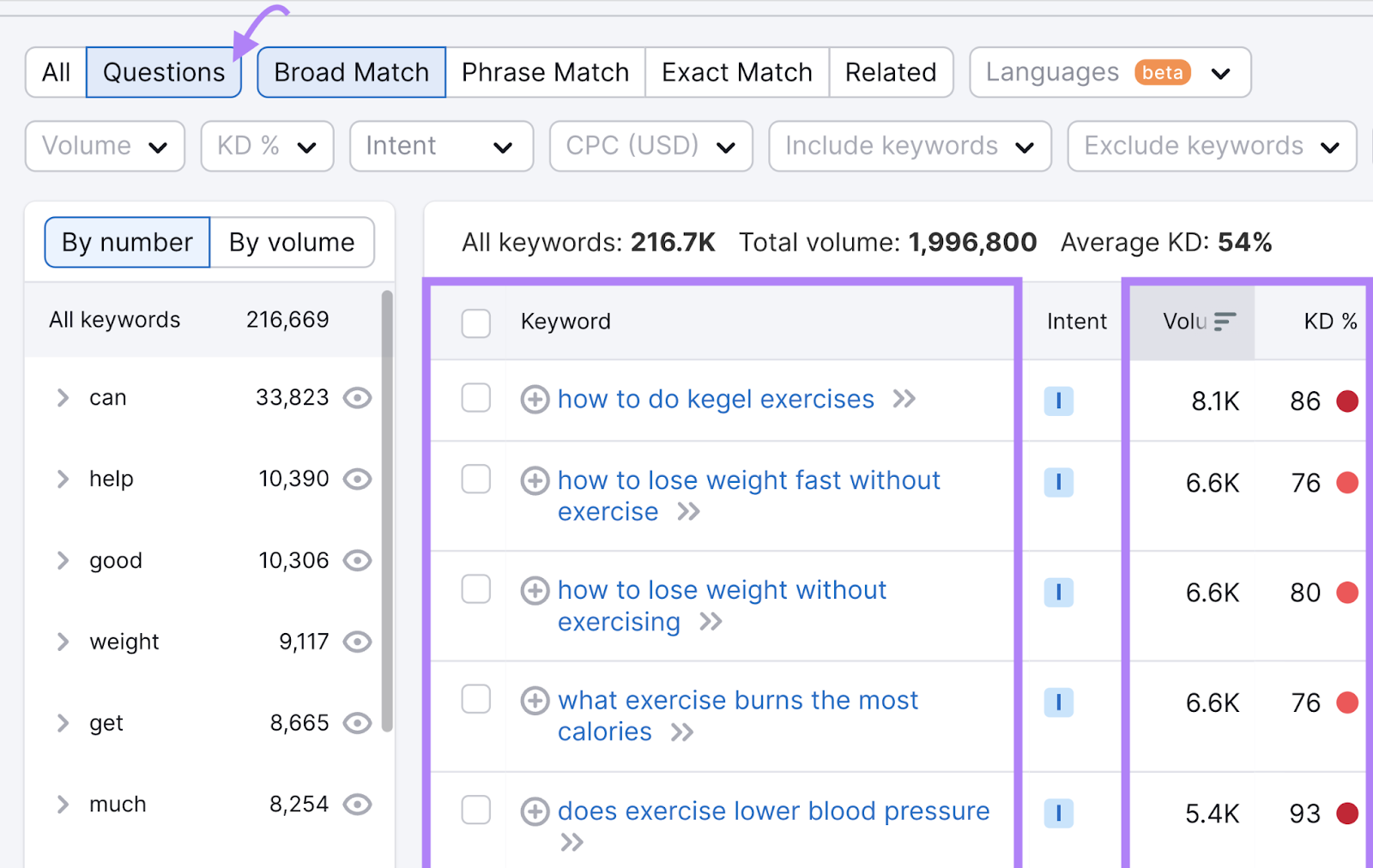 Search volume is the average number of times a keyword is searched for each month.
Keyword difficulty tells you how hard it would be to rank organically in the top 10 search engine results.
If your blog is new and you want to rank relatively quickly, focus on topics with lower keyword difficulty.
To find such topics, set the KD (Keyword Difficulty) filter to "Easy."
Now you have a list of topics that are easier to rank for.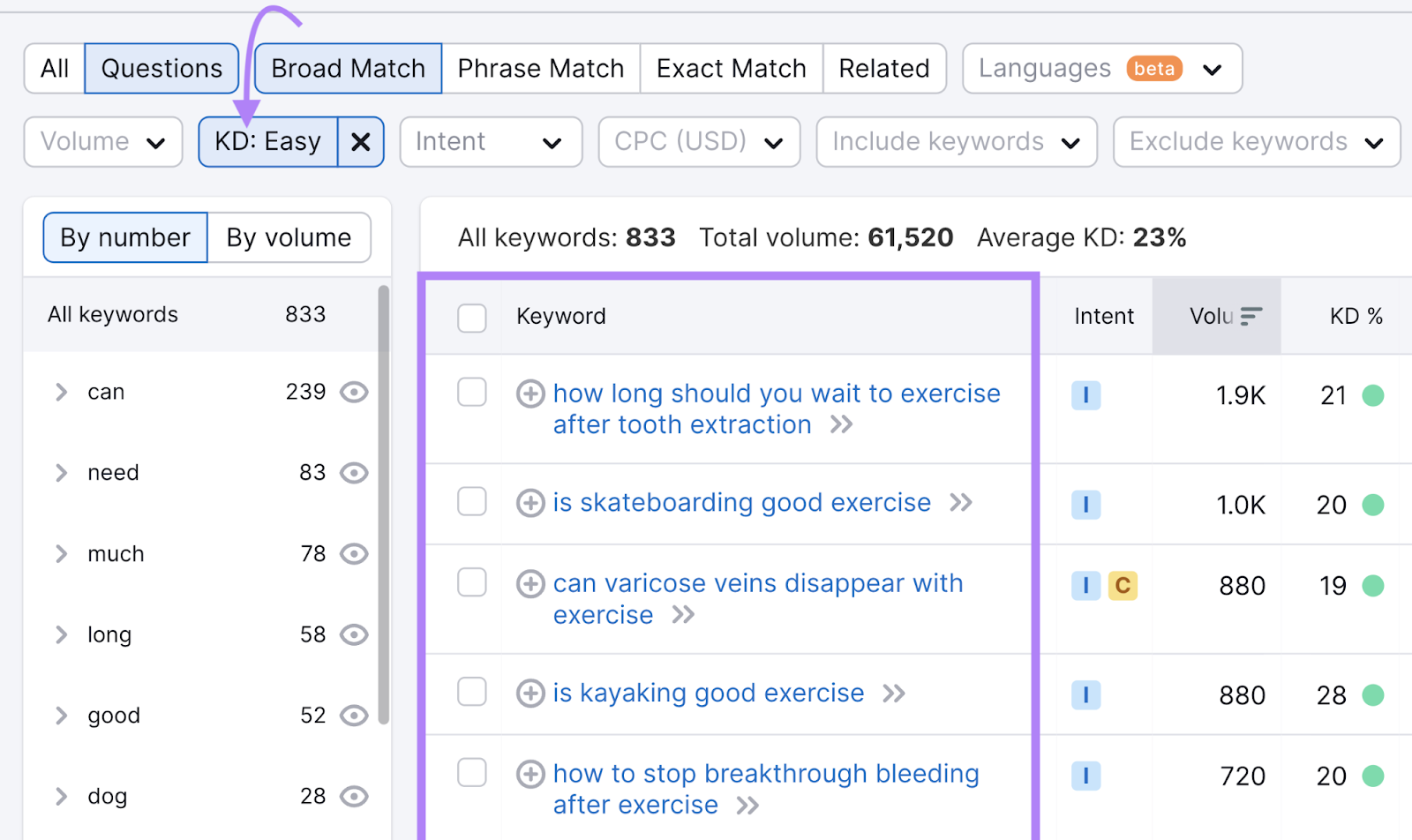 Go through the list. And pick topics that interest you and are relevant for your business to cover.
2. Get the Search Intent Right
Once you know which topics to write about, the next step is to understand search intent. And to create content accordingly. 
Search intent is the why behind searches.
Blog keywords typically have informational search intent: The searcher is looking for information.
And that information could be delivered in one of these content formats:
How-to guide
Listicle
Definition post
Comparison post
If you want your blog to rank higher, deliver information in the content format searchers are interested in.
Analyze the top-ranking pages to figure that out.
For example, here are the top results for "how to lose belly fat."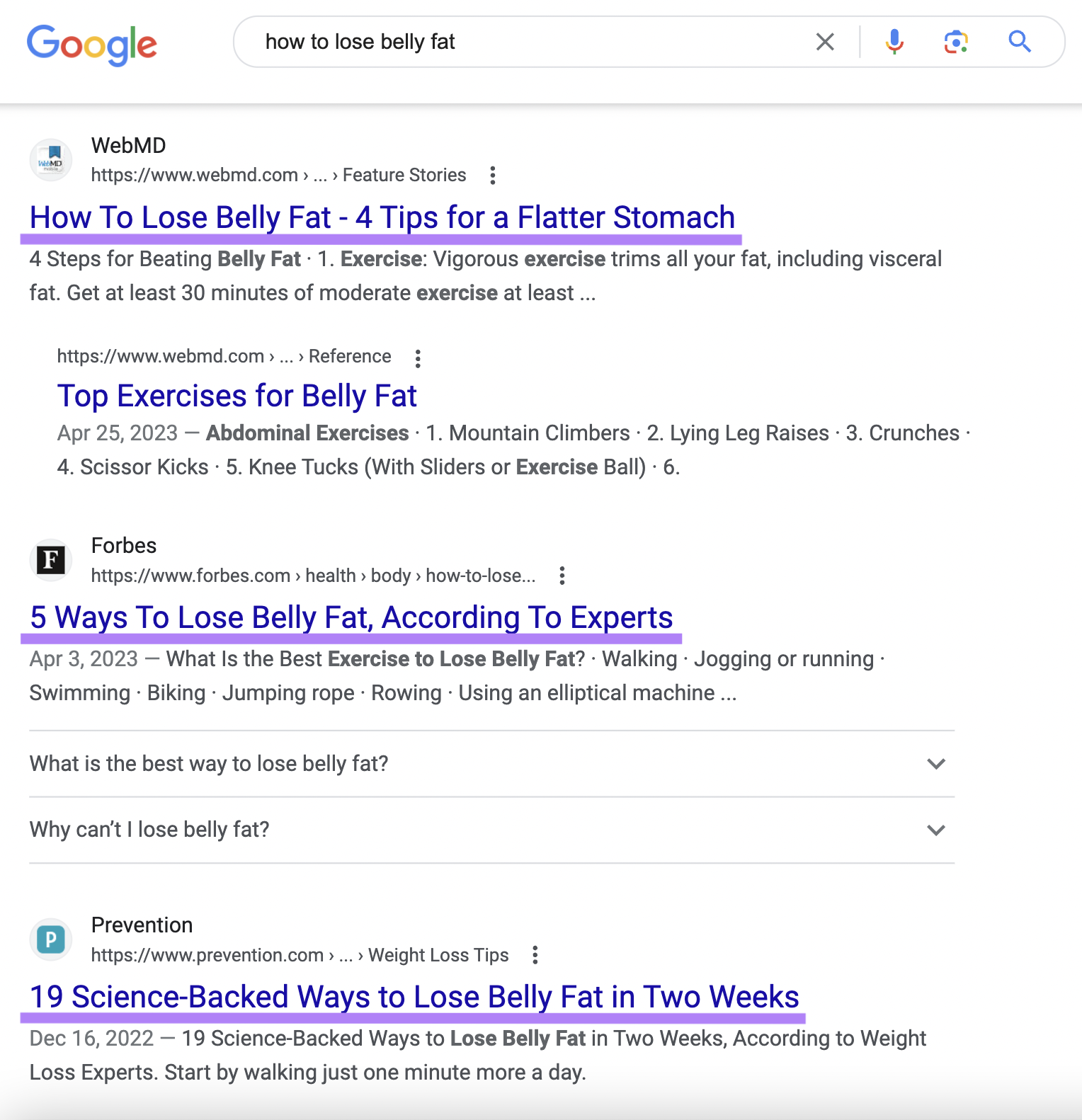 Most of the top-ranking pages are listicles with tips for losing belly fat.
To rank for this keyword, you likely have to create something similar—i.e., a listicle post with tips.
3. Create Quality Content
Create quality content, and Google is likely to reward you with higher rankings and more traffic.
According to Google's guidelines, quality content is useful and interesting. And that means it is:
Clearly organized
Easy to read
Unique and fresh
Satisfying the search intent
Following Google's E-E-A-T guidelines. 
Hiring subject matter experts to create your content is a great start.
Their level of knowledge in a particular field will be reflected in their content.
For example, the content you see on our blog is created by SEOs and marketers with years of experience in the field.
My colleague, Zach Paruch, has more than eight years of experience in SEO and web marketing.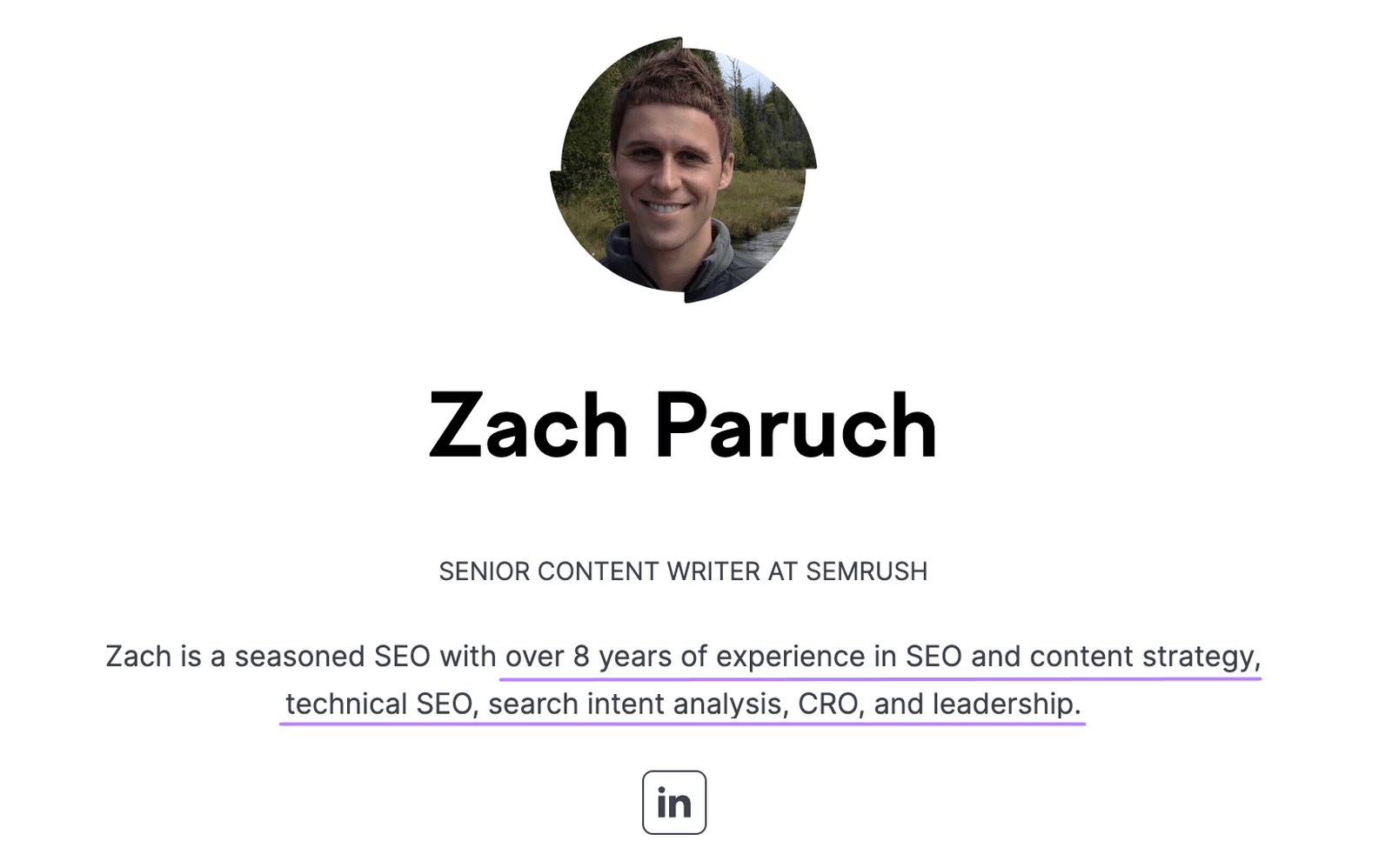 The content he has written for us is useful, informative, and well-written.
It is clearly organized with headings and subheadings:
Easy to read with short paragraphs and simple words:
And thorough and in-depth: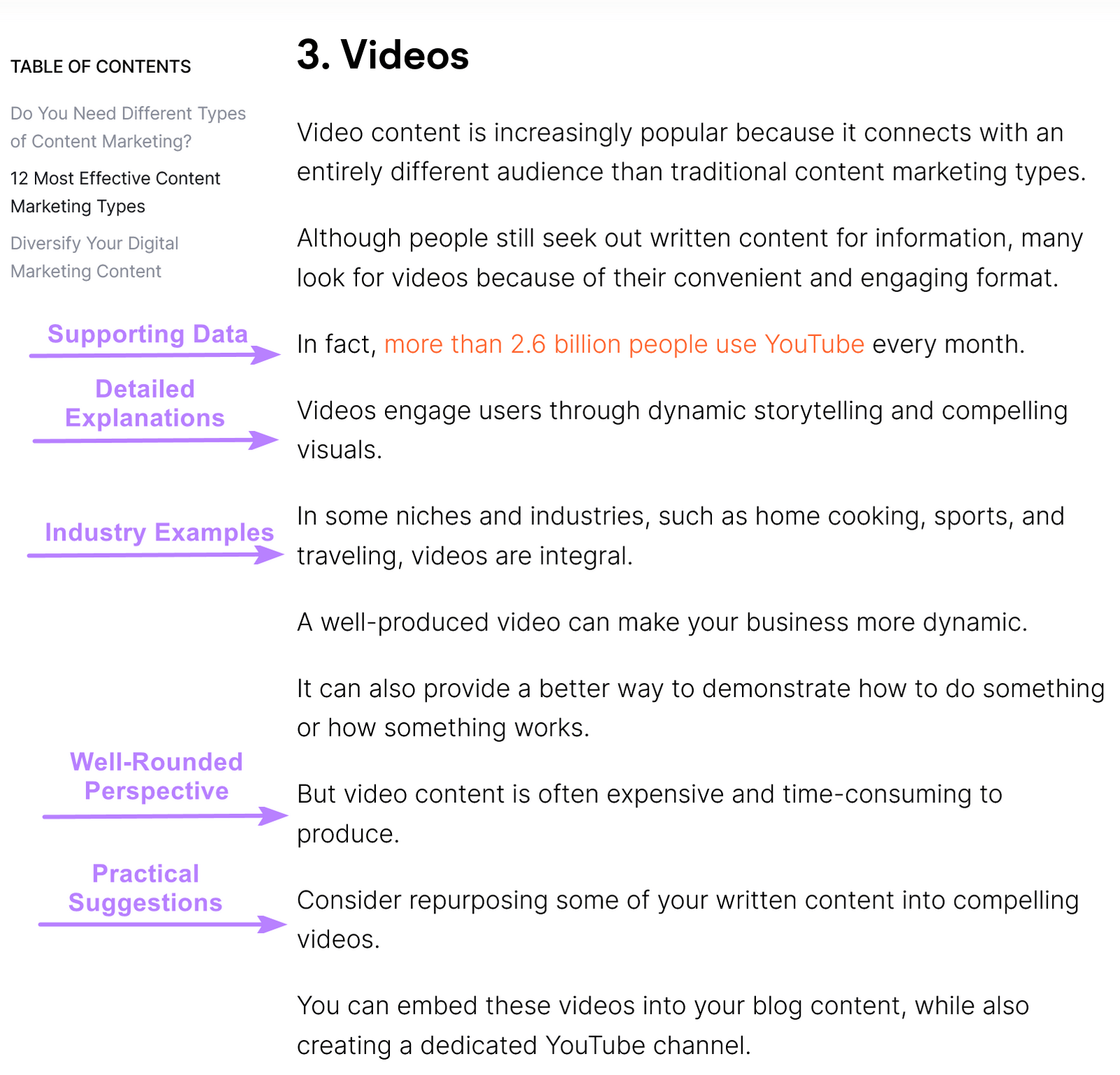 You need to do the same for your content.
4. Do On-Page SEO
When you're doing SEO for a blog, you also need to implement on-page SEO best practices.
So Google can better understand your content. And rank it properly.
Use the following tips:
Include your target keyword in the title tag. This helps demonstrate to searchers and Google that your blog post is the most relevant result for a particular query.
Write a compelling meta description. Because you want people to click on your blog post once it ranks in search results, your meta description should be compelling.
Use short, descriptive URLs. This lets searchers know what to expect from a blog. (e.g., domain.com/blog/weight-loss-tips/ is clearly a post about "weight loss tips"). 
Include your target keyword in the H1 tag. This will help your page rank for the term
Include your target keywords in the body. This shows Google that your content is relevant for specific queries. But don't add them in unnaturally. 
Link to relevant internal resources. This helps users and Google find other relevant content on your website. 
Add alt text to images. Google uses alt text to rank images in Google images.
If you're a WordPress user, installing an SEO plugin like Yoast will make the above tips much easier to implement.
Then, use Semrush's On Page SEO Checker tool to cross-check whether your blogs are properly optimized.
First, configure the tool for your site.
After the setup is complete, click the "Optimization Ideas" tab.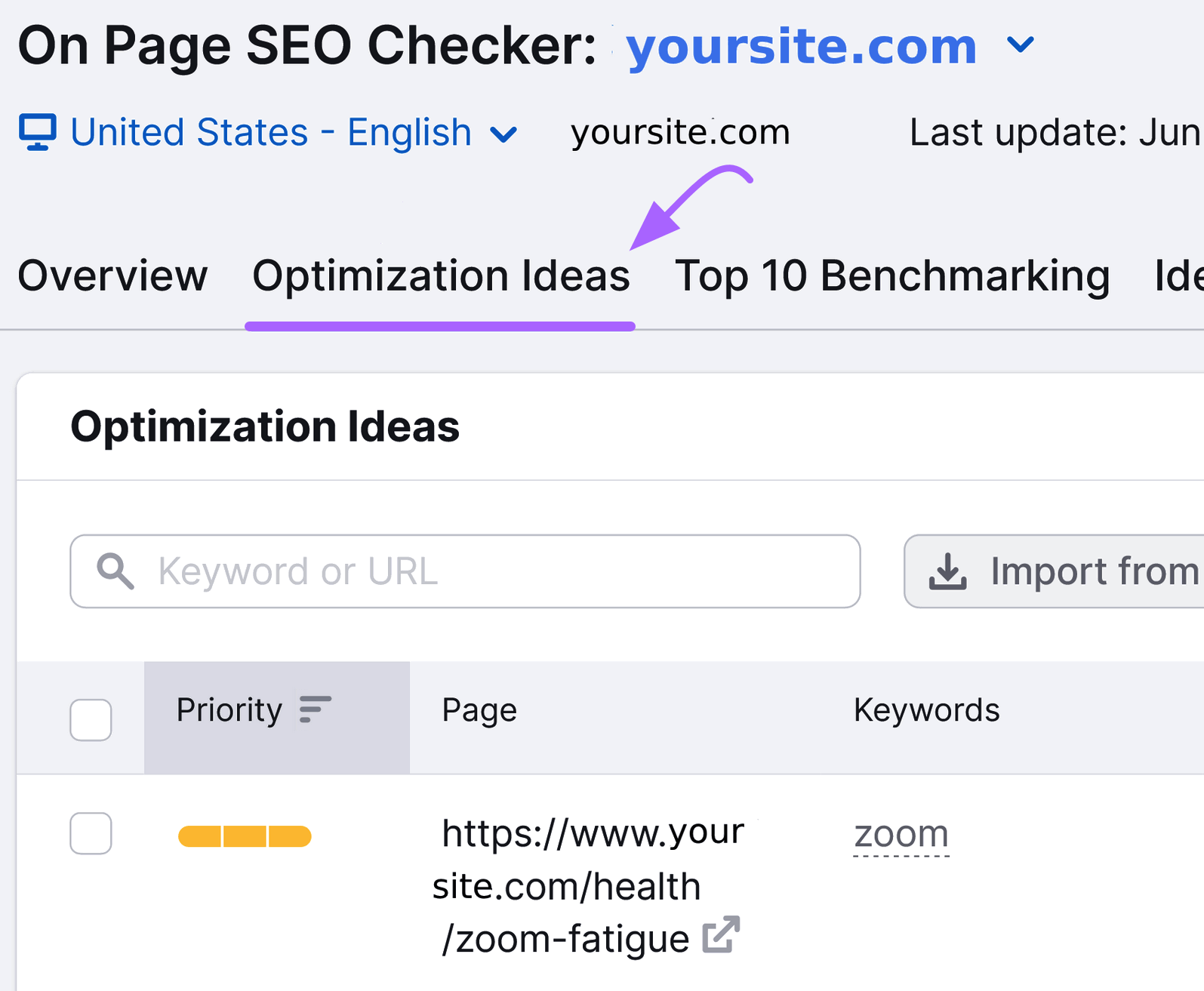 Here, you'll see a list of blogs on your site. And a number of optimization ideas for each post.
Click on "X ideas."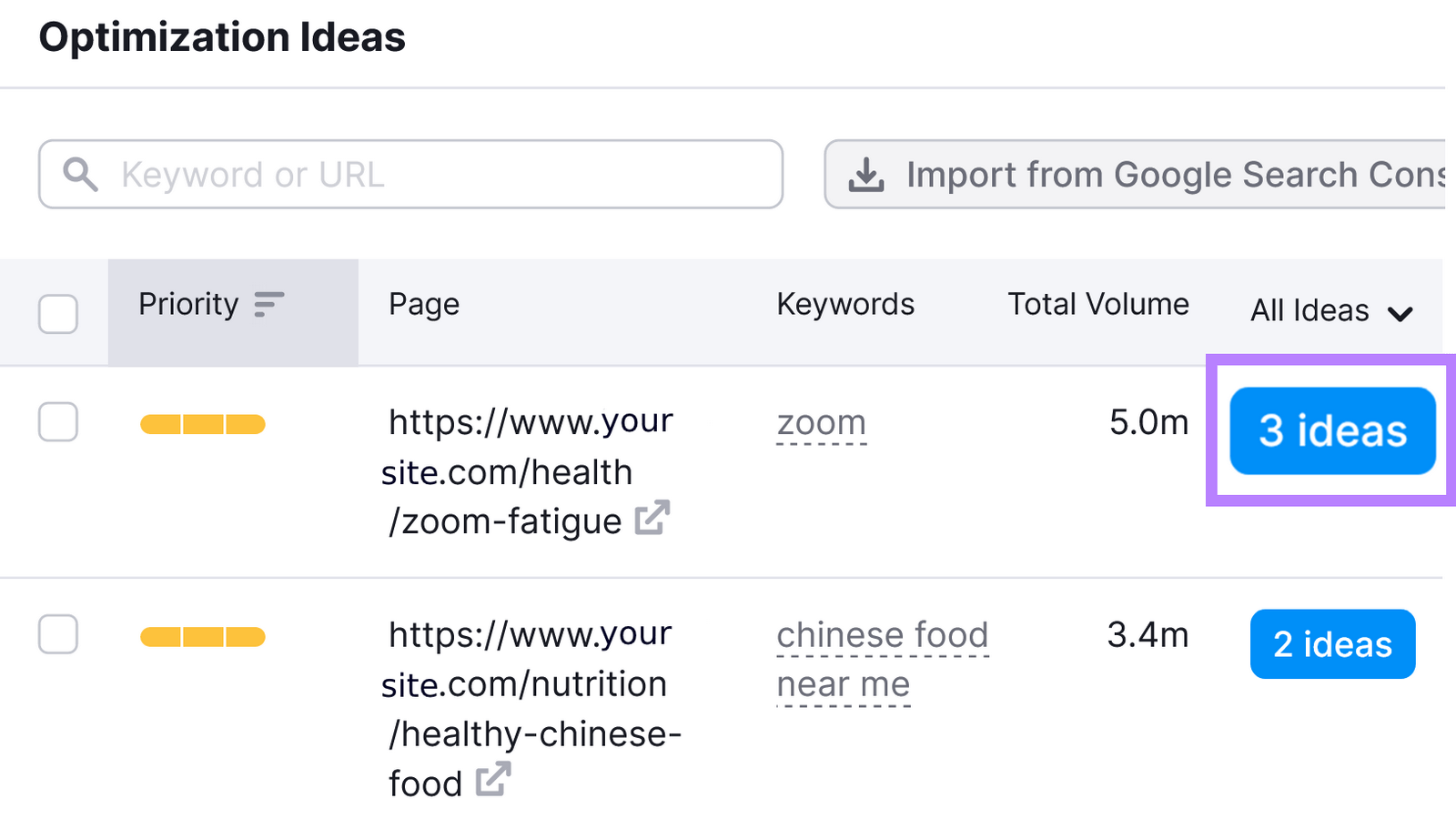 The content section should tell you whether your blogs are optimized for on-page SEO.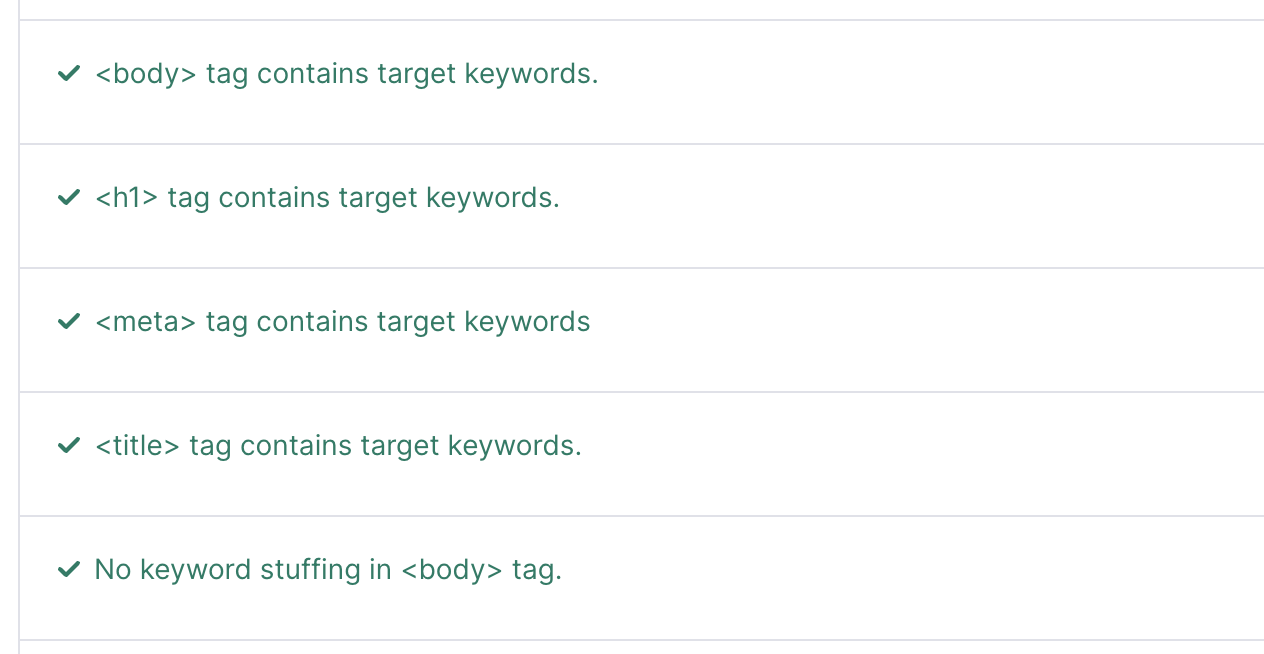 5. Make Your Blogs Easy to Read
If your content is difficult to follow, readers might abandon your article (and your site).
Which is not good for SEO.
Work to solve this problem by creating an effortless reading experience.
Here are some ideas:
Use subheadings (H2 to H6). Subheadings break down a lengthy post and guide readers through what to expect from each section.
Add visual assets. Custom images, infographics, videos, and GIFs help keep your readers engaged.
Use short sentences and paragraphs. This helps you avoid "walls of text."
Use bullet points and numbered lists. This helps you provide information succinctly.
Read your writing out loud. This helps you identify and fix areas where your writing doesn't flow well.
Use simple words. Avoid complex vocabulary and jargon so everyone can understand your writing.
Semrush's SEO Writing Assistant checks the readability of your content. And tells you how easy it is to read and understand.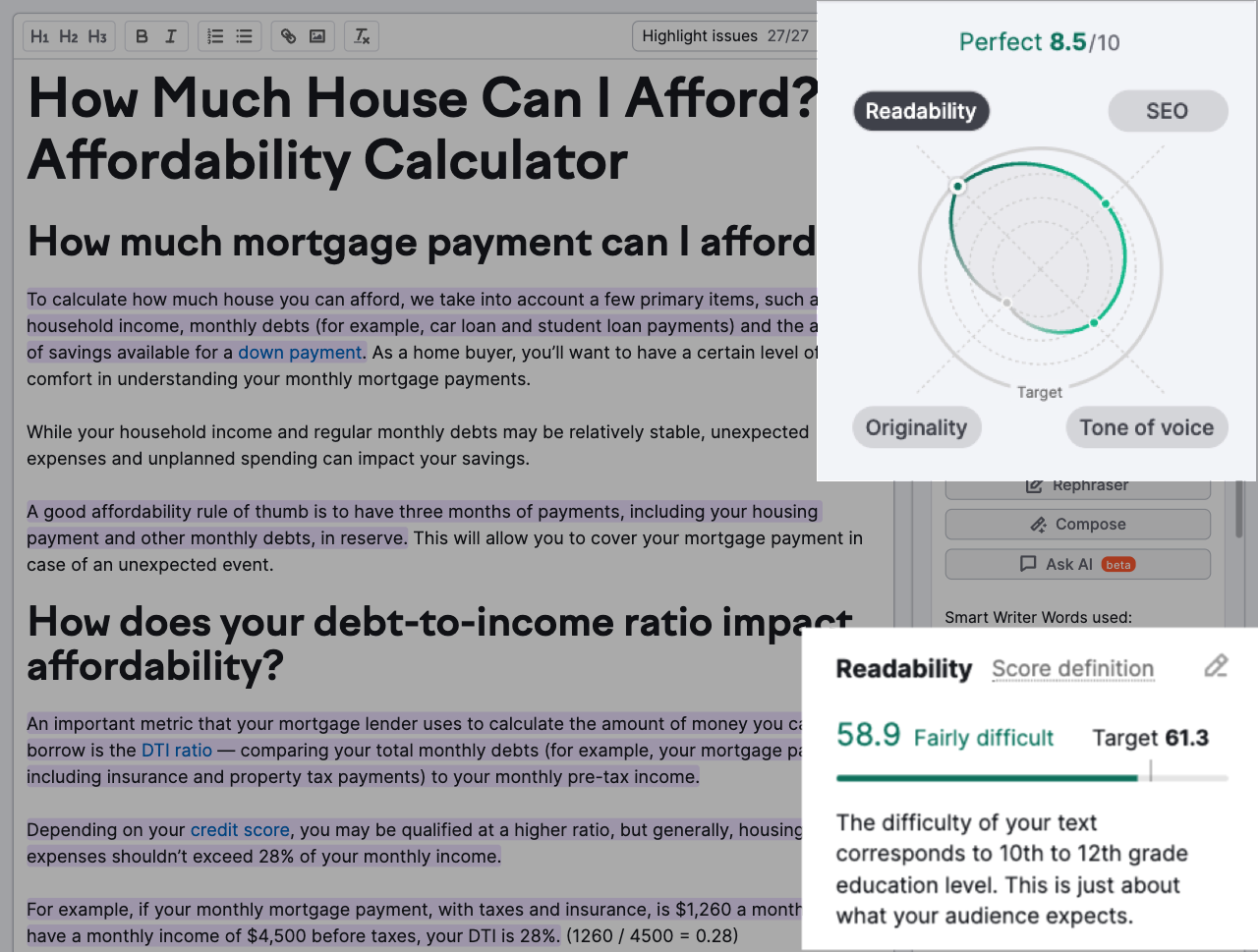 If your content has readability issues, the tool will show you what sentences or words could be rewritten to improve readability.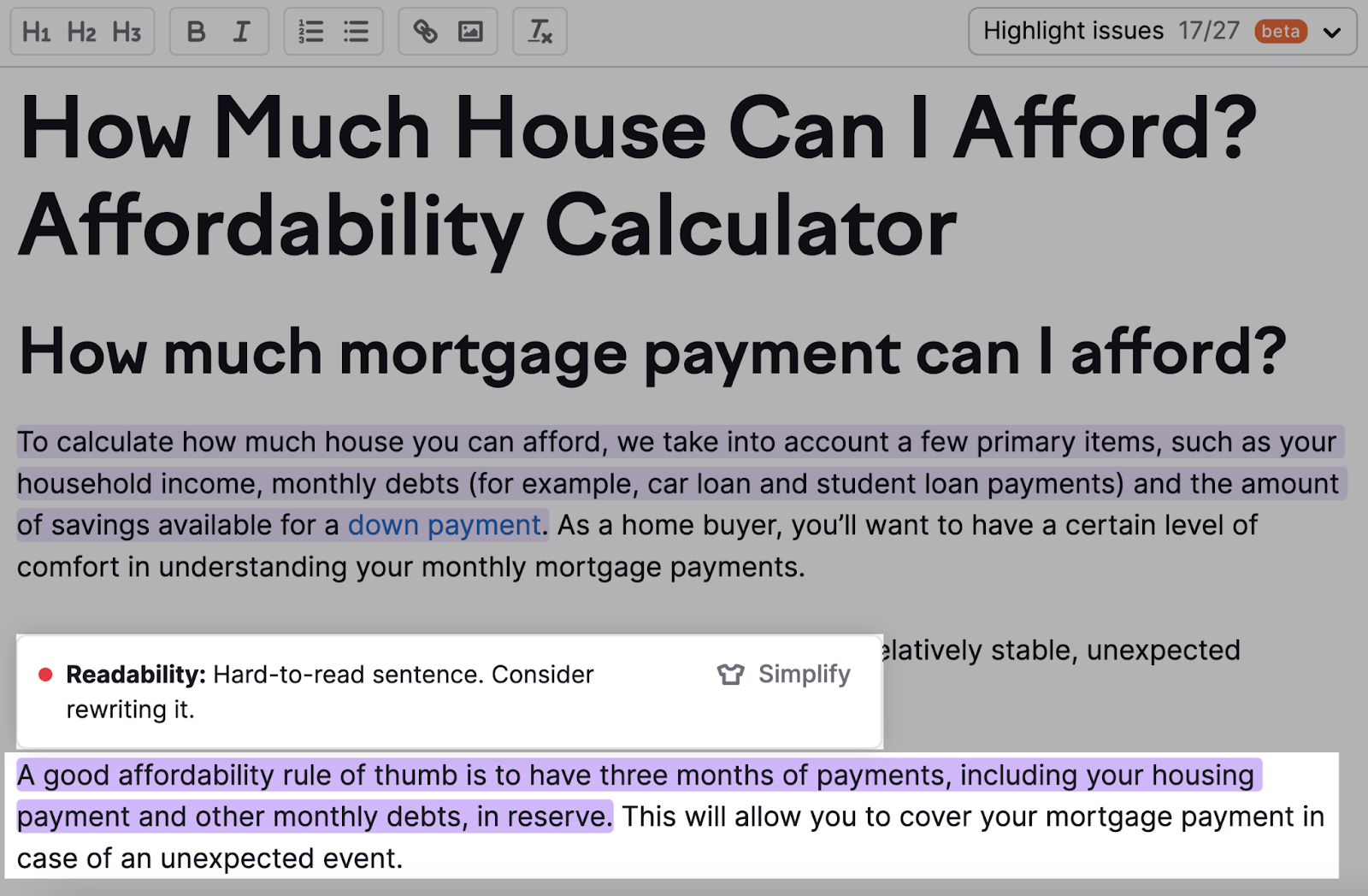 6. Monitor Technical SEO Issues
If Google can't crawl and index your blogs, it doesn't matter what SEO tactics you've used. Your blogs just can't rank.
Additionally, if your blogs take more than a few seconds to load, users might abandon your site. 
Technical SEO issues like these are not good for SEO. Or your business.
Use Semrush's Site Audit tool to monitor and fix technical SEO issues. 
First set up a full crawl of your site.
Once the crawl is complete, navigate to the "Issues" tab. You'll see the technical issues detected for your site.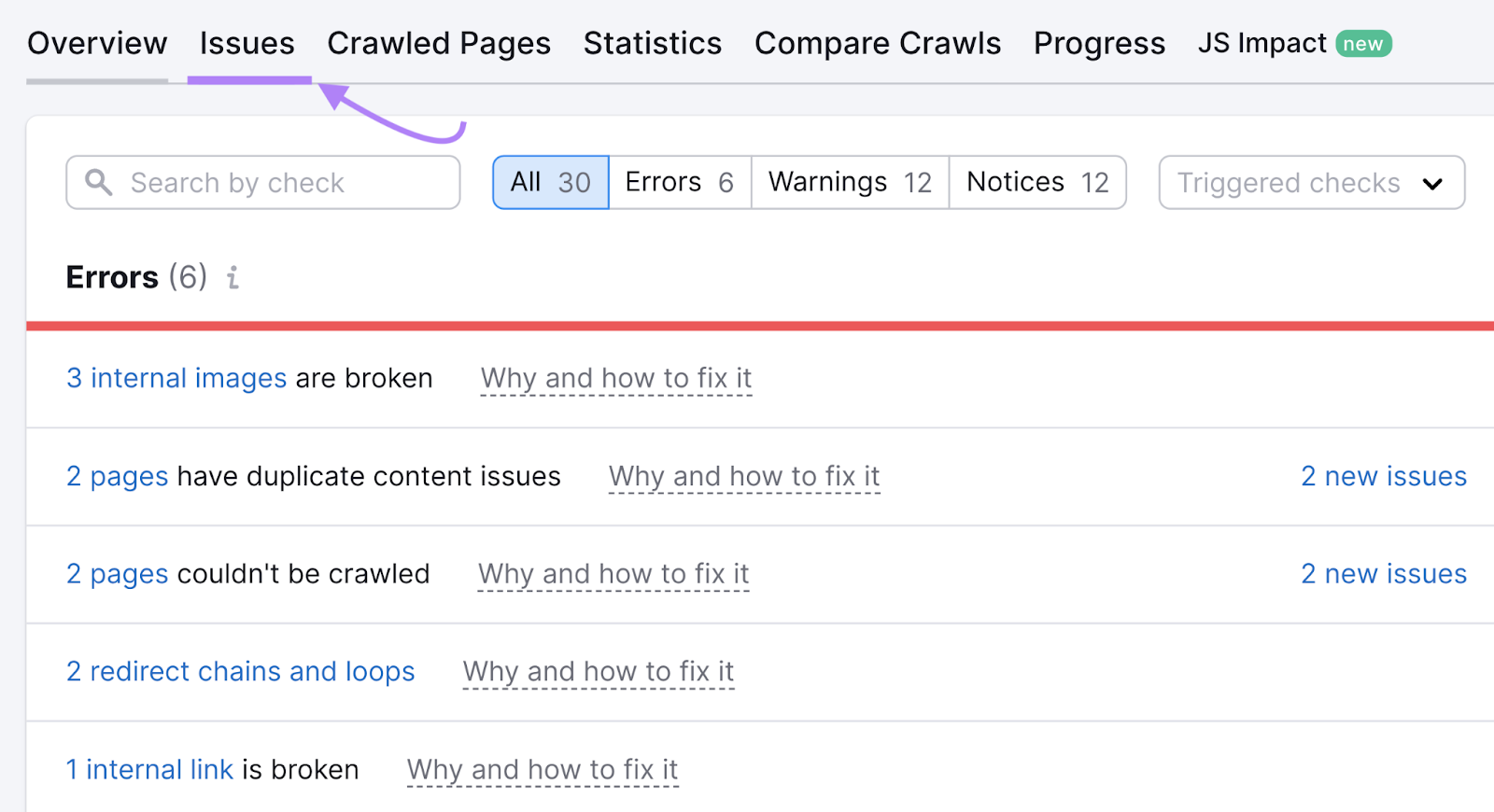 Click the "Why and how to fix it" link next to each issue to understand why something is an issue and how to fix it.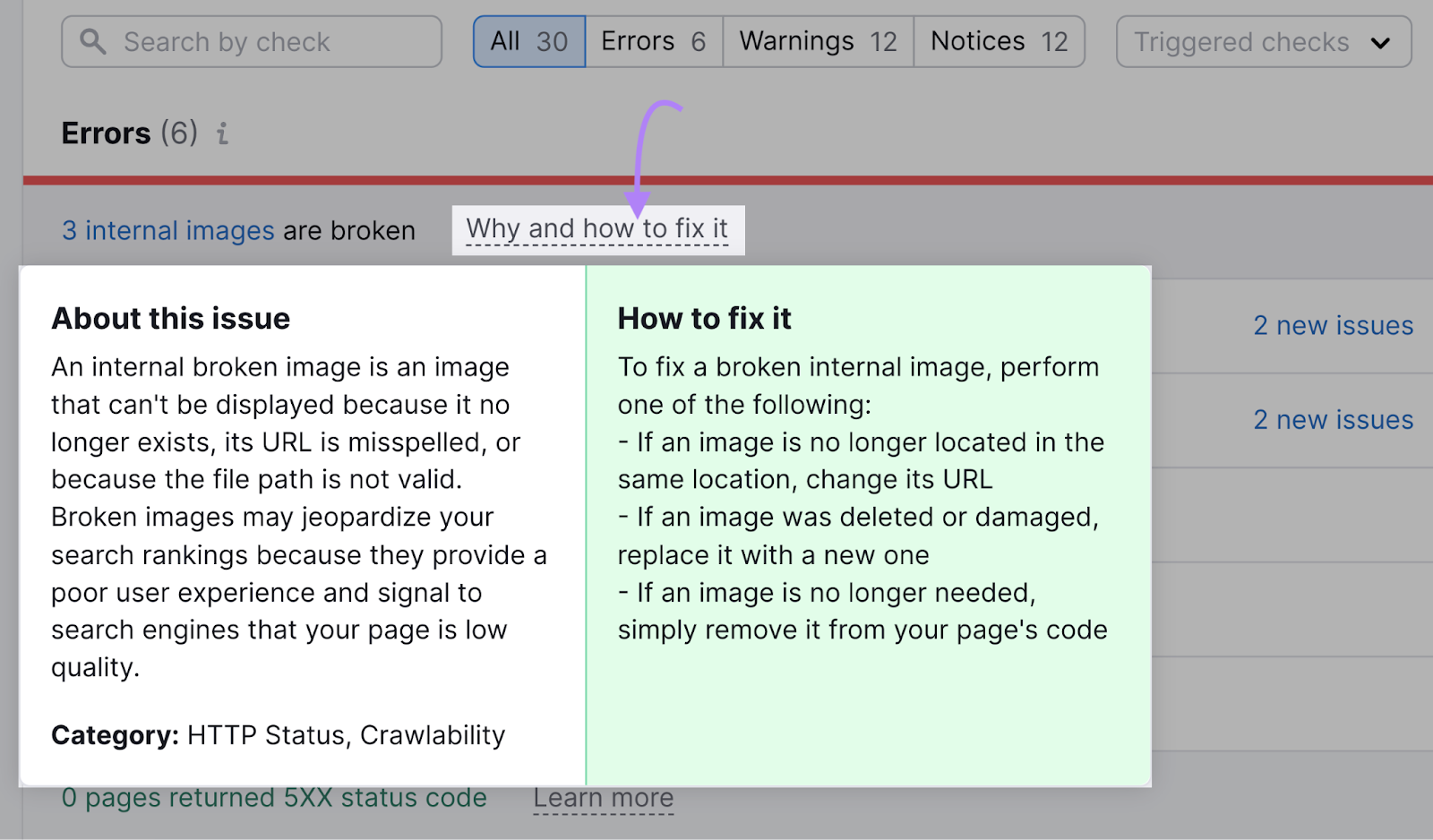 7. Build Backlinks
Backlinks are an important ranking factor for Google. 
A good SEO strategy includes a solid backlinking strategy. 
This is especially true if your blogs target popular keywords with high competition.
There are lots of strategies for link building.
Let's walk through one: broken link building.
It's where you find dead (broken) blogs on your competitors' websites and ask those linking to them to link to your topically similar, functioning blogs instead.
This strategy can be effective because no one wants to send their audience to broken or outdated content.
Start by entering your competitor's URL into Semrush's Backlink Analytics tool. Click "Analyze."

Then, head over to the "Indexed Pages" tab. And check the "Broken Pages" box.
To see a list of your competitor's non-working blog posts.
Review the blog topics to see if you have already covered the same topics on your site.
If you haven't, consider covering them if they're relevant for your business, too.
After that, reach out to websites linking to those dead blogs. And ask them to link to your blog posts on the same topic instead.
Click the numbers in the "Domains" column. These are the websites you can reach out to for backlinks.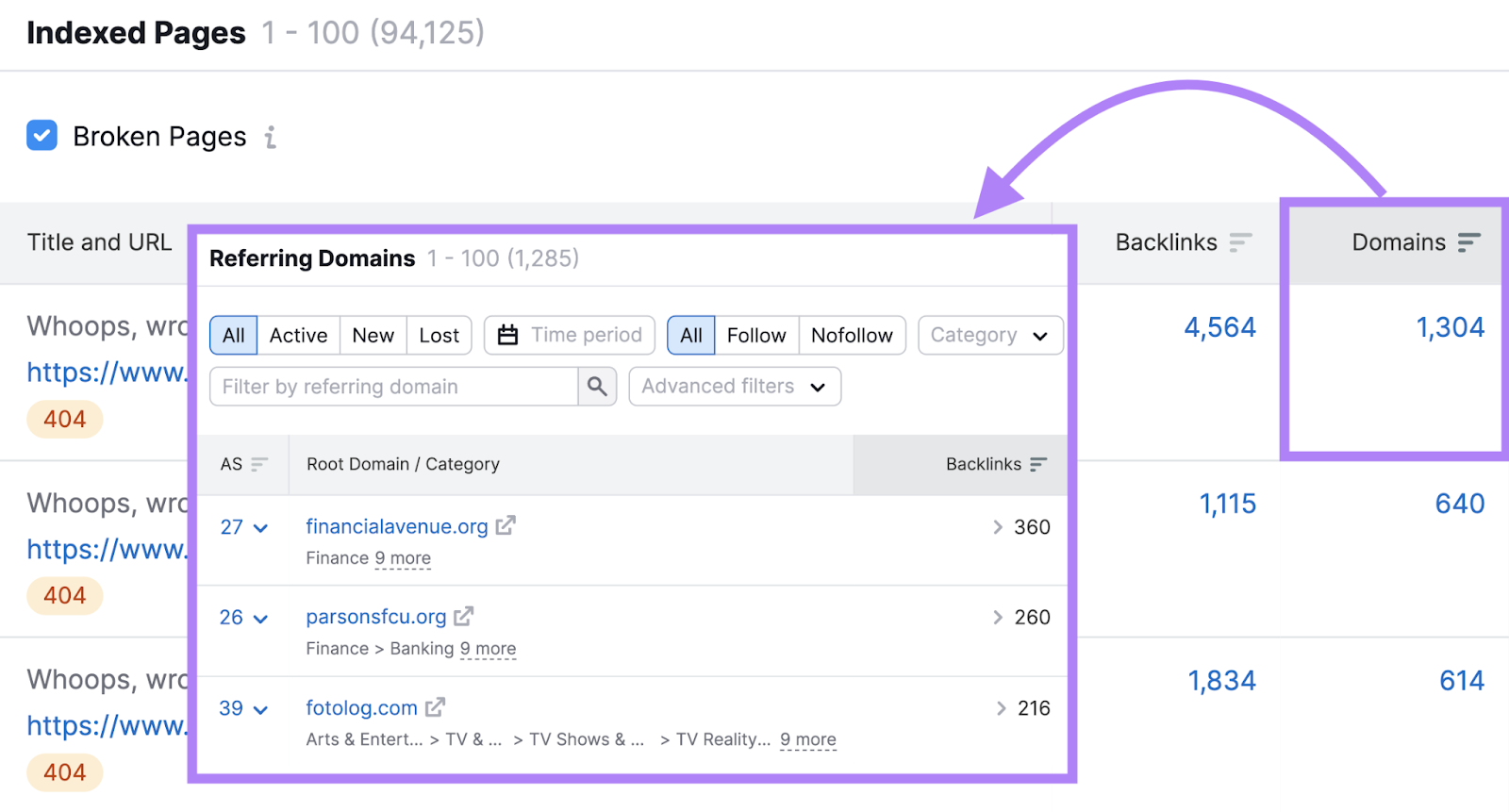 Don't know how to reach out? Check out our guide to email outreach to get started.
8. Update Older Content
Over time, blog content becomes outdated. 
The search intent of your target keywords will likely change. Or the related industry will change.
And your rankings may drop as a result.
When that happens, you need to refresh your blog posts.
We do this all the time at Semrush.
For example, we recently updated our guide to marketing funnels. And as you can see below, our organic traffic spiked.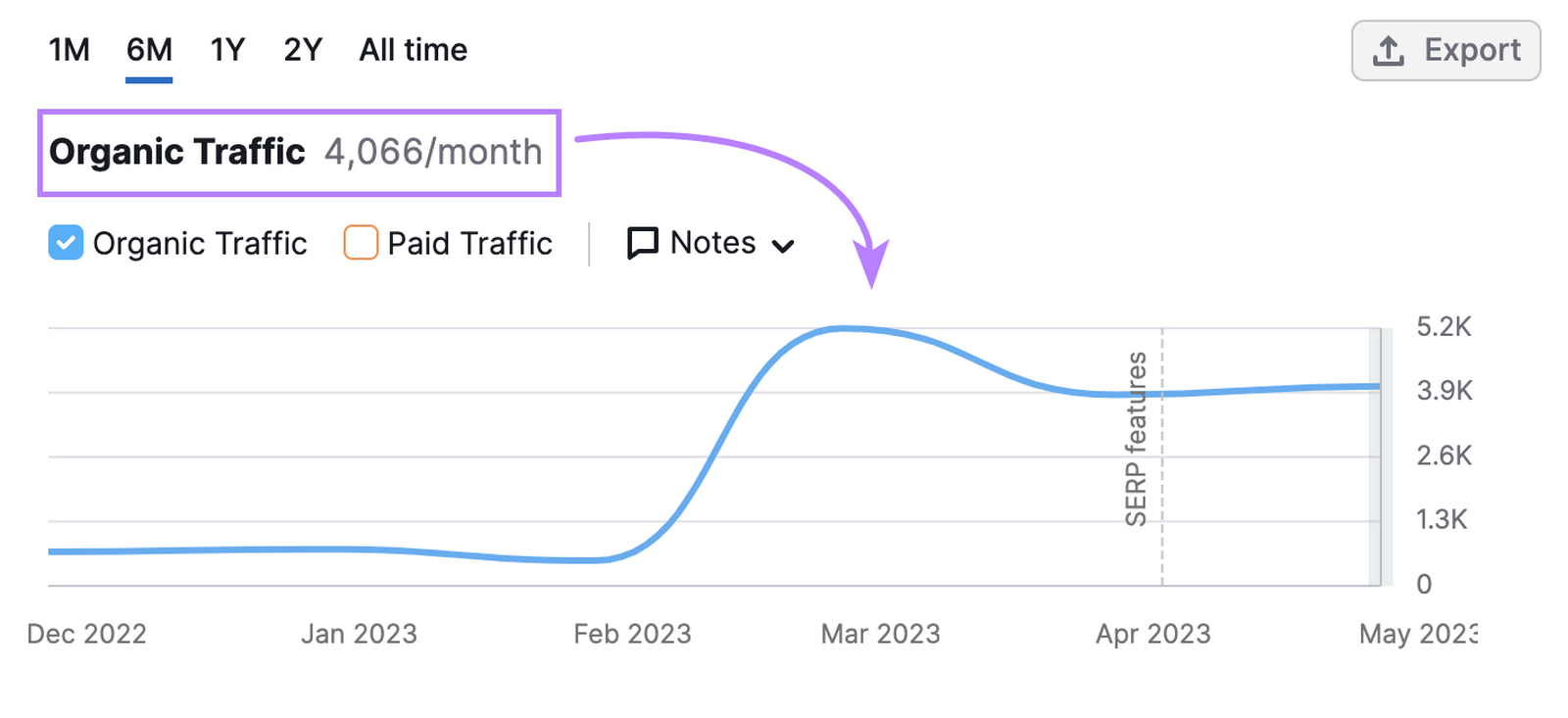 But how do you know which blog posts to update?
Put some of your older blogs into Semrush's Organic Research tool and look at the organic traffic graph.
For example, if we do this for our Shopify SEO guide, we see a drop in traffic over time. So it may be worth updating this post.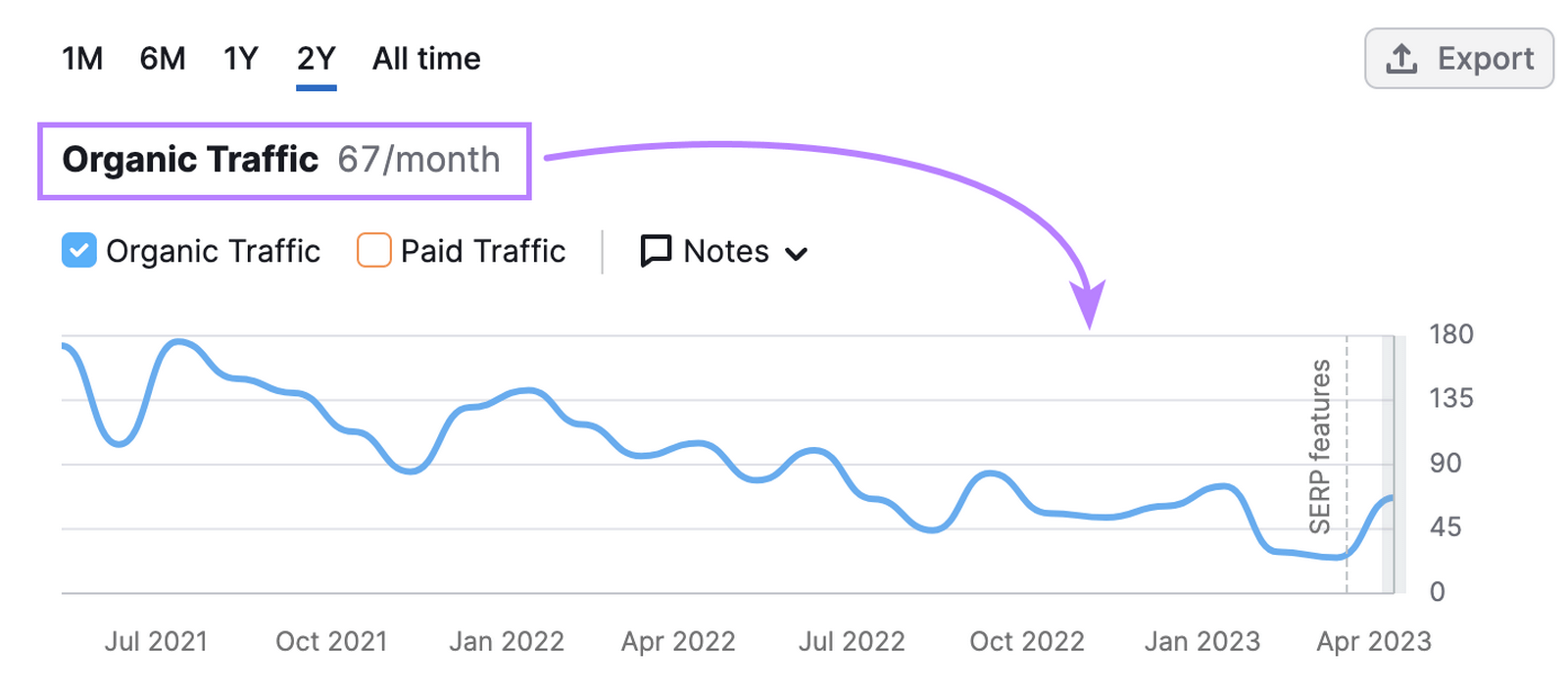 When updating posts, consider these best practices:
Update outdated facts and sources
Add actionable advice
Cut sections that are no longer relevant
Edit and revise with search intent in mind
And sometimes, it's best to rewrite the entire post. Don't be afraid to do that.
Monitor your updated content's progress and watch your traffic increase with your updating efforts.
Start Optimizing Your Blogs Today
Blogging and SEO go hand in hand.
If you follow the above tips, you're on your way to improving your Google rankings.
But SEO tools can help you get there faster and more efficiently.
Semrush offers a suite of SEO tools to help you with various SEO tasks, such as keyword research, on-page SEO, link building, and more.
They're immensely valuable for anyone who's serious about increasing traffic from Google.