The right blogging tools help you produce content faster, increase organic traffic to your site, and build a loyal customer base.
We've made a list of 17 of the best blogging tools you can use to publish high-quality content consistently. Let's dig in. 
Best Blogging Tools from Semrush
Semrush is a one-stop shop for bloggers looking to enhance their writing, streamline workflows, and scale production. 
Semrush offers tools for bloggers to:
Research topics your audience is interested in
Write content that's optimized for search engines 
Scale content production 
Here are just a few that will help you get started. 
SEO Writing Assistant
Semrush's SEO Writing Assistant helps you craft blog posts using search engine optimization (SEO) best practices. The tool scores content in four key areas: 
Readability: Ensure your content is easy to read and appropriate for your audience 
Originality: Check for plagiarism and ensure your content is unique
Tone of voice: Make sure your tone is consistent throughout the piece
SEO: Receive tips to improve SEO such as recommended secondary keywords, adding image alt text, and fixing broken links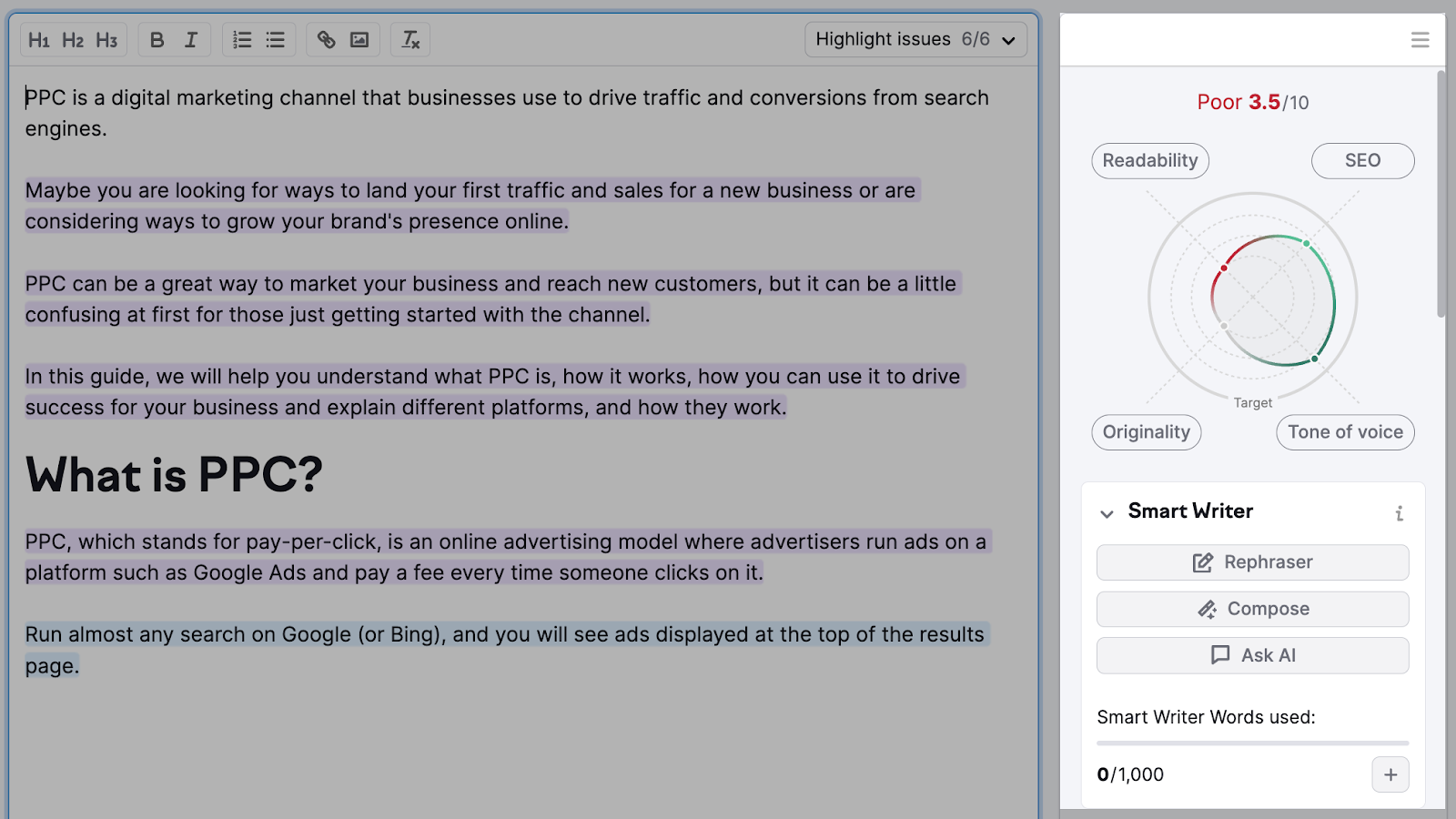 You can type directly into the SEO Writing Assistant and receive suggestions as you go. Or you can copy and paste a completed draft. You can also integrate the tool with Google Docs, Microsoft Word, or WordPress. 
Topic Research
Semrush's Topic Research tool can give you limitless ideas for blog content. 
Using this tool, you can: 
Analyze popular subtopics and headlines for any topic to get insight into trends
Find questions that are frequently asked by your audience
Get location-specific ideas to create targeted content
From your Semrush dashboard, click the "Topic Research" button under the Content Marketing header. 
Enter the domain of a competitor's website and instantly get access to dozens of topics related to your industry. You can do the same thing with keywords or questions.
Content Marketplace
Content Marketplace lets bloggers provide a topic and requirements, and receive a professional blog post. 
The process is simple: 
Identify what type of content you need (article, ebook, press release, etc.)
Fill out a content brief with your requirements (word count, tone, CTAs, etc.)
Receive your content in as little as five days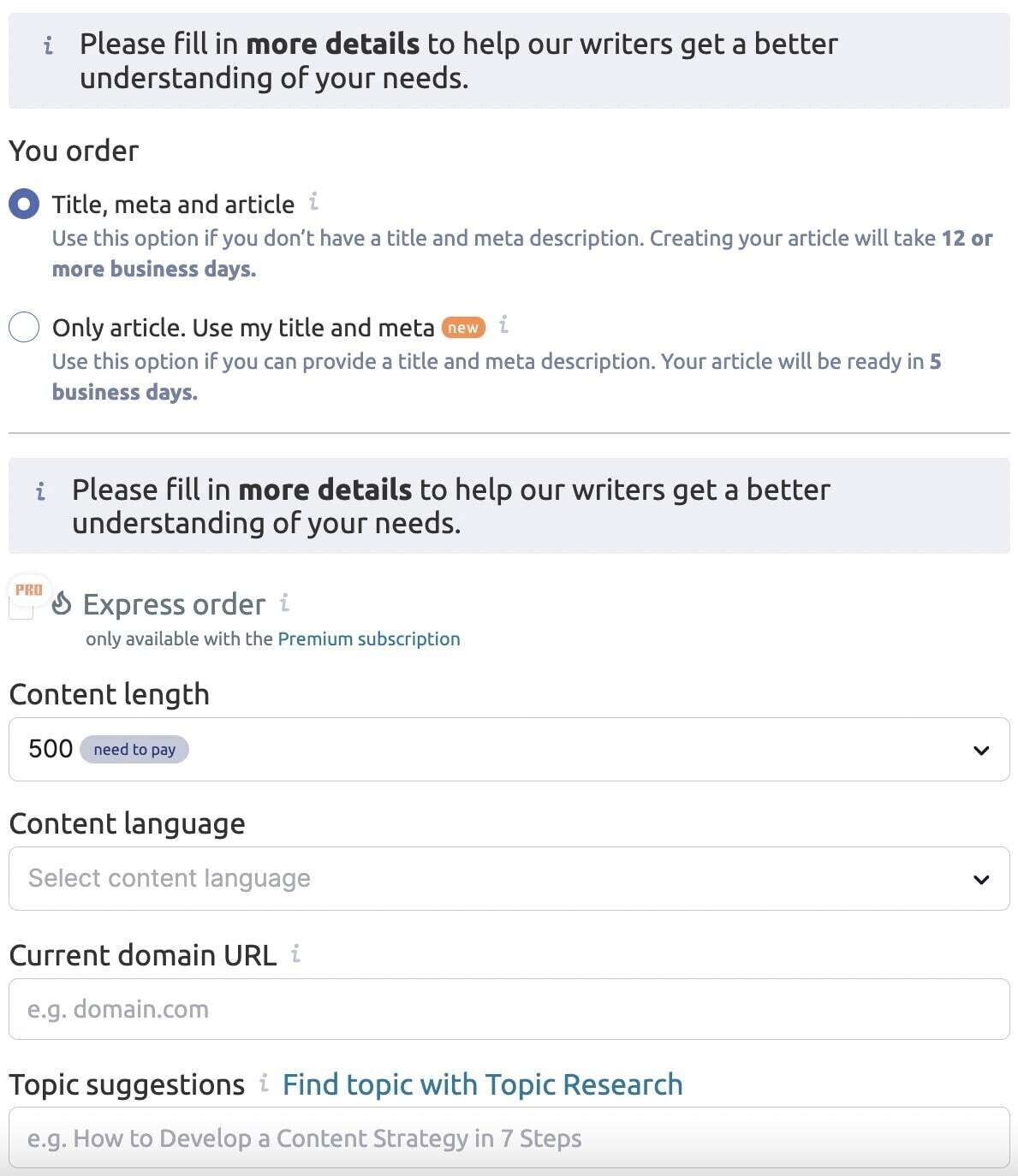 Pricing is based on the length and type of project. You can also save 10% or more if you purchase a subscription.
If you're looking to scale content production or fill in gaps in your content strategy, Content Marketplace is an affordable option for professionally written content in any niche, industry, or business type. 
Ready to let Semrush turbocharge your blog? Sign up for a free account and get started.
Best Blogging Tools for Writing
There are many components of blogging—from SEO to design to analytics—but the most important aspect is quality content. 
These tools will help you enhance the quality and speed of your content writing. 
Grammarly
Grammarly is a typing assistant that reviews English spelling, grammar, and clarity. It integrates with your computer or phone and popular Internet browsers, including a Google Chrome extension. 
Recently, it has expanded its services into generative AI with GrammarlyGO. It gives you real-time feedback on your word choice, tone, and more to enhance your writing. 
Standout features include: 
Plagiarism checker
AI generative text
Paraphrasing tool
Tone checker
Analytics
Snippets
Pricing: Free and paid plans.Grammarly has a free plan that helps with text generation, basic writing suggestions, and tone detection. 
Its Premium plan adds full-sentence rewrites, vocabulary ideas, tone suggestions, and more for $12 per month (billed yearly) for a single user. The Business plan is designed for teams with features like centralized billing and style guides for $15 per month per user seat. 
Integrations: Grammarly has both a desktop app and browser extensions. It also integrates with many text editors (Google Docs and Microsoft Word) and communication apps (Slack and Gmail).
Hemingway Editor
Hemingway improves your writing by highlighting issues like passive voice and complicated sentence structure. It's named after Ernest Hemingway, a notable American author known for his simple, direct, and understated writing style. 
Hemingway uses a grading system and color-coded scale to indicate the following poor writing techniques: 
Blue: excessive use of adverbs
Green: passive voice
Purple: simpler phrase available
Yellow: sentence is hard to read
Red: sentence is very hard to read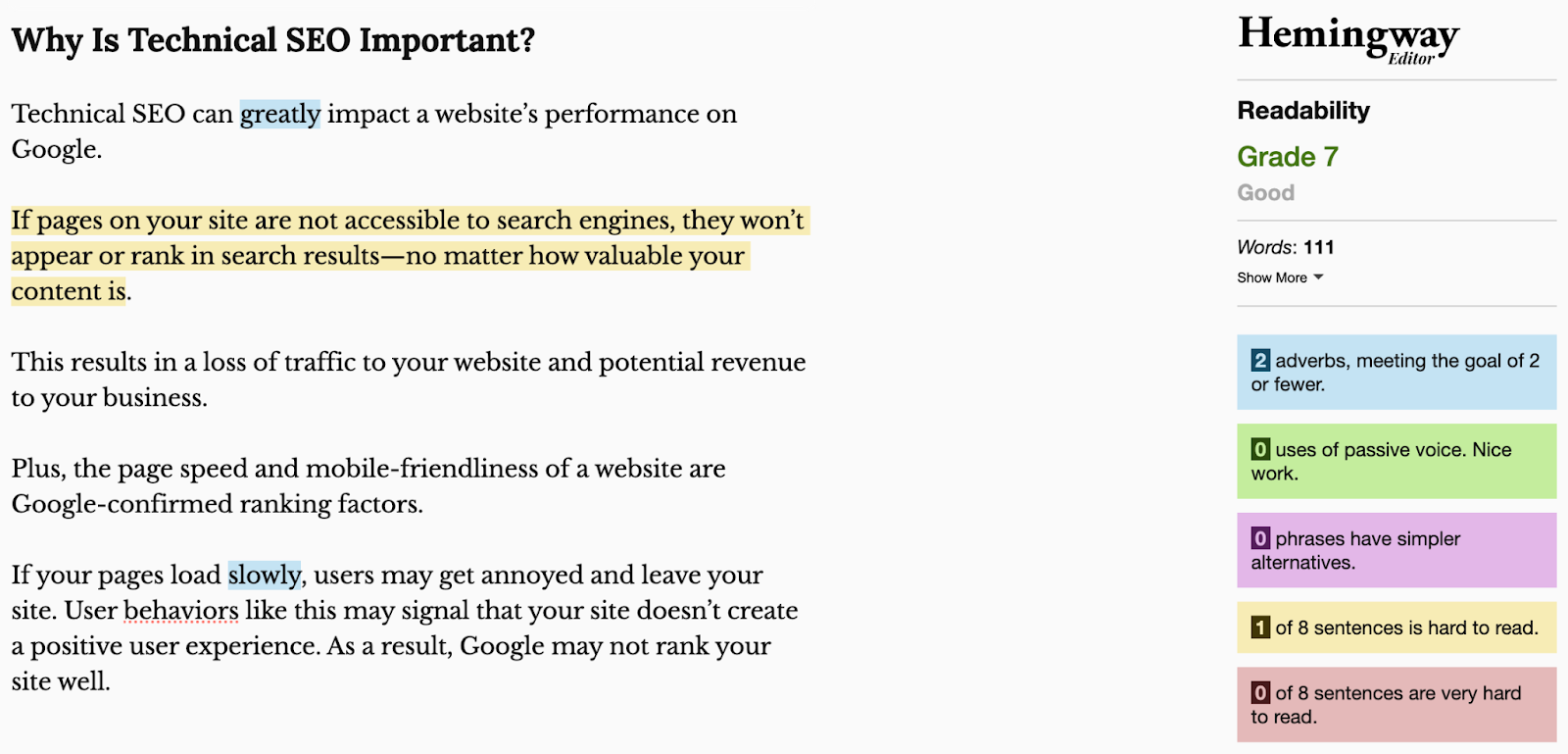 Image source: Hemingway app
Pricing: The web-based option is free. Users simply type into the text editor and get writing suggestions. You can also download the Hemingway app for a one-time fee. 
Integrations: Hemingway app users can also import or export content and use one-click integrations with Medium and WordPress.
Copy.ai
Copy.ai is an AI tool built with marketers and writers in mind. Unlike ChatGPT, which is essentially a blank canvas for prompt inputs, Copy.ai contains templates for commonly used marketing assets.
Take a look at the Blog Post Wizard from Copy.ai. 
Image source: Copy.ai
You can choose from specific blog types like listicles or how-tos. You're then guided through the outline process and given direction for the type of content you want to create. 
This targeted guidance can improve the quality of your content, reducing the need for multiple revisions. 
Note: AI copywriting tools should be considered a supplement to your writing process, not a replacement. However, experienced bloggers can use tools like Copy.ai to speed up the writing process and scale content production.
Pricing: Free and paid plans. 
Integrations: Copy.ai does not currently integrate with other SEO blogging tools. It offers an API, but the access is still limited. 
Best Blogging Tools for Publishing
For people to read your blog posts, they must be publicly available. These blogging platforms let you publish content online. They also have built-in tools to help you achieve your blogging goals. 
WordPress
WordPress is the most popular content management system (CMS). It's used by 64.2% of all websites. 
The ability to write, edit, and publish blog content within a single platform makes WordPress one of the best blogging tools for beginners. 
WordPress also offers advanced functionality for bloggers via its massive directory of plugins. You can add plugins that help with editing, SEO, and more. 
Here are a few features users love about WordPress: 
Intuitive and user-friendly UI: The backend of WordPress is easy enough for beginners without too much training
Popular: It's easy to find writers, marketers, and developers familiar with WordPress
Flexibility: The WordPress plugin directory lets users easily customize the functionality of their site without custom code
Open source: All of WordPress' code is accessible, so advanced users can customize every detail about a website's design and functionality
Pricing: There are free and paid versions of WordPress.
Integrations: WordPress handles integrations through its plugin directory, which currently has over 60,000 free options. Others are paid or require a subscription to access full functionality, like the Semrush SEO Writing Assistant.
Ghost
Ghost is an open-source CMS gaining popularity among creators looking for a streamlined platform for blogging and content creation. 

Ghost is marketed as an "all-in-one platform" that allows bloggers to focus on content creation instead of technical web development details. A few features included at every price point are: 
Membership and subscription management
Email newsletter publication
Web design themes
Sign-up forms
Ecommerce
Analytics
Pricing: Paid plans
Integrations: Ghost offers dozens of integrations with social media networks, email marketing platforms, and productivity apps. Bloggers with technical skills can also integrate third-party apps with webhooks or the Ghost Admin API. 
HubSpot
HubSpot is an all-in-one inbound marketing, sales, and customer service software platform. 
The Boston-based company started as a customer relationship management (CRM) product. It has since developed a leading CMS and suite of inbound marketing tools.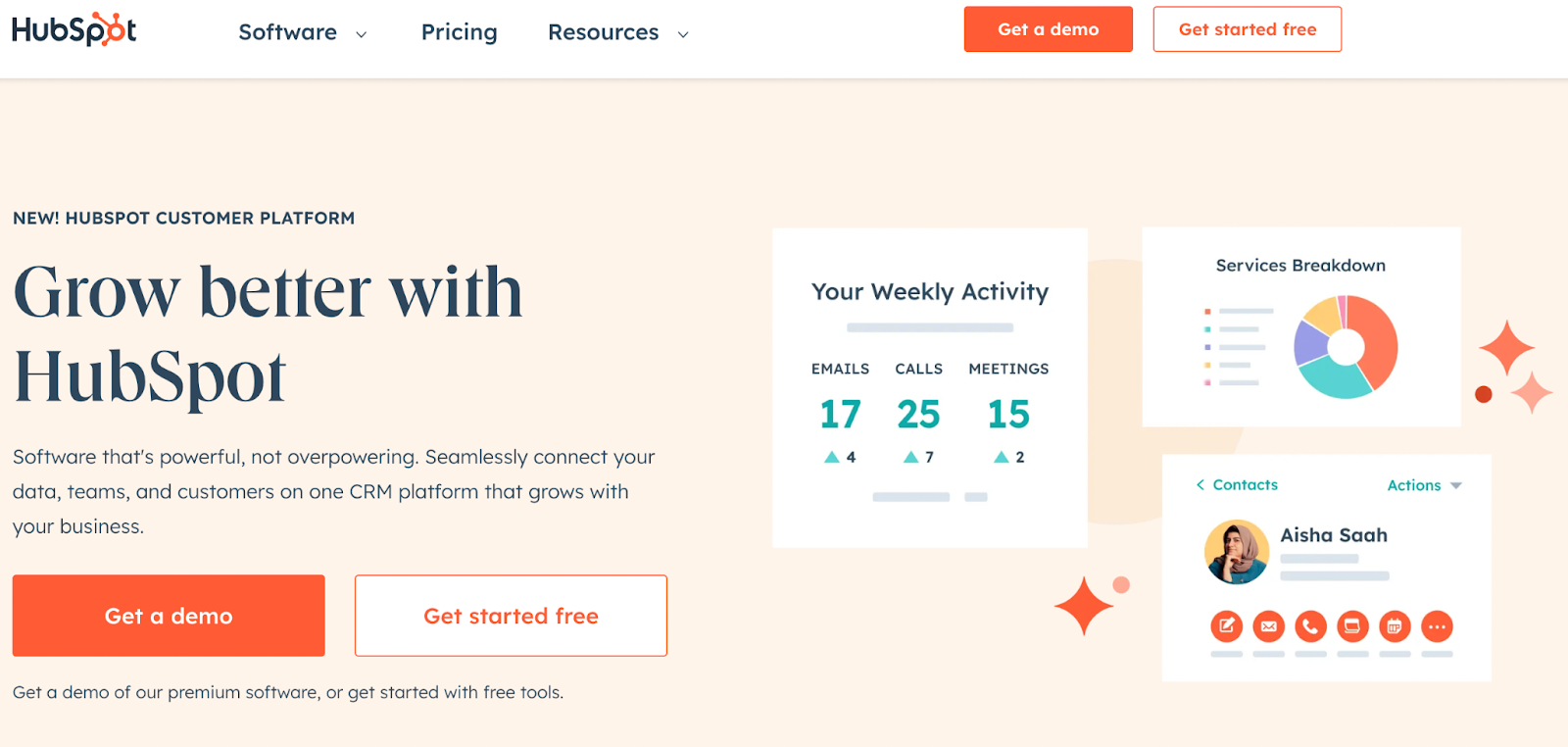 The HubSpot platform suits bloggers looking to capitalize on their target audience. It helps turn readers into customers via inbound marketing and marketing automation. 
The blogging features of HubSpot offer some unique benefits: 
Built-in SEO: HubSpot comes standard with on-page SEO recommendations and AI writing tools
Native analytics: Track blog visitors and conversions without connecting Google Analytics
Lifecycle tracking: The HubSpot CRM lets bloggers see which readers have become paying customers
Integrations: HubSpot integrates with over 1,400 applications via the HubSpot App Marketplace. 
Best Blogging Tools for Graphic Design and Photography
Most blog posts use graphics and photos to: 
Bring data and numbers to life with charts
Help readers visualize abstract concepts
Illustrate relationships and hierarchy
Give context (location, size, visual definition)
Break up walls of text
Show processes
Graphics and photos also give you the opportunity for a search engine result page (SERP) feature called an image pack.
You should include multiple images (custom graphics and photos) in your blog posts. 
The following tools can help. 
Adobe Express
You can use Adobe Express to create stunning graphics (and videos) for your blog. 
While they gear the popular Adobe Illustrator toward design professionals, Adobe Express is a simplified program meant for beginners. By offering tried-and-true templates and a streamlined dashboard, it helps you to create professional-looking graphics without a design background. 
Adobe Express comes with a generative AI feature called Adobe Firefly that allows you to create designs by entering a description into a field.
Pricing: Free and paid versions
Integrations: Adobe Express is an online editor, which means you don't have to download an app to use it. It doesn't integrate directly with other programs or tools.
Canva
Canva is a web-based graphic design platform that can create custom blog post graphics, social media posts, logos, and more. It features a drag-and-drop editing system that's easy to learn. 
One area Canva excels in is its extensive library of pre-designed templates. Users can edit and customize the text, colors, and layout of professionally created templates rather than create a design from scratch. 

Integrations: Canva integrates with dozens of apps including Pexels, Google Drive, and Instagram. 
Pexels
Pexels is a stock photo and video library where you can find free visual content to add to your blog. 
Pexels is incredibly easy to use. Type in a keyword of what you're looking for (e.g., "waterfall") in the search box. Specify "photo" or "video" from the drop-down and hit enter on your keyboard. You'll see dozens of results of media that match your search.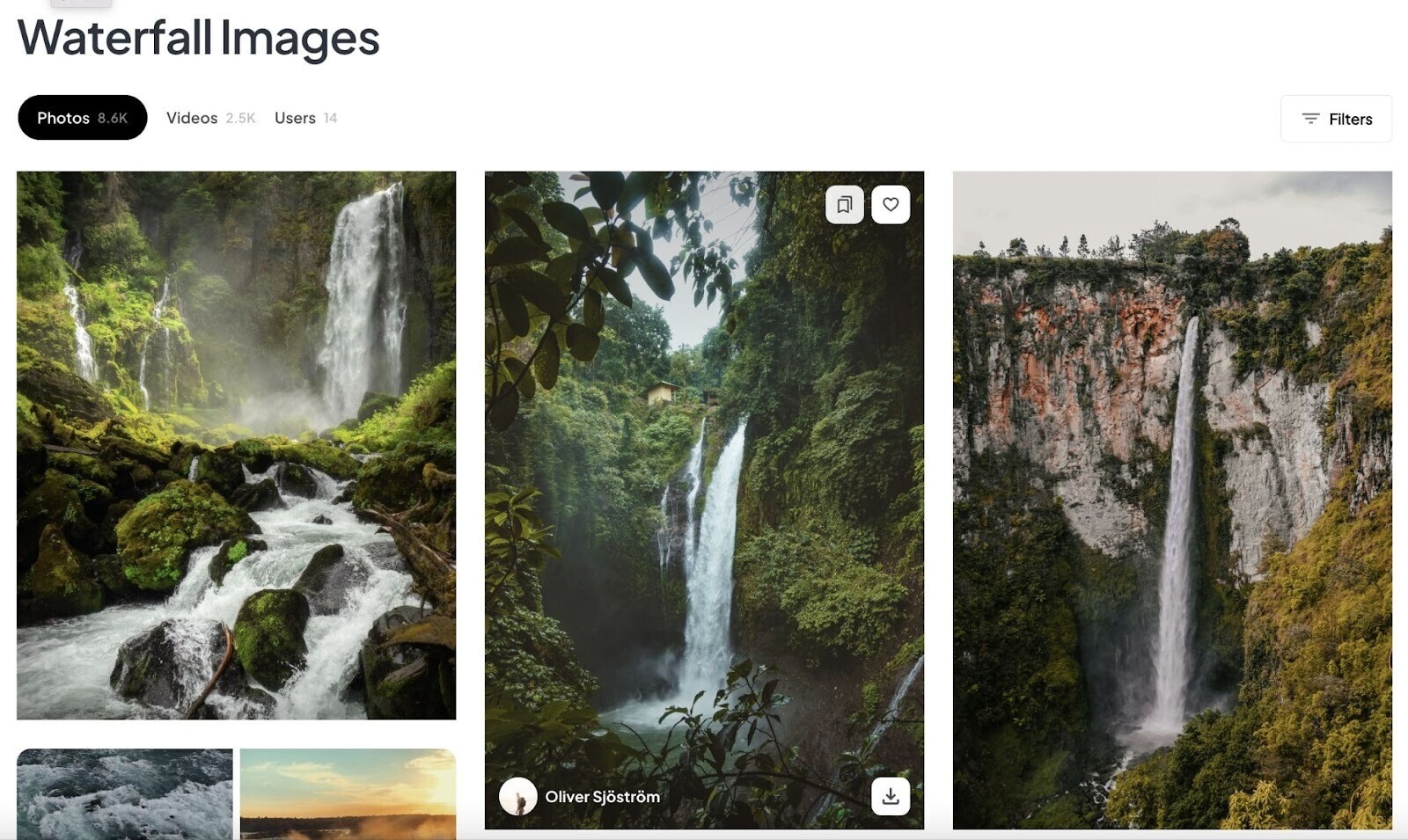 Image source: Pexels
Once you find a photo or video you like, you can download it directly to your computer. 
Pexels is packed with handy features that help you find the right media for your blog: 
Tags: See keywords the photos you like are tagged with and explore related media
Users: Follow users you like (and even tip them if you want)
Collections: Store photos you like in a personal library you can access later
Pricing: Free. 
Integrations: Pexels integrates with several popular apps and services including Canva, WordPress, Adobe Photoshop, and more. 
Best Blogging Tools for Data Analysis
Tracking traffic to your blog can help you analyze its performance. Doing so is especially important if you rely on your blog for income. 
If you want to measure your blog's performance metrics, you need tools in place to capture various data points. 
The following tools can help you track and analyze blogging metrics for success. 
Google Analytics
Google Analytics is a service provided by Google that tracks and analyzes a website's performance. It's the most widely used web analytics tool on the web. 
Most bloggers can set up the basic functionality in just a few minutes. But it offers endless possibilities to slice and dice your web metrics for analysis. 
Google Analytics can track these important content performance metrics: 
Organic traffic: How many people find your blog post via search engines
User engagement: User engagement is the amount of time someone spends with your web page or app
Conversions: When a reader takes a desired action (like signing up for your newsletter) after visiting your site

Pro tip: Semrush has a guide specifically to help beginners set up and master Google Analytics. 
Pricing: Free. 
Integrations: You can integrate Google Analytics with hundreds of digital tools like Semrush, ecommerce platforms, WordPress, and more.
Google Search Console
Google Search Console is a web service designed to help bloggers monitor and optimize their performance in Google's search results.
Google Analytics measures things that happen on your blog, but Google Search Console measures what happens in Google SERPs. It provides valuable information for bloggers looking to see how their blog posts rank for particular keywords. 
It's probably easiest to explain the value of Google Search Console with an example: 
Let's say you published a blog post targeting the keyword "content marketing framework." 
After publishing and waiting for Google to index your post, pop into Google Search Console and click the "Performance" tab on the left sidebar. 
Add the query "content marketing framework" to the filters above the chart. You'll see the average ranking position of your content over time: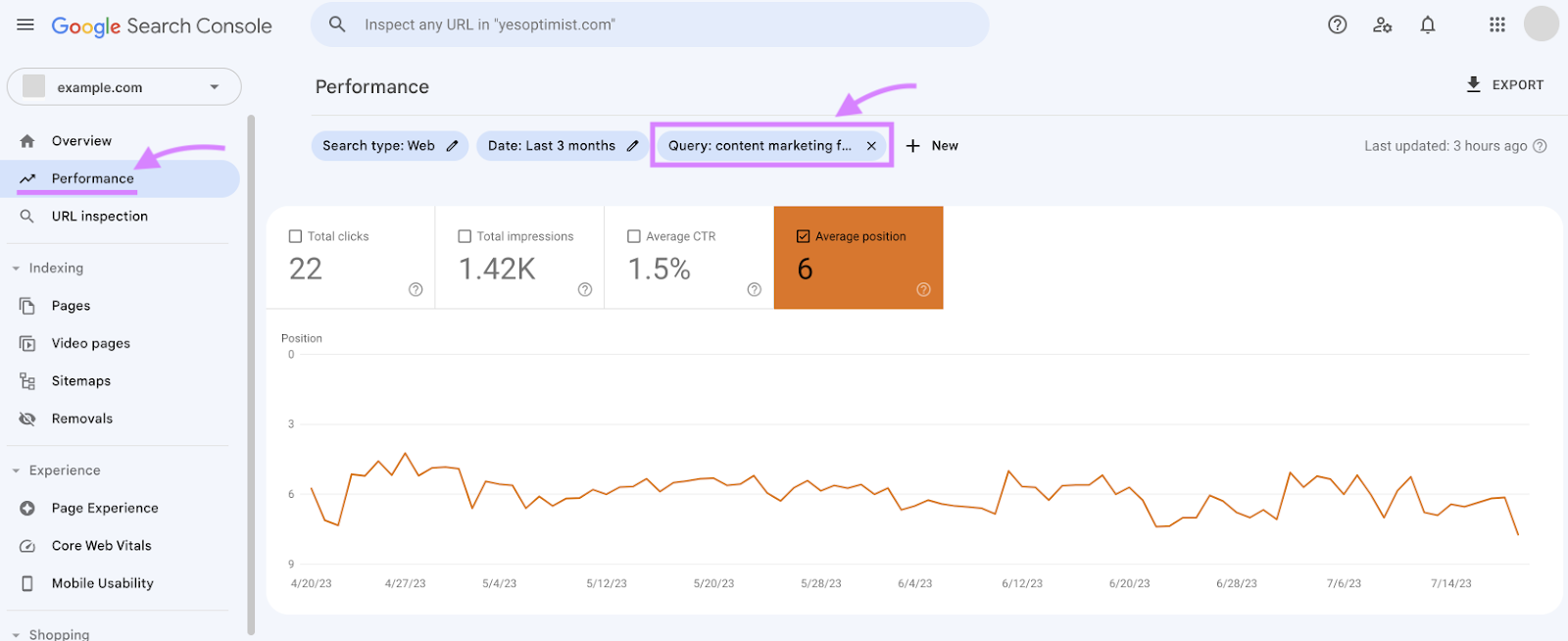 This insight into the performance of your content helps you try to improve its ranking. 
Further reading:
Pricing: Free. 
Integrations: Google Search Console connects with dozens of tools, including SEO tools like Semrush. 
Best Blogging Tools for Collaboration
Sometimes, blogging is a team sport. This is especially true for businesses that use blogging to generate marketing results. 
Collaboration tools help keep everyone on the same page and ensure your workflow goes as smoothly as possible. Here are a few blogging collaboration tools that can help. 
Google Docs
Google Docs is a web-based word-processing program. 
It's extremely popular among bloggers and marketers. It's primarily a writing tool, but we've listed it here to highlight its unique collaboration features. 
When you work with clients or team members, feedback is one of the most important parts of the overall process. Google Docs provides three key features that support the feedback and editing process: 
Comments: Editors can use comments to leave feedback on specific writing sections. They can also use this feature to add context or suggestions so writers can learn and adjust accordingly. 
Suggesting: When you want to make edits without altering the original text, you can use this feature. Writers can accept or reject your suggestions, which makes the editing process more organic.
Track changes: For editors who prefer making direct changes to the document, Google Docs tracks and saves every change by different people in different colors. Writers can open the log to see what copy the editor has changed.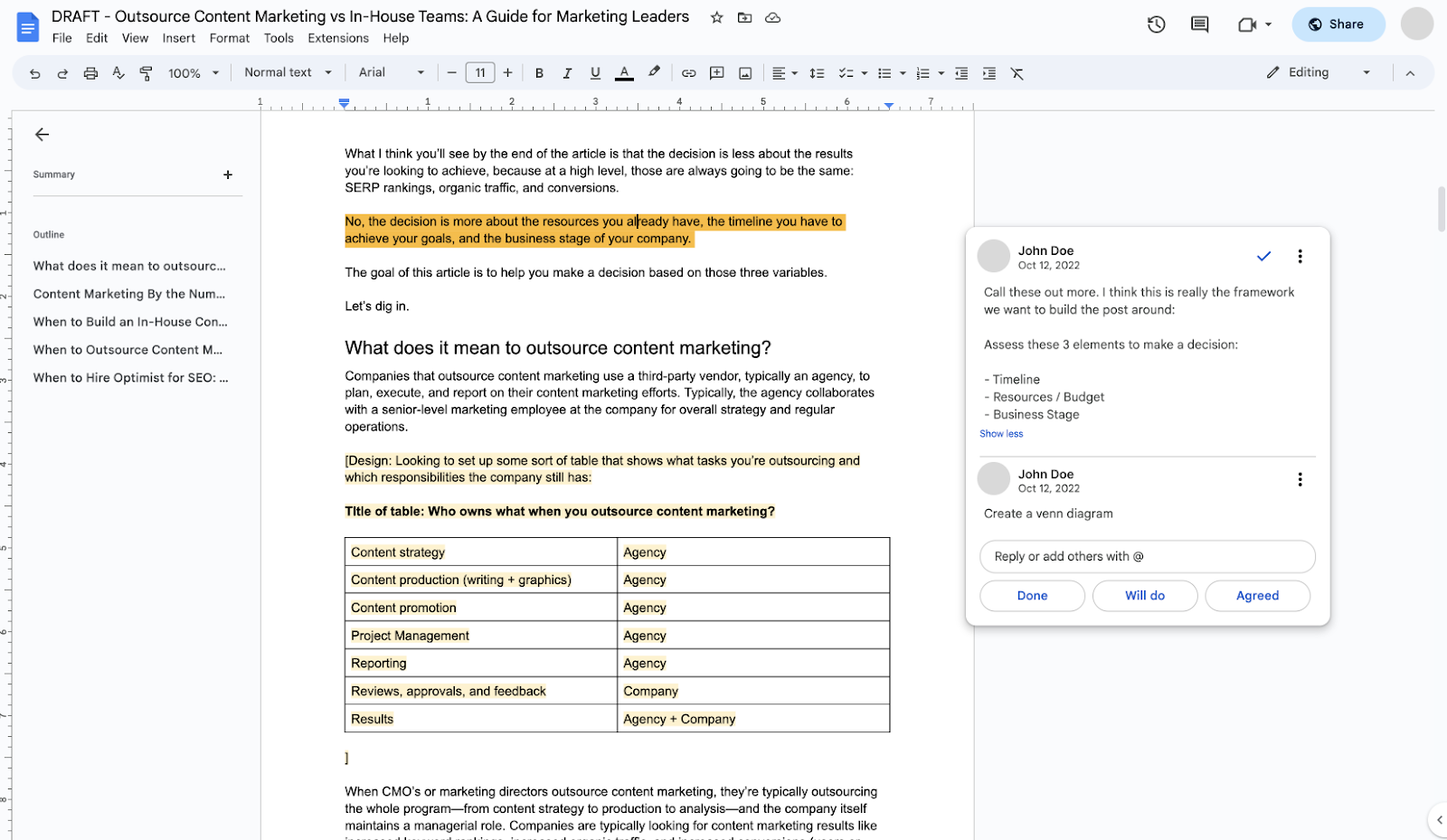 Another handy collaboration feature of Google Docs is link sharing. 
If you want to share a draft with somebody, you can set permissions and send them a unique link. You can set permissions as Viewer, Commentor, or Editor. By defining permissions, Google Docs enables you to establish the appropriate level of security for your content.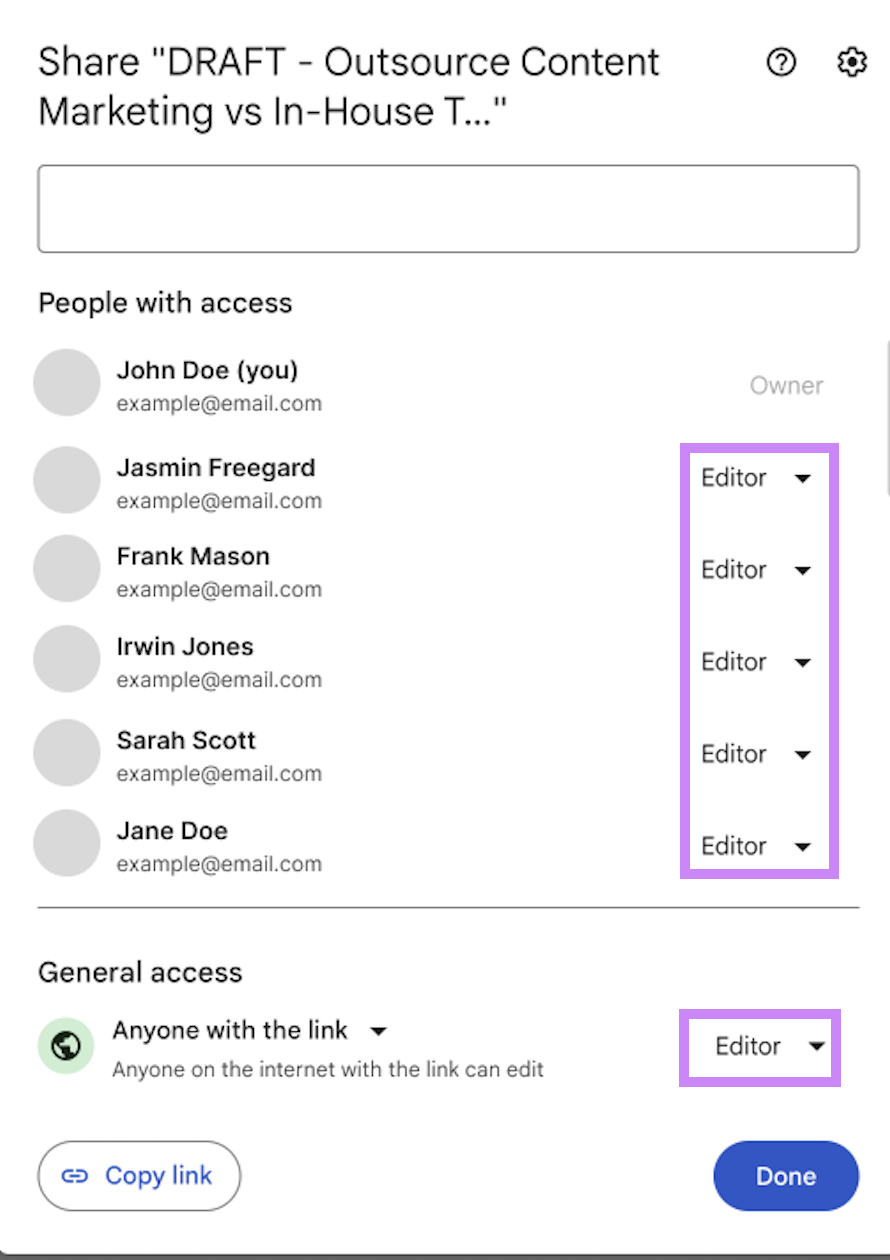 Pricing: Free and paid plans. 
Integrations: Google Docs has a massive list of integrations called add-ons you can download or purchase from the Google Workspace Marketplace. 
monday.com
Monday.com is a web-based project management tool that helps teams manage tasks and build customer workflows. 
If you're working with a team or just want to organize your blog workflow, monday.com can help break the content production process down into actionable steps. 
For example, bloggers may want to organize their workflow chronologically: 
Conduct keyword research
Develop outline
Write article
Design graphics
Publish to WordPress
While this is a simple example, with monday.com, you can take this idea and incorporate more complex workflows and team members to optimize productivity and maintain accountability. 
Pricing: Free and paid plans. 
Integrations: monday.com has over 200 integrations. Its Semrush integration can help prioritize your content production schedule by displaying SEO metrics directly in the monday.com dashboard. 
CoSchedule
CoSchedule is an online tool that helps organize and enhance various forms of content, from blog posts to social media. It offers features to schedule social media content, optimize your writing, and collaborate with team members. 
There are a few standout features for bloggers: 
Social Calendar: Schedule and publish social media content to promote your blog posts
Content Calendar: See all your content (blog posts, emails, social posts) laid out visually to help plan and shore up any gaps
Headline Studio: Get tips to write better headlines that will get more clicks and drive more traffic to your blog posts
Pricing: Free and paid. 
Integrations: CoSchedule has robust integrations with various CRMs, email marketing platforms, and productivity tools. 
How to Choose the Right Blogging Tool for You
Whether blogging for SEO, building an audience, or getting subscribers for a newsletter, the right tools can make all the difference. 
So how do you choose the right tool? 
Try this using these steps: 
Purpose: Define what problem you need the tool to solve. Tools like Copy.ai can help you generate more content quicker with the help of AI, while tools like Google Search Console will help you analyze the success of what you've already posted. 
Pricing: What is your budget for software? Subscribing to too many tools can quickly put you over budget. Set a budget and only purchase tools that solve the priorities you identified in the previous step. 
Integrations: Syncing the blogging tools you buy with your existing software will help you save time. Double-check the integration abilities of the tools you're considering to see if they're compatible with your software stack. 
Reviews: Once you've narrowed your search using the steps above, check out the reviews and testimonials from sites like G2 and Capterra to see how others evaluate their experience. 
The right set of blogging tools can streamline your processes, increase efficiency, and enhance the overall quality of your blog content.
Level Up Your Blogging Production and Results
Achieving results with blogging requires effort, consistency, and strategy. Semrush can help you plan and execute a winning blog. 
If you want to learn more about how to write a successful blog, here's what you can read next: