monday.com is a cloud-based work operating system that enables you to manage tasks and projects, build workflows, and adjust those workflows to accommodate shifting needs. Semrush is an online visibility management and content marketing SaaS platform which provides deep insights and analysis into organic and paid search, technical SEO, online advertising, the online competitive landscape, content performance, and more. Together, this integration empowers you with real-time keyword insights while assigning and managing SEO, content marketing, and related tasks via monday.com.
How The monday.com and Semrush Integration Can Help You
The monday.com and Semrush integration provides you real-time keyword insights powered by Semrush, without leaving the monday.com interface. It can help you:
Effectively prioritize and assign tasks with the help of Semrush's Keyword Difficulty score
Create and maintain a more powerful SEO strategy with Semrush-powered search volume data
Strategically target paid search keywords with up-to-date CPC data
Provide more accurate strategic insights to your content team when assigning and evaluating projects.
How To Set Up The monday.com Integration With Semrush
The Semrush integration with monday.com can be used by anyone with both a Semrush and a monday.com account. If you do not currently have a Semrush account, you may register for one during the installation process.
You can install the integration on your selected monday.com board with only a few steps:
Log into your monday.com account and open the board where you'd like to install the integration.
Open the menu in the top right corner and select "Apps marketplace."
Navigate to the Semrush integration by typing "Semrush" into the search bar.
Select and install the integration.
When prompted, log into your Semrush account and grant access. If you do not have a Semrush account, you must register to proceed.
If you don't already have columns available, you will first need to create new columns on your monday.com for the Semrush data to use.
Select which columns you want to be automatically populated with Semrush data.
Because you're installing this integration on a single board, if you want to use it on a second one, you will have to repeat this process and grant access again.
How to Use the Semrush and monday.com Integration
Once you've installed the integration and selected which columns you want to be populated, then using it is simple.
First, create an item by entering a keyword or phrase you're interested in targeting into the first column on your monday.com board.
After a few moments, your selected columns (Keyword Difficulty, Search Volume, or CPC) will automatically populate with Semrush data.
The number of keywords you're able to research may vary based on your subscription level:
Free: 10 Keyword Searches Per Day
Pro: 3,000 Keyword Searches Per Day
Guru: 5,000 Keyword Searches Per Day
Business: 10,000 Keyword Searches Per Day
Once you reach your limit, you will be alerted via a monday.com notification: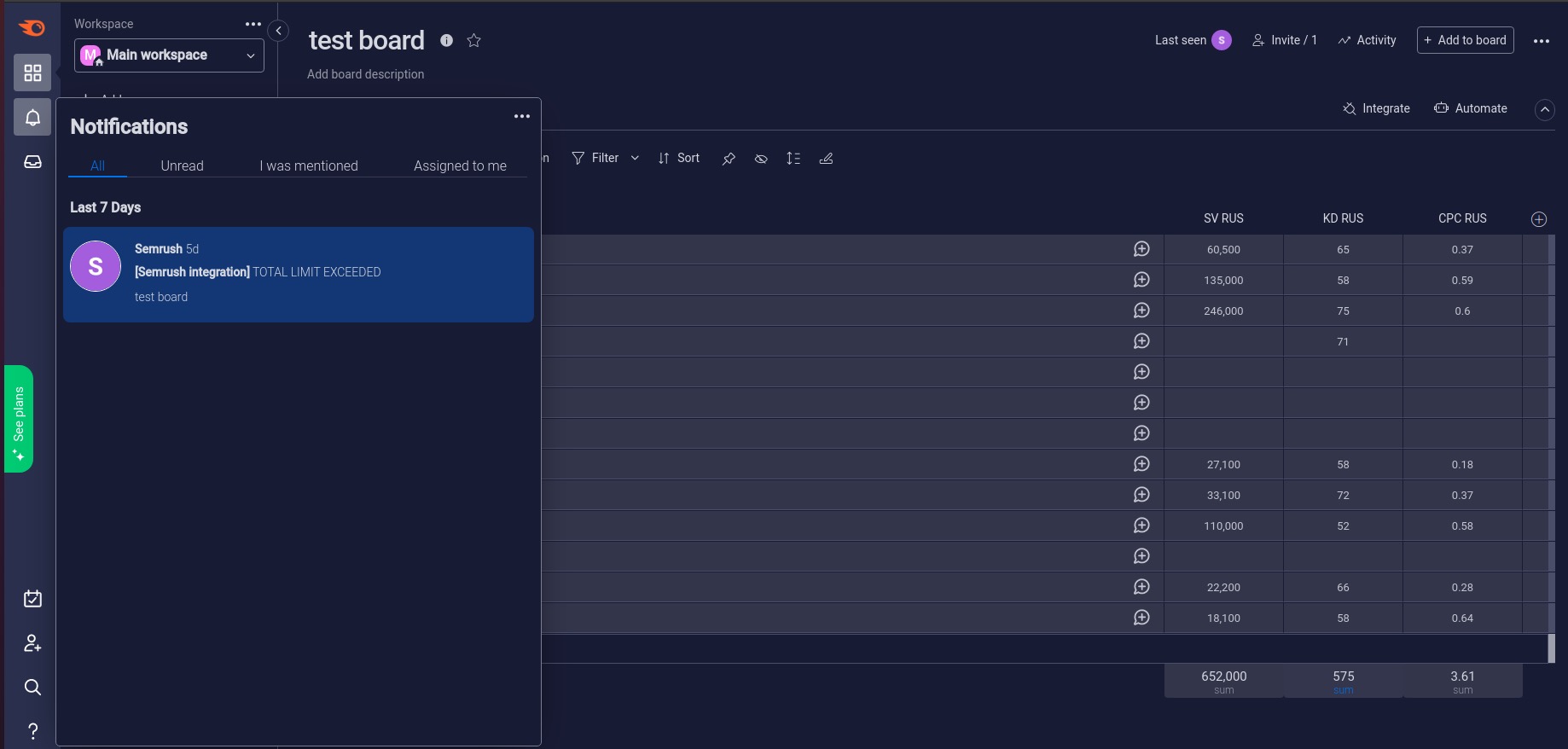 For more information on Semrush subscriptions and pricing, please visit our Plans & Pricing page.
Frequently Asked Questions
What Is Keyword Difficulty?
Keyword Difficulty is a Semrush metric that analyzes how much effort it would take to rank for a specific keyword. This is scored on a scale from 0-100. The closer to 100 the score is, the more difficult it is to rank for that keyword. This score is calculated based on a variety of factors, including:
The median number of referring domains directed to ranking pages
The median number of dofollow links directed toward those pages, compared to the median number of nofollow links
The median authority score of ranking domains
The presence of SERP features and other factors related to the selected keyword
What Is Search Volume?
Search Volume refers to the average number of times a keyword is searched for over the course of one month based on data at a national level. This data is updated monthly to accommodate new search data and any other changes in the SERPs.