Client relationships are the foundation of any business. Whether you're creating content or delivering products, you must communicate with your audience to meet their needs. One way to strengthen client relationships is by working together during project development. Instead of explaining your progress, show them using client portal software.
Client portal software gives you and your customers access to important project data. With client dashboards, you can offer clients customized views showing only the information relevant to them. Sharing your insights and project milestones can aid in customer understanding and provide an easy way to receive feedback.
What Is Client Portal Software?
Client portal software—also called customer portal software—is software that allows companies to give their clients customized access. Every client portal software has different capabilities, but the purpose of all portal software is to give customers insight into the work you're performing for them. 
Client portal software is an excellent resource for customers that regularly check their performance or progress. With this software, you'll reduce on-demand requests and automate a large portion of client communication. 
What Should Client Portal Software Include?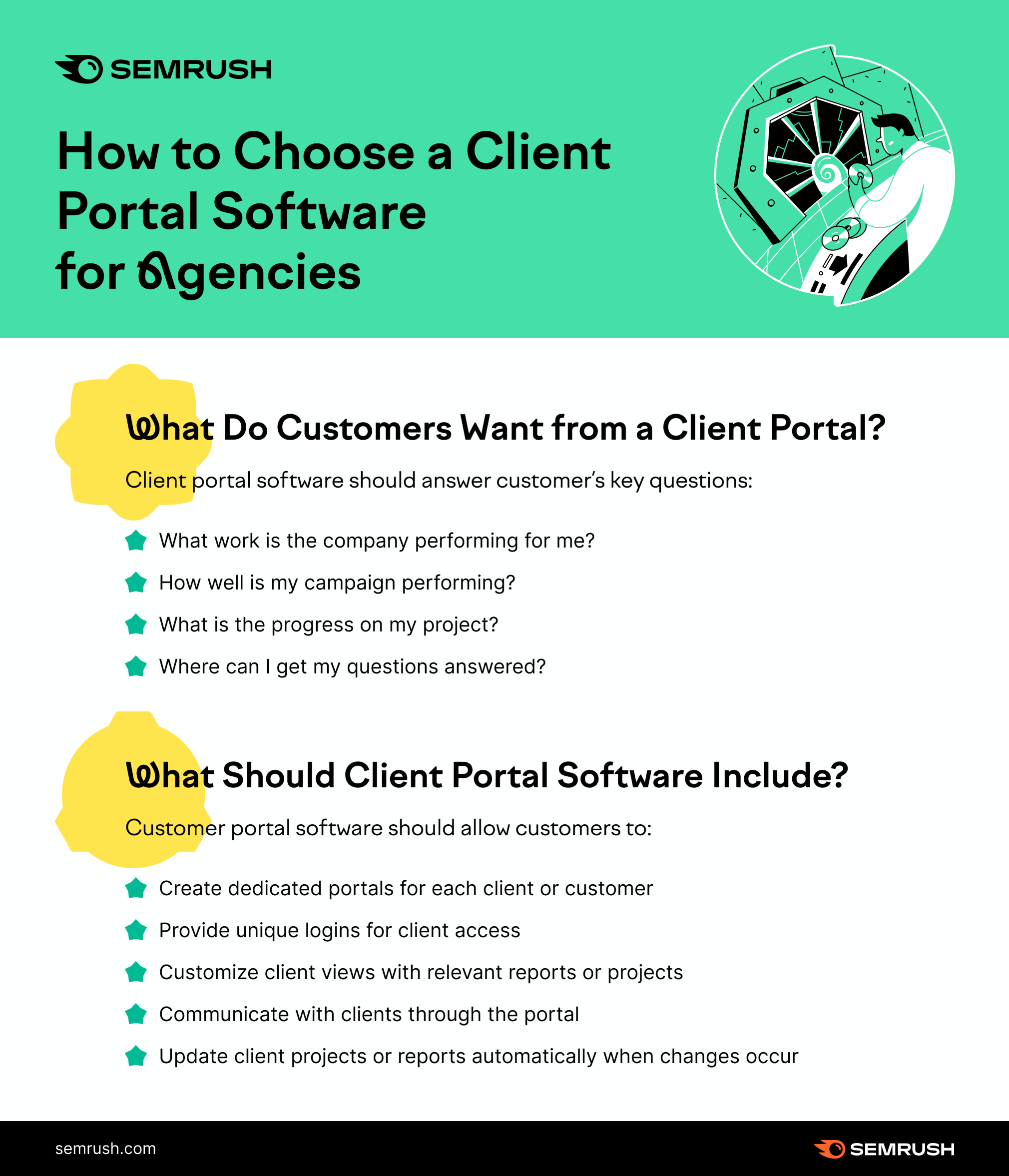 Every customer portal software has a unique value, but all products in this space also share some components. Customer portal software should allow customers to:
Create dedicated portals for each client or customer
Provide unique logins for client access
Customize client views with relevant reports or projects
Communicate with clients through the portal
Update client projects or reports automatically when changes occur
The features in your client portal software may vary based on who's offering it. For example, project management companies with client portals may have features that apply to all teams, while SEO companies with client portals may have specialized features for digital marketing.
What Do Customers Want from a Client Portal?
When considering which client portal software to use for client relations, make sure it's informative and easy to use.
Client portal software should answer customers' key questions:
What work is the company performing for me?
How well is my campaign performing?
What is the progress on my project?
Where can I get my questions answered?
Most customers welcome the invitation of a client portal when you give them consistent insight on their progress and performance. 
Top 10 Client Portal Software in 2022
Client portal software should align with your company goals and meet your customer needs. Below, we've outlined the pros and cons of some of the best client portal software. Use this list to determine which one is best for you. 
1. Semrush
Semrush is a digital marketing platform offering one of the best client portal software. Companies looking to improve client performance can benefit from this product. Use Semrush to create custom client portals with unique logins and share relevant, updated tasks and reports.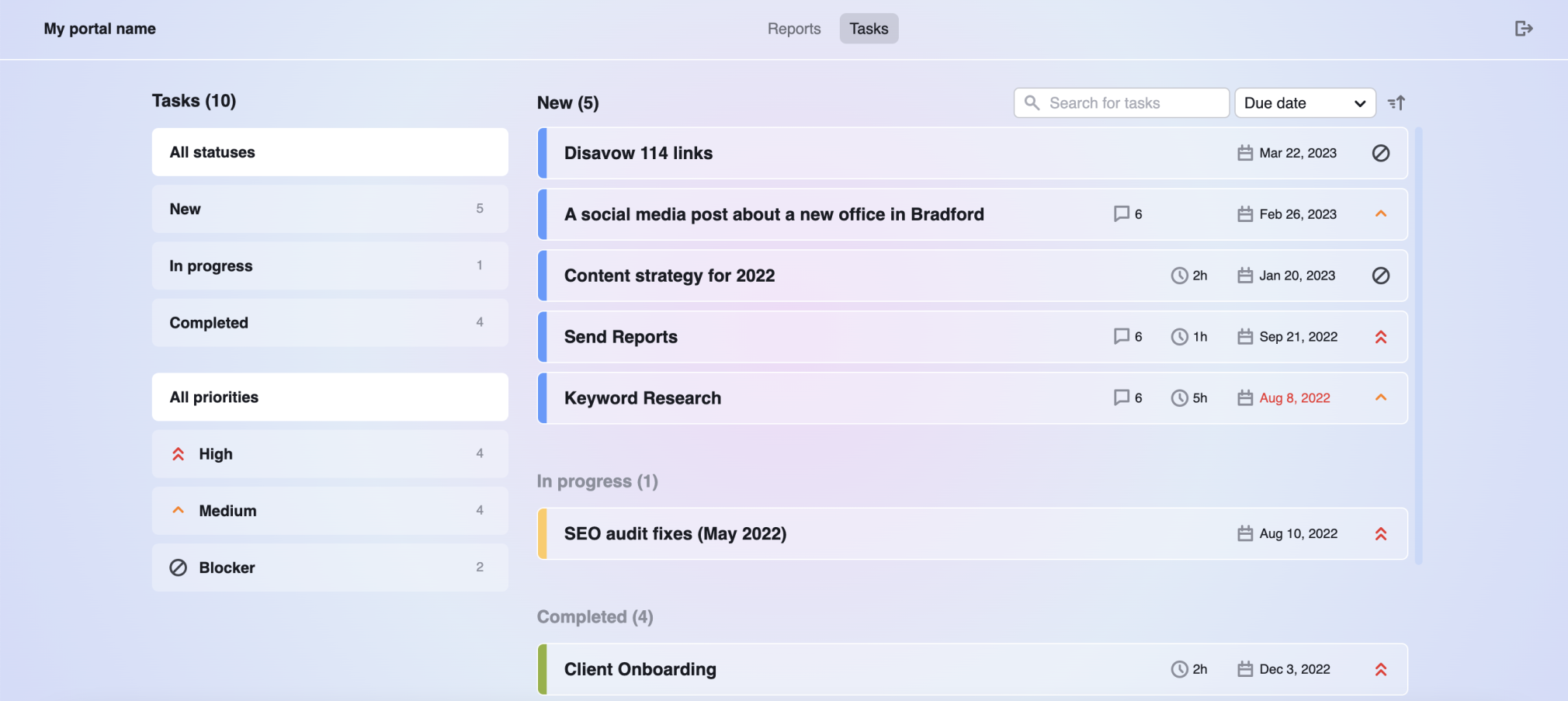 Main functionality: Share ongoing projects, tasks, and reports from dozens of different tools, including Google Analytics, Google Search Console, Google My Business, Semrush, and Facebook Ads, and get easy task approvals from clients.
Pros: 
Create up to 100 client portals. 
Set automatic update intervals for client reports, and automate your reporting
Demonstrate the progress of your project with tasks, so your clients know the scope of work and how the project is going
Price: $150/mo + Semrush subscription
Best for: Agencies looking to boost business by automating day-to-day growth processes
2. Huddle
Huddle is an online platform that offers free access to their client portal with membership. Use Huddle's client portal to share files and communicate with clients across projects. You can also track and co-edit documents using integrations.
Main functionality: Collaborate on project management by sharing files, tasks, and conversations relevant to specific clients.
Pros:
Upload and download files up to 10 GB in size.
Collaborate on projects by integrating with G-Suite and Microsoft Office.
Securely request or share up to 500 files at a time.
Cons: 
Must access through a web browser.
Price: Free with Huddle membership (as low as $10 per month)
Best for: Teams that work closely with clients to complete projects
3. Hubspot
HubSpot includes a client portal with premium memberships. This portal software is best suited for teams wanting to upgrade their customer service offerings. The portal offers a shared inbox for seamless ticket conversations.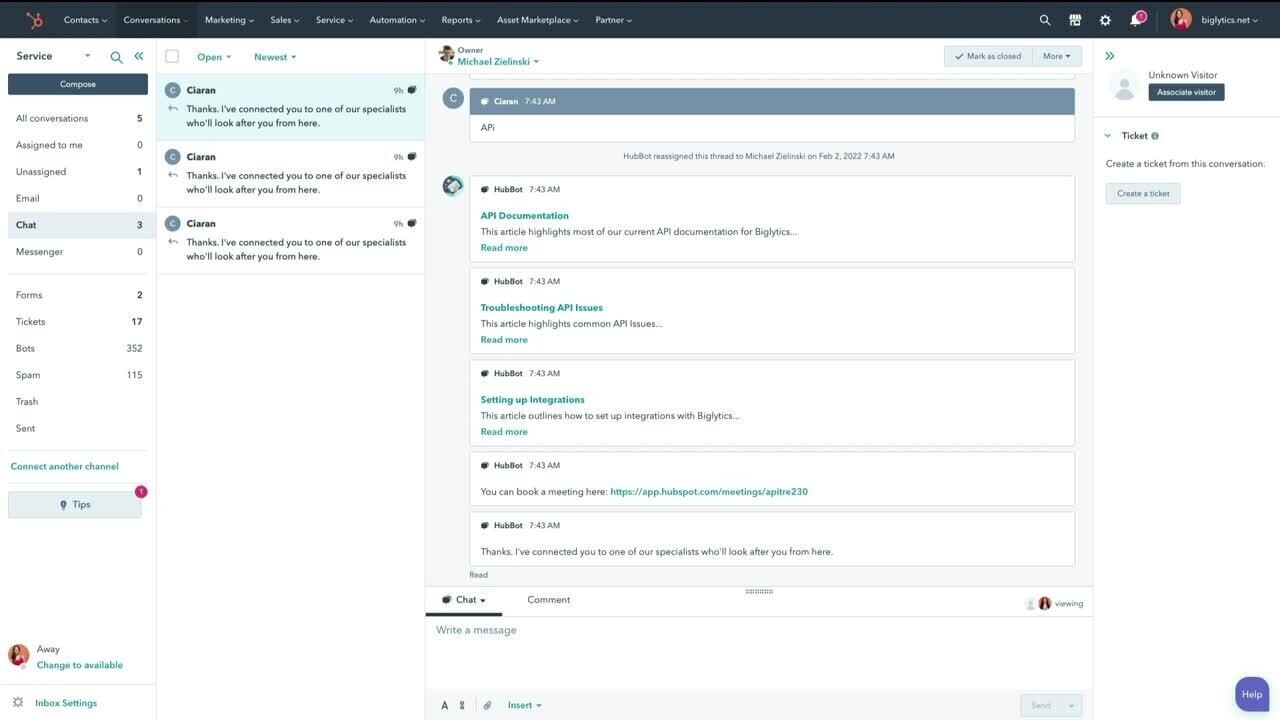 Main functionality: A customer service platform to store and answer client questions. 
Pros: 
Store ticket conversations between customers and reps
Access your company's knowledge base
Customize each portal to meet customer needs
Cons: 
Serves as a help desk instead of the ongoing collaboration
Price: Available with premium Service hub subscriptions, starting at $450 per month
Best for: Companies that want to give customers a self-service option.
4. Nifty
Nifty is a project management tool offering a portal app to improve client communication. Use Nifty to collaborate on projects, automate processes, and assign tasks. Then, customize work views and share them with clients.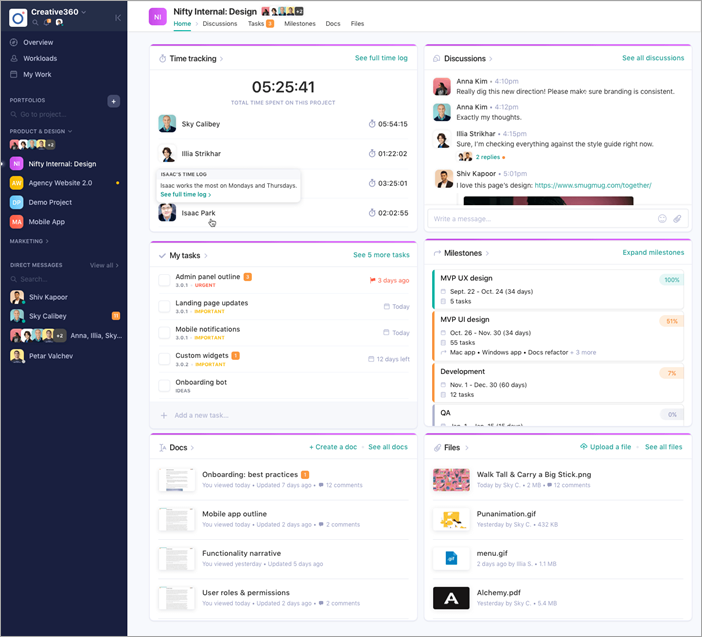 Main functionality: Manage client projects, deliveries, and communications in one place.
Pros:
Group projects by team, department, clients, or folders.
Automatically assign users to new tasks
Customize guest and client views
Cons: 
Not a unique client portal. Must adjust client views to see internal-facing work.
Price: Starter plans begin at $39 per month
Best for: Teams hoping to improve work processes and improve productivity.
5. Freshdesk
Freshdesk offers client portal software aimed at supporting customers through self-service solutions. This portal software includes translating abilities, theme customization, and automated support solutions.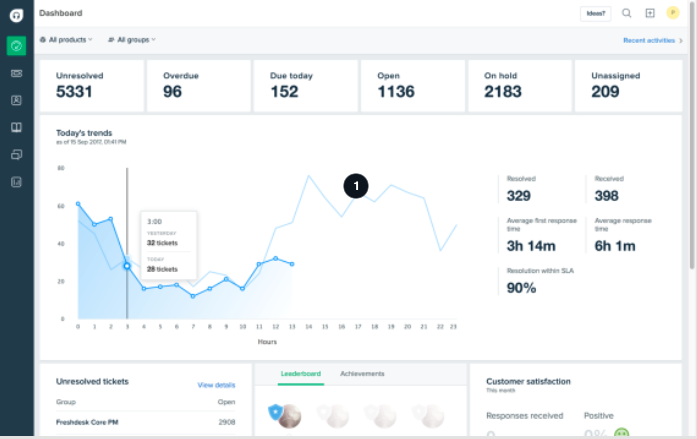 Main functionality: Provides tools needed for customer support and self-service.
Pros:
Customize portal with various themes and templates
Give customers multi-product and multi-lingual support
Allow the software to auto-suggest solutions for customers
Cons: Created solely for customer support, not collaboration.
Price: Free until you reach 10 agents, then plans begin at $15 per agent per month.
Best for: Large agencies needing support with their help desk.
6. SuiteDash
SuiteDash is a cloud-based platform with various uses, including client portal software. The client portal serves as both a CRM and customer support tool. In addition, your team can use SuiteDash for project management, marketing, and billing.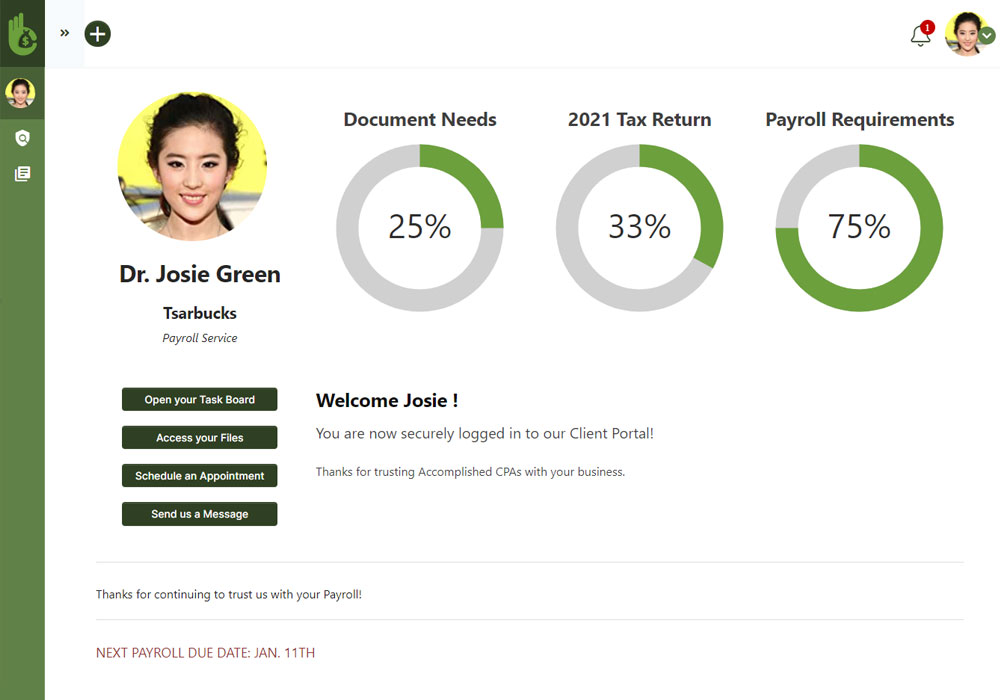 Main functionality: Full-service platform for CRM, project management, and marketing.
Pros:
Use the software cloud to store data
Customize your platform to align with your brand
Share files and collaborate through the portal
Cons: May be hard to use because of its versatility. 
Price: Starting at $99 per month for unlimited team and client use.
Best for: Small to medium-size businesses wanting an all-in-one platform.
7. Asana
Asana's client portal is an extension of their work management software. Use the portal app to create custom views for clients and show them project progress in real-time. The portal also allows clients to send feedback and questions to assigned team members.
Main functionality: Manage team projects and share data with clients.
Pros:
Create automated workflows
Customize portals with WorkSpaces
Place tasks, projects, files, and conversations in client WorkSpaces
Cons: Not a unique client portal. Meant for internal use, with shared views for clients.
Price: Free for teams up to 15 people. Premium plans begin at $13.49 per user per month.
Best for: B2B teams wanting to collaborate closely with clients.
8. Zoho Creator
Zoho Creator offers a self-service customer support solution. Create customized client portals ​​and allow customers to access relevant data, like invoices, deliveries, orders, and online payments.
 
Main functionality: Build unique portals for client support, order fulfillment, project management, and HR.
Pros:
Customize portals to align with your brand
Manage and share files through the portal
Allow customers to answer their own questions
Cons: It may be harder to navigate because of its versatility
Price: Available with premium plans, starting at $37 per month
Best for: Full-service agencies hoping to collaborate with clients and meet customer needs.
9. Monday.com
Monday.com offers a unique client portal software focused on CRM and sales. This portal is an internal-facing portal, which allows teams to manage customer data and interactions. Customize dashboards to sales and performance, then share views with customers.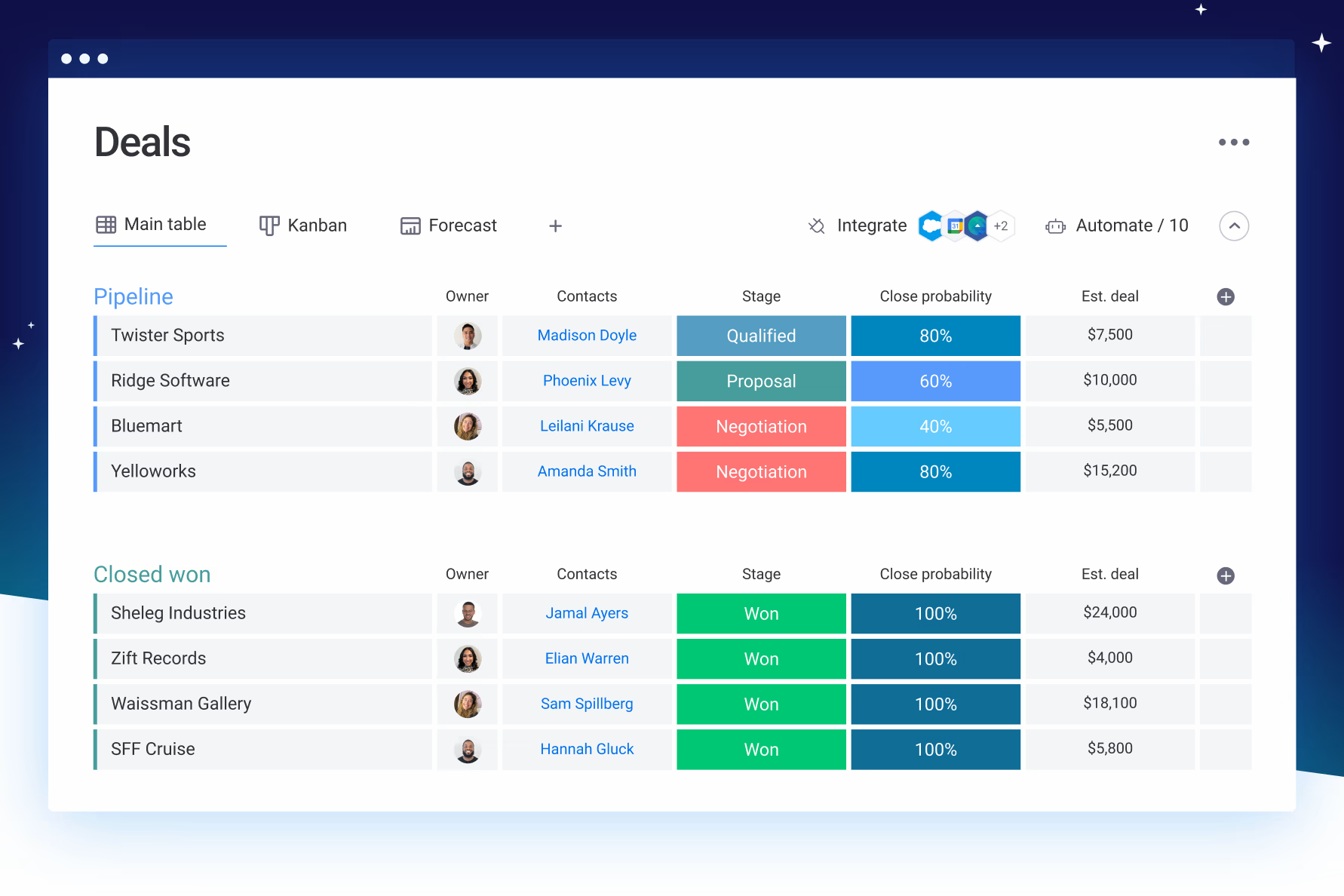 Main functionality: Use as a CRM tool to manage leads, sales, and increase customer retention.
Pros:
Share your sales progress with your clients.
Manage customer data, interactions, and processes.
Customize your dashboards.
Cons: Most features aren't customer-facing.
Price: Starting at $25 per month for five users.
Best for: Agencies with dedicated sales or development teams.
10. Zendesk
ZenDesk offers a self-service portal for customer support. Through the portal, customers can submit ticket requests based on customized ticket submission forms. Once submitted, customers can track their ticket status and access your company's knowledge base.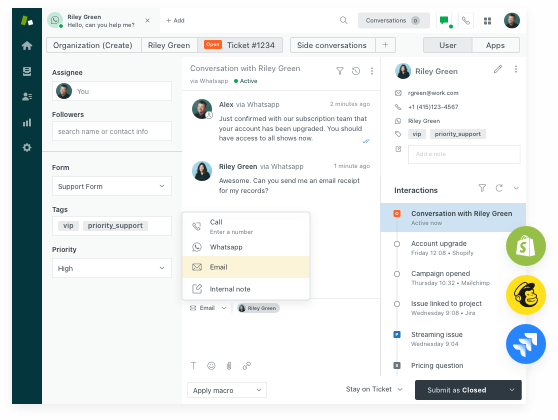 Main functionality: Serves as a help center for customers to track activities and answer their own questions.
Pros:
Customize your portal with your logo and themes that align with your brand.
Create multiple help centers for different brands and regions.
Keep your help center open or restrict it to specific customers.
Cons: Serves as a help desk instead of ongoing collaboration. 
Price: $79–$215 per month, depending on individual or enterprise subscription
Best for: Agencies in need of an automated customer support platform.
Which Client Portal Software is Right for Me?
The best client portal software for you will depend on your business goals. Some client portals serve as self-service options, while others feature collaboration tools. If you're in the digital marketing space, you may need a platform that shares and updates important customer reports. 
Once you choose a client portal software, set it up to meet your customers' unique needs. Customize your platform to align with your brand and offer a navigation guide for customers to follow. With the right development and guidance, customers will appreciate their portal and the support they receive.
Support Clients and Achieve Growth with Semrush
Semrush is a unique client portal software included in the Agency Growth Kit. With the kit, you'll have all the tools you need to generate leads, strengthen your brand, and communicate with existing clients. 
Use the client portal to share custom reports and analytics that update automatically. Present a professional look with white labeling and unique client logins. With the many agency-tailored features offered in the Semrush Agency Growth Kit, you'll increase customer satisfaction and improve business success.