Client Portal is a one-stop agency-client collaboration tool found in the CRM tool. Client Portal allows you to create interactive and secure white-label portals, where reports and tasks can be shared and accessed between agency and client.
Now, instead of collecting data manually and processing it, the agency can create a client portal in a few clicks, select the required information, and then send the link and password credentials to your client.
This tool allows you to share various reports from dozens of Semrush tools and Google tools and also allows you to share tasks within the portal. Clients are able to create new tasks and easily approve tasks straight from the portal. Even if your clients don't have access to Semrush, they will be able to see the updates as often as they need.
The Client Portal feature is available as a part of the Agency Growth Kit.
AGK Start users can create up to 5 clients portals, and AGK Scale users can create unlimited number of portals.
What's inside the Client Portal?
Reporting
The Reports section contains Reports created by an agency with the help of My Reports which have been linked to the specific client in CRM.


After the clients log in with the given credentials, they see the dashboards that the agency had shared with them and the report for the last generated period. The previous time periods will also be available to compare the data.

You can set the report intervals so that they update automatically in the portal. There's also an option to download reports as PDF files.
You can also access the Client Portal free demo page and see what's inside the product from agency clients' perspectives.
Tasks
Agencies can share the tasks from the CRM client card via a Client Portal so that the client can see the scope of work, current task statuses, deadlines, etc. Agencies can choose which tasks will be shown to their client and which not.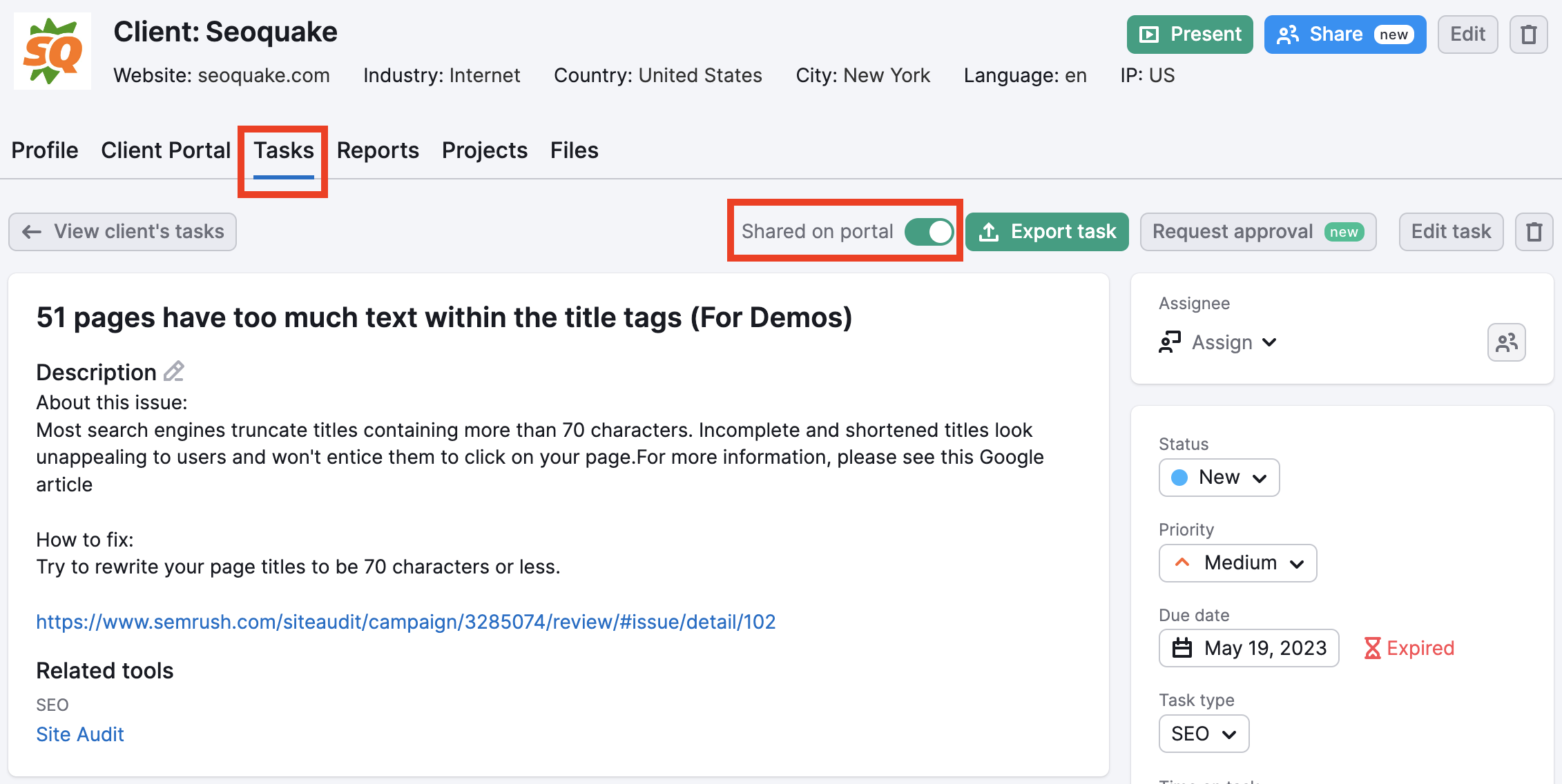 Clients can look through those tasks in the Portal and create new tasks. Clients can also comment on existing tasks, creating a space for communication between an agency and a client inside the Portal.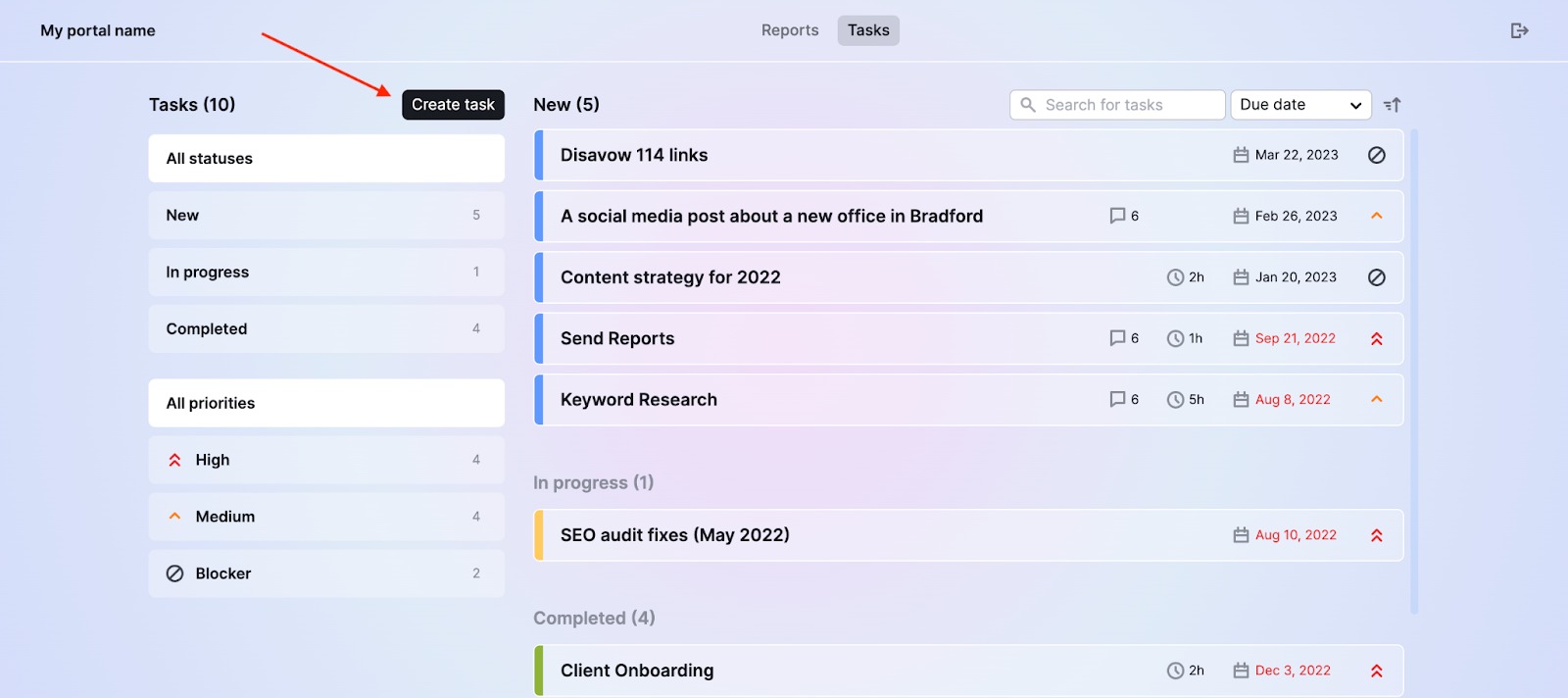 With the task approval feature, clients are notified when they need to approve a task. By having this workflow and keeping tasks in one place, the client experience is improved whilst also optimizing the workflow of the agency by streamlining communication.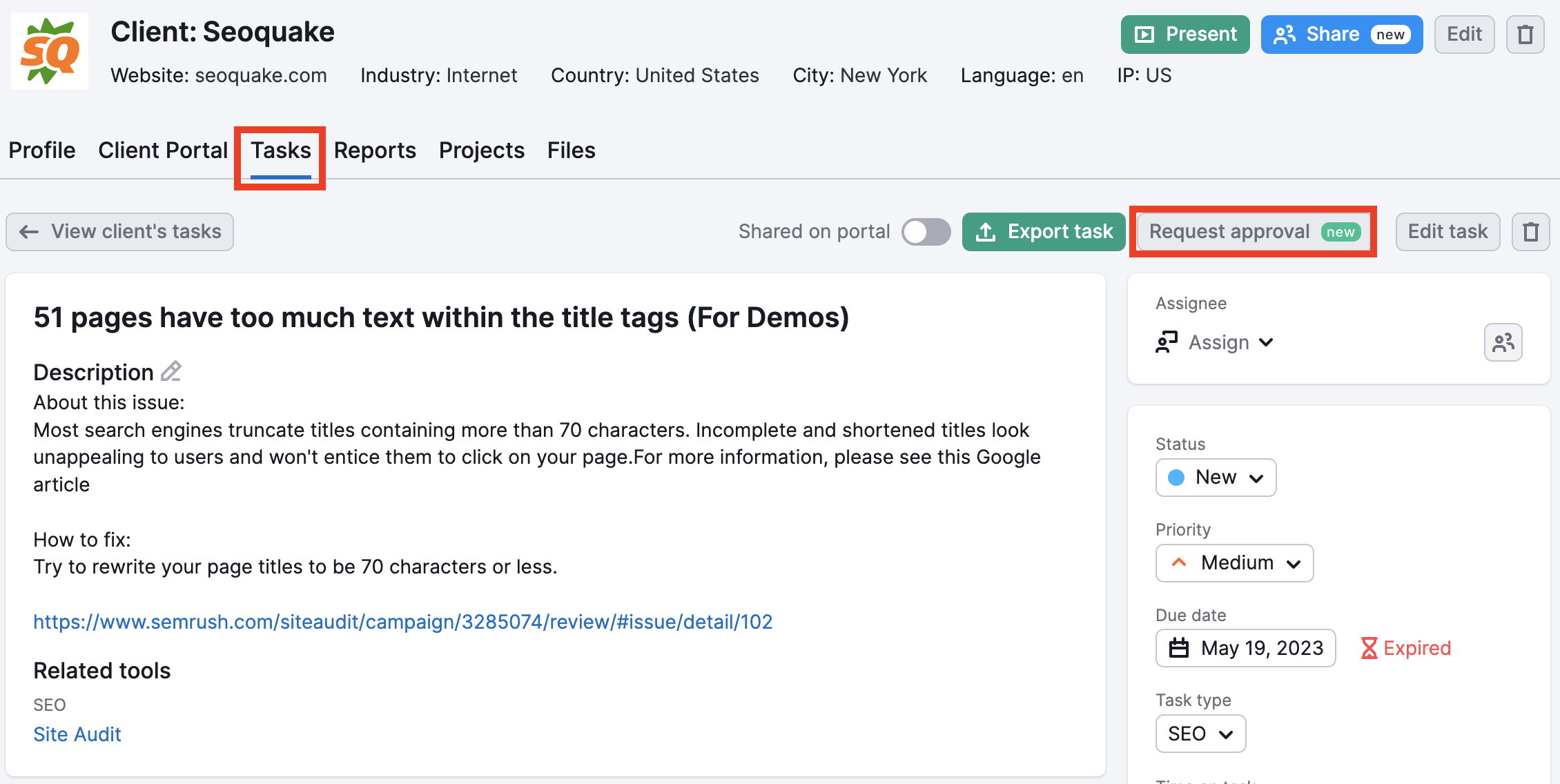 Also, there's an option to assign a task to a responsible person. It simplifies communication in collaborative projects and allows to track tasks distributed between team members.


Please note that tasks can be assigned only after sharing a client with a view or edit permission. And, if a client is shared with anyone with edit permissions, they can also assign that client tasks.
Additionally, there's a filter on CRM task pages for convenient interaction:


Once a team member is assigned to a task, an email notification will be sent to the assigned person. Also, if any comment is added to a task, an owner, a manager and the person responsible for the task will be notified via email.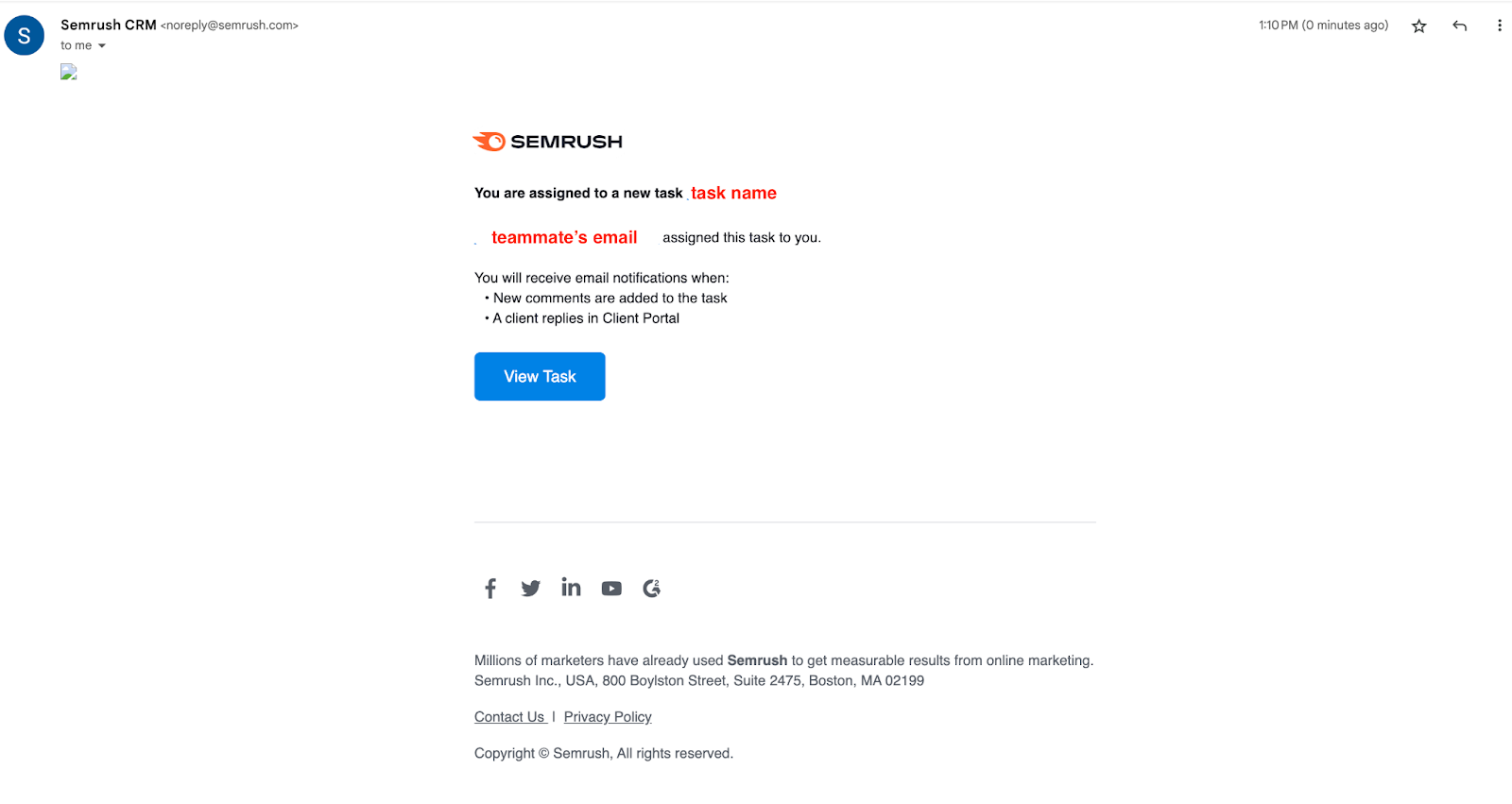 How to Set Up the Client Portal
Start working with the Client Portal in the Agency Solutions dropdown or in the Client Portal tab in the CRM tool.
After hitting the Create Client Portal button, create a name and password for your portal. You can also brand your portal with a logo.
Select the reports with data you want to showcase and set the automatic report update intervals. You can set the reports to be updated on a daily, weekly, or monthly basis. After the portal is created, you will be able to edit, close or delete it.
Send your client a personal link and password to their portal.
Where do I find Client Portal in Semrush?
You can find the Client Portal in the main Semrush menu on the left-hand side. It is in the Agency Solutions dropdown, under "Optimization & Automation."

It can also be found in the CRM tool under the Client Portal tab:


Additionally, you can add a client and create a portal from the interface of Semrush's tools. Simply click on the 'export to PDF' button, then select 'share online'.
How can I get the Client Portal?
Client Portal is available as a part of the Agency Growth Kit, an agency-tailored solution made to help digital agencies automate day-to-day processes for growth.
With the AGK, agencies can optimize the lead generation process, effectively handle client and project management, automate client reporting, and more.
What else do I get with the Agency Growth Kit?
Besides the Client Portal, you will also get:
Pricing
Please note that Agency Growth Kit is only available with a Semrush paid subscription.

Semrush plan + Agency Growth Kit:
| | | | |
| --- | --- | --- | --- |
| | Semrush Pro ($119.95/mo) | Semrush Guru ($229.95/mo) | Semrush Business ($449.95/mo) |
| AGK Start ($69/mo) | ✔️ $188.95/mo | ❌ | ❌ |
| AGK Scale ($149/mo) | ✔️ $268.95/mo | ✔️ $378.95/mo | ✔️ $598.95 |
More information about pricing can be found here.
Frequently Asked Questions
You can purchase any Semrush subscription and then combine it with the Agency Growth Kit as a single-purpose solution. This will give you full access to:
All tools in the Agency Growth Kit
All tools in the Semrush SEO Toolkit
All tools in the Semrush Advertising Toolkit
All tools in the Semrush Social Media Toolkit
My Reports and Marketing Calendar
All tools in the Semrush Content Marketing Toolkit
*The Semrush Content Marketing Toolkit is only available with a Guru or Business level subscription.
No. You cannot currently purchase access to one of the tools without the other.
Client Portal with the Agency Growth Kit is available to purchase at any time from our
pricing page
or from your
subscription information page
. Alternatively, you can reach out to our account team via this
contact form
, or contact us via the phone number at the footer of our website.