Content marketing is no longer the new black in 2018, as it has already become an essential part of any successful digital marketing strategy. However, many content professionals still talk about the best way to create high-quality content.
Based on our content marketing experience and the surveys we have conducted in this area, we can state with confidence that quality content relies on precise analytics and trustworthy data. When content is not supported by data, one can never be sure that it will directly hit the audience's pain points.
The main challenge of a data-driven approach is that gathering and analyzing data takes a lot much time.
Keeping this in mind, we conducted integrated research into the key problems of content professionals and built a Content Marketing Platform that helps to make effective decisions quickly at every stage of a content marketer's workflow.
Typical Content Marketer's Workflow
According to our research and the interviews we conducted with content practitioners from around the globe, we came up with the typical workflow of an average content marketing professional: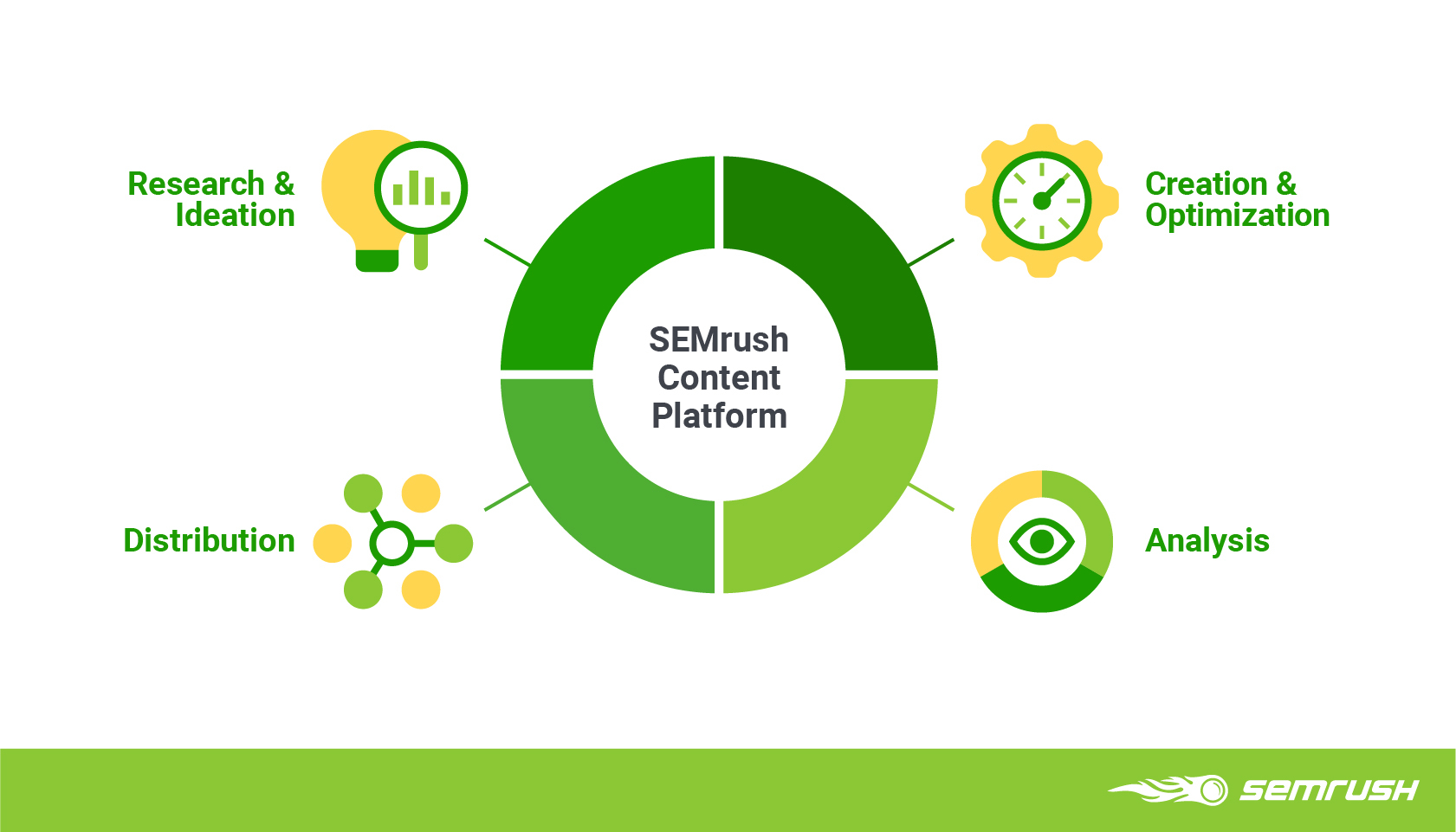 Let's now look step-by-step at the complex content marketing process and see how analytics can help to perform tasks more quickly.
1. Content Research & Ideation
This step usually includes analyzing your top rivals' content and your audience's preferences, finding gaps in your content plan, and researching topics for your future content. With this information in hand, you have to decide what content is most likely to be effective and contribute to your marketing goals.
One of the biggest challenges and most time-consuming parts of this step is to create an effective overall content plan and decide what to write about in each of your blog posts so that your target audience will be engaged.
Our Content Marketing Platform allows you to overcome all these challenges and conduct topic research by giving you the full picture of what your audience needs in just a couple of clicks. We gather hundreds of content ideas for a particular topic you research, group them by different themes, and prioritize them based on the resonance they get from your target audience.
2. Content Creation & Optimization
The content creation stage is where your content is written, designed and edited. A content writer at this point should understand the audience's needs and be aware of its problems.
Next is the optimization stage, where the writer's challenge is to find the perfect balance between the creative element and search optimization. From a different perspective, an editor faces another challenge — to verify that a piece content has been created according to their guidelines, is technically accurate, and that the SEO strategy is in place in all elements of the article or post.
When content is edited and fully optimized, it's time to publish it. You should never skip the optimization step before an article's release because you could end up spending more time and money afterward trying to reach your goals. Or, in the worst-case scenario, rewrite the whole article if it performs poorly.
We have developed the SEO Content Template to help you create a focused piece of content based on your rivals' best articles. On top of this, the template will give you actionable optimization recommendations, while SEO Writing Assistant will check in real time how well you or your freelance writer comply with these SEO tips; this can be done in your Google doc or WordPress account.
3. Content Distribution
By distribution we mean promotion on social media, getting backlinks, and posting on external resources. Content marketers are still looking for the best distribution strategies, as there is no ideal choice for all. At this stage, many of them monitor who is writing about their industry and track where competitors publish their content.
To evaluate a source's authority, content professionals often determine the source's brand reputation and estimated monthly traffic.
Our Content Marketing Platform lets you track your brand mentions and industry terms across the web, find possible backlink opportunities and evaluate the source's effectiveness.
4. Content Analysis
This step includes auditing your blog and tracking the performance of each piece you publish on either your or external blogs. Every metric matters — traffic to the content, social shares, bounce rate, search engine positions, and many others.
We have developed the Content Audit feature to help you quickly assess your blog's overall effectiveness and the Post Tracking feature to keep an eye on the performance of each of your articles.
Side Note: All of the above steps include a lot of communication between team members and require good task management. Throughout your content marketing campaign, it is vitally important to track your project's progression, create editorial schedules, and interact with colleagues quickly.
These tasks are why we developed our Marketing Calendar. It can help your team stay organized and be on the same page at any stage during your projects. Its handy features will also automate your routine and save time for the important things.
Covering All Steps of the Content Marketer's Workflow
We have concentrated our efforts on building useful content features, and have developed an all-in-one Content Marketing Platform to empower content marketers with reliable and easy-to-read data on which they can base their strategy.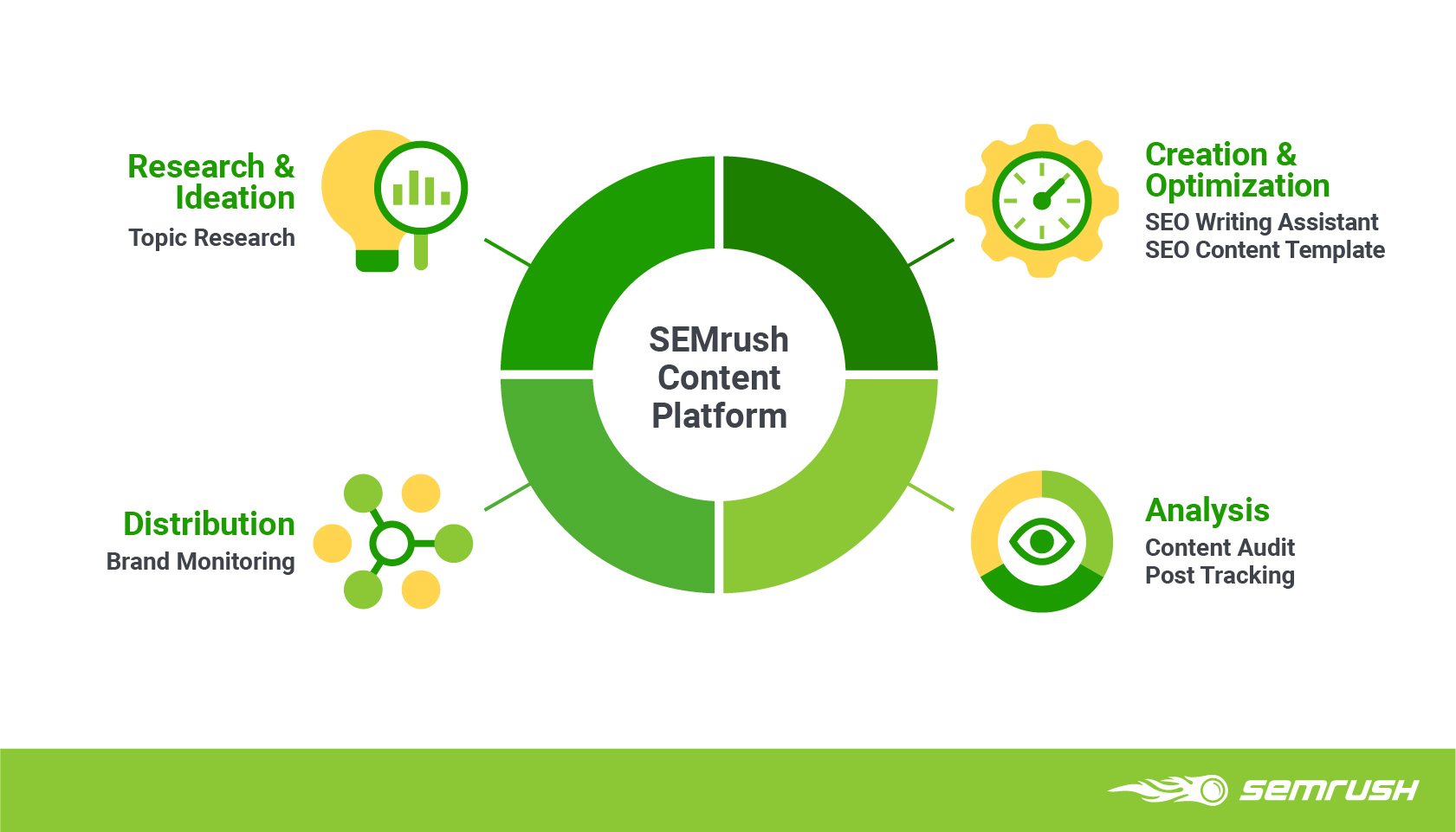 SEMrush aims to make your content-related work as seamless as possible, and we want to provide you with trustworthy data that will boost your content results !
The tools above are only the beginning; more insightful studies and tools with handy features for content professionals are going to be released soon. So, keep an eye on our blog for updates and data you can use to improve your content marketing efforts!