Paid media used to be pretty simple: you chose your keywords, set bids, drafted your ad copy, added negatives, and tweaked as needed. Over the years, though, paid advertising platforms have become more and more complex. With that, there are more opportunities to make small mistakes that can be costly. 
Below are some simple mistakes that can kill your paid advertising ROI and how to fix them.
Following the Search Engines' Default Settings
Unfortunately, sometimes the search engines don't have the advertiser's best interest at heart. Take a careful look at your campaign settings to ensure that they align with your goals. 
One example is default advanced location targeting. For most advertisers, it almost always makes sense to ensure that the advanced location targets are set to "People in my target location" (as opposed to "People in or searching for my target locations") and to exclude "People in or searching for my excluded locations" (as opposed to only "People in my excluded locations"). This is important as it keeps your geotargeting tight.
I also highly recommend ensuring that you don't include the display network in your search campaigns, as is currently the default. 
As another example, broad match keywords are the default keyword match type and typically are not the best performing. 
Relying on Smart Campaigns
Smart campaigns are the search engines' way of "helping" advertisers by simplifying the requirements to set up a basic campaign. The problem is, they also take most of the control out of the advertiser's hands and don't seem to drive as many conversions, despite receiving quite a bit of traffic. 
I recommend spending the time (or hiring someone) to build out search campaigns in place of Smart campaigns. Even if it costs a little money, it'll almost certainly have a better ROAS in the long term. 
Note that some smart campaigns can work – particularly Smart Shopping and Smart Display. This tip is specifically in reference to the regular Smart (search) campaign type. 
Paying Too Much for Clicks
Everybody wants to pay as little as possible for clicks — but this tip isn't really about using CPCs as a KPI. I fully believe that the focus should be on your end goal when it comes to determining what you choose as a primary metric to track. For most folks, that means conversions. 
However, if budgets are capped, sometimes it makes sense to try to see if lowering your bids could allow you to get more clicks while maintaining your conversion rate. In these scenarios, I suggest continuing to view conversions and conversion-oriented metrics as KPIs but running tests with varying bid levels to see if that results in improved conversion metrics by way of driving more traffic.
Choosing the Wrong Bidding Strategy for Your Goals
Another common mistake is choosing the wrong bid strategy for your goals. I'm a big fan of manual bidding because it allows so much control over your bids at a granular level. However, I must admit that ad platforms have done a great job at building out their bidding algorithms and are absolutely worth a test. 
Bidding strategies could encompass a whole blog post all on their own, but here's the short version:
Target Impression Share
This bidding strategy aims to get marketers the most visibility. As a result, costs are typically inflated and you may not see an increase in lower-funnel metrics, as the focus is truly on visibility.
Maximize Clicks
This bidding strategy focuses on gaining as much traffic as possible. Similar to Target IS, the focus isn't on lower-funnel metrics, so you may see a decrease in conversion rate. This could indicate that the traffic may not be as high quality. 
Maximize Conversions (no CPA target)
This bidding strategy aims to get as many conversions as it can, while also striving to spend the full budget that it is given. If you use Max Conversions, I highly recommend starting with a low budget cap, especially while the bidding algorithm is learning. Otherwise, it may spend the full budget at a very high CPA. While Max Conversions is not my favorite bidding strategy, I have found that it can be useful when initially beginning to ramp a campaign — if we start with a small budget. 
Maximize Conversions with a CPA Target (Previously Known as Target CPA)
This bidding strategy aims to get as many conversions as it can within the Target CPA. This bid strategy is one of my favorites if there's enough data for the bidding algorithm to learn from. Beware though; if the target CPA is set too low, it can squelch volume. If you have low volume campaigns, it can help to use a portfolio bidding strategy. 
Maximize Value
This bidding strategy is about driving as much conversion value as possible, while also striving to hit the budget. I view this bid strategy as being fairly similar to Maximize Conversions, except slightly more useful because it has a qualitative factor (tracking value in addition to volume).
Target ROAS
This bidding strategy is one of my absolute favorites — if you have conversion value data. It will try to drive as many conversions as possible while achieving your ROAS goals. Similar to setting a target CPA, if you set it too low, it can squelch volume. However, what I like about this strategy is that it will help you to max out your campaigns while hitting the profitability that you need to achieve. 
Misusing Bid Modifiers
Bid modifiers are excellent levers for optimizations. However, there are times when bid modifiers can go awry. There are three very important things to know when it comes to adjusting your bid modifiers:
Bid modifiers compound, meaning that if you adjust multiple bid modifiers that impact the same auction, they will compound against each other. This can mean increasing or decreasing bid modifiers significantly more than you expected, so I highly recommend not making radical bid modifier adjustments across multiple categories (device, time, demographics, audiences, or geography) on the same day.
Bid modifiers are meant to be used on outlier segments — for instance, if one device is performing significantly better or worse than the others, it is an outlier and a good candidate for a bid modifier. If you adjust all segments in one campaign in the same direction, then bid modifiers aren't effective as there is no control segment at that point. For example, it doesn't make sense to increase all device bid modifiers by 10%. At that point, it would make more sense to increase the bids by 10%, not the bid modifiers.
Bid modifiers do not work the same way with automated bidding as they do with manual bidding. It's important to verify how bid modifiers work with the bid strategy that you are using to ensure that you understand the impact of any adjustments. 
Choosing the Wrong Keywords for Your Goals
One of the most common mistakes that I see when I audit campaigns is that I see folks using really general keywords.
For instance, if you were selling pinball machines, it would almost certainly be more cost-effective for you to bid on terms like "where to find a pinball machine," "get pinball machine for house," "residential arcade games," "games for home arcade," and the like versus bidding on terms like "toys" or "entertainment."
While the latter terms might still technically be topically relevant, they aren't qualified enough to give us enough detail on what the searcher is trying to find. This means it would be tough to compete on those terms, as more general terms tend to be higher volume and can easily spend a lot of money quickly while having lower than average conversion rates. 
Put yourself in the mind of a prospective customer and consider what you would search for if you were in their shoes. 
Pro tip: By using the keyword clusters in the Keyword Magic Tool, you'll be able to find the most relevant long-tail keywords to use in your content.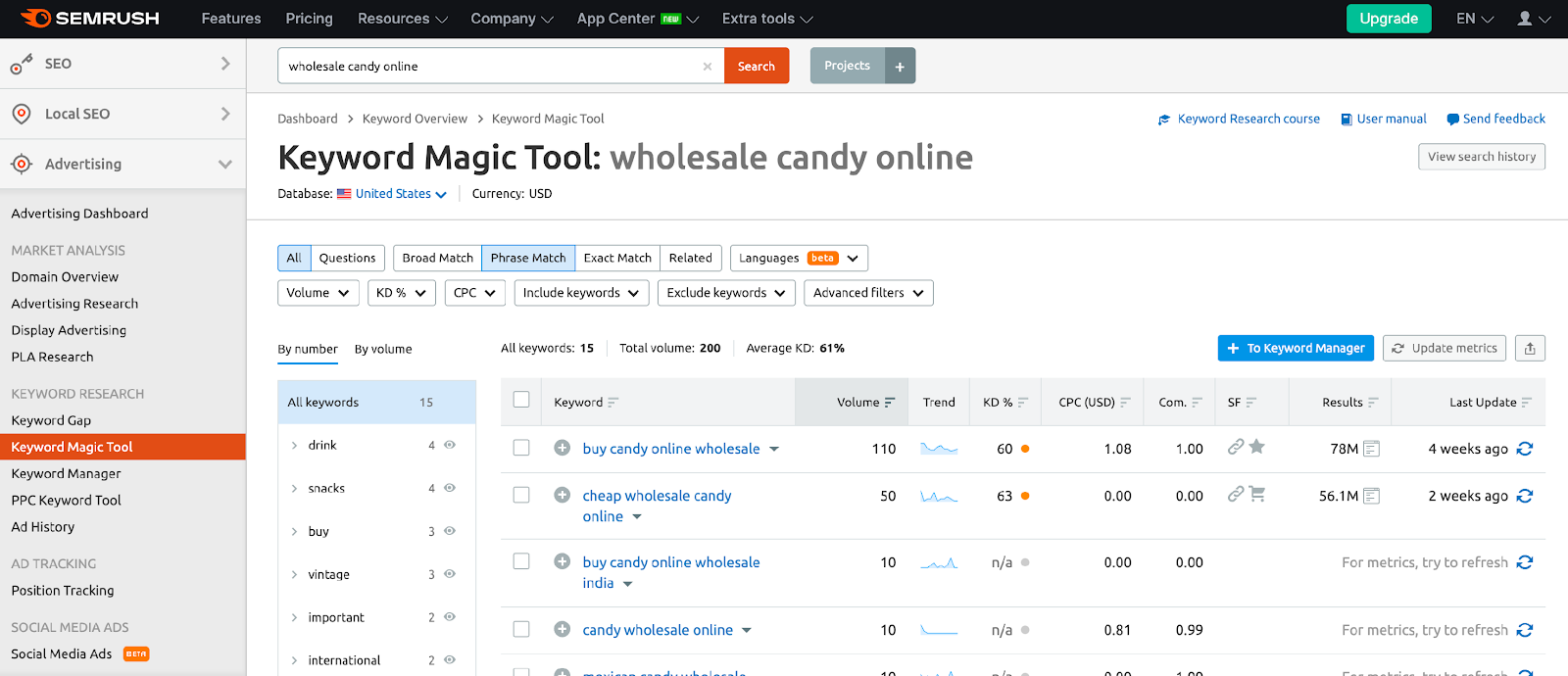 Long-tail keywords are more specific search terms (and are usually, you guessed it, longer). They typically get less overall traffic than more general keywords, but usually have a higher conversion value since they are very specific.
For example, you might search for "Ford trucks" when you first decide that you want a new car. However, you are probably just starting to shop and are looking for information rather than a place to buy a vehicle.
Later on, you may search for "Ford trucks near me" or "Ford trucks in [insert city here], which will likely lead you to a specific Ford dealership in the area (if they're managing their SEO and paid search well campaigns, that is!).
Because this type of keyword cuts out a lot of traffic that isn't going to necessarily convert, they're great for both paid search and SEO campaigns.
Using the Same Ads for Everything
Customizing ad copy and creatives can take some legwork but it's so worth it! Being relevant to the prospect is an easy way to increase click-through rates whether it be through Facebook Ads, Display Ads, or Search Ads. 
To brainstorm ideas for new ads, check out Semrush's reports for Display Advertising and PLA Research.
The Display Advertising tool allows you to study your competitors' banners, sidebars, and text ads placed through Google Ads. You can find ads via keyword search, making it easy to come up with ideas related to your campaign. 
This tool can also help you enhance your media buying strategy by finding new publishers or analyzing the landing pages from your competitors' campaigns.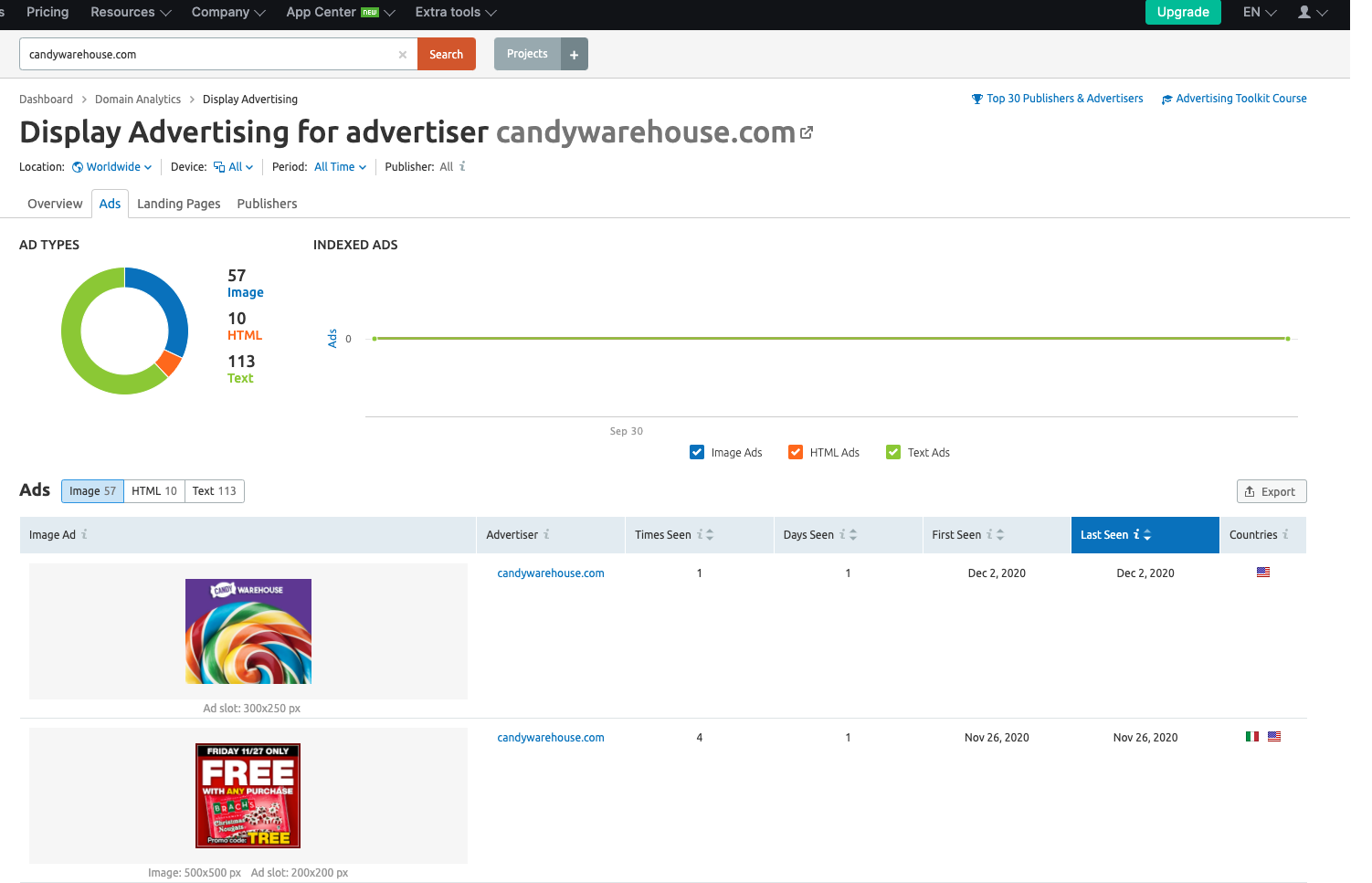 The PLA Research tool lets you study the performance of any advertiser's Google Shopping ad campaigns. This is a great way to gather competitive intelligence that can inform your next campaign.
Try using the PLA Competitors Report to pinpoint strengths and weaknesses in your competitors' paid search strategies.

Driving Traffic to Content That Doesn't Align with Their Goals
It's really important to be relevant and useful to your prospects. It's easy to sometimes push prospects toward content that we want them to consume, while forgetting about — or not accounting for — what they really care about. 
Once again, put yourself in the shoes of your prospective customer. If you searched for the price of an item, are you likely to fill out a form to download a whitepaper? Probably not. You want to see pricing! Make sure the content is relevant to what the consumer is seeking. 
If the landing page doesn't align with their goals, they are most likely going to bounce — which is a waste of time for them and a waste of money for you. 
Moreover, prospects should have a consistent experience from the search to the ad to the landing page. Or, in the case of paid social, where there isn't a search, the ad and the landing page should be hyper-relevant. The ad should manage the expectations of what is to come on the landing page and then the landing page should make it easy to follow through.
Keep a close eye on your on-site metrics such as bounce rates, session duration, and conversion rate, then use these metrics to determine whether your landing pages are effective. To continually improve: test, monitor, and repeat!
Paying for Purchases That You Might Have Generated for Free
I sometimes find that advertisers are leveraging remarketing or other paid media campaigns in a way that is cannibalizing purchases from other channels. It's important that when you launch new campaigns, you pay close attention to whether the conversions are incremental, or whether they seem to be impacting another channel. 
If the conversions are coming in at a lower cost, that may not be an issue. If the conversions were previously coming from, say, organic or email, then it might be better to revisit the strategy. 
Not Keeping an Eye on Display Placements
This is one of the most painful mistakes to catch in paid search audits. It really stinks to see that a client has accidentally spent all of their budget on kids gaming apps or otherwise junky placements that are unlikely to have been visited by their target market. 
Keep a close eye on display placements and be sure to exclude ones that are irrelevant or low quality. In addition, be sure that you have brand safety controls set to control the types of content that you are willing to deliver your ads alongside. 
Not Paying Attention to Your Competitors
Just because your competitors are doing something doesn't mean it works. However, it can be a great basis for brainstorming! Plus, it's always a good idea to know how your competitors are messaging themselves so that you can differentiate. 
Pro tip: Check out Semrush's Advertising Research tool to see how your competitors are positioning themselves in ads. This tool allows you to monitor your rivals' PPC activities, spends, and most successful ad copy.
Plus, you can also identify which keywords that they are bidding on and gaps that might exist between your keyword list and theirs for new expansion ideas.
Not Testing Enough 
Whether you are leveraging Facebook, Google, Bing, or any other channel — one thing is for sure — you should always be testing. The more you test, the quicker you learn. You can test anything from channels, targeting, settings, bidding strategies, creatives, landing pages, and more! 
Summary
In summary, it's easy to fall into some of the common mishaps that occur when creating your paid media campaigns. But if you take heed of these common mistakes, it will save you a lot of time and money in the long run!