I love guest blogging. After 12+ years doing website and web marketing, I can honestly say it's easily the most fun I've had. It's creative, it's collaborative and it's effective.
There are three main reasons I guest blog: search benefits, social media benefits and branding. To attain these benefits, it's ideal if the host blog meets three criteria.
Why do sites with high domain authority link to you? Because the links are relevant, legitimate and helpful to readers. Because the context of those links is content you created and they accepted.
That's right: Guest blogging is an ethical, sustainable way to build the authority of your site. Find host blogs with high link popularity.
How do you get in front of an audience? By taking the stage in front of a new crowd on a new blog. Your picture and social media links are right there with you. The host blog is sharing you in their streams.
That's right: Guest blogging is a fast way to build your social network. Find host blogs with lots of social activity, such as comments and shares.
How do you show legitimacy to your target audience? By earning the "social proof" of having published on a credible website. Place a guest post on Forbes and you've borrowed the credibility of an established publication. Make sense? You're officially "as seen in." Put that on your site. Email that to your prospects.
That's right! Guest blogging builds credibility, just like PR. Find host blogs that are relevant and credible to your target audience.
OK, Andy. But how do I find these host blogs?
First, trust me on this: there's a blog for every post. There are just as many blog editors looking for content as there are bloggers looking to get that post placed. Just search for [topic] "write for us."
Here's an example of how a trucking blogger might look for host blogs:
Guest Blogging Tip #1: Try other phrases together with your topic phrase, such as "submission guidelines," "guest blog," "how to submit," etc. Within minutes, you should be able to find thousands of potential host blogs.
Great. Now I have too many! How can I narrow it down?
Next, we narrow down the list by simply scanning through the search results. To get the branding benefit, you're looking for sites (and media companies) that are known to your audience. To get the social media benefit, you'll need to go into the site and look at the activity on each post. But with the help of a tool like SEOquake we can see the search benefits quickly.
1. Install the SEOquake browser extension (Chrome or Firefox are recommended); 2. Repeat the search described above, but this time... 3. Look at the parameters overlaid onto the search results; and 4. Target sites with "high authority," as in high PageRank and many inbound links.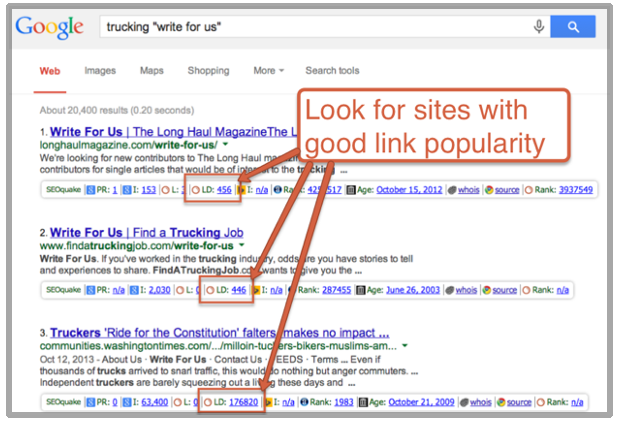 General media sites (like The Washington Times) will usually have high link popularity, and niche sites (like Long Haul Magazine) will have lower link popularity. But remember, there's more to life than links. The social and branding benefits may be better on the niche site.
Guest Blogging Tip #2: As a general rule, try to guest blog on sites that have a higher authority and PageRank than your own. Hopefully, you have compelling content on your own site that is attracting links organically. But these organic links are often from smaller, younger blogs with lower authority.
If you take the time to write high-quality guest posts, pitch them and get them accepted at target sites that are bigger and more credible than your own!
Ready? Aim… Pitch!
Set your targets, build a list and start researching the blog editors. Soon you'll be networking with them on social media, collaborating with them via phone and email, and working your way into their publishing calendars.
Guest Blogging Tip #3: Always use SEO best practices, even when writing guest posts. If the guest post ranks, the blog editors will likely notice it in their Analytics. Give them a high ranking post and they'll likely invite you back to write again!
The secret? Quality. Blog editors are obsessed with quality content (right, Kathleen? Editor's note: Right, Andy) and they need to deliver the goods to their audience everyday. Be courteous in your pitch and be useful in your writing.
I know marketers who have very strong opinions on this topic, and a few who are opposed to guest blogging entirely. So now it's your turn. Let's hear what you think!
Bonus Tip: Provide your author bio to the host blog as HTML, even if it's just a few sentences. This will allow you to put in the correct tags for Google Authorship. Once Authorship is working, you'll be able to access the little known Google Author Stats report, which shows the SEO performance of all of your guest posts!
Author bio:
Andy Crestodina is the Strategic Director of Orbit Media, a Chicago e-commerce company. He's also the author of Content Chemistry: An Illustrated Guide to Content Marketing. You are welcome to connect with Andy on Google+ and Twitter.