Running any business is a huge challenge, and operating a global franchise network is a massive undertaking. Unlike global brands with regional offices, franchise businesses have limited control over their franchise branches. This can cause some problems because some business aspects, like marketing, directly reflect the franchiser's brand image. 
Lending your name and logo is equal to lending your face, so you need to make sure your business standards are implemented throughout the large chain of separate business units owned by different people and companies. 
Yet, if you impose too much control, they will struggle to attract local audiences. On the other hand, too little control can lead to severe damage to a brand's reputation. 
Branding
What you can and must control as a franchisor (and as a brand owner) is your branding, which can be done by maintaining brand authority through brand voice and brand message consistency.
Social media plays a big role here as social networks often serve as a one-stop-shop for spreading brand awareness, building brand affinity and loyalty, and providing customer service. 
There are ways to build a social media strategy for franchises without imposing too much control and leaving space for localized and targeted messaging. How? That is what we will cover in this post. 
What Is a Franchise? 
Essentially, a franchise is a business that lends its brand name, logo, and further support (its level varies from business to business) to other individuals or companies that buy into the franchise to establish a new location or branch.
McDonald's, KFC, Hertz, and Circle K are franchises, meaning every location of these businesses has different owners — franchisees. They are paying a certain onboarding fee to set up the unit and have to further share some percentage of their profits/revenue with the franchisor, the franchise network owner.
The relationship between a franchisor and a franchisee is always properly documented, as the end goal is to deliver a seamless experience from location to location. With marketing and social media, the digital experience should also be as smooth yet localized. 
How Is a Social Media Strategy for a Franchise Different? 
An active social media presence can help build your brand, but as you scale, it gets increasingly difficult to centrally manage all of your social media channels. As a result, brands are forced to make trade-offs between providing more localized and targeted content and maintaining the brand voice consistency.
This happens for a few reasons:
To avoid inconsistency of brand image and brand messaging.

To save resources on the franchisee's side, which might not have enough opportunities to provide a personalized yet high-quality content output. 
By having a controlled social media strategy, franchisors try to avoid any negative social experiences — pretty much anything can spike negative conversations within the social media space. Thus, many franchise networks choose to play it safe with social media.
Instead of maximizing value from a social media presence by creating engaging and creative content, franchises often adopt rigid and risk-free social media guidelines and policies. 
Some franchises manage to mitigate these risks and provide fully targeted and personalized social experiences that aren't at odds with the franchise's brand voice. But these aren't the brands we are here to learn from. Burger King (BK) is one brand to talk about here.
Burger King (The Franchise): a Brief Background Story
Back in 2003, the Burger King Corporation was at a crossroads — the company's sales and profits were significantly down, and the franchisees were dissatisfied with their "investment." The BURGER KING®* brand had lost its edge; while brand awareness numbers were fine, consumers no longer found the brand compelling enough to pay attention.
With the arrival of a new managing group, Burger King took on a challenge to rebuild relevance and completely refresh its positioning to gain a larger market share and provide unique customer (and digital) experiences.
By early 2006, BK was already recognized as a cutting-edge brand pioneering content-driven marketing and the creative use of social media.
BK's new marketing (and social media) strategy focused on a number of strategic and tactical changes:
Focused consumer segmentation: With stiff competition from the fast-food industry, BK defined distinct primary customer target segments and shifted to a usage-based segmentation scheme.
New product introductions: While a competitor focused on healthy foods, like a sale, Burger King decided to be proud of being a burger company and offered the Angus Steak Burger and the TenderCrisp® Chicken Sandwich. They focused on their target segment "Super Fans" and offered them indulgence. 
New approach to brand building: They brought back the company's renowned "Have It Your Way" slogan and focused on product and service customization that would target end customers. They also brought back "The King" character for marketing, and approached marketing differently — they invested in digital media where Burger King campaigns were supposed to be entertainment on their own. 
You can read the full BK case study at Tuck School of Business at Dartmouth's site. 
Overcoming the Challenges of Establishing a Social Media Strategy for a Franchise
Every successful national Burger King campaign (if not an inherently social media campaign) involves social media support. How can a franchise manage localized content strategies at scale while ensuring that these strategies align with the broader marketing and branding goals of the business? Let's learn from Burger King. 
As a franchisor, BK knows what to control to maintain brand image and authority, and what not to control to create targeted experiences for local consumers.
This is how you can successfully overcome the "control conundrum": 
Create a franchise social media guidebook.
As a franchisor, you have to give clear direction to all local businesses. Initially, try to establish a brand voice across social platforms like Facebook, Twitter, and Instagram, and help franchisees spread this voice towards dedicated social accounts for their locations.
Define your brand's tone of voice.

Provide guidelines on the kind of imagery you accept and prohibit.

Provide response templates that can be tailored to each location.

Clearly mention what your brand stands for and does not tolerate.
These assets will help local franchisees build a successful social media presence across various accounts, and amplify your franchise's core social media profiles. Without them, they might end up negatively affecting your brand image.
Develop a Global Franchise Social Media Strategy
First and foremost, you have to determine whether you allow your franchisees to establish dedicated social accounts for their locations. If yes, on top of branding and tone of voice guidelines, you have to clearly define your overall social media strategy and goals.
You need details for franchisees. Describe more controlled points like the look of the social media profile, requirements for global campaigns that locals must support, and sharing tactics and best cases from other locations. Your global franchise social media strategy has to be specific to local branches on how and when they must stick to your policies, and where they have space for creativity and innovation. 
Social Media Challenges for Franchisees
As franchisees, local branches are faced with different challenges, and competition is at the heart of all of them. Franchisees are competing with other fast-food brands and between each other.
With varying levels of creativity and social buzz, they are successfully overcoming each and every challenge. Below are some strategies you can use. 
Being a franchisee, you inherit a lot from the umbrella brand — if they have a strong reputation worldwide, you might have an edge over your competitors. Yet, you have to ensure that your quality of service and customer satisfaction are top-notch.
You can use social media to communicate this excellence to your audience by publishing testimonials, reposting positive comments, and also use social channels to promote exclusive offers and events to drive higher engagement and increase footfall.
Although franchisees serve the same brand, they also face some internal competition, and this triggers local franchises to think outside the box and create hyper-localized campaigns that receive buzz throughout the global social media space. 
Let's look at The Proud Whopper case. A specially packaged whopper was sold at a single San Francisco Burger King restaurant in celebration of the city's Gay Pride Parade. The Proud Whopper campaign generated over 1 billion media impressions (estimated at $21 million of earned media), 7 million video views, 450,000 blog mentions, and became the #1 trending topic across Facebook and Twitter.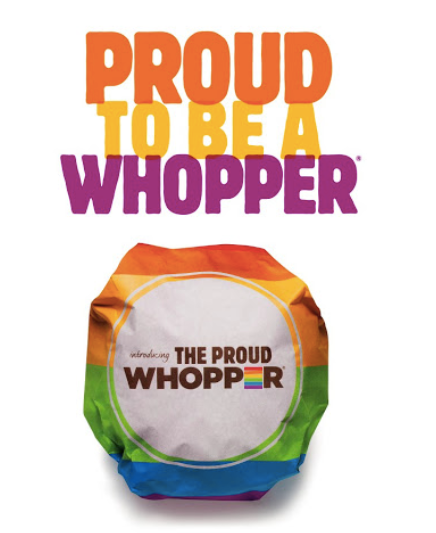 You have to get creative and compete against "fellow" franchisers and other brands because, in social media, the competition gets really intense. So, a solid social media presence can boost your online reputation and send positive trust signals to consumers looking for the nearest business to visit. 
With the variety of choices and various branches, your job is to "push" users towards visiting your particular location. If your social media accounts are active and engaging, you can ask users to leave reviews and provide positive feedback in the hopes of making the most of the "near me" searches. Reviews and positive feedback encourages users to choose your location over a competing one.
Manage Your Social Media Strategy
Managing a local social media presence is a job you have to commit to. Yet, compared to the franchisor, franchisees possess fewer resources. If you find it difficult to make time for creating the right content to post, choose a less regular schedule for posting but ensure you are responding to comments, and troubleshooting customer issues in a timely fashion.
Managing dissatisfied customers is your primary goal, as 67% of users use social media for customer service. 
Even with Plans and Strategies, a Reputation Management Crisis Can Occur
During the 2018 FIFA World Cup, which took place in Russia, Burger King Russia (known for its edgy marketing campaigns and PR stunts) published a social media post offering women a lifetime supply of burgers plus 3 million roubles (around $50K) if they conceived a child with a World Cup football player. If you need some time to comprehend what you just read, it is OK.
Obviously, even for Burger King's somewhat casual and witty tone on social media, this statement was a little too much. And this kind of reputational damage is extremely hard to fix.
So how do you avoid this situation? We have a 7-step plan that can help you avoid an ORM crisis.
How to Build a Franchise Social Media Strategy in 7 Easy Steps
The key to a successful social media strategy across the franchise network is to maintain social cohesion between a franchisee and the franchise. 
So, on top of building brand guidelines for social media, which will largely vary from franchise to franchise, there are seven defined steps the umbrella brand should take to create a social media strategy plan for managing franchise locations' social presence.
For obvious reasons, managing and/or overseeing a global social media presence is not a manual task, so you should make use of tools that are built for the job. While we will be leading you through the step by step process of creating a social media strategy plan, we will be using a single SEMrush tool, the Social Media Tracker. 
Step 1: Set Up a Tracking Campaign for Your Franchisees
Initially, you have to gather all the social media profiles and accounts within one space to cross-match and compare the performance of various locations. 
The Social Tracker tool in Semrush Social allows you to monitor your franchisee social media accounts on a daily basis — just enter your franchisee accounts as your competitors and let the tool gather all the data.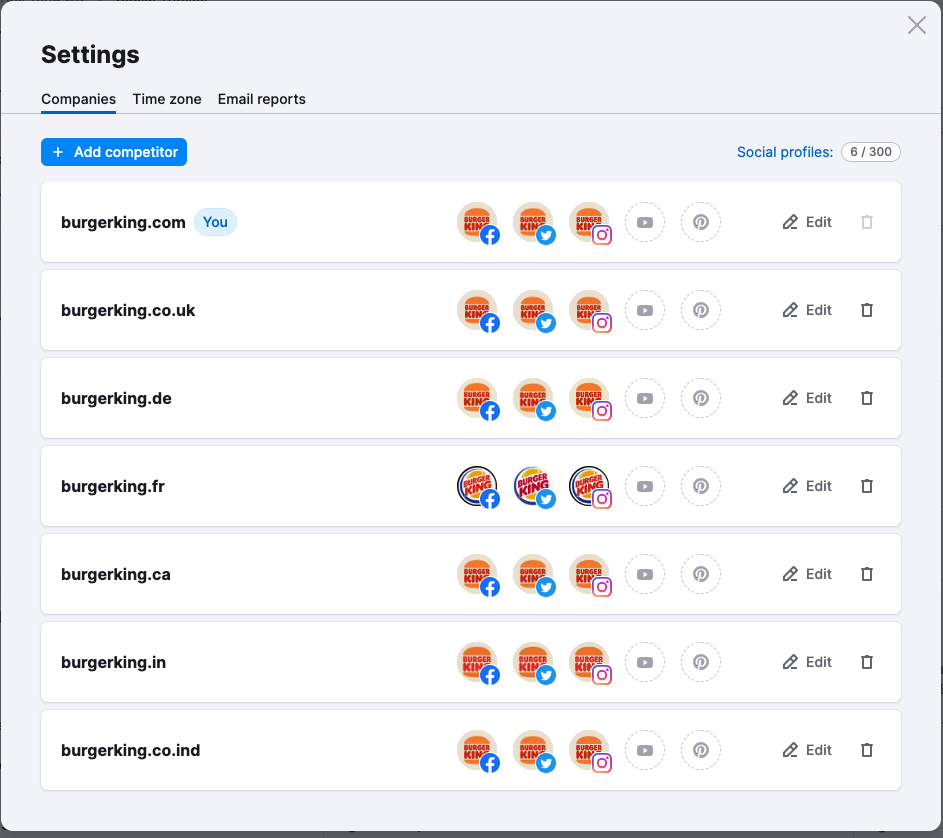 Step 2: Get an Overview of the Franchisees' Social Performance
There are a few key metrics to look at — the franchisees' total audience, engagement, and activity over a select period. This data will help you understand the performance dynamics across each social network.
As the report below shows, over the last 90 days, Burger King US rocked Instagram, while Burger King France was absolutely nailing their Facebook strategy. 
Once you spot that any of your franchisees demonstrate exceptional results, ask them to share their best practices with others. You may notice that additional training is required for other branches, so get it arranged as soon as possible. Remember that by investing in your franchisees, you are investing in your brand. 
And whenever there is a big event taking place in the country where you have a franchise (like hosting the World Cup), make sure you discuss the social media strategy with your franchisee in advance to avoid any misunderstanding. 
Step 3: Monitor Consistency of Your Brand's Voice
As a franchisor, you are the captain of the ship. And given you have communicated what you want your brand voice to sound like, you have to ensure that all your franchise branches are aligned with your guidelines.
Switch between your franchisees' accounts and take a look at their posts. Watch out for emojis, images, and hashtags, and make sure your corporate logo and colors are used correctly.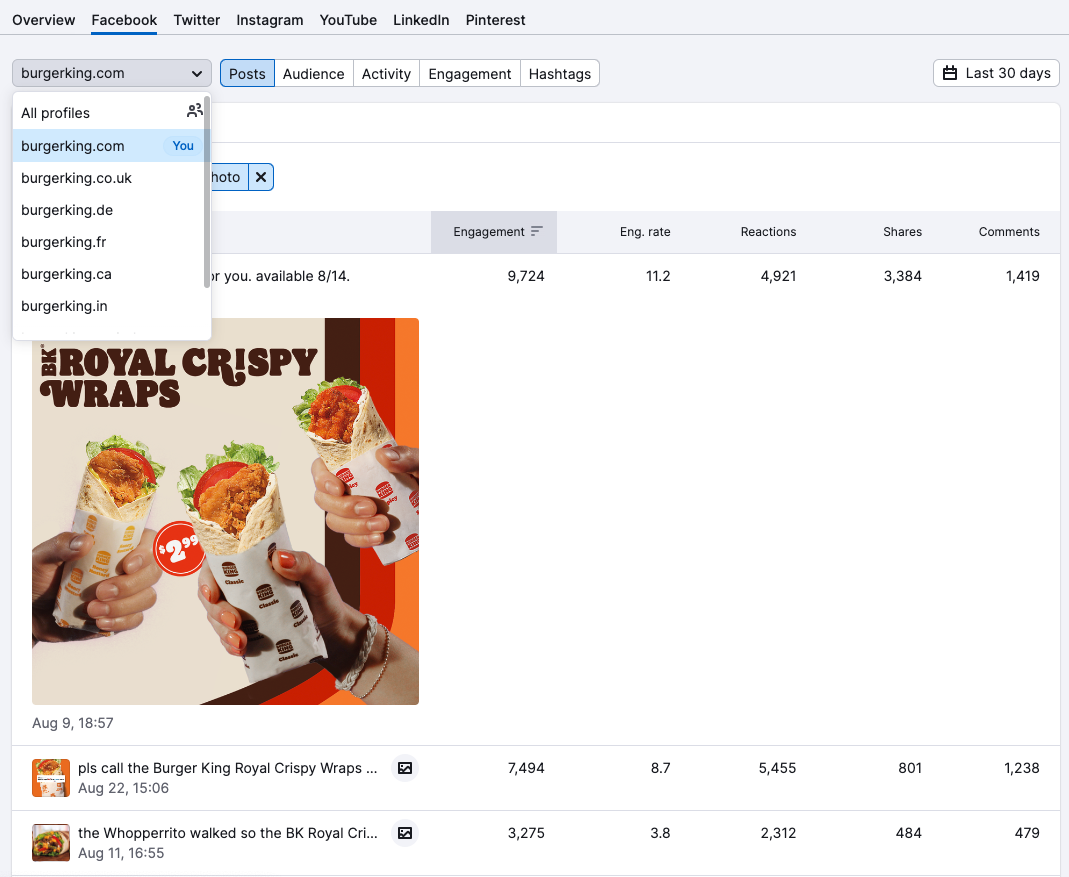 Don't forget to pay attention to the types of content your franchisees are posting. Are they posting product images, coupons, giveaways, and contests, or behind-the-scenes videos to establish a personal connection with your audience? 
Only you know for sure what types of content your brand is best driven by, so make sure your franchise owners and branches are aligned with your strategy. 
If you notice anything unusual, it is always best to double-check what the campaign is about to make sure it doesn't contain sensitive content or a direction you don't want your brand to take:
Finding the Highest Engagement
Next, look at the Top Content widget, on the Overview report. It will help you spot posts that received the highest engagement (keep in mind that high engagement can also indicate controversial or maybe unethical posts):

And as you might even consider rewarding the franchisee with the top-performing positive content, watch for engagement spikes: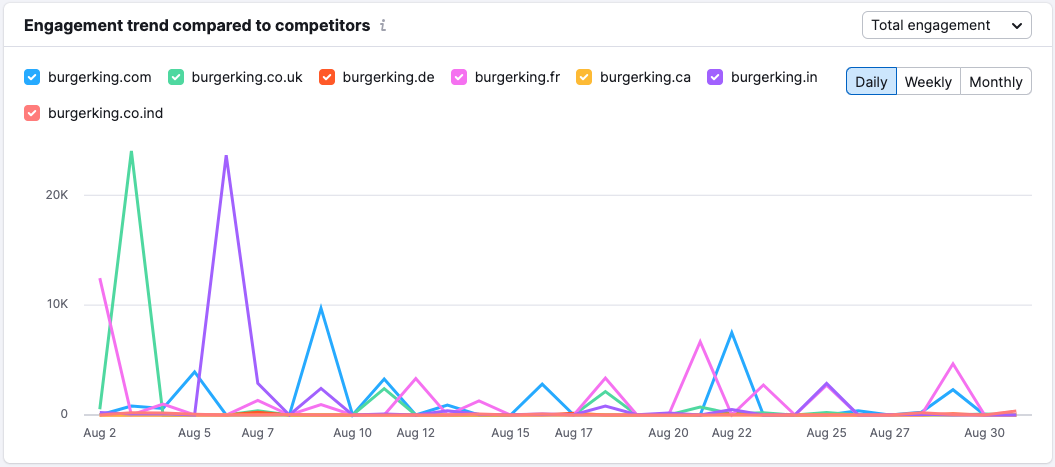 If you spot an unusual spike like you can see above with Burger King UK, return to the Posts tab to check what caused it: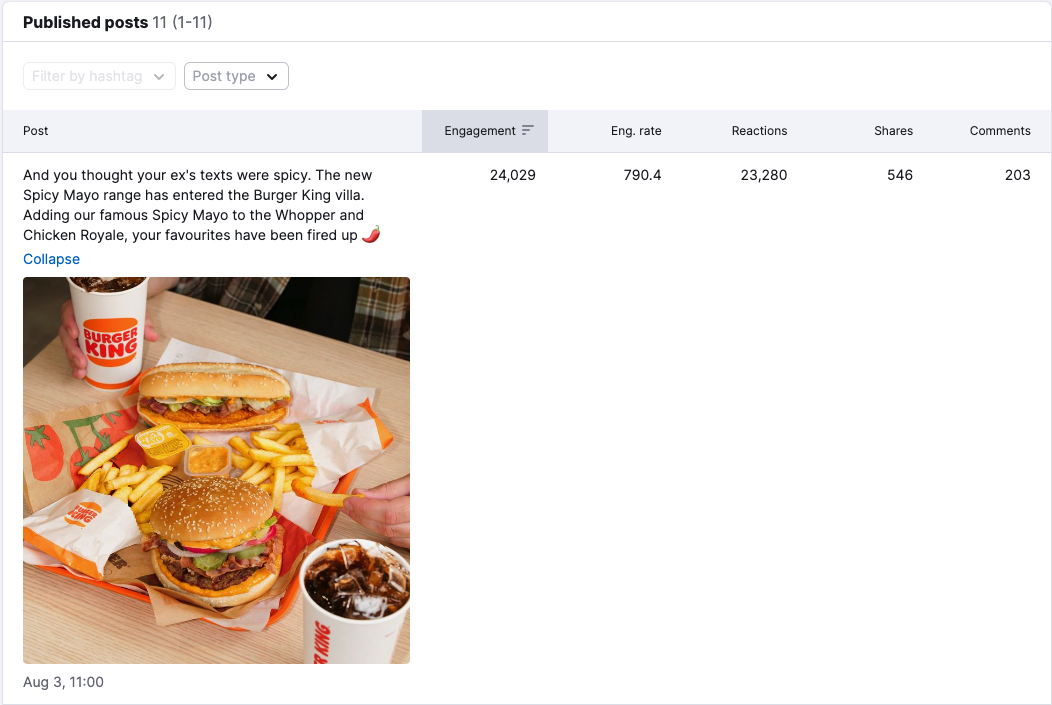 In this post, Burger King UK uses a clever, relatable analogy to announce their new flavor, Spicy Mayo. The new products, along with the post's sharp humor, was a hit with fans, drawing more than twenty three thousand reactions.
Step 4: Discover Who Mentions Your Brand Locally
Keeping an eye on your franchisees' mentions on social media is a great way of monitoring your brand reputation, even if you discover unhappy customers or negative reviews from authoritative sources. The sooner you spot them, the quicker you will be able to help your franchisees troubleshoot them. 
While scrolling through the list of mentions, you can see that Burger King UK was mentioned by London-based celebrity gardener and TV presenter Michael Perry, offering candid feedback, not only to Burger King, but also a few competitors.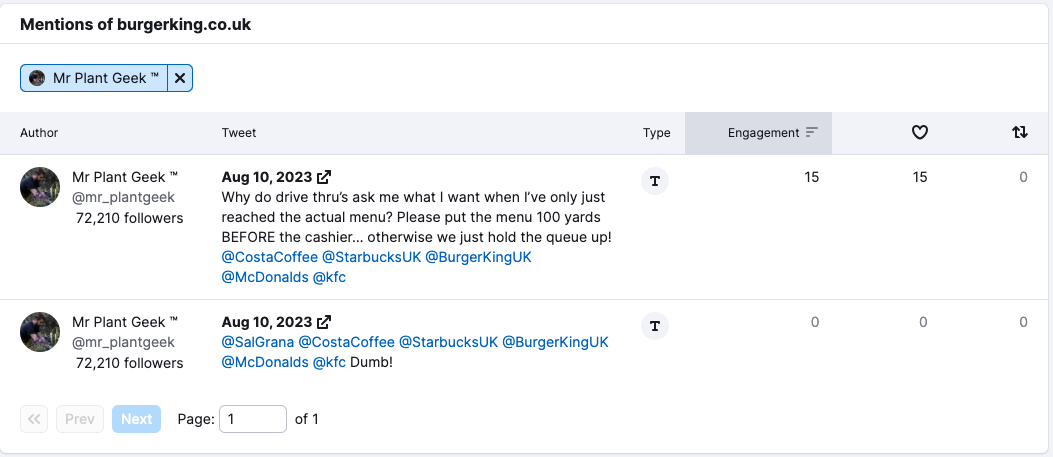 Pro Tip: If you come across positive reviews from authoritative sources, be sure to repost them or act upon them in situations where you see a potential partnership or investment opportunity.
Step 5: Maintain a Posting Frequency
As a franchisor, you may have a clear strategy as to how many times per day you want your franchisees to post; this can also be overseen with the Social Tracker tool in Semrush Social. 
With this tool, you may notice that some of your franchisees are not sticking with the posting frequency you set for them. The next step is to find out why and see how the brand can help them reach the brand's goals.
Step 6: Assess a Franchisees' Contribution to Overall Company Goals
If you have an overall company KPI, and a KPI share for each franchise, you should check to what extent your franchisees are aligned with them.
Let's say, your company KPI is to achieve a 50% growth in the overall social media activity across Facebook, Twitter, and Instagram.
The report below will show you how your franchisees' audience, activity, and engagement growth rates change over a specified period of time. You can adjust the tool to monitor audience, engagement, and activity growth rates for any period of your choice, i.e., MoM, QoQ, YoY, or a custom period.
Why Social Media Tracking is Critical for Franchisors
The concept of "think global, act local" is very relevant for any franchise network. Yet, it is increasingly important to strike a balance between what you must have control over and what can be left up to the franchisees when it comes to social media. 
Clear brand guidelines and effective monitoring and supervision can help you avoid making social media mistakes that take years to fix and amplify the social media presence of all the branches. And, even if something gets missed and the negativity spreads like wildfire, social media monitoring can help you take timely action and fix the damage caused to your core brand's reputation.