What Is Google Looker Studio?
Google Looker Studio (formerly Google Data Studio) is a free tool that helps users create interactive and customizable reports and dashboards using data from sources like Google Analytics, Google Sheets, Google Ads, YouTube, and others.
And Looker Studio is super easy to use. 
You can access, visualize, share, and collaborate on your data stories with a few clicks. 
And the best part?
You can connect Looker Studio to Semrush. Which means you can use Semrush data to create stunning reports for your business. 
3 Looker Studio Templates from Semrush
Semrush offers three ready-to-use templates for Looker Studio. They're great for analyzing and presenting your SEO data. 
These templates are:
Here's how they work.
Position Tracking Report
The Position Tracking report shows you how your site ranks for a custom set of target keywords.
You can use this report to:
Monitor your site's visibility (how often your site is seen across the web)
Compare your performance against your competitors
Identify opportunities for improvement
The first page of the Position Tracking report has several widgets that show different data points related to your ranking positions:
A line chart that shows the changes in your visibility score over time. The visibility score is calculated based on the number of keywords you rank for, their positions, and the estimated click-through rate for those positions.
The keywords you have in different ranking positions. For example, you can see how many keyword rankings you have in the top 3, top 10, top 20, and top 100 positions.
A table that lists the positions of the pages that rank for your target keywords in the selected search engine, device, and location
Like this: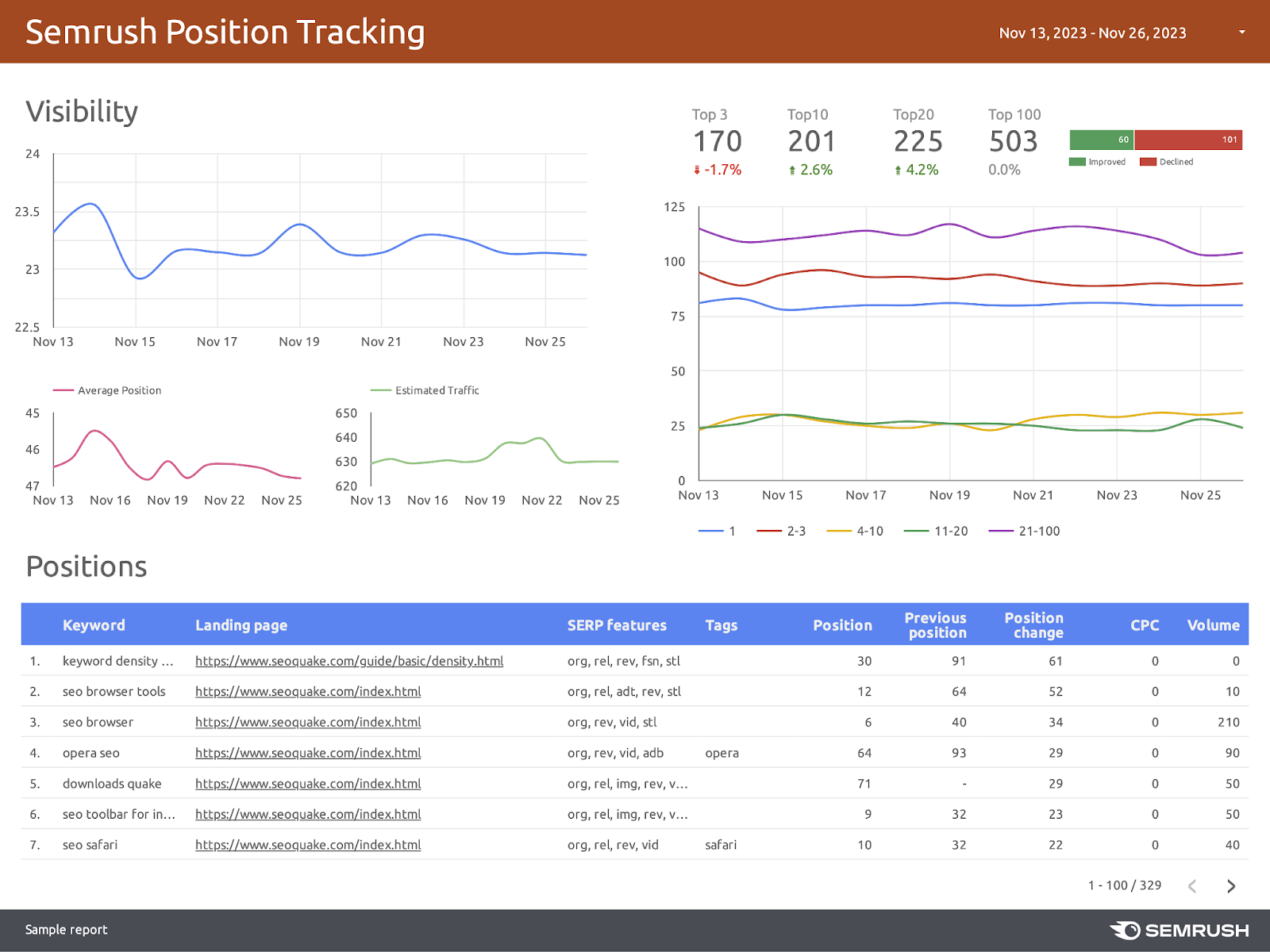 The second page has two widgets to help you measure performance against competitors: 
A line graph that displays your site's visibility relative to your competitors
A table that shows how you rank for your target keywords compared to your competitors
Like this:
Domain Analytics Report
The Domain Analytics Looker Studio report template offers an overview of a competitor's online presence in terms of organic and paid search traffic, backlinks, and authority. 
You can use this report to:
Analyze a domain's strengths and weaknesses
Discover new competitors in your niche
Find new keyword and advertising opportunities
The report consists of several widgets. And helps you see different aspects of the chosen domain's analytics data, such as:
Overall organic (and paid) traffic, keywords, and cost
Backlink information like the total number, attributes (e.g., nofollow), and type (e.g., text)
Referring domain information like the total number and the top referring domains 
Top organic and paid keywords
Keyword position ranking distribution 
Like this: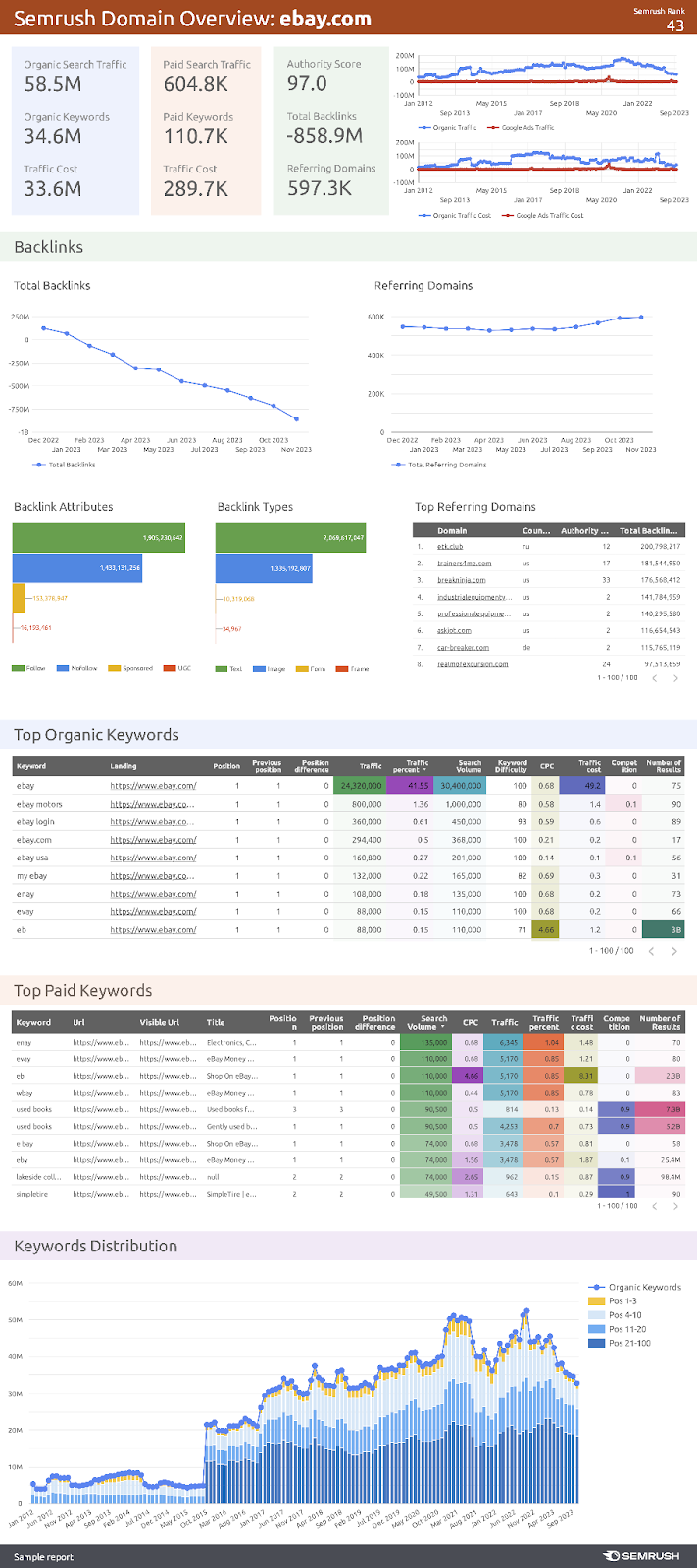 Site Audit Report
The Site Audit Looker Studio SEO report template helps you track your site's health and performance.
You'll get a snapshot of your site's technical SEO issues, crawlability errors, internal linking problems, and more. 
Use this report to:
Find issues that may affect your website's ranking potential
Improve your website's speed, usability, and security
Optimize your website's structure and navigation
The Site Audit report contains multiple widgets. Which help show different aspects of your site's performance, such as:
Your site's overall health score (a percentage score that indicates how strong your site's SEO is)
Errors, warnings, and notices that hold your site back
How many of your site's pages are healthy, blocked, broken, redirected, etc.
And more.
Like this:
Automate Your Reporting
Looker Studio is a powerful and versatile tool. You can create stunning and insightful reports from tons of data sources. 
But it can be overwhelming to start from scratch—especially if you're not familiar with the interface and features.
That's why our Google Looker Studio templates are so popular among SEO professionals. 
These templates can help you visualize and analyze your site performance, keyword rankings, backlink profile, and more. 
Automatically. No more manual data collection, formatting, or updating. 
Just connect your Semrush account to Looker Studio and let the magic happen.