How to Make Google Web Stories [2021 Study]
Jun 01, 2021
5 min read
Google Web Stories are one of Google's newest and current generation search experiences, which you can host on your own website.
To gather more insights into Web Stories on Google, we at Semrush have deep-dived into all their different aspects, analyzed how the interface works for over 2,400 search results and created a comprehensive research study for 2021.
Our study focuses on different aspects, and some of the key things we analyzed are (but not limited to):
Most frequent domains appearing in stories.
Most frequent position for stories in the SERPs.
Amount of text used in each Web Story.
Most used CTA in stories.
Most frequent 'objects' appearing in stories & much more!
What are Google Web Stories? 
Web Stories are a web-based version of the popular story format. Creators host their own content and the results appear in SERPs. Creators can use a mix of colors, words and more to create their story. 
Web Stories are backed by Google's AMP (Accelerated Mobile Pages) technology.
How do Google Web Stories work?
The best way to create Google Web Stories is to start with a story or idea that you feel needs to be seen. Once the idea is there, creators can use various tools to bring that idea to life.
After the story has been created and is ready to be viewed, it's time to publish on a website and share it. The story will appear on relevant Google surfaces, including search and discover. Keep in mind, the Stories carousel is currently only available in the US, India, and Brazil.
Now you know what Google Web Stories are and how they work, let's discuss the findings from our research study. 
What we discovered about Google Web Stories based on 2,400 URLs analyzed
We analyzed 2,423 SERPs between March and April 2021. The search area we focused on was in the United States and mobile devices only.
The data highlights and covers 9 essential areas, including:
The number of stories that appear on one SERP.
Web Stories position on SERPs.
Top domains appearing in Web Stories.
Text analysis on Web Stories.
The number of pages in a Web Story. 
Share of videos and images. 
Keyword analytics. 
Call to action from the last page of stories. 
Image analysis. 
Now, let's go through each area in detail.
1. Number of stories that appear on one SERP 
The average number of stories that appeared on one SERP was 3; there was always at least 1 story on SERP and never more than 4, while the medium result for stories on SERP was also 4 instances.
2. Web Stories position on SERPs
Our observations have shown that in a majority of cases, the visual stories search feature appears quite high in position or placement within a search result — averaging around position 5-6 (we considered surrounding SERP features as if they had their own positions). Having such a prominent position makes this feature interesting to be in.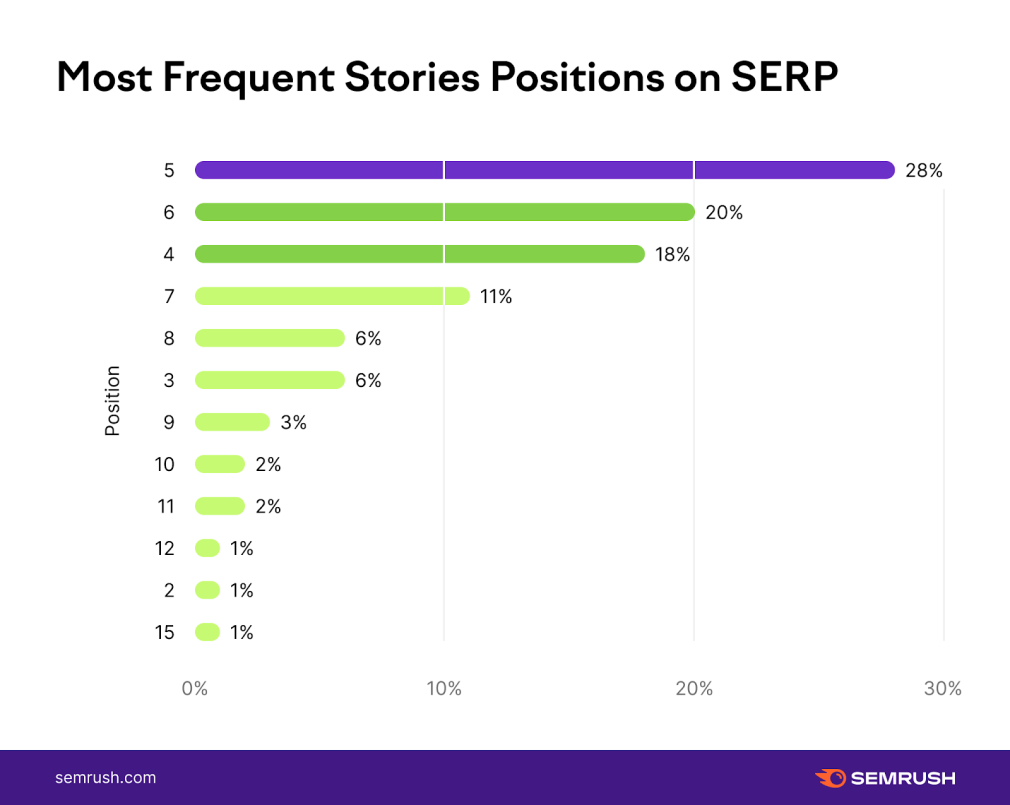 Other SERP features that most commonly appear together with Web Stories are: People Also Ask, Interesting Finds, Video Carousel, Knowledge Panel, and Top Stories.
| | |
| --- | --- |
| SERP feature | % of SERPs |
| people also ask | 34% |
| interesting finds | 19% |
| video carousel | 12% |
| knowledge panel | 10% |
| top stories | 7% |
Visual stories can trigger other events in SERP, such as 'people also ask.' The chart below shows what things get triggered and where.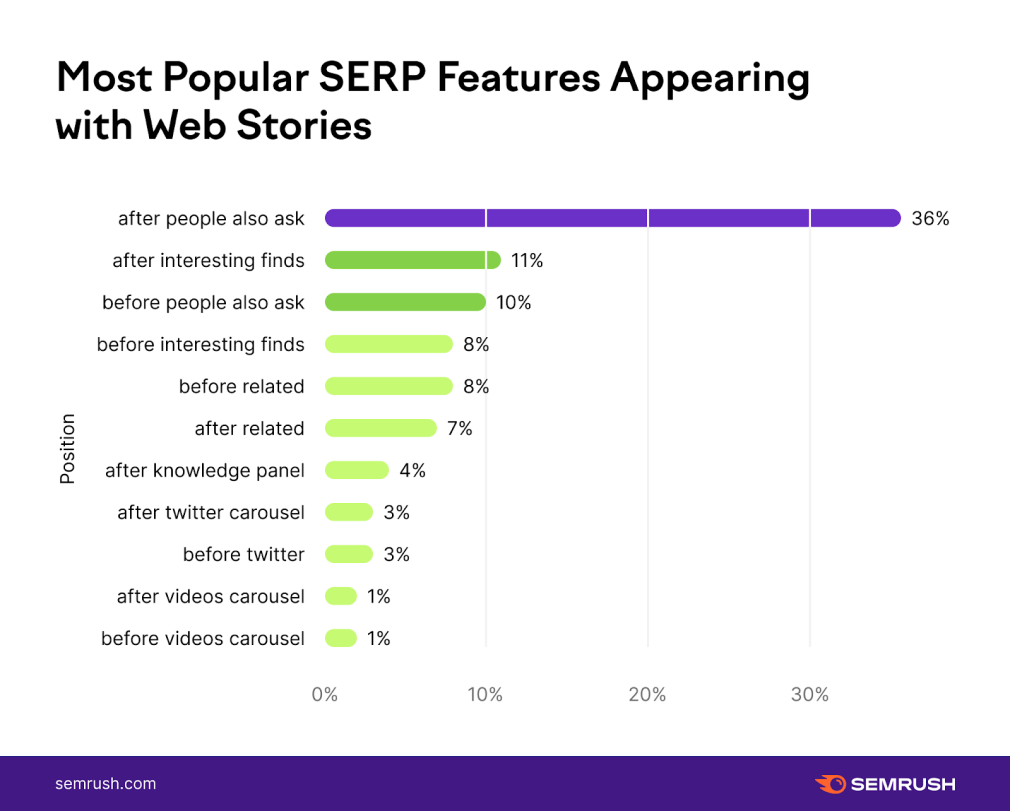 3. Top domains appearing in Web Stories
Results we obtained from our study were:
Total number of URLs analyzed was 8 266. 
Number of unique URLs was 1 073. 
Average number of SERPs that one story appears on is 5. 
On average, the URL of one story appears on 5 different SERPs. But, according to the median value, more than 50% of stories analyzed appear only on one SERP. 
The majority of domains (21.4%) have traffic between 0 to 5000, so even small domains tend to appear on the visual stories SERP feature.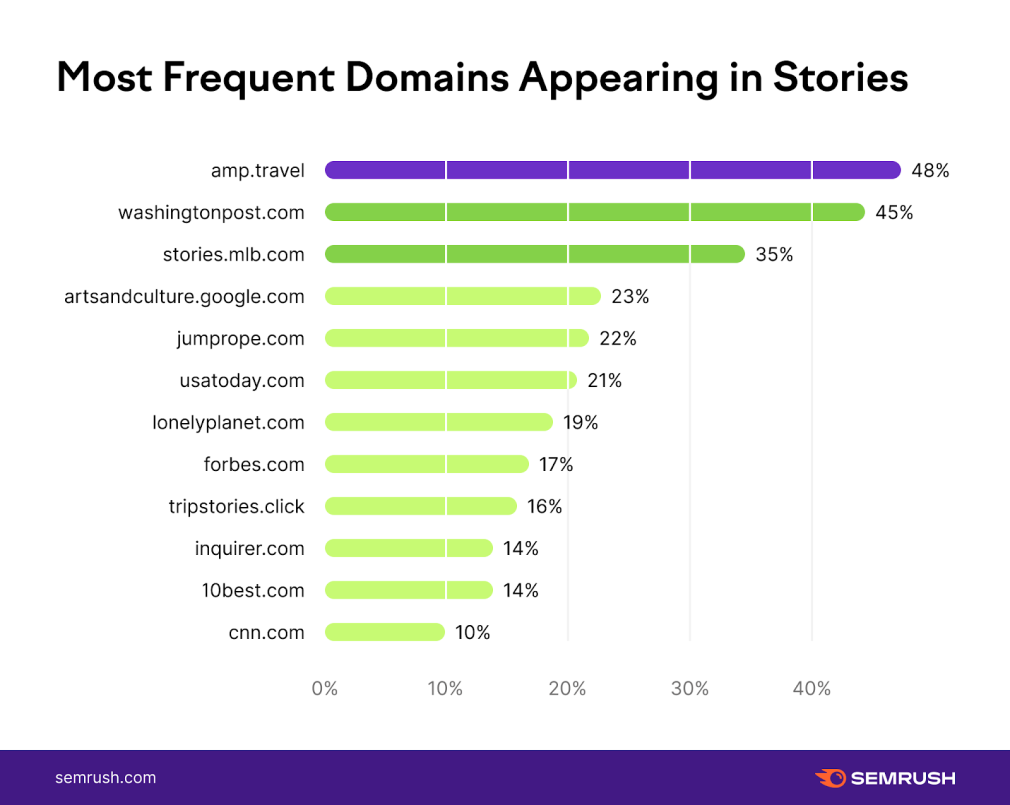 The 3 domains that appear the most frequently are amp.travel (Travel niche), washingtonpost.com (Publishing niche), stories.mbl.com (Sporting niche).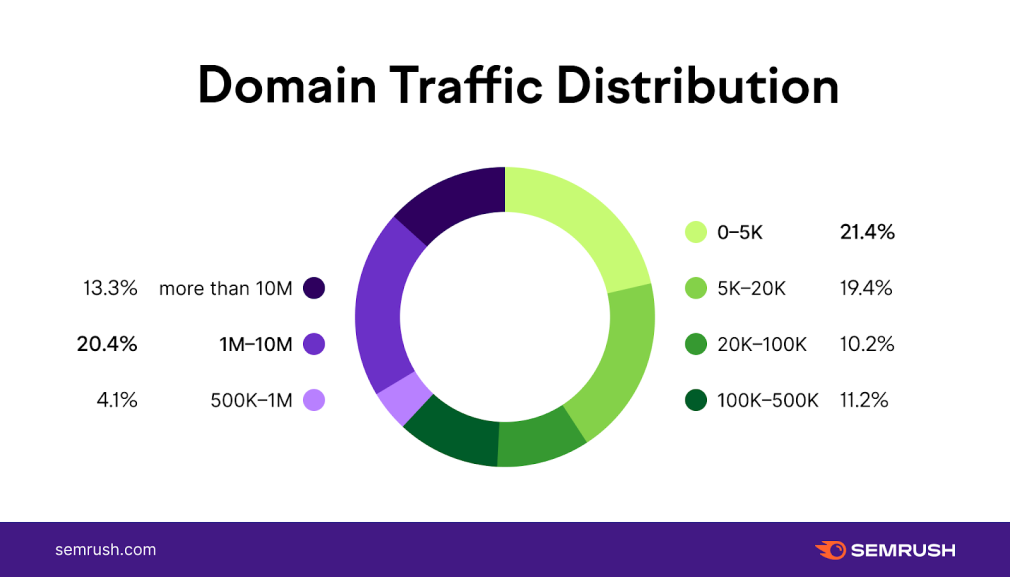 The majority of domains that appear in Web Stories have traffic between 0-20k, with the third most common traffic activity number being more than 10M.
4. Text on Web Stories 
The average number of words on a Web Story page is 22, while the maximum number of words is 194. The majority of pages have no text (we assume that stories with 1-3 words have no text, for example, the name of the object in the photo) — 11% of all pages. 
If we drop these pages and analyze texts, we can see from the distribution of the number of words that there are two peaks, including:
Pages that contain 4 to 10 words — make people concentrate on the visual content. 
Pages that contain 20 to 30 words — informational pages that provide some detailed text. 
It's not popular to put a huge amount of information on a page as Web Stories are a very visual medium. Creators seem to be aiming for a balance in content between beautiful pictures and texts.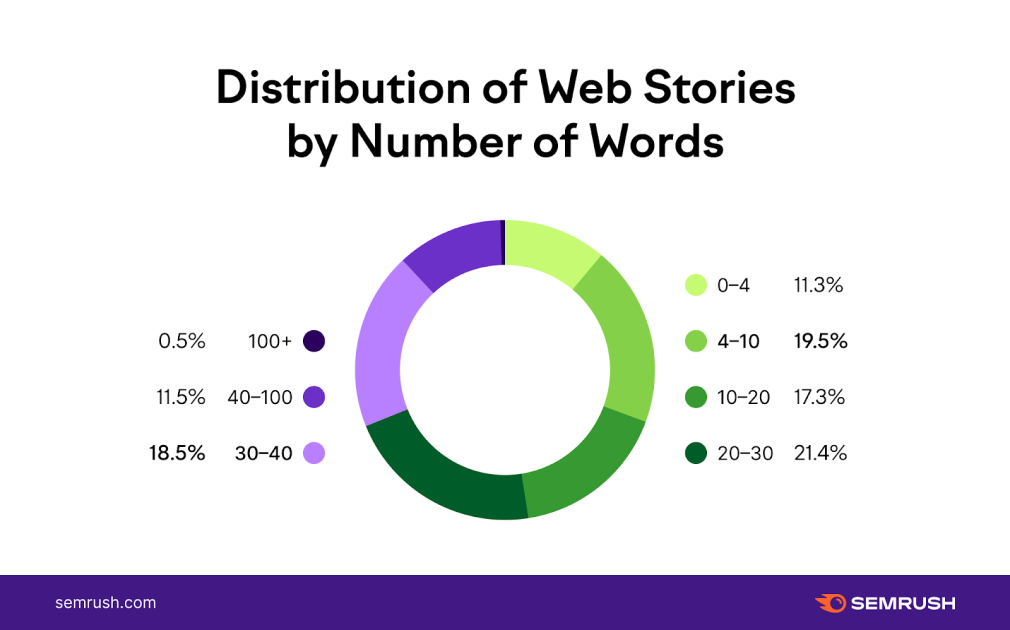 5. Number of web pages in a story 
Average number of pages in a story is 15. 
Minimum number of pages is 4. 
Maximum number of pages is 152. 
The majority of stories contain about 14 pages. Best practice is to have a smaller number of pages so that the reader will follow the story to the end.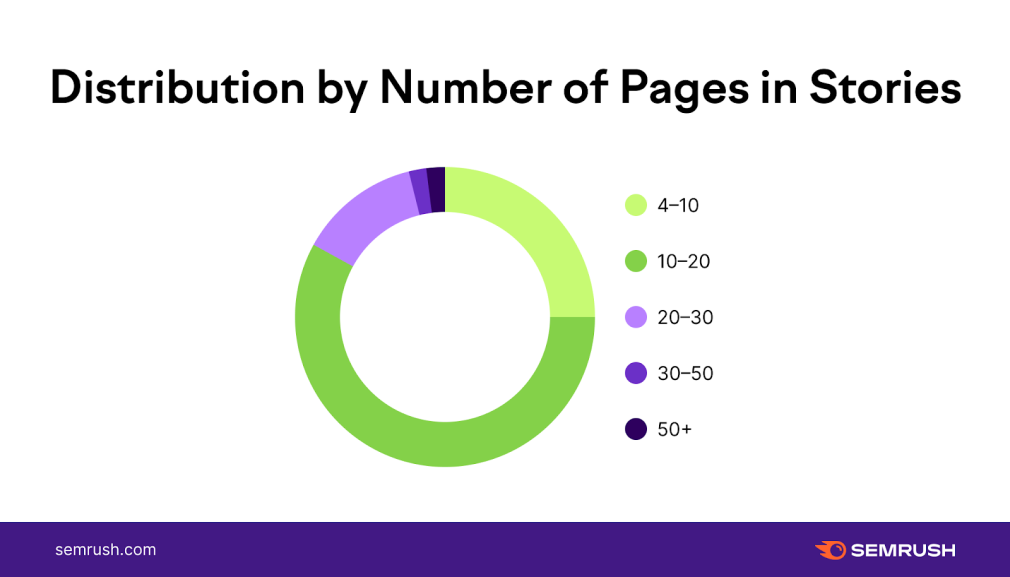 6. Share of videos and images
When investigating the difference between video and static images, we found the following:
Average share of pages with photos or images is 84%.
Average share of pages with videos is 13%. 
Average number of pages without media (text only) is 3%.
Static images or photos are the most common type of visual content.
In regards to video media, we discovered:
Average length of a video is 12 seconds. 
Minimum length is 1 second. 
Maximum length is 159 seconds. 
7. Keyword analytics 
Average number of keywords used in Web Stories is 4, where 1 is the minimum number and 12 is the maximum. 
Keywords used ranged from short tail to long tail. An example of a short-tail keyword is 'America,' and an example of a long-tail keyword is 'Good places to go on a honeymoon in the US.'
The major keyword topic that generated visual stories was related to the travel niche. Keywords in the recipe, fashion, and gaming niches also generated visual stories, but the majority were related to travel.
Keyword term volumes that generate stories 
The average monthly search keyword volume that generates visual stories is 34,238.
The majority of keywords that generate Web Stories are not high volume. There are many small thematic keywords that trigger stories.
8. Call to action from the last page of stories
The objective of the last page of a story is to lead the reader to the main domain that created the story itself. The most common call-to-action phrases used were the following:
| | |
| --- | --- |
| Call-to-action | Frequency |
| For more | 1098 |
| Read more | 991 |
| Read the article | 897 |
| Learn more | 736 |
| Explore more | 710 |
| More at | 528 |
| Check us out | 498 |
| The best | 343 |
| Click here | 330 |
| Button below  | 244 |
| Discover more | 191 |
9. Image analysis 
The most statistically popular colors used in images are shades of grey-blues and soft brown/beige colors.

People are featured in 67% of Google Web Stories. 
Other objects that are popular to feature in stories include:
'Everyday things,' which includes items like laptops and notebooks.
'Home and Garden,' which is mostly furniture.
'Food' includes food and cutlery.
'Street,' including roads and street signs.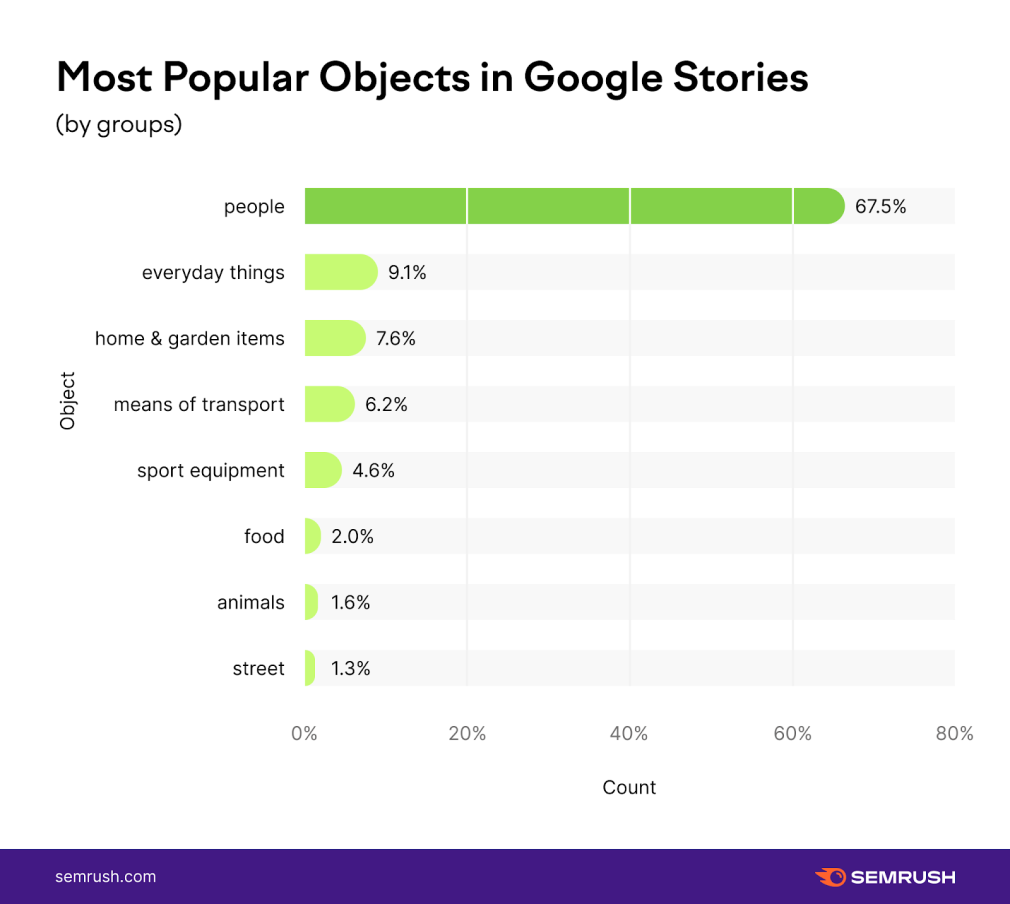 Key Findings of the study
Since February 2021, visual stories were triggered on 2423 SERPs.
The average position for Web Stories on the SERPs is around positions 5 and 6.
On average, the URL of one story appears on 5 different SERPs.
11% of all pages in stories don't have any text.
The average share of pages with image sis 84%, with videos is 13%, and text only pages is 3%.
The average length of a video-based Web Story is 12 seconds.
The most popular topic used for keywords that generate visual stories is related to the travel niche. Keywords in the recipe, fashion, and gaming niches also generate visual stories.
Google Web Stories have a favorable position in the SERPs, and with the exploding trend of digital visual communication (Snapchat, Tik Tok, etc.), it's an avenue that is worth entering to boost visibility and to drive more meaningful traffic to your website, especially for news publishers, travel-based platforms and sporting news.
Olga Andrienko
Together with her team she has built one of the strongest international communities in the online marketing industry. Olga has expanded Semrush brand visibility worldwide entering the markets of over 50 countries. In 2018 Olga was mentioned among the 25 most influential women in digital marketing by TopRank. She speaks at major marketing conferences and her quotes on user behavior appear in media such as Business Insider and Washington Post.