Editor's Note: This article is an updated article originally published on April 15th, 2015.
Is your business operating in two or more countries? Then you should know that once you go outside your native .com, .de, .es or any other TLD, your relationship with Google moves onto the next level. From now on, you are at the mercy of Google and have to play by the rules of International SEO .
Your pages need to be taken to the next level, ticking off every box on our on page SEO checklist. In this article, you'll know which SEMrush tools and reports can help you with International SEO.
Step 1: Find and fix hreflang mistakes
Solution: Site Audit Tool - International SEO report
When it comes to International SEO, hreflangs are a cornerstone. They are used to tell Google which page should be shown to visitors depending on their location and language. If you lack or incorrectly implement hreflang tags, you can seriously harm the user experience of your website (Spanish users will see pages in English, Canadian users will be redirected to the Contacts page with US offices, etc).
The most time-saving way to find and fix hreflang errors is to use automated website checkers. The brand new International SEO report is part of the SEMrush Site Audit, an all-encompassing technical SEO checker, and is dedicated exclusively to hreflang implementation issues.
This is how it looks once you set it up Site Audit:
This doughnut chart will provide you with an immediate understanding of your hreflang implementation state. What would have taken you hours to detect manually, is displayed in this report.
There are 7 common mistakes people make when implementing hreflang tags. SEMrush detects all of them and even more. Let's take a closer look at these issues.
Issues with hreflang values
Is BE related to the country of Belgium or to Belarusian language? JA and JP: which code should be used to indicate Japan as a country and which one for Japanese as a language? Hreflang values require constant double-checking to avoid mistakes, and here's where the International SEO report comes in handy.
We'll find and show you all the errors related to language and country codes, and underscores used instead of hyphens:
Hreflang conflicts within page source code
The most challenging part of hreflang management is implementing the tags correctly within the code. If you make a mistake at this stage, Google may ignore your hreflang tags and display a page to the user in the wrong language or with incorrect contact information.
SEMrush will warn you if you have issues with:
Conflicting hreflang and rel=canonical URLs
Conflicting hreflang URLs
Self-referencing hreflang URLs.
In the report you'll see the URLs of pages with conflicts, the type of conflict and how to fix it: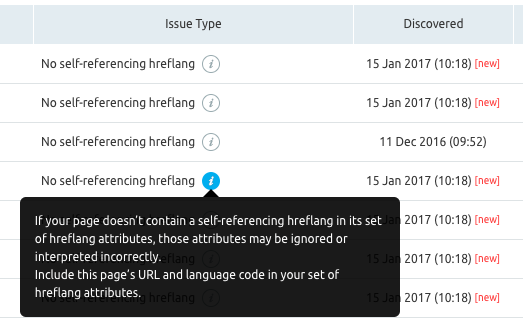 Issues with incorrect hreflang links
This report helps detect link related issues. It's an incredibly time-consuming job if done manually, so it's better to use automated (and always tireless) checkers.
Problems with links include:
Typos: a misspelled word, a URL not copied entirely etc

Wrong redirects. Your website cannot be indexed correctly if search engine bots are bumping into broken links

Relative URLs. You need to use absolute URLs in href attributes in order to give Google the possibility to crawl the entire URL path.
INCORRECT: <link rel="alternate" hreflang="en-ca" href="/ca/" />
CORRECT: <link rel="alternate" hreflang="en-ca" href="https://yourwebsite.com/ca/" />
Hreflang language mismatch issues
When creating a multilingual website, you don't always have enough resources to localize all the content at once. So some pages, for example, the Spanish version would contain the original texts in English. We conduct a semantic analysis of all the pages containing hreflang attributes. Each page where the hreflang value doesn't match the detected language is displayed in this report. This way you can easily discover which pages still need localizing: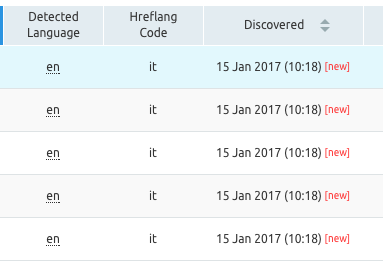 Pages with missing hreflang attributes
This handy table will remind you which hreflang codes are used on your pages. It helps you detect potentially missing hreflangs:
Finally, be sure to set up daily or weekly updates. Should new issues with hreflangs arise, it's best if you discover them before Google bots come and index your website incorrectly!
Step 2: Collect the best keywords
Solution: SEO Keyword Magic tool
Running a business in different countries is a challenge: just think of all the cultural and legislation differences you need to keep in mind. Fortunately, Google algorithms are equal for all countries and languages. So, regardless of how many locations your website is serving, with this one solution you can enrich your website's content with relevant and profitable keywords in 23 countries.
Go to the SEO Keyword Magic tab and let the magic happen. Choose the database you need and the seed keyword: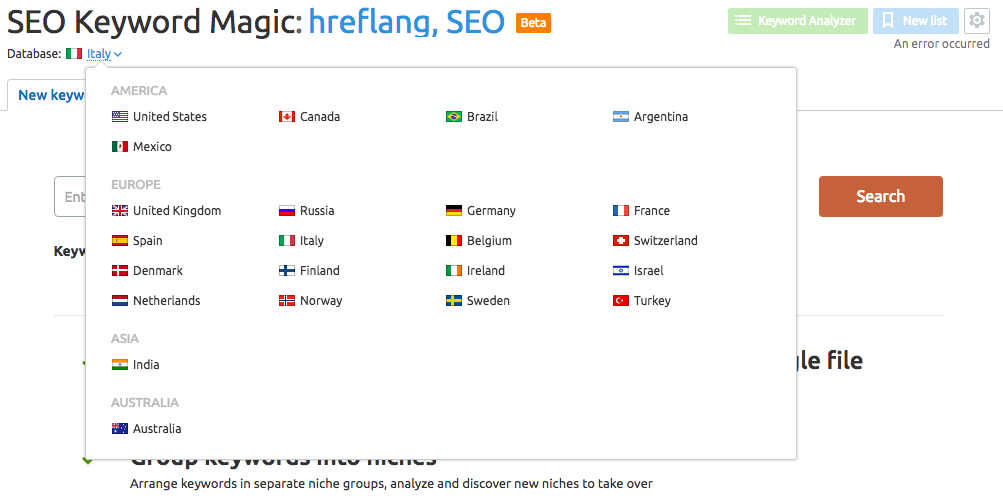 The seed keyword can be the most top-of-mind word related to your industry, for example "SEO". Here is the report you will get:
This report will answer the main questions you might have at this stage, such as:
How competitive is the environment in your industry in a given country - Average Difficulty
Which keyword have the biggest search volume and keyword difficulty level
How high is the CPC and competition level of these keywords in AdWords campaigns
Which SERP features is Google displaying for these keywords and what the SERP looks like.
Wondering how to choose the best keywords out of these 66670 listed in the report? Use filters to find search terms, which match your requests. 

Save the keywords you like and want to use in your website by exporting them to Keyword Analyzer. It is a sort of a box where you collect all the keywords you like for a deeper analysis. You can save up to 1000 keywords to Keyword Analyzer.
When you feel that you've collected enough keywords with the necessary search volume and a reasonably low difficulty, go to Keyword Analyzer to get more insights:

Keyword click potential estimates the probability of getting traffic to your website if you're ranked in Google's top 10 for this keyword. Group keyword difficulty and click potential are average values for all the keywords from the group. It will help you understand which topics are more popular in a given country.
For example, we see that the group "Milano" is less competitive (51.9%) and has a higher click potential (85) than the group "consulenza" with all keywords related to consultancy (53.85% and 75). So it would make sense to promote your website for city-specific keywords rather than general ones.
As a result, you come up with a list of keywords to use on your international website pages. These keywords have:
Noticeable search volume

Reasonably low difficulty level

Good click potential
Enriching your content with these keywords will help you acquire more organic traffic in your target country.
Step 3. Set up tracking for specific locations
Solution: Position Tracking Tool
Eventually, you'll need to start tracking your results and check your performance for these keywords in Google. You can do it right from the Keyword Magic Tool - just choose the keywords you want to monitor by ticking the box on the left and send them to Position Tracking:
Position Tracking allows you to track your performance for the most important keywords:
In any location

Compared to up to 20 competitors 

On a national or local level

In organic or paid results.
Any important SERP visibility changes will be immediately displayed on the historical graph:

So, it's easier than ever to start tracking your results for target keywords right away! 
All these data are easily exportable to PDF to be shared with colleagues, boss or clients.
Step 4. Get ideas for pages improvement
Solution: On Page SEO Checker
Whether you are satisfied with your Position tracking results or not, you'll always want more traffic. SEO is a never-ending task of improving your website to always stay ahead of the competition.
SEO Ideas is a real time-saver for checking on-page SEO mistakes and getting new ideas on how to grow your organic traffic.
Moreover, it's integrated with Google Analytics and Search Console, so you get insights based on real data.
How does On Page SEO Checker work:
You specify the keywords you want to target 
You specify the pages you'd like to see ranked for these keywords in Google's top 
The tool analyzes the websites that are ALREADY ranked high for these keywords and gives you ideas based on analytical data
The tool also checks technical issues on your pages and tells you how to fix them 
You get actionable tips on content, backlinks, technical improvements and more.
And here's how your set of ideas will look:
Click on any number to get detailed and actionable advice on:
Which pages fit best to be promoted for your target keywords.
Keyword placing in your <title> and <description> tags

Semantically related keywords, which you can add to the text

Which domains are worth getting links from
Technical issues to solve.
Applying the tactics used by your successful rivals increases your chances to conquer the Google's top 10. Usually, this is done manually, but with SEO Ideas you'll be able to automate the most boring part and immediately proceed to action.
Going global: tell us about your experience
We tried to guide you through an international website optimization process: from detecting crawlability issues to getting ideas for yet more organic traffic. But the most difficult part is when you start putting advice into practice. We invite you to share your thoughts on what was the biggest challenge you have faced on your way to going global. Join us in the comments!