One of the easiest ways to get a backlink to your website is to ask for one.
Wait! Really?
Absolutely. In my new book, Link Juice , I talk about numerous ways to acquire backlinks without using black-hat techniques that get you penalized. Instead of just talking about it, I thought I would give you a recent real-life example of how easy it is.
In fact, the example I am about to show you helped a piece of content I now have ranking #1 and #2 in Google for two different search terms. I am not the only one who uses this method or testifies to it.
Want to know how I do it?
While writing the book, I decided to revisit one of the methods I have used to get numerous backlinks. The technique? Searching resource pages and asking for backlinks.
Here is how it's done, showing the actual process I used along with the results.
Find Websites You Want a Backlink From
This really isn't that difficult. I recommend looking for websites with resource pages specific to your topic.
Why resource pages?
Simple. They have lots of links to information the website is trying to give to their readers. If you have something of quality to share, your odds of getting a backlink will increase.
Use the following search term to find resources pages in your niche.
"[keyword phrase or industry term]" + inurl:resources
Google will return results relevant to those keywords that also have the term "resources" in the URL. The reason I choose the term "resources" is because this will be an actual resource page the majority of the time.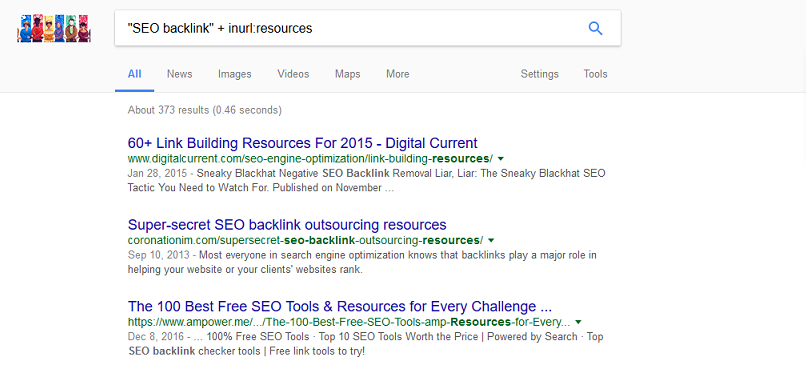 For this example, I used the term "SEO backlink" + inurl:resources" shown in the screenshot above.
I went through a total of 20 or more websites and found 11 where I had a resource that would be useful to readers.
NOTE – when using this method, you MUST have something useful to the website owner or don't even offer it. Why else would they link to your site?
Send the Outreach Email
Once you find pages where your resource would be useful, you will need to contact the website owner.
Again, I am not saying to reach out to a website where your link will just "fit." You should only reach out to websites where your resource would be useful. For example, I found 20 sites where I had links that would fit, but only 11 of them where I had links that would be useful.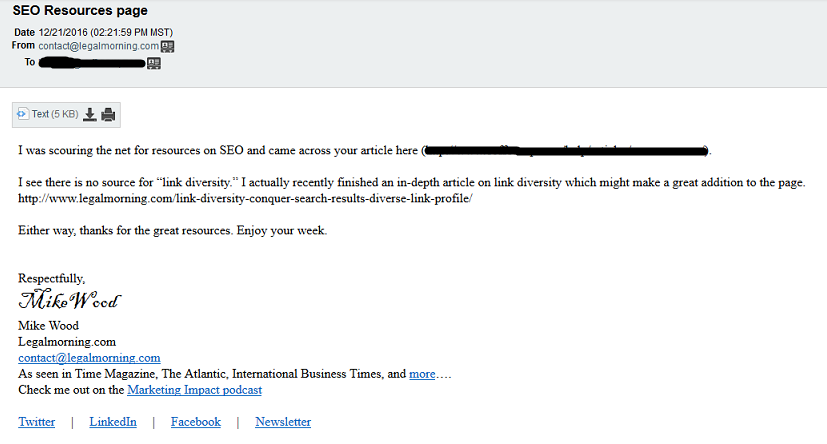 The email above is my outreach email. It is simple and to the point. One thing to keep in mind is that it also tells the truth so you are not trying to scam a website out of a backlink.
Your outreach must be sincere. Let me repeat: Your outreach must be sincere!
Yes, I am looking for a backlink, but at the same time, I truly believe my content will be useful.
"I was scouring the net for resources on SEO." – Absolutely true.
"I see there is no resource for link diversity." – There wasn't.
"I actually recently finished an in-depth article on link diversity." – Again, I sure did.
"Might make a great addition to the page." – I believe it would but will leave it up to the webmaster to decide that.
"Either way, thanks for the great resources." – Yes, I am thankful to find good content. And no, I won't mind if they don't add the link (no biggie).
The last sentence is the key to my outreach and is the sincerest statement in the email. 
When I checked back on all 11 of my outreach emails, I found that one site added a link to content on link diversity (the only problem was, it wasn't mine). No big deal. Despite not getting the link, I am still glad their readers are getting the information.
Get Results – Following Up
I did not follow up with any webmasters until a couple weeks later. Prior to doing so, I checked all the links to see if a link had been added.
As stated above, I found a website that added a link for link diversity, but it wasn't my site. Again, no biggie.
I also found one website that not only added my link but favored my link in lieu of the content on the page.
The webmaster added at the top of the post to completely disregard the contents of the post and instead use my guide to link diversity (with the link of course).
Has this helped my ranking? Let's just say that it is one of many things that have helped my rankings, but "yes," it has.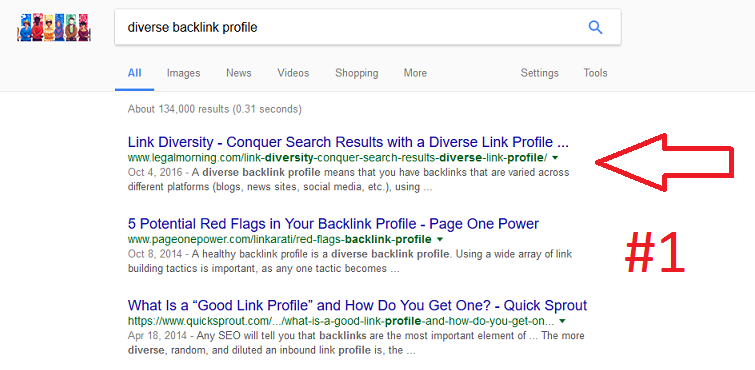 As of this writing, that resource ranked #1 in Google for the term "diverse backlink profile" and #2 for the term "link diversity." It has outranked pages that have been indexed for more than two years (and my resource was approximately three months old when I took the above screenshot).
Now, backlinks are not everything. They help with rank but they are not the ultimate tool for rank.
You need to start with quality content.
The resource I wrote took quite a bit of time to research and write. I also have a professional copy editor who reviews all my content to ensure it meets high-quality standards.
So while links signal Google that the page should rank high for specific terms, things such as time on site (which helps show an article's quality), help it actually rank high in search results.
I cannot reiterate this enough – you must have a useful resource in order to make this work. You must provide a benefit first (high-quality information that is useful to the reader) before you receive any consideration for a benefit (a mention and link to that resource).
If you are pitching crappy content, don't expect to get any reply (or worse yet, you'll get blocked by the webmaster for spam emails).
Final Thoughts on Asking for Backlinks
As far as my outreach email, it could have been better.
For instance, it is always best to address the webmaster by name (although I could not locate one hence the reason that salutation is missing). You can also have a catchier headline (anything that gets the webmaster's attention).
Timing can also factor into your results.
I sent these emails out a few days before Christmas. Being so close to the holiday, I am surprised they were even opened, let alone acted upon. The reason I sent them on that date was simply because I was in front of the computer and got the urge (no planning, just doing).
I recommend that you do not send outreach emails close to time off for the webmaster (never on Friday or near a holiday).
You may also be asking yourself if it is worth your time and effort.
Just so you understand the amount of work involved, I spent approximately 40 minutes searching, crafting, and sending the outreach emails. For 40 minutes of work, I received a dofollow backlink from a DA41 website. Less time and effort than crafting and pitching a guest post.
Now, consider if you took an extra 20 minutes to follow up with the others that did not act upon your email. Spending a little extra time could net you a few additional links.
Finally, I can never guarantee results. This is something that works for me and I want to make sure I share it with everyone else.
If it doesn't work for you, there are plenty of other white-hat link acquisition methods you can try. This is simply one of the easiest and doesn't even come close to black-hat methods.
What are some of your favorite link acquisition methods? What has been your success with outreach on resource pages (or broken links, etc.)?