When Google was launched back in 1998, "link popularity" was the core factor used in evaluating a website's authority to give users better search results.
However, when users started manipulating the system and using bad link building practices, Google was challenged to remove these websites as spam. Since then, Google has experimented and launched several updates like EMD, PMD, LSI, Penguin, and Panda with anti-spam algorithms. They even began ranking sites without backlink relevance, which Matt Cutts said caused much worse results.
Now, co-citation and co-occurrence are two words that are often discussed these days in the SEO community. Google continues to launch its numerous spam-fighting updates and stop the entire traditional link building techniques like bookmarking, article submission, directory submission and blog commenting in their tracks.
As predicted by Rand in late 2012, co-citation and co-occurrence have replaced these techniques and become quite popular. But what do these terms mean?
What is Co-citation?
Co-citation is the presence of two different links, A and B, on a website (C), which means that the value of C will pass through to A and B. Co-citation also goes a step further to dictate that link A and B will form an interrelationship and pass some value by association to one another. Co-citation establishes a relationship between the A and B websites that aren't directly linked together, but do appear together on web page C.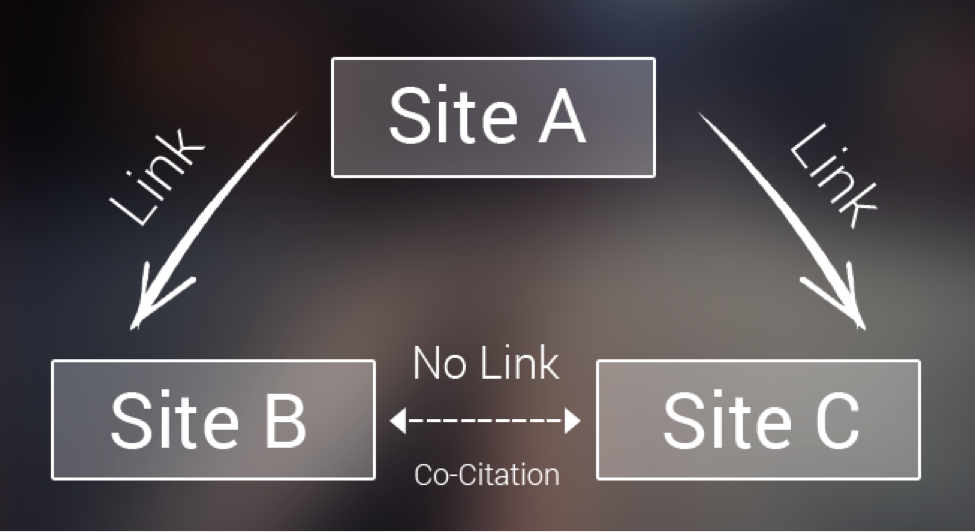 What is Co-occurrence?
Co-occurrence is the term used to describe the frequency and proximity of keywords appearing on a website as well as the relationship between them. Latent Semantic Indexing is fundamentally linked with co-occurrence. As explained by Matt Cutts:
"...it allows easier annotation of the information stores with documents, and subsequently can unlock the potential of better ranking in the future with those additional signals."
Rather than associate two sites together, co-occurrence builds relationships based on similar keywords and phrases.
How Will They Affect Link Building in the Future?
If you're still using traditional link building techniques that are already outdated, it's likely your website has already fallen in the search engine rankings and perhaps been de-indexed. With today's Google spam-fighting updates, it's essential to use advanced link building techniques to receive the best ranking results possible.
Now the question arises how co-citation and co-occurrence will affect the link building. The good news is that they will only enhance it and provide better results. The concepts of co-citation and co-occurrence should foster tactics for achieving quality backlinks. In the following guide, I'll show you how you can incorporate co-citation and co-occurrence into improving your presence on search engines.
1. Avoid Using Keyword-Based Anchor Text
Making anchor text an exact match to the keywords was an old school tactic that thrived on the belief that more of these links would create better ranking. It's no longer advantageous to use this practice though.
Please stop varying your keywords with "best," "affordable," "leading," "top," etc. within your anchor text. The old days are gone, so throw this technique out the window to avoid hurting yourself. You should be focusing more on your brand than your keywords. A natural link is generally with a brand name or a direct link.
For example, imagine that you're a SEO blogger and love a tool that performs link evaluation on website xyz.com. Then, how would you give a backlink to it? Since you don't know what keywords the site targets, you'll obviously use the brand or any conversational text to create the anchor text. Google says that this builds the most natural links. You should try to add your keywords around the branded anchor text so that Google notices the particular phrase with the brand.
2. Include Authority Website References
Before I start this part, think about the time you've spent reading Wikipedia articles. Citations are the core things that help maintain the trust of Wikipedia content for any fact, figure, or statement that could be argued invalid. It's likely that you've seen articles where citation wasn't provided and this was mentioned in a superscript as [citation needed] like this:

The citation here is linked to a trustworthy source or website where authoritative writers can verify the accuracy of details being presented in the article.
Similarly to Wikipedia, you should be adding linked to authoritative sources whenever you write an article or post. In this way, you'll be creating a relationship between the sources and your page. Google will notice this and view your website as more credible within its rankings.
3. Write What Users Look For
Always strive to write about topics that users are searching for on the World Wide Web. In most cases, Google works on conversational searches, so long-tail keywords are most beneficial. Having a keyword in the title always pushes your content higher in the SERP, but you've probably noticed that high-ranking sites are highlighted even when the title doesn't contain the exact keyword. Do you know why? The answer is their high-quality link profile. Websites that have a good link profile have high domain authority, citation value, trust value and many other factors.
4. Go For Content Marketing
With all of the spam updates by Google, content marketing is now a vital process for getting your website the traffic and exposure you need. Co-citation and co-occurrence work only if you have content with natural inbound links. Therefore, share as much original, engaging content as possible with interactive infographics and videos that intrigue readers. Maintain a regular schedule of posting new content on your website, but make sure you always strive for quality above quantity.
5. Build a Natural Link Profile
I'm adding this point because it's something that people rarely look into, but it's the main reason why main websites are hit with penalties. When you don't maintain your website link profile, it gets easily tracked by Google. Then, you'll see deflections in your rankings on the day Google launches a new algorithm update.
Make certain you keep your link profile natural by using branded/diluted anchor texts, deep linking, quality backlinks, co-citation, co-occurrence, and plenty of fresh content to stay safe from new updates down the road.
Conclusion
To summarize the whole process, co-citation and co-occurrence are essential for helping you develop a link building strategy and realize a high-quality link profile. Anchor texts have lost their value and links are also losing it with time, but it'll always be the core thing to evaluate websites at least for the next few years. Now brand value, co-citation, co-occurrence, quality links and good content are emerging as top dogs.
Google is trying to focus on delivering better results, especially for conversational searches with long-tail keywords. In order to achieve this, Google will likely come up with more strong updates.
Keep your website ready to combat the latest update by using the above tips for co-citation and co-occurrence. These advanced link strategies will develop a natural link profile and increase your visibility on search engine results.