Local SEO aims at increasing search visibility for businesses that operate directly in their communities. Techniques and best practices of local SEO center around on-page optimization for location-specific queries as well as setting up your Google Business Profile (GBP).
When building your local SEO strategy, it's important to leave no stone unturned. In this guide, I'm going to provide you with local SEO solutions to ensure your site is online and visible to users:
The Benefits of Local SEO Solutions
Semrush has already addressed what local SEO is in previous articles. In short, these strategies prioritize optimization for location-specific SERPs. Because of all the information available to search engines to evaluate content rankings, the user's IP address and geolocation are extremely relevant factors. 
Consider queries with a geographical qualifier, like "hotels in New York," local SEO solutions allow you to take advantage of opportunities resulting from these types of local searches.
Local SEO strategies are about marketing your brand, products, and services to local leads. If you're a smaller business operating on a regional level, they allow you to lessen the advantage of bigger, national brands that optimize for more generic keywords while also gaining traffic from ready-to-buy demographics and increasing your conversions.
If all this sounds like a dream come true, read on to learn about 11 local SEO solutions that you can implement right now.
11 Key Solutions for Successful Local SEO 
A 'local search strategy' is an umbrella term that stands for multiple solutions to increase business visibility. These include claiming a business listing to appear in a local search on Google, managing online ratings and reviews, starting a locally-focused social media campaign, and so on.
Now, I'm going to go over 11 local SEO solutions that you cannot do without:
No. 1: Create and Optimize a Google Business Profile
The importance of Google Business Profile has been covered enough; now it's time to claim your listing and start cashing in on all those local leads.
A Google Business Profile increases your business's online visibility almost immediately by making it show up in listings where you otherwise wouldn't pop up. You can follow Google's instructions to set up your account, but make sure not to miss these key steps: 
When providing a business description, include your main keywords as well as the area where you operate. 
Choose the best possible category for your GBP listing and/or subcategories, find out the popular search queries that best apply to your business. 
Verify your profile by ensuring that your name, address, and contact details in GBP match those available on your website and in any other local citations. Semrush's Listing Management Tool can support you by distributing to all local listing sites at the same time.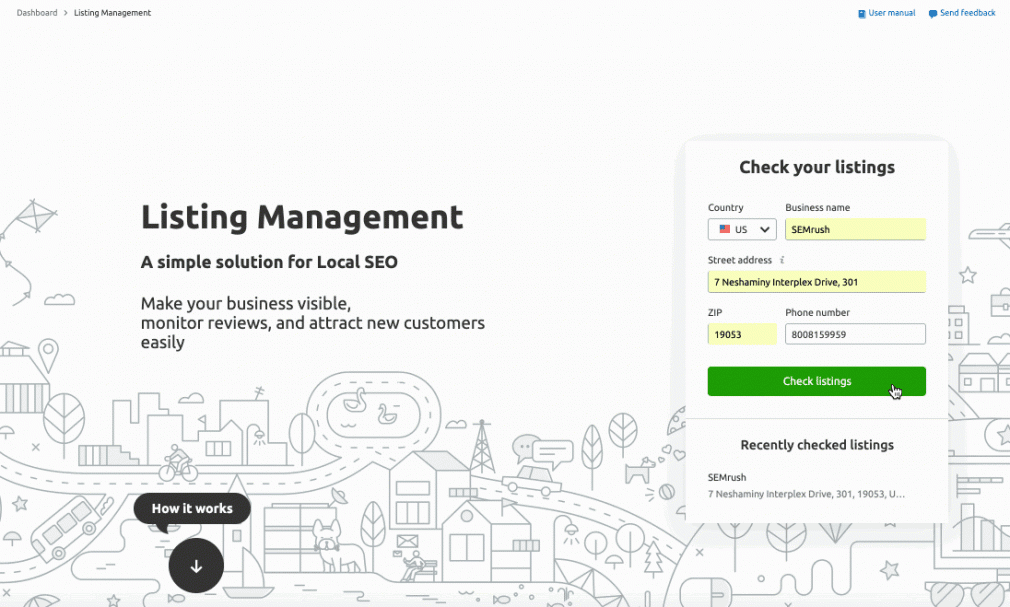 No. 2: Do Local Keyword Research and Optimize Your Content
If you haven't done so already, now is the time to open Semrush's Keyword Overview Tool and perform a detailed local keyword search. The tool will provide you with all the insights you need at this stage: which keywords are more relevant to your business, their estimated value, and the current competition to rank for them.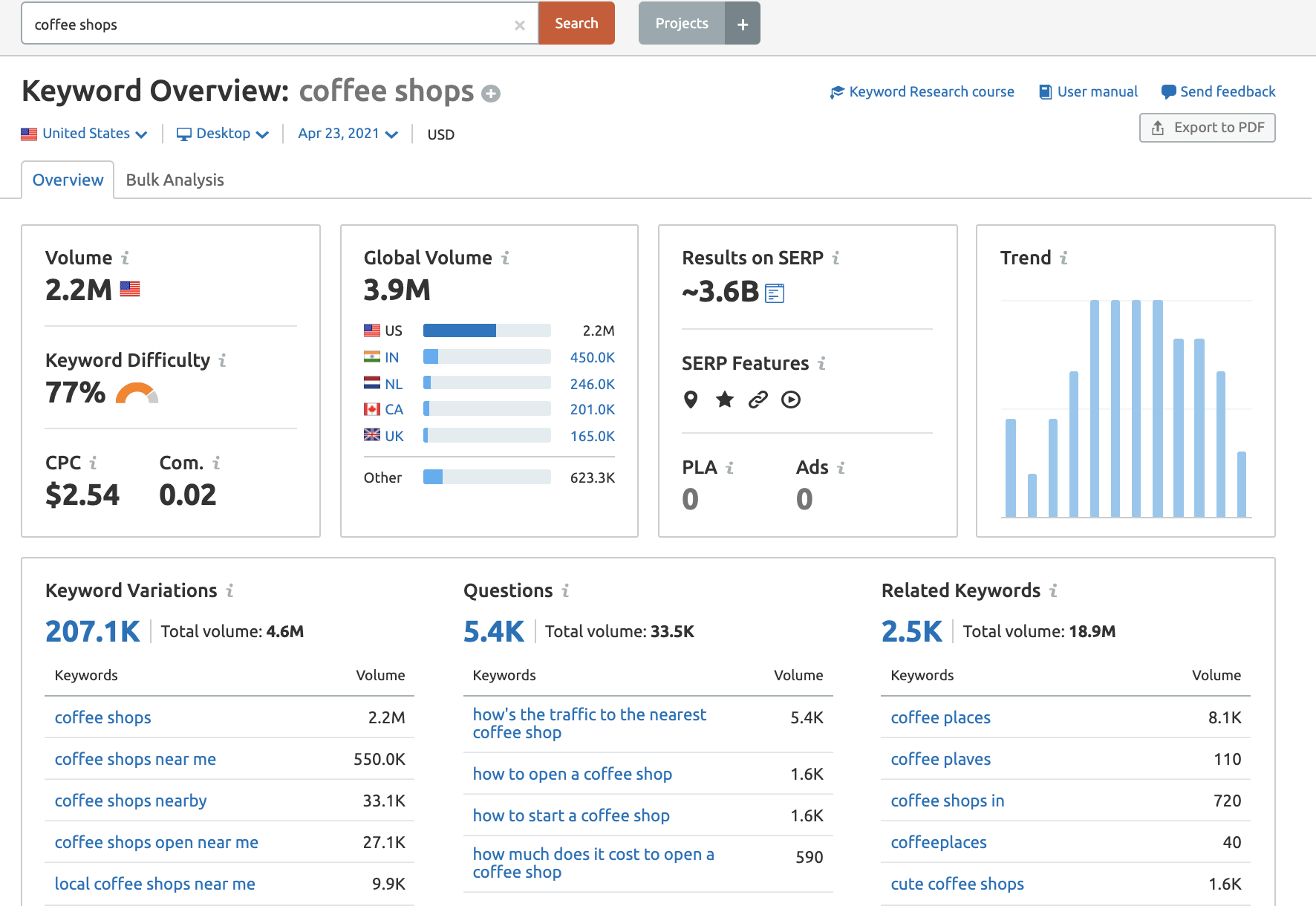 However, there are a few more steps to take when preparing your keyword targeting. Local SEO solutions are all about narrowing your targeting:
Perform a local keyword search and choose locally relevant keywords to target. Integrate them in your website's metadata, in the body text on relevant pages, and in the URL itself.
Optimize your content for your area. Mention area-specific landmarks and hotspots. Pay close attention to a location-specific "About Us" page, focus on locally relevant information such as your commitment and engagement in your local community, local news, and events.
Build backlinks to the most relevant pages. This requires a twofold approach that entails both community engagement and submitting to directories.
No. 3: Identify Your Keywords and Track Your Positions on the SERPs 
After you have identified keywords that you'd like to perform for, you're going to want to track them. You can do this in a few ways; Semrush even helps make it a bit easier for you. 
First, the Position Tracking Tool allows you to track and compare multiple geographic locations or devices in a single project. You can easily handle local SEO tracking and even see how your competitors are doing.
You can also track up to five specific keywords within a target radius of your business with the Listing Management Tool. 
No. 4: Local Link Building or Community Engagement?
Why not both? As a small business, you can take full advantage of the geographical proximity and familiarity you share with other businesses in your area. Local link building is synonymous with community engagement.
Reach out and make connections with other players in your area and directly ask them to link to your website. This is the fastest way to gather many high-quality backlinks and send out the strongest link signals to Google.
By setting up the Link Building Tool and hunting for prospects, you'll obtain a list of other businesses you can reach out to in order to gain new links. 
You can also check out this guide on broken link building. There are some useful SEO tips to add backlinks that could help improve your site's authority!
No. 5: Submit to Online Business Directories
Once you have done the initial work of gathering information for your Google Business Profile, an important step in your local SEO strategy is to submit the same information to online business directories such as Yelp, HubSpot, TripAdvisor, etc.
Check out this local business directories list to find more online real estate to claim for your business without incurring Google penalties caused by unnatural inbound links.
No. 6: Build a Social Media Presence
A wide variety of opportunities awaits you on social media. There's an abundance of platforms that you can use to expand your online presence. The first step is choosing the platforms and coordinating a multichannel strategy that makes your message consistent everywhere. 
It is a lot of work, but take a look at how each social platform can help your local SEO efforts:
Facebook has the largest user base, which means you'll reach the widest audience.

A key feature of Facebook is the possibility for users to geolocalize their posts when they visit your store by using the check-in function. This will make you visible to all potential leads among their friends.
Facebook also offers a virtual window to your brick-and-mortar store by allowing you to customize your page, post pictures, and advertise your products or upcoming events.

Twitter limits you to 280 characters, although you can also post images and videos to add some extra flair.

Twitter's most powerful feature is the retweet function, as this is great to create a buzz around an ongoing campaign or an upcoming event.
On Twitter, you can also reach out to your followers and ask direct questions with polls to collect precious suggestions directly from your customers.

Instagram is an image-focused platform that can do great things for your brand image and customer engagement.

Interact with your users on eye level with behind-the-scenes stories and direct messaging. Turn your customers into fans.
Show off your unique selling points via regular eye-catching posts that celebrate your products and your employees.
Other social media platforms go in and out of fashion daily; the list is long: YouTube, Pinterest, Snapchat, TikTok, LinkedIn, etc. Choose whichever one best fits your brand image. 
No. 7: Interact with Your Customers Online
Managing your brand message on multiple channels is no easy job, especially for smaller businesses. Once you create a profile on the social platforms of your choice, these need to be updated regularly.
Imagine if a customer walked by your store and saw the same arrangement of the same products every day: they would not come in.
Your posting schedule needs to encourage customers to interact with your page, so go ahead and ask your followers for questions and feedback, host contests and giveaways. 
Remember, the platform can change. What your brand stands for cannot.
Your social media communication needs to be consistent with all other channels your business uses, including your website and your GBP.
Use the Social Media Toolkit to plan and schedule your posts in advance, study analytics to find the best time to post, track each post's performance, and keep your users engaged.
You'll be able to track performance for your posts as well, including a whole host of engagement metrics: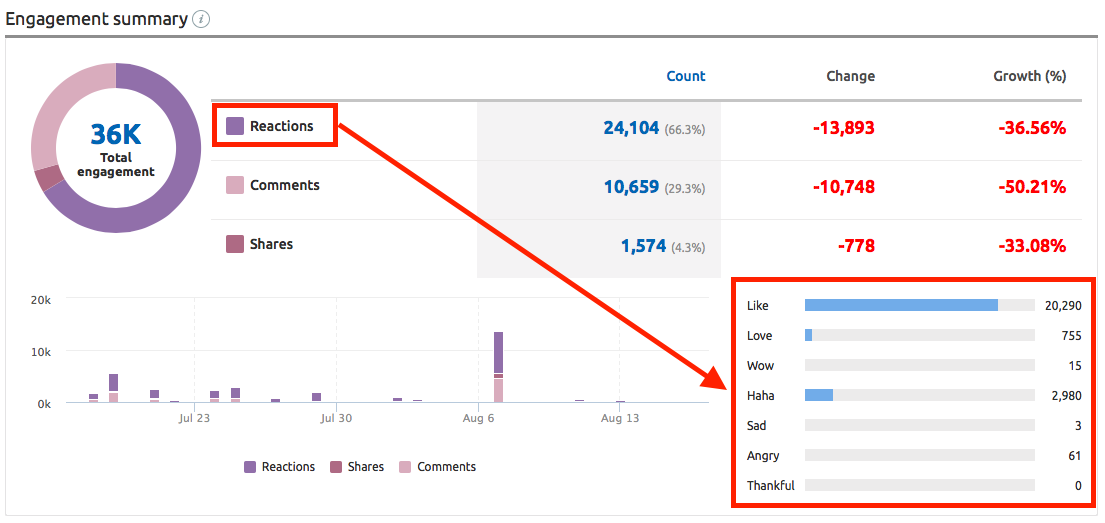 No. 8: Actively Manage Reviews and Ratings
An online review is almost as powerful as a personal recommendation. Of course, you should allow your customers to rate their experience with your products. 
However, it's also crucial to monitor and respond to all your reviews, especially if you operate in a local area. These reviews — and how you handle them — directly impact your brand image. 
Encourage happy customers to leave reviews via post-purchase emails or by actively showing your appreciation by promptly replying to positive reviews. Good reviews lead to  conversions, improved customer loyalty and better local rankings. Monitor and resolve issues resulting in negative reviews. Ask yourself if the customer is speaking half-truths or if a refund should be issued.
Every time you do reply to reviews, remember these tips: 
Everyone can see your reply, don't say anything in the comment section that could jeopardize your relationship with other customers.
Even if you think the customer is being unfair, use diplomacy and remain professional. Contact them privately to resolve the issue in detail.
If you made a mistake, apologize, then contact the customers privately. 
Take full advantage of the Listing Management Tool to check your online reviews in the Reviews tab.
No. 9: Use Geofencing Advertising
Semrush has already delved deeper into geotargeting for local PPC in previous articles. However, it's worth mentioning the opportunities offered by geofencing. 
Geofencing is a hyper-local and ultra-efficient advertising technique that draws a virtual boundary around your business to trigger your advertisement on a mobile device that enters or leaves that area. 
This advanced marketing technique is most effective only once you've optimized your content with local-specific terms. However, it gives you the best bang for your buck, considering that the ads will be shown to an audience likely to click on them, as they are physically close to your business.
No. 10: Optimize for Voice Search
Voice Search is another topic that's been previously discussed in-depth and represents a valuable opportunity for local SEO. As this is still a fairly recent technology, the competition might not be as high.
To conquer Google Assistant, businesses can apply their usual local SEO solutions and optimize their content for rankings within the Local Pack, especially by adapting it to more natural language for the spoken search queries.
The advice here is to make good use of structured data. Consult the Keyword Magic Tool to discover and target long-tail keywords and make your content sound as natural as possible.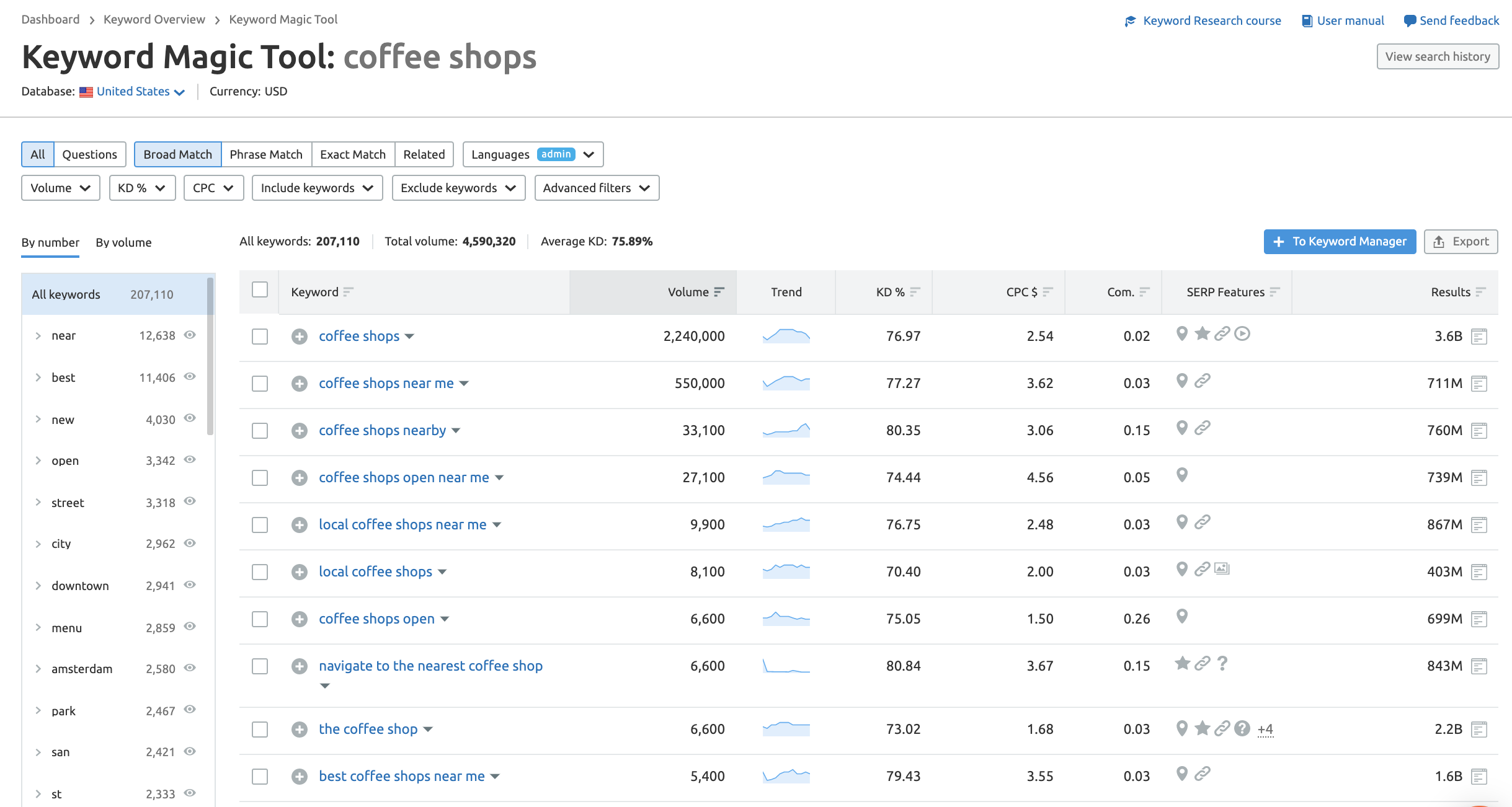 (Also, there are ways that structured data can help improve your appearance on voice search. And the Site Audit Tool can help you identify any issues with the structured data you implement.)
No. 11: Regularly Check Your Website Health with a Site Audit
Simple things like broken pages, missing title tags, and confusing internal links can significantly hurt your rankings. Run the Site Audit Tool for a list of top errors and larger issues to fix. 
Don't forget to check your mobile stats by adjusting the settings and crawling the mobile version of your site.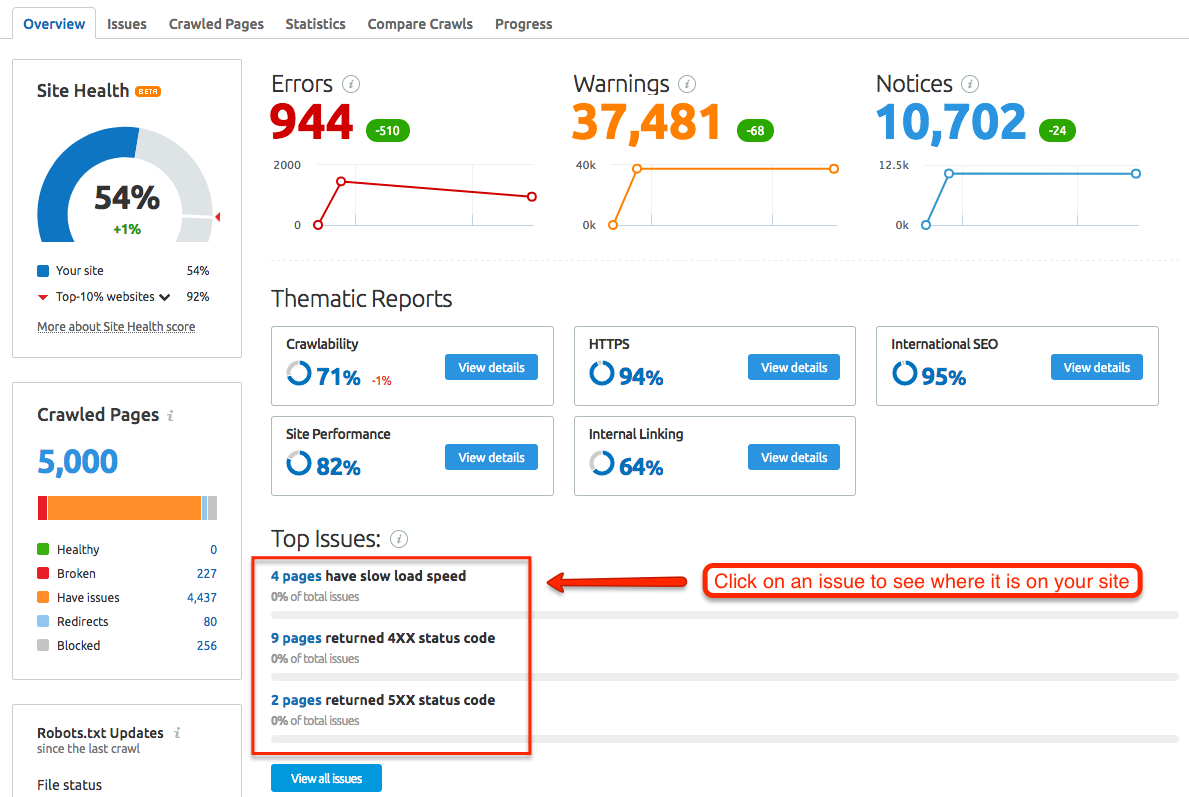 As it is by now clear, local SEO solutions are listed in all relevant Semrush tools, like Position Tracking and On Page SEO Checker. So, if you're looking for solutions for your local SEO needs, know that Semrush has a whole suite of local seo services to help you throughout the process.
Need additional tips? Be sure to check out our local SEO checklist to make sure you ticked all the boxes in your quest to improve your SEO.