Significant changes in your Google SERP positions can be caused by the algorithm updates which, according to John Mueller, can happen on a daily basis. Another point is that in areas like sport or news SERP is naturally volatile. So what would you prefer - to struggle to protect yourself from the flux or try to harness it? 
To make the most of your SEO you'll need a tool that will give you some insights into what is happening to the target SERPs at any given time. 
SEMrush's Sensor tracks all the changes that occur in the SERPs on a daily basis and provides you with the data that will help you implement the monitor-analyze-act approach.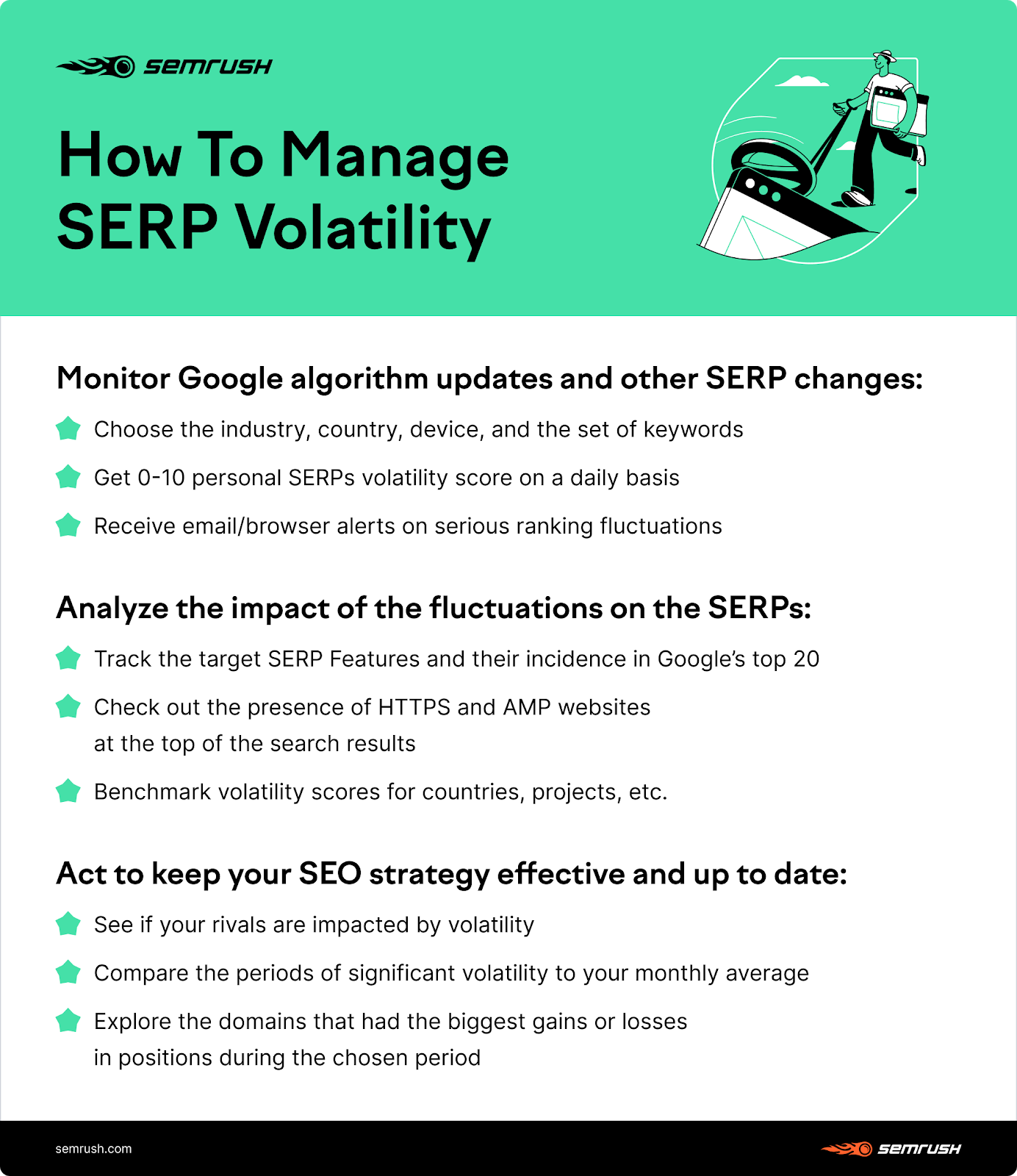 How to Monitor Google Algorithm Updates and Other SERP Changes
SEMrush Sensor shows the ranking fluctuations on desktop or mobile for any of 25 categories (industries) in 9 countries over the last 30 days. 

The values, calculated using a proprietary formula, are scaled 0-10, where 0-2 indicates low, 2-5 = average, 5-8 = high, and 8-10 = very high probability that your rankings will change. 
High and very high scores usually indicate an ongoing search algorithm update or a big set of penalties put in force. For more precise data, you can refer to your Personal Score, which will show you the volatility calculated for the keywords and countries you picked for a Position Tracking project.
To and keep abreast of the volatility spikes subscribe for notifications. You can also embed the Sensor widget right into your website and start every morning with a SERP weather forecast.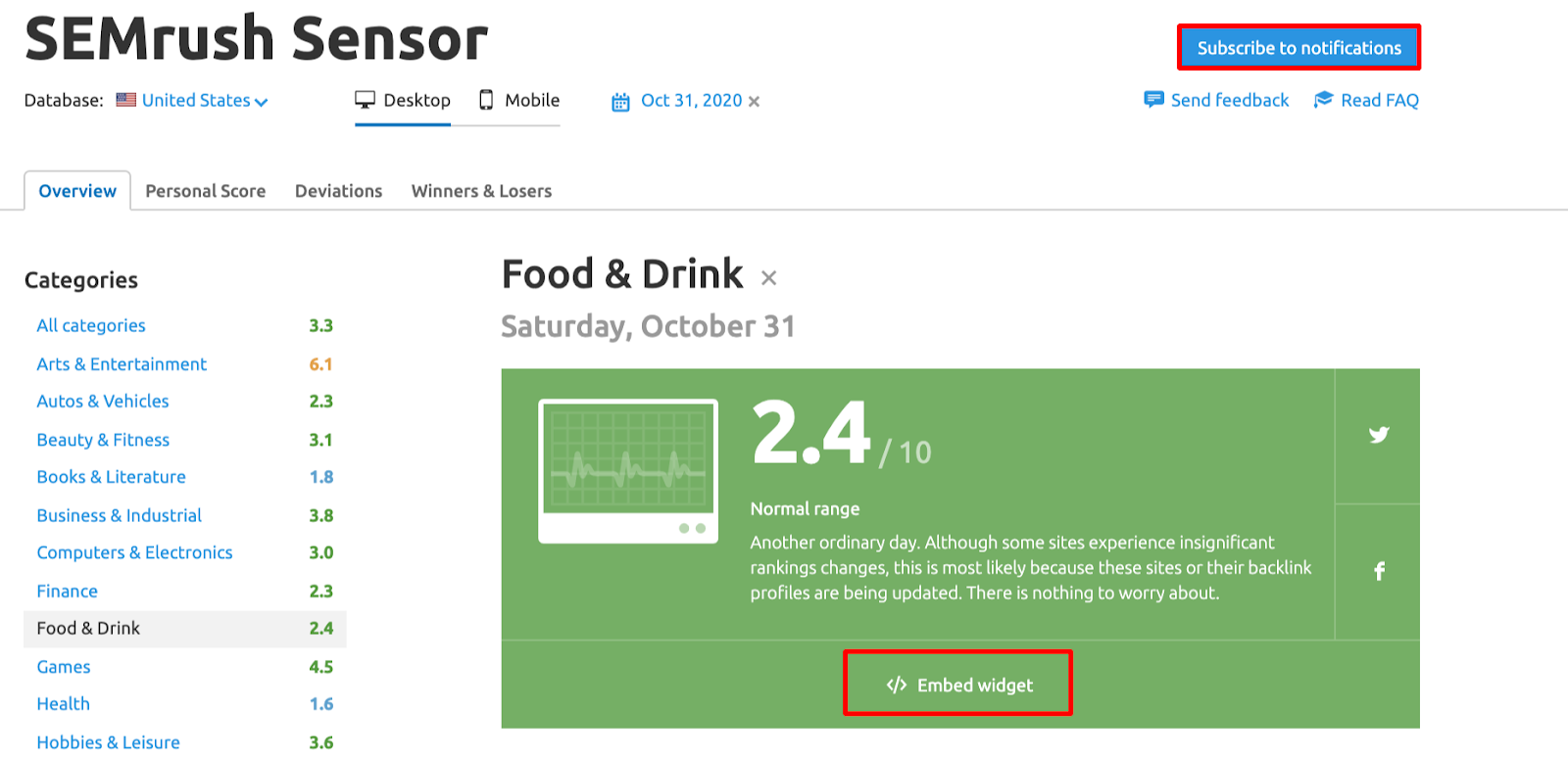 Useful tip: If you see an unexpected change in your rankings and no volatility deviation, we recommend that you audit your website for technical issues and your backlink profile for toxicity.
How to Analyze the Impact of Fluctuations on the SERPs
After you spot a fluctuation you will also want to know how much the SERP is impacted, whether the rankings are bouncing in just one country or across the globe, and whether your target SERP features are affected. 
Start with the 'Compare with…' filter, which allows you to benchmark the volatility in different countries, between different devices, projects, SERP features, etc. This will let you shift focus or prioritize SEO efforts the right way. This is really helpful if your business provides services to several industries, e.g. services in travel and real estate dealers.

Then, check out the SERP Features Occurrence and HTTP/AMP usage in your category. 
This data shows you what is happening at the top of the search results. You'll see, whether any new SERP features that you can win appear in your category, and how many websites using HTTPS/AMP (mobile search view) get into the Top 20.
The results are shown for the Top 20 of the current day. The positive or negative difference to the previous day is shown in green or red. With this data you can make informed decisions on migrating your website, creating its AMP version, or updating your content to target specific SERP features. 
Useful tip: The importance of a specific SERP feature may vary depending on the industry (category). For instance, Top Stories are far more important for news websites than the Local Pack. To learn more about the feature you plan to target, click on the occurrence % to see the monthly trend graph for the chosen category. 
How to Keep Your SEO Strategy Effective and Up To Date
The last and most important step is to react to the volatility and benefit from it. Here are a few things that you can do. 
Checking Whether Your Rivals Are Affected by Volatility
If you have Position Tracking set up for your competitors' websites you can use the 'Compare with Project' filter. It lets you check the impact of the algorithm update on their rankings compared to the category as a whole and choose a more aggressive SEO strategy if the SERP is on your side.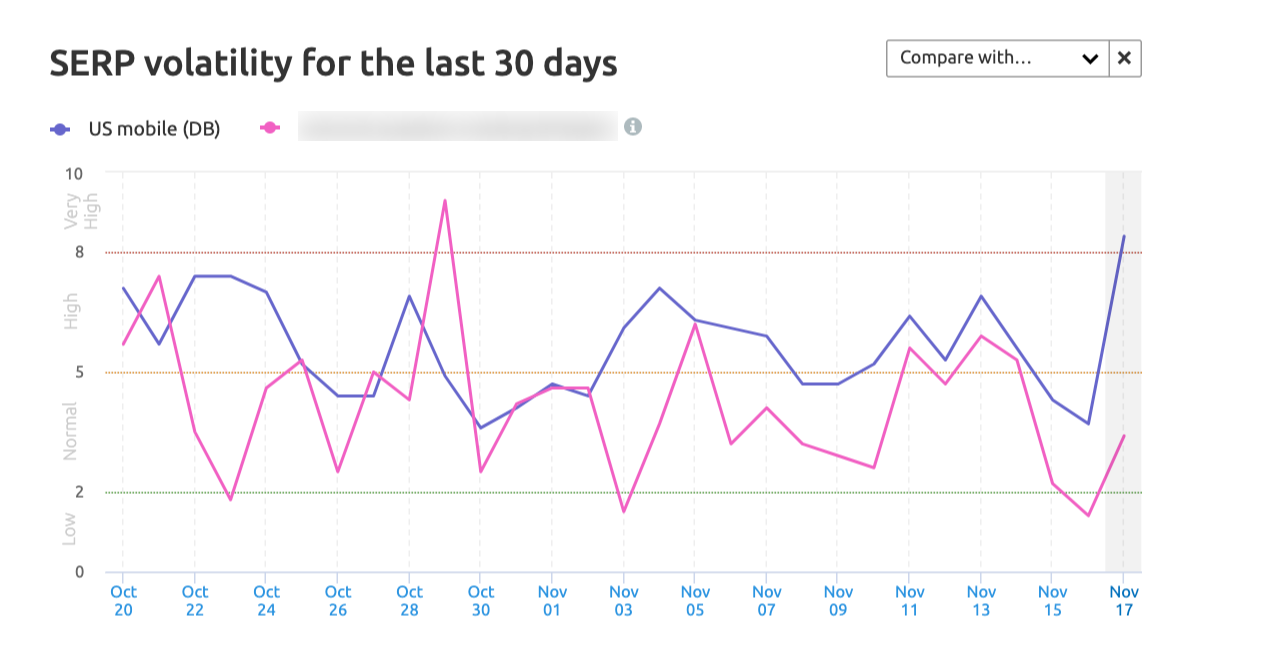 In the same way, you can use the 'Compare with SERP feature' filter to check if the Featured Snippet (or any other SERP feature) you have achieved is subject to fluctuations, etc. 
Exploring Deviations
In the Deviations tab, you will find data about the days when volatility was extremely high or low compared to the monthly average. With this data, you'll be able to attribute some changes in your rankings to the day when an update was rolled out or find the industries that suffered most. You can use this report for a variety of purposes such as choosing the safest time/niche for expansion.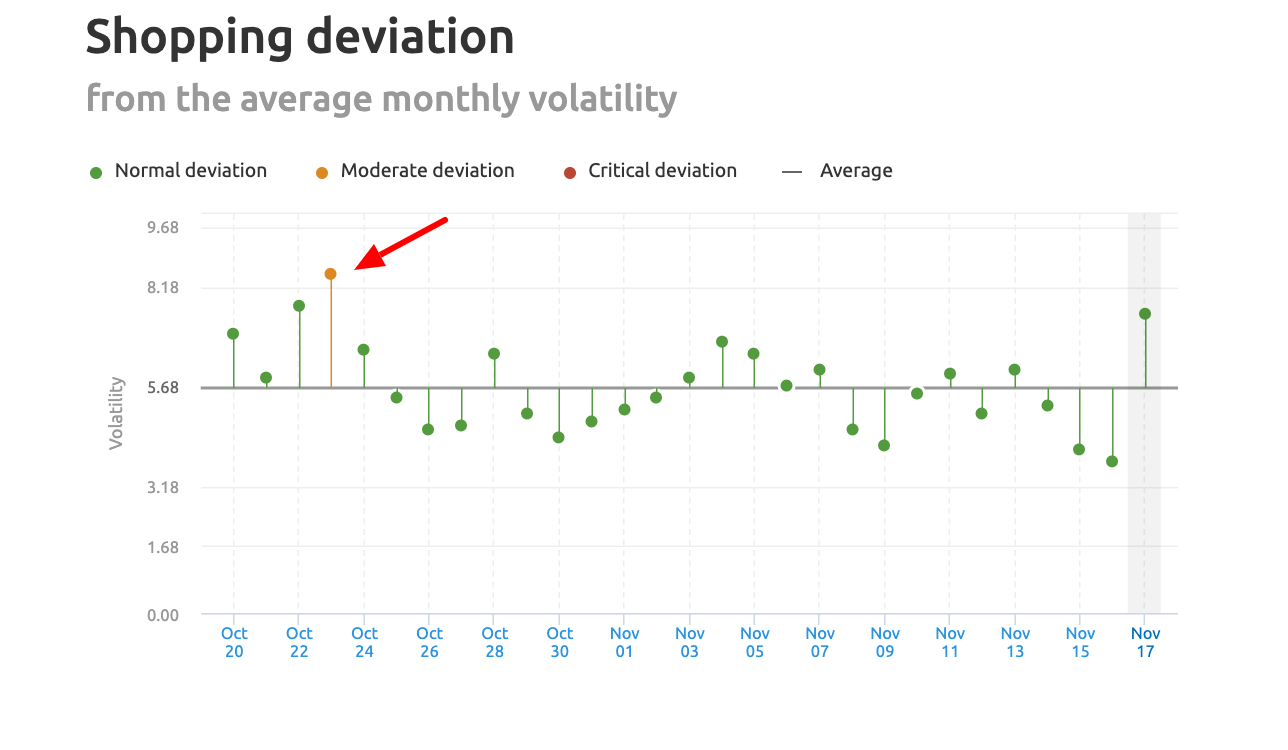 Analyzing Winners and Losers
The Winners and Losers report tells which domains in Google's Top 20 daily suffer or gain from the SERPs' volatility in terms of positions, and new and lost keywords. Use this data to find the industry leaders, see how they cope with volatility, and find some content optimization ideas.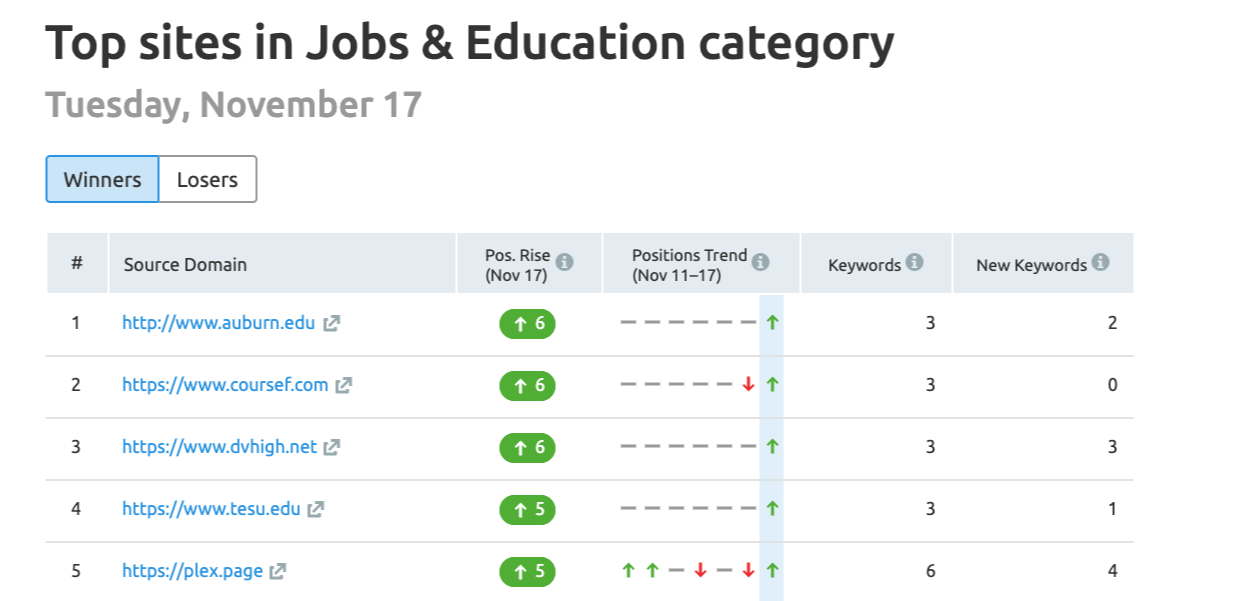 Your All-Weather Friend
SEMrush's Sensor is much more than a way to detect SERPs' volatility and Google ranking algorithm updates. With it, you can also do the following:
Detect potential issues on a website

See how well your website is resisting tough environments

Find the right time to outdo your rivals

Explore the general state of a target category

Analyze available SERP features
If you have any questions, check out the Sensor Manual.