It's best to read the weather forecast before praying for rain.
Google's result pages are changing constantly — websites switch positions, new SERP features pop up, and algorithm never stops evolving. No website is immune to ranking fluctuations, and those that have acquired top 3 positions or SERP features are not out of harm's way either. These changes can significantly affect your organic search traffic, which is not inherently a bad thing. With SEMrush Sensor at your disposal, you can use these fluctuations to your advantage.
SEMrush Sensor will help you detect Google updates, show you the SERP volatility caused by updates, and help you determine the main trends in search results. SEMrush Sensor tracks all the changes that occur in the SERPs on a daily basis and provides you with the following data from 9 country databases by category:
Major Google Changes and SERP volatility over the last 30 days. If you see an impact on your rankings for a particular day, you can see if there was high volatility around that time - which could indicate an algorithm change. 

Insights into the SERP Features presence on results pages, including the specific features that are getting the majority of visibility. You can measure their occurrence in the top 20 and the difference from the previous day.

Info on the popularity of HTTPS and AMP among top search results.

Mobile or desktop Personal Score for a custom set of keywords (via integration with Position Tracking). Learn more here.

Periods when there were significant Deviations in the volatility compared to the monthly average.

Domains that became the day's Winners and Losers (gained or lost most positions) in terms of ranking.
The information above proves useful in a situation where you would like to quickly restore your rankings affected by an algorithm change or Google penalty, and also when you want to try and benefit from SERP changes.
Here are just a few things that you can do with the sensor tool.
Handle Search Algorithm Updates
Google's ranking algorithm changes hundreds of times during the year. But it is only the major updates that we are officially informed about. Sometimes even the slightest alteration can hurt your SEO efforts.
With the help of SEMrush Sensor you can estimate the impact of a ranking algorithm update and maintain your website accordingly:
SEMrush Sensor shows you how volatile the SERP was over the last 30 days for a chosen category. The values, calculated in accordance with a proprietary formula, are scaled 0-10. The lower the score is, the less likely it is that your rankings will change.
Useful tip: When considering how volatile the SERP is at the moment take into account the average value characteristic for the target category.
High scores usually indicate an ongoing search algorithm update. Although, if you see a negative change in your rankings that doesn't correlate with the volatility values, it is advisable to audit your website for technical issues.
A must: Subscribe to Sensor email or browser push notifications so that you don't miss a significant algorithm change.
If you are facing volatility caused by an expected or announced update, like Penguin or Panda, Sensor can help you make sure that cleaning your backlink profile or other efforts to avoid penalties were effective enough to bring you back to the top of the SERPs.
For more detailed data use the 'Compare with…' filter and compare the volatility in different countries, between various devices, projects, SERP features, etc. This information will help you determine which of your target areas are more or less subject to volatility, thus switching focus or prioritizing SEO efforts.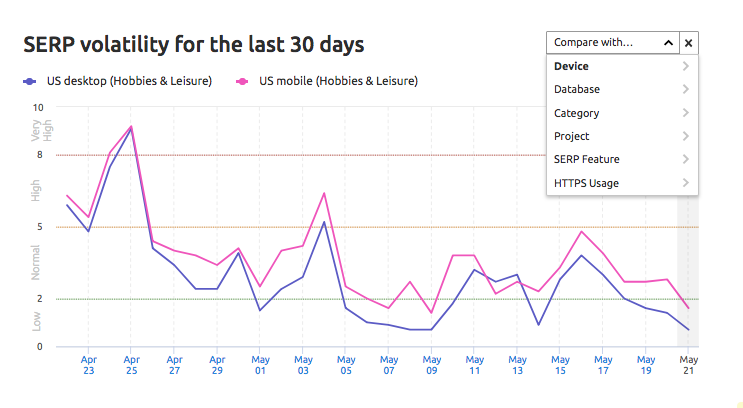 If you have Position Tracking set up for your project you can reap the rewards of knowing the Personal Score for a target set of keywords and find the shortest way to sidestep your rivals.
Consider Migration to AMP or HTTPs
The number of websites using HTTPS and AMP is always growing, but if you haven't yet decided for yourself whether you need accelerated pages or how soon you should migrate to the secure protocol Sensor will give you the information on how many AMP or HTTPS pages appear at the top of search results.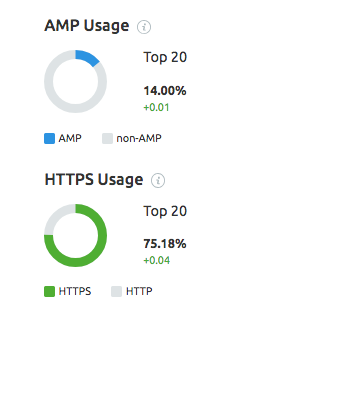 Useful tip: To see the data related to AMP usage select 'Mobile' search at the top of the Overview page.
Seize SERP Features
The occurrence of SERP features is different for different industries, and the value of a certain feature may also vary depending on the domain's business. For example, Top Stories are way more important for the news websites than the Local Pack.
With the help of Sensor, you can estimate the number of different SERP Features present in the search results for the given category and determine which are worth chasing, if any.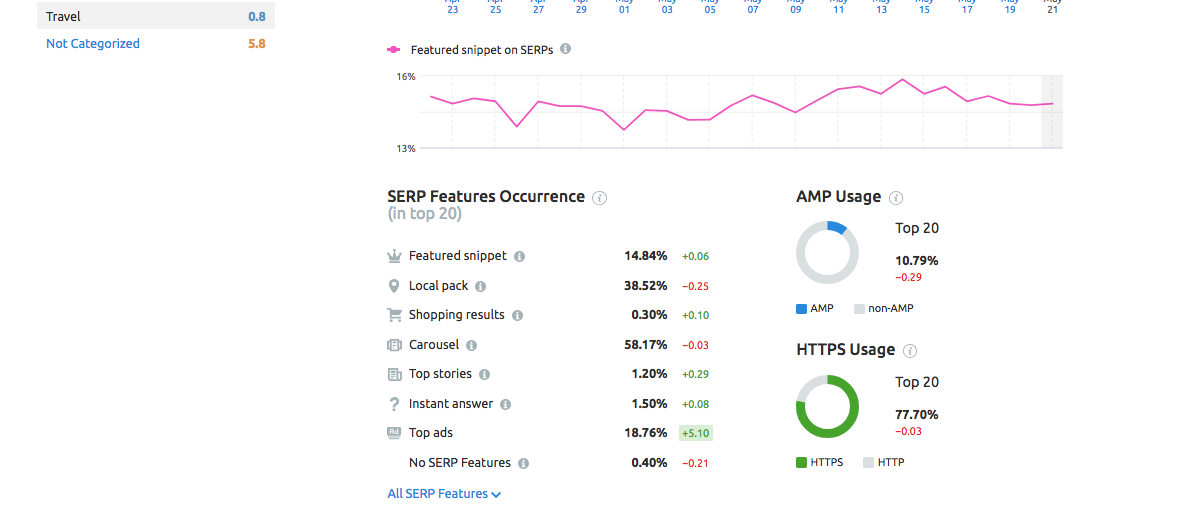 The results are shown for the top 20 of the current day; the positive or negative difference to the previous day is shown in green or red.
Research a Niche
Looking for a new market for your goods and services? Want to examine a niche before investing? The tool can help you in two different ways.
Check the Winners and Losers report, which tells which domains in Google's top 20 daily suffer or gain from the SERPs' volatility in terms of positions, and new and lost keywords.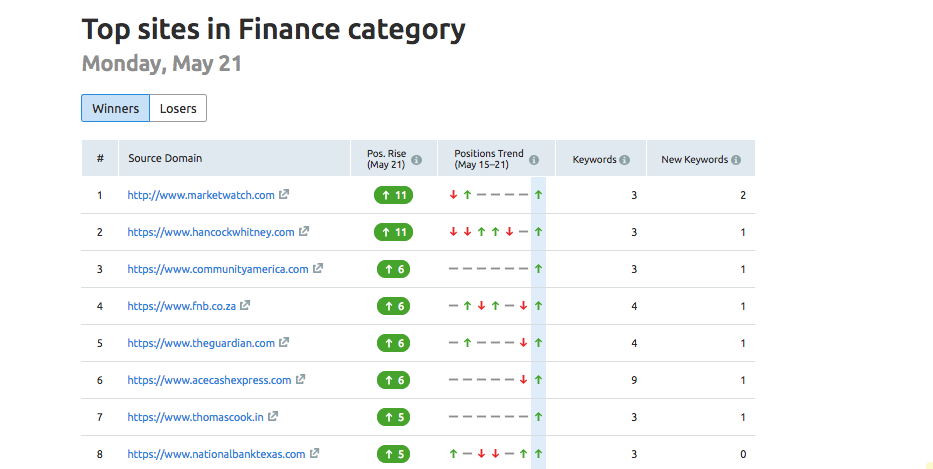 Next, check the Deviations report shows which categories/industries are mostly 'under the volatility' by comparing the daily deviation to the monthly average. These two reports can help you choose the right time and the safest niches to develop.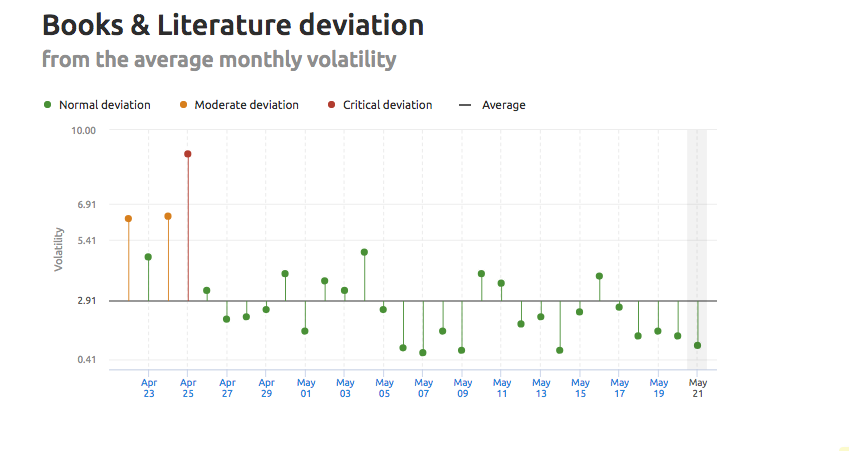 An All-Weather Friend
As you can see, SEMrush's Sensor is much more than a way to detect SERPs' volatility and related Google ranking algorithm updates. With this tool you will be provided with a lot of data that will help you: 
Detect potential issues on the website.

See how well your website is dealing with SERP changes.

Find the right time to outrun your rivals.

Explore the general situation within a target category.

Analyse available SERP features.
If you have any questions, please check the Sensor Manual or leave your comments in the section below.