Squarespace's easy-to-use design has become popular with people interested in building and maintaining their website without an advanced CMS, such as WordPress or Joomla.
However, as with any website, it's important to consider your SEO strategy when developing your Squarespace site. 
What is Squarespace?
Squarespace is a website builder, CMS, blogging platform, and hosting service. As a tool, it offers a slick, professional look with a minimalist design and plenty of customizable templates.
It benefits many businesses owners and bloggers in search of an easy way to build a functional website. Squarespace offers fewer plug-in and customizations options than other CMS systems, making the platform an attractive option for web design beginners. 
Squarespace SEO Pros
Like other content management systems, Squarespace has a few SEO features to help your website rank with search engines. Start with their SEO checklist to tick off the essential SEO elements for your website. 
The platform automatically sets up a sitemap in XML format for you. Sitemaps help Google and other search engines crawl your site, so it's easier to rank. 
Squarespace also has built-in mobile optimization. Google's latest Core Web Vitals update takes mobile web load speed into consideration as a vital aspect of your page rank. 
Additionally, Squarespace integrates directly with Google Search Console so you can monitor how well your SEO efforts are performing. 
Squarespace SEO Cons
Despite some useful features, there are some significant issues with Squarespace when it comes to SEO:
BLOG tags and CATEGORY pages are blocked by the robots.txt file. You have to work around this issue by creating tags when developing basic pages or blog content. 
Squarespace doesn't currently allow you to install plug-ins. WordPress allows you to install the Yoast plugin to help with SEO.
There are some workarounds you can try to improve your SEO on Squarespace, but you'll need some coding experience. If you're a beginner to coding, you won't be able to make these adjustments. 
Optimizing Squarespace Sites
Any SEO practices you implement on a standard website also apply to a Squarespace site. 
Creating relevant content, adding keywords to improve your blog SEO, and anticipating search intent are still important. Linking internally to other website content and maintaining your SSL certificate are all applicable to a Squarespace site.
Luckily, Squarespace's native SEO support is stronger than its peers, so it offers SEO support right out of the box. Each Squarespace template is built to enable site indexing, and its analytics tool can show you traffic to your site.
Squarespace also offers a page redirect feature, so you can point visitors to a new page if the site structure changes.
As mentioned above, the Squarespace SEO checklist can be a great resource when optimizing your Squarespace website. 
Top 6 Squarespace SEO Tips
In addition to Squarespace's checklist, we offer these 6 tips to improve your Squarespace site's SEO: 
1. Title tags and heading structure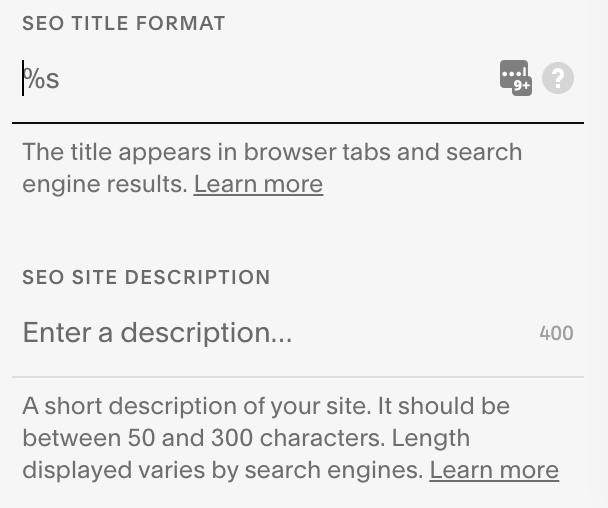 This feature allows you to title each of your pages and blog posts. Each page of your website needs a unique title so crawl bots know you aren't producing duplicate content.
If there are pages with duplicate names, this can hurt the ranking of both pages. Google won't know which page to serve on a SERP.
Additionally, including your target keywords in your page or blog title signals to bots and readers whether your content is relevant to their search intent. You'd enter your page's title in the "SEO TITLE FORMAT" input. 
The "SEO SITE DESCRIPTION" is where you'll add the page's meta description. The picture suggests a length of up to 300 characters; however, the meta description in a Google search result might be truncated about 160 characters. 
2. Squarespace Ecommerce SEO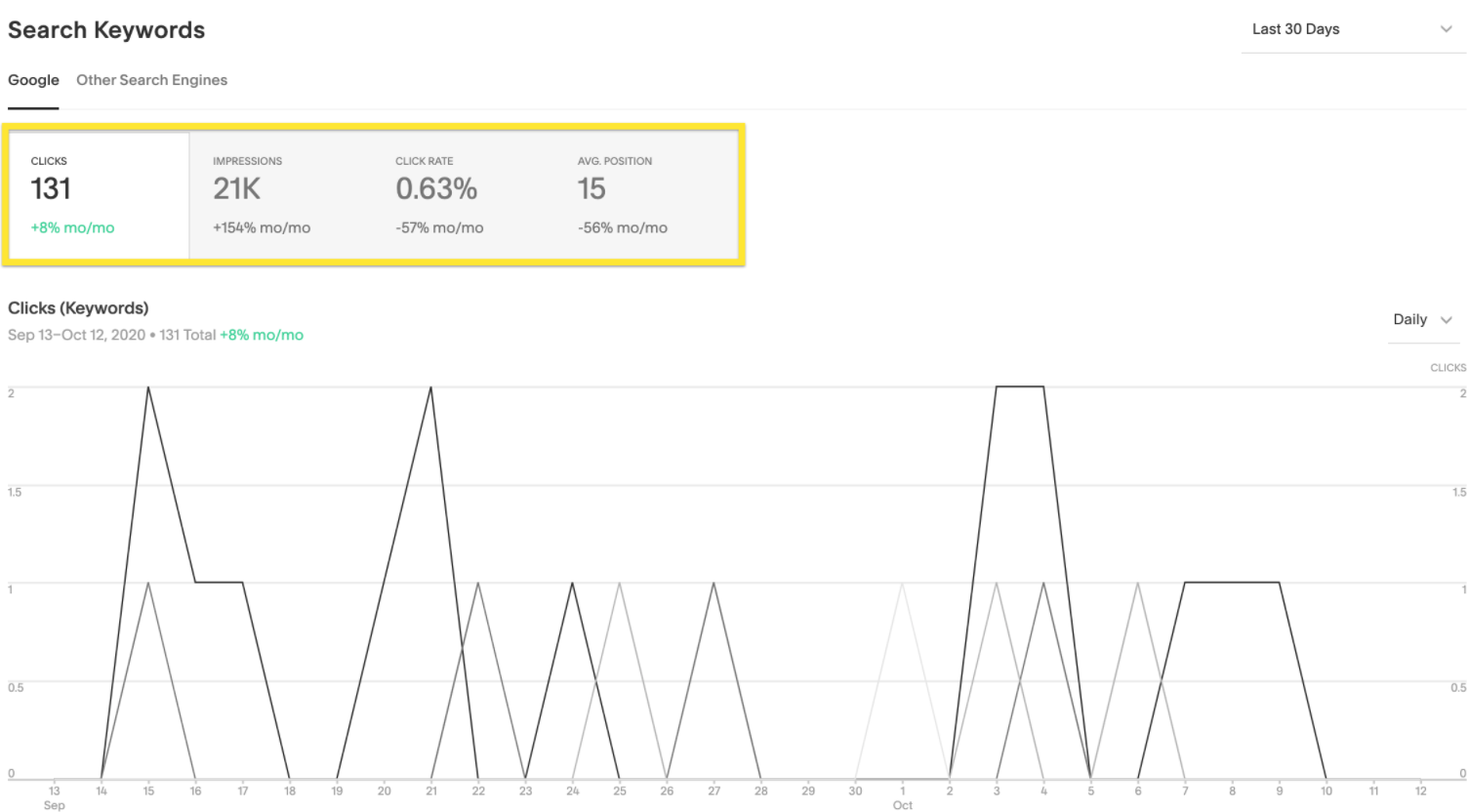 Note: you'll need to connect your site with to Google Search Console for this Squarespace feature to function optimally.
You can use the Squarespace SEO feature to find high-quality keywords. Ensure your page's title tags contain these keywords to improve your chances in appearing on relevant SERP. 
Pay special attention to your home page and category page titles in particular.
3. Use the Web identity features for SEO
When on a free plan, ".squarespace.com" is automatically included in your website's URL structure. For SEO reasons, we recommend upgrading to a Paid account to remove the "Squarespace" from URL. 
You'll want to use a more custom domain for your website. Custom domains look more legitimate, and help bots identify you. 
4. Squarespace's location tools for Local SEO
Squarespace's location feature integrates with Google My Business, so you can include a Google Maps widget pointing to your store's physical location.
You should also include text blocks on your contact page or in the site's footer with location details to assist with local SEO. 
Some of Squarespace's templates include an interactive map in the footer. Visitors can click to expand the map and view your location: 
5. Squarespace SEO for Blogging
Blogs or articles are powerful SEO tools; they're (usually) relevant and fresh, and can help you rank for more keywords.
The Squarespace platform makes it tremendously easy to add this function to your website and start blogging. 
As usual, before you start blogging, do your keyword research. Know what to write to attract your target audience and boost organic traffic. Link internally to relevant articles or pages on your website. 
Use the web identity tools in Squarespace to give your page a title and write a meta description. Make sure you customize the URL slug to really hammer home what content you have on your website for both the search engine crawl bots and for the users who are browsing your website.
6. Heading structure on Squarespace
Headers can be changed on Squarespace much like you would in Google Docs, or a Word Document. Highlight the heading, navigate to this section of the navbar and select the drop-down menu.
Google likes heading tags as it clearly indicates what the content is about. Users can see a logical hierarchy in the heading tags, and can Google's bots.
Using the Site Audit tool on Squarespace
You can use the Site Audit tool to crawl your Squarespace site for site errors, just as you would a standard website. As always, you'll need to set up a project for your domain, and configure the tool's crawler settings before you start:
You won't need to configure any special settings for your Squarespace site. Once you configure your audit, run it normally.
The tool will return a list of issues it's spotted, categorized into errors, warnings, and notices:

There are other metrics you'll want to consider as well when improving your Squarespace SEO, like your site's health and crawlability: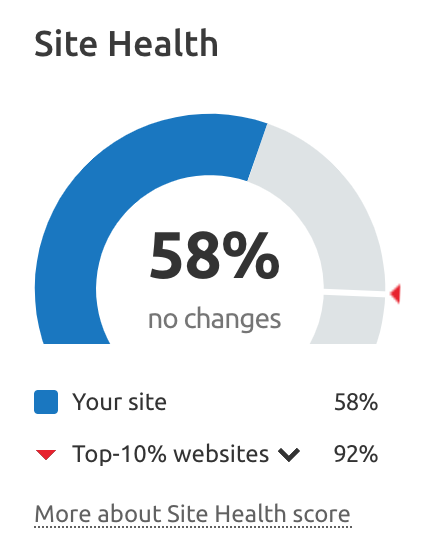 When you build a website with Squarespace, your website won't have to depend on CSS-heavy code or Javascript plugins. These files can slow a page's speed down.
Google's Core Web Vitals update pays attention to site speed, so you'll want to monitor that as much as you can. Thanks to Squarespace's lack of CSS and Javascripts plugins, your Page speed metric shouldn't be affected.
Key Takeaways
Whether you're growing your business or ramping up your online store, Squarespace is a good platform to migrate to. It's equipped to support your SEO strategy and assist with on-page and technical SEO efforts.
You can use the Google Search Console or the Site Audit tool to monitor whether your SEO efforts are impacting your site. Auditing your website regularly can help you catch any errors you may miss on your Squarespace dashboard.