We've rounded up five of the best website builders for small businesses.
Why five?
Because small business owners are busy.
There are lots of website builders out there. You need one that's affordable, easy to use, and provides built-in marketing tools to grow your company.
Here's our shortlist of the best website builders for business, including why they made our list.
1. Wix: Best Website Builder Overall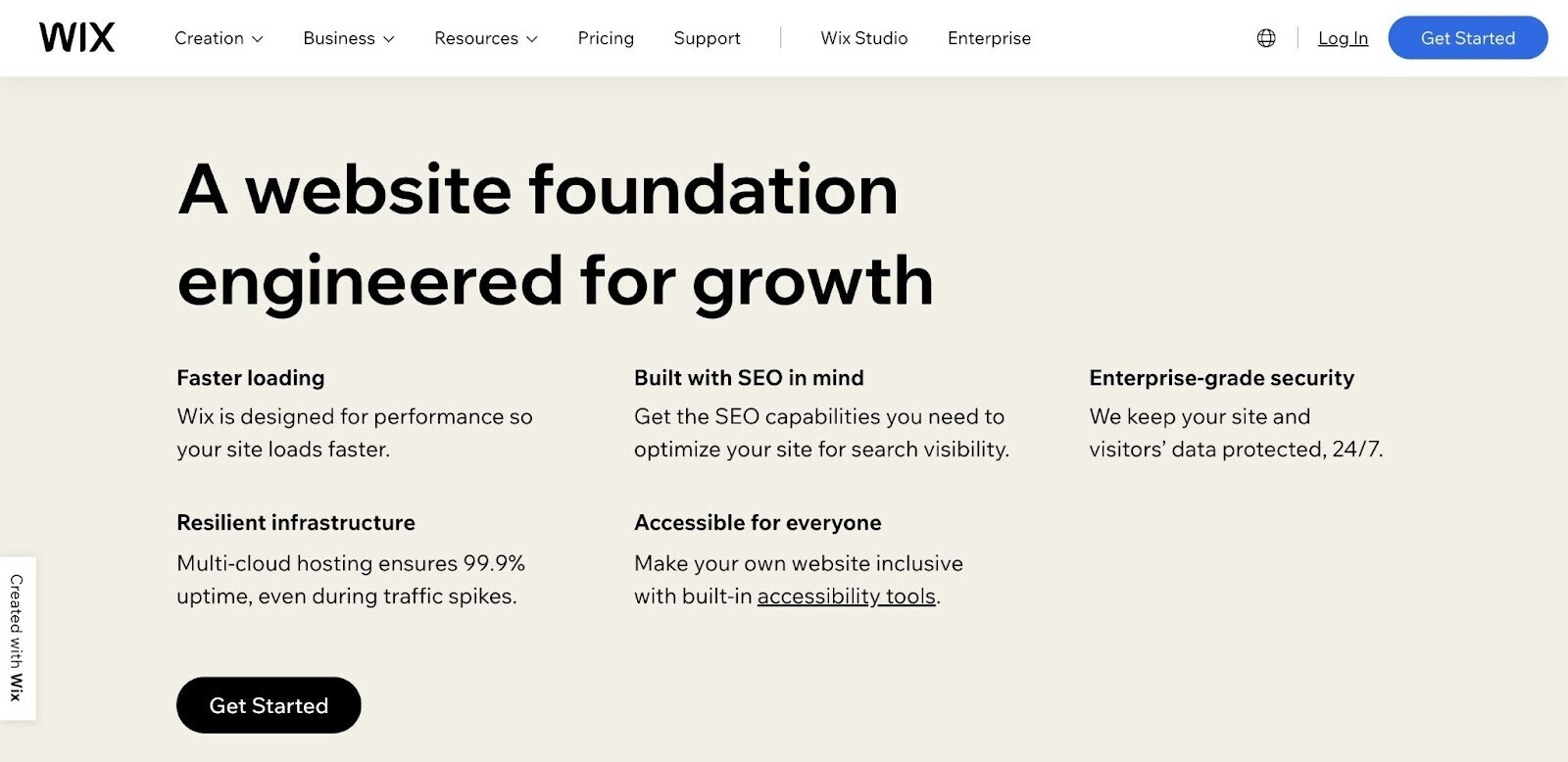 Wix makes the top of our website builder for small businesses list because it's simple to use, suitable for nearly any industry, and comes packed with affordable features for small business owners.
Google's John Mueller confirmed that Wix made fantastic progress for SEO in recent years. Good news if you want your audience to see your new website.
Wix offers a range of purpose-built templates for different industries and goals. Including:
Blogs
Ecommerce stores
Portfolios
Digital resumes
Events
Photography
Restaurants
Wix's purpose-built templates make building a website for small business easy. It's quick to set up your website structure and launch your site.
To speed up the process, you can use Wix's Artificial Design Intelligence (ADI) editor.
The WixADI editor uses artificial intelligence (AI) to set up the site. Just answer some questions and let the builder do the work for you.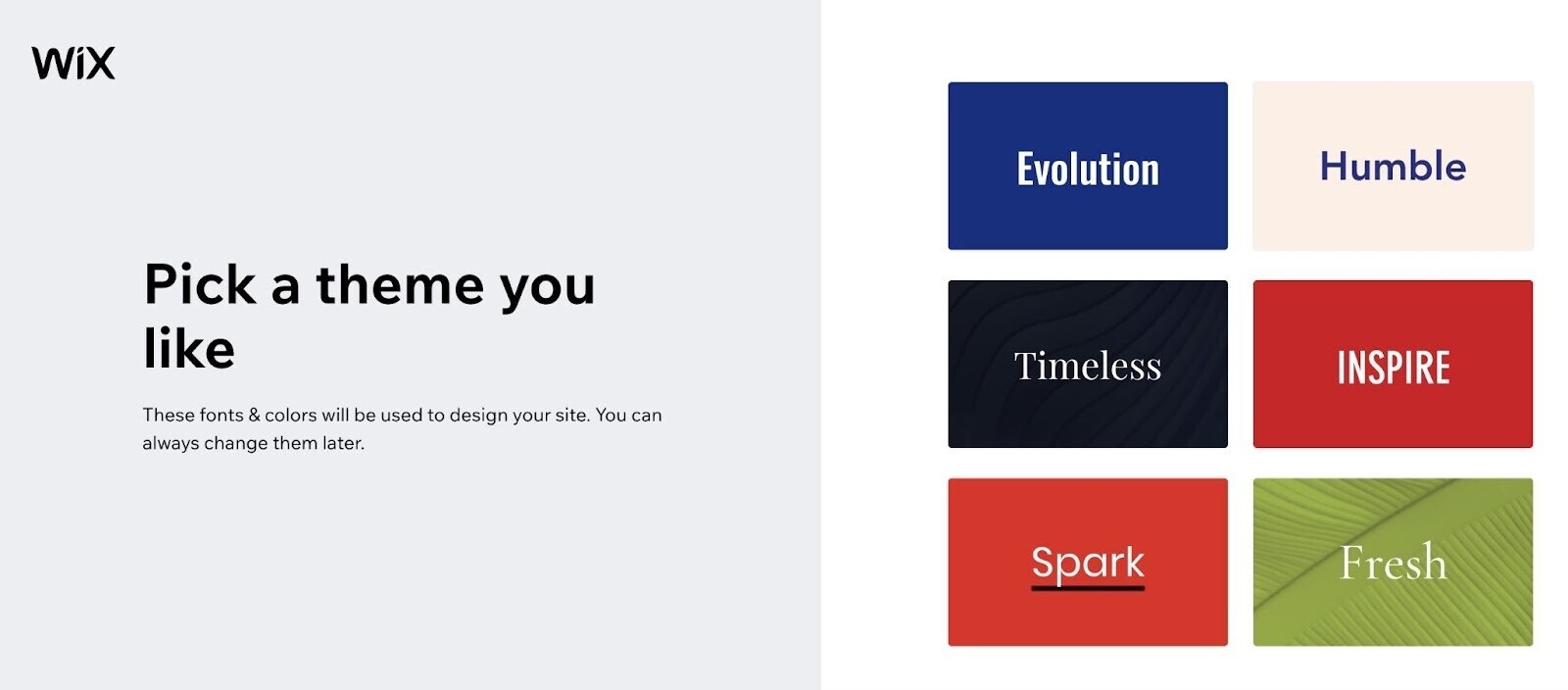 If you're more confident building websites and want added customization, you can design your website with the Wix Editor. It's still beginner-friendly.
Wix's Top Features for Small Businesses
Wix comes with tools to help you appear on search engine results pages (SERPs), create and manage social media ads, and stay connected with your email subscribers.
SEO
Wix provides numerous SEO features out of the box. No need for integrations. Small business owners can quickly set up an optimized website.
Here's what Wix says about it:
Our goal is to offer you the best SEO defaults possible while opening up the platform to as much customization as possible. In addition, we aim to foster the users that are not extensively familiar with SEO and provide them with a strong technical foundation so they can focus on running their business and creating useful content.
Here are some Wix SEO features we love:
SEO infrastructure: Wix designs all website templates with search engines in mind, and makes them easier for bots to navigate and index
Automatic mobile optimization: Wix ensures all websites work for mobile and desktop users
URL structure: The right URL structure makes your site easier for search engines to crawl and navigate
Image compression: Wix automatically compresses and converts images to WebP so pages load quicker without losing image quality
Google Search Console integration: You can verify your domain in the Wix dashboard to track your site's performance directly in the Wix platform
Customizable advanced SEO options: Customize your URL structure, meta tags, canonical tags, structured data markup, robots.txt file, and more
Bulk 301 redirects: Migrating from an old site? Do it in bulk with up to 500 links in a spreadsheet.
Accessibility Wizard: Wix's Accessibility Wizard helps you spot and fix accessibility issues.
Use a tool like Semrush's Wix integration to take your SEO even further.
Find low-competition keywords, auto-generate page titles and meta tags, and boost your search optimization—all in the Wix Dashboard.
AI-Managed Social Media Ads
If you subscribe to Facebook Ads by Wix, you can create, launch, run, and track your Facebook and Instagram ads directly from your Wix dashboard. 
And Wix's AI algorithm manages your ads for you 24/7.
It tracks every change in your Facebook and Instagram campaigns and monitors data from your website. It runs that data through a decision-making model to predict the outcomes from a variety of possible actions.
Then, it tweaks your campaigns to achieve the best results.
Email Marketing Campaigns
Take advantage of Wix's email tools to drive more visitors to your site.
The free version allows you to send up to 200 emails a month. You can upgrade to a paid email marketing plan at any time for added capabilities.
The intuitive email editor includes ready-made templates so you can create eye-catching emails quickly:
Start from a template, then add or delete anything that doesn't mesh with your brand. Or, start from scratch and design your own.
You can also automate your campaigns and track their performance in real time.

WixPricing and Plans
Wix offers four pricing tiers. The top plan provides functions such as advanced shipping, multiple currencies, and automated sales tax.
If you need a free website builder for a small business, Wix is one of your best options. It does have a free-forever plan with basic functionality, but the plan includes Wix branding and ads on every page.
Wix Ratings
Pros and Cons of Using Wix
Pros
Drag-and-drop editor for ease of use
More than 800 fully editable templates designed with industry best practices in mind
Advanced marketing tools to help you grow with SEO, social ads, and email marketing
Robust ecommerce site builder with tools for online reservations and ordering, appointment setting, and inventory management
Access to Wix App Market, which allows you to integrate with 500-plus leading finance and marketing tools
Automatic image compression and schema markup to improve site speed
Great value for each price point
Cons
Its automatically generated mobile version may need manual tweaks. Not ideal if you don't have design or coding experience.
No option for unlimited storage, even in the top-tier plans
No Google Analytics integration on the free plan
2. Squarespace: Best Website Builder for Creatives and Small Online Sellers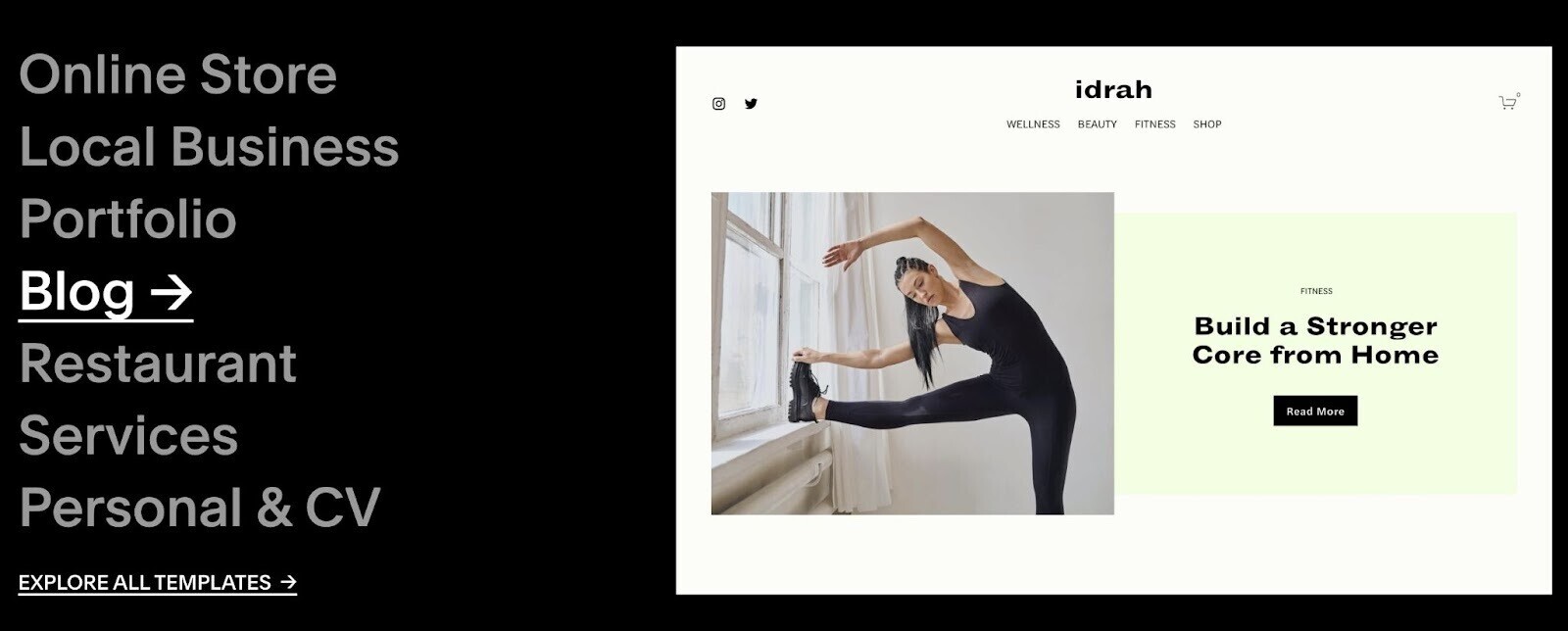 Squarespace is our top choice for creatives and business owners who want to build attractive, image-heavy sites.
High-quality, large images can slow down a website. 
And Google's Core Web Vitals revealed that page speed is critical for website ranking. Bad news for anyone wanting to showcase their photography or products in high definition.
Squarespace has a solution. 
Its site builder automatically creates seven different versions of each image you upload. It then chooses the best version to display based on the user's screen size.
This helps Squarespace websites load quicker, which means you don't have to sacrifice image quality to rank higher in SERPs.
Creators can choose from site templates from world-class designers.
Here are some of the most popular designs:
You can choose from Squarespace website templates in a range of customizable styles (e.g., dark, light, minimalist, high-contrast, etc.). There's something to suit every brand.
Squarespace is probably best known for catering to image-loving bloggers and creatives. But it has a range of features for ecommerce business owners, too.
It showcases product images and offers simple-to-use shop tools such as customer emails, abandoned cart recovery, and low-inventory alerts.
Shop owners need at least the basic commerce plan to take advantage of these features.
Even its lowest-priced plans include unlimited storage—a coveted feature for ecommerce stores and creative brands alike.
Squarespace's Top Features for Small Businesses
Squarespace's top features for small businesses help you improve your results in SERPs, create mobile-friendly websites, and deliver a seamless branding experience.
SEO
As with Wix, Squarespace has useful SEO features out of the box, including:
Mobile-responsive websites: Ensures your site looks great across all devices
Auto-generated sitemaps: Helps search engines crawl your website
Clean URLs: Make your site even easier for search engines to crawl
SSL security: Offer customers additional security and peace of mind
Site translations: Reach new markets and a wider audience without having to manually translate each page. Search engines automatically index newly translated pages.
Local SEO map: Make your local business website more visible in local searches 
Hide a page: Use if you don't want a page to show up in search pages (like a confirmation page for when someone signs up to your mailing list)
SEO checklist: Check your SEO with Squarespace's helpful guide, linked directly in the SEO panel for easy access
The SEO panel sits to the side of the page as you edit. It shows a preview of your page's meta title and meta description on a results page, as in this example: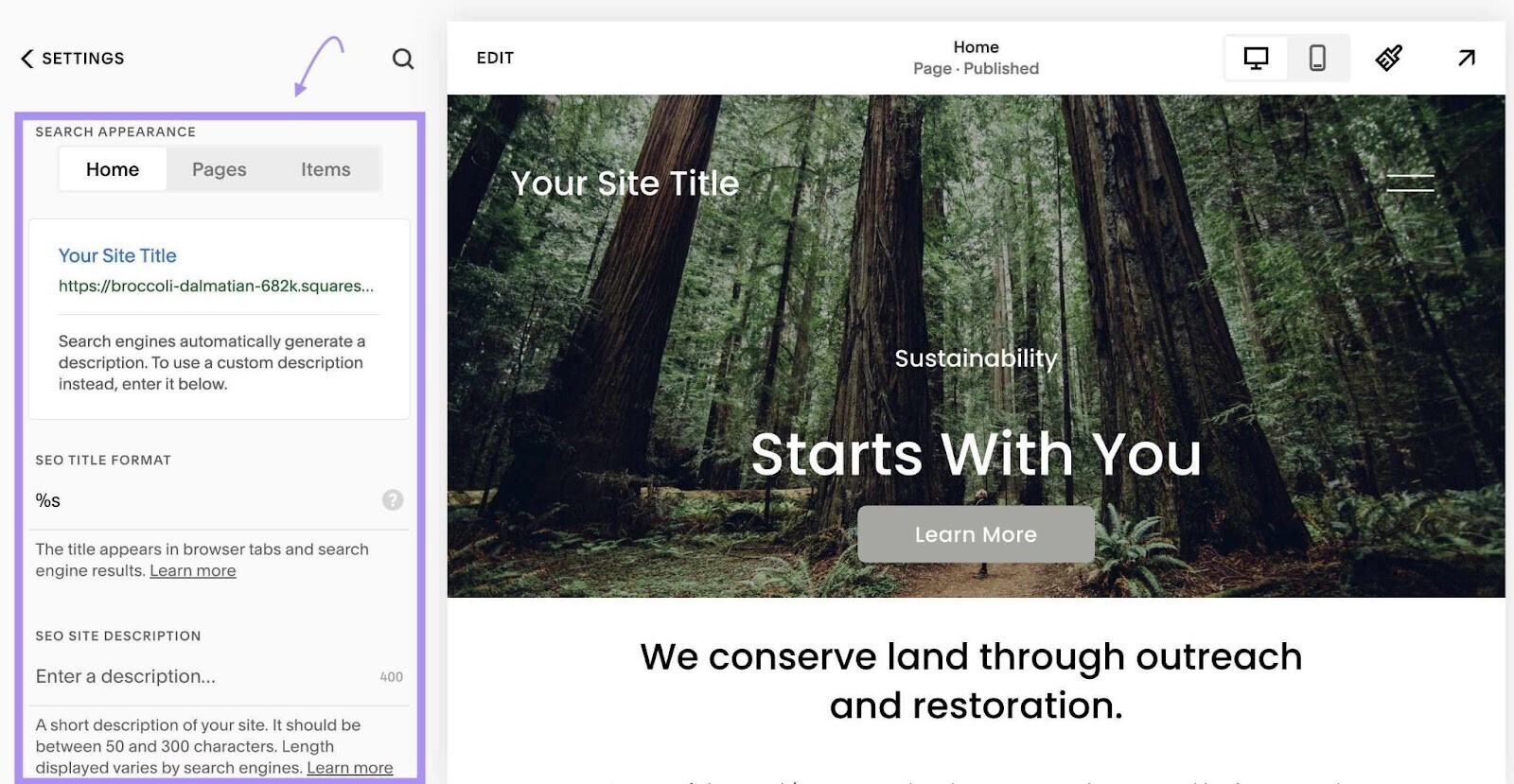 Device view lets you preview your site on different-sized screens, such as mobile or desktop. You can even edit it in these views to see what it will look like with the changes.
Social Media Marketing
Squarespace doesn't have built-in ad management options like Wix.
But it does offer social media integrations to help you sell products on Facebook, LinkedIn, Pinterest, and Tumblr. It can push new site content to these social media accounts in real time.
It also gives you the option to pull content from social media to your website. 
These social blocks display content from sites such as Instagram, Foursquare, Soundcloud, and Flickr, providing you with an external source of social proof to grow your brand trust.
Unique to Squarespace are its mobile apps. The company has created Unfold: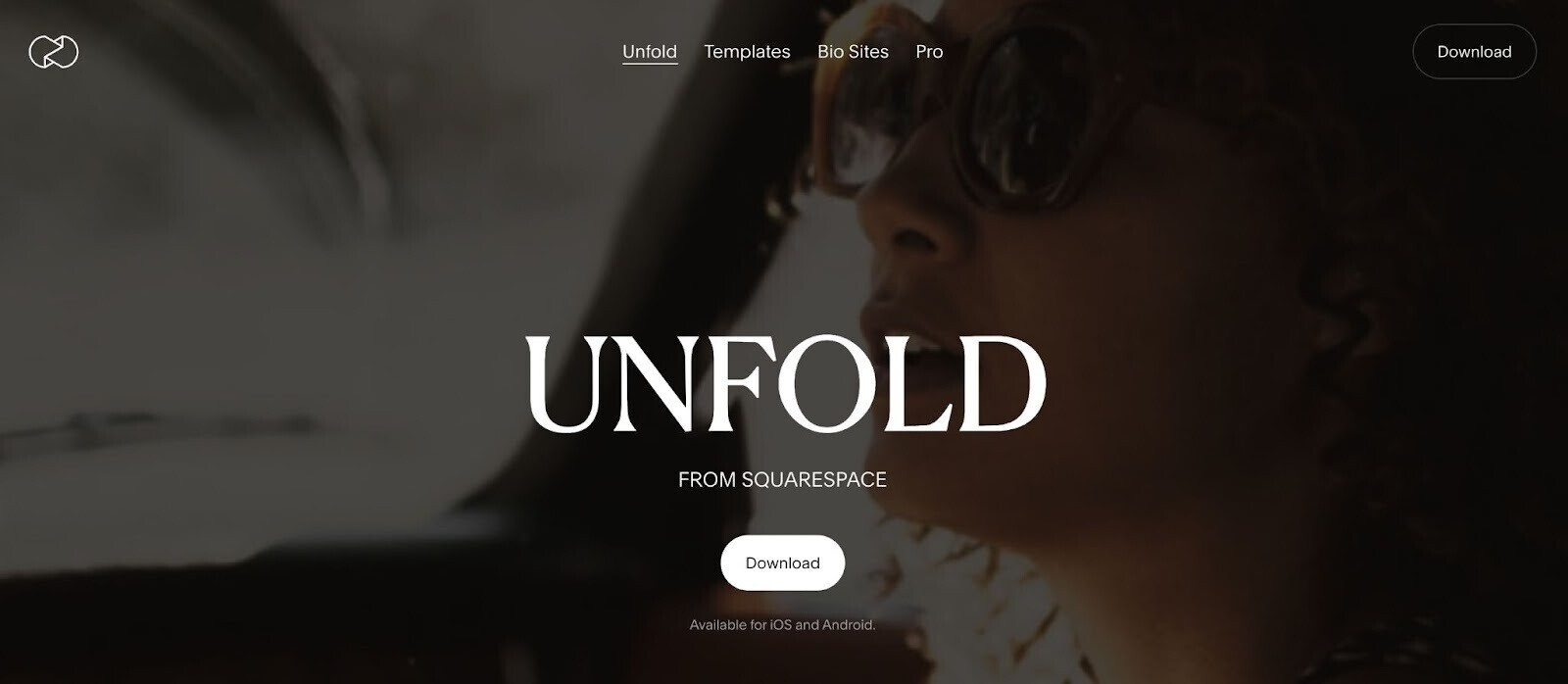 It has a free plan for all users, but you'll need a Squarespace account to take advantage of advanced features such as templates.
Squarespace also has a mobile content management system (CMS) app:
In this app, users can see commerce analytics, create content on the go, and upload images and videos from mobile to access on the desktop website creator.
Email Marketing
You can use Squarespace Email Campaigns to collect email addresses, create email marketing campaigns, and track open rates and unsubscribes.
Here's what Squarespace's template selection tool looks like, courtesy of Design milk:
You can also set up automations to send emails when visitors buy from you or subscribe to your newsletter.
It allows you to update your site and send email campaigns in the same interface, pulling your site logo and blog posts straight into your emails.
It also automatically creates browser-based copies of each campaign. Every campaign has its own URL, which you can share like any other link.
Every Squarespace site comes with a free trial of Email Marketing Campaigns, which allows you to build mailing lists, create drafts, and send up to three trial blast emails.
Squarespace Pricing and Plans
Squarespace offers a free 14-day trial of all its plans. Professional plans for small businesses range start at $23 per month, depending on the features you want.
Squarespace bills for Email Campaigns and website plans separately.
All plans come with unlimited subscribers and marketing analytics. Plans increase in price based on how many campaigns you want to send, if you need automations, and the number of recipients.
Email Campaigns plans start at $5 per month, which gives you access to three email campaigns and 500 emails. The most expensive plan is $48 per month, which unlocks unlimited campaigns and up to 250,000 emails.
Squarespace Ratings
Pros and Cons of Using Squarespace
Pros
A variety of SEO features for every plan
Focus on branding and design
Award-winning templates created by professional web designers
Automatic mobile optimization for all templates
Unlimited storage for all plans
Built-in branding and marketing features
Cons
Even though you can customize templates, you get less design flexibility than with other site builders
The editor isn't as intuitive as other site builders
There's no auto-save option in the editor, so you have to remember to hit the "save" button
3. Shopify: Best for Ecommerce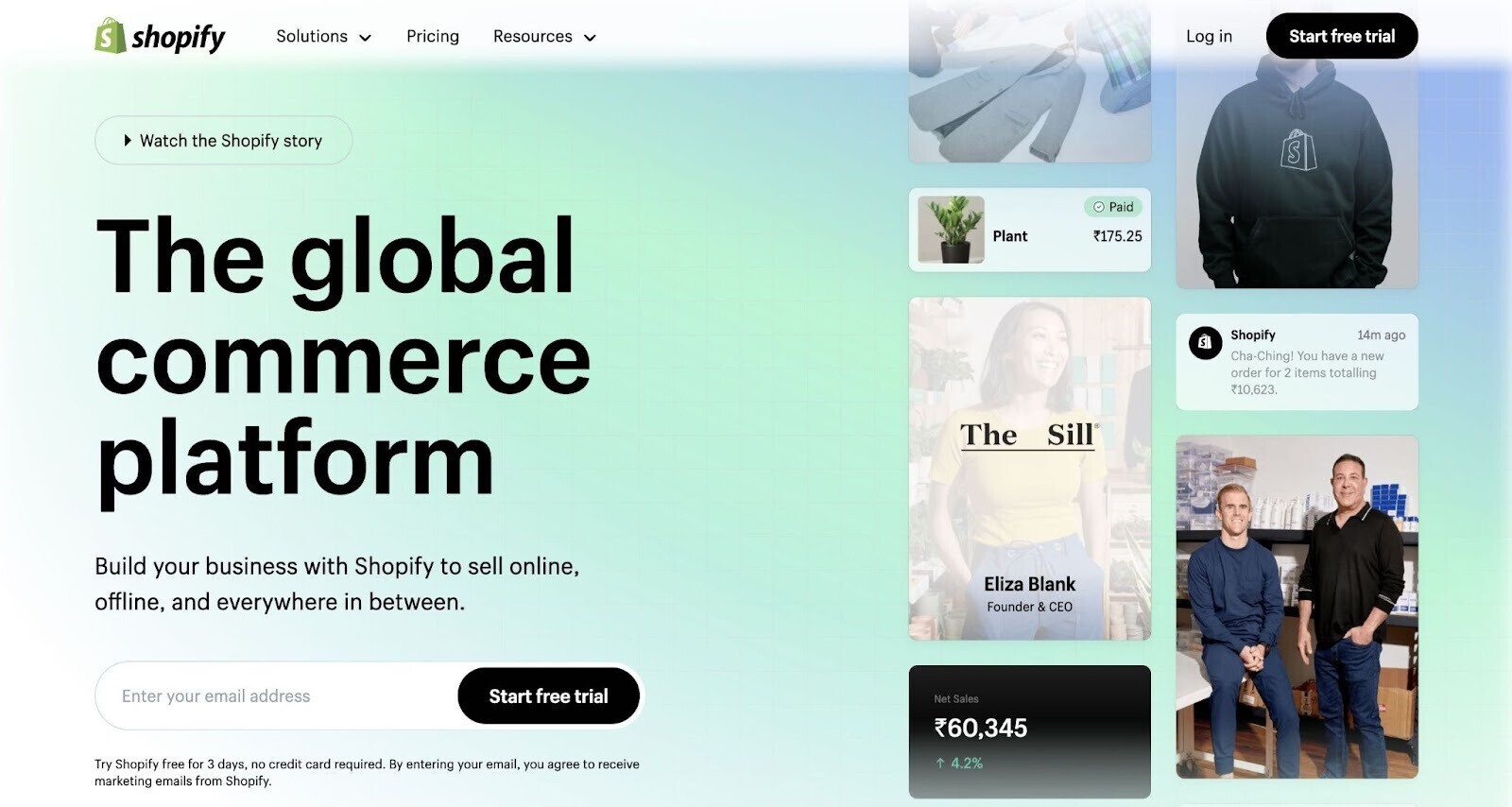 Shopify is your best choice to start an online shop or move over from a marketplace such as eBay or Etsy. It has everything you need to unify your online and offline sales.
It's helpful for beginners new to website design or ecommerce. Shopify features real-time inventory updates, ensuring you always know what products you have available—whether you're selling in-person or online.
Shopify can also streamline dropshipping by automatically sending orders to your supplier.
Its sales dashboard lets you see all your in-store and online sales at a glance: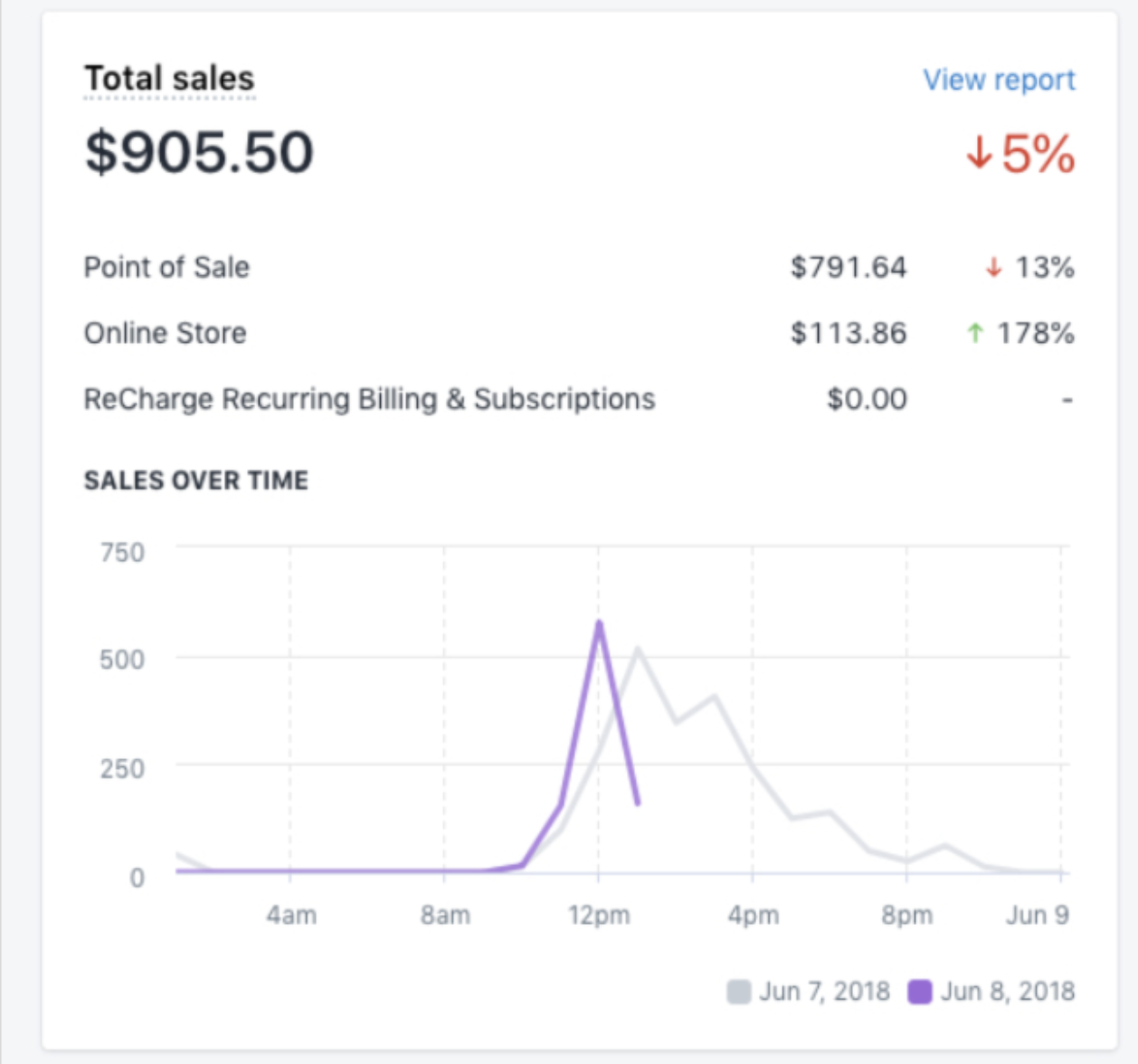 You can offer customers more ways to buy with local pickup, delivery, and shipping options.
And, of course, Shopify gives you the tools you need to create a beautiful small business website—no coding skills required.
Shopify's Top Features for Small Business
Shopify has an app store with more than 1,800 marketing apps, plus plenty of handy features built in.
SEO
Shopify includes these important SEO features:
Responsive themes so your site looks good on mobile devices
Auto-generated sitemaps and robots.txt files so people can find you on Google and other search engines
Auto-generated canonical tags to help prevent duplicate content from appearing in SERPs
The ability to edit and optimize meta tags, meta descriptions, and alt text for images
A built-in blog to add fresh content to your site and attract visitors
Social Media Marketing
Shopify connects to your Facebook and Instagram accounts and syncs them with your product catalog. So you can create social ads and shoppable posts.
You can manage your social orders, sales, and returns directly from Shopify.
It also allows you to share product pages from your Shopify admin area to Facebook, Twitter, Reddit, LinkedIn, and Pinterest.
Any blog posts you publish on Shopify will have a sharing button to make it easier for prospects to share your content and help you grow your brand.
Other social media features available on the Shopify App Store allow you to import Google Reviews and Testimonials, create Snapchat ads, and embed your Instagram feed.

Email Marketing
You can create emails with Shopify's email templates, then automate and track them, all inside the platform. Shopify lets you send or automate up to 10,000 emails per month for free.
Its customizable templates and drag-and-drop editor ease the process of creating emails.
Here's an example from Shopify: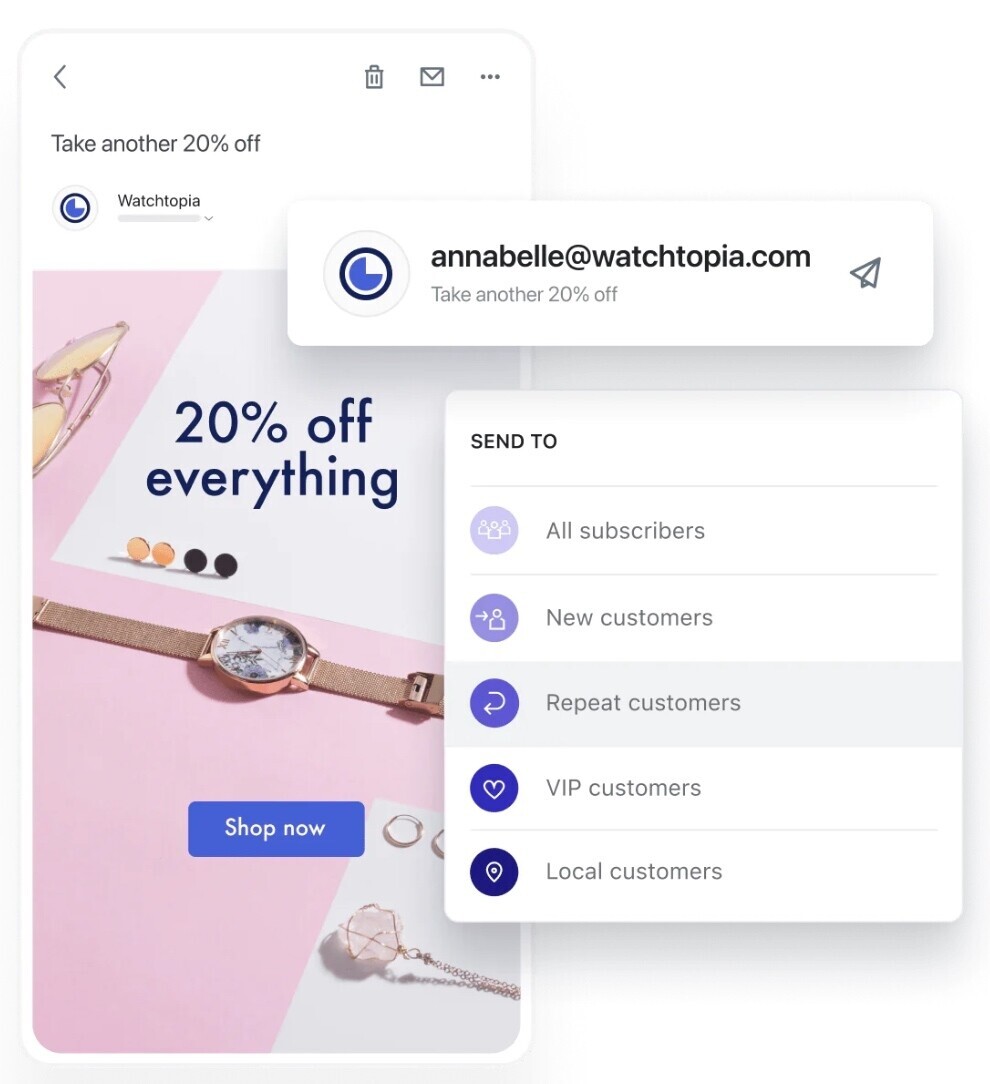 The pre-built templates can automatically pull details on your brand, products, prices, and more from your store into your emails. So, even if you have no coding experience, you can create emails where your products shine.
It also has email automation templates to help you create campaigns such as welcome sequences, winbacks, and upsell campaigns. Pre-selections conditions, triggers, and actions mean it's quick and simple to set up the workflow you need.
Shopify Magic also generates subject lines based on a few keywords. This makes it even quicker to start—and finish—writing your email campaigns.
ShopifyPricing and Plans
Shopify offers three price tiers, ranging starting at $39 per month.
Shopify Ratings
Pros and Cons of Using Shopify
Pros
Easy code-free site setup
Sell in person and online
Sales and marketing dashboards that make monitoring and reporting easy
Plenty of SEO tools and marketing options to promote your business
Cons
Fewer customization options than other website builders
Only 12 free themes (aka templates). Paid themes start at $170.
Transaction fees when you use third-party payment providers
4. WordPress.com: Best Website Builder for Content-Focused Companies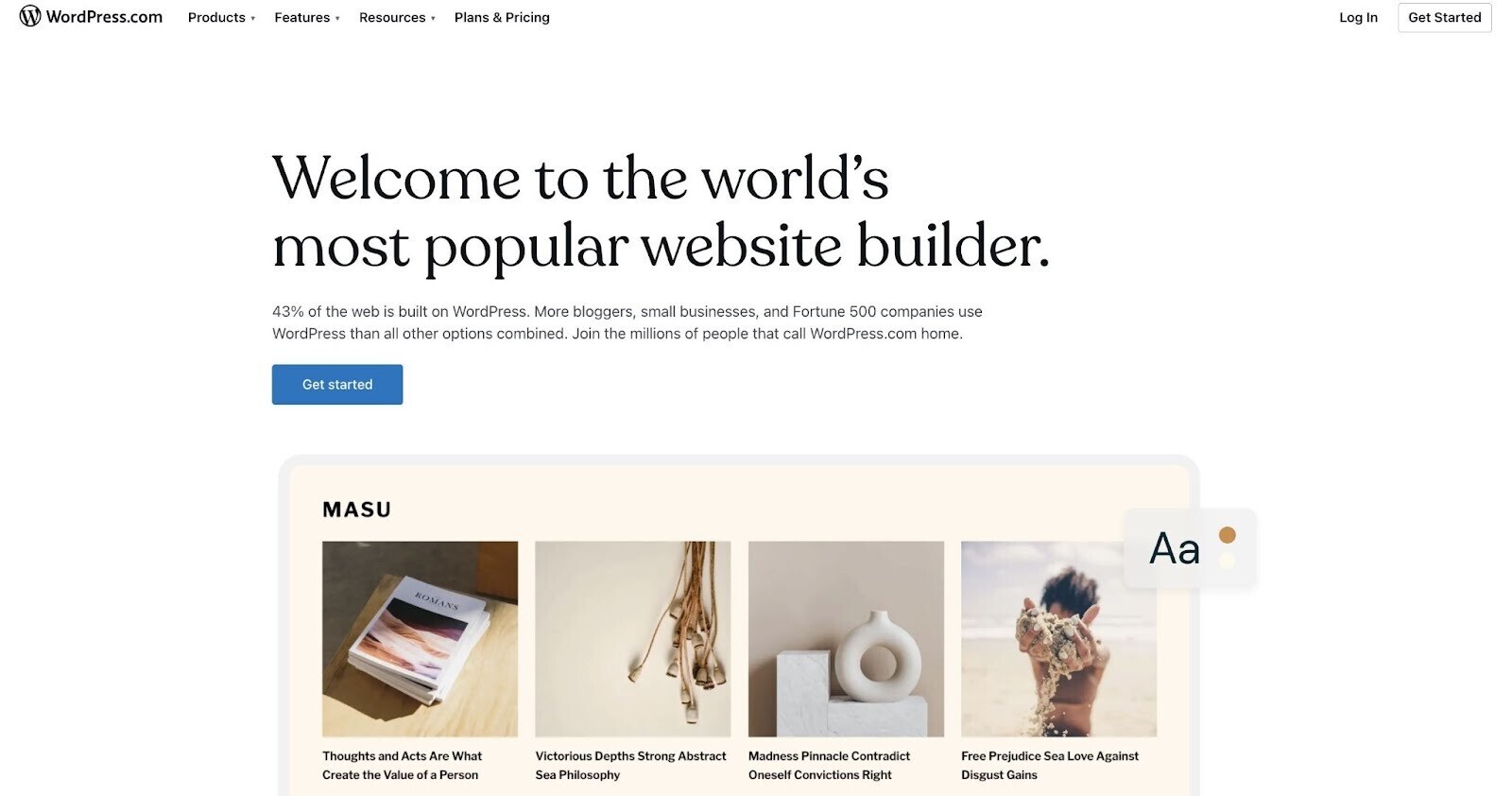 If you want to create a content-focused website, WordPress.com could be the perfect website builder for you.
It's optimized for SEO by default, which makes it easier for you to rank in SERPs. On paid plans, you can add further SEO functionality via plugins.
WordPress.com uses WordPress.org—the world's most popular content management system(CMS).
You can typically set up and customize a WordPress.com site quicker and easier than a WordPress.org site.
WordPress.org requires upfront investment to set up and it isn't beginner-friendly. It's great if you have a team to maintain your site or are good with technology.
For small businesses who are short on time and want a website up and running ASAP, we recommend WordPress.com as the best free website builder for small business.
It's simple to build a website on WordPress, with more than 11,000 mobile-responsive free themes to choose from.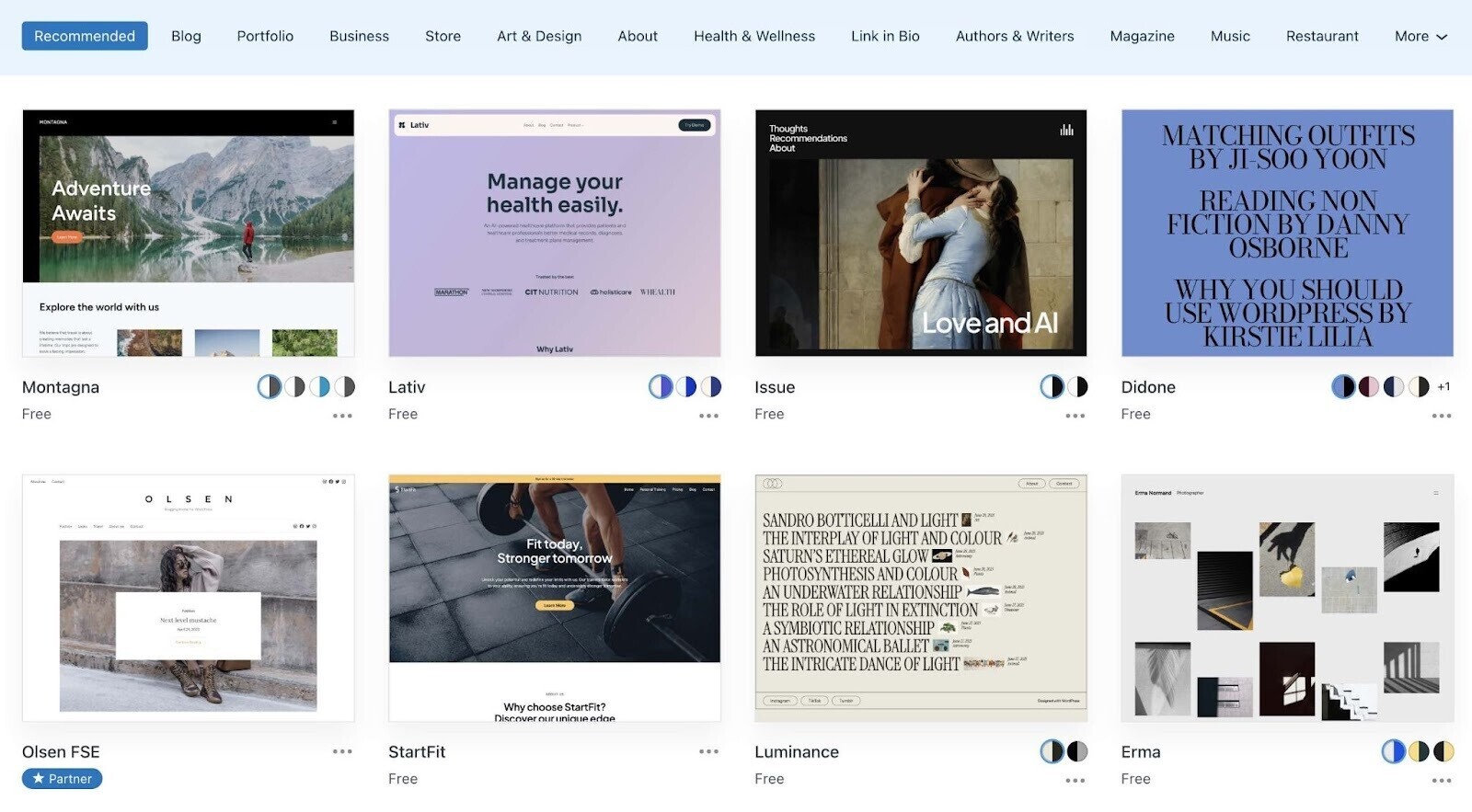 WordPress.com doesn't have a true drag-and-drop interface as Wix and Squarespace. Instead, it uses a what you see is what you get (WYSIWYG) editor with some drag-and-drop capabilities.
Here's how it works.
When you create a new page or post, you'll start in a Paragraph Block. You can start typing or click the '+' icon to pick a different block style.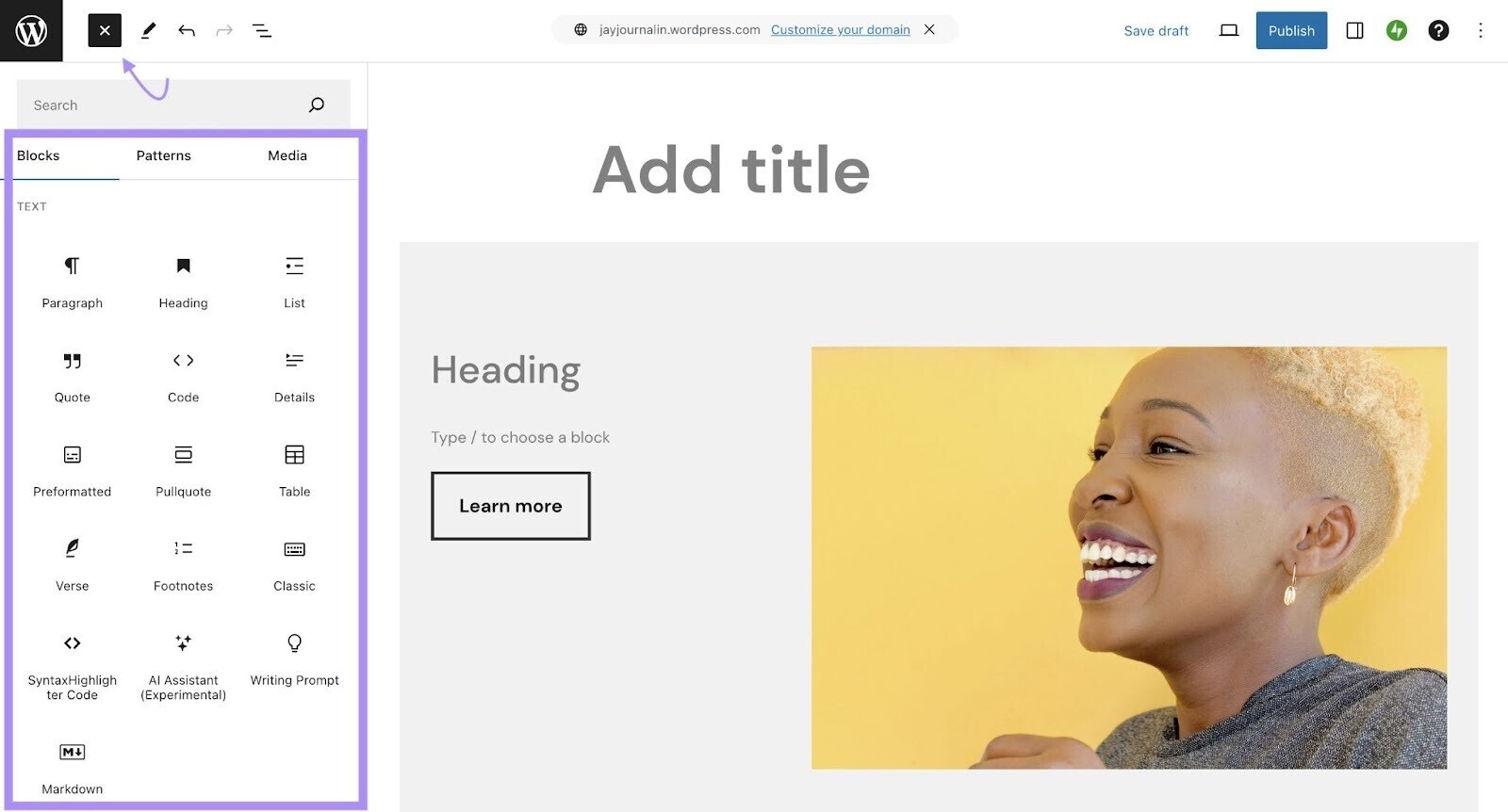 Blocks can be images, headings, lists, forms, buttons, etc. There are dozens of block options.
The block-style editor makes WordPress.com more challenging for beginners than other options. WYSIWYG editors can be less intuitive or easier to break than drag and drop.
However, what WordPress lacks in ease of use, it makes up for in creative control. 
It offers more versatility than some of the other website builders on this list, such as Wix. But due to its increased flexibility, it has a steeper learning curve.
To help you get started, WordPress.com's Tutorials site walks you through how to set up different website types and explains how to use its WYSIWYG editor.
WordPress.com'sPremium plans offer hundreds of templates and themes, plus thousands of third-party integrations and plugins. This means almost limitless design and feature options for your site.
WordPress.com's Top Features for Small Business
WordPress.com comes with tools that can make your site more mobile friendly, boost page load speed, and push you up the SERPs.
SEO
WordPress.com's Basic Plan shares the same built-in SEO features as the other builders on this list, like:
Auto-generated sitemaps that make your site easy for search bots to navigate
Content Delivery Networks (CDNs) to speed up site loading
SSL certificates for a secure site
Clean URLs
To edit meta descriptions and page title structures, you need to choose a Business or Commerce Plan.
These plans also mean you can use WordPress SEO Plugins, such as the Semrush SEO Writing Assistant.
Semrush's SEO Writing Assistant offers suggestions on readability, optimization, tone and originality. 
For example, it reminds you to add target keywords to titles: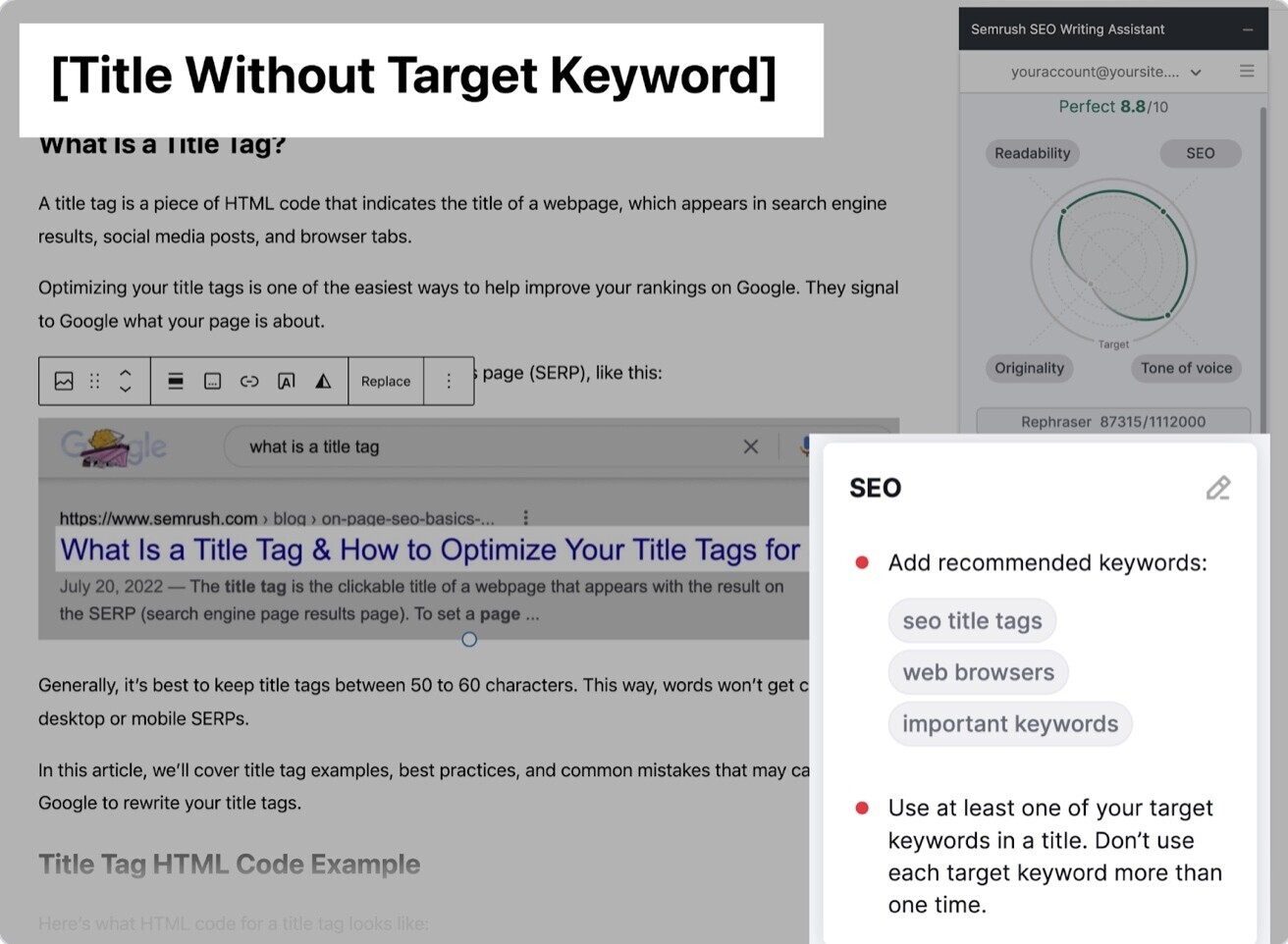 It also checks for plagiarism issues or duplicate content that will harm your site's ranking: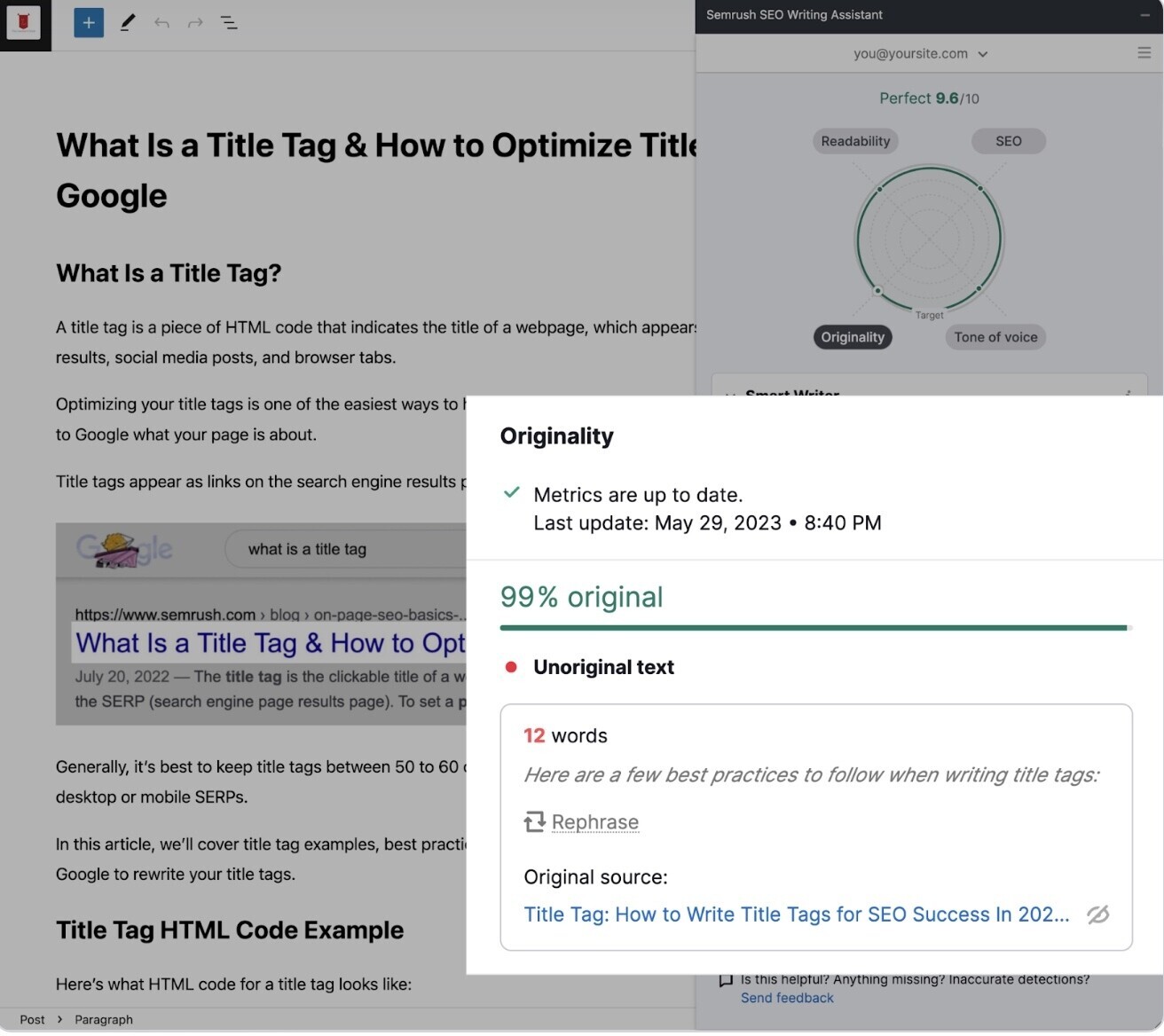 And its AI editor helps you nail your phrasing and tone of voice.
Marketing Integrations
WordPress.com's marketing integrations make creating email and social media campaigns easy. It has nearly 1,000 email plugins and almost 2,000 for social media marketing.
Plus, it has a preview pane to show you what your social posts will look like before you share them. This ensures everything you publish is on-brand and creates a cohesive experience for your audience.
WordPress.comPricing and Plans
You can start with WordPress.com for free.
But we recommend a paid plan to take advantage of its features and remove ads.
The site builder offers two paid plans for small businesses: The Business Plan is $25 per month and The Commerce Plan is $45 per month.
WordPress.com Ratings
Pros and Cons of Using WordPress.com
Pros
Simple to set up with thousands of templates to choose from
Easy to create and organize content if your content strategy is important
On the Business and Commerce plans, you can add third-party features and plugins with nearly limitless design options
Automatic data backups
Unlimited storage and bandwidth onBusiness and Commerce Plans
One of the cheapest website builders for small business in terms of features and flexibility
Cons 
Far from the easiest website builder for small businesses. It isn't as intuitive or user-friendly as other builders, so it's harder for beginners to learn.
Places ads on your site if you use the free plan
WordPress.com only allows you to place third-party ads on your site if you have the Business or Commerce plan. You can use WordPress.com's official advertising program on Premium, Business, or Commerce plans.
Limited customization options on themes
5. Webflow: Best No-Code Website Builder for Customization
Webflow is a powerful no-code website builder because it offers highly customizable features and a robust CMS. You design the page. The tool takes care of the code.
This functionality allows you to control all details of your site's design without hiring a developer.
For example, you can drag and style HTML elements to create content-rich web pages.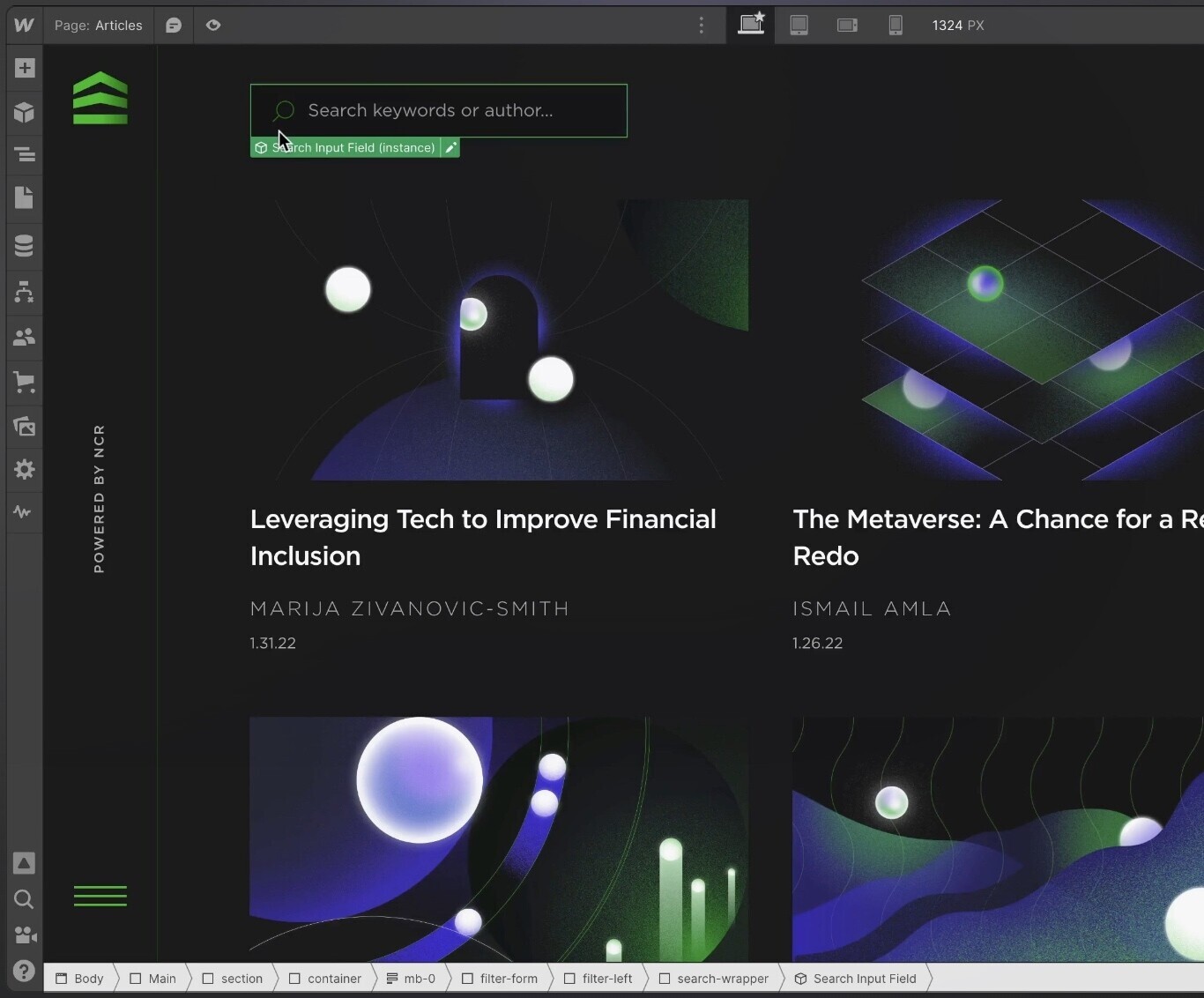 Every design element uses "the box model." You put each piece of content within a square or rectangle. Then, you stack them or place them alongside each other.
On top of fast page speed, Webflow offers design elements that make you look like a pro. 
For example:
Parallax scrolling: When the background of your site moves slower than the foreground
Multi-step animations: Animations where more than one change happens
Microinteractions: Subtle animated moments that give users visual feedback on what happens on the page (e.g., a loading bar)
It's also built for collaboration. Team members or clients can easily access your project. And make suggestions or edit it with the correct permissions.
Webflow offers a middle ground in the web-building world. Especially if you want WordPress.org-level customization with Wix-like usability.
Brand new to web building? Users speak highly of Webflow's onboarding tutorial:
Follow the blinking hotspot to click and learn what each section does: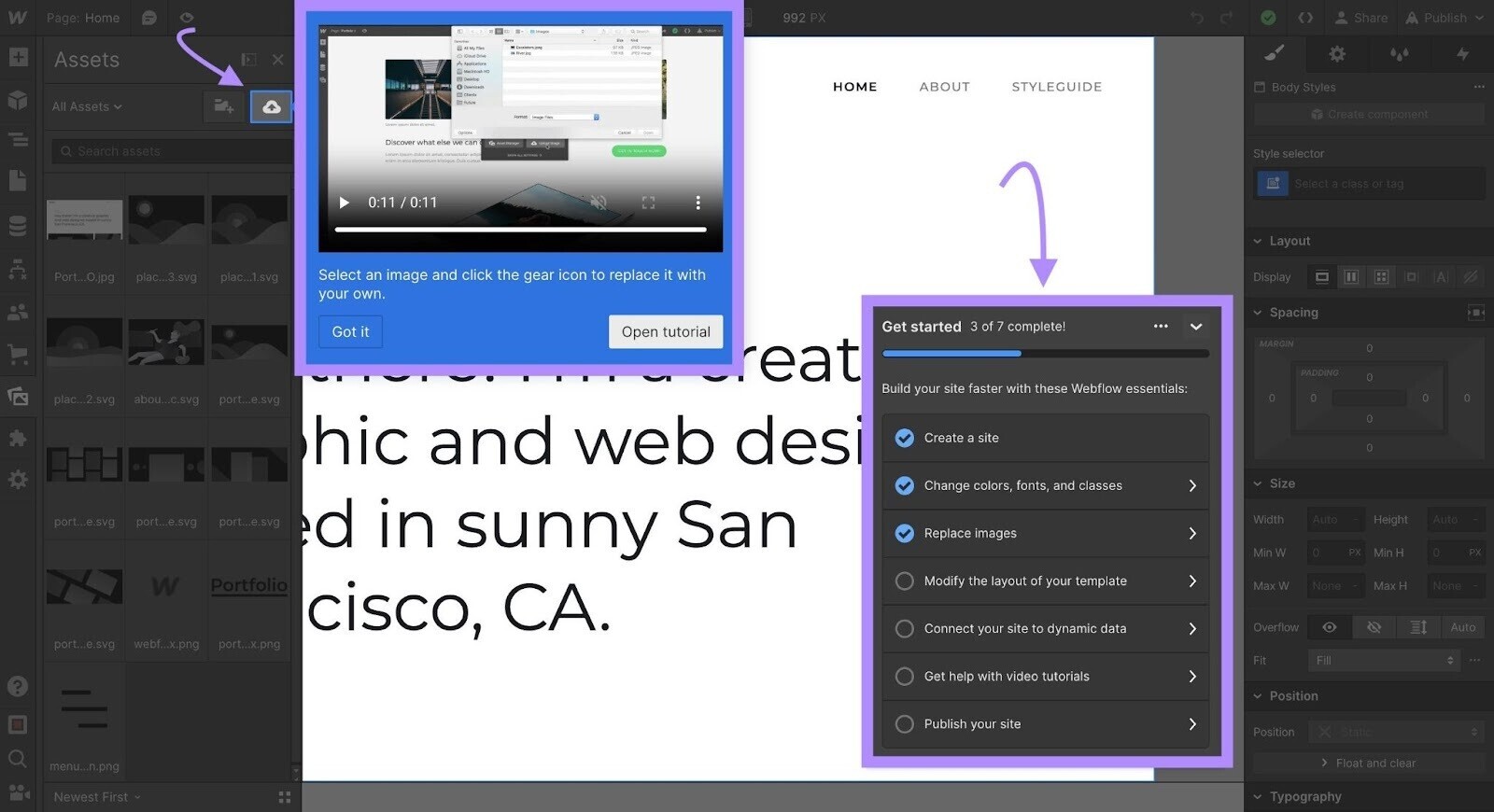 A more advanced user? You can easily ignore the cursor.
Webflow's Top Features for Small Businesses
Webflow offers tools to make SEO easy. And an in-depth knowledge base that walks you through every feature and process with simple instructions.
SEO
Design convinces web visitors to stay on your site. But SEO helps get them there in the first place.
Webflow facilitates these robust SEO features:
Responsive design: Enhance user experience (UX) and encourage Google to identify your site as mobile friendly
Highlighted top-level pages: Ensure your most important pages to search engines at the root domain (e.g., "www.semrush.com/blog") are beautifully designed
Meta title and description optimization: Create dynamic fields and set character limits to turn Webflow's CMS into your site's style guide
Auto-generated sitemaps: Help search engines crawl your website without any extra effort
Creative 404 pages: Offer a way out instead of frustrating users with a missing page
Alt text: Add descriptive image text for those who may have visual impairments 
Disabled subdomain indexing: Avoid penalization for a duplicate site while you experiment with design and copy
301 redirects: Use if you permanently change the URL of a page
Edit your robots.txt file: Tell crawlers which pages to avoid
Webflow's SEO options cater to both beginners and advanced users.
You don't need hundreds of extra plugins. And you can control your site's speed and scalability without external engineers.
Pro tip: Although Webflow handles the design, let Semrush's SEO Writing Assistant help you optimize your written content.
Knowledge Base
Webflow has a pretty steep learning curve. However, it's got one of the best knowledge bases of any website builder.
Webflow University includes courses, single lessons, videos, and a community forum to walk users through the product.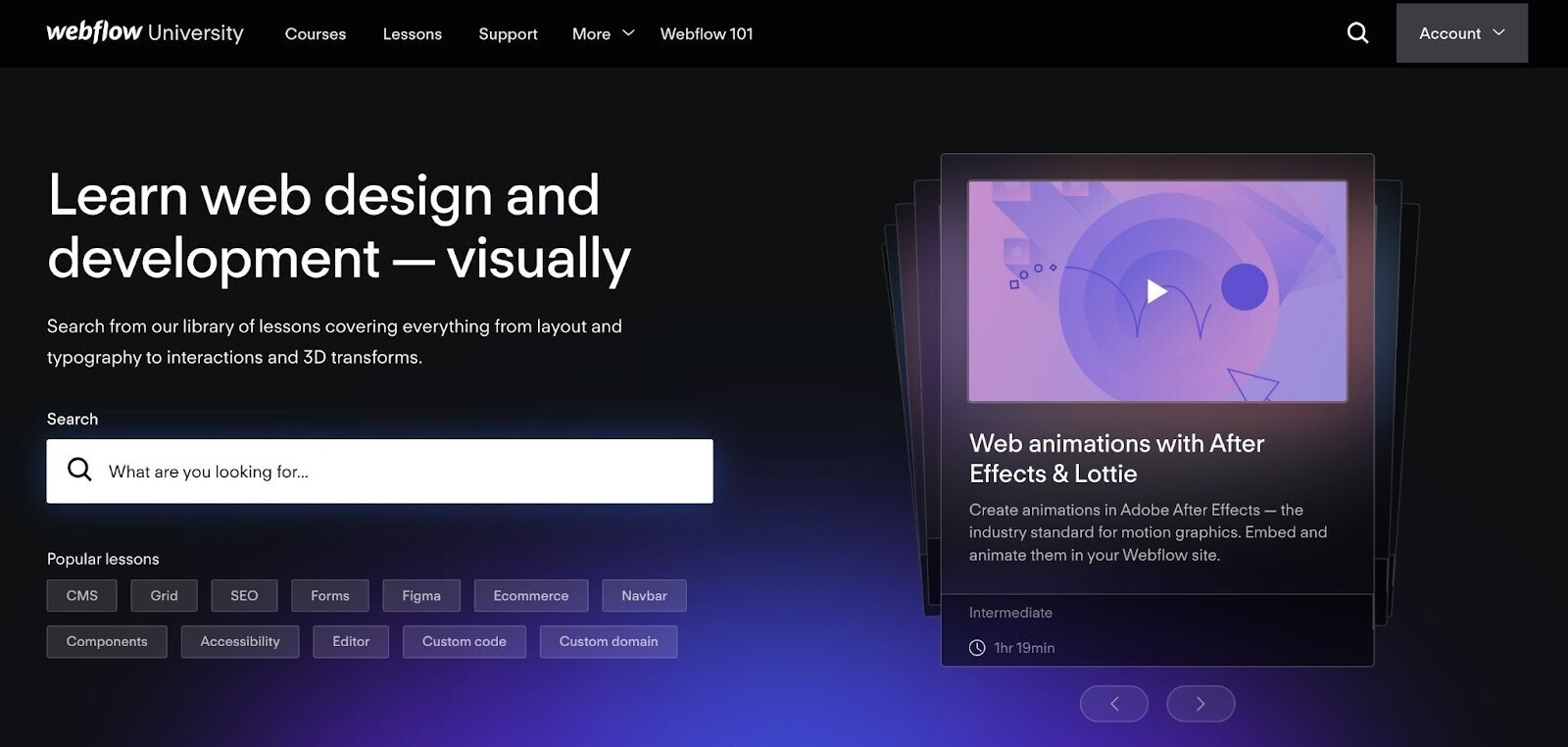 Each of the lessons starts with a video. For example, this one on CSS width and height:
This combined video and walkthrough setup caters to different learning styles.
Stuck on something? The Support section links each problem to a related resource. Or you can check out the Webflow Forum to read through other users' problems and solutions.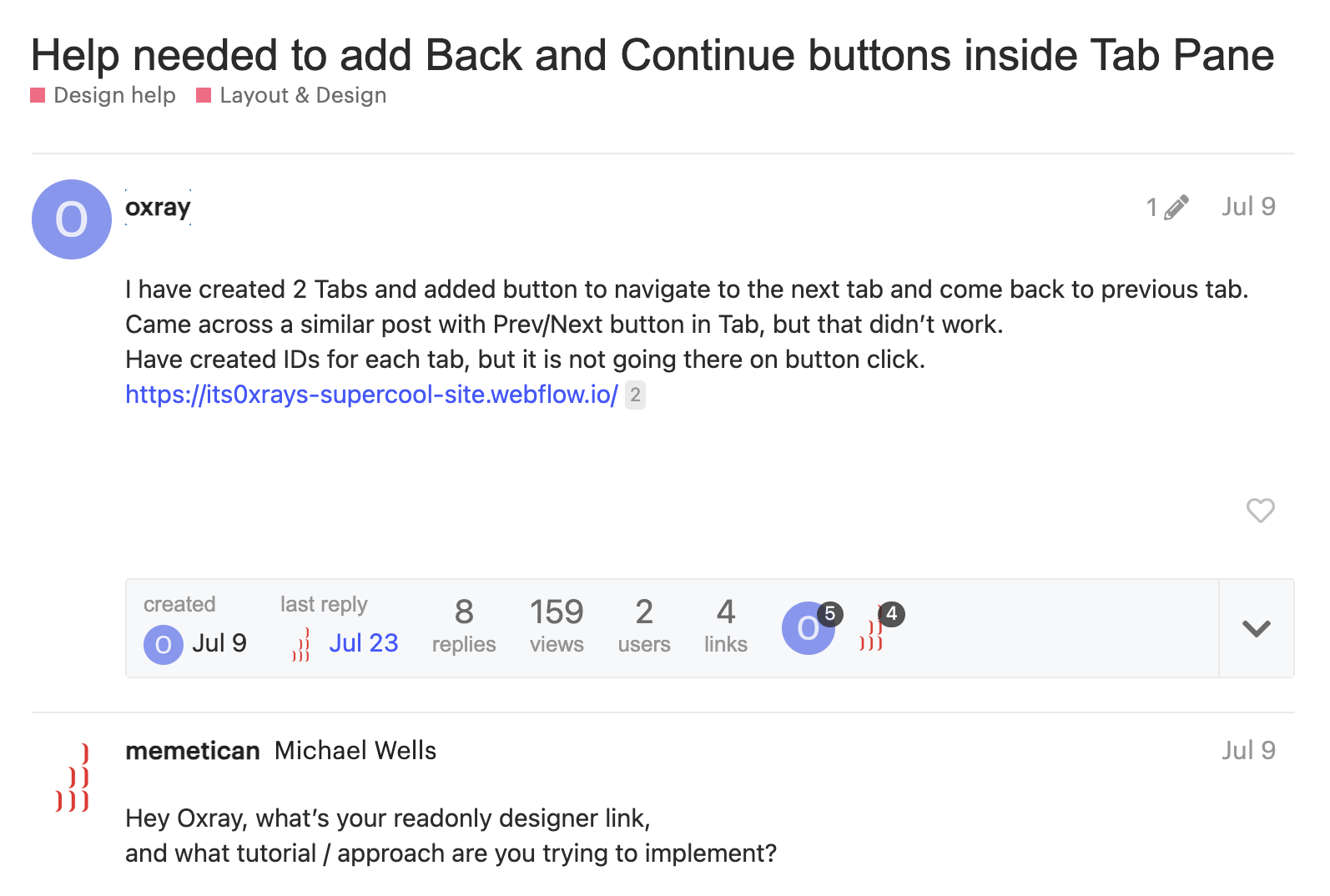 Still stuck? You can contact Webflow's email support team for an answer within 24-48 business hours.
Webflow Pricing and Plans
Webflow has several pricing tiers for general and ecommerce sites.
Options range from free to $39 monthly (billed yearly). And a custom Enterprise plan for larger sites. 
Ecommerce plans range from $29 to $212 monthly (billed yearly).
Webflow Ratings
Pros and Cons of Using Webflow
Pros
Freedom to customize your site without coding knowledge
Suited to those with a team or clients that need access to the same project
Extensive range of templates to suit your needs
Excellent knowledge base with courses, videos, articles, and a community forum
Almost 100% guaranteed system reliability (with the promise of a refund if not)
Ad-free premium plans
Cons
Not especially beginner-friendly and a steep learning curve
Limited integrations (such as social media marketing)
No built-in email marketing newsletter tool
Tricky to create a multilingual site
No mobile app or mobile-building support
No live chat or telephone support
Use the Right Keywords to Drive Traffic to Your Site
No matter which web builder you choose, you'll want to ensure you get traffic to your site. 
And that means optimizing your site's pages with the right keywords. This will help your audience find you in searches and boost your online presence.
Use a tool like Semrush's Keyword Magic Tool to help you find the best keywords to use on your site.
Here's how.
Say you're a tea company moving from a marketplace to creating your own website. You might wonder which keywords you should use when creating your website's headings and blog posts.
Write down a list of initial keyword ideas. For example, you might consider generating content around chamomile tea.
Enter your term in the Keyword Magic Tool and press "Search":

You'll see a list of potential keywords and their keyword difficulty (KD). Semrush provides this rating to signal how easy it is to rank in the search results for this keyword.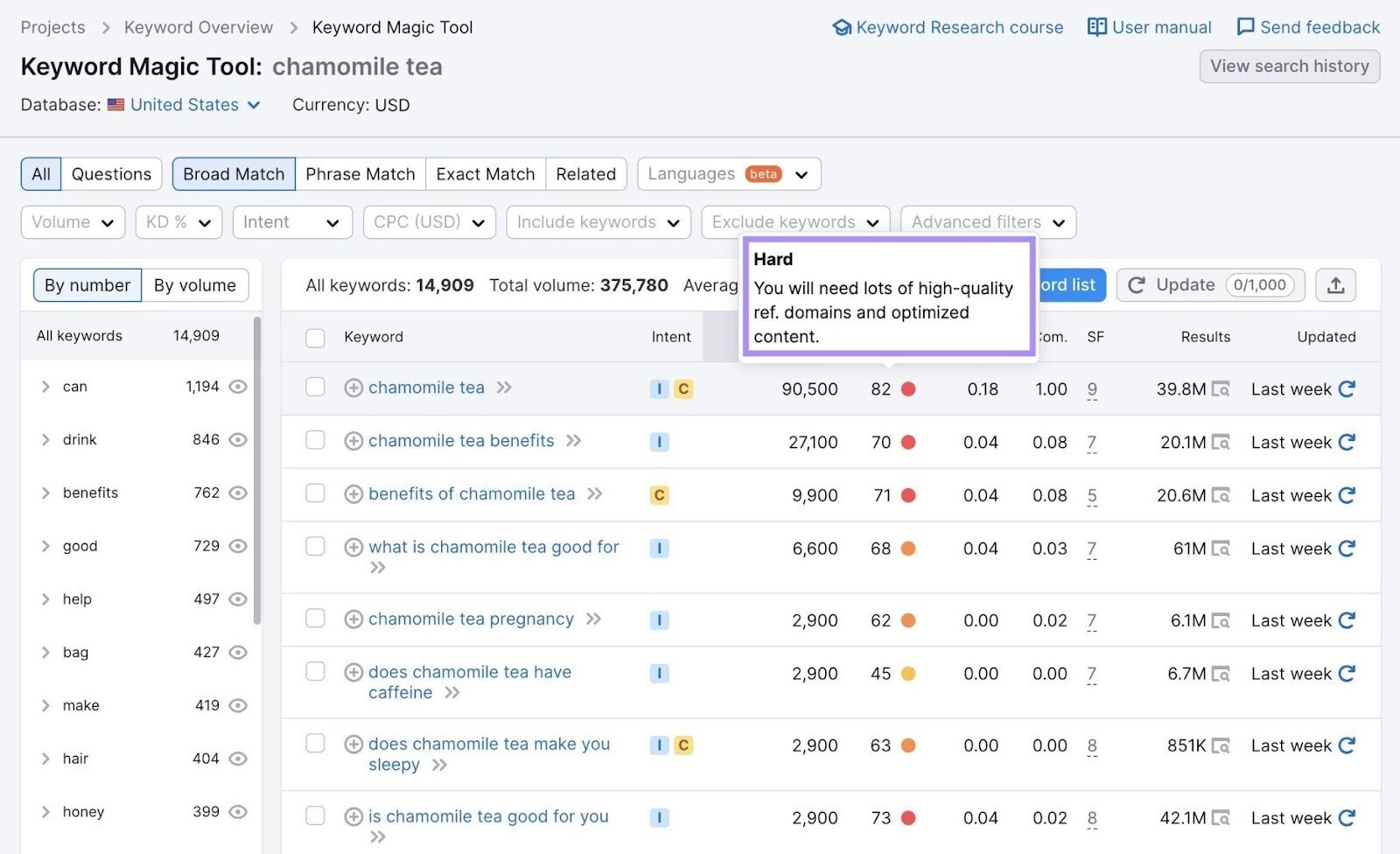 You can filter by KD to see keywords you're more likely to rank for: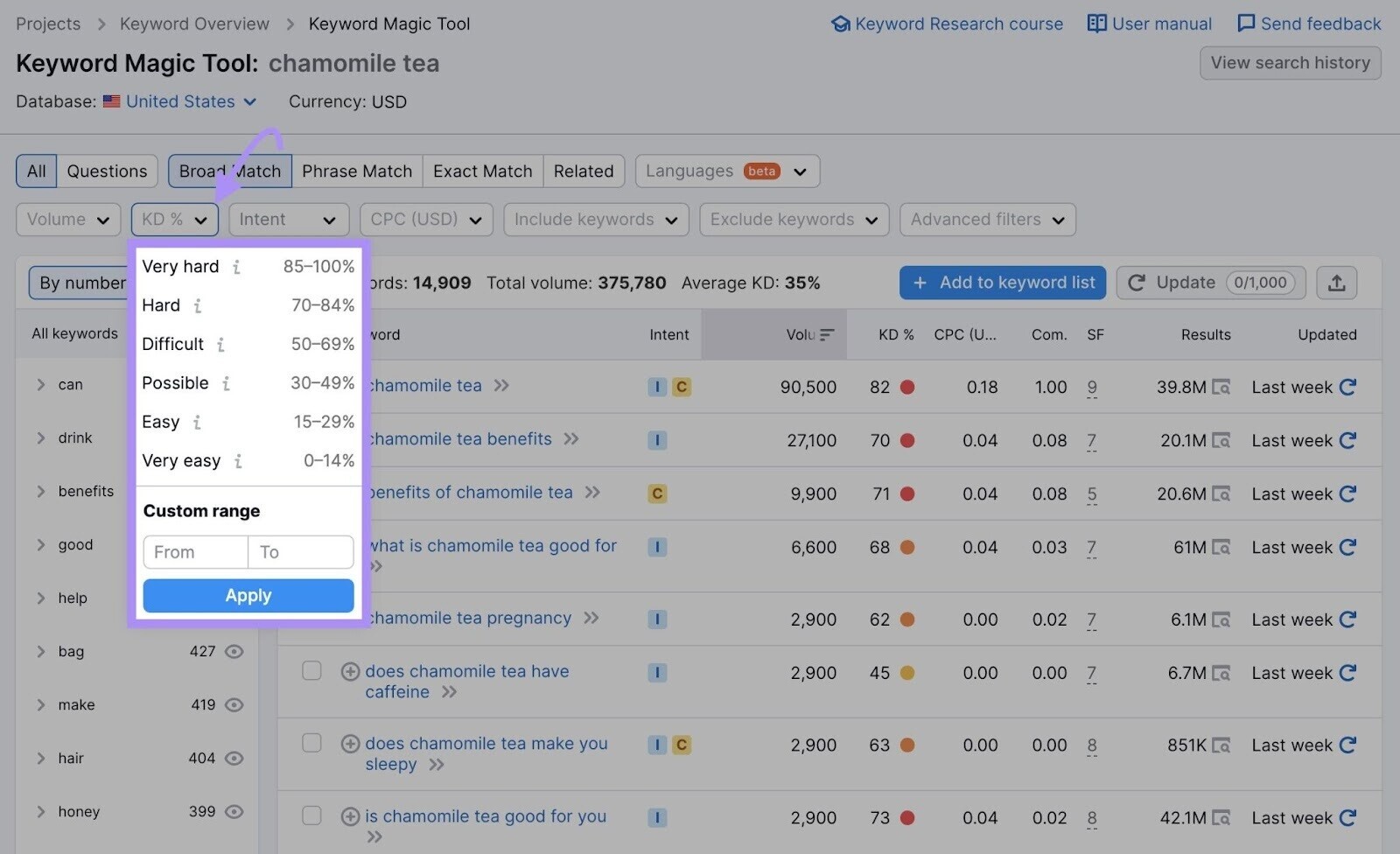 You can also toggle the match results to see keywords that broadly match your term, match your phrase in a different order, include an exact match, or are similar to your term.
You'll end up with a list of keywords related to your term.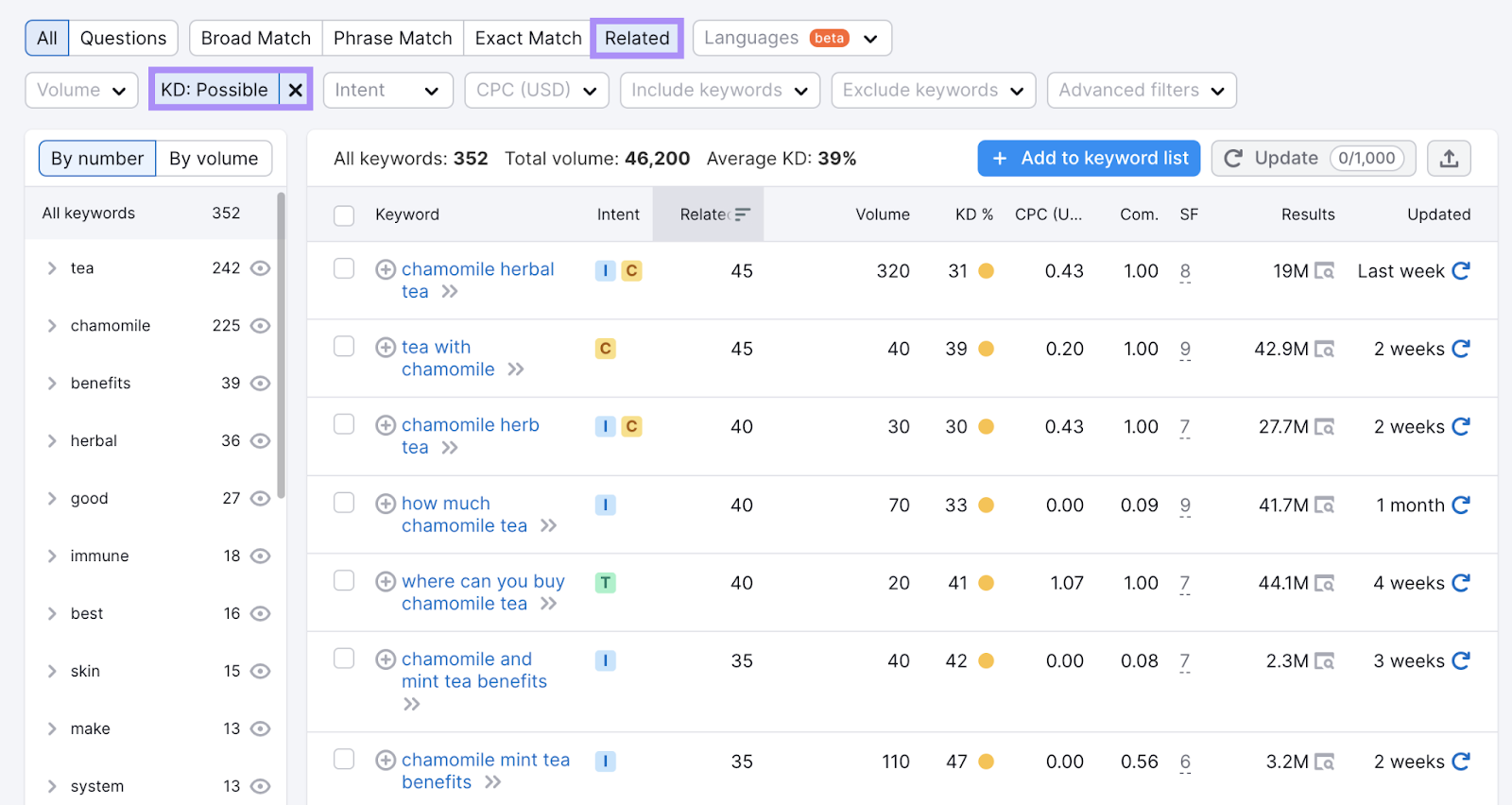 Add the keywords you want to target to your keyword list and get started creating content to drive traffic to your website.
Further reading: Your 6-Step Guide to Building a Content Strategy in 2023
Optimize Your Website for Search with Semrush
What is the best website builder for small business? That depends on your needs.
But you can't go wrong with one of the options listed here.
Each has a unique set of features to help you showcase your products, attract new customers, and optimize your site for SEO.