Link building  is one of the most powerful ranking factors. It is essential that your links are from trustworthy sites and are of high quality; if not, they will do more harm than good for your SEO strategy. That is where content marketing can help; by producing and promoting high-quality content around your target keywords, you can win backlinks that will help you move up in the SERPs.
Winning high-quality links is unfortunately not as easy as it sounds. Which is why we invited James Brockbank, MD of Digitaloft, a top SEO and content marketing agency, to share his insights on how to make it simpler for you. James, along with our other chat guests, discussed how to successfully execute content marketing for link building. In case you missed out, here is what they had to say:
Q1. What are your preferred approaches to creating content that can help land links?
Creating fresh, high-quality long-form content that people want to link to is the first step towards getting your content noticed:
However, to fine-tune it even further, here are a few insights our chat participants think could help:
Create Content That Adds To The Buzz
Check social media, Google news, and trending topics to get an idea of what your target audience is already talking about. Not only will these serve as inspiration for content creation, but they will also help get your content noticed easily and quickly. If you need content ideas, check out tools like SEMrush Topic Research, to give you an overview of what your competition is focusing on. 
Predict Topic Trends
If you still find it difficult to cut through the noise on a trending topic, you can try to predict future trends in your industry and be ready with the content farther in advance. This strategy will give you the advantage of being one of the first to publish data on a trending topic, thus increasing authority.
Use Influencers to Promote Your Content
Tagging and quoting influencers in your particular niche within the content you create will encourage influencers to share your content.
Create Content That is Easily Consumable
Try to diversify the content you create by telling stories, writing case studies, creating videos, designing infographics, promoting roundtable discussions, and even guest blogging to resonate with your audience better. Content diversity helps you reach different demographics with information that piques their interests. As a result, your audience will be more motivated to share your content.
Although, there is a catch: all of the above may not work for your industry. So, it is important to do extensive research on topics and your target market to see what is most relevant and important to them. For example, James Brockbank - @BrockbankJames stated that "Journalists cover stories, not content." So, if you want to win links from journalists, make sure you are using a story-based approach in your content strategy.
Build Relationships – Not Just Links:
Too often, content is created with SEO in mind, while completely ignoring the target audience. If you are just focusing on SEO and the content is irrelevant to your target audience, there is a chance that they won't want to link to it or share it. A certain amount of a PR angle is required to win links. So, focus on building relationships, see what content your audience will find useful, and then provide them with relevant content. 

Q2. Is it better to publish new content regularly or release one evergreen piece quarterly? Why?
Regularly releasing new content or publishing evergreen content quarterly are two different content strategies all together and they both have different goals that can impact the audience differently.
Regular publishing will keep you connected with your target audience. It will help you collect data on what works, what doesn't, and how to tweak content. It will help the audience stay updated on the latest industry trends.
Evergreen content, on the other hand, will be of high quality and be of more value to your target audience. It can help you to explore new mediums to reach your audience and give you the opportunity to repurpose old content that will add more value to the reader.
Choosing one over the other will clearly depend on your business goals and define what you want to achieve with the content.
Ideally, a mix of both regular publishing and quarterly releases is recommended. As always, quality matters over quantity, so if your resources are spread thin, focus on creating content that adds maximum value to your audience.
For instance, since the finance industry is so dynamic, you can send periodic updates to your audience on the latest happenings and how it affects them. However, regular updates coming from, say, the electricity board will not generate much interest. For the latter, a quarterly article on how to save costs will be more useful and get better attention.
Regardless of the strategy you choose, ensure that the content is both informative and SEO friendly. Integrate the right long-tail keywords to help it rank better and use multimedia elements (like Gif, video, images, etc.) to make it more engaging. And lastly, don't forget internal and external linking of the content you create. These elements are the bare essentials you need to help your content succeed.
Q3. What are the key metrics you should track while measuring your content and SEO/link building efforts?
Every content strategy or link building effort should be built around an ultimate objective: your business goal. Depending upon your campaign objective, the metrics to measure the success will differ.
Here are some of the common content goals our chat participants discussed and the key metrics that will help you measure its success:
Content Discoverability
If the main goal of your content is to be discovered, read, and shared, some metrics you can look at include click-through rate (CTR), traffic generated, time spent on page, mentions on other articles, and shares via public or social mediums using custom UTM parameters (this is also a great way to track your content on other sites!). You can use tools like SEMrush's Brand Monitoring tool, Google Analytics, and even good old Excel to help you track these numbers.
Lead Generation
If you expect your content to bring in more leads and add to your lead generation numbers, the number of email/newsletter sign-ups, Facebook messenger subscriptions, or form submissions on your website for demo or consultation will be your main metrics to focus on.
Measuring Content on Your Own Website
To find out if the content you have published on your own site is performing well, you can look at the backlink profile of every article, the quality of links, and the keywords they rank for. You can also look at the ranking on SERPs to see where your content ranks.
Your goals could be a combination of the above or something totally different. Regardless, the quality of backlinks your content wins is extremely crucial. It not only impacts the domain authority of your site, but it also tells the search engines exactly how trustworthy your content is.
Ultimately, it all comes back to the purpose of your content. Once you decide what you want to achieve with the content you create, you will automatically know which numbers to look at and even be able to link it back to conversions and revenue, which the SEMrush Content Analyzer can help you do. This tool will give you a comprehensive analysis of your content's SEO and social performance so that you will know what to tweak. If you are looking into how to pick the right content marketing KPIs, this ebook, which our chat guest James has contributed to, can help you.

Q4. How can you create content which naturally attracts links once a key campaign is over?
After the huge effort that goes into creating every bit of content, it would be a shame to see it waste away in a corner of your website. To ensure that it has a life beyond a particular campaign, the content should be regularly updated so that it remains evergreen.
Here are some pointers from our chat participants:
Off-Page and On-Page Elements
Good quality content will have high authority backlinks, numerous shares and mentions by influencers. It will have a metadata description, that is not keyword stuffed, but will still summarize the article for the search engine and the audience. On-page, the content will contain engaging features like images, gifs, and videos that attract user's attention. Sectioning the article under the right headers and improving the readability will ensure that the content is of good quality and gets noticed. Ensuring that your content has all of the above elements, is a good first step.
Relevance to Target Audience
The content you create should provide a solution to what your audience is looking for. It should solve their problems, answer their questions, and give them more clarity on the search they performed. Always refer to source links or credits to support the topic, which will not only add value to the audience but will also strengthen your backlink profile and increase your chances of the sources linking back to you.
Discoverability and Shareability
Make sure it is easy to find the content on your site (with as few jumps as possible), and also ensure that it is shareable across all channels quite easily.
To improve discoverability, you can also include statistics and solid data in your content. This data doesn't need to be your own; it can come from reputable sources that you can link to. Again, as mentioned above, this will add value to your users and also encourage your sources to link back to you as you are driving a good amount of traffic to their site – a complete win all around.
Now that you know the basic guidelines of evergreen content, here is how you can go about creating content that naturally attracts links:
Identify What the Target Audience is Interested In
You can do this by using a variety of tools, such as SEMrush, Social.io, and Google Trends to get content ideas.Once you have a topic idea, conduct extensive keyword research to nail the right keyword for your post.
Check the Backlink Profile for the SERP Toppers
Find out which content ranks for the keywords you have chosen. This can be done by a simple Google search query of your keyword. Use SEMrush to analyze their backlink profile to see which backlinks you can win.
Reach Out and Promote
Write to influencers and see if they will link back to your content. Promote it further using social media, and use platforms like HARO for maximum reach.

Q5. What are ways to ensure that your content is picked up and linked to by top-tier journalists?
The content you create should have solid data and strong visuals that will engage and attract your target audience. Instead of focusing on a hard-sell of your product, it should genuinely resolve a question or a problem for the audience.
Here is a great example that James - @BrockbankJames shared: he and his company went against the client brief to focus on creating value-adding content that the audience can relate to. Because it was not promotional and checked all the boxes of quality content, it went viral and landed them a large number of backlinks.
As stated before, only high-quality content will be deemed share-worthy by top-tier journalists.
The good news is, that once one top-tier journal picks it up, others will see the value in it and start linking to it. This snowballing effect, however, arises only after the first share.
While powerful link-building tools can help you to quickly build the backlinks you are looking for, here are some tips to further refine your strategy:
Reach Out Asking for Feedback
Don't always reach out to journalists asking for a backlink. Instead, reach out to them early on and send them the data you have, requesting feedback. You could alternatively ask for their suggestions or their insights so that the goal is not to just get a link but to build a relationship. Ensure that the content you send them is highly relevant, do not risk automating this portion of outreach; it could become a futile effort.
Get Expert Advice
Get a communications pro who knows the industry to help you get in touch with the right people at the right time. Together, you can work out a link building strategy that will maximize outreach and get your content in front of the maximum amount of eyes. Remember to be concise and get to the point quickly, using fluff words and beating around the bush will not win you any brownie points with them.
Use the Right Channel
You can engage with journalists on Twitter, LinkedIn, Facebook or any other social media channel that makes the most sense to both your business and to the journalist. If it is email, ensure that the emails are personalized and have unique content that they can copy and use right away (without much hassle). The quicker they can get your content, the better your chances are of them using it.
In short, ensure that you are authentic and real when contacting journalists. Instead of treating them as a means to a link, show a genuine interest in how your content will add value to their area of interest, and ultimately, the target audience.
Creating well-researched and well-cited articles that are relevant to your target audience is only half the battle. The real challenge comes in getting the content noticed, getting it mentioned, and shared so that it has maximum impact. If you are looking for more practical tips, here is how you can ace link building with SEMrush.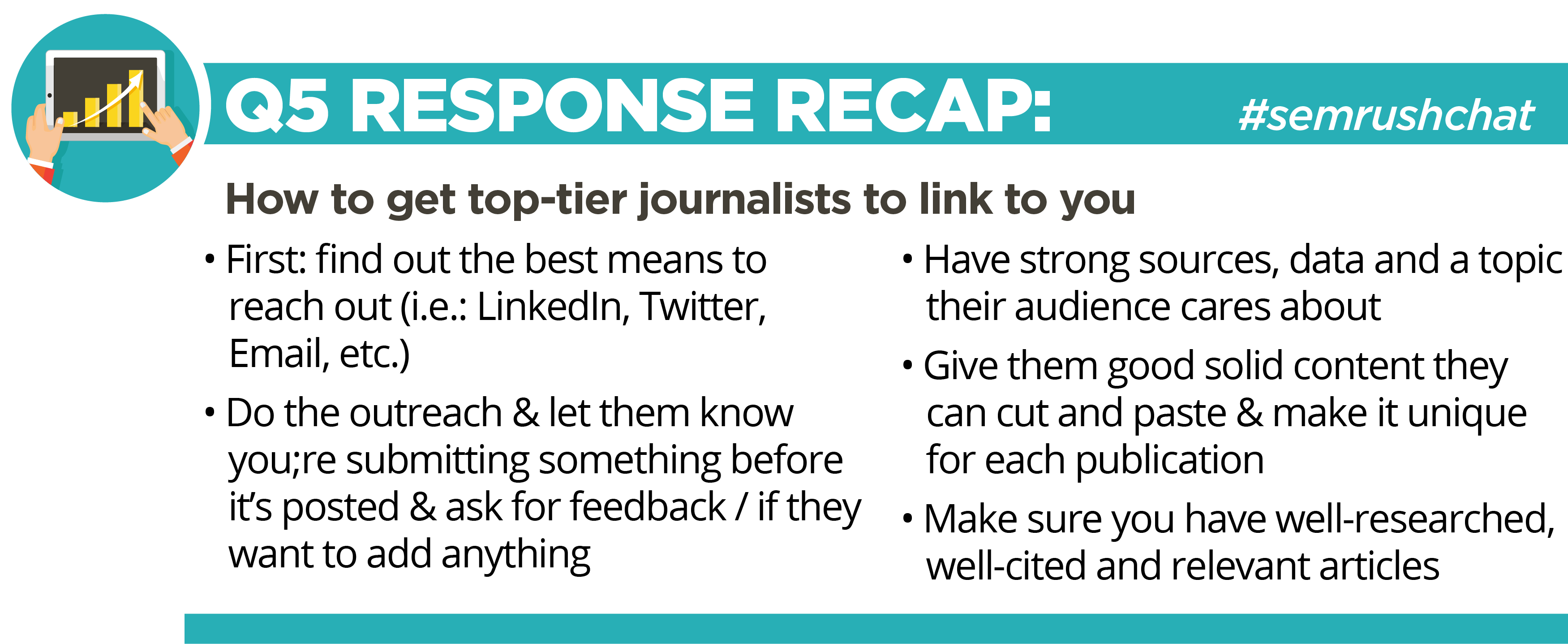 That is all for today! What are the challenges you face when creating quality content that will also get links? Let us know in the comments!
Make sure to join us this week as we discuss "Generating ROI from Inbound Marketing" with special guest, Katy Katz!