"Guest blogging is dead!"
How many times have you heard variations of this statement on marketing blogs and forums? Despite evidence to the contrary, there are still a number of pervasive myths and beliefs about guest blogging, especially when it is used as a link building strategy.
I have published over 1,400 articles for myself and my clients in the last decade. My experience has shown that guest blogging is fantastically effective when used correctly.
In this post, I will dispel all the myths related to guest blogging and show you a step-by-step guide on how you can use guest posts to build reputation, authority, and exposure through backlinks.
Dispelling the Guest Blogging Myth
Let's travel back in time to January 20, 2014, when Matt Cutts published his now famous post on guest blogging: The decay and fall of guest blogging for SEO.
Here's the quote that everyone likes to reference:
"So stick a fork in it: guest blogging is done; it's just gotten too spammy...I wouldn't recommend relying on guest posting, guest blogging sites, or guest blogging SEO as a link building strategy."
By all accounts, that sounds like a very clear repudiation of guest blogging as an SEO strategy. If that is the case, why are respected publications like ProBlogger still accepting guest posts?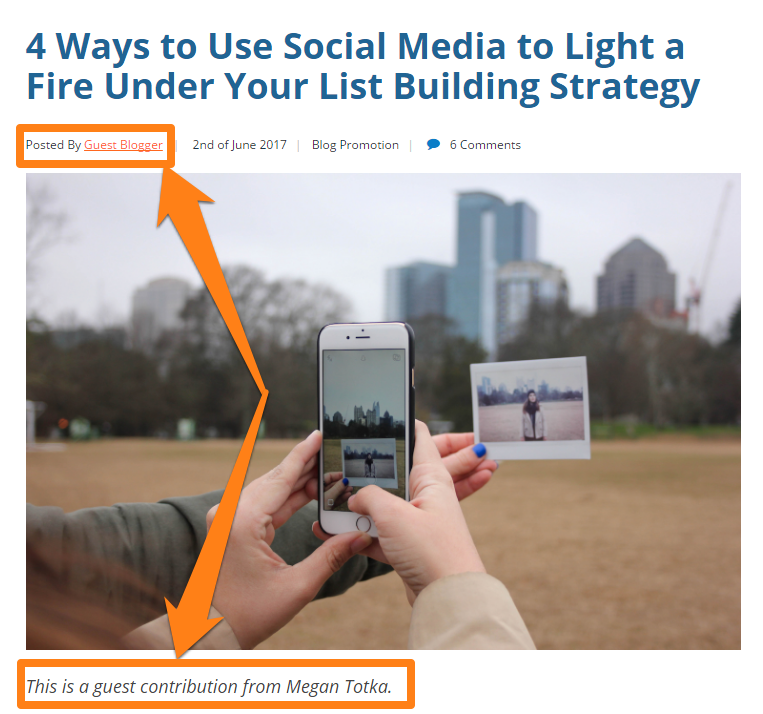 The answer to this question lies in Matt Cutts' original anti-guest blogging post.
Matt makes it clear that he is talking about a certain type of guest posts. He even shares an email from such a guest post spammer: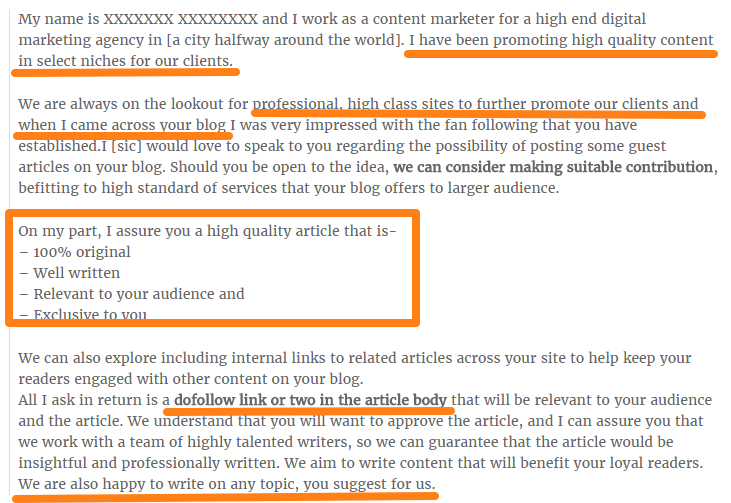 The highlighted sections show that this is basically a mass spammed email with zero personalization or intention to create quality content. If you run a popular blog, you have likely seen such emails in your inbox.
From Google's perspective, you can see why such guest posts would be problematic. The content is low-quality, lacks insight, and isn't associated with any real author. Most links from such content lead to spammy SEO-optimized affiliate sites.
However, this describes blatant spam, the kind you can detect from a mile away. What about more subtle kinds of link spamming, where the content looks authoritative and might even pass a spam sniff test?
For such guest posts, Google had another post about "large scale article campaigns" (read: mass guest blogging). As per Google, the following three tactics are particularly frowned upon:
Stuffing keyword-rich links to your site in your articles.

Using or hiring article writers that aren't knowledgeable about the topics they're writing on.

Using the same or similar content across these articles; alternatively, duplicating the full content of articles found on your site.
The first point is obvious enough, but the other two points highlight a recent phenomenon, more and more marketers are adopting. They outsource content creation to cheap writers and ask them to write variations of the same article, then spread them around as guest posts.
Such content doesn't come from writers who truly know a subject. It is obvious from a cursory glance that this content is meant to get links, not share insight. Google obviously has a problem with this approach.
So what is the solution to this problem?
Simple: don't guest blog for links. Instead, guest blog only when you have an original insight to share on a topic you already understand. If you have been working in SEO all your life, then go ahead and write a post about a new SEO tactic - Google wouldn't mind that, and neither would publishers.
In other words, be authentic. Share case studies, results from your work, and tactics that worked for you in a personal capacity. This has been my strategy as well and it brings wonderful results in terms of rankings and reader satisfaction.
Take a look at the comments on this recent guest post I wrote for another blog: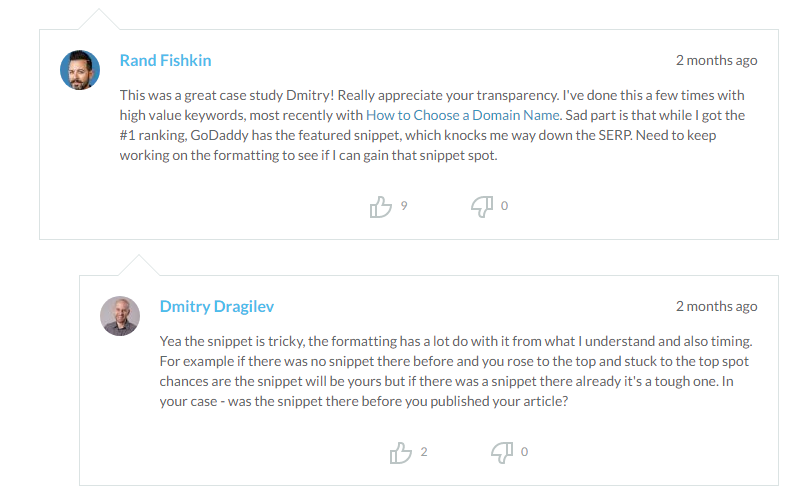 To sum it up:
Mass guest blogging for backlinks is definitely dead.

Sharing personal insight and knowledge is good and encouraged.

Don't outsource your content creation to cheap writers, and definitely, don't stuff your guest posts with keyword rich anchor links.
Any backlinks you get through guest posts should be a by-product of your content, not its sole reason.
Why Guest Blogging
To answer this question, I want to highlight another Matt Cutts quote:
"While there's always a grain of salt involved with Google gospel, it does seem to follow along with what we knew (or suspected) about authorship: quality and trust signals are increasingly surrounding content and the individuals who write them."
Here is the video it originated from:
The gist of this quote is that Google is increasingly attaching authority to not just websites, but individuals as well.
For instance, if Elon Musk were to write an article about building electric cars on a completely new, unranked domain, Google would want to rank the article higher. The domain might not have any authority signals, but Musk's individual authority makes the article worth being on the front page.
This idea aligns with Google's mission: to provide value to users. This mission is so important that Google even penalized Wall Street Journal when it stopped providing value.
The question is: how do you create this authority as an individual?
Simple: through guest blogging. Think of it this way: if you call yourself a "marketing expert" yet the only place your content appears is your site, your claim is suspect.
However, if your content appears on authoritative marketing publications, your claim has a little more legitimacy. Kind of like how the number of citations for a research paper is an indicator of authority in academia.
More than backlinks, this is the reason you need to take up guest blogging. The more sites your content and name appear on, the more authoritative Google sees you (and by proxy, your sites) as.
In fact, this is one of the major reasons why I built JustReachOut in the first place - to help startups do their own PR and get found on other websites.
Besides this, there are the obvious benefits as well:
You get targeted traffic.

You can use guest posts to capture leads.

You get quality backlinks from authority domains.

You develop name recognition - for yourself and your business.

You develop social proof.
Plus, effective guest blogging is hard enough that it will keep out all but the most motivated of your competitors.
Guest blogging works. In fact, I used it to rank a site #1 for a competitive, high-volume keyword in under 90 days. I will show examples from this post to show you guest blogging works for SEO. I will also show you how to use guest blogging as a link building strategy.
Using Guest Blogging to Build Backlinks
Here is a step-by-step process to build backlinks through guest blogging:
1. Before You Start
Before you start your guest blogging campaign, there are three things you must know:
I. The Right Approach to Guest Blogging
The first rule of guest blogging for backlinks is to not use guest blogging for backlinks.
I know this sounds confusing, but successful guest blogging is never backlink focused. You blog because you want to build authority and earn a readership. Any backlinks you get are just incidental.
This is an important mindset to adopt. If you approach guest blogging solely with the intention of earning a link, you might end up targeting low-quality sites or compromising on content quality. This will invariably affect the impact of this strategy.
Embrace this idea before you start. Take up guest blogging because it helps you build influence and authority, not just for its SEO benefits.
II. Have a Brand
Ask yourself: would you link to a guest blogger whose site looked like this?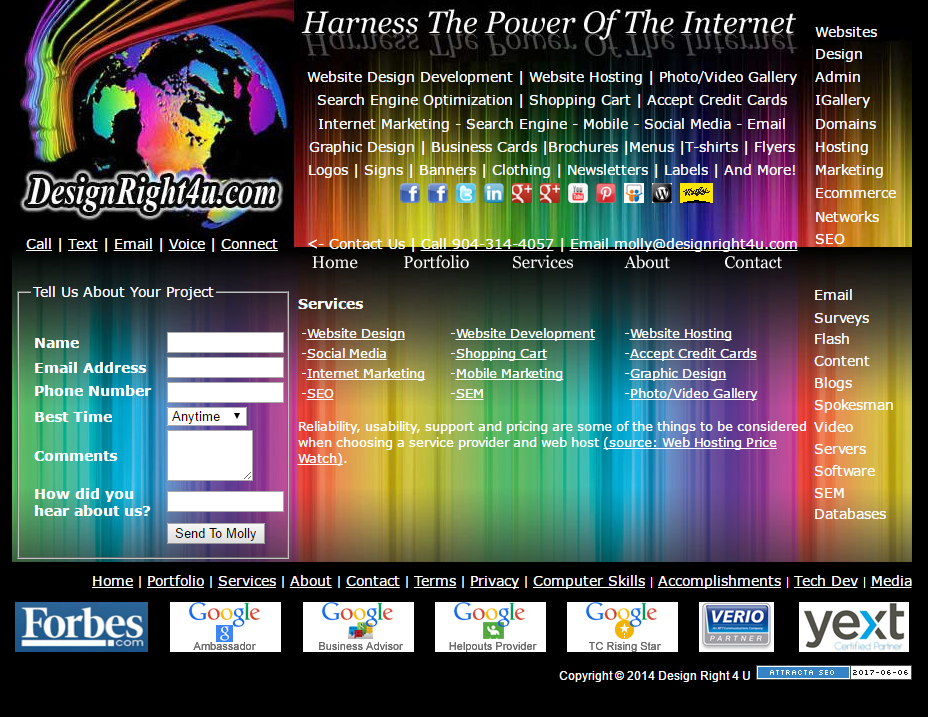 Your site's design, authority signals, content, domain, and focus will impact whether your guest posts get accepted or not. Most editors will hesitate to link to spammy affiliate sites filled with low-quality content, no matter how great the guest post might be.
Before you start, make sure that you have a viable brand. This includes:
Clean, modern design and logo.

Social signals, i.e. Twitter, Pinterest, LinkedIn, Facebook, etc. following.

Trust signals such as mentions in authority publications, testimonials, etc.

Relevant, high-quality content

About us, contact, legal pages, etc.
Essentially, you want to look like a real person with a real business - not an SEO spammer.
III. Develop a Guest Post Portfolio
If you want to get a shot at guest blogging on top publications, you will need to have at least one quality guest post published on a respected site. You will need this to give editors an example of your writing style and quality.
If you have never guest blogged before, I recommend writing the best post you can write and getting it published on a known site in your niche. It doesn't have to be a top authority site, just something people would recognize.
Another possibility, write a stellar post and publish it on your own blog. Give this as an example of your writing quality when you pitch editors.
2. Finding Guest Blogging Opportunities
To start a guest blogging campaign, you first need a large list of guest blogging targets.
There are multiple ways you can find these opportunities. I will show a few of my favorites below:
I. The Google Search Method
Many blogs maintain pages where they solicit guest posts. These are usually easy targets since they are publicly sharing their guest blogging guidelines.
To find these pages, use Google search operators like the following:
"[your keyword]" + "write for us"
"[your keyword]" + "guest post/blogging guidelines"
"[your keyword]" + "contribute"
This will work in nearly any niche.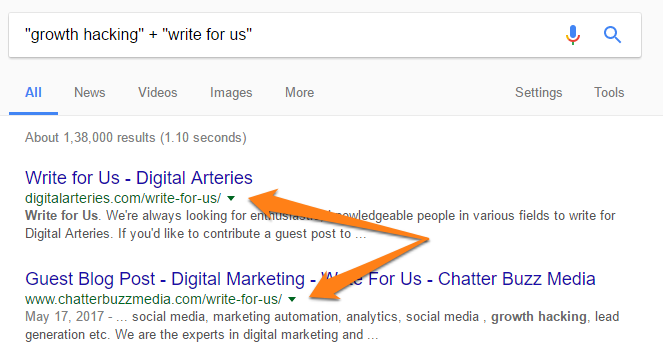 The problem is that this method usually yields poor quality candidates. Although not always true, most top authority blogs don't explicitly solicit posts - they already have tons of people wanting to write for them otherwise.
To find these sites that don't maintain public "write for us/contribute" pages, try the following searches:
"[your keyword]" + "this is a guest post by"
"[your keyword]" + "this is a guest contribution"
"[your keyword]" + "guest column/post"
"[your keyword]" + "contributing writer/author"
This will show you blogs that have at least one post written by a guest author. If they've accepted guest posts before, they might accept yours as well - even if they don't have a "write for us" page.
II. The Influencer Method
One of my favorite methods to find guest blogging opportunities is to follow in the footsteps of an influencer.
Essentially, you:
Find a top influencer in your niche who publishes guest posts frequently, and...

Target every site they guest blog on
If you have been working in a niche for some time, you would already know a few top influencers in your niche. The next step is to simply use a simple Google search to find their guest posts:
"Guest post" + "[influencer name]"
For example, here is what I see when I search for my own name: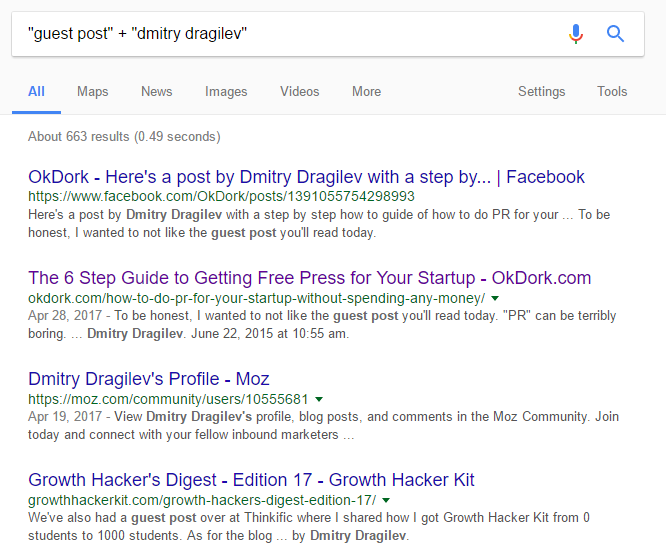 Including the influencer's name might bring up results from his/her own website. You can remove these by adding the following to your search string:
"Guest post" + "[influencer name]" -site:[influencer's website]
This will show you a lot of non-obvious candidates. Plus, since top influencers mostly publish on authority blogs, you'll get some top quality targets.
III. Competitor Backlinks Method
This one is the easiest to understand: look up a competitor's backlinks and find any sites they have guest blogged on.
For example, when I look up JustReachOut.io in SEMRush, I can see some of my guest post backlinks, such as this one from Entrepreneur.com:

This method works best for small to medium-sized competitors. A large site like HubSpot would have far too many backlinks to analyze effectively.
IV. Buzzsumo Method
Buzzsumo isn't just great for brainstorming content ideas. It also has a nifty feature to find guest blogging opportunities.
Here is how to use it: Log into your Buzzsumo account. In the left sidebar, go to "Content-type" and check only "Guest posts". Next, search for your target head keywords. Buzzsumo will show top performing guest posts.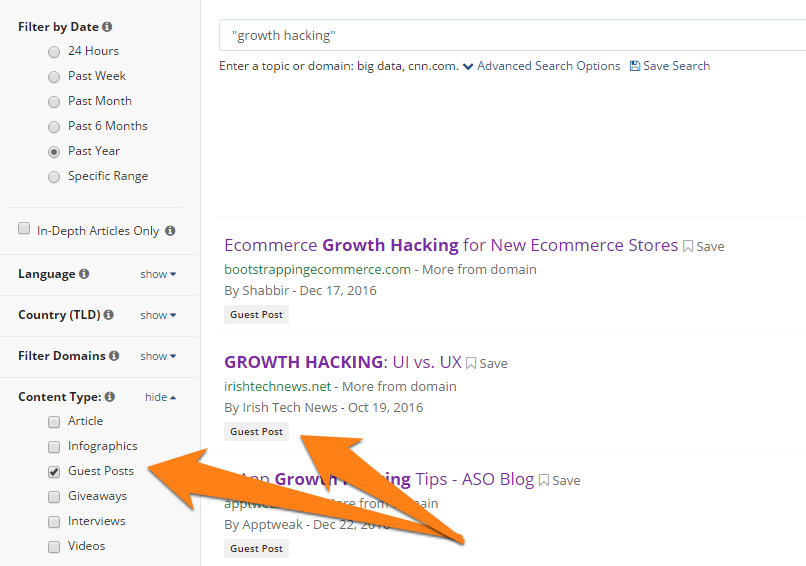 Once you find all these targets, add them to a separate spreadsheet.
2. Filtering Guest Blogging Opportunities
If you have followed the steps above, you will have a list of dozens of guest blogging targets. Not all of these targets would be equally important. You will have some stellar authority sites mixed in with some low-grade blogs.
Dig through your list and figure out the following:
Domain-level metrics: Domain Authority/Rating, referring domains, backlinks.

Content quality: Go through a few blog posts to see what kind of content do they normally post. If you see a lot of spammy 500-word articles, might be a good idea to stay away. Tag your targets as "poor", "moderate" and "high-quality" based on this metric.

Profile location: Does the site give guest authors a clearly visible profile above the fold? Or does it bury the profile at the end of the article? Do you get a profile picture and bio?

Engagement: How many shares does a typical post have? Is there a lot of comment activity? A highly engaged audience is a good sign.

Content relevance: Does the site regularly post content on your niche? If yes, what is the typical engagement level for such topics?

Guest authors: What kind of guest authors has the site hosted before? Do they come from authority sites or spammers? You don't want your backlinks to be from a bad neighborhood.
Based on your answers to these questions, segregate your list into four categories:
Authority Sites: Top-tier blogs that are widely read and followed in your industry. Most would have a 60+ DA. These are blogs you'll want to add to your "published in" list.

Mid-Tier: These are good, but not great blogs, mostly run by individual bloggers. Their DA is between 50-60. They often take the cue from authority blogs regarding topic selection.

Low-Tier: These are average quality blogs without substantial authority of their own (DA 40+).

Rejected: Low-quality blogs that often entertain spam, usually with a DA under 40. Avoid these blogs; they might actually hurt your rankings.
Category #1 targets will demand substantially high-quality content. These should be your top priority, but understand that authority sites take a lot of time to publish content.
Category #2 will be your bread and butter. These sites require good content, but it doesn't have to be your best work.
Avoid category #3 sites if you can. Too many links from such domains can make you come across as a spammer. The domain authority is also too poor for link building.
3. Approaching Guest Blog Targets
Before you can start sending pitches, you need to find email addresses for each target. For some authority sites, you might also need to establish a relationship with the editor first (though it's not always necessary).
I will show you how to do both below.
I. Finding Email Addresses
Thanks to a number of new tools, it has never been easier to find anyone's email address.
I have covered a bunch of these tools and tactics in the past, so I won't repeat them here. For the most part, you won't need anything more than Interseller.io or AnyMailFinder to find emails.
With Interseller.io, for instance, you just need to enter your target's name and domain name, and it will do the rest.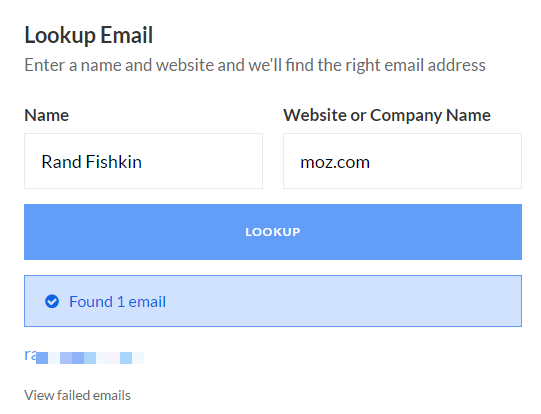 The good part about Interstellar is that it will also verify emails for you, so you always know you're getting the right ones. It is also cheap - paid plans start at just $15/month.
If you need something more industrial strength, check out Clearbit. Their database is incredibly accurate, and they can do bulk lookups very easily.
I recommend outsourcing this task. You can easily get someone to do it for under $10 on Upwork.
II. Building Relationships
You can usually use a cold approach for most sites. However, top-tier authority blogs often don't accept unsolicited contributions or are too bogged down by their existing calendar to entertain your pitch.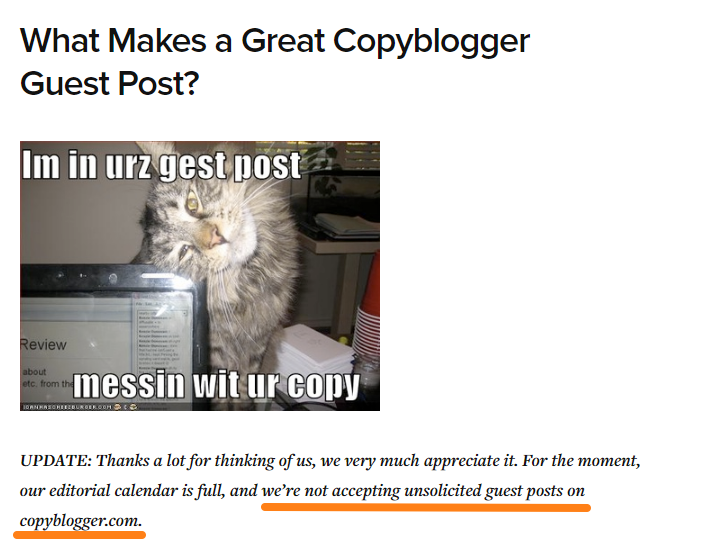 For these targets, you will have to build a relationship first - or at least register your name on their radars.
In my experience running PR campaigns, the following routine works well:
Follow on Twitter.

Respond to 2-3 tweets.

Leave comments on 2-3 blog posts.

Leave longer comments/feedback/ideas to a blog post via email.
You don't have to follow the exact order, of course. Just establish a cadence of regular communication. This ensures that when you send them a guest post pitch, you're not just "random blogger #239" but "Dmitry from JustReachOut who leaves great feedback."
Usually, the more authoritative the site, the more effort you will have to put in. This is particularly true for sites that are well-known among the general public.
In either case, you should start a communication channel with most authoritative site editors and owners. Even if you are not guest blogging, regular communication can open up additional opportunities.
4. Brainstorming Ideas
Once you have got a list of email addresses, you will have to come with guest post ideas.
Your approach here should be to not be original - at least for the majority of sites on your list (barring a handful of top-tier authority sites). Instead, you want to build ideas based on what is already known to work for their blog.
Understand that your target blogs also want more readers. When you send them an idea that has worked for them in the past, they will be more likely to give you a spot.
Start by entering the blog's domain into Buzzsumo to find their most shared content. For each piece of content, consider the following:
Whether the article is a listicle, a how-to, a step-by-step tutorial, opinion piece, etc.

What primary topic(s) does the article deal with

What kind of words and language does the headline include
For example, take a look at Copyblogger's top content: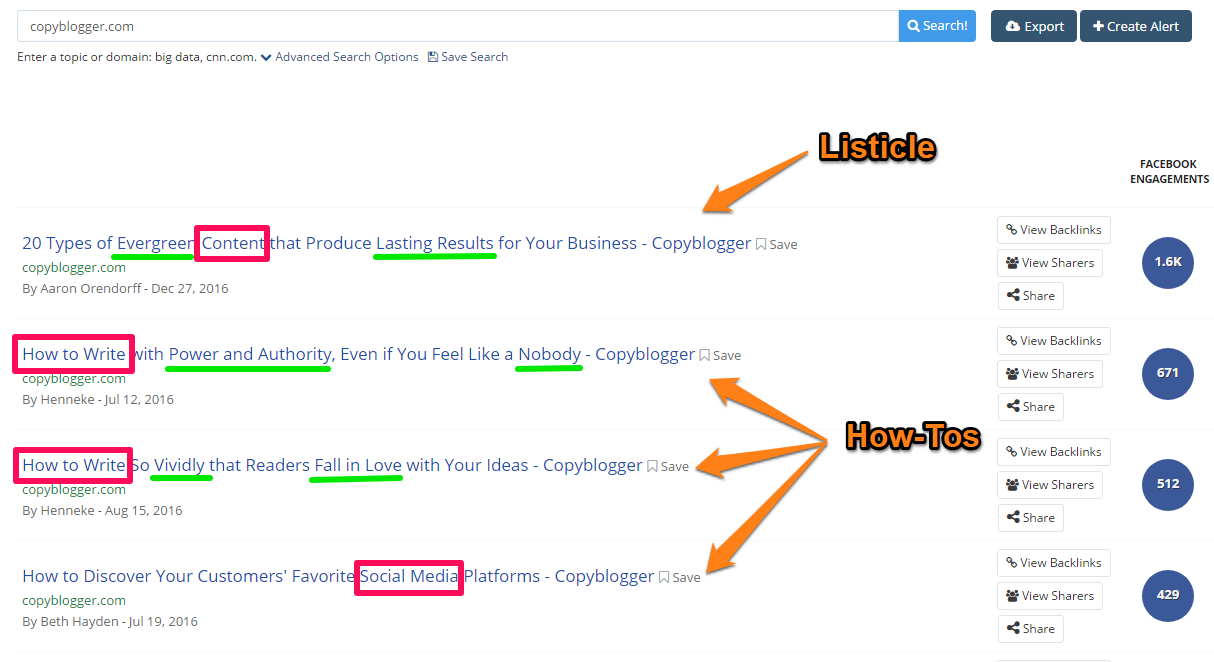 Notice how two of the top four articles are about writing. Also notice how "how-tos" dominate the list and how every title uses emotionally rich power words ("power and authority", "nobody", "vividly", etc.).
This shows that how-to content related to writing with emotionally-rich titles does well among Copyblogger's audience. If you were to pitch an idea along these lines, it would likely pique the editor's interest.
Besides the above, there are a few additional guidelines you should follow:
I. Align Topic Complexity with Target Audience
Keep the audience's expertise level in mind when you send a pitch. Don't expect to write a "beginner's guide" to SEO and get it published on SEMrush.
Check the existing content on the site. If you see a lot of advanced-level stuff, change your idea accordingly.
II. Keep SEO in Mind
Since your objective is to build backlinks, you should strive to pick up ideas that align with your site as well.
For instance, if you run a site about "growth hacking" and your target blog does a lot of posts about "content marketing", find an idea that brings the two topics together (like "How to use big content to unlock exponential growth").
Come up with at least 3 ideas for each blog. This should include a title and a short 1-2 sentence description of what the article will cover.
5. Pitching Ideas
The next step is to send an email to the blogger/editor and pitch your guest post ideas.
Here is a cold email template that works in most situations:
Hi [Name],
[Personalized comment]
Anyhow, I'm writing to you because I'm interested in contributing a guest post on your site.
Based on what has worked for [Site name] in the past, I feel that your readers would love these ideas:
[Idea Title #1][Brief Description]

[Idea Title #2][Brief Description]

[Idea Title #3][Brief Description]
To give you an idea of my writing style and quality, here's a guest post I recently wrote for [Guest post link]
Do you think these ideas would be a good fit?
Best,
[Your name]
The personalized comment can be related to something they publicly posted on Twitter recently, their last blog post, etc. You can skip this for smaller blogs, but it helps you get noticed by busier bloggers and editors. Check out this article for more cold email templates and this one for inspiration on making your email endings more memorable.
If you don't get a response to your initial pitch, wait a week then follow-up. Use a tool like MixMax to automate follow-up.
6. Creating Content
Once you have an approved idea, you can get down to creating content. Here are a few things to follow during content creation:
I. Focus on Readability
While the quality of your content is obviously important, you also need to make it more readable.
To do this, try:
Keeping sentences short - 10-15 words at most.

Keeping paragraphs limited to 2-3 sentences.

Adding plenty of sub-headers.

Add bullet points and blockquotes.
For example, take a look at the Pipedrive post on sales management: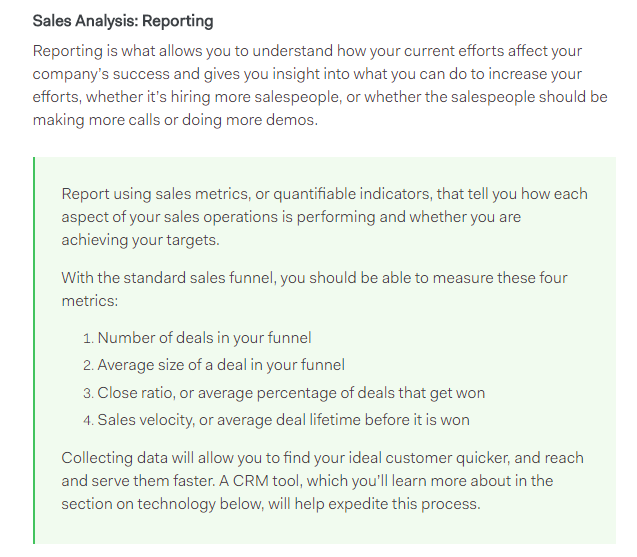 The sub-headers and blockquotes make this long post (3,000+ words) easy to read.
II. Include Custom Images
Images do three things:
They help illustrate examples and ideas, making the post easier to read and understand.

They help break the article into sections.

They improve the perceived value of a blog post.
The last point is particularly important. Images help differentiate you from SEO spammers. Few guest bloggers bother to create high-quality images for guest posts. If you take the time to do this, you immediately stand out (and earn instant approval).
You can either get your own in-house designer to create these images or outsource them on Fiverr for $5/image - cheap for the amount of value it adds.
III. Get Contextual Backlinks
Remember how I told you to brainstorm ideas that align with your site's content? This is important because it helps you earn contextual links to your site.
While you will obviously add a link to your site in your profile bio, for maximum SEO impact, you also need to get a link within the content. This acts as an editorial link and gives you lots of SEO juice.
Take a look at this post published by Pipedrive's co-founder. Notice how it weaves in a link to the sales management article on Pipedrive using a keyword-rich anchor text.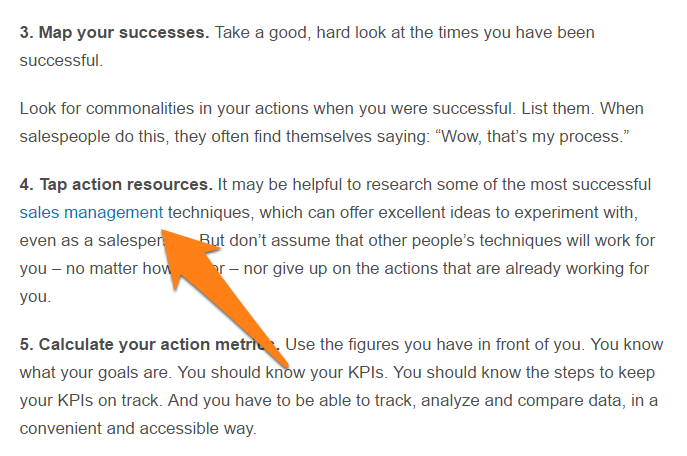 Try to add similar contextual links to your target page in your content. Make sure that it gives value to the reader, or the editor will reject it.
7. Go Live
Once you send the content to the editor, wait until a few days to hear their feedback. Make any changes as required, then wait until the article goes live.
Keep in mind that some large blogs have a 1-3 month waiting list. Factor this into your campaign.
If you do this right, you can easily earn some high caliber backlinks. More importantly, once you guest post on a blog, you also develop a relationship that you can mine for future opportunities.
Over to You
Good guest blogging isn't easy, which is precisely why it is so effective. Few of your competitors will have the resources and the patience to get their content published on top-tier blogs.
Of course, guest blogging purely to build backlinks isn't viable. But when it is used as part of a broader marketing strategy, it can result in some top-notch backlinks. If you can publish even a small volume of guest posts on authority sites, you could see a significant boost to your traffic and rankings.