I am seeing more and more questions about how to appear in Google's local travel guide, so let's dive in.
The first thing you will notice is that the travel guide is not available to all localities, primarily because the travel guides are data-driven; as data builds up for a locality, Google adds the travel guide.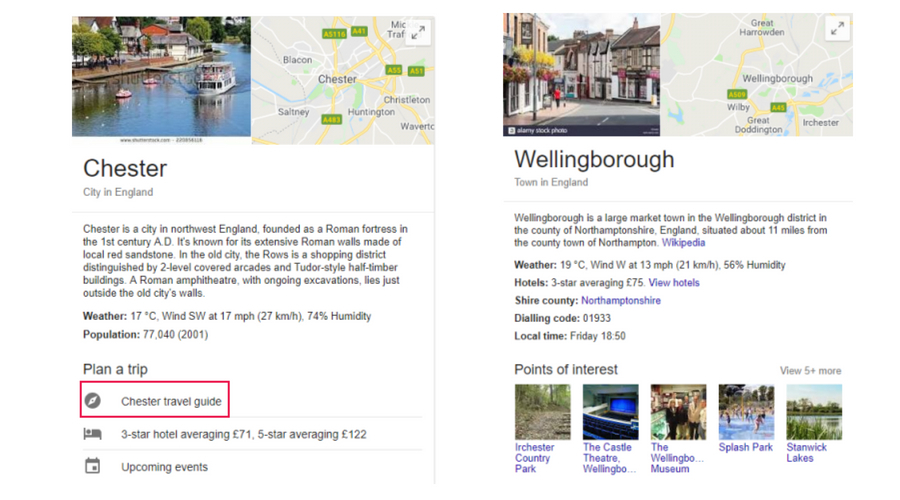 Google Local Travel Guides
The area travel guide is currently made up of three to four sections:
Area Overview

Things to Do

Day Plans

Plan a Trip
Some smaller locations include the Day Plans within the main overview, while larger cities have their own day plan page.
Area Overview
Area overview pulls in location pages for the area, museums, point of interest, monuments, some suggested day plans (based on actual visits), plan a trip (pulls in hotel listings) travel articles and travel videos.
Travel Articles:
We will look at data opportunities later, but the two organic placements in the travel guide overview are Travel Articles and Travel Videos.
The immediate thing you will notice in the travel articles is that Google uses well respected and authored sites; I have yet to find an area that displays a random blog page from a hotel or local business. In the UK, Google tends to use large publications with very detailed travel sections and niche travel sites. They also bring in a range of articles covering a best of list, food, activities, hotels, and points of interest.
For large cities, they can display up to 14 articles, for regional cities around 10 travel articles.
Article are rotated regularly. One week after taking the above screenshot, the food article dropped out and was replaced with a Cathedral article.
The articles themselves seemingly don't have to be well positioned organically. What they do offer to the reader is a choice of additional information on hotels, food, and attractions in the area or near the attraction.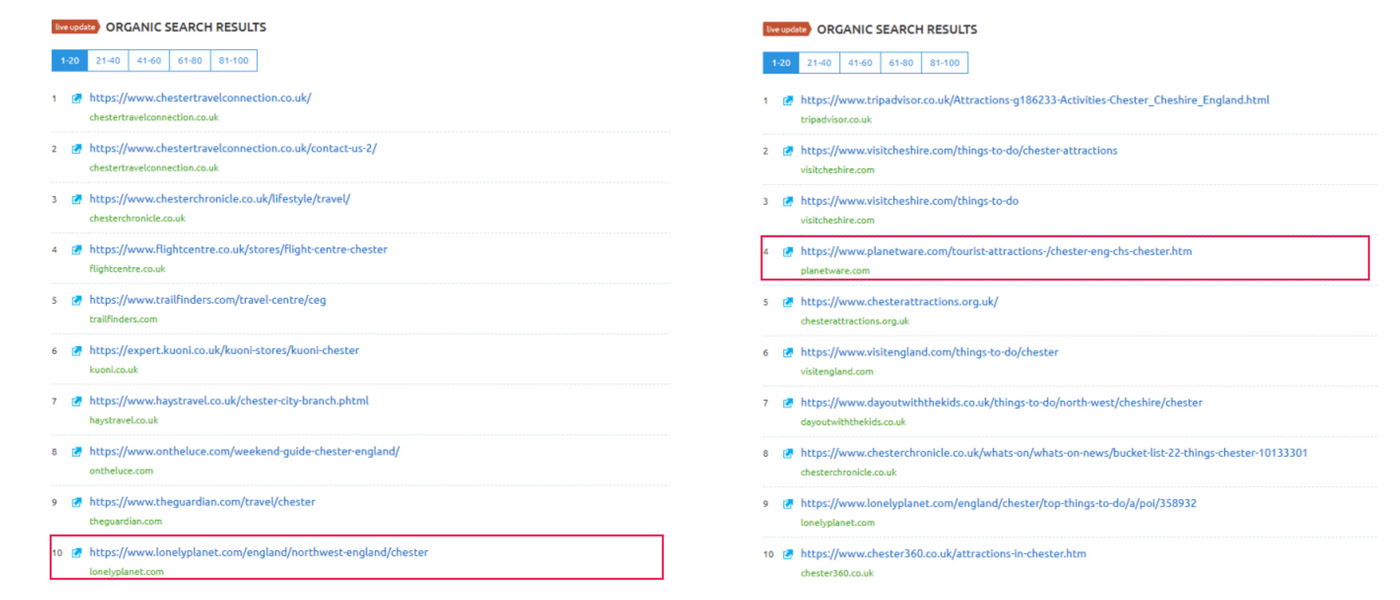 Your option here is to approach the specific authors and publications and discuss inclusion for your location. Please don't approach them for a new restaurant that has just opened, or is suffering a reputation issue; a journalist won't be modifying their article to include something like this.
Could you replace one of these articles with one of yours?
Never say never, but your article needs to be very well written. To put it simply, it needs to be outstanding, and it also needs to contain additional local resources for the reader.
If you are hell bent on your own content appearing, then your first step is to build up a repository of location-based content, which in itself will bring you organic traffic and build up brand awareness for your location in itself. With this strategy, you are already winning.
Travel Videos:
Again, this area often includes a range of 10 to 14 displayed videos, and this area certainly seems to a very good opportunity.
When looking at the videos displayed, they range from 13,000 views up to 500,000 views and ranging from 1 minute to 40 minutes, so there is a wide scope here. The catch being the channels all have over 50 videos posted.

One thing I did notice is that quality does not seem to be paramount here; some of the videos are basic image carousel videos.
Suggestion: Combine your local article repository with videos. Not only does this provide a better user experience on your site, but you are also targeting two options within the travel guide.
I never said this was going to be easy, and at the same time, there is no way to determine the traffic potential for having an article or video appear within the travel guide. I am also fairly certain that by the time you have built up your article base on site, together with videos, to appear within the travel guide, your own site will be well positioned in search results with deserved organic traffic.
Things to Do Section
This section is pretty much out of your control. Google creates a centroid for the location and then adds places of interest for all areas.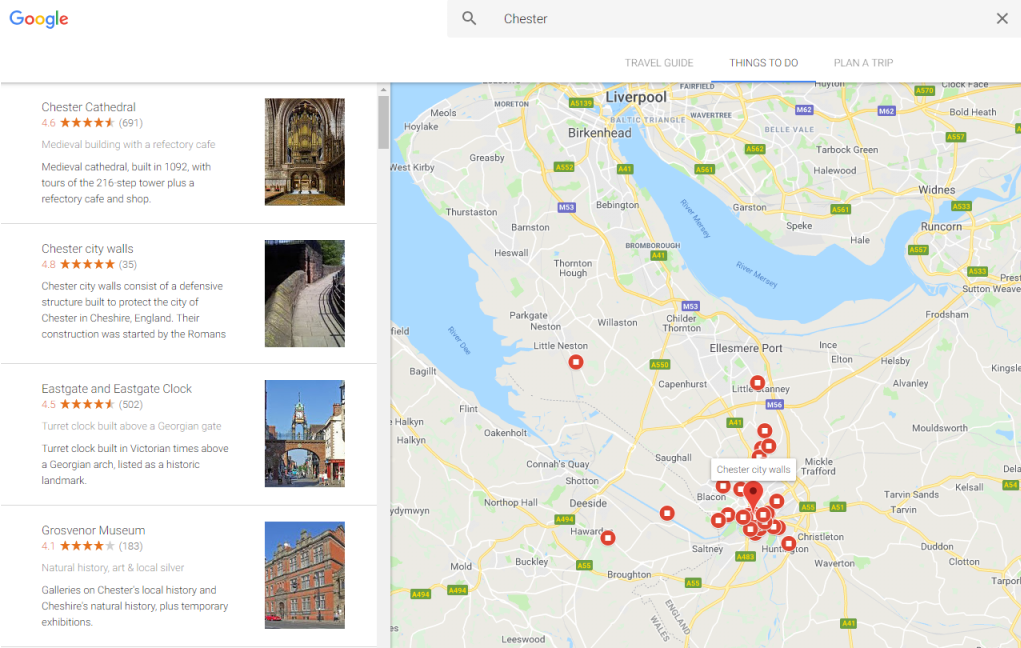 Looking at a cross-section of cities there does not seem to be any positioning criteria, apart from the centroid.
Some listings are unverified and questions unanswered. However, all have a Wikipedia info snippet, so they are well-known entities.
Day Plans Section
The day plan section really intrigued me because this section is made up from data created by actual human visitors, that Google has tracked via the Maps app on phones to generate different types of day plans, ranging from 1 to 3 days.
Google creates these from actual visitor data. If your goal is to get your location to appear within one of these, you would have to influence real visitors at the location.
How could you achieve this?
The obvious way would be to create your own day plan articles within the location resource you create for travel articles. The resource could be on your site as well as other sites.
I also suggest creating "things to do" type articles near the other locations mentioned in the surrounding day plans, so you are targeting people planning one to three-day travel itineraries as well as day trippers going to a single location. This strategy can influence travelers to visit you as well.
I would also look at tour and coach operators that visit these locations and enter into discussions about adding your location into their itineraries which would bring you large quantities of data.
Is it Worth Targeting Google Travel?
No, and Yes — confused?
Why NO:
The easiest way to appear within Google Travel would be with travel articles, followed by the videos. The articles, however, change regularly. There is no data from Google to indicate how busy Google Travel is and what type of return you could expect for the amount of time that your article is featured.
We also have no idea how many people view the videos directly from Google Travel, and you would need approximately 50 videos within the channel; a lot of work with no guarantee of a big return. 
The day plans can be accessed via Google Travel and in Google Maps, so there is a double opportunity, but we have no indication of their use, and as stated above, this can only be influenced by actual visitors coming to your location.
Why YES:
If you as a business or marketing team took the steps required to appear within Google Travel you would be creating content that Google would want to offer to users naturally, which in turn would be driving traffic and visitors to your location, without actually appearing within Google Travel.
The cherry on top would be to appear in Google Travel, and by that time, you have already become a visitor attraction in your own right.