On average it takes 5 - 8 touch-points before a person will buy from your website. It takes this long because there is so much information available and people need to be sure that they are making the right choice.
One single ad will not work.
It is good to think about the entire customer journey, from awareness to research to purchase. Also, keep in mind what happens after they become a customer? Don't forget, once someone becomes a customer the journey isn't over. In fact, it should be just beginning. If someone has already bought from you, then they are much more likely to buy from you again. 
Display Remarketing Campaigns
Display remarketing campaigns are some of my favorites to set up. They are cheap to run, the ROI is high, and they make sense if you think about the customer journey. People need time to consider their options, and remarketing campaigns keep you at the front of their minds. 
That being said, I think a massive opportunity is being missed in most AdWords accounts. Most PPC managers simply set up a remarketing campaign with a single audience for the last 30-days, and that is it. It is easy to let it run and forget about it because the return on remarketing can be so high. It doesn't seem worth the effort to change it. 
But if you think about those touch-points, and that people need 5 - 8 before they purchase, your remarketing campaign will be at least one of those touch-points. Surely you would want to make that touch-point as relevant and as impactful as possible?
I have put together a list of 5 advanced display remarketing strategies you can implement right now. 
1. Create a Sequential Display Remarketing Campaign
The first thing you need to do is understand the time lag from when your customers first interact to when they convert. This varies from industry to industry. For example, if you are selling a low cost branded item it could be 0-1 days. However, if you sell a more complex and expensive product it could be 30 days +.
Go into Google Analytics, under "Conversions" you will find the drop-down button for "Multi-Channel Funnels". Hit Time Lag.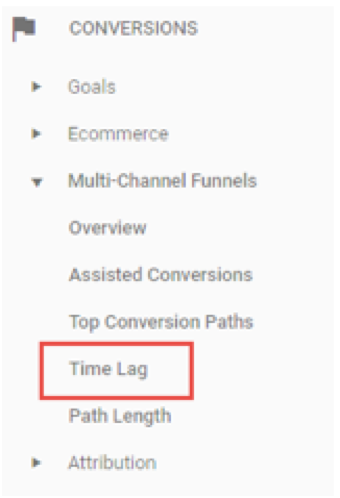 This report gives you some lovely data. From here you will be able to see when users typically convert after their first interaction and you will be able to plan your remarketing campaign.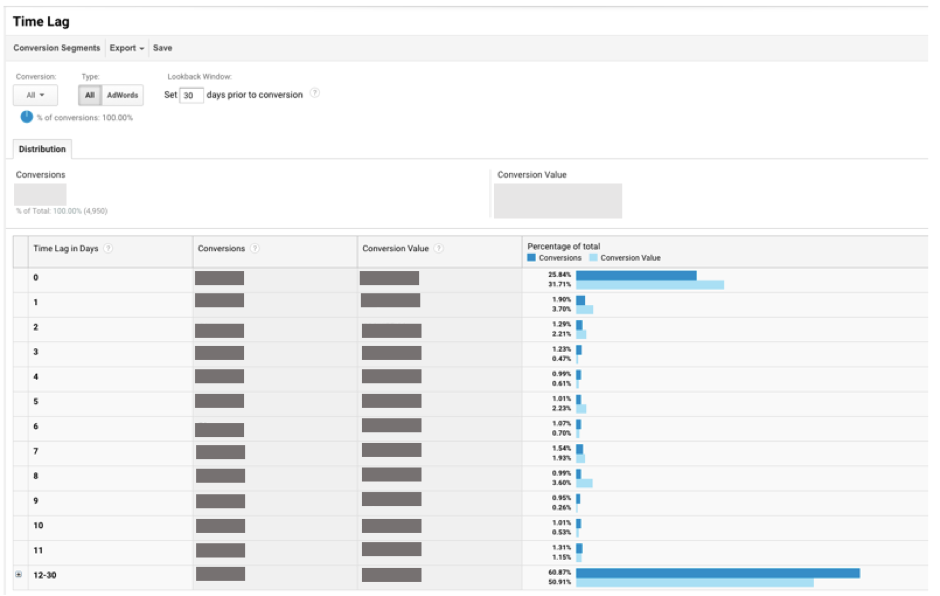 Let's say you have a scenario where 30% of your conversions came from 0 - 7 days after first interaction, 10% of conversions came from 8 - 12 days after the first interaction, and 60% of your conversions came after 13 days from the first interaction. You would probably have a product that was a bit more complex, and your users would need time to research before they signed up. 
You could then create a sequenced display remarketing campaign that took users through their research journey. You could switch up the creative and, giving them different messaging to help them come to the right decision.
You could also adjust your bidding strategy. For the above scenario, you have the highest bids for the 13+days customers as you know this group is more likely to convert. 
Do think about your messaging and your creative. Usually, the further away the ad is from the first interactions, the bigger the incentive/offer needs to be in order to bring them back.
Ad 1:  Could be a brand message.
Ad 2: Promoting your customer service or customer reviews.
Ad 3: New customer offer or free-delivery offer code.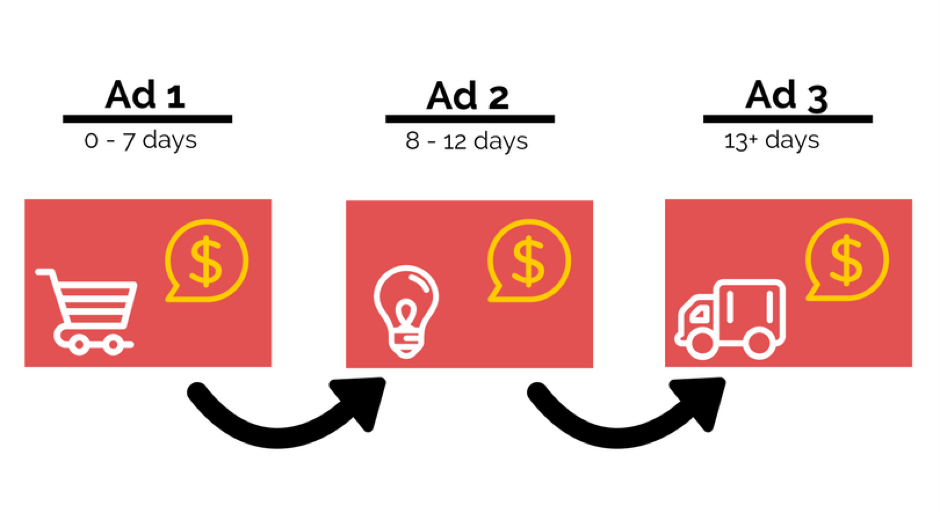 Create your sequence by creating different audiences based on days since the last interaction. Then, when you are creating your campaigns, simply exclude the other audiences from that campaign.
For example: 
You could create 3 audiences (your sequence):
Audience 1: 0-7 days since first interaction.
Audience 2: 8-14 days since first interaction.
Audience 3: 14 - 30 days since first interaction.
Then, when you create your campaigns: 
Campaign 1: 
Target Audience 1 (Exclude Audience 2 & 3)
Campaign 2:
Target Audience 2 (Exclude Audience 3) 
Campaign 3:
2. Segment Your Remarketing Audience
Don't treat all your traffic the same. 
Each page on your website will have a different value. Someone who had an item in their shopping cart and then abandoned the journey is much more valuable than someone who landed on the home page then bounced. Targeting the latter with remarketing is a waste of time, money, and impressions. Your bidding strategy changes as well, for example, paying £1.50 per click from someone who has been on your website 2mins+ will be a better investment than paying £0.20 for all visitors. 
You can segment your audience based on their behavior on site and/or their traffic source. Some of my favorite segmentations include: 
Time on site
Number of visits 
Certain goal completion
Visiting specific pages
Demographics
Let's say you were running a remarketing campaign for a company that didn't have a huge budget, but you did want to include remarketing in your marketing mix. By segmenting your traffic, you could target high-value customers, for example, users who visit multiple times and spend over the average amount of time on your website, or users who abandoned their shopping cart.
You can do this by going into Google Analytics and setting up a custom audience.
Once you are in your Google Analytics, click on the "Admin" section.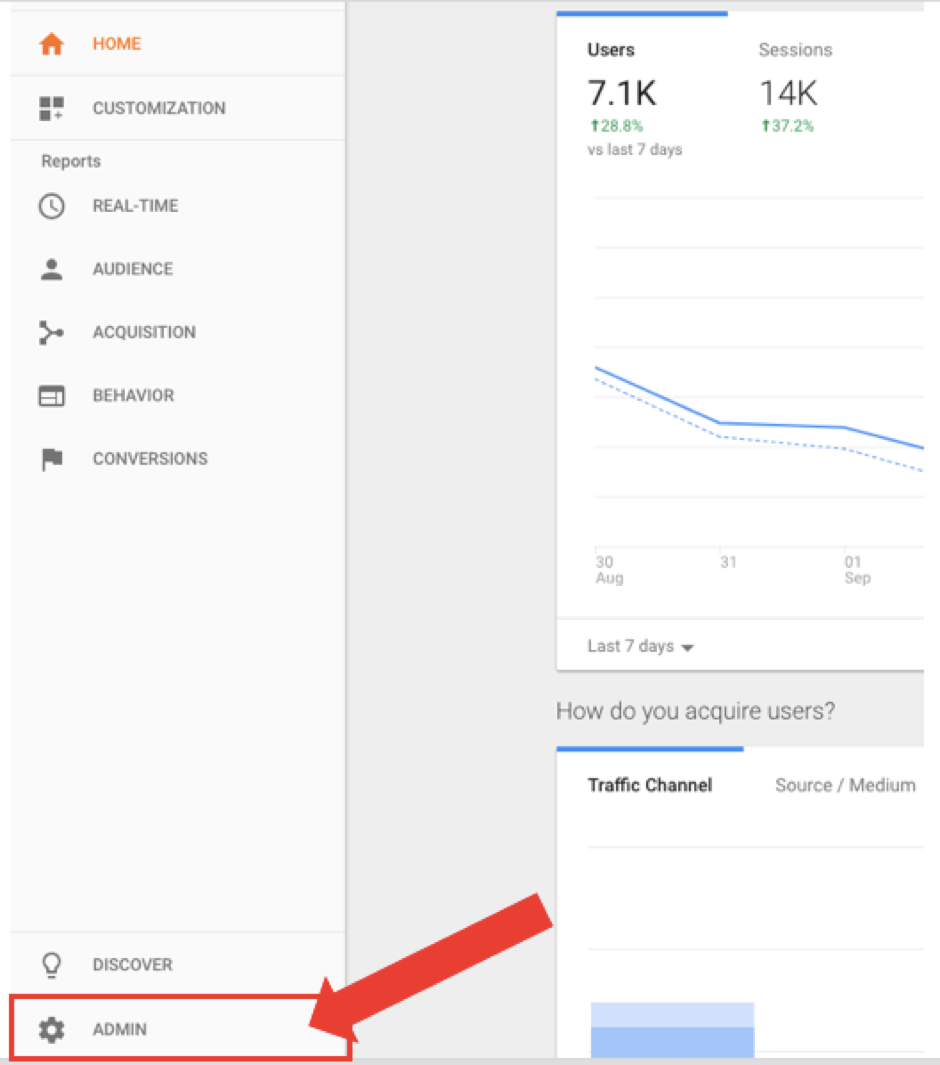 Click the link labeled "audience definitions".
Select "Audiences".
Click on the "new audience" button.

Select "Create New".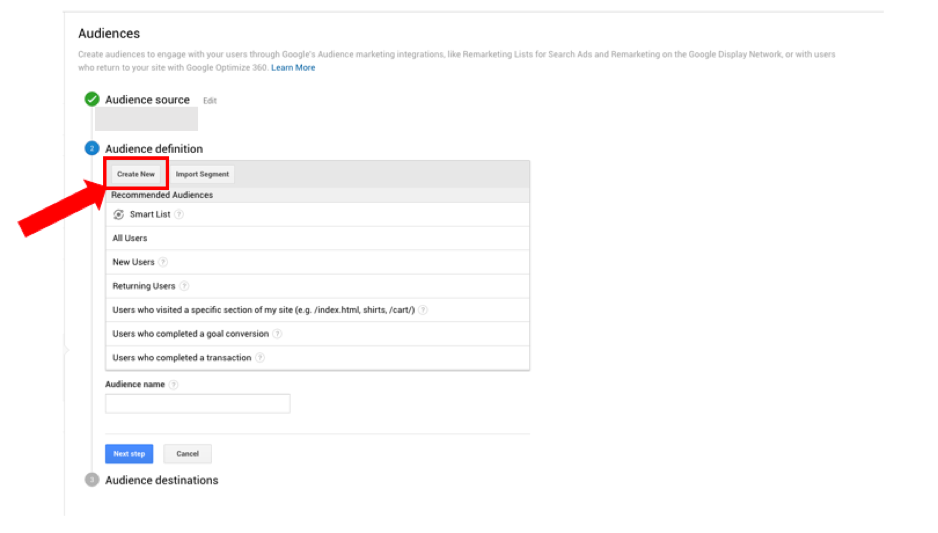 As an example, let's say I wanted to target users who visited my site at least twice and spent more than one minute each time and they didn't buy anything. I could create this audience and build a specific campaign for them.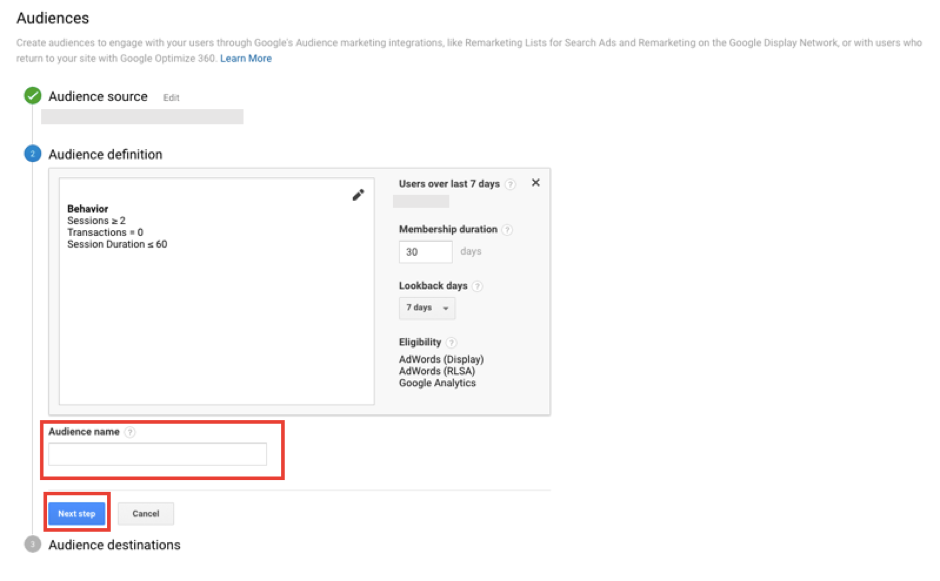 It is, however, worth keeping in mind that the more specific you get in your audience building, the smaller the number will eventually get. You have to have at least 100 members in an audience to run a display remarketing campaign. 
Once you have built your audience, name it, and hit "Next step". From there it will ask you to choose a destination for your audience. If you have linked your AdWords and Analytics accounts select your AdWords account from the drop-down menu. When you next log into AdWords your new audience will be there waiting for you. 
3. Content Remarketing
If you are investing time and money into creating content on your site, then content remarketing could be a great option. There are two great things that happen when you don't hound customers with hard selling messages; you earn trust and gain conversions in the future. 
Here is how you can do it: 
Create a remarketing audience based on people who have been reading blogs or articles on your site. 
Create an audience based on people who have shown an interest on your site (for example: spent more than 2min+ on your site, visited multiple pages, etc.) then retarget them with a piece of content on your site. 
Create ads that show the next piece of content that they might like. For example, if you're a bank you could offer them something like "5 things to look out for when deciding on a credit card".
Content remarketing is all about increasing trust and nurturing the user. Its main objective isn't to drive direct conversions right away, but over time it could have a positive impact on referrals and word of mouth (the more someone trusts your brand, the more they will recommend you). 
Here is an example from Tableau, they are a data visualization software company. Here they have served me a remarketing banner which points me to a whitepaper they created. Notice how there is not a hard-selling messages? They are simply using content to get users back onto their site.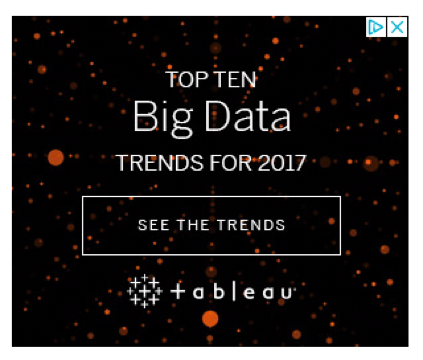 4. Create a Remarketing Campaign for Customers
You might be asking yourself "Why waste money on users who are already customers?"
Well, I have some stats for you: 
It costs 5x to acquire new customers than it does to keep current customers.
80% of your future revenue will come from 20% of your base.
Creating customer advocates will have a massive impact on your overall results. 77% of people are more likely to buy a product after hearing about it from friends or family.
Word of mouth is a primary factor behind 20% - 50% of ALL buying decisions.
Returning customers spend 67% more than new customers
See what I'm getting at? 
You have an amazing opportunity to create value for your company by creating remarketing campaigns designed for your existing base. 
Here are a few ideas to get you thinking about what you can do for your base:
Create an educational campaign. Highlight features that are available at your company at no extra cost.
Give an offer code/free delivery to customers who have already purchased something from your site. Just as a thank you.
Invite customers to a free webinar.
Cross or upsell existing customers by telling them about other services your offer. 
As always, know your customer. If you understand what will give them real value, you will not only keep a customer you will create an advocate. 
5. Create Campaigns Based on Where the User Came From 
When you think about the different traffic that comes to your site you might value one above another. For instance, display awareness traffic might not be as valuable as a click coming from a high converting PPC campaign. 
Earlier we had a look at segmented users based on their behavior on-site. Now, let's have a look at segmenting users based on where they came from. 
As a quick reminder, website traffic falls broadly into one of these four categories: 
Paid
Organic
Referral 
Direct
Let's say you were a bank and you were running a new promotion on mortgages. You invest heavily into mortgage-related keywords on PPC. You might want to follow through with your new PPC campaign with creating a remarketing campaign based on users who visited your website but found it via your PPC campaign. By doing this, you will be able to segment your audience data, match up your creatives and messaging, and get a broader view of how effective your campaign is performing. 
Creating this new audience is relatively simple. You start off by logging into your Google Analytics account. 
Click on Admin then Audience Definitions (Audiences). 
Select + New Audience then Create New
This is where you'll be able to select which Campaign, Medium, Source, and Keyword your user came from. 
Once you hit Apply you will be able to see the estimate audience size. 
This strategy can be brilliant if you are looking to create a full circle paid media campaign. It also works if you are looking to test out new audiences. 
Some final bits of advice: 
Setting up a remarketing campaign shouldn't be a "set & forget" job. You should be testing, switching ad creatives, and reviewing audiences. 
Make sure your data is clean by excluding audiences from campaigns that are not relevant to them. If you are running a remarketing campaign to non-converters, make sure you exclude converters! (Seems simple, but you wouldn't believe how many times I have seen this happen). 
Keep an eye on frequency. Please don't bombard your users with ads ALL day, every day. You are just going to burn through those impressions, and your ads will have less of an impact. 
Watch those mobile clicks. Personally, I am not a fan of display remarketing on mobile. I have found there are so many clicks that are accidental that they just completely mess up the campaign stats and waste budget. Now, I am not saying completely remove mobile from your strategy, just keep a beady eye on those clicks!
I have outlined 5 remarketing strategies above, but I am keen to hear more, which ones have you tried?