Google is the leading search engine with over 40,000 search queries every second on average, which translates to over 3.5 billion searches per day. When consumers search for products online, Google shows sponsored ads above the organic search results. There are two types of sponsored ads for displaying the relevant products, namely Product Listing Ads, and Search Ads, among which Product Listing Ads are placed at the top and hence have the higher CTR (click through rate) which results in higher conversion rates.
All the popular e-commerce websites use this tool to advertise their products in the Google search results and their Google display network (GDN) partners. Merchants are required to upload their product data in the predefined format given by GMC (Google Merchant Center) to make them available in the Shopping Display Panel. While setting up and uploading product feed in the GMC account, many advertisers face errors and rejections. We have gathered the six most common errors and provided the fixes for them:
1. Rejection Due to Google Policies
Google has a restricted products policy which obstructs the promotion of products which are dangerous, harmful, restricted by the respective country's government, license required products, and trademarked products. They even have strict policies regarding claims, discounts, improper product description and they have stringent policies regarding size and dimension, and clean and white backgrounds. Most merchants will overlook such policies as they are used to selling the products described above.
Google Merchant Center policies
The Fix: Avoid adding products to the Google Merchant Center that violates such Google policies, and remember that geolocation can change the applicability of policies. Products like guns & ammo, firecrackers( India), liquor (India), etc., should strongly be avoided when adding products to the GMC. Merchants also fail to provide proper product description and also product images which again leads to policy violation leads to the same fate, so merchants should avoid adding a logo on images or vulgar image.
2. Irregular Product Price and Availability
Providing price and availability of products different than that of the actual price of the products will raise complications, if Google identifies any dissimilarities in the price of the product while doing their periodic check, then it will invoke an error. Adding a product in the GMC which is on sale, merchants change the actual price of the product instead of changing the sale price, raising an unwanted error in the Google Merchant Center.
Irregular Product price and availability
The Fix: To avoid this problem the user is supposed to make a separate sheet for the discounted products and make a fetch from this new sheet and once the discount is over, the user will again make a fetch from the original Google sheet. When there is a sale or promotion, the merchant should change the sale price and not the actual price of the product. Below are the 3 Fields which are required to be filled correctly when adding a sale price:
Sale Price

Sale Price Start Date

Sale Price End Date
There is another more effective and real-time price synchronized method for fetching product price and availability, and it is called automatic item updates. To utilize this feature, the merchants are required to add a structured data markup to the HTML of the product page. Structured data markup is a machine-readable representation of your product data.
3. No Google Categories or Wrong Category Names
Google Merchant Center has a finite number of product categories available for the products. While adding products to the feed if you provide no category or the wrong category name for your products, it will raise a GMC error. The product categories must always match the categories provided by the GMC.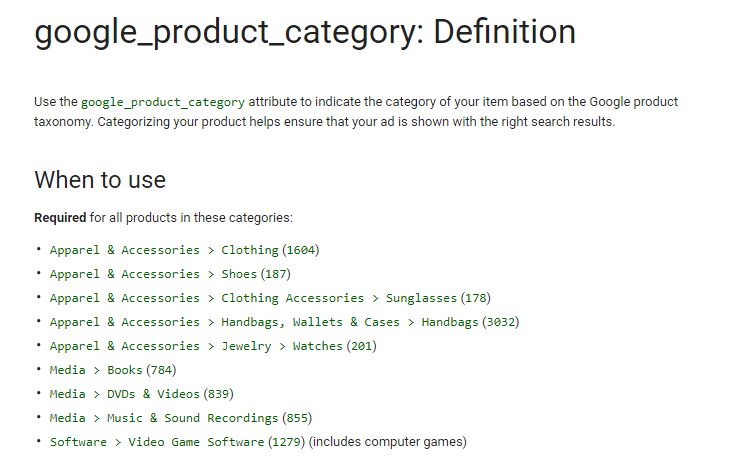 No Google categories or wrong category names
The Fix: Make sure to use Google's taxonomy while populating 'google product category' field. You will still be able to use your categories in 'product type.' If you are interested, you can find up-to-date Google categories list for the US. GMC appreciate the detailed information, hence the more detailed categories, the better. We suggest always to use the category code rather than manually entering breadcrumbs.
4. No Unique Identifiers or Incorrect Identifiers
Google Merchant Center requires the products to have a unique identifier, in the US and most of the other countries GTIN takes care of that. Merchants are required to provide GTIN for their products to a valid entry in the feed ( Find a GTIN). Non-custom-made products are needed to be provided with the brand name. MPN is usually used when GTIN is not applicable or required by some particular product.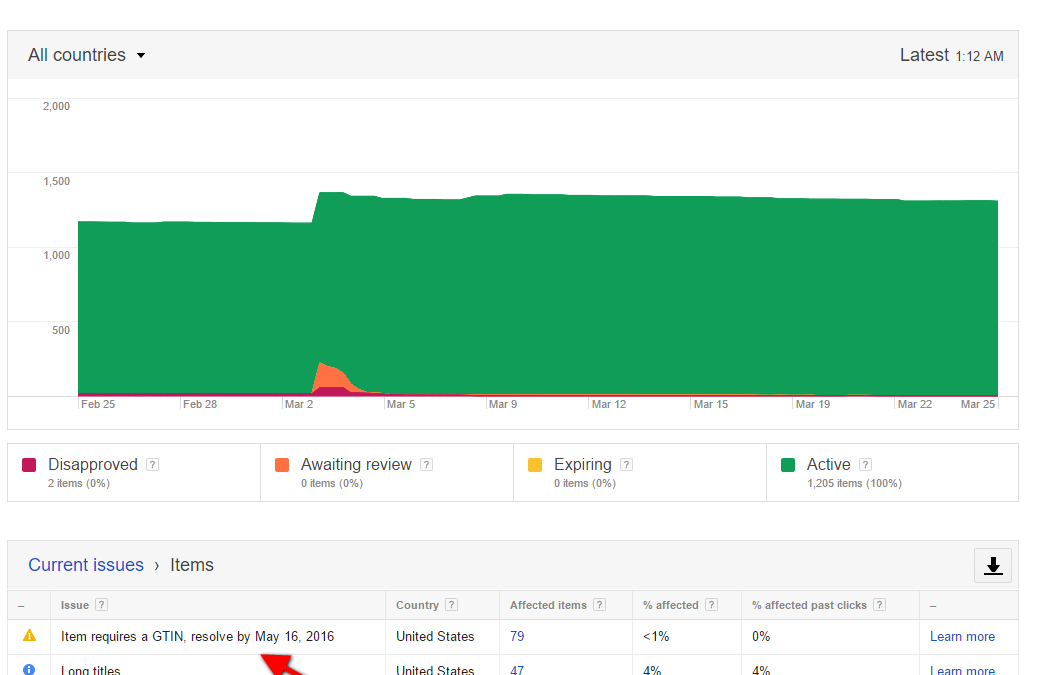 No unique identifiers or incorrect identifiers
The Fix: GTIN is the numerical version of the bar code available on the products. There are different names for the GTIN; it is called UPC in the US and EAN in Europe. It is a unique ID for products according to international standards. You can use ean-search.org to search for UPC, EAN, ISBN, etc. and for a non-categorized product, you will have to put identifier exists=false.
5. Improper Product Titles, Descriptions and Images
As mentioned above Google takes data very seriously and hence product title, description and images are essential, these attributes are used to match products with users' search queries. These attributes need to follow editorial guidelines, just like Google Adwords, you can target product on the keyword basis. In shopping ads, Google itself select the keywords to show your product in the search query. Google algorithm is mainly focused on product title and product description to show particulate products on the search queries. We always recommend to giving extra attention to the title, description, and image fields in merchant feed excel sheet.
Improper product titles, descriptions and Images
The Fix: Advertisers must follow the GMC editorial guidelines carefully and make sure that your titles and descriptions comply with them appropriately. You can spot various mistakes by just having a glance at your product page. Among those, the most common errors with these attributes are usage of BLOCK CAPITALS, including promotional texts and slags languages like "free shipping," long titles(not more than 60 characters), repetition of words in product description, avoid repetition of text in title and description,
Double-check 'image URLs' and proper product images before uploading in the merchant feed. Never have special characters in your image, name or any alternative text. Providing the most relevant images for your products will not only avoid error but also improve your product ranking.
6. Targeting Multiple Countries with Single Domain
Using same data feed for several countries leads to errors as each data feed is required to be localized (e.g., prices in the local currency, descriptions in the local language). Same applies to other relevant content on the product page.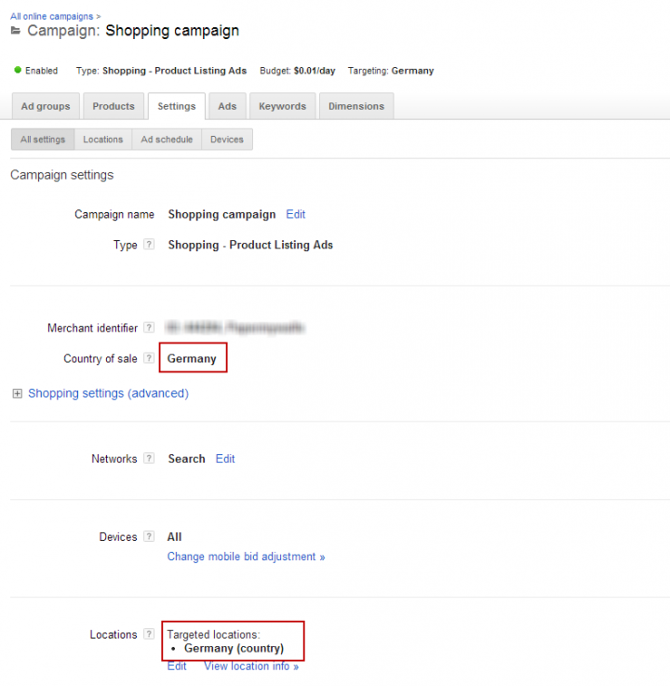 Targeting multiple countries with single domain
The Fix: One should never target multiple countries with a single domain/website; buy different domains and then target a different country with a different domain.
Only syncing your online store with the Google Merchant Center might not be enough to increase the conversion rate of your web store efficiently. To adequately increase your conversion rate and brand visibility on the internet, various online marketing tools and techniques are used. An online marketing company can provide the best utilization of these tools, and such companies will direct your sales curve upwards.