Although LinkedIn isn't nearly as popular as Twitter, Facebook, and Instagram, it's still one of the fastest growing social networks today. For marketers, there are plenty of opportunities to leverage LinkedIn for generating leads, brand lift, and referral traffic.
According to a study from Econsultancy, LinkedIn is the top source of referrals among social websites. When Econsultancy examined two million monthly hits across 60 corporate websites, they found that LinkedIn provided 64% of the social referrals, compared to just 17% from Facebook and 14% from Twitter.
Drive Traffic and Getting Featured on LinkedIn
One of the best ways to start driving in referral traffic is by publishing directly onto LinkedIn's platform via LinkedIn Pulse. This native content is publicly visible – even in organic search outside of the LinkedIn network. Algorithms monitor content engagement levels across LinkedIn and, if certain criteria are met, that content will be featured in one of the LinkedIn Pulse channels.
The trick is figuring out what it takes to get featured. While there's no checklist guaranteed to make that happen since LinkedIn Pulse articles are based on a variety of factors ranked by the algorithm (or an editor who loves the content), there are a few things you can do to give your content a push in the right direction.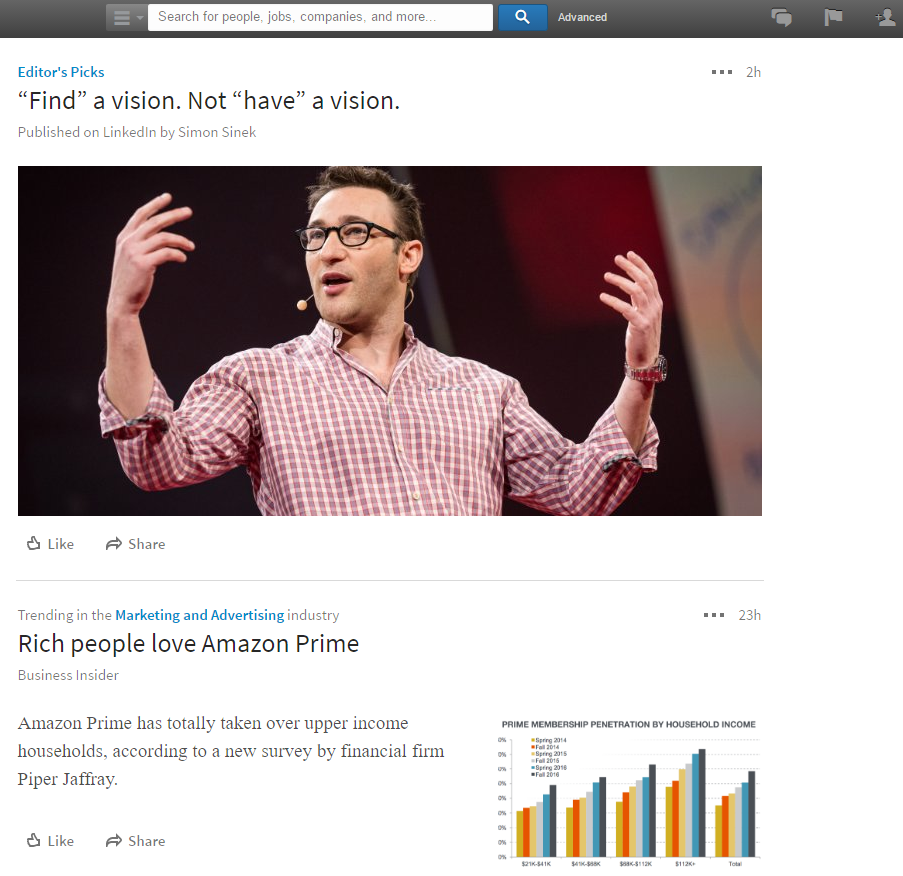 1. Align with Your Audience
It doesn't matter how great the content is; if it doesn't align with your audience's interests, then you're not going to get the results you're striving toward. For instance, you can't assume that e-commerce entrepreneurs are going to be interested just because your article involves e-commerce.
Dig deeper to find topics that really interest and inspire your audience in their work and industry. What areas do people seem to most likely to seek help and advice? A great way to do this is by looking at the niche you're writing about and researching related articles to determine which ones have the most engagement and interest, or were recently featured. These are good indicators of what people really want to see.
BuzzSumo is another great tool for discovering the most popular topics for a given industry, audience, and domain.
2. Fit the Content for the Channel
The featured articles in LinkedIn Pulse get featured within specific channels, and there are a lot of them. Some channels are more obscure with followers in the tens of thousands. The more popular channels have millions of followers.
If your goal is to get featured on LinkedIn Pulse, then you need to first identify which channel(s) you want to target. Review the types of content that get featured most frequently on that channel. When you ultimately sit down to write your article, you should write from a perspective that will appeal to your audience while best aligning with that specific channel. If your article doesn't fit both the audience and the channel, then you're far less likely to get featured on LinkedIn.
3. Follow LinkedIn's Editorial Calendar
LinkedIn is awesome enough to publicly share its editorial calendar, which provides insight into what topics thought leaders and senior executives will be writing about in the months ahead. You can greatly improve your odds of being featured in any given month by aligning your topics with the content theme for that month.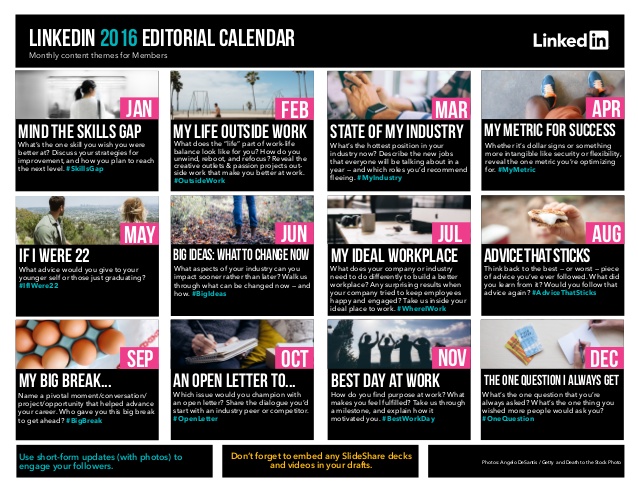 4. Write Superior Content
Writing for LinkedIn Pulse is content marketing, plain and simple. Take the same approach here that you would for writing for your audience in any other medium. This means you need to produce quality 10x content with serious value to stand out from the competition, because there are countless other professionals trying to get featured on LinkedIn Pulse as well.
When you select a topic, develop it as thoroughly as you possibly can. Write more comprehensive, long-form articles that others aren't willing to produce, like with Brian Dean's Skyscraper approach. Write the best article on a particular topic with a unique angle that audiences haven't seen before, and you'll see engagement soar.
5. Create a Human Connection
According to LinkedIn, 60% of users are interested in industry insights. This is a great opportunity to share your expertise in your industry and show off your authority. Marketers usually stumble with this approach when they write robotic content that's overloaded with statistics and data.
Data is fantastic, and people certainly want to know about statistical trends, but audiences also connect better with stories and human details. People search for content on LinkedIn because they want to be inspired, productive, and more successful in the workplace. Cater to this audience's preferences by sharing personal details, success stories, case studies, and personality. It'll make your content more relatable on an interpersonal level and boost your chances of success.
6. Publish at the Right Times
Just because you're active online at a particular time doesn't mean others necessarily are. Typical business hours have the largest reach on LinkedIn, and activity plummets in the evenings, late afternoons, and weekends.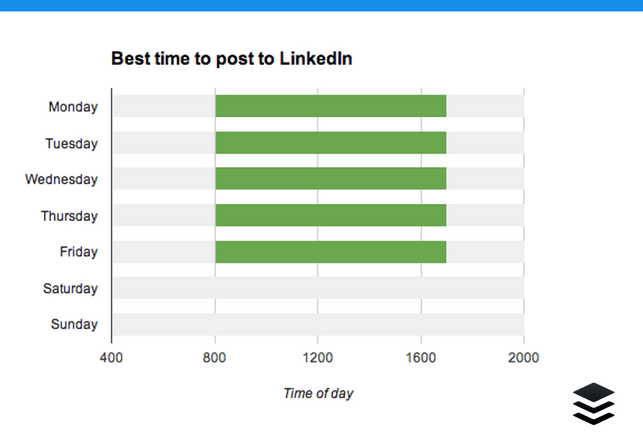 Post your content during peak times to ensure the greatest lift in engagement and visibility for your content. Higher numbers of likes, comments, and shares could trigger the algorithm to feature your content.
7. Post Often
The more you publish, the greater your chances will be to get featured on LinkedIn. I know this isn't necessarily easy to accomplish when you already have a loaded content schedule, so you might consider expanding your content team.
According to LinkedIn, posting 20 times per month can help you reach as much as 60% of your audience. A high volume of posts will also generate considerable brand lift and referral traffic to your site. While you're striving to get featured prominently on LinkedIn Pulse, you're also feeding your sales funnel – so be sure to post often.
Conclusion
Like all things in content marketing, there's no surefire strategy for success. However, following these guidelines while creating and publishing content will dramatically improve your odds of getting your content featured on your targeted LinkedIn Pulse channels.
Do you publish content on LinkedIn or have you tried to in the past? How effective was it for generating traffic to your site? Share your results with me in the comments below: