Black Friday has gone from a US-only phenomenon to a part of the global lexicon in just a few short years. The most critical shopping day before the holidays, last year's ultimate consumer spending tournament was affected by the ongoing global pandemic in interesting ways.
While 2019's sales saw a record high, with $7.4bn in online shopping, it was nothing compared to 2020. Consumers spent $9 billion on the web the day after Thanksgiving, up 21.6% year over year.
Will 2021 eclipse this milestone? Are we heading towards the first $10bn+ Black Friday? And how can brands align with consumer needs to maximize their potential?
We analyzed the most prominent ecommerce websites and most popular searches globally and took a closer look at top Amazon products too so that you can better understand what 2021's "epic shopfest" holds and prepare effectively for it.
Black Friday 2021: Waning Pandemic Effect?
While the global pandemic led to more searches in 2020 for "Black Friday" and "Buy Online" than ever before, this year, the results are surprising:
"Buy online" searches decreased by almost 55%, which not only negates the meteoric growth seen last year but brings search volume down to pre-2018 levels;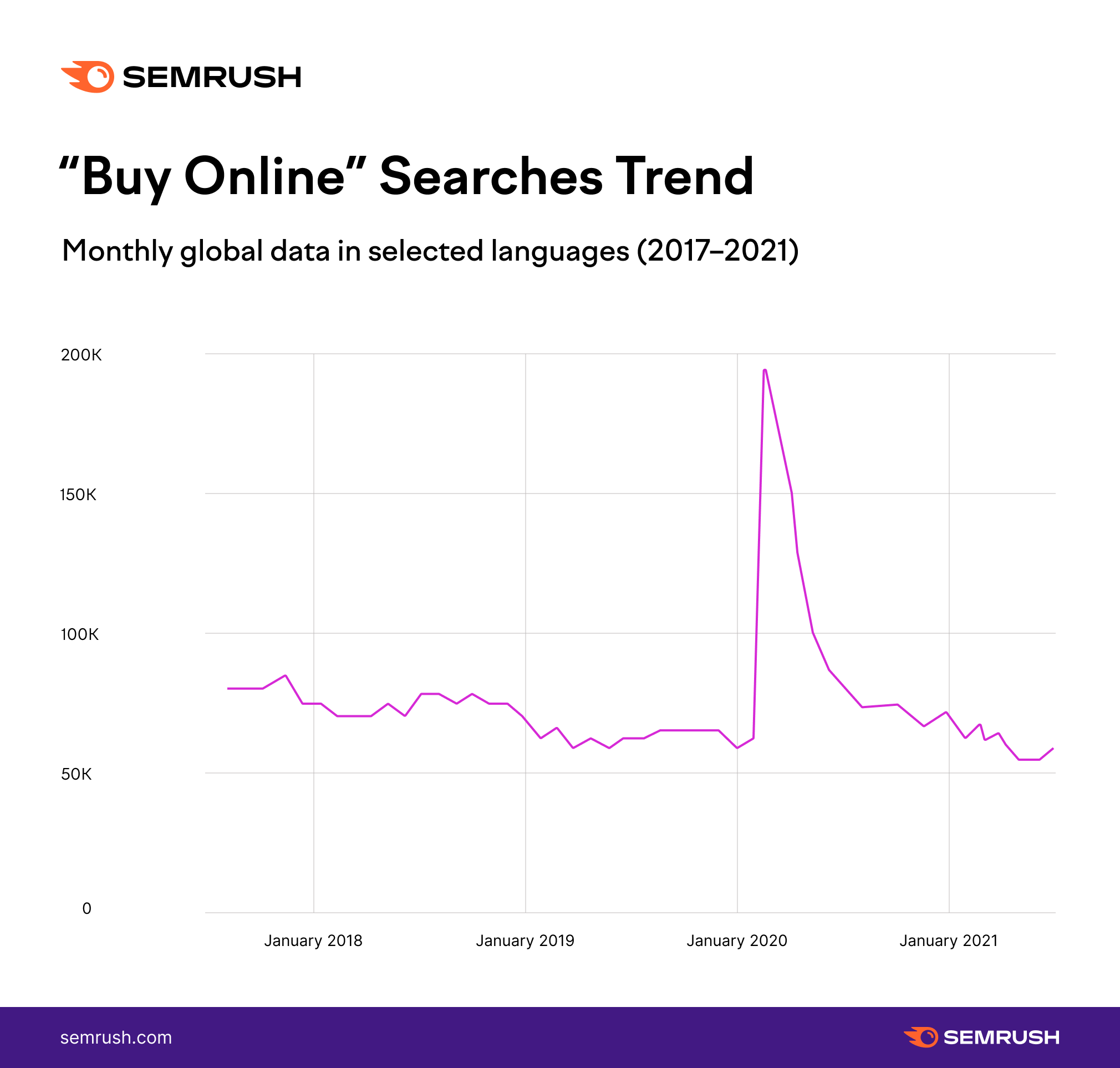 Search volume for "Black Friday" in November 2020 is similarly now lower than it was in 2018 and is almost half that of 2019;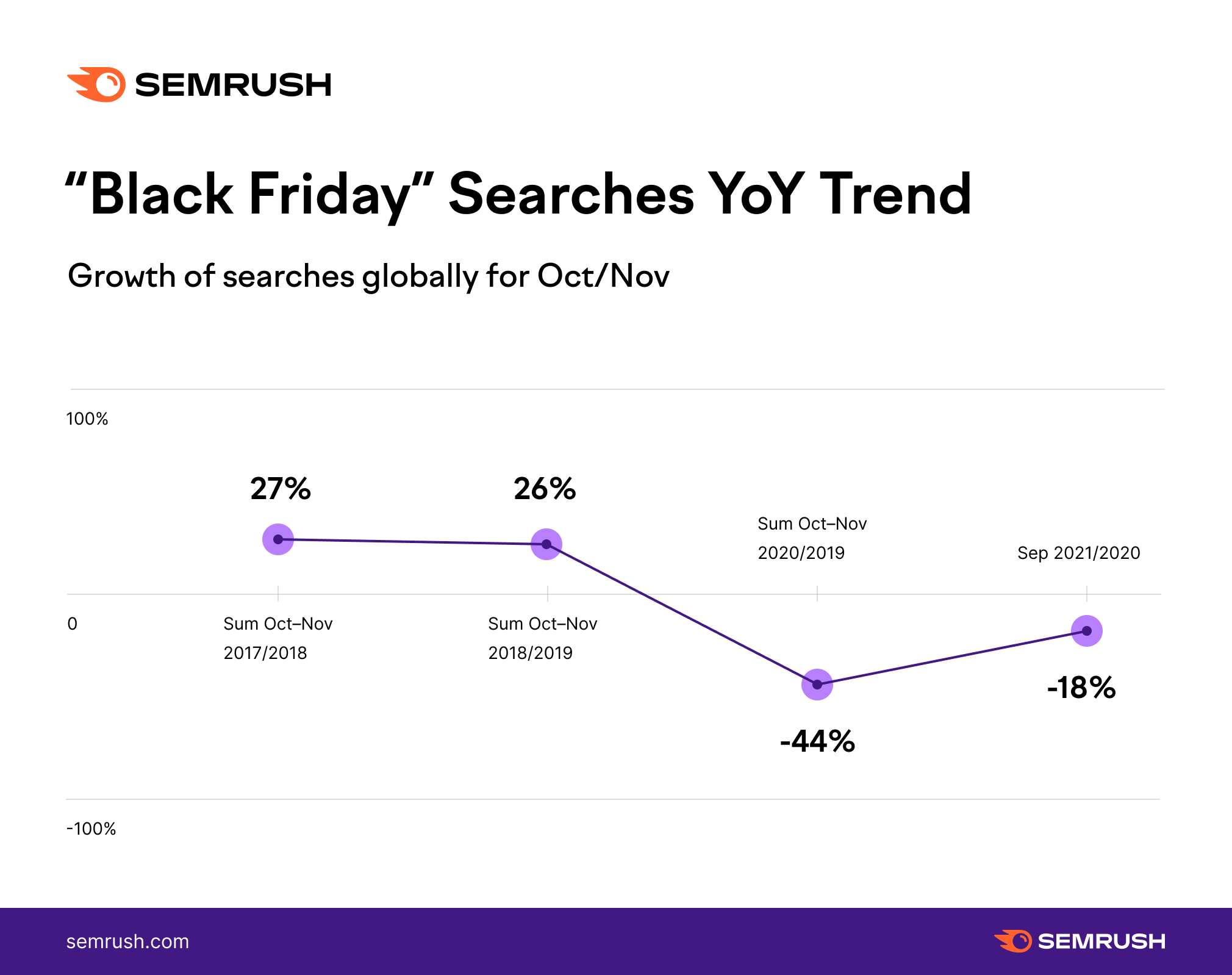 Given the unprecedented online sales last year, what does this mean, and is search volume a relevant metric? 
Last Black Friday saw 514 million visits to ecommerce sites, which is 9.02% higher than Black Friday 2019. Visits in 2020 (the key metric) are up more than 50% year over year. And all this despite lower searches for the term itself.
To put it another way, Black Friday 2021 will probably see the most visits ever. But the question is not how many visits Black Friday has but what kind of Black Friday it will be.
Last year saw a massive influx of consumers buying online for the first time. It is fair to suggest that many of those will be searching for terms such as "buy online" and "Black Friday" to discover online deals to replace the brick-and-mortar experience they're used to. 
However, for seasoned online consumers, those two search terms will hold less interest. Regular web consumers already know which sites to visit and have their favorites. They are more likely to be swayed by emails and push notifications from their preferred retailers showing them relevant deals without searching for them.
The result? Fewer searches, but a savvier consumer combined with increasingly more targeted and better marketing means a considerable increase in sales.
So while search volume no longer accurately reflects sales, other, more real-world issues could see a more tempered Black Friday total this year.
Due to the pandemic, supply chain difficulties have caused delays or shortages of items (including the ever-popular toys that typically top the charts every year). This year, retailers will not only have to sell over an extended period, which they did last year, they will also need to be thoughtful regarding what product lines they discount and how long it will take to restock.
And while supply chain issues will hit brick-and-mortar stores the most, online retailers will undoubtedly be affected. Don't expect as many sizes, colors, styles, and product variations as you might be used to. 
However, there is one more topic that will have a positive impact on sales this Black Friday. Mental health.
Some retailers have sent out campaigns telling their customers to skip the shops and stay home with the family instead. There has been a significant increase in brands being aware of — and marketing around — mental health issues. Now, you could argue that in some instances, these campaigns are more a case of "blueswashing" — virtue signaling to look like a caring company, yet doing it for selfish reasons. 
For example, if stores close on Black Friday, it potentially reduces all costs associated with keeping a store open. The request for consumers to stay at home for their mental health may be motivated by the retailer wanting to increase online sales instead.
Either way, many brands have struck the right balance and tone with mental health, and we welcome their efforts to advocate for healthy coping mechanisms, regardless of the motivation.
What's Hot This Year?
So if consumers aren't searching for products with "Black Friday" included in the search, what are they searching for?
The Sony PlayStation 5 (PS5) leads with over 18m searches between January and September 2021. However, it holds the top spot by a mere 1m searches, with the iPhone 11 and 12 equal second place.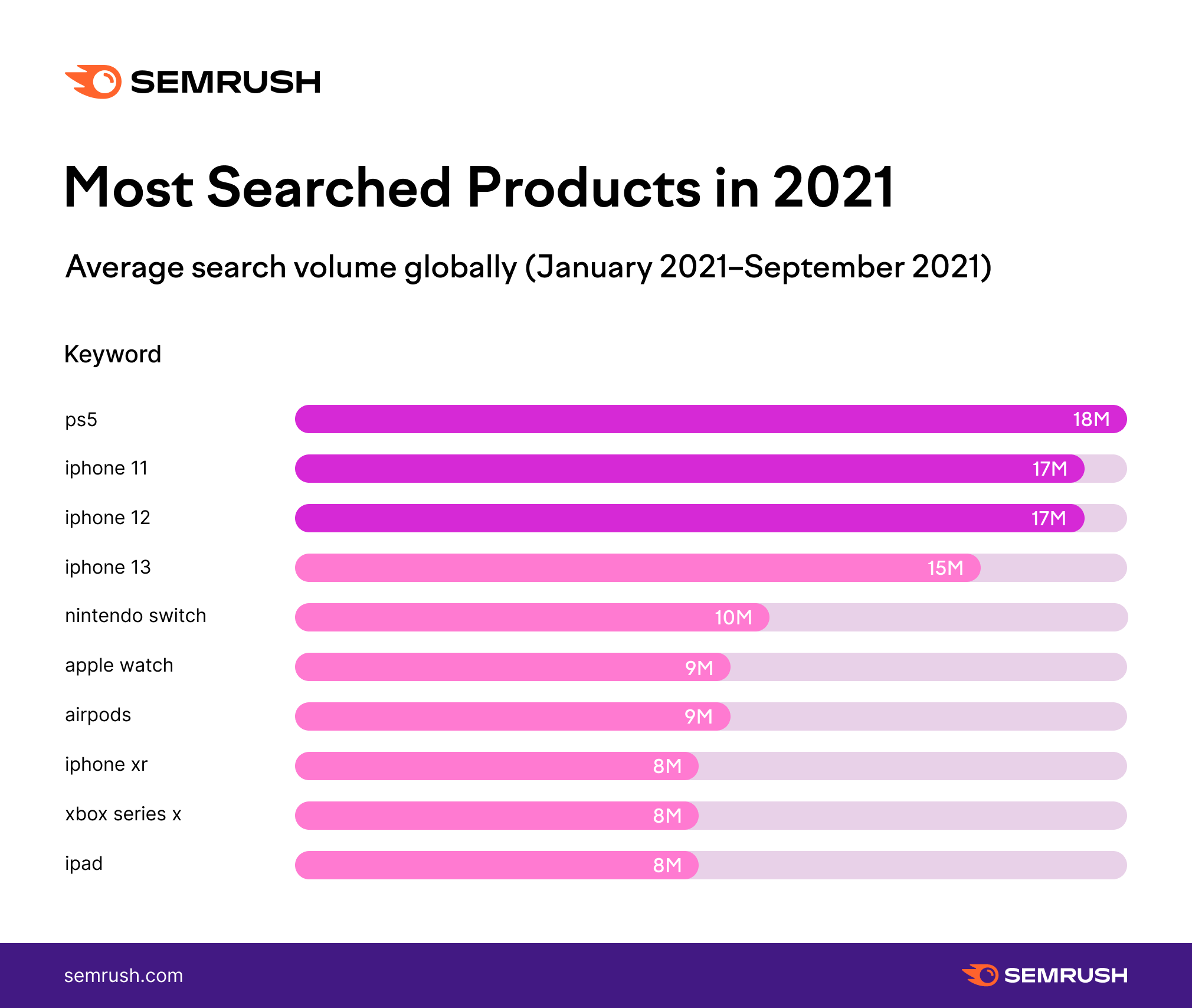 When we look at the different categories of products, you might expect games consoles to lead. In fact, that term (or any derivative) doesn't feature, likely because in the console world, it's a three-way battle between the PS5, Xbox Series X, and Nintendo Switch. Searching for one of those three will be more effective than searching for the entire category, given they share the whole market without much alternative competition. 
Picking up the gold medal in category searches, however, is the humble laptop. The number two spot is an indicator that the world is opening up again. "Flights" racked up over 61m searches across the last 12 months as people returned to traveling. It is also fair to state that airlines market more aggressively towards Black Friday, influencing the results.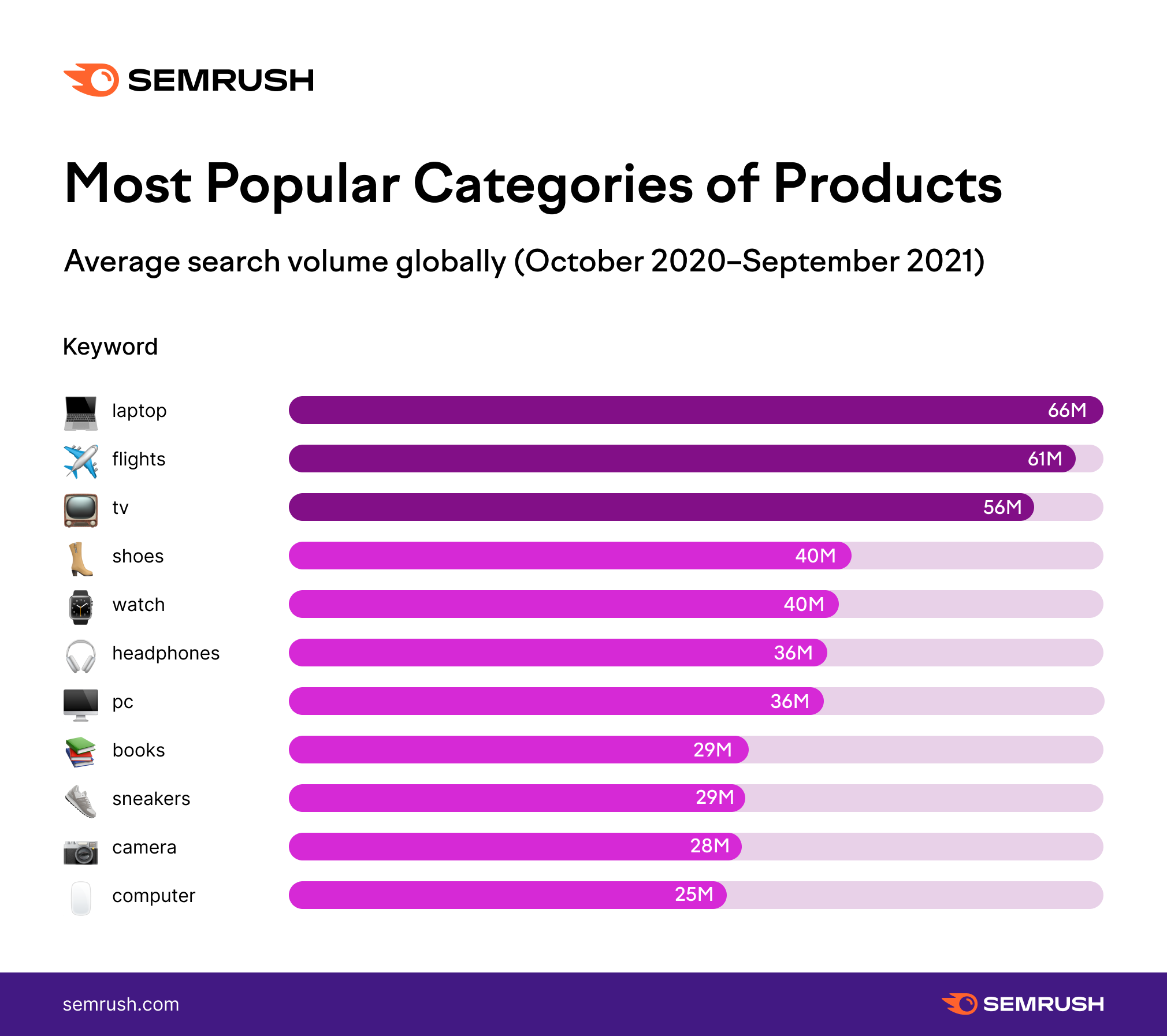 Amazon continues to dominate the most popular retailer list. With four times the search volume of the next contender — eBay. This is not surprising. According to the "Amazon Advertising Report" from the online selling platform Jungle Scout, 74% of U.S. consumers begin their product searches on the Amazon.com site.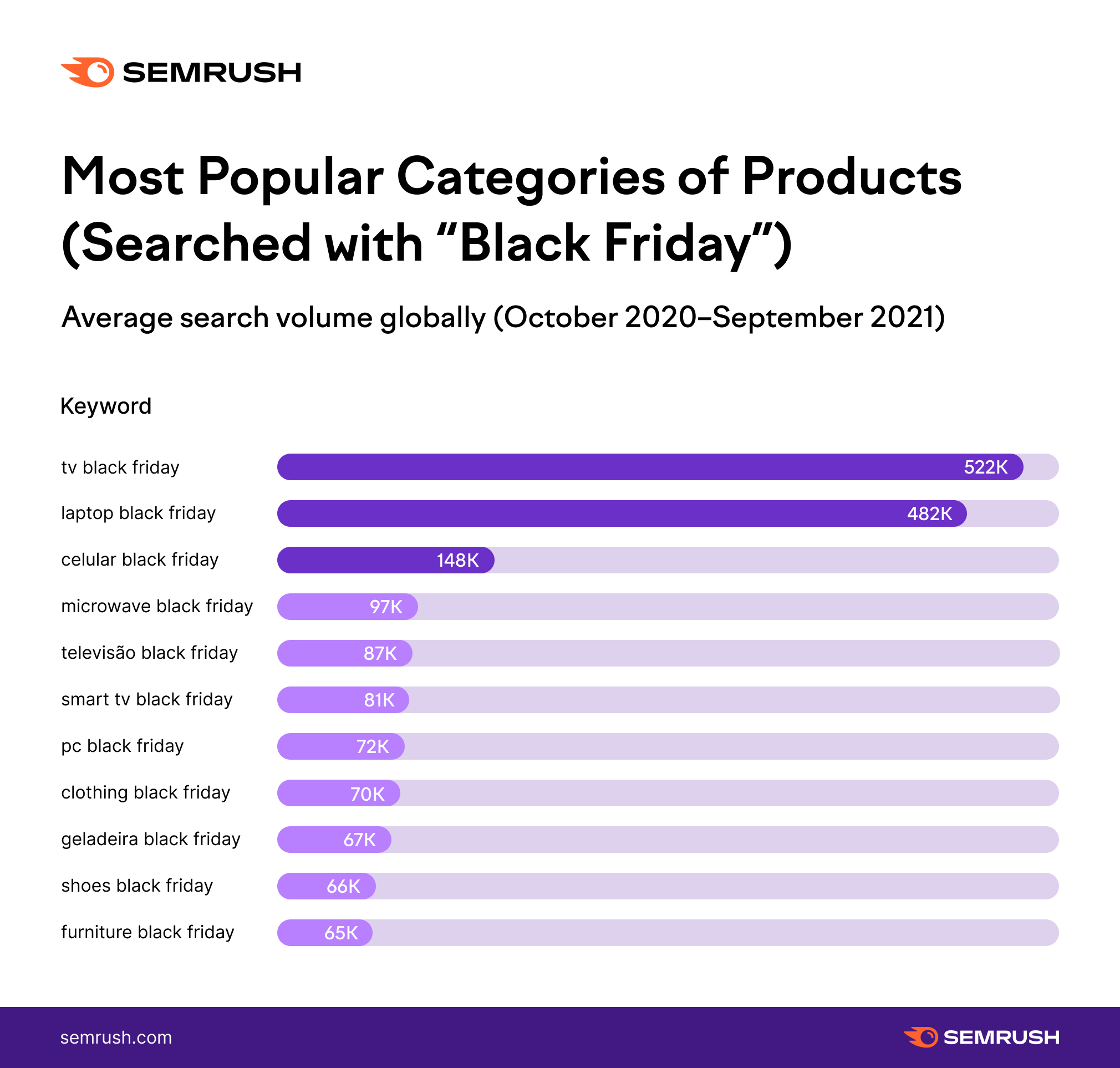 And when it comes to brands, Nike and H&M are the runaway winners. Eight of the top twelve brands are in the apparel industry, which has seen a surge in sales and other benefits such as massive reductions in dead stock. In short, people are shedding their loungewear for fashion as restrictions lift.
Of course, while that's good news for the apparel industry, there's always yang to the yin.
Black Friday sales have an uncertain but very probable toxic effect on the environment. Black Friday's constant pressure to get customers to buy more drives up the number of products sold. Many of these products are either cheaply manufactured or manufactured in countries with lax environmental standards or, for some products, both. This creates numerous problems.
Products that are cheaply manufactured are often made with chemicals and other materials that can be harmful to humans and animals when they are disposed of improperly. While not singling out the apparel industry in particular, and given the leading brands' highly verbal commitments to the environment, the issue shouldn't be kept in the closet. We'll go into more detail on sustainability later, however.
When it comes to Black Friday, you expect retailers to put their best deals forward, but that doesn't stop consumers from looking for extra bonuses through coupon sites. SlickDeals leads the way, with Rakuten a close second, but the search volume for all vouchers sites is comparatively low. However, compared to last year, experience voucher sites like Groupon and Wowcher are seeing a comeback.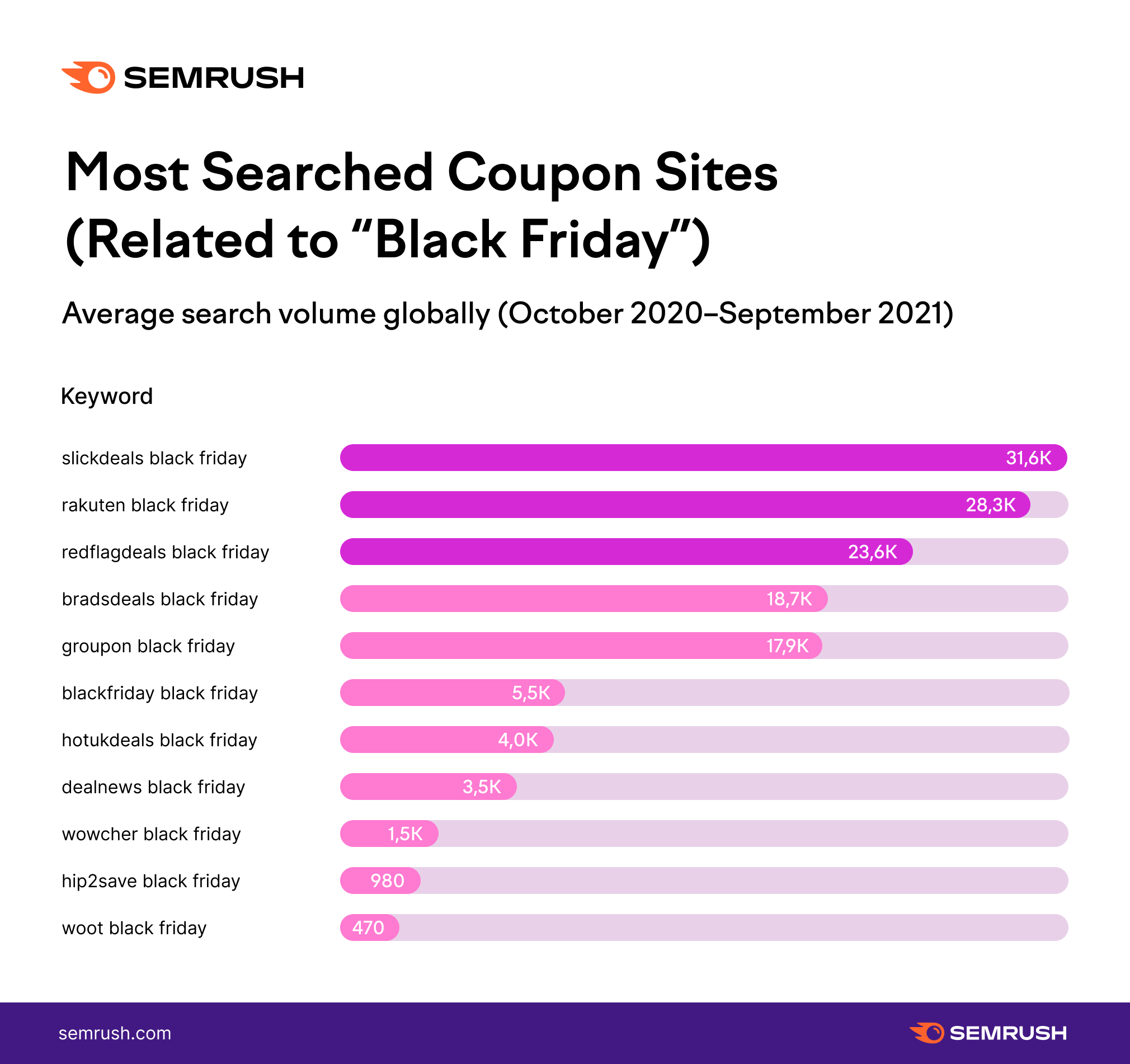 Rounding out the winners and almost winners of this year's Black Friday bonanza, we turn our attention to the new products on offer. It's a close race between the iPhone 13 and the PS5, but Apple just pips Sony to the post.
Sony has had plenty of success with their PlayStation 5 console, which was released earlier in November. The PS5 has been very popular, but like many products, has been plagued with supply issues. It's the same story with the iPhone 13, which is not expected to meet demand until February 2022. That, combined with a shortage of chips that has caused Apple to adjust its production forecast by as much as 10 million units, caused the Cupertino behemoth's share prices to fall.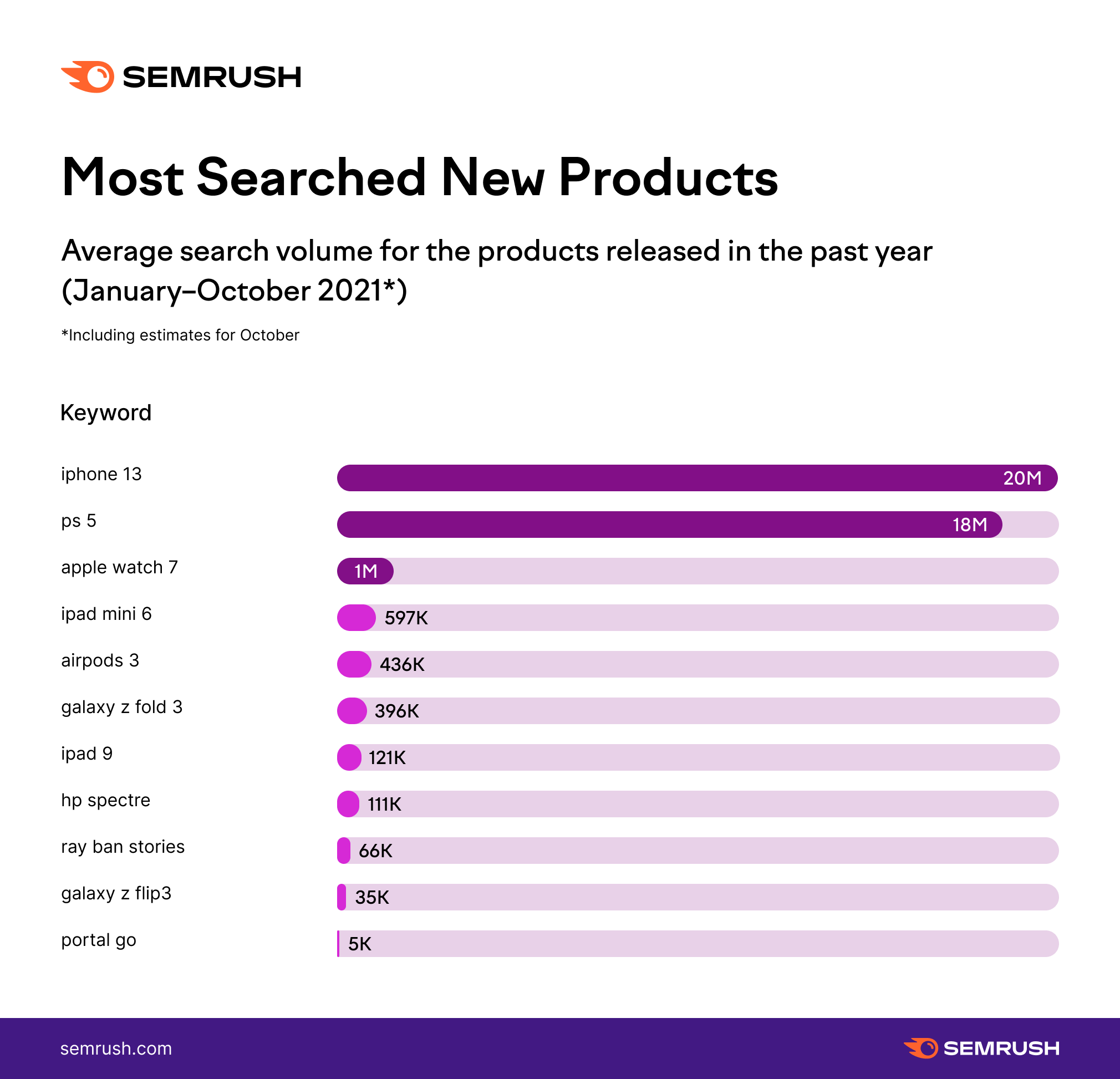 Amazon Is Queen and King, but Walmart Is Making Moves
When consumers do search for "Black Friday," they often add a little extra to really hone their results. As with last year, the two leading additions are Walmart and Amazon. Best Buy, Target, and Nintendo Switch also feature in the top 10.
So why does Walmart beat out Amazon, even though Amazon's online sales are 6X that of Walmart's? Despite Walmart's best efforts to woo consumers to download its app, Amazon is leaps and bounds ahead. In October 2021, consumers in the US downloaded the Amazon Shopping app over 1.7m times compared to Walmart's 566k. And with the dominance mentioned above in first product searches, it's clear that most of Amazon's business is conducted away from the all-seeing eye of Google.
So, consumers will search for Walmart more than Amazon because Amazon's customers either go direct to the site or use the app.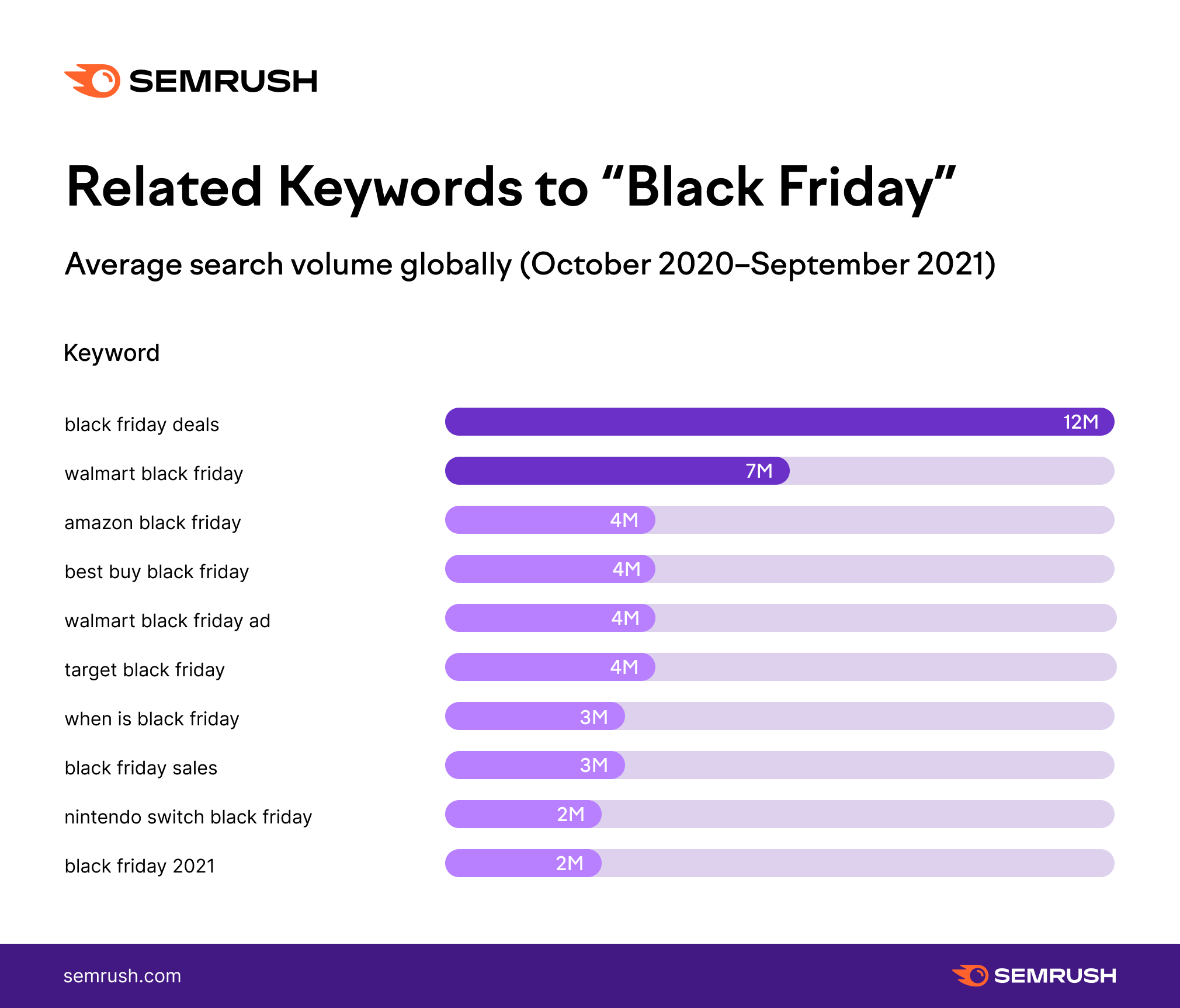 Speaking of Amazon, we found some interesting trends when digging into the data using apps for Amazon in the Ecommerce collection of AppCenter. 
The tools—Keyword Wizard, Traffic Insights, Product Research, PPC Optimizer, Listing Quality Check, and Listing Protection—offer significant potential for all Amazon merchants, regardless of size. And what do we find when we look at the most searched products?
The latest iPhone? No. Laptops? Also no. Right at the top, there is an Apple connection, but it's not a phone. It's a case for the iPhone 11. While the PS5 does make an appearance in third place, consumers are primarily searching for smaller items such as earbuds, BlueTooth headphones, and — interestingly — the Pop It toy.
The Pop It is a specialized fidget toy that you can customize with a variety of different attachments. You can hang it from your wrist or neck and use one of the four fidgets to help reduce stress, anxiety, boredom, and more! Resembling a colorful block of bubble wrap, each side of this product offers a different way to pop away the day. It is also a terrific therapeutic product for children who have ADHD and Autism.t. 
While there are many theories that make this so popular, videos appearing of the Pop It on Tik Tok, YouTube, and Instagram — especially one of a capuchin monkey in North Carolina playing with it — pushed it into the hearts and minds of kids and adults alike
Estimates suggest that there are 500 million to 1 billion in circulation, and as with fidget spinners, they are easy to copy and produce. Some analysts suggest that 99.9% are not licensed from the original creators (who created the incredibly popular Guess Who? game, if you ever get that question in your local pub quiz).
In new product searches, as opposed to all products, a familiar pattern emerges. Now that you've got your iPhone 13, you want to protect it, so the top three searches are for cases, screen protectors, and other accessories for Apple's flagship smartphone.
But, there's still some random joy to be had here. A set of curling irons makes it to 4th place, and a gaming monitor features heavily. Why? Once again, we need to look to YouTube and other video sites. The lesson? Suppose you produce or sell a product that goes viral at the hands of hundreds of thousands of micro-influencers and simultaneously appeals to the target audience of those platforms (in the case of TikTok, for example, 60% of users are between the ages of 16–24) you're sitting on a goldmine.
The last lesson from Sellzone is a perennial one. If there's a big event happening, take advantage. Postponed a year due to the pandemic and contested in September 2021, the Ryder Cup saw golf enthusiasts in the US clambering for hats so they could cheer on Steve Stricker and his team to eventual success.
Save the Planet? Maybe
In last year's look at Black Friday trends, one subject saw a vast increase in interest: Sustainable products.
We've identified a significant increase in sustainable product interest every year since the 2017/2018 Black Friday deep dive. So, how much interest is there in saving the planet this year? Unfortunately, not much. After a 200–380% year-on-year increase in sustainable product searches in 2018 and 72–210% in 2019, the last two years have seen a significant drop in interest.
How much of a decline? Year-on-year growth for 2020/2021 is negative for the first time in four years.
Again, we have to be objective about this. It could be that the consumer has become so savvy that people don't need to search explicitly for terms such as "sustainable shopping" and "eco-friendly shopping" these days. After all, if you know more about a subject, you don't need to educate yourself on it.
And the emergence of specialized shopping engines, designed to showcase only sustainable products — such as EarthHero, which sees around 200–300k unique visitors a month — and browser plugins like DoneGood, have made searching for sustainable shopping keywords somewhat redundant. However, on the downside, consumers will still be looking for Black Friday deals on the special day even if those products aren't necessarily good for the environment, and that's something for the retail industry to deal with collectively.
Organic searches are well and good, but we all know that since the inception of the social media feed algorithm, getting your product in front of consumer eyeballs sometimes requires paid ads.
Of a total of $1.16 billion in ad spend, which categories are taking the lion's share of SEM marketers' budgets? While "general" retail will likely always be the number one in that list, we see another pandemic effect in the other top positions. We've already discussed the boost seen in the apparel industry, which has spent over $217 million on ads. Different home-based categories such as gaming, electronics, digital products, and food fill the following few slots.
Sport — which has seen a rise in home gym equipment — and home & garden have both enjoyed a boost in marketing funds, as those in charge of ad spend to attempt to capitalize on anything that might appeal to those either stuck at home but that want to stay fit, or others that are learning new skills, such as the culinary arts.
The lesson here is not revolutionary. Whenever there is an event, whether thrust upon us without warning or is predictable by nature, retail marketers should always think carefully about which of their products truly suit the situation.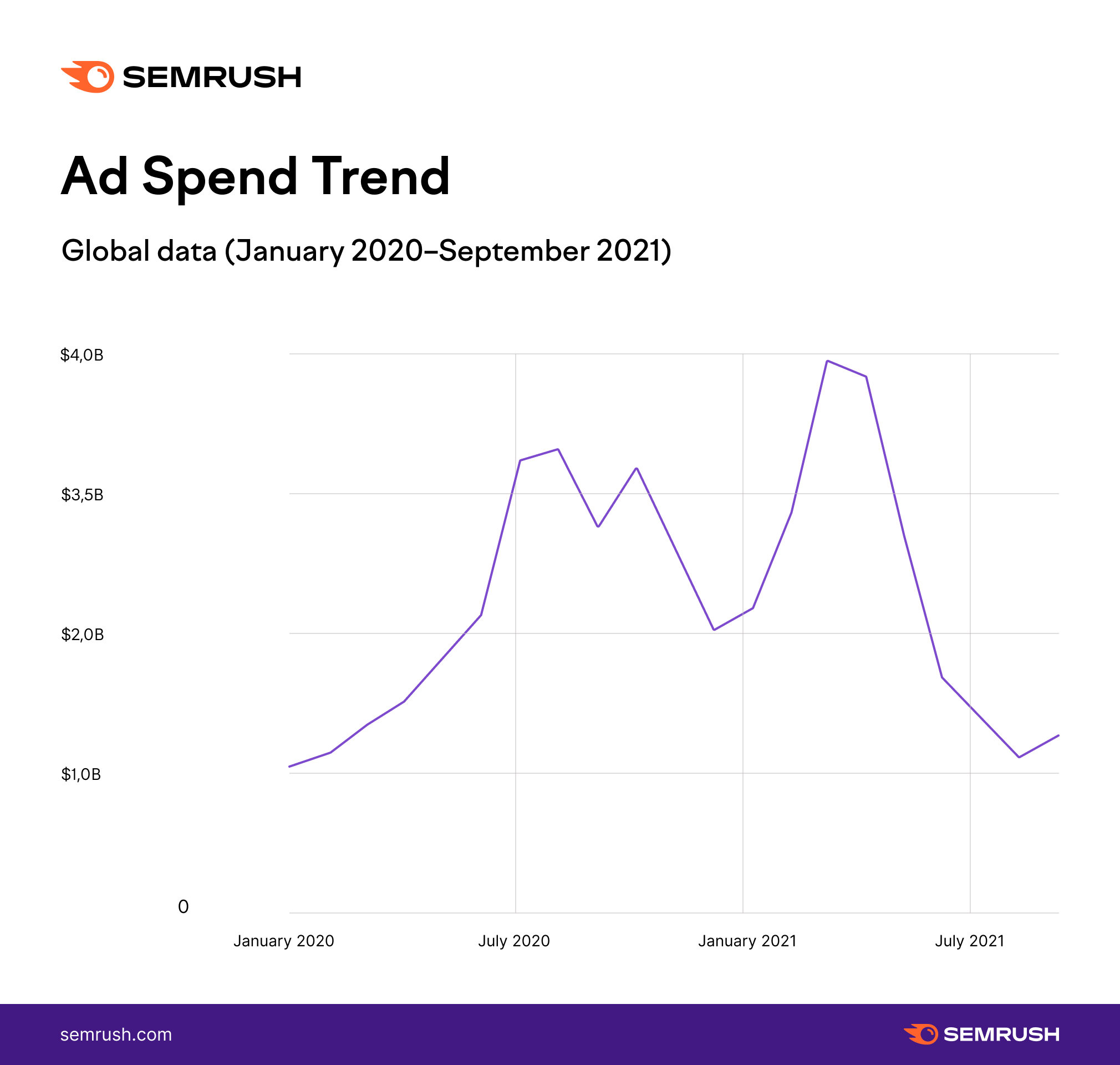 Expanding on our analysis, we took the top five domains in each category for the US and collected Google Ads data for Sep-Nov 2020. We found the following.
26.8% of ads covering electronics mentioned Black Friday specifically. 21.2% of fashion ads did the same. But, after that, marketers using Black Friday in their Google Ads drop off a metaphorical cliff. Whether it's pets, flowers and gifts, home, kids, or any other category, mentioning our favorite shopping day in the ad happens less than 5.5% of the time.
The suggestion here is that using Black Friday in other categories simply doesn't move the needle. Marketers are good at running tests and keeping what works. Adding "Black Friday" to an ad may increase competition, which is a futile exercise. But, for those categories we've already identified as hot properties — like consumer electronics and apparel — not including it could be the difference between being seen and remaining invisible. 
Of course, Black Friday may have started as a US phenomenon. Still, other countries have adopted it with enthusiasm, despite not having the heady combination of payday and the Thanksgiving holiday.
In looking at searches for Black Friday across the globe, we can see that searches for "when is Black Friday" and "what day is Black Friday" in Portuguese are significant. And while Portugal may be the birthplace of the beautiful Portuguese language, it is the Brazilians that are searching for deals "em massa."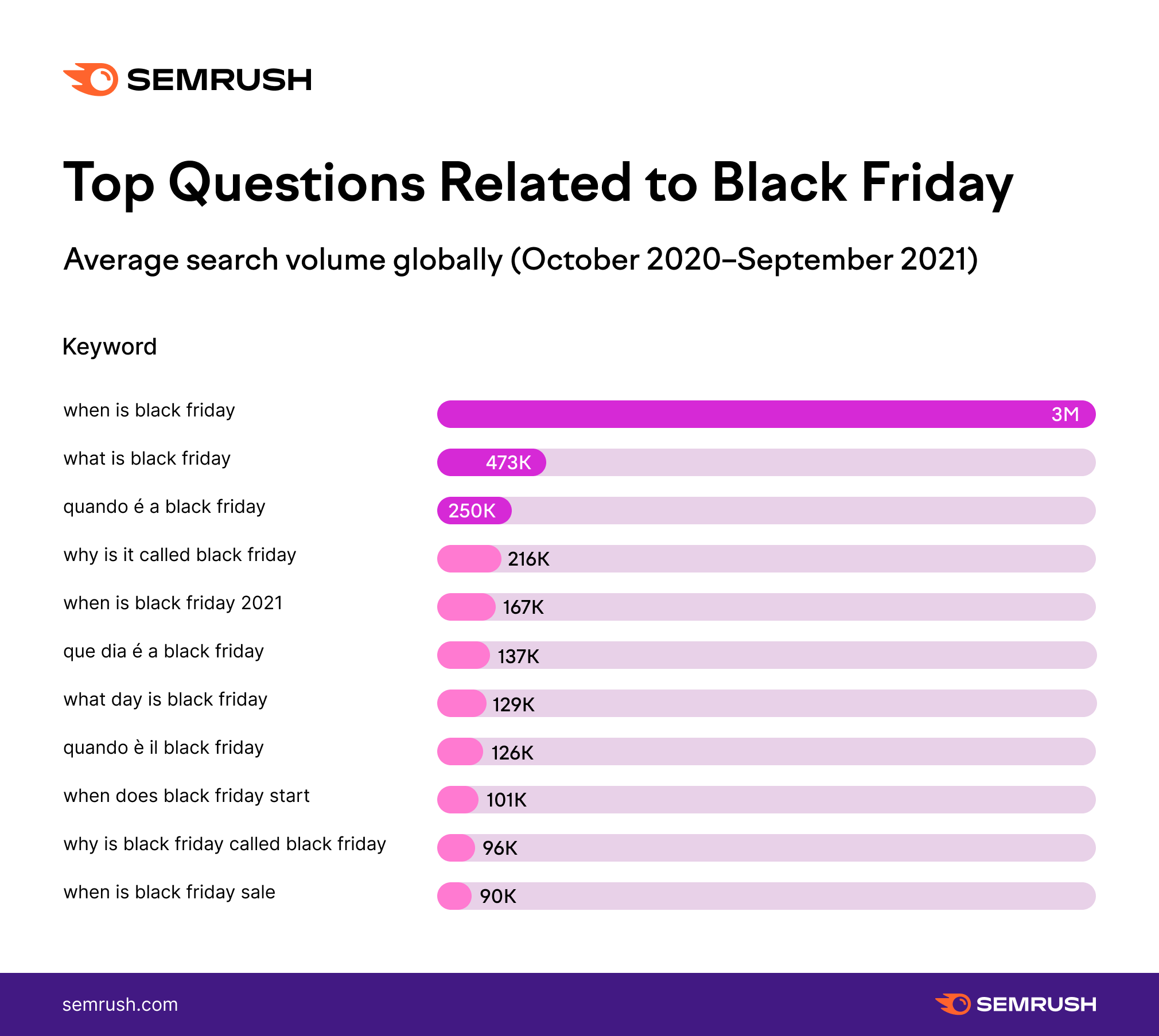 If we look at the top countries per capita, the Nordics come out on top, with searches per 10k population showing heightened interest from Finland, Sweden, Denmark, and Norway. But, looking at search volume without adjustments for population, Brazil leads the way by a distance, with almost 8 million searches — more than 2X that of France with 3.3 million searches. Brazilian interest in the highly US-focused shopping event is as strong as it was last year. Is it time for you to invest in a multilingual ecommerce platform and social ads, with an emphasis on prioritizing Portuguese? The data says "sim."
Before and After the Pandemic (Wishful Thinking)
Let's be honest. We can't claim, just yet, to be in a PP (post-pandemic) world. Depending on which country you're in, you may have just re-entered lockdown (with sympathy for our Latvian friends), and it looks like we won't get back to normal (whatever that is) for some time.
But we can take a look at traffic trends between March 2020 to last year's Black Friday and the period from December 2020 once the sales were over until August 2021. And what do we find?
As noted elsewhere, the emphasis on digital products, apparel, electronics, and gaming is clear. But there's an exciting trend that we can explain through knowledge of psychology and understanding human nature.
During the pandemic, and since the last Black Friday, there is almost no difference. None. Zip. Zero. Nada.
Why? The global pandemic caused a massive shift in consumer behavior and in how we live our lives. It was fast. It caused immediate changes, and since humans are programmed to survive against adversity, we adapted quickly. 
But once those adaptions set in and were shared with the general populace via social media, articles, videos, and the mainstream media, we've established new habits. Humans are adaptable, and when faced with a "must-do" situation, we're remarkably good at fast changes. Still, now that we don't have another critical event to deal with, we're happy to continue as is, regardless of whether we have to or not.
What does this mean for marketers? Unless there's another critical event soon, it's going to take a considerable amount of time for people to get anywhere near their former habits, which means that you shouldn't rush to return to your former marketing strategies either. Pandemic or not, the way we live our lives and the purchasing decisions we make now are set in stone and will continue for years.
That being said, there are a few changes that the pandemic thrust upon us of note.
When it comes to being isolated with your loved one, there's only so much entertainment that you can garner from a TV, smartphone, games console, or other electronic devices. Which explains why the top 10 searches in that category include "maternity clothes," "prenatal vitamins," and "morning sickness remedies."
That's right. You've been keeping yourself busy during the lockdown, and a baby boom appears to be on the way.
For those that weren't locked down with a significant other, the data doesn't lie. To help you get through those lonely nights, you've been searching for "body pillows" (with a particular niche of anime and hentai body pillows featuring heavily — the otaku in Japan will be proud). Whatever helps you cope is cool with us. 
By the way, please do buy Fido or Tigger something new to play with. Almost every search in the pets category is for food. Dog food. Cat food. Every kind of food. Keeping your four-legged friends (other numbers of legs are available) happy by keeping their stomachs full has been your only genuine concern. There isn't a pet toy in the top 100 search terms. Make of that what you will, but we're calling for more pet playthings for your extended family members.
Black Friday Winners (There Are No Losers)
Who is on top when it comes to traffic as we head unflinchingly towards the big day? If ever there was an indicator of which retail giant will do the most business, traffic to the site is as substantial a signal as any.
It won't surprise you, in the slightest, to see Amazon ruling the roost. What may raise an eyebrow is that Amazon enjoys almost half the traffic of the other ten retailers in our research put together. Only raised one eyebrow? Get ready to look truly surprised by elevating the other. Despite the retail Godzilla's extreme dominance in the sector, it still grew its traffic by 61%. That's impressive and will keep Jeff Bezos in new space exploration rockets for years to come.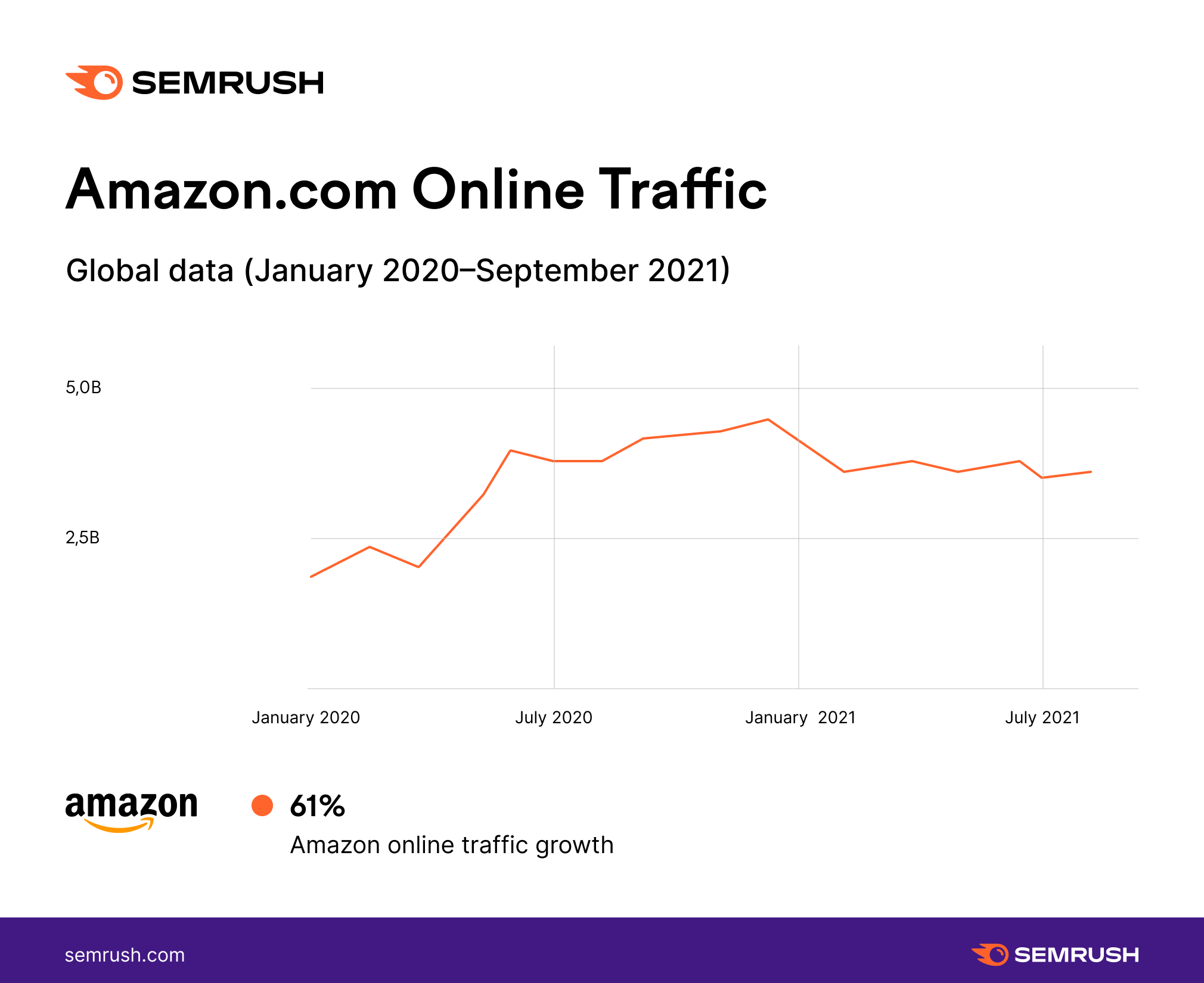 But who else managed stellar results or incredible growth? Of the retailers that garnered the highest traffic, it isn't a brick-and-mortar outfit that took second place at all, but our old friend eBay. That's right — it seems that when it comes to buying our favorite products on the internet, we're erring towards the individuals and smaller resellers that fill the digital halls of eBay than we are to the likes of Walmart, Target, and Costco. 
Of note, AliExpress — the online retail service based in China and owned by the Alibaba Group — may have dropped slightly in traffic, but it still holds the number four spot. Mercado Libre — an online shopping and auction site — has benefited from Brazil's interest in ecommerce and Black Friday, seeing an almost 27% growth in traffic. The site services Spanish and Portuguese-speaking markets in South America.
Flipkart, which services India predominantly, has seen significant growth (almost 67%) and is doing better than Costco for traffic. That is, in equal parts, a surprise, and not. Costco may be famous for its members-only bulk buys, so it is not a natural fit for the average consumer, but with revenues 32X bigger than Flipkart, you would expect it to garner more visits.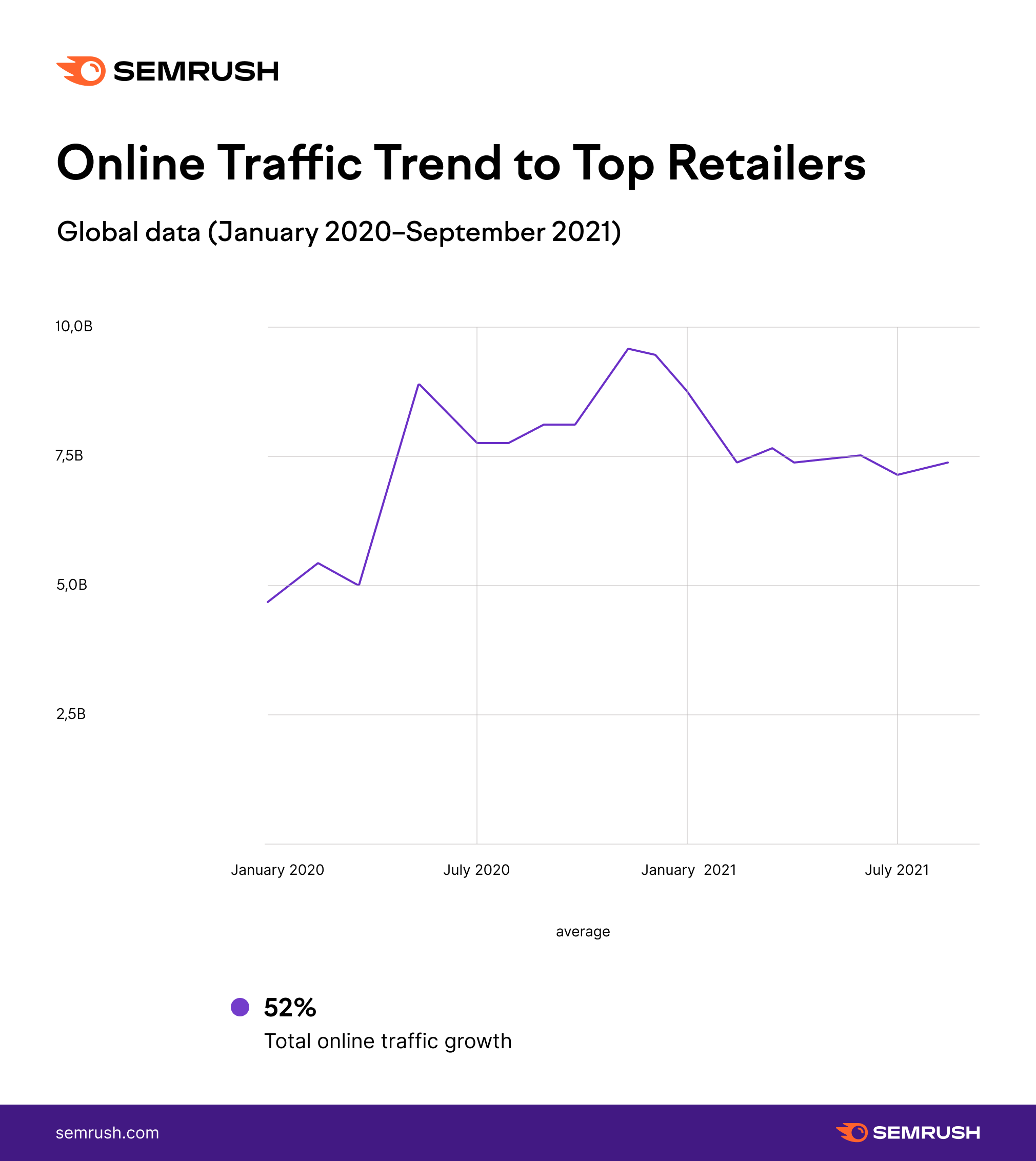 The Short-Form Generation Needs Your Attention
Across the board, except for the gaming category — which flips the trend — consumers use their mobile devices for shopping, and by quite the majority. On average, 70.5% of shopping activity happens on a small screen. The device that is undoubtedly the most influential invention since the inception of money (or possibly language) is an extension of our arms. It is never more than two meters away (so forget about social distancing with your Android or iOS device), and the vast majority of adults check their device within seconds of waking up.
Gaming is the only exception to that rule, where the tables are entirely turned. Most likely driven by PC gamers, it just doesn't make sense to stop using the device you're gaming on to pick up a smaller device for shopping, so 62% of consumers use a desktop/laptop machine for ecommerce instead.
And while an average of 30.8% of consumers in our deep dive sit in the 24–34 age range, almost 17% are between 18 and 24. Nearly 53% of those are female, and we know from several studies over the last five years that women influence around 85% of all purchases. How does that all add up? 
Given the majority of the Tik Tok user base (reminder; 60% of TikTokers are between the ages of 16–24), and the fact that the bulk of Instagram users are between 18–34 (with a relatively even split of men and women), there's an obvious lesson for marketers of any product that fits that age and gender target — use short-form video now.
While "influencers" is becoming a much-derided term, the fact is that if you have something to sell to women between the ages of 18–34, sending products to Tik Tok users that have a good following is a great way to promote your brand, and increase sales. Take a look, for example, at the growth of Shein.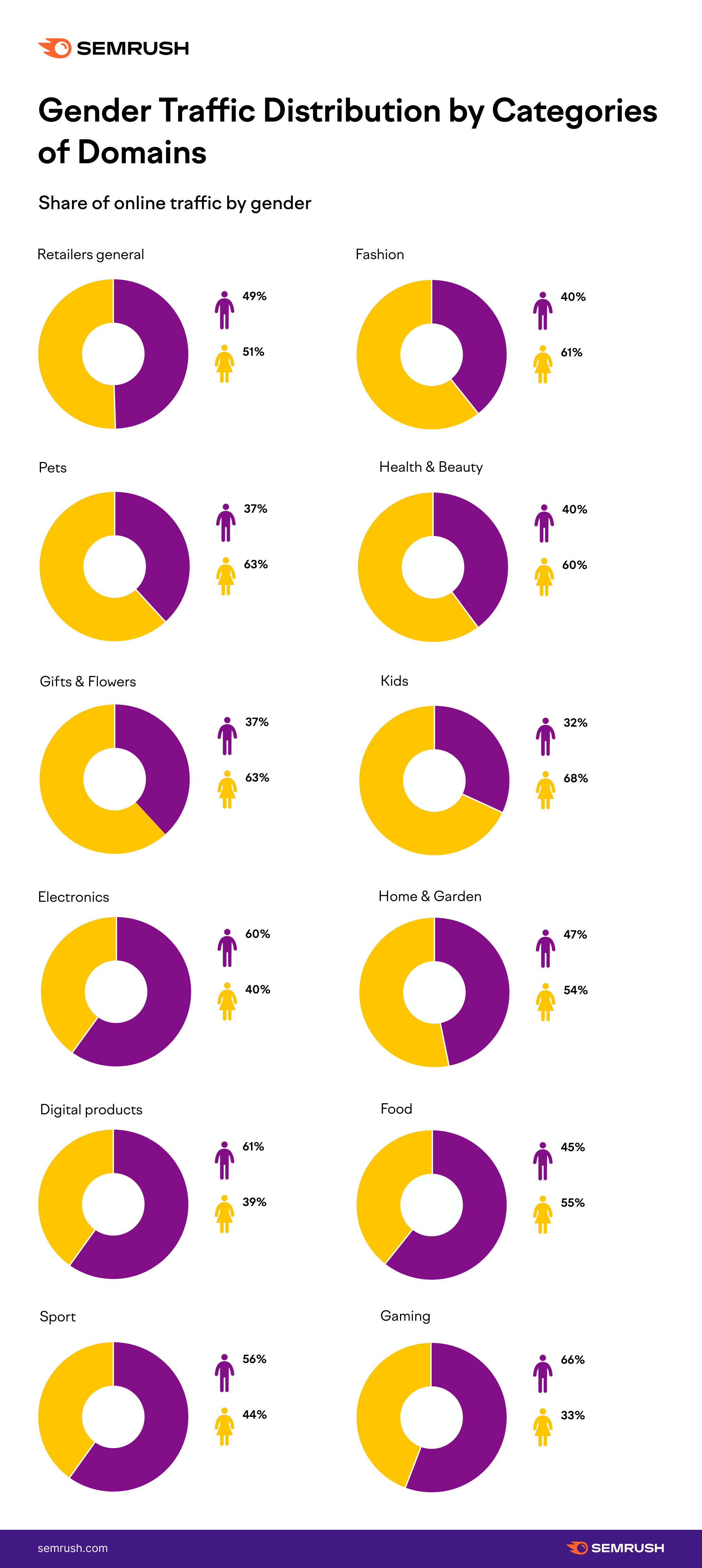 A Chinese online fast-fashion retailer, Shein was founded in 2008 by Chris Xu in Nanjing. While Chinese, Shein ships to 220 countries, with the US serving as its largest market. In June 2021, Shein overtook Amazon on the iOS App Store for the first time to become the leading US shopping app, a title it now holds in over 50 countries.
And what lies behind its meteoric rise? While it has collaborated on campaigns with musicians such as Katy Perry, Nick Jonas, Lil Nas X, and Tinashe, it is arguably the TikTok micro-influencers that have had more impact. At the time of writing, #shein videos on the addictive short-form video platform have gained a cumulative 16.4 billion views. Yep, you read that right. 16.4 BILLION. For a retailer that seemingly came out of nowhere, has no physical stores (and therefore incredibly high profits), and started like many Chinese ecommerce businesses as a distributor for other company's clothing products, Shein is a beacon of leveraging the short-form generation and winning big: to the tune of $10 billion in 2020.
Black Friday, and Every Other Day Too
So what have we learned from this year's study?
Consumer trends are going to stay as they are for some time, even post-pandemic. Digital products, electronics, and apparel will be the most robust retail categories. Marketers can target many items in those areas at the right consumers through short-form video and micro-influencers. And while the global COVID-19 crisis requires you to think carefully about which products you target for attention, don't forget to leverage other events for the best effect. Consumers are savvier than ever, so be careful about whether using "Black Friday" in your SEO and SEM efforts is worthwhile, and if you ship to Brazil, ensure your store speaks Portuguese.
Black Friday is fast becoming the online equivalent of a sofa retailer in the UK — every month, without fail, there's an "everything must go" sale. That will bring with it a level of consumer fatigue, so be thoughtful about extending discounts for too long.
And when it comes to predictions, here's one we'll either live and die by. If the data we've taken great pains to gather shows us anything, 2021 will be another record in Black Friday revenues. The only question left is this: did you take advantage?
Leveraging Marketing Opportunities around Black Friday (and Other Big Shopping Days)
When some of the key Black Friday 2021 trends are clear, brands should arm themselves with an action plan to get their campaigns started and win a share of customer attention. 
With the holiday season around the corner, we want to show how brands can leverage opportunities to take advantage of big online shopping days:
Think like your target customer 
To gain the upper hand when every other brand has a competitive deal, try to understand the specific needs of your target audience.
With its 20-billion-strong keyword database, Keyword Overview can uncover the products and brands that are most frequently searched for by online shoppers. And now, a new search intent filter allows you to immediately see the intent (or intents) of any keyword as you research keywords & domains, and track positions.
Just like any other keyword research metric, search intent gives you another perspective on your audience. Simply enter the list of products offered at your ecommerce store to gain insights into the ones that are attracting some extra attention from online users: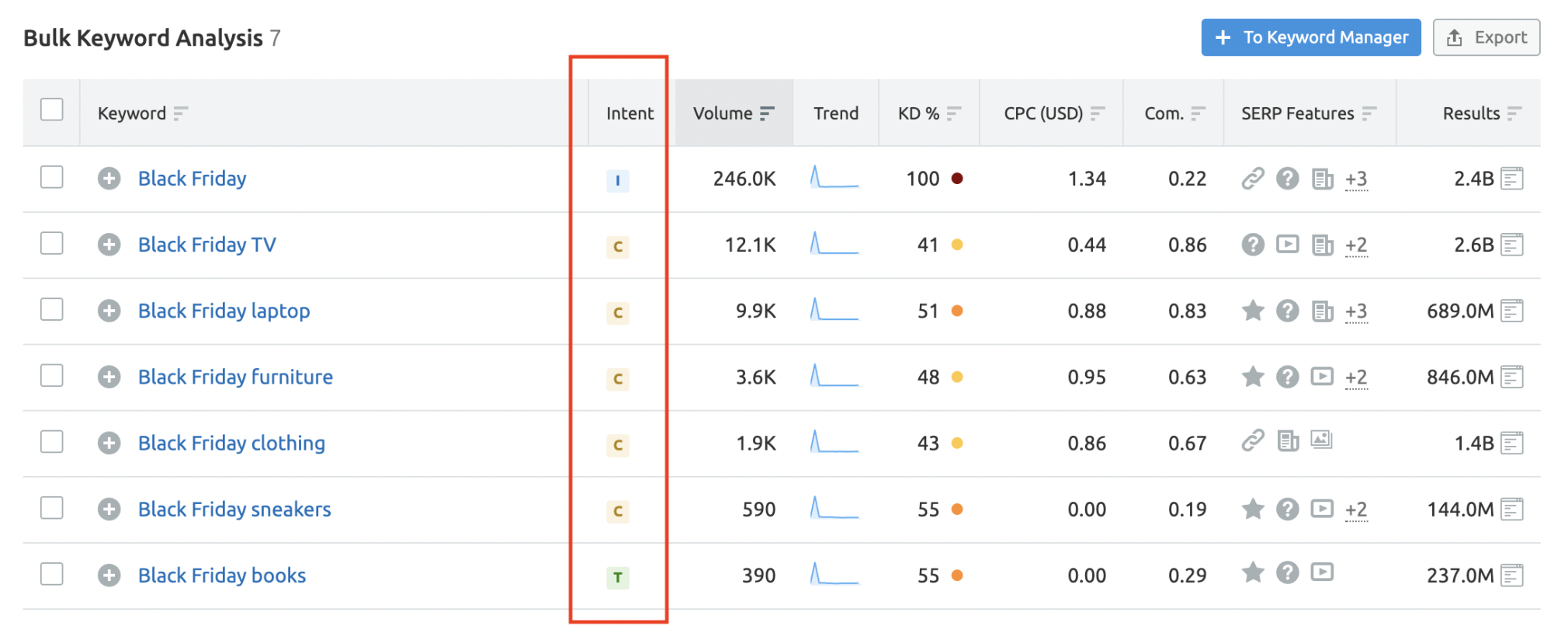 Compare your keywords by CPC and search volume to handpick products with the highest search volume and lowest CPC — this way, you can focus your SEO and advertising efforts on the most appropriate keywords. When it comes to lower volume keywords, lower competition keywords, and local keywords in less-populated countries and regions, Keyword Difficulty (KD) is a metric that tells you how much SEO effort it might take to plan out your campaigns and set priorities. 
Looking for keywords with low KD% scores will help you find long-tail keywords and low-hanging fruit for your campaigns. The higher the percentage is, the harder the competition will be, and the more work you will need to do before seeing results.
Turn your content into the key traffic-driver
Having picked your keywords, the next step for standing out during the holiday season is to craft content that meets the needs of both users and search engines.
Use Topic Research to uncover the most popular topics and most engaging headlines so you can hone your content ideas to such needs: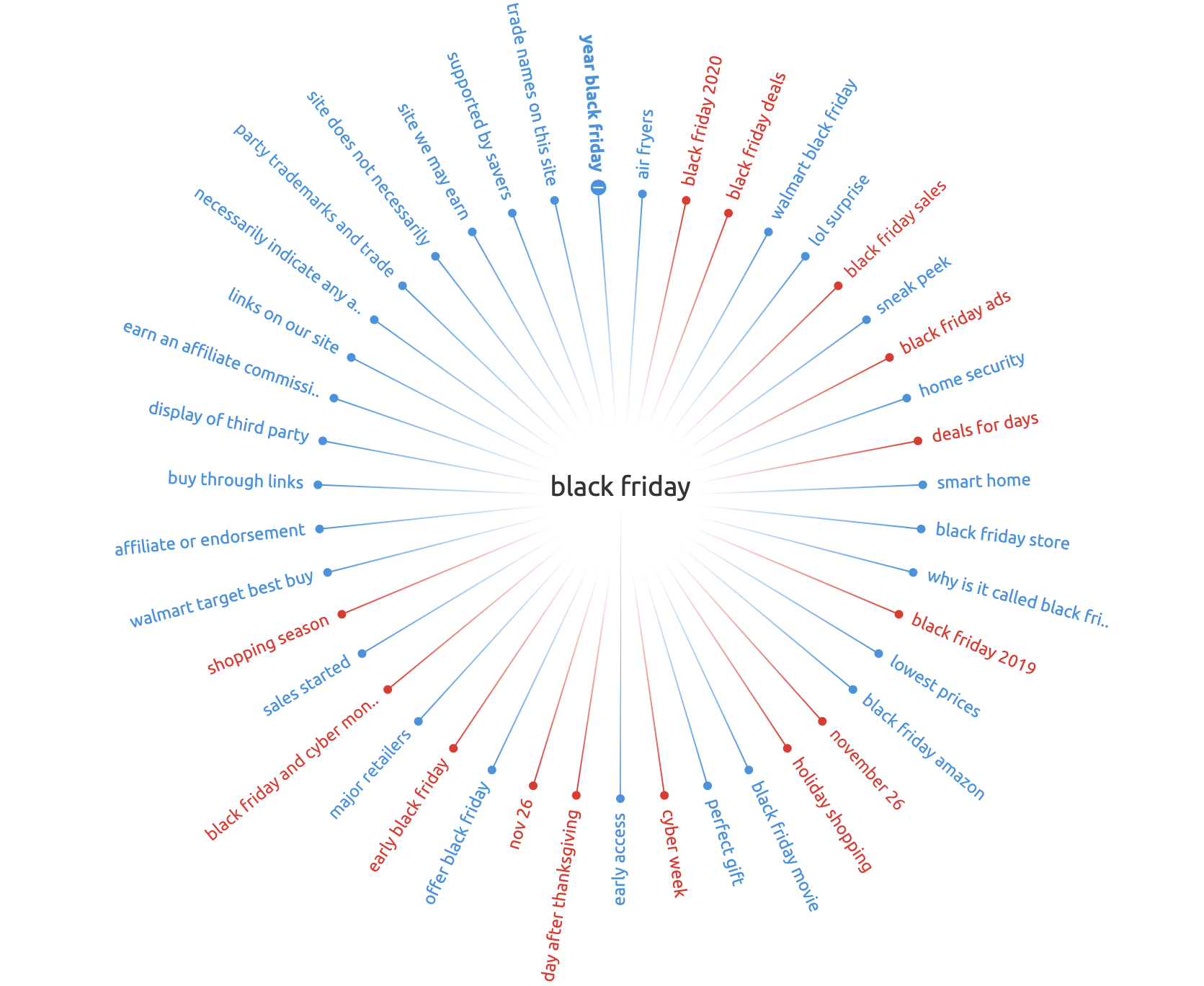 Once the ideation and content creation part is covered, run your text through the SEO Writing Assistant to ensure it is as optimized as possible (the tool is powered by SEO insights from top content related to your target keyword, so its results can be invaluable).
Embrace the power of voice search 
Voice search is still full of untapped potential and can offer excellent alternative opportunities to overcrowded 'traditional' traffic channels.
The how-tos from our latest voice search study can help you tap into the expanding voice market now — after all, it's only going to get bigger, better, and more competitive.
Learn more about effective marketing strategies for ecommerce to make the most of the biggest shopping days on the calendar today.