Each day, whether you notice it or not, you use various brands, services and companies.
You wake up and brush your teeth. What brand of toothpaste did you use? Was it Crest, Colgate or a store brand?
No matter which brand you selected, you chose it for a reason, which is usually because you trusted it. Yes, there are plenty of factors, such as price, quantity and much more. But the main reason is quality.
The brand you choose gives you results day in and day out, but imagine this: one day you hear a rumored bad review about your brand. You see it and think the review could be false. The review could have been placed to sway your opinion and choose a new brand. Now, you are unsure if you should continue to use it.
In light of this possibility, business owners should constantly monitor their online reputation.
Anyone, at any time can post bad reviews about their company. For business owners, this can be taken personally. Their business is essentially their child. They want to protect it and watch it grow into everything they imagined from Day One. To be productive about the situation, they should immediately take action. There is no time to be upset because there is a solution!
Whether your company has received a five-star review or the worst review you could ever imagine, just respond. By responding, you are showing you care about your client. You want to fix the issue and make good on your part.
By not responding to one bad review, you can completely diminish the brand you built in seconds. These reviews are public. Here is an example and five ways you can respond:
Example: A client is angry because his or her washer machine stopped working. Right away the client blasts a bad review on the company's Facebook page. What can you do here?
Be sincere and human. Your clientele will see this as a positive motion and will start to calm them down. You never want the client to feel inconvenienced.
Truly read what the bad review says. You want to make sure you respond fully to each point. If you leave something out, this may upset the client. You want to solve his or her issue.
Reach out to the client by first responding directly under the bad review. Ask them for contact information to understand more about the issue. Opening a dialogue will help form better communication.
Never respond back in a harsh tone. Retaliating will only make the situation worse. Remember, these reviews are public for all prospective and current clients to see. Take a minute to think before you react.
If you completed all of the above, next, ask your current satisfied clients to leave reviews. People tend to leave bad reviews more than good reviews. They want their issue solved and this is a fast way to handle it. Those who are happy are likely to just enjoy and not take the extra step. This is where you come in and ask for a helping hand. If you feel you clients are more likely to leave a review if given an incentive, offer one! For an example, "If we receive a review on our Google+ page within the month, we will give you 15 percent off your next purchase." This creates a win-win situation!
Responding is the top priority in this situation. When a prospective client is researching your product or services by simply Googling your company's name, they will be populated with social media sites and review websites. From here, they will see what people have to say and how you reacted. Your customer service experience has now gone public. If a bad review is on your site, this is your opportunity to show the public how great of a company you truly are. Fix the problem and make your client happy.
Recently at the digital agency I work for, a competitor left a fake review on our Google+ Local page. After researching who left the review, we were able to figure out it was fake and left there to hurt us.
At this point, the fake review was the only review we had on our Google+ Local Page. So, we rounded up our agency and asked everyone to contact our clients and ask them to take the time to write a truthful review on our page. In less than 24 hours we had 20 new reviews, and expect plenty more. 
After contacting Google and gaining positive reviews, Google took the fake review down.
When you know false information is out there about your company, it is vital to work hard to make things right. When you provide a service that works and exceeds expectations, your clients can only be thrilled! The only way to provide a quality service is to keep yourself educated about your industry and your clients.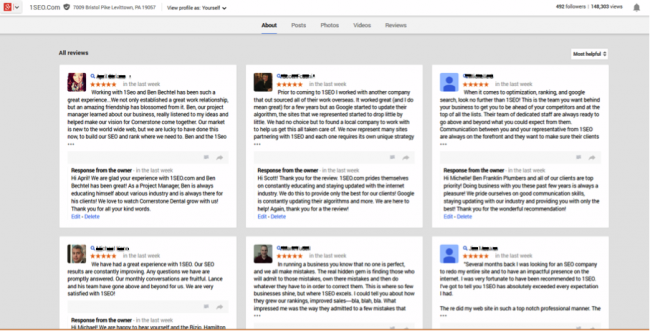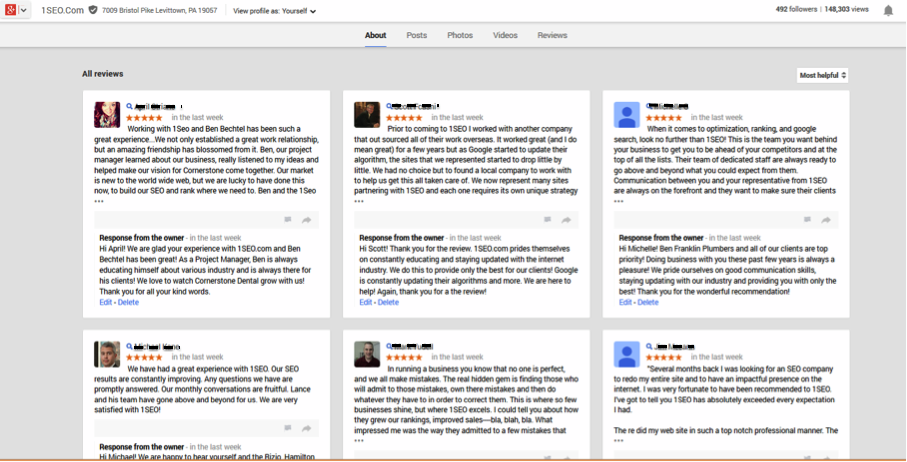 Allowing a fake review or a bad review to ruin your company is nonsense. If you are being an honest business owner, there are plenty of ways to fix the problem.
Always respond and provide exceptional customer service. After this, it is time to minimize the bad reviews and collect those positive honest reviews, just like you see on our YouTube channel. If you truly have a business that provides a great service or product, you will not have to worry about good reviews being provided. Ask your clients for their time. Those whose expectations you have surpassed will be more than grateful to help.
Keep these tips in mind the next time you see a fake or bad review about your business. The Internet can be a scary place to business owners, but if you strategize properly, the Internet can be beneficial to your online reputation!
Grace Stasky
Grace Stasky is the Social Media Director at 1SEO.com. She is constantly strategizing for upcoming campaigns, produces social media audits and manages all in-house and clients' social media accounts. Grace is an avid reader, whether personal or for work. She graduated from Lock Haven University in 2010 with a bachelor's degree in Communication Media.