While there are always new strategies being introduced to increase the visibility of a website, link building isn't going away anytime soon. High-quality backlinks not only help you rank higher in the SERPs, but they also have a large and positive impact on your website's, and brand's, overall reputation. In this respect, digital marketing is no different from traditional marketing, so an effective outreach strategy is something you can't do without.
We wanted to see the outreach strategies and content types that specialists from different areas of digital marketing choose to achieve their link building goals.
So, SEMrush surveyed over 500 SEO and digital marketing professionals (the full list of choices given to the respondents can be found in the Glossary section at the bottom of the article).
Let's look at the data that real SEOs, PRs, marketing leads, CEOs, and SMB owners shared with us. We hope it will help save you time and effort by allowing you to choose the most effective approaches based on your job role and experience.
Flash Facts
Our Respondents
More than half of those surveyed described themselves as SEO specialists. Around a quarter mentioned that their scope of responsibility also included PR and marketing management; the same number of people identified themselves as CEOs and SMB owners. These numbers tell us that links have gone much further than being an important ranking factor for SEO, they have turned into a universal marketing tool.

In terms of link building experience, more than half of our respondents considered themselves as newbies, one-third as pros, and only 13% regarded themselves as experts. They were either being modest or link building is seen by many as a complex issue.
Combinations of different roles and experience levels turned out to be defining factors for choosing outreach strategies and the content used to realize them.
Our Findings
Preferred Outreach Strategies vs Area of Expertise
Now we are going to break down the preferred outreach strategies by job role.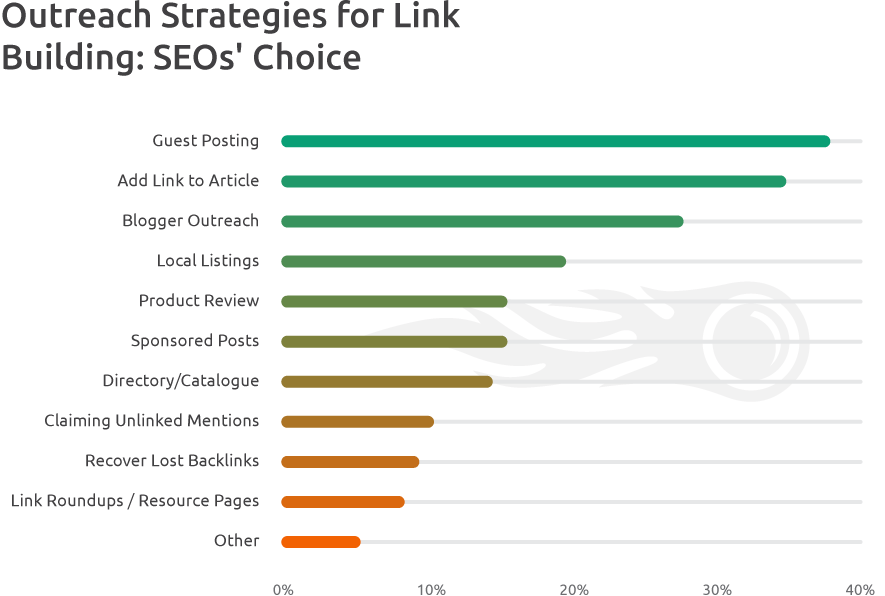 SEOs gave their first and second preferences to Guest Posting and Adding Link to Article. Blogger Outreach came in third place. The first two are really simple and, if done right, can help you build a strong and robust backlink portfolio.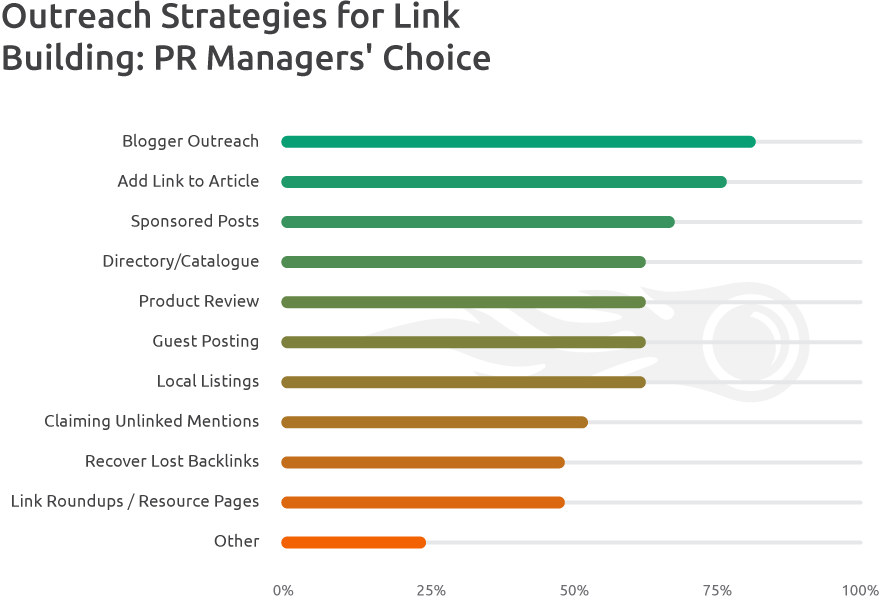 The majority of PR specialists also gave their votes to Blogger Outreach, which was not surprising considering the specificity of their work. Adding Link to Article was the second most popular strategy, followed by Sponsored Posts with a small margin. PR specialists care about the reputation of their brand and this is exactly why they apply the widest range of approaches.
The majority of the respondents with responsibility for the marketing function listed Adding Link to Article as the most potent outreach strategy. They gave the second position to Guest Posting and the third to Blogger Outreach. For marketing managers, link building is just one of many ways to increase referral traffic and the number of mentions, and attract leads to their websites. This makes them more selective when it comes to choosing the right outreach strategy.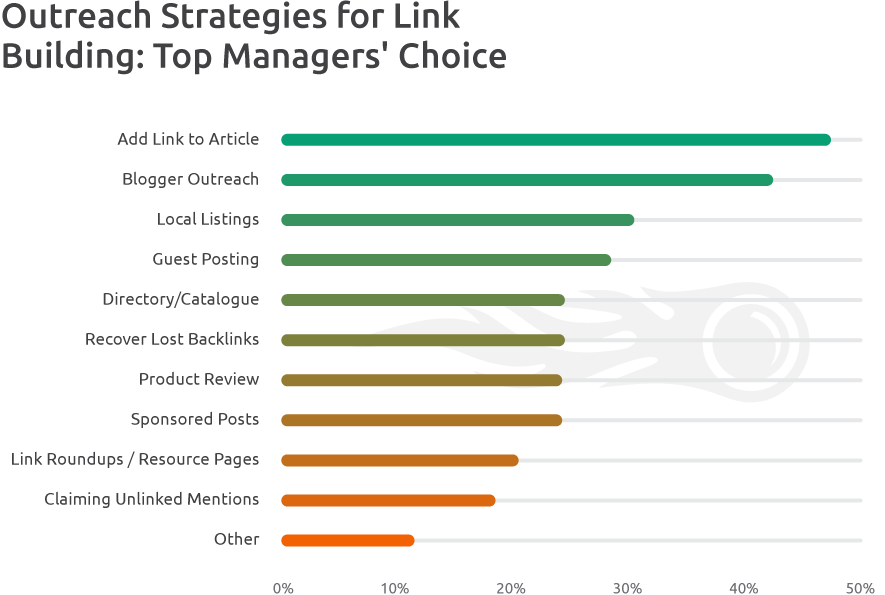 CEOs and SMB owners also chose Adding Link to Article and Blogger Outreach. All the other outreach strategies gained more or less equal scores. Link-building at C-level seems to be about simplicity and time-proven methods.
Preferred Content Formats vs Area of Expertise
Here're the choices made by our respondents.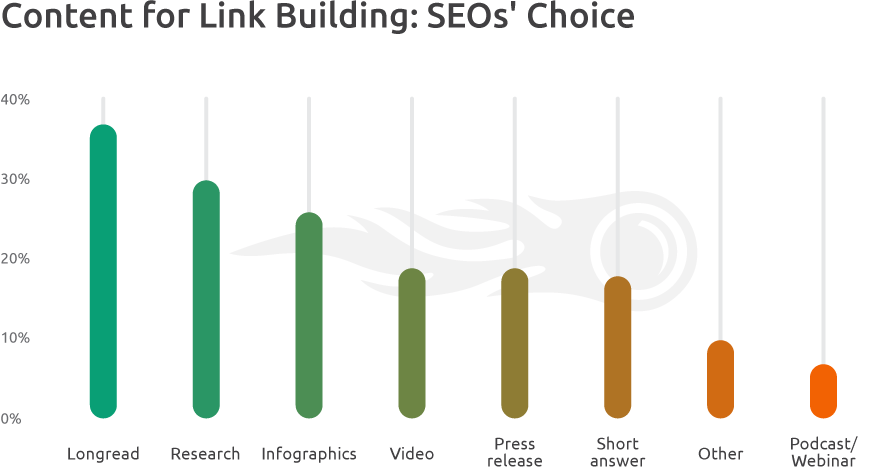 SEO specialists actively use the whole range of content but still consider Longreads most effective, followed by Research and Infographics. The minority of SEOs' votes went to Podcasts and Webinars, which are relatively difficult to produce.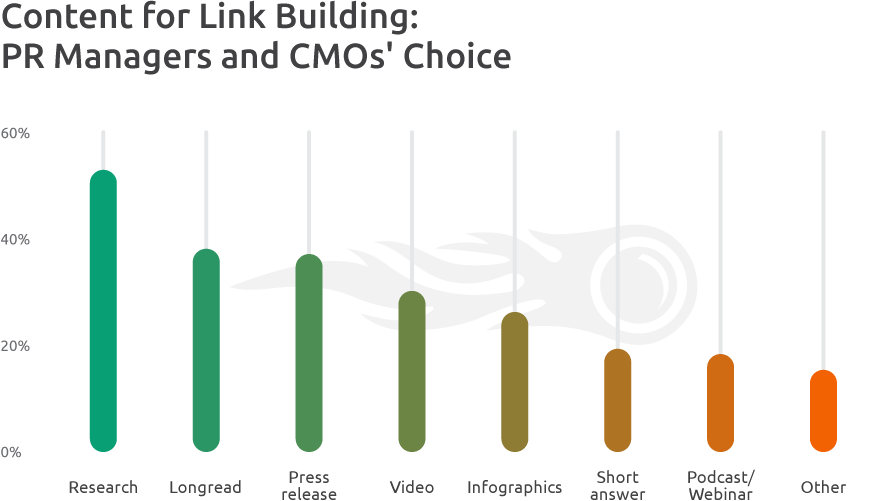 Half of the respondents working in PR and marketing management chose Research as the most effective way of obtaining links. Second place was shared between Longreads and Press-releases. The reason behind this choice is obvious - research is a great PR trigger above all and the same applies to press releases.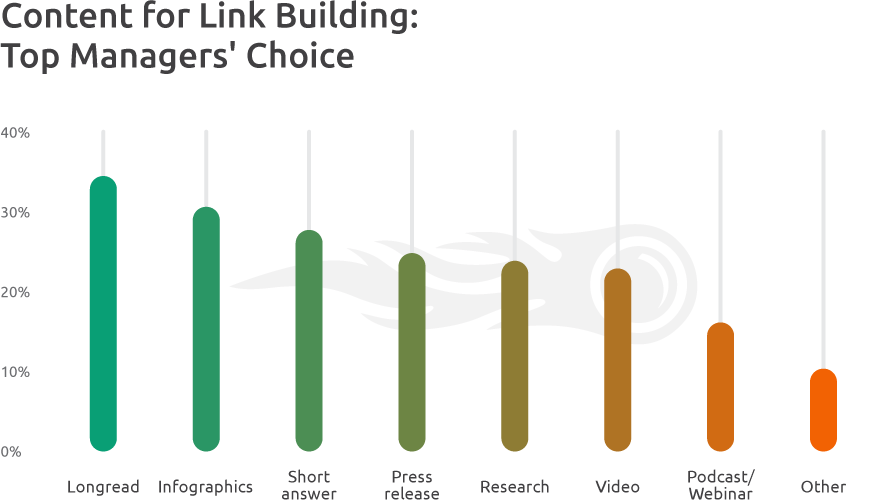 CEOs and SMB owners also considered Longreads effective for link building purposes, but unlike the others, they gave second place to Infographics and third place to Short Answers. Infographics help to attract the attention of their fellow executives, who are working 24/7 and consume only the things that can be analyzed quickly and easily. Short answers featured among the winners just because they are so easy to write.
---
---
The Impact of Link Building Experience On Outreach Strategy Choice
Let's see if there is a big difference. 
Most of the Newbies identified Adding Link to Article as their favorite outreach strategy, Guest Posting runs a close second. These two are almost fail-proof, as we have said above.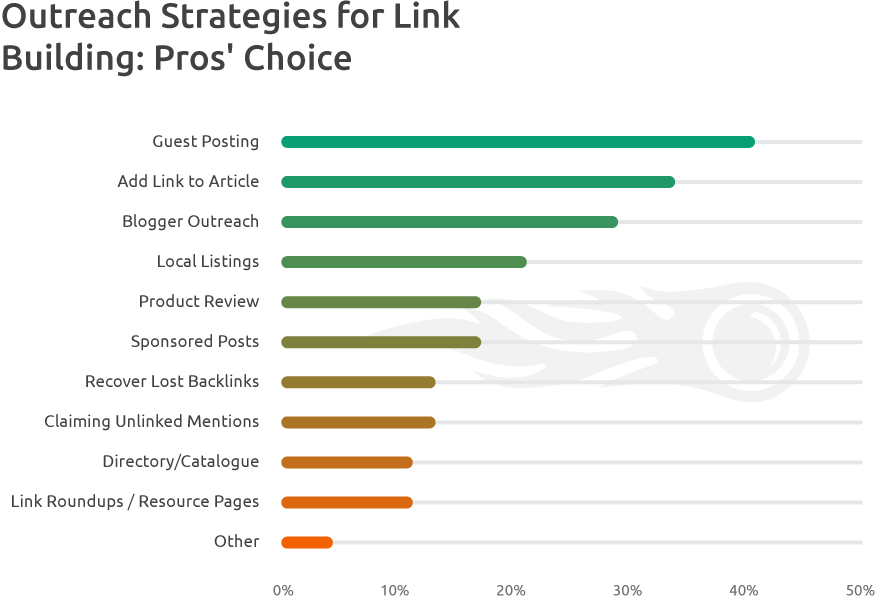 PROs also use Adding Link to Article but consider Guest Posting more effective as they have more connections and they know who to ask for unique content.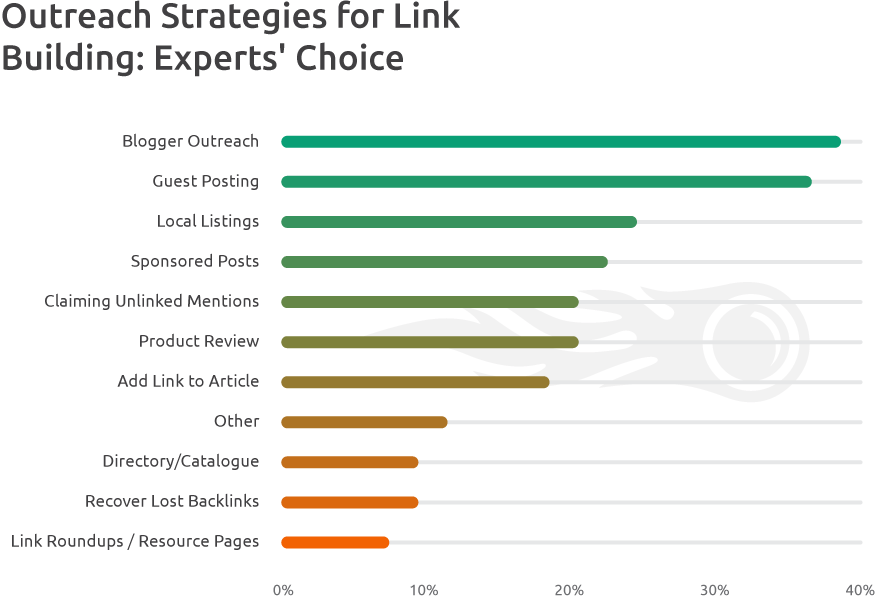 Experts remain with Guest Posting and Blogger Outreach. These strategies involve personal contact and provide great content variety.
The Impact of Link Building Experience On Content Format Choice
 That's how the opinions divided.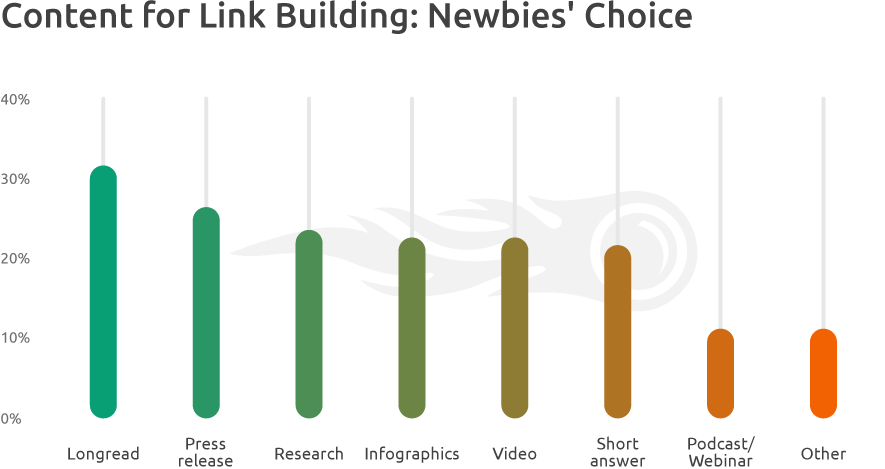 Link building newbies actively test the suitability of various content types for their goals, but most of them chose Longreads and Press releases as their main methods of earning links.
As they gain more experience, they switch to Research. Pros also continue to give credit to the always popular Longreads. At this stage link building specialists seem to get brave enough to take their chances with relatively a relatively complicated content type, because it significantly increases their chances of success.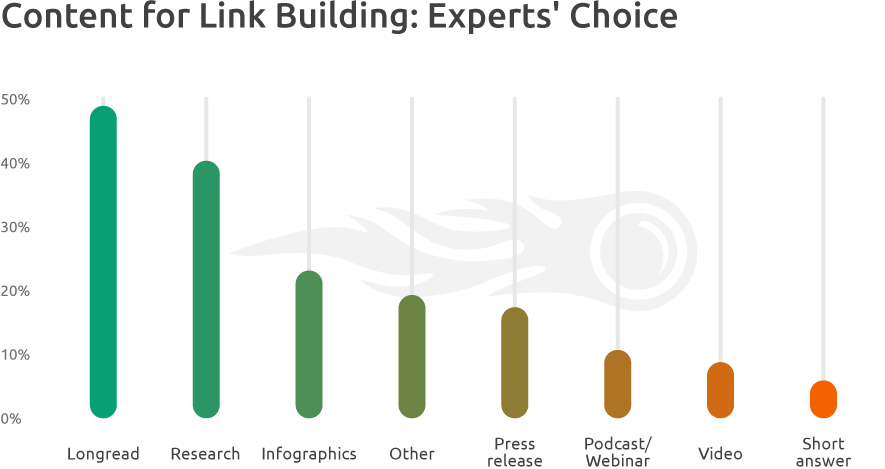 At the Expert level, we see a range of carefully selected favorites. Almost half of link building gurus returned to sustainable Longreads, still giving enough value to more time-consuming and complicated Research. Other types of content tail off a bit.
Conclusion
So here are our TOP 3 outreach strategies: Blogger Outreach, Guest Posting and Adding Link to Article. Depending on your job role and experience you can either fall into a rut or try out a new approach.
The easiest one to start with is adding a link to an article. It is quick and doesn't require any special skills, and then switch to the remaining two outreach strategies.
Blogger Outreach can be time-consuming and end in failure; modern bloggers are very choosy and often very busy. However, if you manage to kindle their interest you could end up with really potent links and the awareness of your brand could skyrocket.
Guest Posting isn't everyone's cup of tea and you need to possess a real writer's talents and some form of marketing experience to create an article people will want. If you succeed, you could attain not just a link, but also a great source of referral traffic.
Our leaders among the content types are Longreads and Research. These are typically good for any marketing area and they are loved by Google, but they require serious time, resources, and skill. To stand out and create evergreen content, you have to be better than everyone around you. 
What to Keep in Mind Before Planning Your Strategy: Expert Tips
To help you better understand the intricacies behind link building, we asked Judith Lewis, the online marketing mastermind, UK/EU/US/MENA Search Awards judge, and sixth most popular SEO in Europe, to share her thoughts on things worth paying attention to when planning your link earning strategy.
"Keep in mind that link building isn't the end result. Link building is usually tied to wanting to increase rankings which are tied to an expected click through rate which is also tied to an expected conversion rate which is then tied to sales. Before undertaking a link building campaign ask what the actual result of the activity is expected to be. With that in mind, focus on ensuring that your work directly compliments those business needs and work with bloggers who compliment the company and the ethos of the company.
Before undertaking a link building campaign ask what the actual result of the activity is expected to be.
You need to ensure the people that you choose are trustworthy, have an audience that will be interested in the article and click the link and are at least partially likely to convert. Look at the big picture when looking for bloggers to outreach to. Use personal lists. Understand where your personae hang out. Target your personae with links, adverts and emails. Keep a holistic approach in mind at all times."
Developing Your Own Strategy
In the digital marketing world, mistakes are common and while you may lose time and money, but there is always something to learn from a failure. Some prefer to watch their rivals' ups and downs to gain insights instead of taking risks. Whatever path you choose, shaping up a strategy of your own will require effort. SEMrush is here to offer you 10 predefined outreach strategies, and 2,000 link building prospects for each of your domains right here and now.
Our tools will also help you keep your backlink profile clean, help you compare your profile to your rivals', and uncover extra promotional opportunities at all stages of link building.
If you are also interested in strengthening your link building efforts, comparing your and your competitors' backlink profiles, and more, you can try our Link Building and Backlink Gap tools.
---
Glossary
Outreach Strategies for Link Building
Directory/Catalogue is a nice place to get links quickly and easily. You can just contact the publishers to have your information listed for a small fee, or even at no cost. In addition, you easily put your brand in front of your target audience.

Adding Link to an Article almost guarantees that this link will not be devalued by Google, as you ensure that the article is related to your product or service.

Claiming Unlinked Mentions is a relatively simple strategy as you just ask to add a link to an already existing mention of your brand. These require a bit of advanced search to find, however.

Recovering Lost Backlinks is another straightforward approach, but keeping an eye on the growing number of your backlinks may become rather time-consuming, especially if a link was lost a long time ago.

Link Roundups / Resource Pages make just magical referral traffic suppliers. These are regular digests embracing the best content in your industry. The competition for links there may be relatively high but if you win it you could have your target audience in the palm of your hand.

Product Review is another evergreen source of good links. You need to identify trustworthy blogs or websites that have product review sections and are closely related to your business (competitive analysis comes in handy here) and contact their owners, asking them to cover your materials.

Guest Posting for links is considered controversial by some but it works well, especially if you really apply yourself and offer a fantastic post.

Sponsored Posts may seem too pricey but they can seriously increase the awareness of your brand and payback if written by the right influencers or opinion leaders.

Blogger Outreach nowadays works the same way as inviting food critics to taste your meal, and it will work only if the content you feed them is really exceptional.

Local Listing is a wonderful feature launched by Google My Business. Those who work with their customers directly are now able to choose from a range of categories and add direct links to online ordering, menus, reviews etc.
Content Types for Link Building
Longread - the best way to tell your story, but only if you are a good writer.

Video - aguarantee of high engagement rate due to the convenience of the format.

Podcast/Webinar - your key to attracting specialists from your area of interests.

Short answer - a sign for your current and prospective customers that you care.

Research - your chance to demonstrate the knowledge of the target area and increase the credibility of your brand.

Infographics - a nice tactic for cutting a long story short and showing the bigger picture.

Press release - a thing that can bring good publicity, but there is always a risk that Google will devalue the links they consider irrelevant.
Still have questions about link building? Don't hesitate to ask them in the comments section.