Google has made a lot of changes recently, including rolling out many SERP formats to see what works best for its users. But not all the updates are so user-oriented. One update shows us that profits still important, matter so get ready to get interrupted by audio ads while listening to music online. We will review all the changes, Google tests, and news below. 
As you can see, we have a bunch of things to talk about here. But before we even move on, don't miss out on our weekly Search Marketing Scoop podcast on YouTube Live. Andy Drinkwater, a prominent SEO consultant, and  AJ Wilcox, B2Linked Founder, are this week's experts who are discussing all the latest Google news and what is behind each headline. 
[podcast-subscribe]
Now when you've heard some expert opinion on the latest biggest news, dive into the full story.
GOOGLE SEARCH NEWS
Testing a New Explore Feature on SERP
Google is testing a new SERP feature, Explore - to include similar local businesses in the search results. The feature is reported to appear "when user's behavior suggests that they are still in consideration stage and have already searched for 3-5 similar businesses." The results are presented in the form of a carousel. Google is testing two different names for this specific feature: "Similar to" and "Explore." The carousel includes 5 results that are from the same category and are in close proximity to the searched business.
Source:  Google Tests Explore Feature In Local Search Results
New Data Types in Google Rich Results
Google has added to the Rich Results Test tool three additional types of structured data: movies, TV shows, and events. Previously, the tool only supported vacancies, recipes, and courses as data types for the Rich Results tests. You can preview different variations of the search results on desktop and mobile devices.
Sources: Search Console Help; Google Rich Results Test Now Supports Movies, TV Shows, and Events
New Countries for Google Jobs
Google has announced the expansion of its job search experience to include more countries around the world. With the addition of Canada, Mexico, India and South Africa, the experience is now available for businesses and users in 11 different countries. What is interesting is that the feature is not available in the European markets, and, besides, the US, it only covers Asia, Africa, Latin America, and Canada.
Sources: Twitter; Job Posting
Uploading Photos When Changing Business Hours
If you want to suggest an edit in Business Hours under the local knowledge panel of Google SERPs can now do so by submitting a close-up photo that clearly shows the business hours. This strategy appears to be a way to ensure that users are providing reliable information and to help avoid the possibility that a random user could be trying to change business hours for an unethical reason. If you are logged into your Google My Business account, this is not a requirement. You can edit, change or update any information you need related to your company.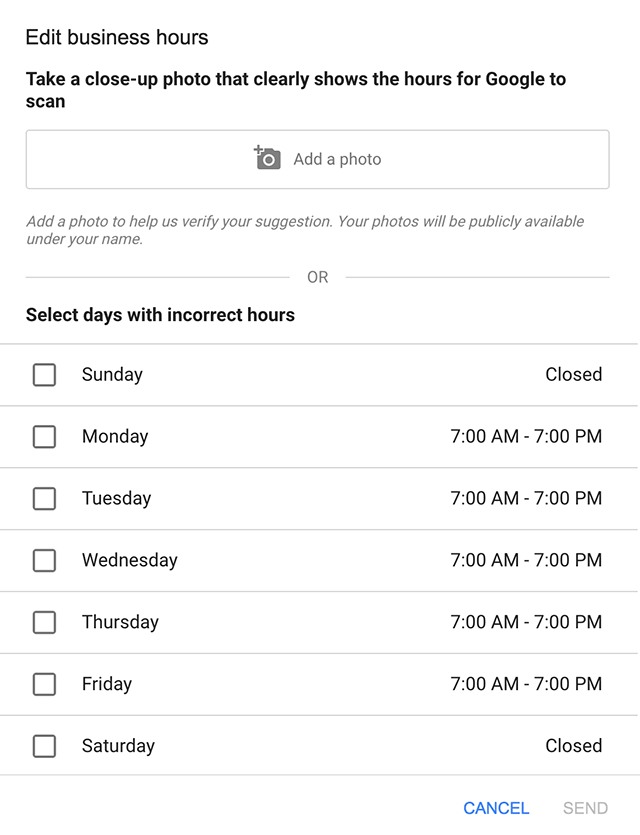 Source: Google Asks For Photo of Business Hours
Testing New SERP Formats
Testing SERP with Gray Reviews Instead of Orange Ones
Google has started testing gray colored stars once again. This is not the first time the search giant is playing with colors; back in 2014 testings were done in different colors, including green, yellow, red, and orange. None could stand the test of time, however.
Source:  Google Tests Gray Review Stars In Search Results
Three New Types of Posts on Google Local Search Results
Google is testing three different layout variations of Google Posts in its search results:
A grid format with captioned images.

A minimalistic view format with no images or boxes.

And, a carousel with text overlay on the white knowledge panel.
Source:  Google Posts Testing Different Design and Functional Treatments in the Search Results
Testing Images in Local Promotion Advertising Results
Google is testing its local service ads in the search results by adding images. The listing doesn't appear to be a carousel, meaning competitors are likely to be locked out of these ads.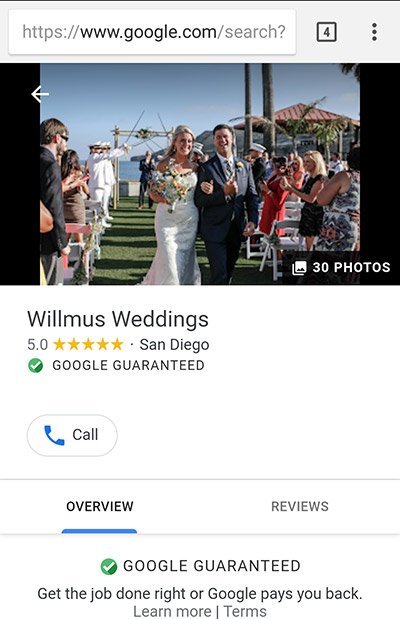 Source:  Google Testing Images in Local Service Ads in Search Results
Testing of Refining Blocks for Multivalued Queries in Mobile Search
Google is testing a disambiguation box that appears at the top of local pack's map. The box pops up when the search engine isn't entirely sure of the intended meaning of a word a user is trying to search for. E.g.,'Apple' the company or 'Apple' the fruit? 'Hotel' the brand (hotel.com) or 'Hotel' the generic term?
Source:  Google Testing Disambiguation Box for Local Packs
Testing the New Navigation In the Footer in Mobile Search Results
It appears that Google is testing a new search interface in India. On the new interface, navigation tabs are placed in the footer of the results page, replacing the usual hamburger menu on the top right. The tabs include home, upcoming, search, recent, and more options. It is not clear if or when the search engine is going to implement the new navigation across other countries.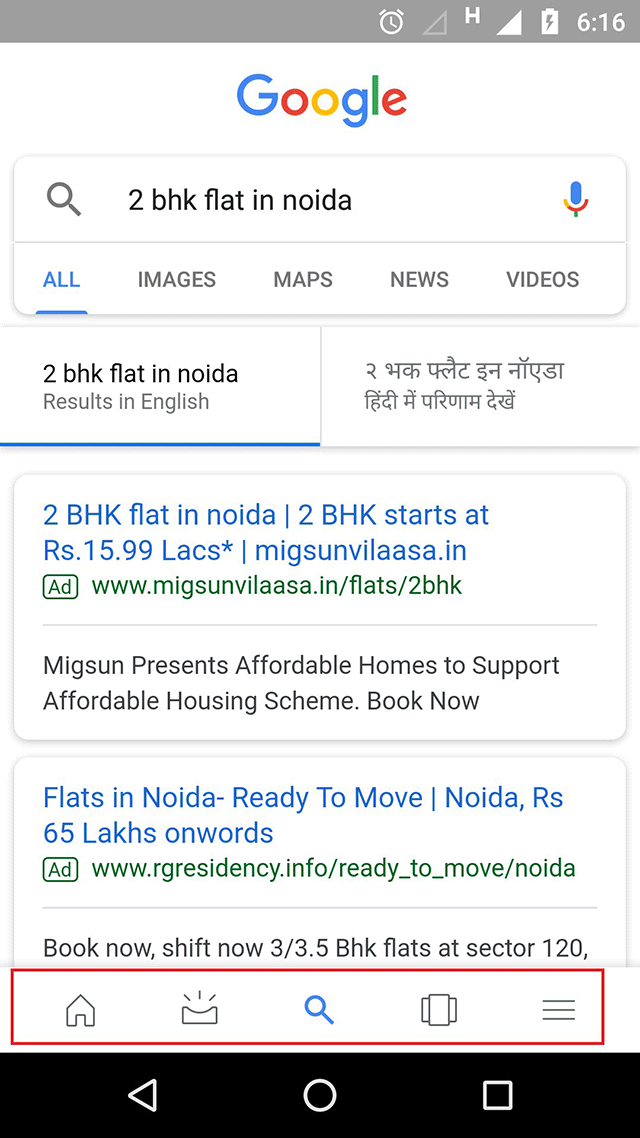 Source:  Google Search Tests New Tab Bar Navigation
Recommended Categories in Google Maps
Google Maps app is testing a scroll floating bar on the top of the screen for category searches. The category tabs on the map can be swiped left or right to reveal more. The current categories on the floating bar include restaurants, cafes, supermarkets, gas stations, pharmacies, and hospitals. However, these updates are yet to come out into the open for others to notice.
Source:  Google Maps is testing a Floating Scrolling Bar of Category Searches
Control Panel for Agencies in Google My Business
On the 5th of June, Google announced the launch of its Agency Dashboard for Google My Business. The dashboard allows agencies and platform partners to manage multiple Google listings in a faster and simpler way:
You can now manage all your locations under the same account.

You can send and receive invitations to manage your listings.

You can also group all your business locations within a single location group and simplify the location management.

Through User Groups feature on the dashboard, you can manage teams and control location groups access.

You can even search for locations within both an individual location group or the entire account.
Sources:  Easily manage thousands of locations with the Google My Business Agency Dashboard;  Google My Business Agency Dashboard Now Live
Google's Algorithm for Creating Content From Site Content
In its recently published research, Google has provided some important details about a new algorithm that can create 'coherent' and 'original' articles from web pages that are publicly accessible. The entire algorithmic process involves two key steps:
Step 1. Summarizing web content by first 'extracting' the text and then removing the irrelevant parts.
Step 2. Paraphrasing the extracted summary and converting it into a new version of the same content - called abstractive summary.
The search giant claims through this research that it was creating its own version of Wikipedia based on these texts. But it is unclear yet whether Google will use this algorithm in the formation of the search results.
Sources:  Google's New Algorithm Creates Original Articles From Your Content; Open Review
GOOGLE ADS NEWS
Audio Ads in DoubleClick
Google announced a new advertising medium to tap into the growing segment of music lovers. DoubleClick Bid Manager (DBM) now provides advertisers with an option to air audio ads on Google Play Music, Spotify, TuneIn, and SoundCloud (with Pandora willing to join soon). According to Google, more than 1.2 billion people use music streaming service on a daily basis, making audio ads an extremely viable medium to reach an engaged audience. But we aren't yet sure how music-lovers will react to their favorite playlist being interrupted by a playing ad.
Sources:  Digital Audio Ads Come to DoubleClick;  Google Rolls out Audio Ads to DoubleClick Bid Manager
Enhanced Integration Between Optimize and AdWords
Google Analytics Division and Salesforce have collaborated to introduce an integration of AdWords and Optimize, an A/B testing tool to create and test personalized landing pages. Here is how you can benefit from the newly established features:
Link your AdWords manager Optimize account, and you can immediately connect data from separate campaigns, ad groups, and more.

You can run a single experiment for multiple keywords, even if they are across different campaigns and ad groups. 
The integration is now available to every AdWords user on the new AdWords interface and can be activated in just a few easy steps.
Source:  Deliver More Relevant Experiences with Optimize and AdWords
Google AdWords Add-on for Google Sheets
Google has released its Chrome extension for AdWords. The extension allows platform users to import Google AdWords data into Google Sheets. Users can now easily create, run, and update AdWords reports in Google Sheet format. The AdWords users will also be able to create reports based on one or multiple accounts' data, sort and filter the data, share Google Sheet reports with the team, and modify and update the reports with the help of this add-on.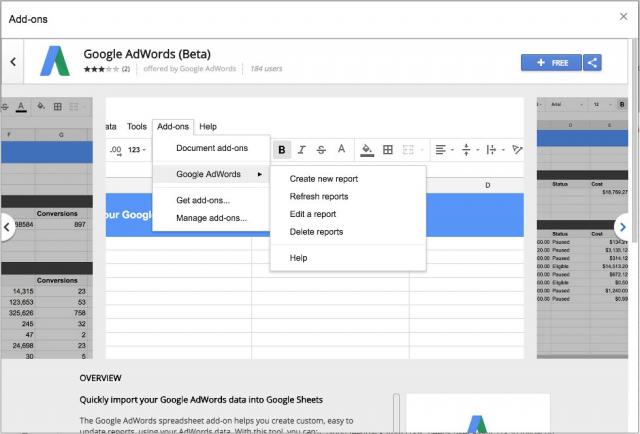 Source:  New Google AdWords Add-On For Google Sheets 
Google AdWords Notes
Google has recently launched its own notes in the AdWords' interface. Advertisers can now use this feature on AdWords to keep other account users posted on the latest changes and updates, such as an increase in traffic, budget optimization, and keywords adjustment, etc. However, the privilege to edit, create, and remove notes lies with account users who have edit access on AdWords accounts; other users can only view the notes.
Sources:  New AdWords Features;  About Notes
GOOGLE TOOLS NEWS
Testing of Advertising in the Google Feed
Google is testing a new ad placement in Google Feed. The ad cards look quite similar to Google Feed's news cards with a small green "Ad" badge in the bottom left corner. Although it is just one of the numerous test initiatives Google periodically considers, many people have taken to social media to express their resentments. They feel that the new ad placement is going to be intrusive and will hurt the user experience on Google Feed. However, Google hasn't announced anything specific about it as of now.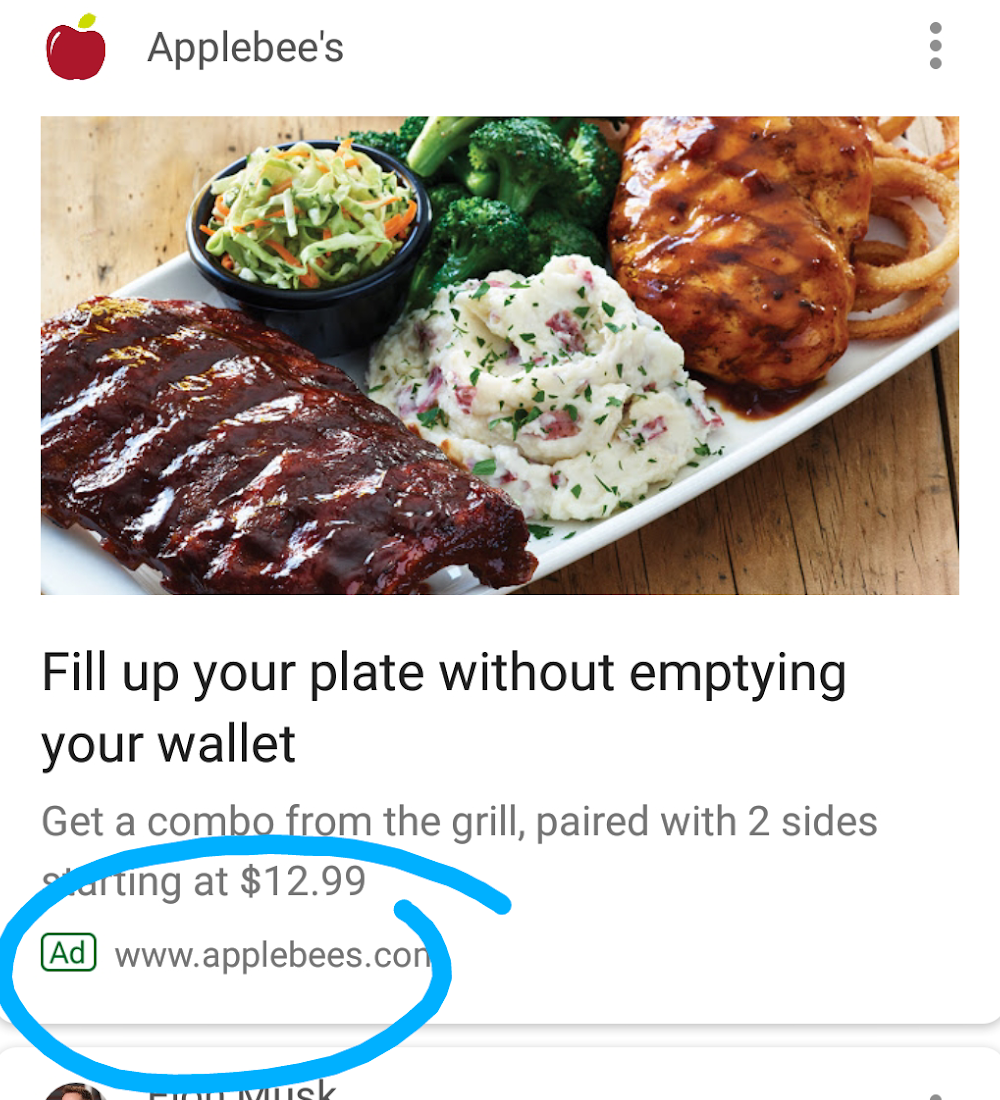 Source:  Ads are Appearing in Google Feed for Some;  Google Confirms Feed Ads are a Test
PayPal Integration with Google Pay
After Google Pay update earlier this year, another major development is taking place in the form of a deep Google PayPal integration. This collaboration will facilitate Google users to add PayPal to their Google Pay accounts and pay their bills or purchase other services without logging into PayPal account or leaving the Google services. The integration is still in progress and is likely to go live later this year. Once it does, it will cover apps like Google Store, YouTube, Gmail, and any other Google Pay based services. In addition to that, it is also going to support peer-to-peer transfers.
Source:  PayPal Starts Deeper Integration with Google; Users Can Now Pay Directly in Gmail, YouTube, and More
Updating Google Trends
Google has announced a redesigned version of Google Trends. It now comes with simplified navigation and a bunch of new features such as:
A revamped Trending searches section - get minute-by-minute info on current trends.

A newly-designed section to cover stories curated by the News Lab team

Easy access to Year in Search data (going as far back as 2001)

New infographic types like an intensity map that will allow you to compare different topics. 
All essential features of the previous version are still there, including real-time feeds, daily Trends pages, and the Explore page.

Sources:  See What the World is Searching for With the Updated Google Trends
Changing the Retention Time of User Data in GA
Google announced its Google Analytics Data Retention which was effective on May 25th. The new data retention feature enables account holders to set the amount of time they need to keep user-level and event-level data on the analytics server. After this period expires, the data will be automatically deleted from the Google servers. The retention period applies to the data that comes from cookies, user IDs (for example, User ID), and advertising identifiers (for example, DoubleClick cookies, Android advertising ID and IDFA for iOS).
Source: Data Retention
Career Development Courses From Google
Google has announced a new partnership with the educational portal, Udacity. Within this partnership, a series of free career development courses are being created. The course program covers a wide range of topics, from resume writing to crafting cover letters, optimizing GitHub profiles, and branding LinkedIn profiles to strengthen the networking process. The program also includes more technical topics, such as Data Structures and Algorithms in Python & Swift for technical interviews, as well as preparatory courses for Data Science, Front-End, Android, Full Stack, and iOS.
Source:  Udacity Launches Free Career Courses
Upgraded Google Lens and Its New App
Google has rolled out a major update to the Google Lens tool. With the updated version, you can now see a new intro prompt featuring its key capabilities. Google Lens' new augmented reality features allow users to perform real-time searches just by pointing the camera at an external object. Its swift detection capability extracts proactive information in a split second. Some other operational features include its smart text selection feature and its ability to search for identical items (features particularly useful in fashion and product search).
On top of that, Google released a separate app for Google Lens that is now already available on Google Play.
Sources:  Real-time Google Lens with redesigned UI begins rolling out [Gallery];  Google Lens is Now Available as a Standalone App
New Machine Learning Course
Google has launched a new course on machine learning. This time, it is focused on image classification model. But note that, the course requires some level of experience in Machine Learning and a proficiency in programming basics and Python coding as the prerequisites. The workshop contains video, documentation and interactive exercises, illustrating how Google creates a model for classifying images in the image searches (using cats and dogs as example photos). The workshop is a natural next step for those who are done with the Crash Course in Machine Learning.