When it comes to content marketing, there are a wealth of short-term tactics and techniques that your business can adopt. One of the least discussed of these — yet potentially one of the most effective — is a technique known as newsjacking.
But what exactly is newsjacking? How can you implement it in your own content strategy? And what does a well-executed newsjack look like?
To introduce you to the concept and answer these questions, we've compiled a handy guide. Here's what you need to know.
What Is Newsjacking?
In simple terms, newsjacking is when you produce content that references breaking news and hyper-relevant, trending stories, allowing you to generate additional publicity and media attention for your brand. It involves jumping on the bandwagon of a trending topic, and using that increased coverage to get more eyes on your business.
This content can take many forms, including articles and blog posts on your website, social media posts, custom graphics, videos, and more; ultimately, it depends on the story you're covering and the scope to which you want to newsjack it. 
For example, if you're an SEO agency and Google just announced a major update, then you would likely write an article or prepare a video covering this topic. Alternatively, if you're a small B2C business, a custom social post on a recent local news event might be the way to go.
When done well, it can be an effective way to boost user engagement and attract attention to your brand (or even generate virality). You should be cautious, though; if it appears "corporate" and forced, or you misjudge the sentiment around the news story, it can end up backfiring.
Is It Still a Successful Tactic in 2021?
Newsjacking isn't a particularly "new" tactic; brands have been implementing it as part of their content strategies for the best part of a decade. One of the best things about it, though, is that it continues to be effective, especially given the concentrated focus around breaking news stories on social media platforms (such as Twitter).
A potentially high ROI is another reason why newsjacking remains a great tactic. In the same way that social media marketers are always chasing that elusive "viral" unicorn, newsjacking allows brands to capture a quick-moving zeitgeist. That can mean a lot of additional exposure and brand awareness without high campaign spends.
There are also secondary benefits. If your newsjack is done really well, it can end up becoming a news story within itself, which will might help you generate backlinks from and features in a variety of reputable, high-authority media sites. This, in turn, can boost your SEO in the long term, providing value long after the original news story has been forgotten.
How to Newsjack
All of this comes with a caveat, though. As mentioned, newsjacking can turn into a PR disaster when it's not done right. This is why it's important to know what you're doing, and to stay away from the most common pitfalls.
With this in mind, we've compiled a quick, step-by-step guide on how to newsjack successfully. Here's what you need to do.
1. Find Relevant Stories
Of course, you can't piggyback on emerging stories if you don't know they are happening, which is why you always need to stay informed.
Actively monitoring relevant news websites is part of this, but there are other ways to keep your finger on the pulse, too. With Semrush's Topic Research tool, you can discover which topics are trending based on your industry or area of expertise, and then conduct further research into those topics using Google.
For instance, if you run an extreme sports equipment store, simply type in 'extreme sports'. You can see in the example below that 'Olympic Sport' and 'Solo Climbing' are currently in the limelight, which would give you a great foundation on which to create relevant content for your audience. 

You can also leverage other sources, such as:
Google Trends. A dedicated analysis of the top rising search queries, split down by region and language.
Reddit and industry-specific forums. You can get a good idea of what's trending in your sector simply by browsing dedicated forums. Reddit is particularly well-suited to this, as posts can be filtered by popularity within the last day, week, or month.
Social media. Hashtags are a great way to spot stories and topics that are gaining traction, particularly on Twitter and Instagram.
Google Alerts. Google Alerts is an excellent tool for staying on top of news and developments for a given topic. Simply enter a search term, and you'll get the latest stories, trends, and changes for that term. Best of all, you can set up real-time, daily, or weekly email alerts, and filter based on location, language, and even type of source. 
While it's not possible to predict the news, you can still identify — and plan for — relevant events that are going to be widely discussed, as well. These could include major sporting events and significant anniversaries, where you can create content ahead of time and then post when appropriate. Platforms such as National Today and Event Guide are a great resource for discovering these daily and monthly celebrations, observances, and birthdays, and even provide information on trending events and hashtags.
2. Research Your Angle and Your Keywords
If a particular story or topic is starting to gain traction, then pretty soon people are going to be Googling it. Which means if you've taken the time to research your keywords, you'll be well placed to acquire a lot of that traffic.
You can use the Semrush Keyword Magic tool to identify suitable keywords, but keep in mind the semantics of the term. For instance, if you run an ecommerce store selling basketball jerseys, you may have wanted to take advantage of the recent surge in popularity and support for the basketball player Giannis Antetokoumpo. 
If you'd used "Antetokoumpo jerseys" as your target keyword, then you would have attracted 590 potential monthly visitors, which is fine. However, 'Antetokoumpo' is a difficult name to spell, so if you'd taken the time to do a little keyword research, you'd have realized "Giannis jerseys" was the much better option with 3.6k searches, potentially increasing your traffic and leads dramatically.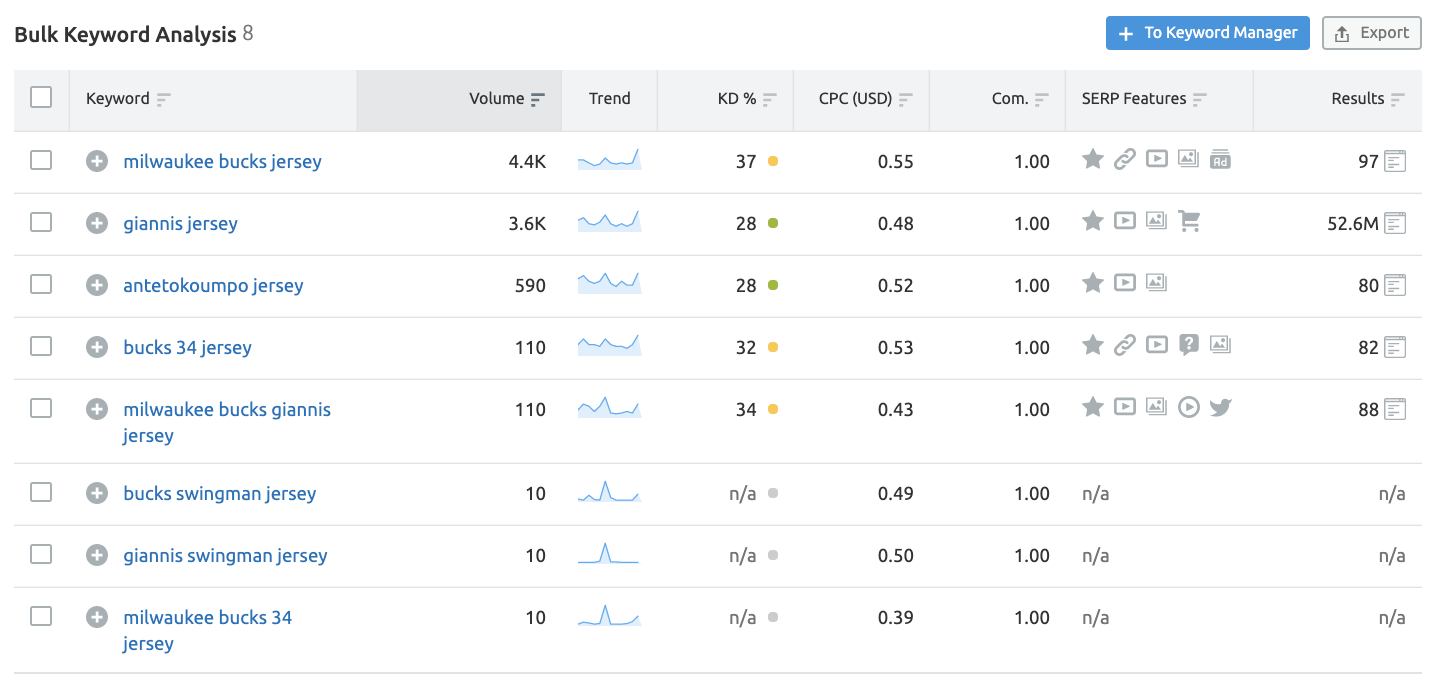 Of course, Google is putting more emphasis on topics these days, so you need to consider this, too. Topics contain relevant keywords, but they provide more context to Google in terms of search intent, making them vital from an SEO perspective.
With Topic Research, you can dive deeper into your suggested primary topics by also reviewing subtopics, which gives you more insight into what exactly you should talk about in your content.
3. Be Quick, but Be Accurate
Before you produce any content based on a news story, it's a wise idea to first verify the primary source of that story, and — if possible — conduct more research into it.
This isn't always necessary, of course; it depends on the nature of the story. But if something has been misreported, the source isn't reliable, or it's not clear what's happened, you may end up with an egg on your face if you try to newsjack it. I
Once you have some clarity, you need to seize the moment and prepare your content in a timely fashion. Don't let that be an excuse to produce something that is sloppy and/or inaccurate, though. It won't reflect well on your company and you'll lose credibility among your audience.
4. Align the Content with Your Brand Image
Authenticity is crucial not just in newsjacking, but in any kind of PR or marketing activity. If you publish something that is totally out of character with your brand identity and voice, then people will notice and you could end up undermining your credibility.
Therefore, it's important that your newsjack is consistent with the rest of your content and your PR strategy. If you're known for posting humorous or light-hearted content — such as Netflix or Denny's — then you would be in comfortable territory making a tongue-in-cheek reference to a current event on your Twitter feed. However, this would never work for a business such as, say, Deloitte or PwC, as it would be totally out of keeping with their tone and communication style.
5. Choose the Most Appropriate Distribution Channels.
Once you have created your content, you need to get your eyes on it as quickly as possible, and there are various channels you can target to do this.
One of the most effective is to leverage the reach of social media and influencers when. Indeed, even if social media isn't your strongest traffic acquisition or lead generation channel, it's still a good idea to post your content there. This makes it much easier for people to share your content and put your brand in front of new audiences.
You should also aim to leverage connections to journalists and influencers that may be interested in your content.
For example, you can use PR and media outreach platforms such as Powly to identify and contact suitable journalists, as well as monitor your brand mentions online.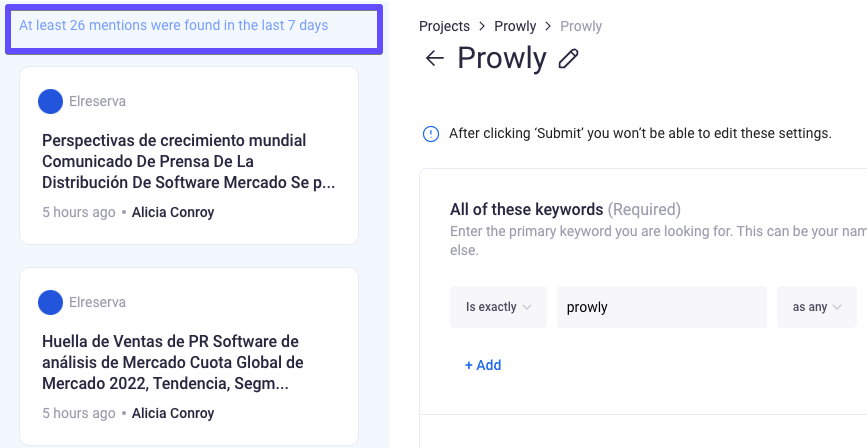 Key Tips for Successful Newsjacking
While there isn't always an exact art to newsjacking, there are a few general rules you can follow to maximize your chances of being successful. For instance, you should always strive to:
1. Be authentic. We've already touched on this, but it really is crucial to ensure that your newsjacked content doesn't feel forced, insincere, and inconsistent with your brand voice. There can be a fine line between newsjacking and simply trying to climb on a bandwagon, and audiences — especially digital ones — are usually savvy enough to recognize this.
For instance, many brands have recently received widespread criticism for engaging in so-called rainbow capitalism, whereby they seek to simply "cash in" on Pride Month despite having no meaningful relationships with the LGBTQ community. This kind of behavior doesn't just devalue the cause that you are purporting to support; it also damages your credibility among audiences who are quick to spot empty gestures.
2. Understand your audience. A big part of being authentic is understanding your audience, and having a handle on what they will react well to. The last thing you want to do is isolate your most loyal customers by producing something that is misaligned with your image and your values.
You also need to know where they consume your content. If you decide to create a series of TikTok videos that newsjack a current topic, but your target audience is primarily on Twitter, then you're unlikely to see any real results.
3. Be timely. As discussed, timing is everything when it comes to newsjacking. According to David Meerman Scott — the marketing strategist that is known to have defined newsjacking — the entry point for your content should be just after the news has broken, but before it's been fully covered by multiple media sources.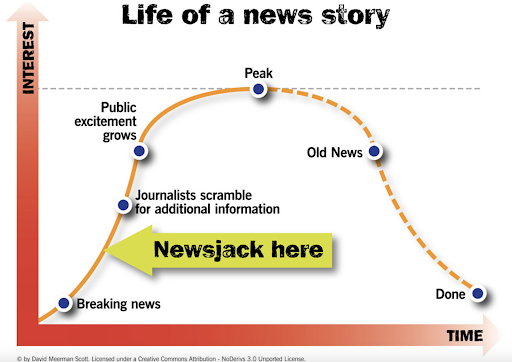 There's nothing worse than seeing a business try to capitalize on an event long after it's happened. So, ensure that you're quick on the draw when newsjacking opportunities arise.
4. Be relevant. When you newsjack a story, the story itself doesn't have to be directly related to your industry. But there should be a logical connection between your business or your product, and how it relates to the event in question. 
For instance, the Superbowl is a massive sports event that is always played on a pristine grass pitch. If you sell lawnmowers, you could create content referencing this, such as a guide for customers on how to get their own home lawns in a similar condition. Alternatively, if you run a fitness website, you could post content featuring the fitness regimes of NFL players. The key is to find a logical link to your business and the topic in question.
5. Use common sense. It should go without saying, but avoid newsjacking sensitive or serious events and topics, such as disasters, cultural/religious events, or anything that might have the potential to offend. This kind of content can backfire significantly and result in bad PR, a loss of trust, and, ultimately, impact your company's growth and revenue.
6. Refrain from overdoing it. Newsjacking can be a highly effective content marketing tactic, but it shouldn't be your only one. As with most marketing strategies, it works best when you mix it up with other approaches.
Examples of Newsjacking
So what exactly does a successful newsjack look like? Here are a few examples to illustrate:
Aldi
Brands that have a sense of humor are always well received on social media, and the supermarket chain Aldi is regularly on the ball with current events. However, in April 2021, the company itself was the news story, after its "Cuthbert the Caterpillar" cake attracted legal action from Marks & Spencer. The latter claimed that Aldi was piggybacking on the popularity of its own "Colin the Caterpillar" cake, with the lawsuit becoming a huge news story in the UK.
While most organizations may have taken a graver approach to being sued, Aldi posted a humorous, risque, and self-deprecating response that was in keeping with their self-aware "underdog" brand identity. The tweet gained 36k likes and generated enormous brand goodwill throughout the UK and beyond, turning a negative into a huge positive.
Aviation Gin
In 2019, the sports equipment manufacturer Peloton received widespread backlash and criticism for a poorly judged ad campaign in which a husband gifts his wife an exercise bike. However, amidst the media storm, alcoholic beverages producer Aviation Gin spotted an excellent newsjacking opportunity, hiring Monica Ruiz — the actress from the Peloton ad — to appear in their own spot.
The company — owned by actor Ryan Reynolds — is renowned for its humorous marketing campaigns, and the ad subtly mocked both the original ad and the negative message it was conveying. As a result, it received media and public acclaim, while managing to stay brand consistent, timely (Ruiz was hired just 2 days after the Peloton ad aired), and positive.
Dunkin'
Internet fads are always an easy target for newsjacking, but only if you're ahead of the curve. Indeed, some internet trends have a life cycle of just weeks if not days, and if you're late to the party, you're unlikely to generate a positive impact.
Some brands are better at this than others; for instance, Oreo — the original newsjackers — were quick to execute a successful bit during 2019's proposed "invasion" of Area 51 in the US.

Dunkin' (formerly Dunkin' Donuts) also nailed this approach in 2015, successfully piggybacking on the furore over a picture of a dress that appeared blue to some viewers, and gold to others.
When done well, newsjacking internet trends can be a hugely successful strategy, especially if you can seamlessly connect them to your own products.
Calm
Many brands attempted to wade into the 2020 US presidential election, with some seeing more favorable results than others. Meditation app Calm was undeniably one of the big winners, though, largely as a result of its sponsor spots on CNN's rolling coverage.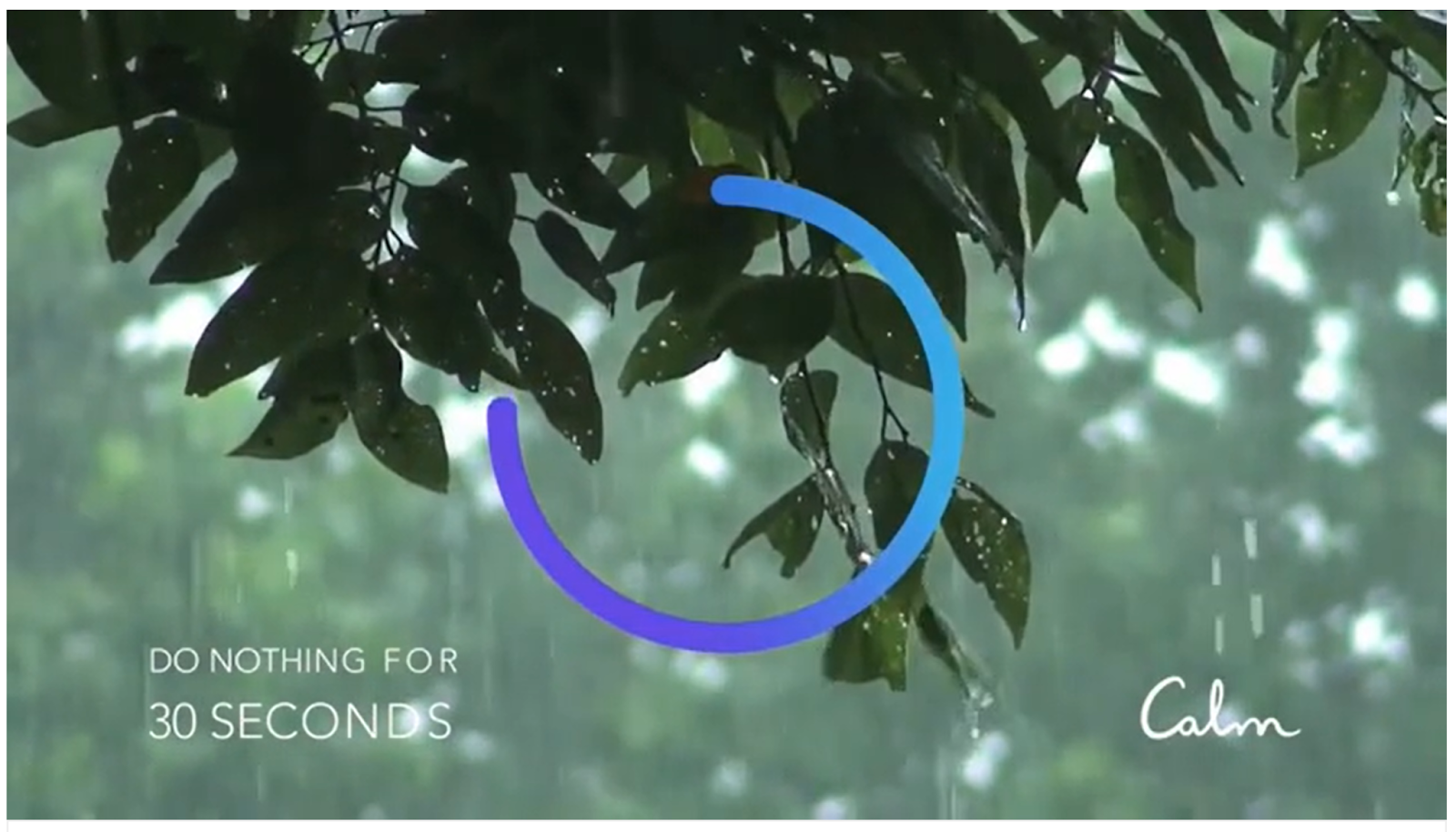 The spots — which featured 30 seconds of relaxing visual experiences, such as rain cascading on leaves — were perfectly placed as a counterpoint to the noise, stress, and anxiety around the election itself, with the brand perfectly capturing the mood and sentiment of its audience. App downloads soared in the aftermath of the election, too, generating a great return for the company.
IKEA
During the recent European Championships football tournament, Portuguese athlete Cristiano Ronaldo made huge waves when, during a press conference, he removed tournament sponsor Coca-Cola's prop bottle and proclaimed instead that consumers should "drink water". The simple act knocked $4bn off Coca-Cola's market value, and dominated conversations across media channels and the internet.
Swedish furniture giant IKEA was quicker to capitalize than most, however, changing the name of its reusable water bottle product to 'Cristiano' and marketing it on its Instagram channel with the hashtag #Euro2020.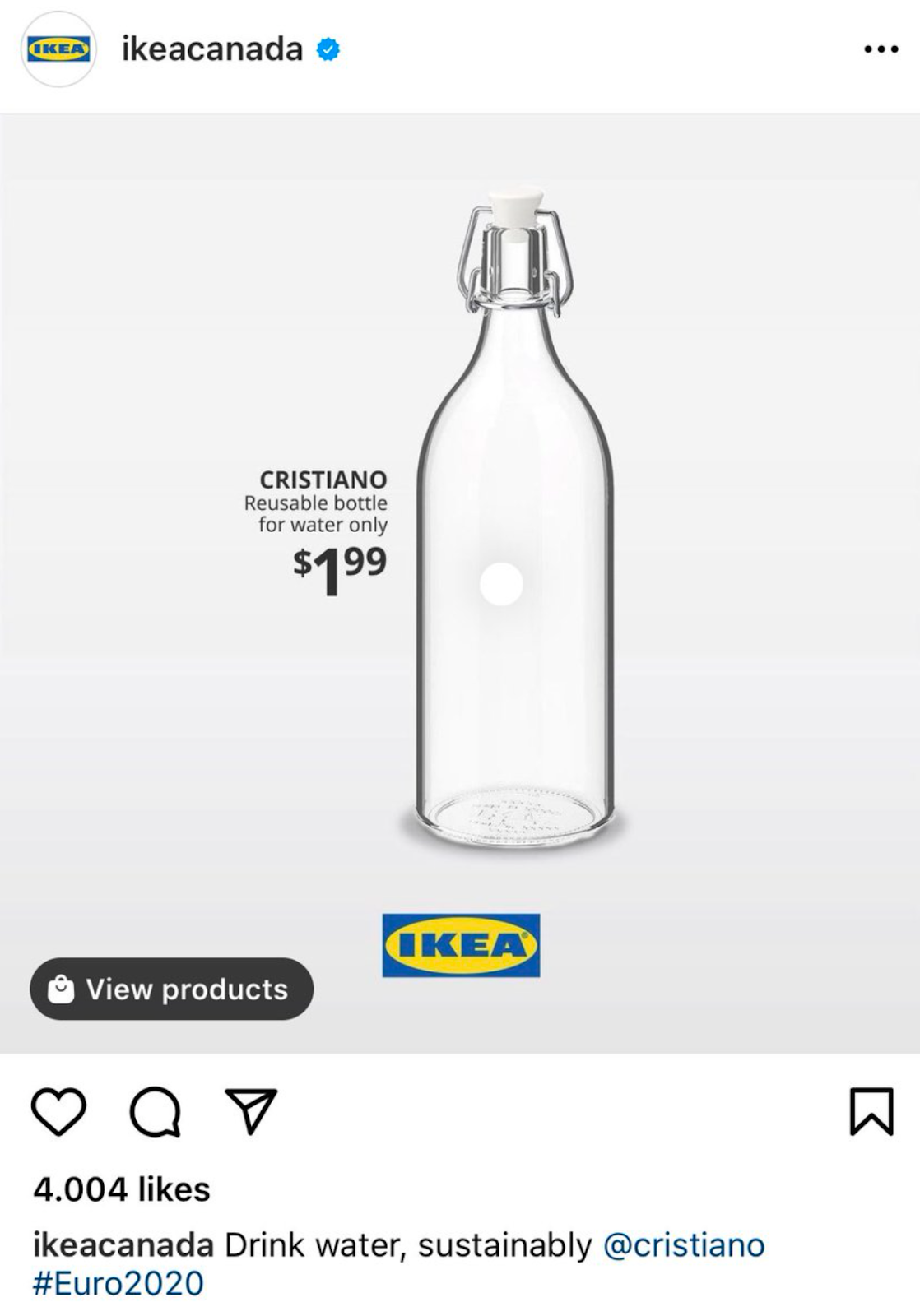 The change received widespread acclaim for its ingenious nature, and ticked all the boxes of a successful newsjacking attempt: relevant, brand consistent, carrying a positive message, and pitched at exactly the right point in the news cycle.
Refinitiv
Newsjacked content doesn't necessarily have to be a one-off, especially if the topic in question has considerable legs, and that is certainly the case where COVID-19 is concerned.
Nearly every business has been forced to create some form of content on the Coronavirus pandemic over the last couple of years, but financial data firm Refinitiv saw an opportunity to create genuinely useful, ongoing content as the pandemic progressed.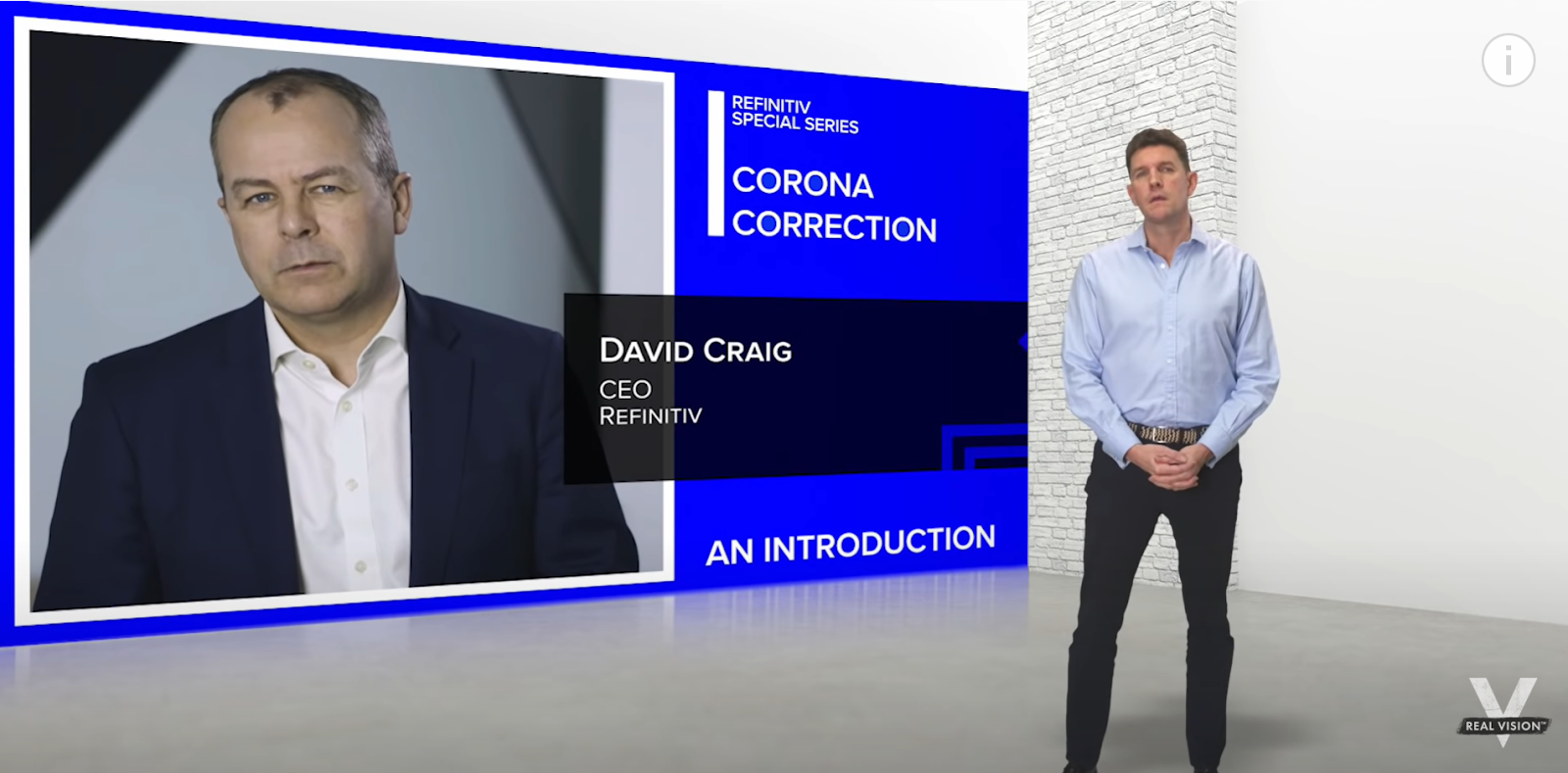 Through its extensive series of daily short videos that updated clients on how the latest pandemic developments might affect financial markets, Refinitiv were able to position themselves as an authoritative and credible voice on the topic, helping them to generate vital brand awareness and attract new audiences.
Final Thoughts
As we have seen, newsjacking can be an excellent, resource-light approach to spreading brand awareness, acquiring traffic, and generating leads. However, if executed without care or thought, it can seriously backfire and actually end up damaging your brand's reputation.
To avoid that, it's a wise idea to follow the steps and tips in this article, and to ensure that you're using the correct specialist tools to support your newsjacking efforts.
As we have seen, Semrush's Content Marketing Platform is an excellent place to start, allowing you to research and optimize keywords and topics, identify and reach out to relevant journalists and influencers, and create content that has SEO value and consistency of tone.
To learn more about how the Content Marketing Platform can help your business, check out our in-depth guide. Alternatively, you can try the tool out for yourself by following the link below.