Google's search engine results pages (SERPs) keep evolving. Gone are the days of ten blue links; now users see a variety of information related to a query. The SERPs are dominated by all sorts of features and data that show up for the majority of search terms. In fact, the data from SEMrush Sensor shows an ever increasing percentage of SERP features for queries in almost all industries.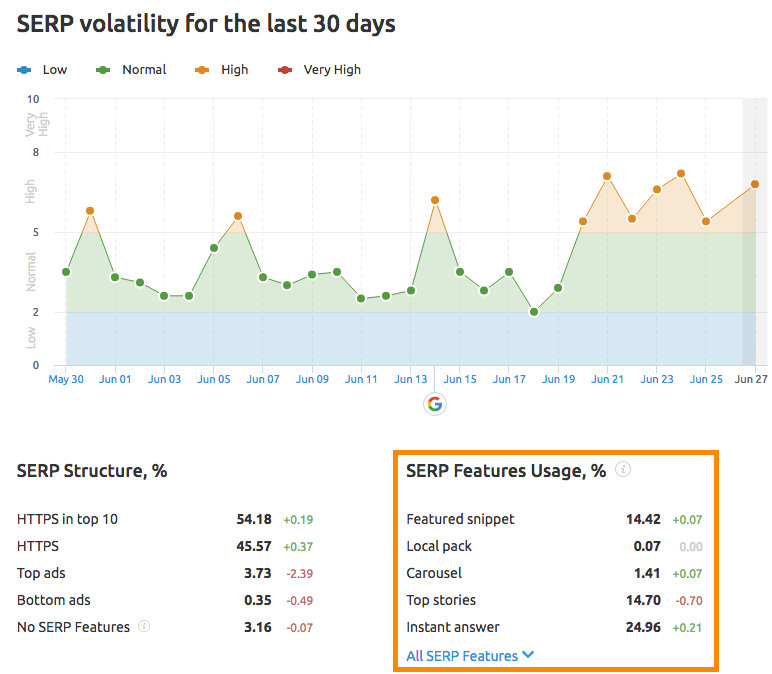 SEMrush Sensor
To put it simply, features like local packs, sitelinks and featured snippets are extra elements on a SERP that help a user get relevant answers more quickly. Sometimes too quickly; it used to be you had to click on a site to get the information you need, but now users can get all the information they need without leaving the search engine.
So while finding answers quickly is great for users, the new SERPs can spawn problems for SEO specialists. Being in the top ten (or even the top five) organic results might not help you get traffic or customers if the search results page is overwhelmed with knowledge panels, instant answers, or snippets that provide the same information. However, some industries can thrive with these features because the search engine provides shortcuts to top spots and more visibility in the SERPs, if you know how to find opportunities and how to take advantage of them.
How to Deal With the Current SERP Anatomy
SERP management is an SEO technique that involves SERP volatility analysis and SERP features tracking, along with the continuous on-page optimisation. Not all features are worth fighting for from an SEO perspective. For example, Knowledge Panels (except for branded ones) and Instant Answers do not link to your domain, and for most websites, there is no chance of getting those since results are taken from authoritative partners or arranged manually.
Further on we will discuss the four most prominent SERP features and ways of getting them, but you should not disregard all the other potential options. You still need to consider the presence of all SERP features to develop a precise keyword strategy and keep up with your competitors.
A Tool to Filter Keywords By SERP Features
Analyzing present-day SERPs becomes more and more mind-boggling, so to help you with that, SEMrush has added the option to filter keywords by SERP features to the Position Tracking tool. The anatomy of a SERP depends on the type of the query, so you need to carefully research keywords to find out what features you can and should aim for. Track your high-ranking keywords that have features on SERPs, but that you, for some reason, are not featured for.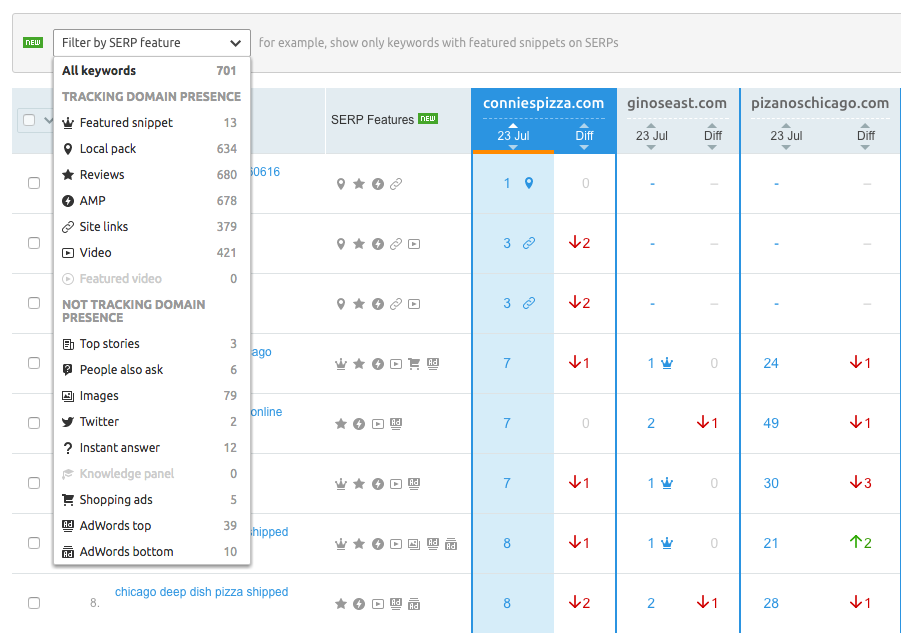 SEMrush Position Tracking
Let's say you want to find out if you have a chance of grabbing a Featured Snippet for one of your pages.
Set up Position Tracking for your domain.

Pick a country (optionally, a region and city) and a device.

Enter your competitors and keywords.

Filter the rankings list by Featured Snippet.

Choose your domain and select "doesn't rank."
Now, by clicking on your position for a keyword, you can find out which of your landing pages is applicable for a Featured Snippet. Your content might need a little tweaking, so look out for vacant niches, analyze pages that are featured, and perceive the ways to improve your game. The same approach can be used for other SERP features as well.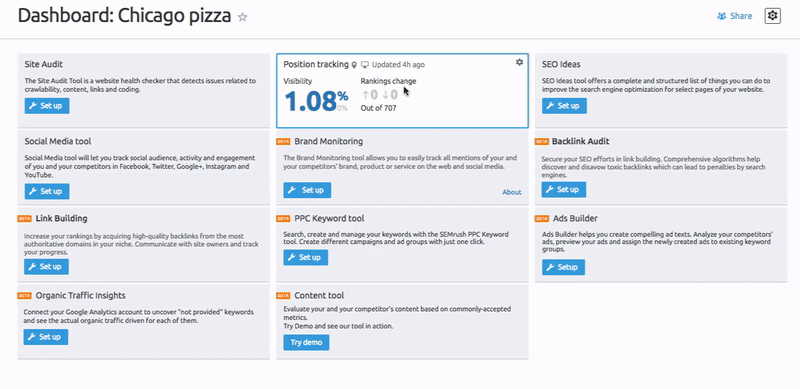 When the rankings list is filtered by a feature, the visual representation of trends is rearranged so you can review your progress compared to your competitors. Also, keep in mind that Position Tracking counts organic results from Local Packs when it calculates positions. So, for example, if a SERP has a Local Pack with three organic results, the first result under it will be regarded as the fourth. Top Stories can also be counted as additional positions, and you can easily include or exclude Local Packs and Top Stories in the report by checking boxes from the "Rank count" dropdown in the top menu.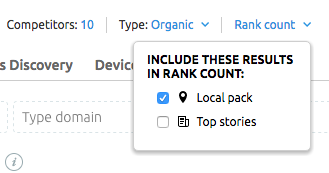 Now let's look at the SERP features with the broadest appeal for SEO specialists.
Featured Snippets
The overall SEO strategy for capturing Featured Snippets is the same as for getting high rankings in organic, so good old on- and off-page SEO is the way to go. But there is some nuance involved here. To earn a Featured Snippet, you will need to give direct answers to related questions. So create FAQs or try to incorporate questions into your titles. Acknowledge that during keyword research, you can utilize the SEMrush Keyword Magic Tool to sort out key phrases with questions.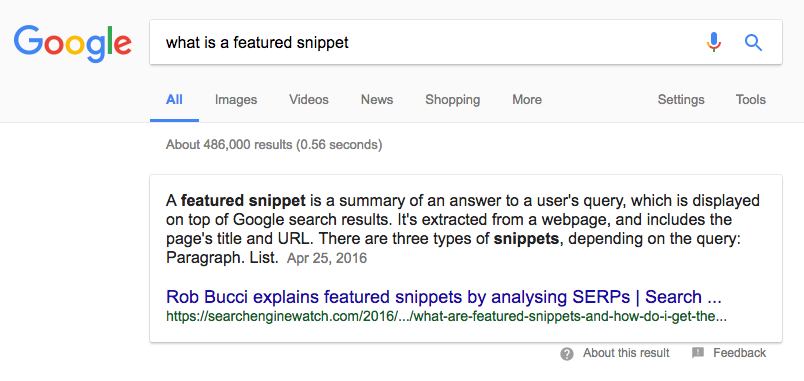 Local Pack
The type of Local Pack that shows up depends on the search query and the device. For most businesses, it provides contact information, a link to the website (or a call button for mobile) and a link to Google Maps. Hotels and restaurants usually get short descriptions instead of working hours, and a photo instead of a website link and directions. In the future, the Local Pack feature will probably be improved for other industries as well.
Although Google almost always can get all the required information on its own, it always appreciates a little help from you. So fill out Google My Business profile to establish your presence and get ranking advantage. Plus, you should remember to take the NAP seriously. NAP stands for name-address-phone, and it is very important to keep those consistent throughout your site.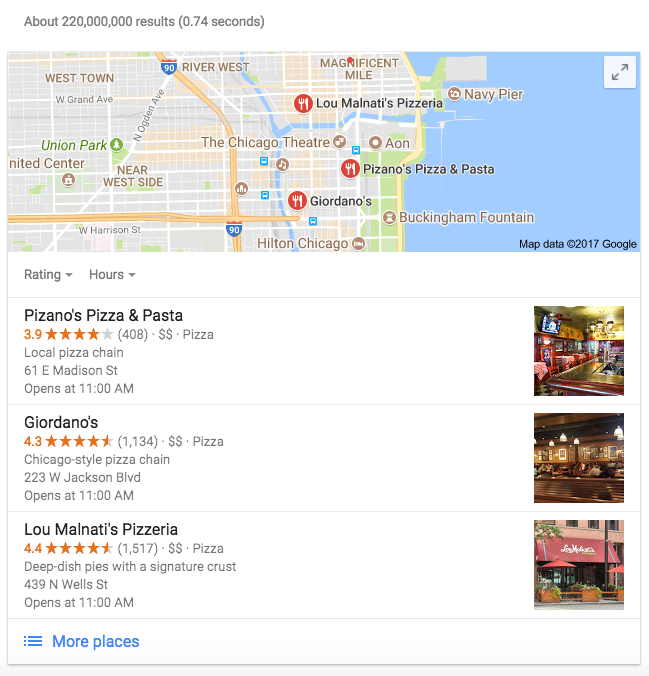 Reviews
This feature is often overlooked, although it is quite easy to obtain and can increase your CTR. Reviews appear in the snippet under a URL in the form of rating stars with some additional information. It can show up for any type of content that has the right markup and can be assessed by people – this could be an article or a movie, as well as a business or a product, although the exact rules are not strictly specified.
Pay attention to the fact that Local Packs also show ratings, so look into it if you are promoting a local business. Google keeps an eye on the relevance and the source of reviews; they must come directly from users. You can learn more about review types and rules from Google's guidelines.
Snippets with reviews naturally get more clicks because the stars are eye catching. They also present an indicative cue that you have a high-quality product and/or have served your clients well in the past. It is a big loss if you have reviewable content, but do not have any stars on your link.
Advertising
Advertising snippets are not exactly SERP features, but here we will consider them as such because they occupy real estate and should be acknowledged as a part of your SEM strategy. If a results page is loaded with features and there is no way to compete with them, you can target your AdWords campaign to gain visibility and somewhat level your chances of being seen and attracting clients.
Conclusion
We all know that SEO involves continuous work and it is important to keep checking for new opportunities to show up more on the SERPs. The SEMrush Position Tracking tool offers you the ability to stay informed and find new ways to gain visibility.
Have you encountered any weirdly featured SERPs in your SEO efforts? Please share your experiences and tell us your tips for gaining more visibility in search results pages.