What Is SEO Share of Voice?
Share of voice is a metric used to measure how much brand awareness you have in comparison to your competition in the same market. 
SEO share of voice estimates your brand awareness compared to competitors in terms of SEO visibility and search engine rankings.
Your brand's traffic / the total market traffic = Your brand's share of voice.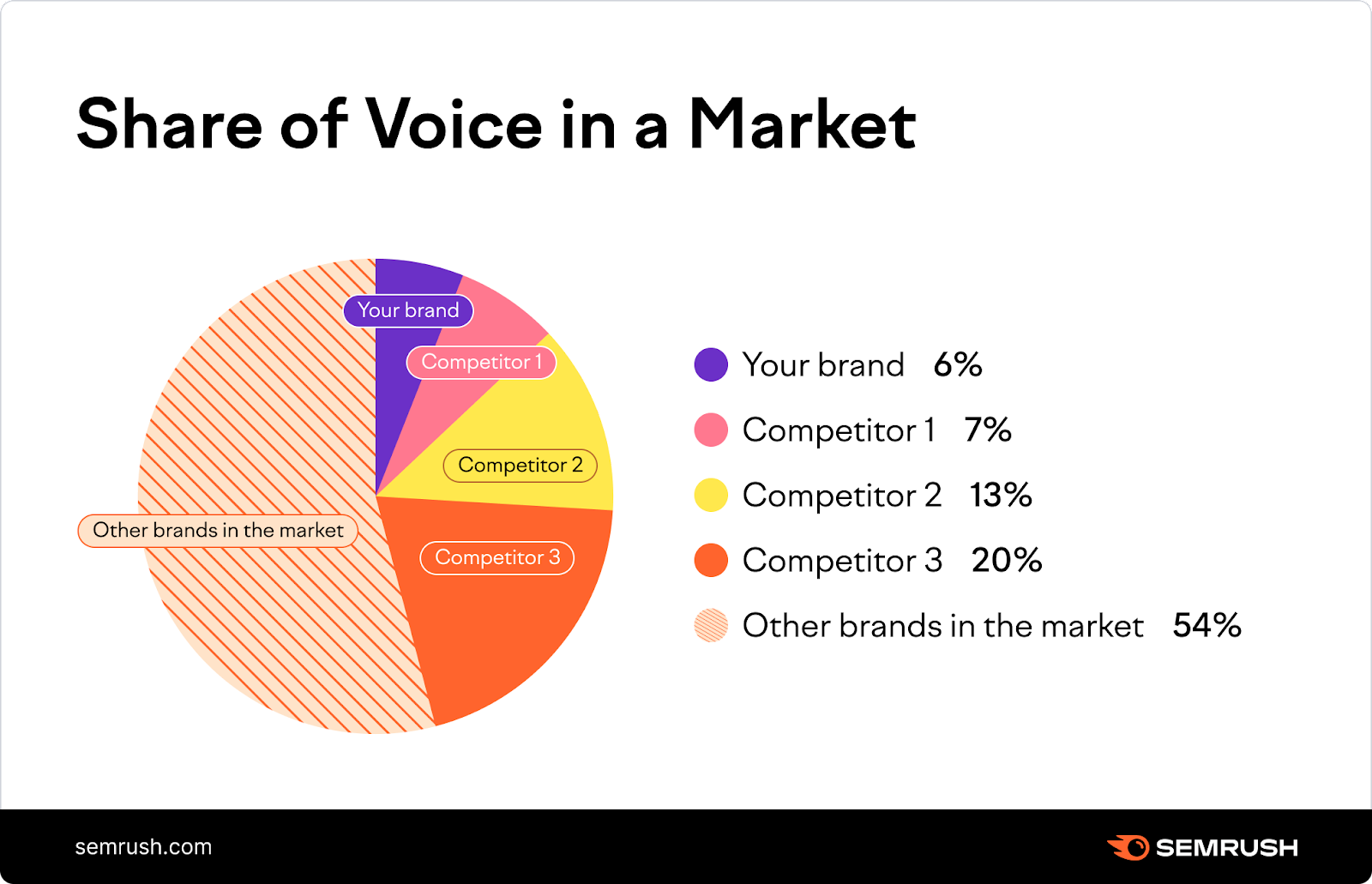 You can benchmark your share to a competitor brand's share and set up your marketing strategy to overtake the spotlight.
So, how can you use share of voice in your SEO campaigns?
How to Use Share of Voice in SEO and Search
In terms of SEO, share of voice can tell you what fraction of a market's total organic search traffic or impressions is going to your website. 
If your niche as a whole receives 100 million website visits per month from organic search, and your site gets 1 million visits per month from organic search, your site's organic share of voice would be 1%.
As a digital marketer, you can measure and track your SEO share of voice along with other metrics like organic traffic and keyword rankings.
How to Measure Share of Voice on Semrush
With Semrush's Position Tracking tool, you can calculate your site's share of voice among the website traffic related to the target keywords you are interested in.
To see how it works, you need:
A Business subscription to Semrush 
A Position Tracking campaign with the keywords that make up the market you are targeting
Once Semrush collects its daily data, you can look at your share of voice in the main overview graph just like you'd look at your visibility%, estimated traffic, or average position. 
In fact, you can flip between each metric to see how you differ in each metric.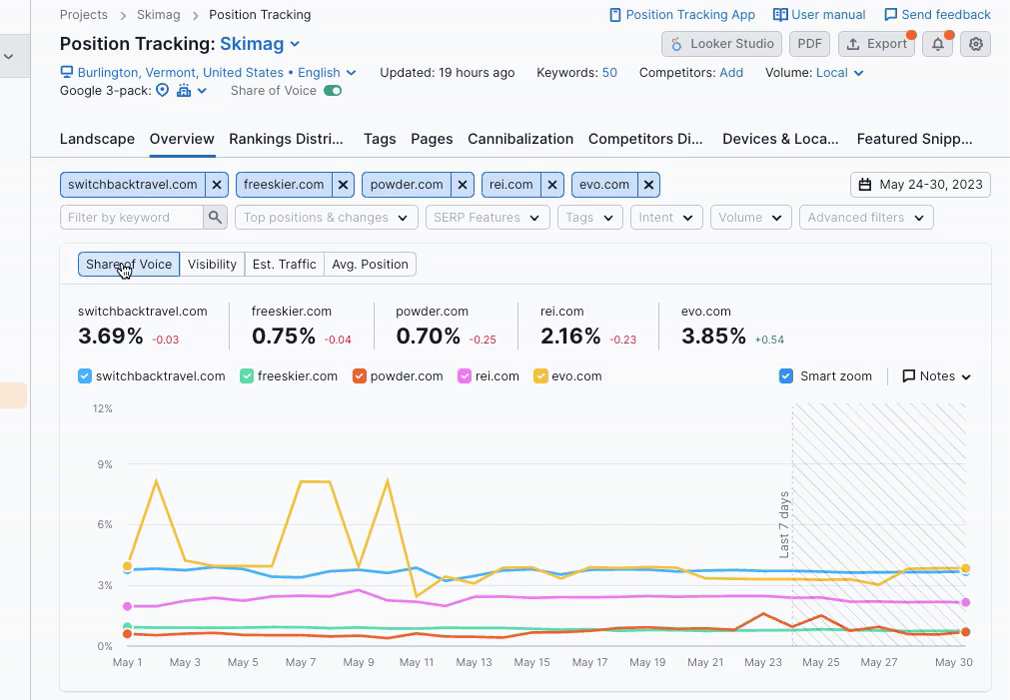 Keep in mind – share of voice can differ from visibility because of the way they are calculated.
How Share of Voice is Calculated
Share of voice is the percent of overall estimated traffic from these keywords that is going to your site. With this metric, the search volume and click-through rate impact your percentage. 
Visibility % is the percentage of keywords where your site is visible — more visibility at the top of the results page, less at the bottom. This metric is not affected by the volume of the keywords you are tracking. 
For example, let's say you are tracking 10 target keywords where 7 of your keywords have a search volume of 30 monthly searches and 3 keywords have a volume of 3,000 monthly searches.
Keyword 1 = 30 monthly searches
Keyword 2 = 30 monthly searches
Keyword 3 = 30 monthly searches
Keyword 4 = 30 monthly searches
Keyword 5 = 30 monthly searches
Keyword 6 = 30 monthly searches
Keyword 7 = 30 monthly searches
Keyword 8 = 3000 monthly searches
Keyword 9 = 3000 monthly searches
Keyword 10 = 3000 monthly searches
If you rank #1 on the first 7 specific keywords with only 30 monthly searches each, but don't rank at all on the top 3 keywords that each have 3,000 monthly searches, your visibility % will be high.
But, this metric alone could be misleading since you're missing out on most of the potential traffic (3 keywords x 3,000 monthly searches = 9,000 total searches). 
On the other hand, your share of voice calculation will let you know that despite your high rankings among the less popular searches, your share of voice could be much improved by increasing visibility on those higher volume searches.
This is why share of voice is a great metric for reporting — it takes into account the overall volume of searches and estimated traffic from your target keyword list.
To increase share of voice, you will need to rank better for those keywords that generate more traffic to organic results. 
This means ranking better for a higher total volume of searches.
Using Tags to Measure Share of Voice by Topic
Tagging the keywords in your Position Tracking campaign is a great way to be able to report share of voice in a more specific fashion. 
For example, let's say you're tracking a bunch of keywords related to skiing and gear like ski boots, ski pants and ski goggles. 
If you tag your keywords based on their topic (as seen below) you can then report on your share of voice for each topic and compare how well you improve share of voice for each topic over time.
That's a great way to increase transparency between your campaign and your reporting!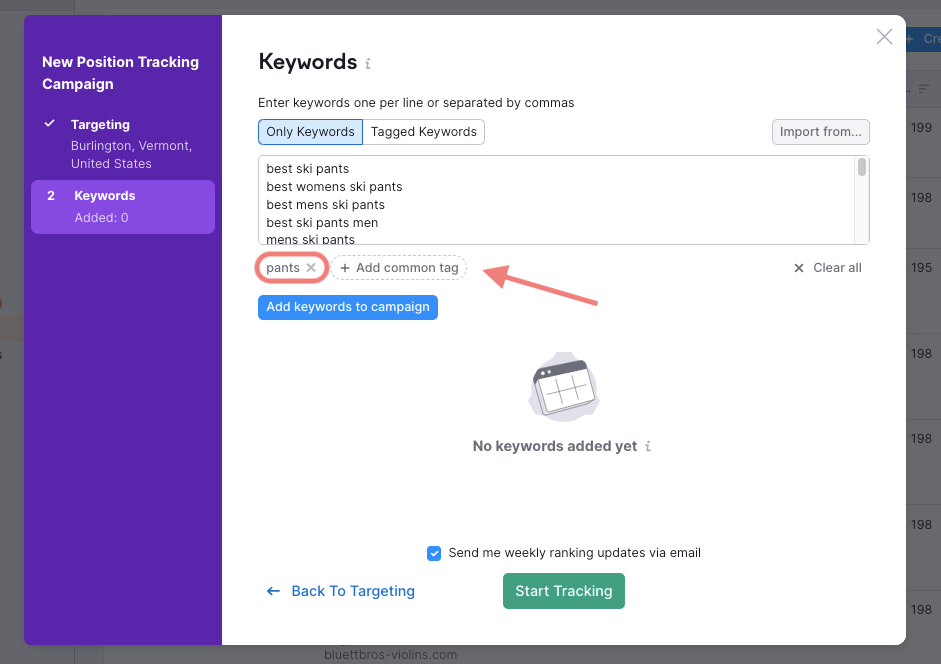 Tags can be added to your Position Tracking from the setup wizard as seen above or at any point after your campaign is running. 
Once your tags are set up, you can just filter the Overview report by tag and see your share of voice in each category.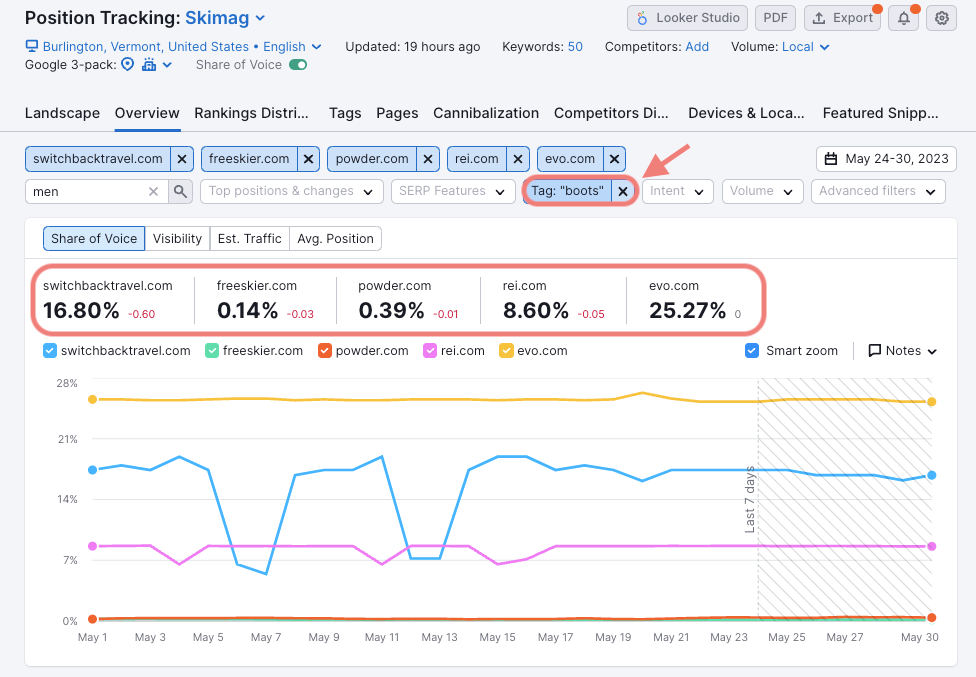 Measuring Share of Voice by Location
One of the best features of Semrush's Position Tracking tool is the ability to target hyper specific locations — you can set up your campaign to track results in any country, city, state, or even zip code. 
Then, you can actually set up another target to track multiple locations in the same Project and then compare your share of voice across different areas.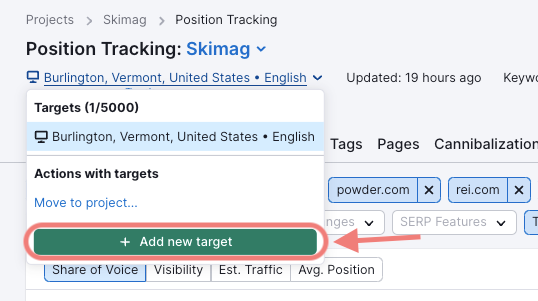 Is your share of voice dropping in one city but improving in another? Maybe that's a sign of stronger local competition in one area compared to the other.
That gives you something to focus on in your next campaign! 
Finding Competitors Based on Share of Voice
If you want to know who your biggest competitors are for your target keywords, just jump into the Competitors Discovery report. 
This report will automatically find the top competition based on share of voice for your target keywords.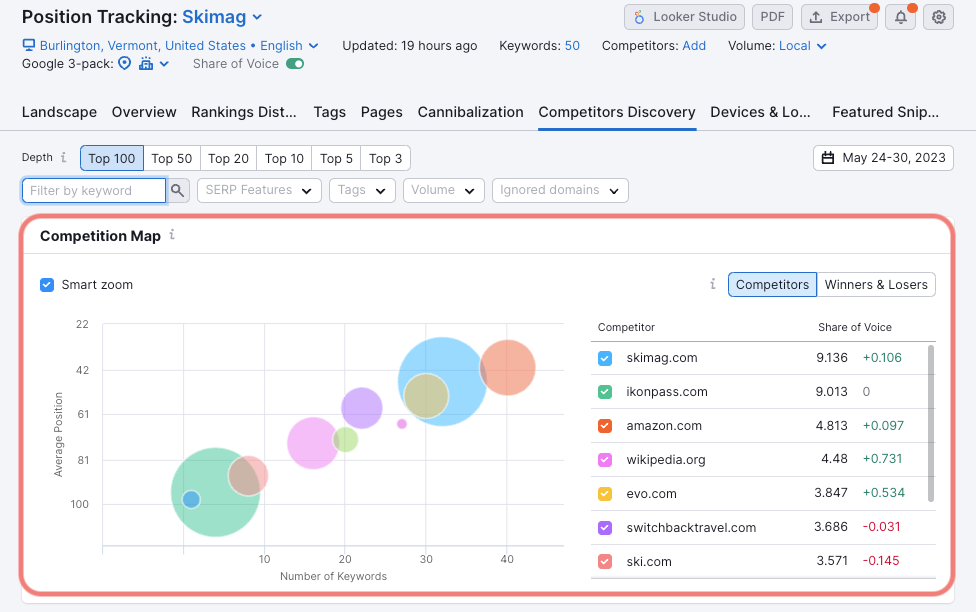 You can see the competitors sorted in a map layout and also a table ordered by highest share of voice to lowest. 
Related Semrush Metric — Estimated Market Share
While you're thinking about measuring your share of a market, consider using the Market Explorer tool.
This is a broader way of looking at your share of voice. While Position Tracking can calculate your share of voice for a specific set of target keywords, this tool shows traffic from multiple sources (direct, referral, search, social, paid search).
All you have to do to start using it is enter the domain name of a site in a market you want to explore. 
Here's a preview of how it looks after entering a domain in the ski market.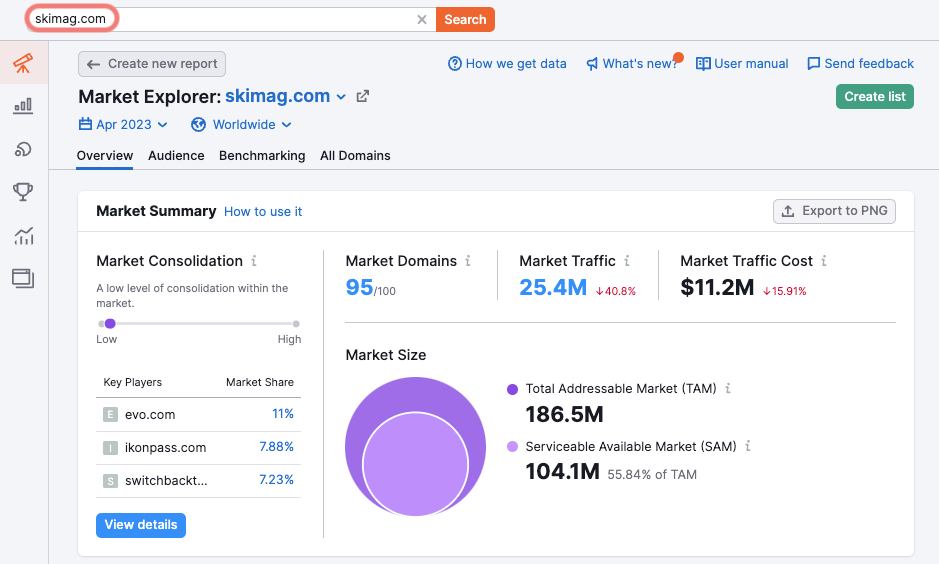 You can see the domain's estimated share of voice and then also a Growth Quadrant of all the industry players based on their size and recent growth.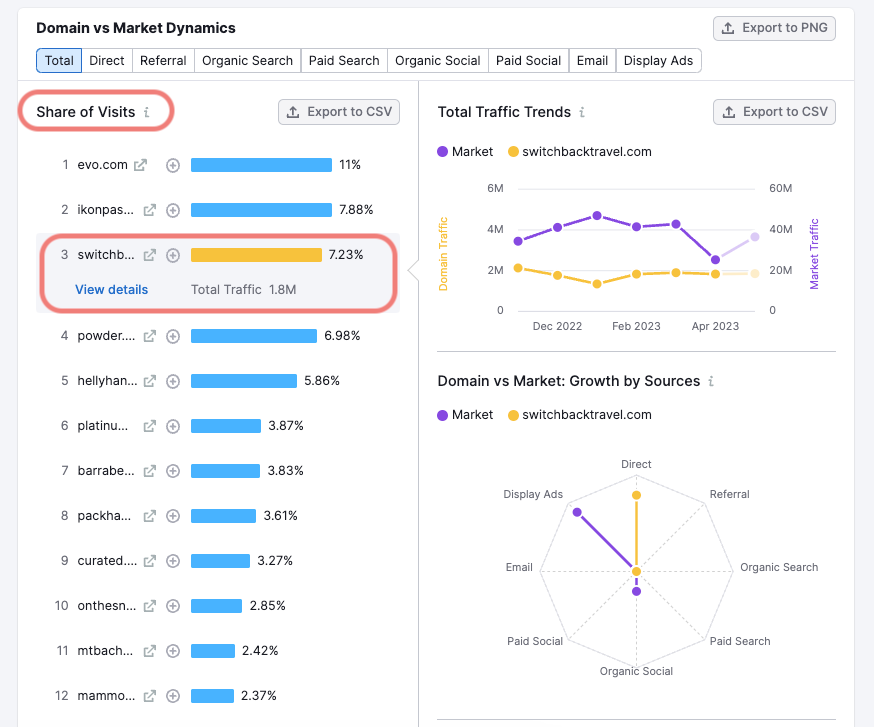 Scroll down to see exactly where Semrush puts your site in this list of competitors. You can get a lot more specific in this tool by exploring traffic sources and the rest of the widgets. 
Conclusion
Now you know two more awesome ways to use Semrush to report on a domain's share of voice and growth within a market. 
Using share of voice alongside other metrics gives your business more flexibility and transparency when showing the impact of your marketing efforts to your clients. 
Use Market Explorer for a broad overview, and then set up Position Tracking to see your specific share of voice among your most desired target keywords. As your share of voice improves, you'll have the data to prove it.